Words: Monica Tindall
Photos: Rich Callahan
Egg tarts, cod stew and green wine are just about the extent of my culinary knowledge when it comes to Portuguese food. I'm hoping that João Melo, head chef at Bella by BIG will change that tonight. The kitchen team usually serve up a variety of Mediterranean cuisine and one of our favourite Sunday brunches in KL. Occasionally, however, chef gifts guests with a taste of his homeland with special menus celebrating all things Portuguese.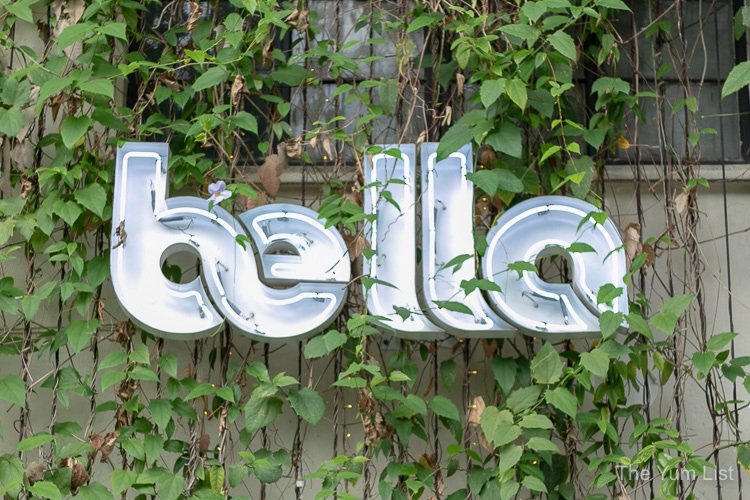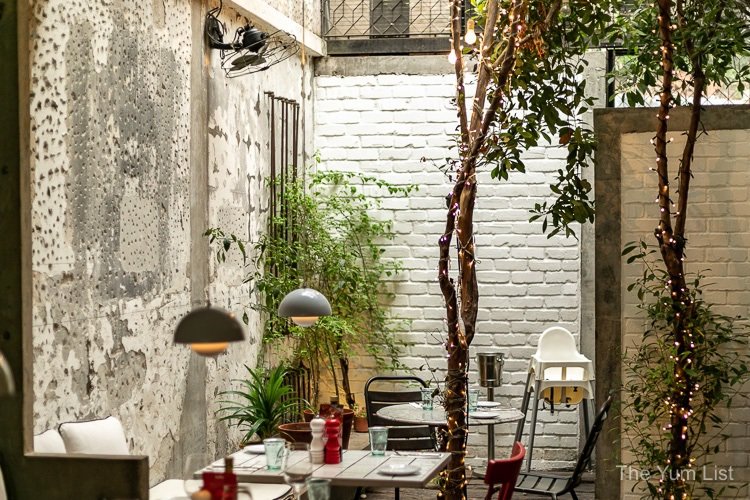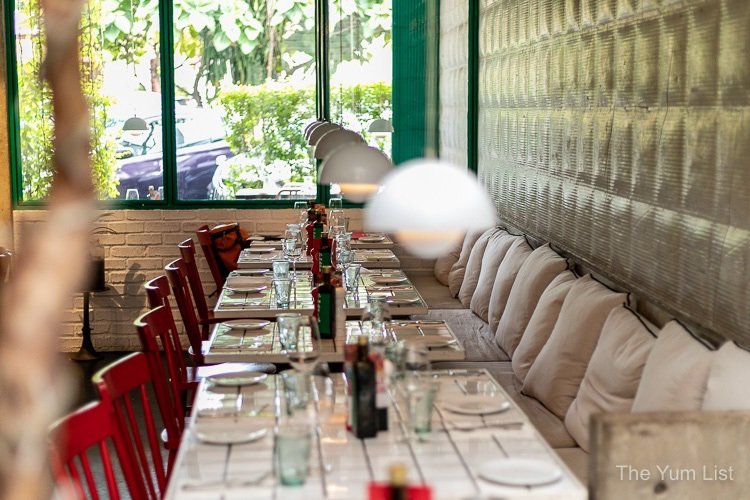 Portuguese Food Kuala Lumpur – Noite Portuguesa
We ease into the evening with a glass of their house-made Sangria (RM15 copa, RM50 Jarro). Manager Filipe reveals that it contains red wine, fruit, cinnamon, orange juice but laughs that, "the rest I cannot tell otherwise you'll do it and sell my sangria." Whatever the secret ingredient is, it's a fine recipe and pretty soon that initial order for a glass turns into an upsizing to a jug.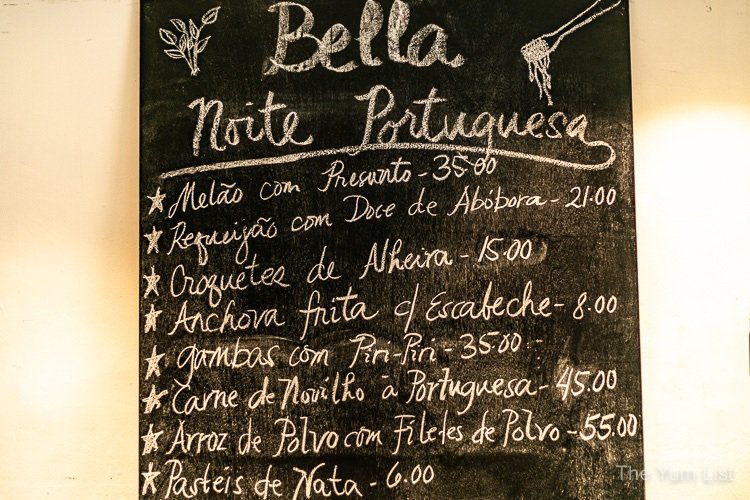 Portuguese Starters – Petiscos – Portuguese Small Plates – Made for Sharing
Felipe and João tell us that in Portugal, after the working day, it's customary to get together with friends, order drinks and share small plates. Similar to the concept of Spanish tapas, Portuguese petiscos focus on quality over quantity and are the perfect stimulant (along with a beverage, of course) for conversations and good times.
Across Europe, melon wrapped in ham is a popular starter and Portugal is no different. Here, the Melão com Presunto (RM35) are juicy slices of rockmelon wrapped in cured beef ham. The flesh has thoughtfully been removed from the skin but sits atop the green making a pretty presentation. The contrast between sweet and salty, moist and dry is brilliant.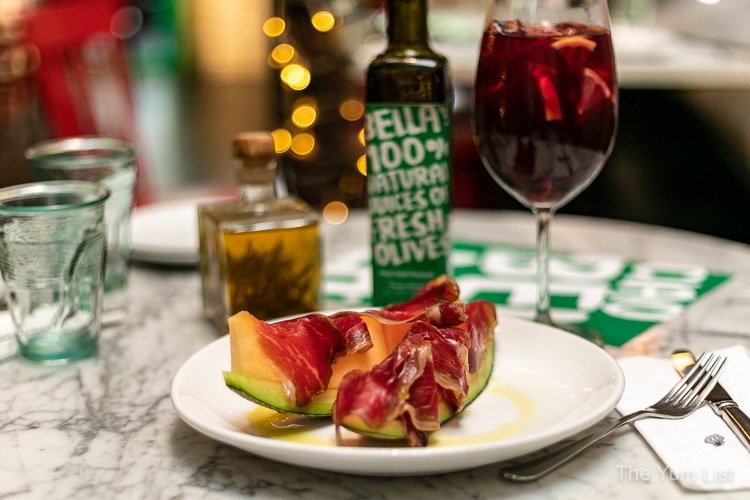 Requeijão com Doce de Abóbora (RM21), homemade cottage cheese and pumpkin jam fills all of my sweet pumpkin fantasies. A mound of fluffy young white cheese centres the plate, sprinkled with just-ground black pepper with jam, walnuts and crunchy semolina crackers – ideal spoons for scooping up a little of each – beside it. It's another play on sweet and savoury, soft and crunchy: again making us very happy.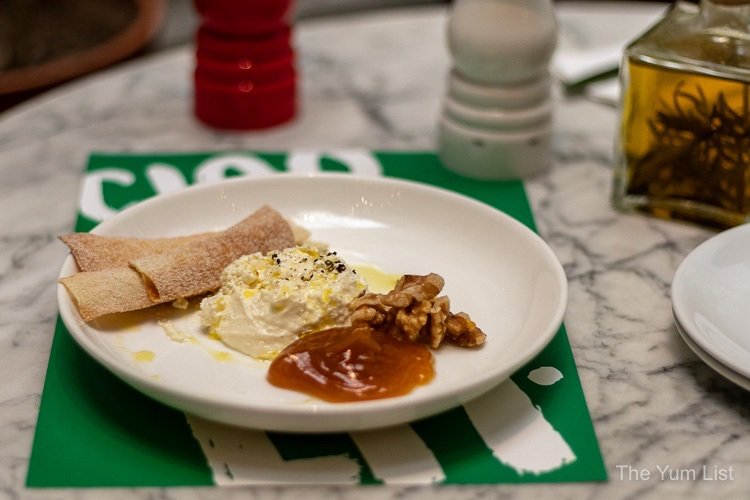 I always imagine anchovies as tiny little fish but here they are quite moderate in size. Anchova Frita com Escabeche (RM8) features the flavoured-packed fish flash fried in a light crisp batter. Two specimens are laid atop a stack of julienned carrots with a sour sauce of onions, garlic and vinegar. The tang of the sauce is addictive making me fork back in for more. Chef informs that this southern dish has been given a milder brush here. In the south of Portugal, the tradition is to marinate sardines in the acidic sauce overnight, which gives a burly sharpness, only suited for those who have built up a tolerance.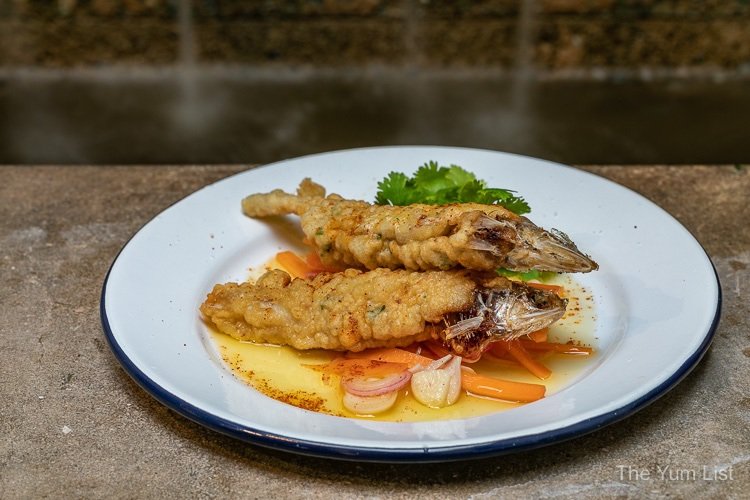 Insisting on making everything in-house, the chicken sausage that is the main ingredient of the Croquetes de Alheira (RM15) has been made just this morning. Turkey cold cuts, bread crumbs, paprika, garlic, parsley, olive oil and coriander – "all the leftovers inside the fridge," jokes chef Joao makes up the rest. The balls, crispy outside and moist within, sit in a lightly bitter sauce of garlic mayonnaise with oregano and olive oil.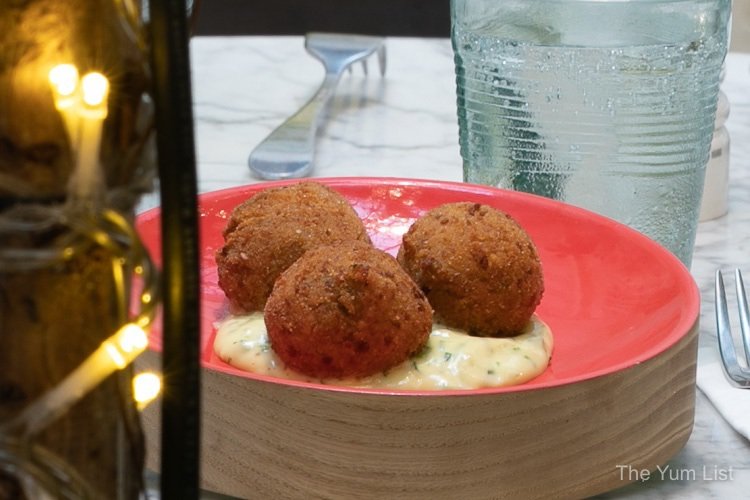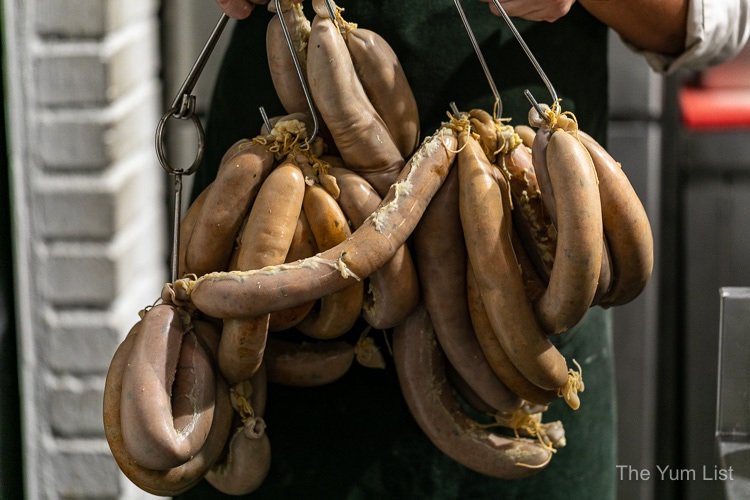 The famous Portuguese chilli sauce (two types of chilli, lemon, olive oil, paprika and garlic) is a highlight of Gambas com Piri-Piri (RM35). Plentiful olive oil smooths over the bite of the spice, which slowly develops on the tongue. The prawns are cooked to perfection leaving a nice bounce to the flesh.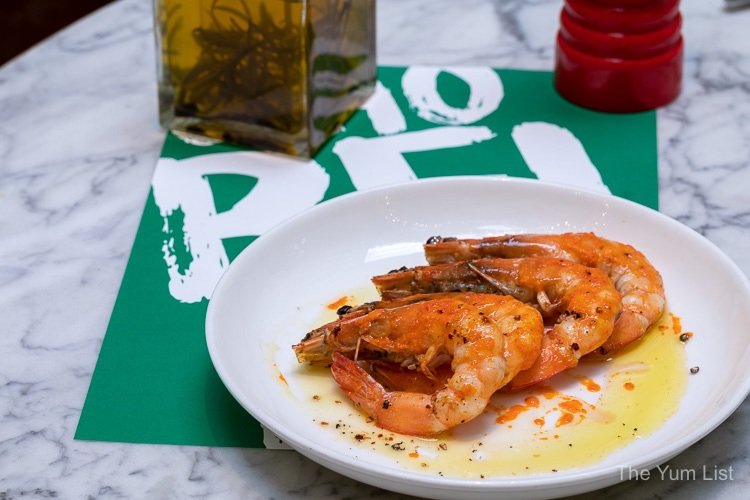 Portuguese Main Dishes
Our mains begin with a hot cast iron pan holding Arroz de Polvo com Filetes de Polvo (RM55) – octopus rice with octopus fillets. Chef Joao promises that this is a "very Portuguese recipe." Being a seafaring nation, Portugal is the largest consumer of seafood in Europe and the fourth in the world. This dish sees octopus quickly fried in an egg and flour batter crowning al dente carnaroli rice (a medium-grained rice used as a substitute here as the traditional Carolino grains cannot be found), rich with garlic, red wine, more octopus and lemon. Served in the black metal pan it reminds me of a paella, only it is much saucier – truly delicious. If it were the only thing we had ordered it would easily make a meal all on its own. Felipe shows a particular fondness for this dish saying that it reminds him of his mother's food. We're rather fond of it too and request an extra portion to take home.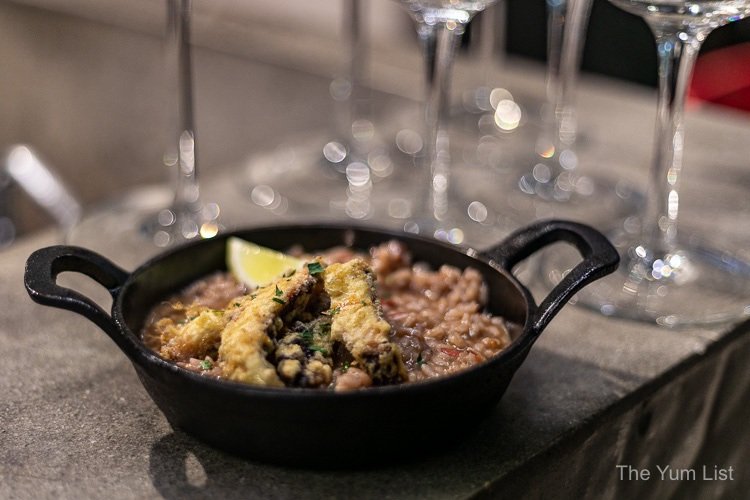 The final Portuguese main is the Carne de Novilho à Portuguesa (RM45) – cubed wagyu beef rump (marble 5) Portuguese style (traditionally with pork) with clams and potatoes. It is another wonderfully satisfying dish that has a seductive more-ishness thanks to the acidity of the homemade pickles. Even though there are plenty of potatoes to soak up the sauce, I love the relish so much that I would delight in mopping the rest up with some slices of sourdough or baguette.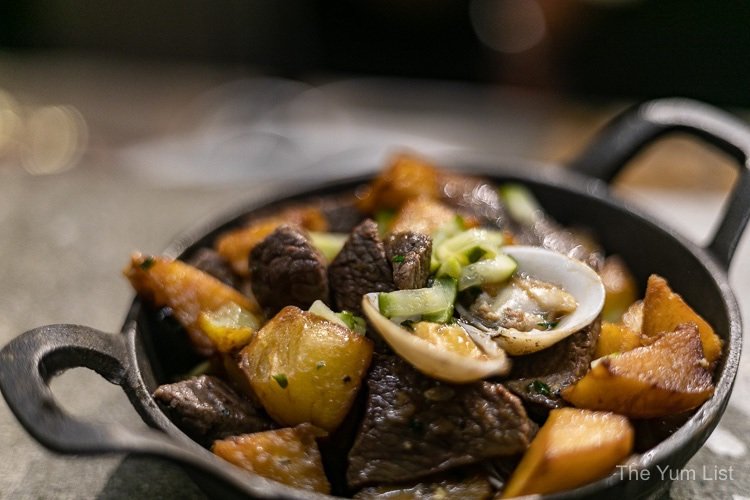 Portuguese Food Kuala Lumpur – Dessert
Despite now having tried one of everything on the menu (it is our job, after all, to report comprehensively) I have no trouble polishing off a Pasteis de Nata (RM6) – Portuguese egg tart – all to myself. With both manager Filipe and chef João both hail from Portugal so there is no arguing here about the authenticity of the tart. It doesn't necessarily look attractive: the top is charred, the sides a little shrivelled. When I bit in, however, the eggy gooeyness just oozes out. It's like a warm hug around my tongue. Please, sir, some more?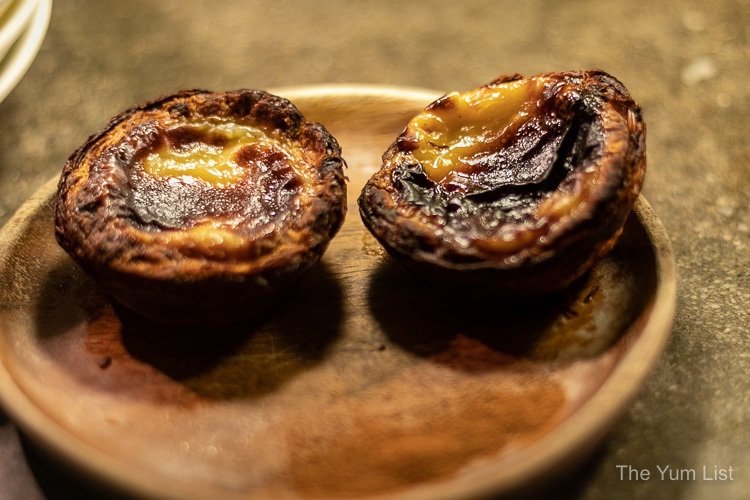 Portuguese Food Kuala Lumpur – There's More!
Felipe has been a busy bee, making his own liqueurs. Marinating fruits in alcohol for up to 60 days, he produces some fantastic digestives. Currently, he has around two handfuls and I try three of them:  lemon, cinnamon and chocolate. The lemon is very similar to limoncello, refreshing and compelling. The chocolate reminds me of a lushed up version of Bailey's and oh my, the cinnamon smells just like apple pie! If there weren't Portuguese tarts around, these would be more than enough for a sweet, happy ending.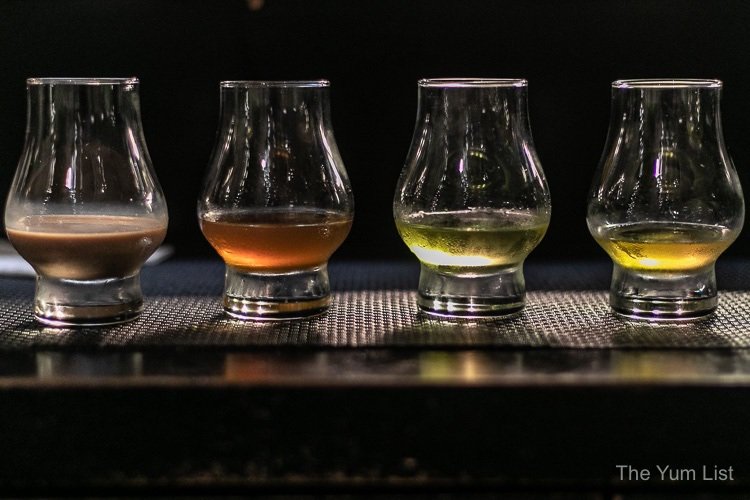 Bom Apetite!
You can find Portuguese food in Kuala Lumpur once a month at Bella by BIG. Follow them on Facebook for the latest updates.
Reasons to track down some Portuguese Food in Kuala Lumpur at Bella by BIG: possibly the only restaurant serving authentic Portuguese food Kuala Lumpur; must-try the egg tarts; if forced to choose just a few dishes, give the Carne de Novilho à Portuguesa, the Arroz de Polvo com Filetes de Polvo and the Melão com Presunto an order.
Portuguese Food Kuala Lumpur @Bella by BIG
15 Lorong Kurau
Taman Weng Lock, Bangsar
59100 Kuala Lumpur
Malaysia
+6 03 2093 9975
thebiggroup.co/bella
www.facebook.com/bellabybig/
The next Portuguese night is October 5th, 2018. Give them a call if you want a taste!