Hand-Crafted Boutique Barossa Comes to KL
Words: Claire Matheson
Photos: Monica Tindall
Small-batch. Hand-pruned and basket pressed. Versatile white sand over red clay terroir. Fruit driven. Balanced and structured. Quality over quantity.
Hands up all the wine drinkers. Do I have your attention? Come with me on a journey over deep waters and through never-ending blue skies. To a corner of the globe where the relationship between winemaker and the land has earned this wine producing region the reputation of one of the very best in the world. Come with me to the Barossa Valley.
The middle of bustling, frenetic KL is the last place I expect to uncover a boutique winery from Australia's Barossa Valley. Yet in the heart of Bangsar, I am being introduced to a winery that truly encapsulates the meaning of Vigneron – what it means to be a winemaker.
Rusden Wines
Rusden wines are a drinkable version of the sustainable farm to plate movement. This small production high-end winery grows the vines, lovingly hand pruning and tending each one, producing each bottle of basket pressed, French oak stored wine on-site exclusively from in-house sourced grapes.
Family owned and operated, the Vine Vale vineyard was originally purchased in 1979, containing old vines planted from 1969 onwards. Producing their first bottles of Chenin Blanc in 1998 from only 7.5 tonnes, Rusden Wine's production has increased to between 80-100 tonnes per year. Despite this increase in output, they remain small in scale and have held true to their roots of carefully crafted, handmade wine, eliminating machination in their growth cycle. Describing themselves as 'custodians of the land', their methodology was and continues to be underpinned by sustainability long before the buzzword took off in the industry. Now, their wines are capable of holding their own amongst the top Barossa large-scale producers – the labels you know and love.
Such small-scale family owned and operated producers are normally limited to cellar door sales, withheld only for those privileged enough to visit the region in person. Not so here in KL, where Justin Wong's Strine Wines have recently launched their operation as a Malaysian based wine importer specialising in hard-to-find, boutique Australian wines. Justin's refined taste buds, stemming from his previous life as a chef, found a haven touring Australian wineries. Realising the growing market within Malaysia for fine wines, Justin set about importing Australian wines capable of making Bordeaux envious. The wines The Strine Wine Co distribute are not your ordinary drops. You won't find these bottles on shelves anywhere in KL. And while everybody else is relegated to drinking the big house brand names, you can sip your way through your very own Australian Barossa cellar door experience with Strine Wines, importing what they regard as the best of the best.
Rusden Wines with The Strine Wine Co
This evening we are joining Justin and friends from The Strine Wine Co at Vineria IT in Bangsar Shopping Centre for an Italian feast featuring Rusden Wines (tickets RM280). The rustic home-cooked style of Chef Alberto from Vineria IT has tonight provided a menu with four dishes to each pair with an individual bottle of Rusden Wine's top offerings.
Rusden Wine Paired Dinner at Vineria IT
We begin the evening with a healthy glass of Rusden Wine's iconic Chenin Blanc. The 2017 Christian is earthy and smooth, with a subtle tinge of guava and citrus. Minerally and sandy to begin, the intensity builds on the palate, building to a floral finish. Five months in oak gives the wine maturity whilst maintaining a fresh 'green' feel.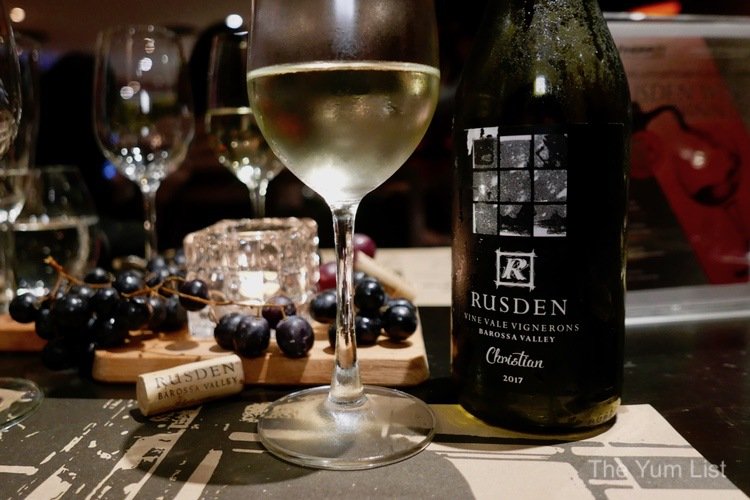 This is a white that can handle most food accompaniment challenges and still come out on top. It is, therefore, a perfect wine for those wanting to taste the complex clarity but is unsure of how to match it. Vineria IT have chosen to pair it with an artfully arrayed summer seafood salad. Clams, prawns, squid and a practically still pulsing mussel are laid out with fava beans, slices of lemon and radish on a smear of squid ink aioli. The garlic and citrus playfully lift the Chenin Blanc notes.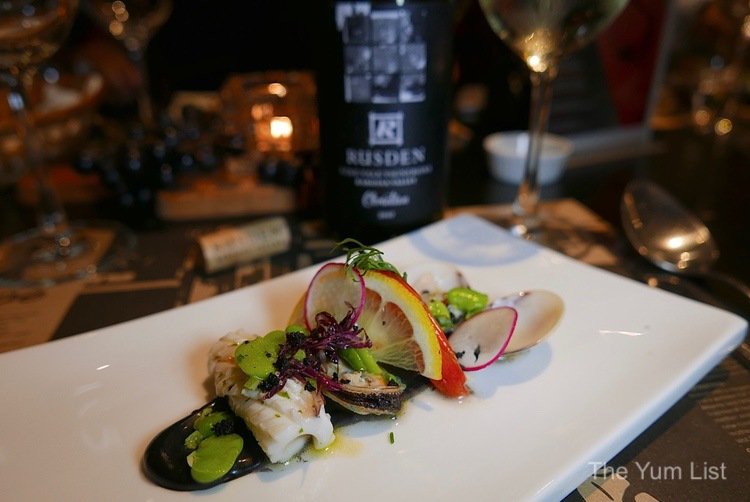 Bottles of Rusden Wine's 2016 Good Shepherd Malbec are opened next to cheers from the eagerly awaiting tables. With a bright purple-red berry colour, this is an honest and virtuous glass. Fruity from start to finish, the flavours of blueberries and currents will fill the mouth and linger with notes of spice and gratifying tannins.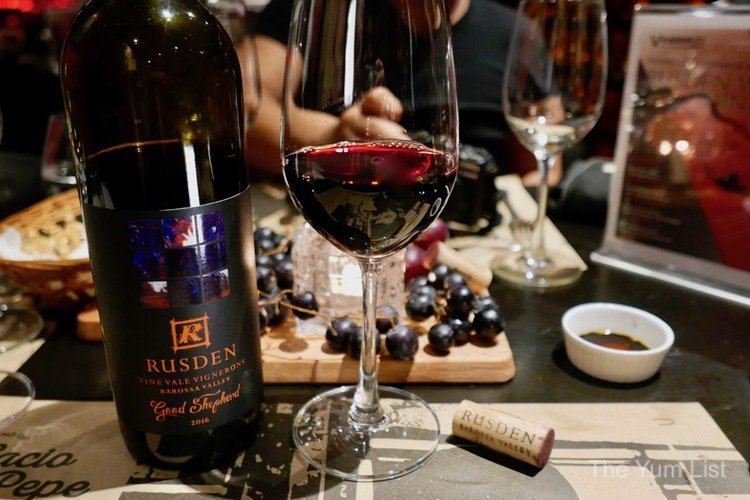 Malbecs are a lighter red, easy to please in both cool and warm climes, they too will pair nicely with most white or red meats, and are a good choice for vegetarian dishes. An Italian staple, we are served plates of cheesy and wholesome pumpkin risotto, cooked with an al dente crunch, topped with peppery steak tartare and tempura fried sage leaves. Creamy and satisfying.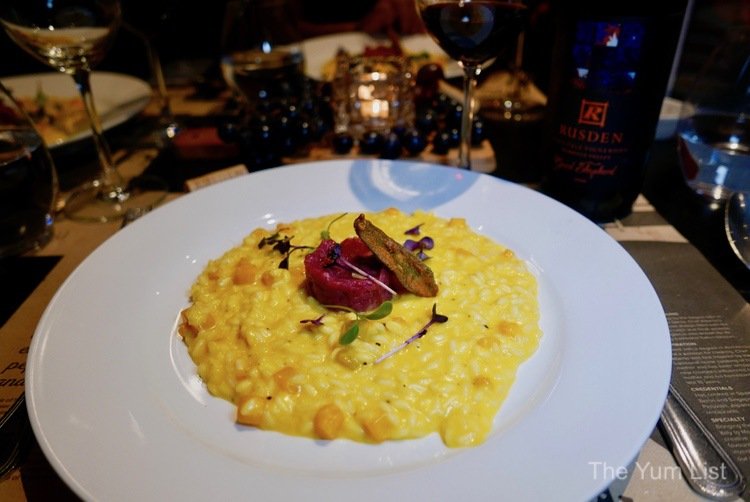 When drinking a glass of the 2012 Rusden Full Circle Mataro you are struck by how simply beautiful this wine is. Balanced and full with a long finish, it is an enigma. Unfurling hidden complex qualities with each sip, its full nature is not revealed until it is allowed to breathe and rest. Meant to be drunk alongside a rich, gamey meat dish, there are beguiling notes it holds secret until it is ready to invite you in. Smoked cherries and blackberries with hints of charcoal and layered spice, the tannins are well integrated with acidity. Smooth and charming, you can't help but exhale after taking a mouthful.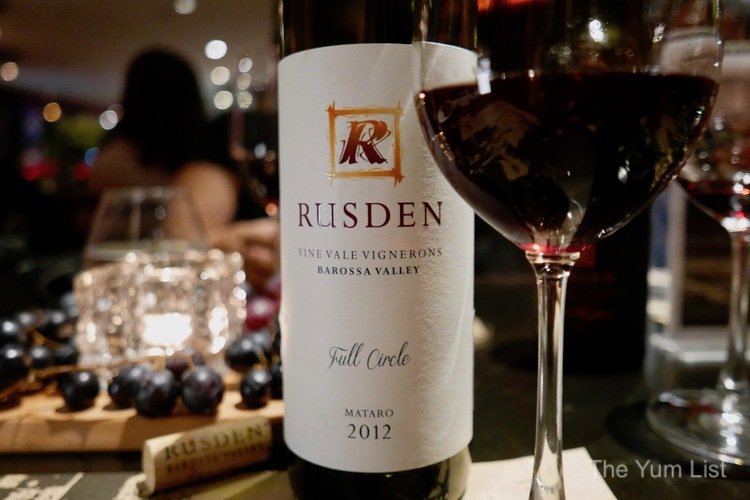 Fittingly, Vineria IT's chef has prepared a lavish pan-seared duck breast with duck leg confit on a bed of sweet potato puree topped with thick duck fat gravy and a red fruit and shallot sauce, alongside crisp steamed Asian greens.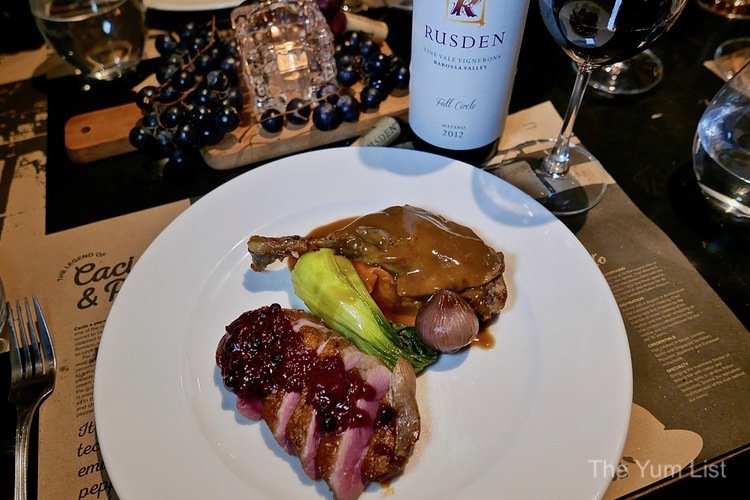 Building to a climax, the 2015 Rusden Black Guts Shiraz is poured. Conservatively disciplined with ripples of underlying power, this is a cultivated, multidimensional shiraz. It is in a class of its own, its sleek, satiny stone fruits and violet florals are layered with cloves and pepper. It is a understated confidence in a bottle, clearly from old growth vines.
For dessert we are treated to Italian Crostatina Tartlets, the buttery biscuit pastry capped with fresh summer fruits. Alongside, a chunk of wafered meringue and a spoon of pistachio ice cream sit abed a heaping of dark cocoa soil crumble.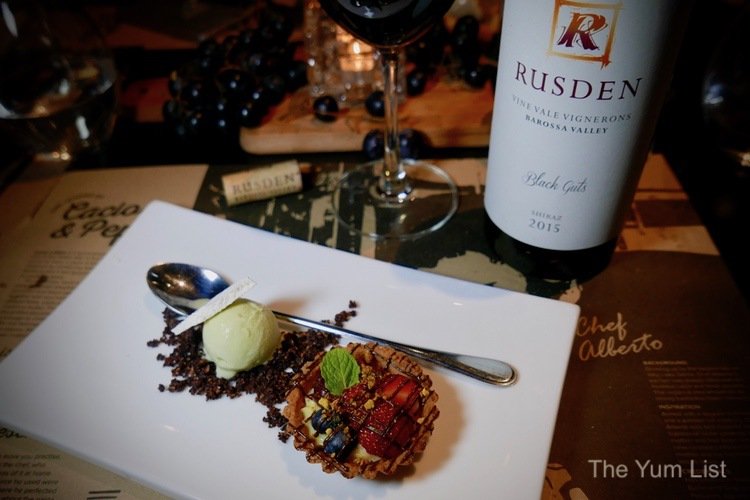 Sated and happy, the conversation flows thick and fast, fuelled by great food and spectacular wine. People share stories of their favourite wines and wineries on a playing field where old and new world are level. We are in agreement, Rusden Wines is up there with the best. We recommend sharing a bottle with your favourite companions.
Keep a close eye on The Strine Wine Co and Vineria IT's social media feeds for upcoming wine tasting events. The Strine Wine Co are also contactable for supplies of wine from Australia's most highly sought after boutique wineries.
The Strine Wine Co
Vineria IT
Rusden Wine
Wine lover? Check out some of The Yum List's favoured drops here.