Monica Tindall
Stunning sea views might be the first thing that grabs our attention at Da Maurizio, Italian Restaurant Phuket but an award-winning wine menu and delicious Italian food is what holds it.
Located on the same rocky outcrop as the famous Baan Rim Pa and Joe's Downstairs restaurants at the end of Patong beach, the panoramas are simply spectacular. A light seaside lunch or extended wine-paired dinner benefit from a cool ocean breeze and the soft melody of waves lapping the shore.
Da Maurizio, Italian Restaurant Phuket, has recently been given a revamp with a freshening-up of the interior and a brand new chef, Mario Fraschini, with menu to match.
Italian Restaurant Phuket
Da Maurizio Menu – Drinks
Sparkling cocktails are the perfect aperitif and so we kick off our evening at Da Maurizio with an Aperol Spritz (THB385) and a Mimosa (THB385). The former is a simple mix of Aperol, prosecco with a dash of soda, and the latter combines prosecco, Grand Marnier and fresh orange juice. Light and refreshing, we could easily sip on another taking in the views.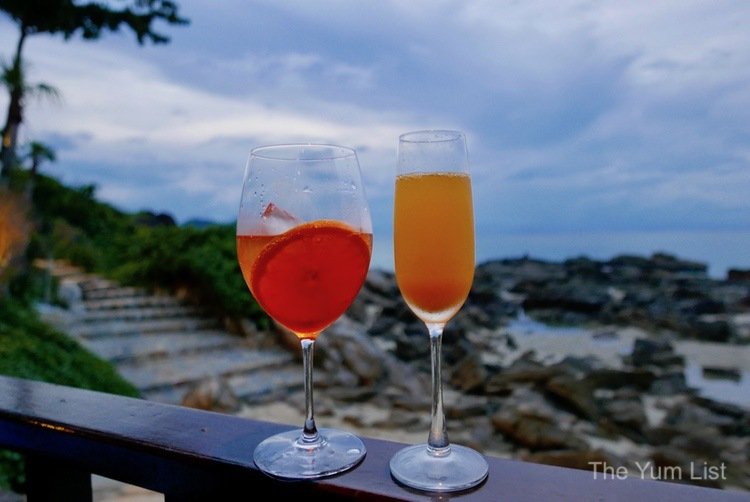 As we move onto selecting what's for dinner, we browse the award-winning wine menu. Impressed by the comprehensive list of vintages from around the world, we settle on a renowned Italian label, Rocca di Frasinello. A partnership between two greats – Domains Barons de Rothschild Lafite and Castellare di Castellina – even the entry-level wine, Vermentino 2016 from Maremma Toscana, is of high quality. Fresh, crisp and fruity, it's a versatile wine carrying us across our starters and pasta happily until we switch to red for our beef main.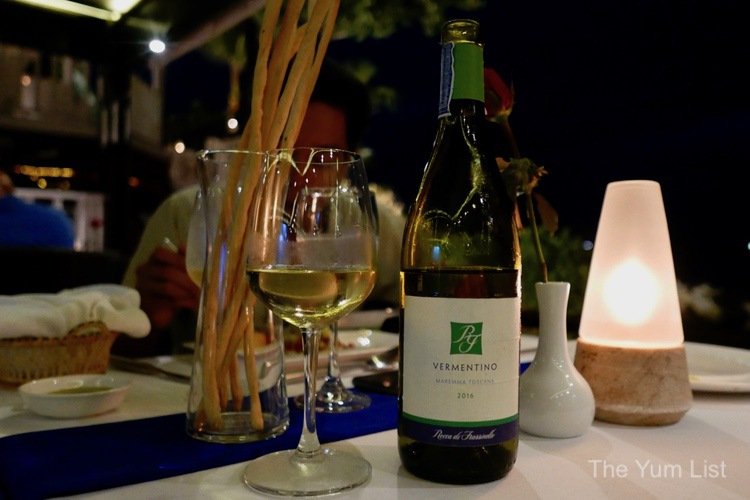 Da Maurizio Menu – Food
Appetizers
Our food tasting begins with a base of tradition and a vibrant tropical twist! Tartar di Tonno Con Ananas e Menta (THB420) is a beautiful pink layer of tuna tartar crowned by pineapple marinated with mint leaves. A link to the sea and our lovely location is awarded in a rim of blue sea salt (pushed to reveal the secret, chef tells the colour is given by baking the salt with Blue Curacao). It's a wonderfully fresh dish, which has us eagerly awaiting more.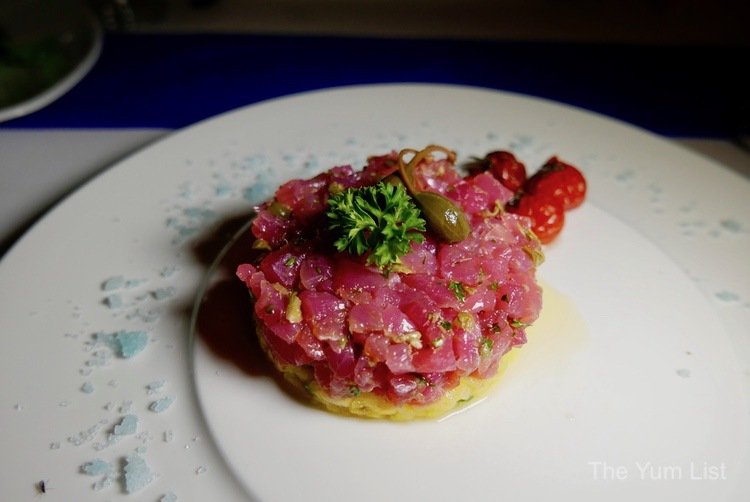 A new delivery of cheese just arrived today so La Burrata (THB380) seems an obvious choice. Proving that simplicity is best, this straightforward combination of creamy cheese with rocket, Italian cherry tomatoes and balsamic vinegar is superb. Chef Mario confirms our delight, by sharing a quote from his grandmother, which roughly translates to, "the mouth is not tired until the mouth tastes cow," showing the significant role cheese plays in the Italian diet. Chef continues, "this is the good of my country: every town has its own wine, cheese, and ham."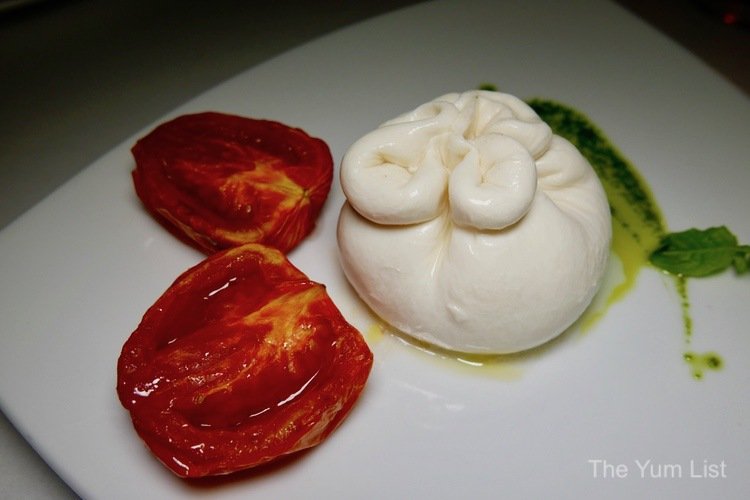 Our last starter features today's local catch in the Calamari Fritti (THB380). An uncomplicated deep-fry method allows the natural flavours of the squid and zucchini to shine through. A squeeze of lemon is the only complement needed for this perfect seaside dish.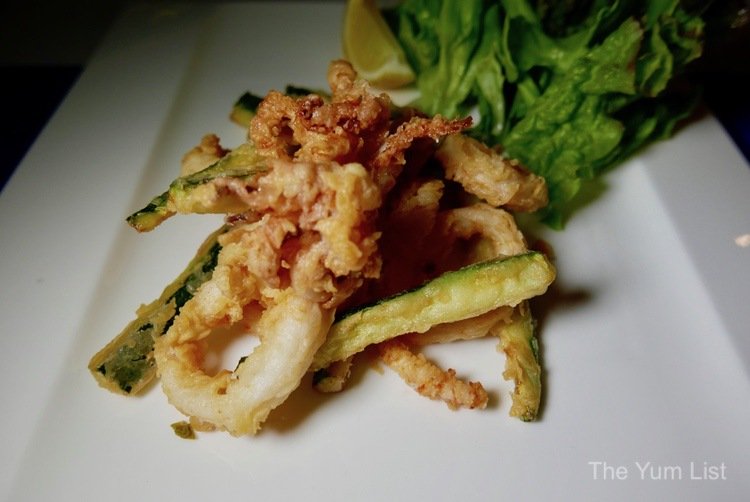 Da Maurizio Menu – Pasta
Truffle fans will definitely want to try the Tagliolini al Tartufo Nero Estivo (THB550). Bouncy ribbons of house-made pasta are smoothed with a creamy sauce with chef providing the final luxurious touch tableside with a shaving of summer black truffles. This dish has been adapted to local taste buds with the addition of a splash of cream. If you are familiar with the original recipe though (just butter, truffle and Parmesan), chef welcomes you to order it unadulterated.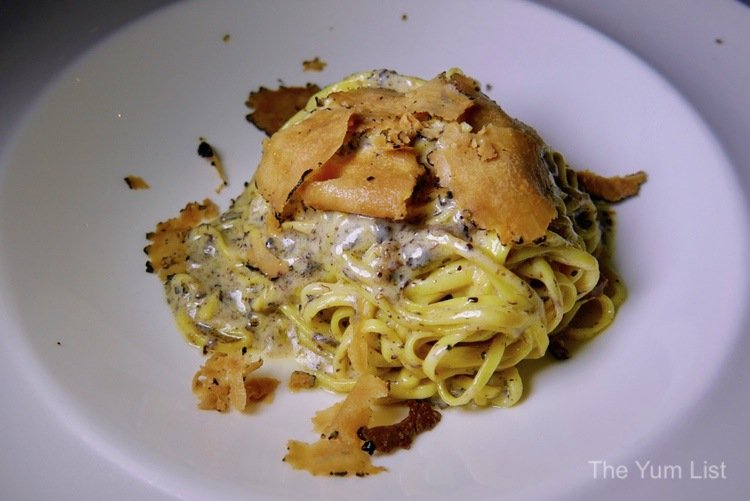 Sometimes the traditions, the most rustic of recipes, are the best way to appraise a restaurant. Fettuccine alla Bolognese (THB450) is the only recipe in Italy that is registered with a government office with clear ratios for each of the key components. It's no surprise that here it is good, very good, so much so that we each name it one of our favourites for the evening.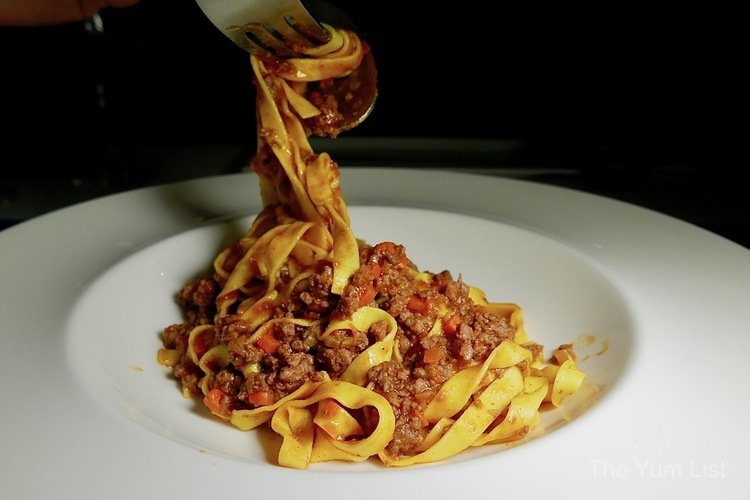 Celebrating the Extraordinary Italian Taste Campaign is the Mezzi Paccheri "Gentile" (THB420). During this week, Italian restaurants around the world are encouraged to highlight the best of Italy with signature dishes and promotions. Here at Da Maurzio, chef Mario has chosen octopus with Italian cherry tomatoes and Taggiasca olives as the showcase. Rich Mediterranean flavours are at the forefront of this dish – a good choice for seafood lovers.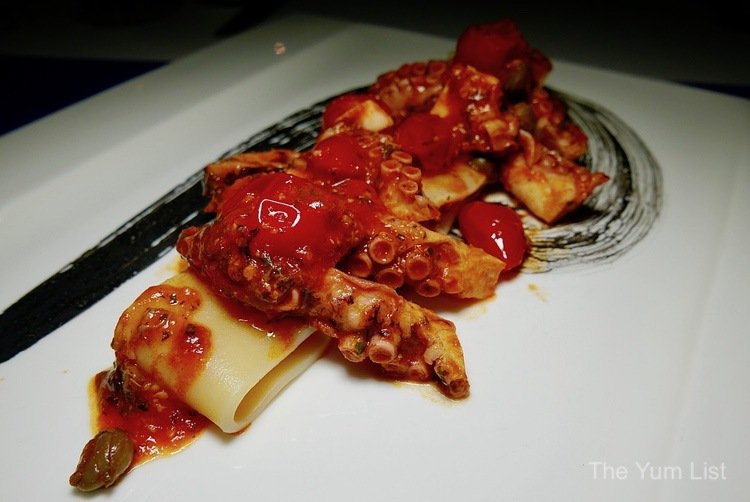 Main Menu Da Maurizio Italian Restaurant Phuket
We switch to red wine for the mains with Prunotto "Fiulot" Barbera d'Asti DOCG 2015 from Piedmont, Italy (RM435 per glass). Intense ruby red in the glass with lovely ripe fruit aromas, this wine, from the same region as the Fassona beef (up next), makes a perfect match.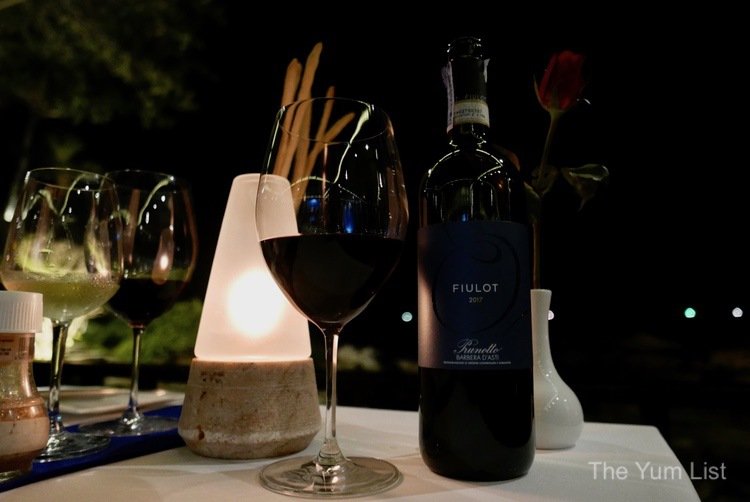 Tagliata di Fassona con Rucola e Grana Padano (THB1750) sees grilled slices of Fassona beef striploin (200gm) unelaborately served with rocket leaves and grana Padano cheese. Attractively charred around the edges and vibrantly pink in the middle, little adornment or seasoning is necessary. In fact, we think a sip of red wine with the meat is the best condiment.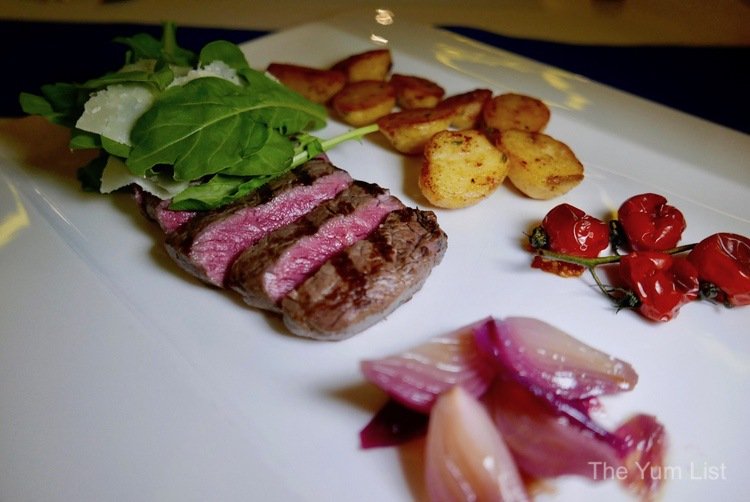 Completing the main dishes is the Filetto di Branzino a Bassa Temperatura con Salsa Mediterranea e Patate Fondenti (THB1250). Translation: sea bass cooked sous vide at a low temperature with Mediterranean sauce and potato fondant. Cherry tomatoes, olives, capers, thyme, basil, extra virgin olive oil, garlic and shallots bring out the freshness of the sea in moist, flaky, forks of flesh.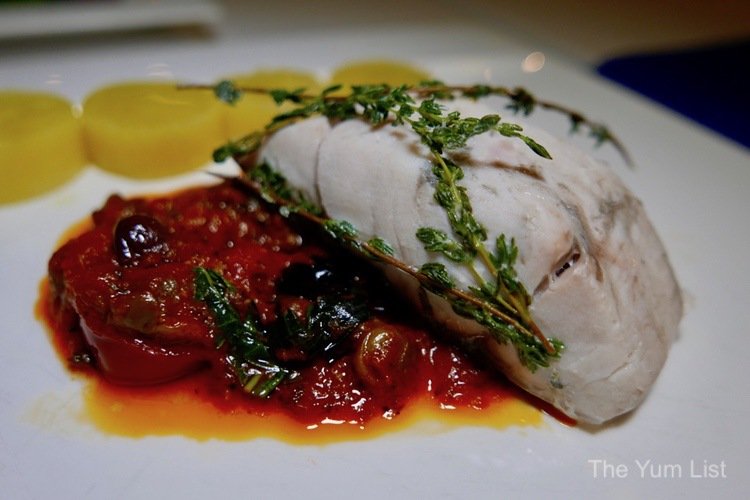 Da Maurizio Italian Restaurant Phuket Menu – Dessert
Only available at Da Maurizio Phuket, truffle ice cream is velvety and earthy and cold and mildly sweet. A small scoop bridges the savoury courses to our sweet finale.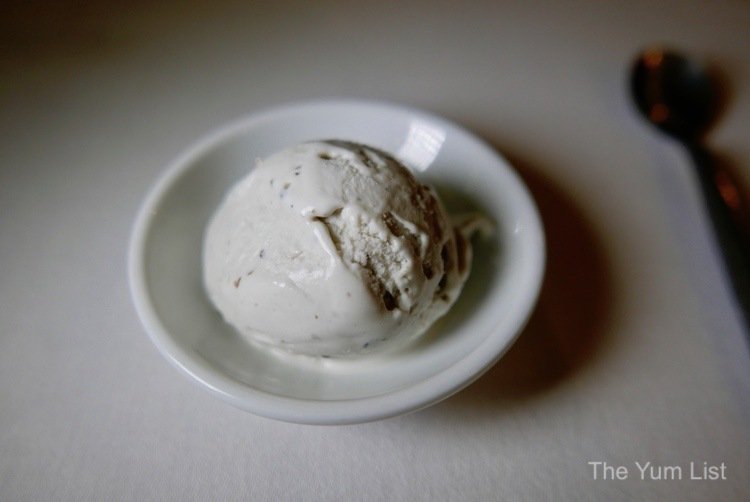 And, what a finale it is! Passion fruit, mango, pineapple, kiwi and lemon sorbets are presented in their very own shells. What a magnificent presentation! Gluten-free and lactose-free, and so darn pretty these are ending enough alone.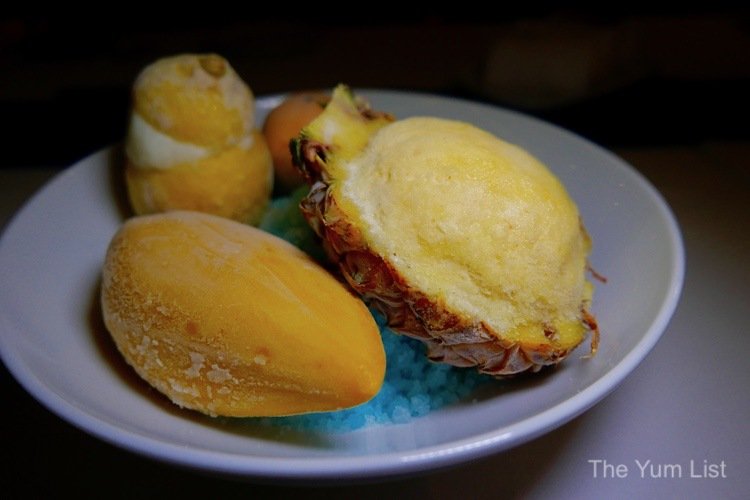 But, with an Italian chef in charge of the orders, you know he'll insist on there being room for "just one more" dessert. And, so it is, we end with a popular pick, the Tortino al Cioccolato dal Cuore Morbido e Focoso (THB450). "Chocolate cake with a soft and fiery heart," promises an innovation on tradition with a chilli thread woven through the molten middle. The melted chocolate though is not the only highlight, the ice cream on top is so incredibly rich that we can't help but quiz more about the recipe. It turns out that it is typical to chef's hometown of Brescia and given its rich intensity with egg yolks.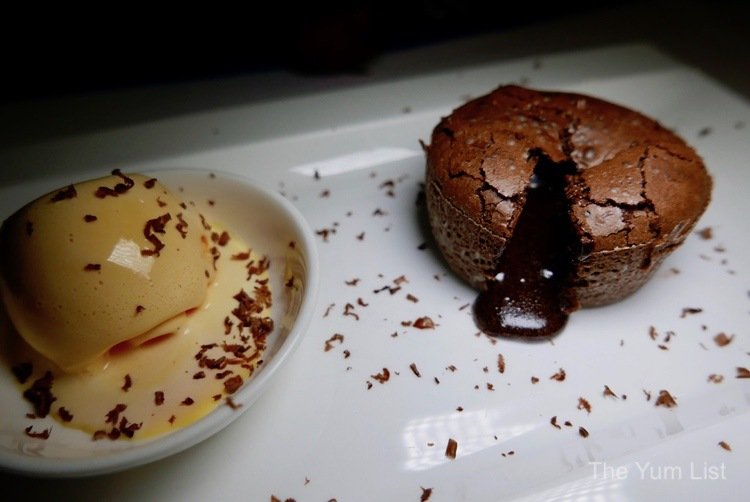 Reasons to visit Da Maurizio Italian Restaurant Phuket: stunning sea views; Wine Spectator Award-winning wine list; don't miss the house-made pasta, especially the Fettuccine alla Bolognese; do order the Fassona beef and get your cameras ready for the prettiest sorbets you'll find on the island.
Da Maurizio
Italian Restaurant Phuket
223/2 Prabaramee Rd
Patong, Phuket 83150
Thailand
063-0785567, 076-344079 or 076-344276
www.baanrimpa.com