Words: Monica Tindall
Photos: Rich Callahan
To many epicureans, French and Japanese are two of the finest cuisines in the world. This week, the team at Shangri-La Kuala Lumpur take culinary masters in each of these fields to create an unforgettable dining experience at Zipangu. In a "Four Hands" collaboration, Executive Chef Olivier Pistre and Chef de Cuisine Nao Takeshita present a modern six-course menu celebrating the virtues of food traditions from opposite sides of the globe.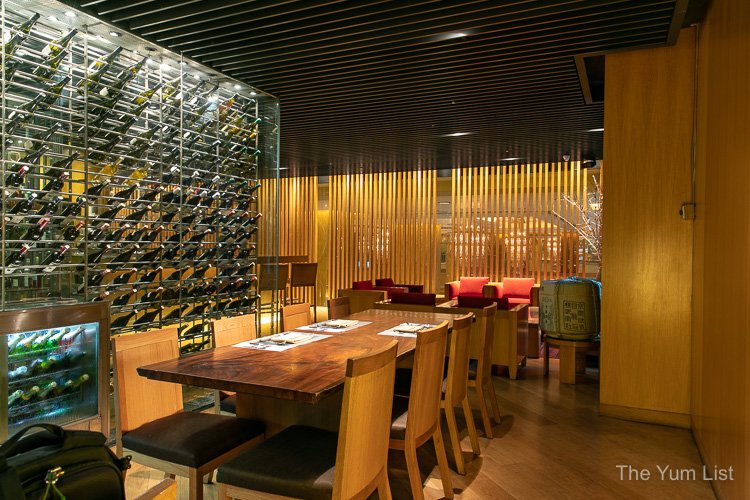 Zipangu, Four Hands Experience – Sashimi
Our introduction to the menu comes from Japan in a beautiful hand-painted box of moist sashimi: sea bream, tuna, shrimp and yellowtail. Cut with precision into thin edible bites, the display is prettied with edible garnishes (tsuma) including shaved daikon (white radish), shiso leaves and a petite chrysanthemum flower. Soy sauce and freshly grated wasabi complement the fish, with the sauce bringing out the depth of flavours and the Japanese horseradish clearing out nostrils. Fun fact: in the past wasabi was also said to counteract harmful bacteria.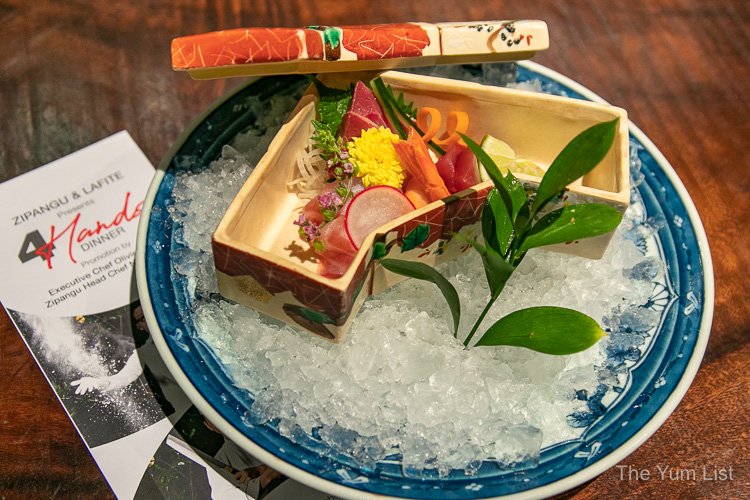 Zipangu, Four Hands Experience – Green Crab and Scampi
This time France takes the reins with a delicious preparation of scampi (also known as Dublin Bay Prawns or Norway Lobsters), chawanmushi "crab royale" (green crab in a Japanese baked egg custard), rhubarb and pickleweed in an Armoricaine sauce. It's all hugged in the shell of the crab with some micro greens on top making quite a stunning presentation.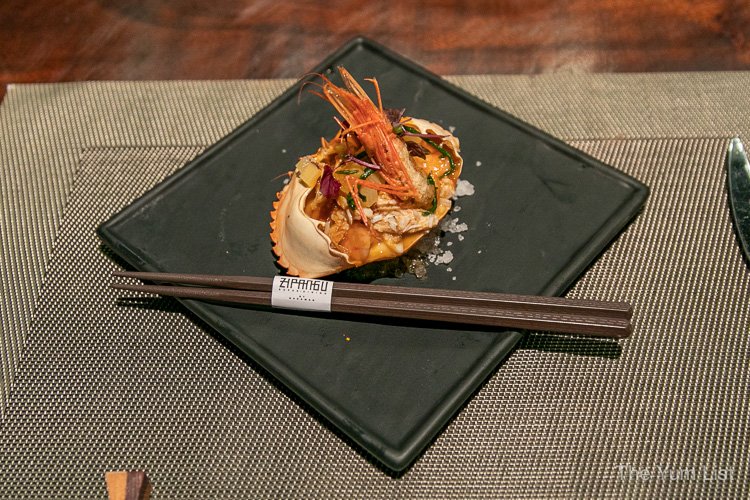 Zipangu, Four Hands Experience – Grilled Harvest Fish Saikyo Miso
Returning to the East, grilled harvest fish marinated in saikyo miso is delicious with the mild, gently salty and sweet, white Kyoto seasoning enhancing the natural characteristics of the fish. Small mackerel sushi, rolled salmon, sweet chestnut and deep-fried sillago accompany the grill, again on a very attractive platter. Vegetable shapes gift splashes of colour and a string of pink peppercorns contrast the black slate plate. This course is full of contrasting textures showing off just how much fresh produce and cooking styles can vary.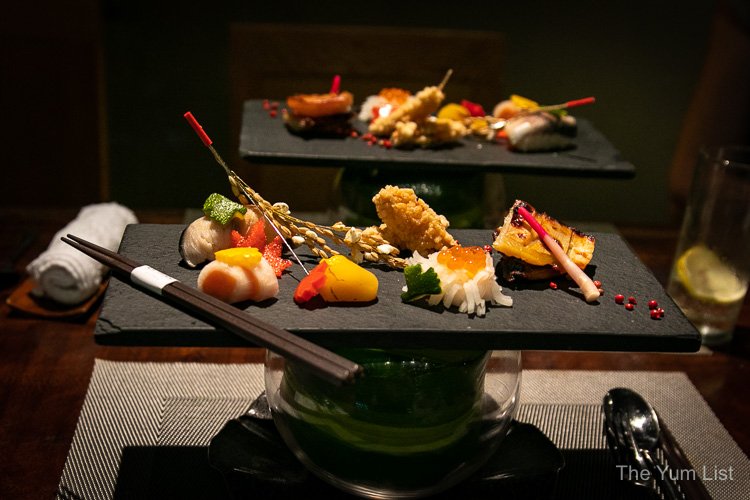 Zipangu, Four Hands Experience – Trou Normand
Tummies are beginning to feel satiated but help is on its way in the form of a digestive traditionally served in the middle of a meal by the folk in Normandy, the Trou Normand. Literally translated, the Norman hole, is a pause between courses, often in the form of Calvados (apple brandy) or apple sorbet with a splash of liquor, with the goal of aiding digestion and reviving diners' appetites for more! Here, the chef has made a more moderate intermezzo with a Japanese mandarin (Mikan) sorbet, Muscat granita and gingerbread crumble. It does its job. Cleanses our palates, provides a small respite and has us ready for more.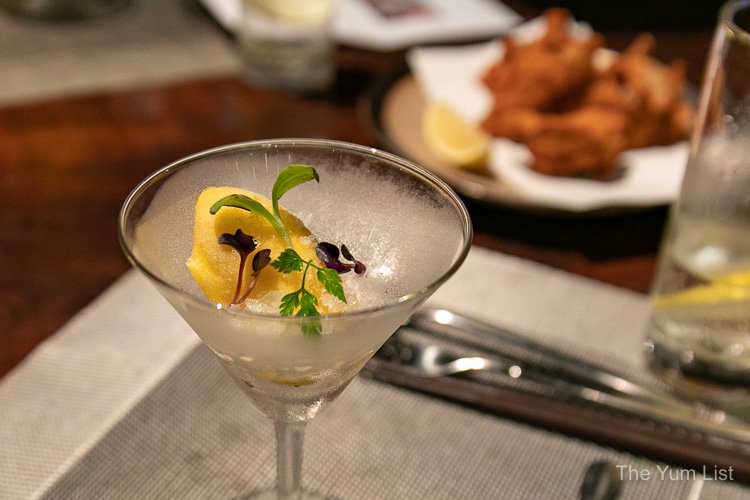 Zipangu, Four Hands Experience – Australian Wagyu Beef Sirloin
Australian Wagyu Beef Sirloin is seared teppanyaki style and arrives in a dome of sakura smoke. Dome lifted, a mysterious cloud wafts revealing superbly pink and glisteningly moist cuts of beef. Oyster and seaweed emulsion also sports a seductive smokiness and drops of parsnip puree with lemon gel, pickleweed and crisp capers dot the rest of the plate over a dusting of tarragon powder. The ingredients are clearly of high quality and the plating provides all of the touches of pizzazz you'd expect from a fine-dining experience.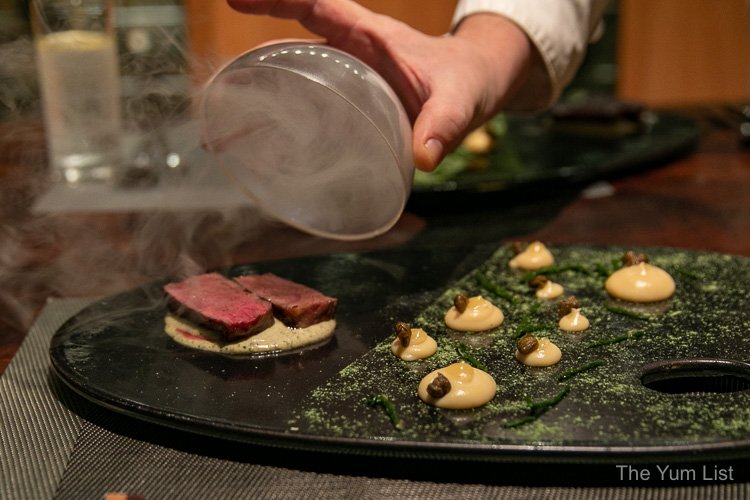 Zipangu, Four Hands Experience – Dessert
A closed amber-hued box raises anticipation in wondering what is inside. It turns out a hearty portion of Japanese sweets conclude our meal with matcha and yuzu rolled fruit cake, warabimochi with red bean and black sesame ice cream. Green tea washes the final traces from our mouths and settles tummies as the evening ends.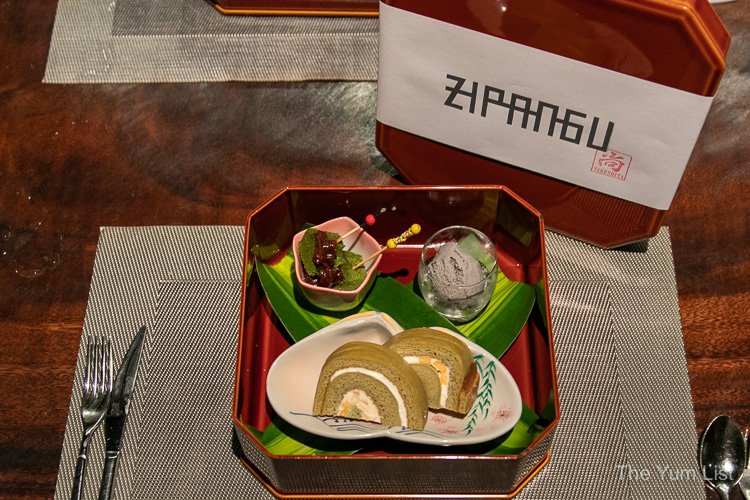 The Four Hands" experience at Zipangu is available from November 26th until December 3rd, 2018. The dinner runs from 6:30 – 10:30 pm and is priced at RM338. Reservations are highly recommended.
Four Hands Dining Experience
Zipangu
Shangri-La Hotel Kuala Lumpur
11 Jalan Sultan Ismai
Kuala Lumpur
www.shangri-la.com/kualalumpur
+6 (03) 2074 3560 or +6 (03) 2074 3900
[email protected]
Follow this link for more contemporary dining experiences in Malaysia.