Words: Patricia Podorsek
Photos: Monica Tindall
I don't know about you, but even as much as we tend to romanticize the freedom and glory days of childhood, I know that I spent far too much of mine watching television. One of the shows I can remember watching was a game show called Let's Make a Deal. In the show, contestants could win prizes by selecting one door over another. If they chose the right door, they might win a car or a new bedroom suite. If they chose the wrong door, they might end up with a goat! The host, Monty Hall, became known for his question, "Do you want Door Number One, Door Number Two, or Door Number Three?"
Nathalie Gourmet Studio Brunch
I am reminded of this question as I step into Nathalie Gourmet Studio this month to taste the new selection of brunch options. On Saturdays and Sundays, Nathalie's offers three options for guests, each with a range of beautiful dishes prepared with high-quality homemade ingredients that we've come to expect from them. Lucky for us, we get to open all the 'doors' to see what's inside! Come with us as we have a deeper look at what there is to win.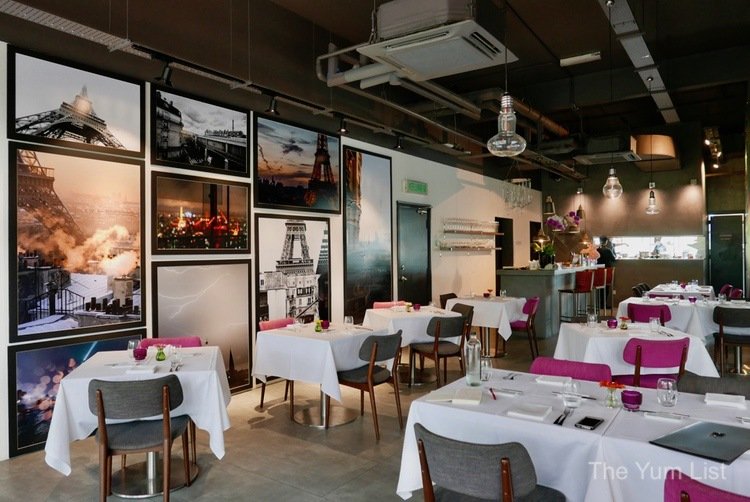 Nathalie Gourmet Studio Brunch
Door #1: The Weekend Temptation (RM85)
Seven goodies await the guest who selects Door #1! Beginning with cold-pressed orange-carrot-ginger juice, we find a well-balanced drink that begins with the slight burn of ginger then finishes with the (not overly) sweetness of the fruits. A basket of breads, including warm baguette and flaky croissants, arrives with a set of homemade jams that make me dream of the French countryside. House-smoked salmon and homemade herbed cheese add savory and substance to the mix.
The centerpiece of this menu is the Florentine Egg Brioche, a crowning stack of eggs, spinach and hollandaise. Not only beautifully presented, this beautifully-prepared main balances flavor and texture. The spinach stars without dominating. The hollandaise sings with notes of lemon and shallot. The strings of the brioche soak up the richness of the eggs. On harmony, we have a simple green salad, fresh leaves tossed with tiny roasted almonds and sunflower seeds. The dressing is a little sweet; we speculate that beetroot may be involved. This is a delicious and healthy core to our meal.
To finish, we have the less-healthy-but-no-less-delicious-or-beautiful sweet side. On one end, caramel syrup is tucked up under delicate custard and topped with artfully sliced berries. On the other, a crispy waffle arrives dusted in powdered sugar and a side of freshly whipped cream. Armed with a latte and a long black, we take our sweet time finishing what has been a delightful entry into Door #1.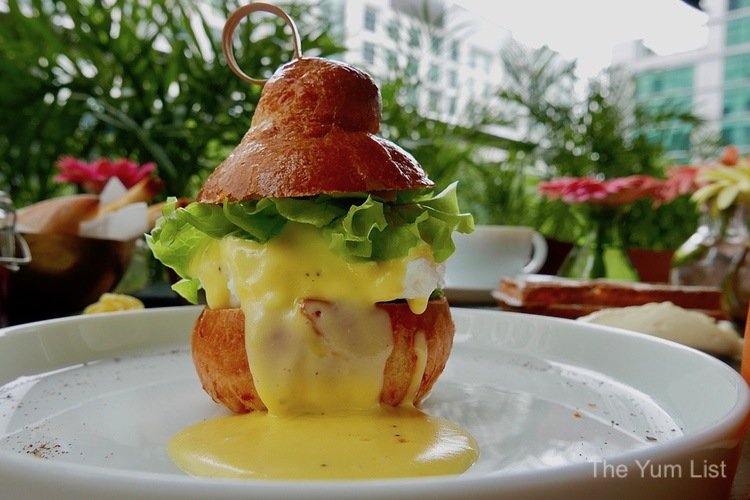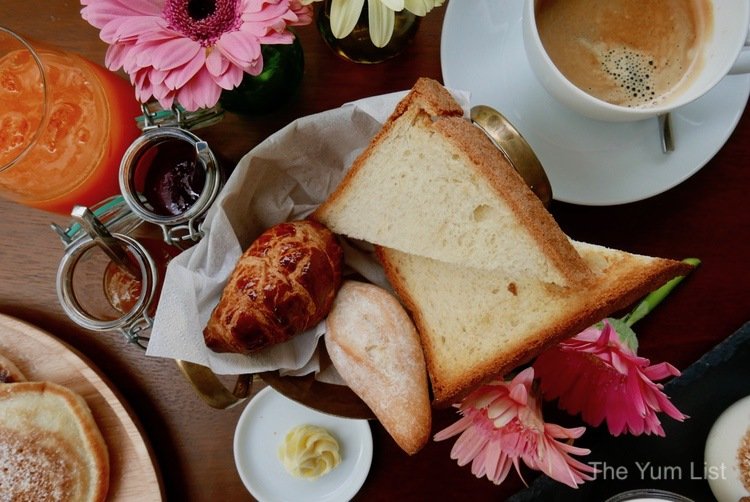 Nathalie Gourmet Studio Brunch
Door #2: The Vegetarian Wake-Up (RM85)
In the game show I mentioned earlier, sometimes guests had to be careful about what they might find behind Door #2. There is no danger of that here! A different cold-pressed juice greets the guest who selects The Vegetarian Wake-Up. A blend of orange, pineapple and pomegranate delivers fresh fruit in a glass with a deep ruby hue. The same basket of bread arrives, along with a salad bowl of lightly dressed leaves and nuts. For the main, bright lemony hollandaise drapes crushed paprika, avocado and poached egg on a slice of country bread tartine.
Oats fans will look forward to the Honey Fromage Blanc, a lightly sweetened cream topped by housemade granola and fresh berries. On the sweet side, fluffy American-style pancakes come enriched with coconut for extra moistness and intensity of flavor. The little pitcher of coconut caramel adds thick, dark syrup with a slightly burned flavor. This is a welcome tropical bent to the more common maple syrup. Again, we lick our lips (and contemplate doing the same with the dishes!) and polish off a nice cappuccino to end the meal.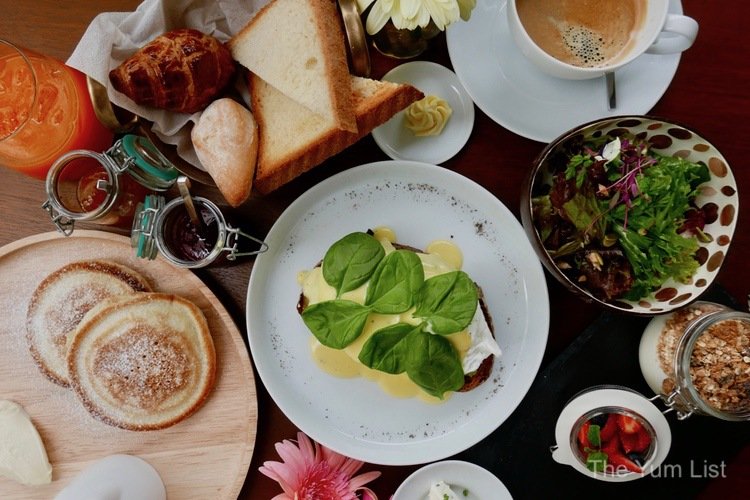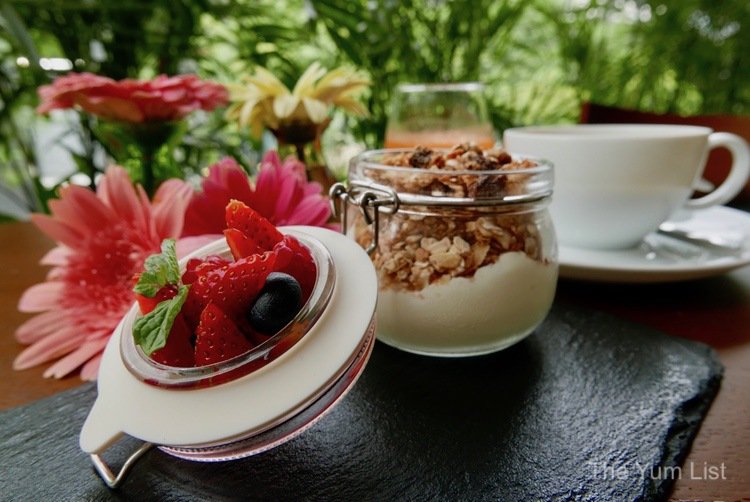 Nathalie Gourmet Studio Brunch
Door #3: Kids Booster Brunch (RM35)
While your kids might enjoy the goat often revealed behind Door #3 on Let's Make a Deal, you'll be happier knowing they've got a healthy and filling breakfast waiting for them. The crispy disk of the potato hash bears no resemblance to the frozen variety; here the taters are soft, tender and a little creamy on the inside. One sunny-side egg brightens the table in addition to the hash. Kids can then select from the waffle or coconut pancakes, described earlier, as well as a choice of granola or cream caramel.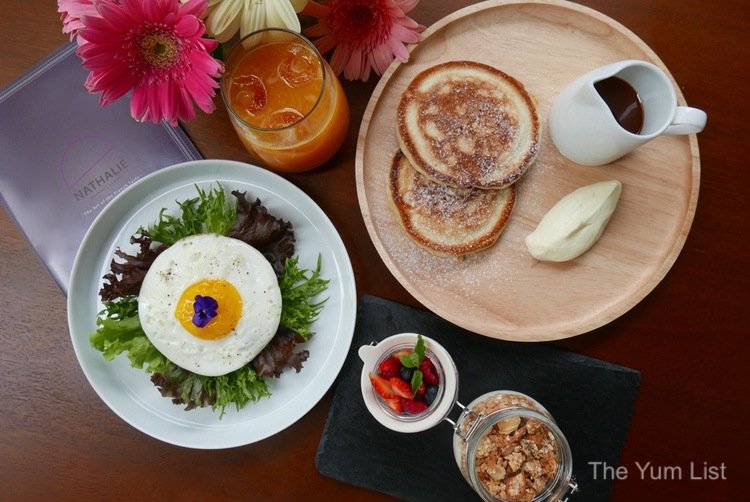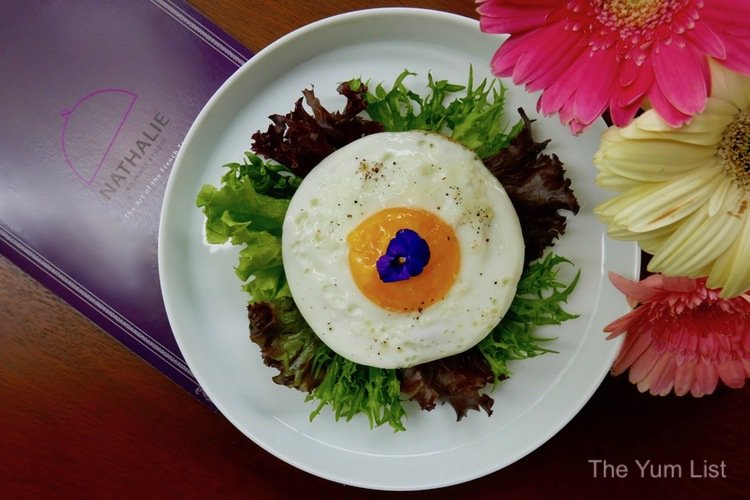 So which will you choose, Door #1, Door #2 or Door #3? Since the food options are prizes all by themselves, it seems the only door you should choose is the one that enters Nathalie's Gourmet Studio at Publika. Inside, you'll find a winning meal for sure.
Brunch at Nathalie Gourmet Studio Brunch is served every Saturday and Sunday from 10:00 a.m. – 3:00 p.m.
Reasons to visit Nathalie Gourmet Studio Brunch: Three choices of beautifully prepared, well-rounded brunch for a very reasonable price. Kids welcome.
Nathalie Gourmet Studio
Publika, Unit A4-01-5
Solaris Dutamas, Jalan Dutamas 1
50480 Kuala Lumpur
nathaliegourmetstudio.com