Words: Monica Tindall
Photos: Rich Callahan
Since VCR first opened in Pudu six years back, they have done nothing but grow from strength to strength. Opening a second outlet in Bangsar and increasing in-house production to "just about everything" (bread, coffee, granola, pickles, even kombucha), VCR has become a name to trust and a staple for KL café hoppers.
Founded on the philosophy of good coffee and good vibes, the team at VCR pride themselves in valuing employee growth, fostering customer and community relationships and enhancing the speciality coffee scene in Kuala Lumpur. Staff are encouraged to share their passions and interests and the management team support their growth. Ownership and independence are evident in all of our interactions.
The VCR team's love of greenery and natural light is immediately evident in the Pudu outlet and here in Bangsar they have put in a glass atrium out back and greened up the front street entrance in an attempt to capture a similar mood. A clever use of mirrors assists in reflecting light and dark wooden tables make great backgrounds for your Insta-shots.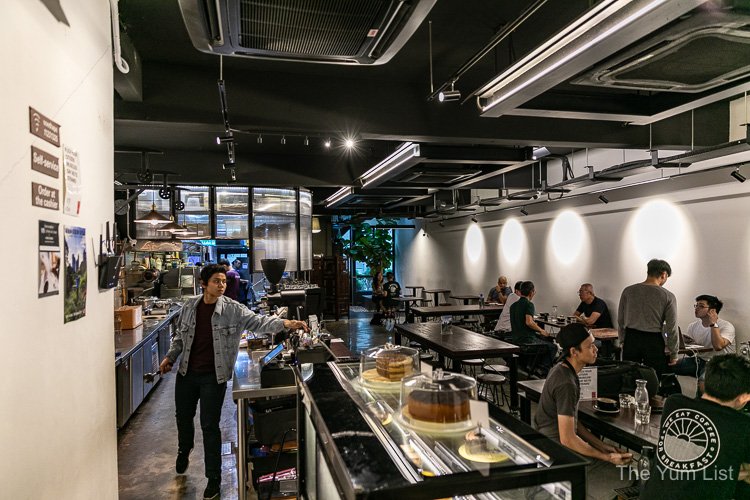 VCR Bangsar Menu – Food
VCR Bangsar's menu is reflective of a contemporary Melbourne café with some delicious local influence. As mentioned earlier, the kitchen team take no shortcuts insisting on making everything they possibly can in-house and from scratch.
Pennsylvania's Soul (RM25), cheekily described as including can't F**K it up fried chicken (buttermilk batter) is served atop a potato waffle with Thai basil and sriracha mayo giving a delicious addictive spiciness. House-made chrysanthemum syrup and pomegranate balance the savoury with a touch of sweet. This dish is a clear winner and we can see why it's the best-selling item on the menu.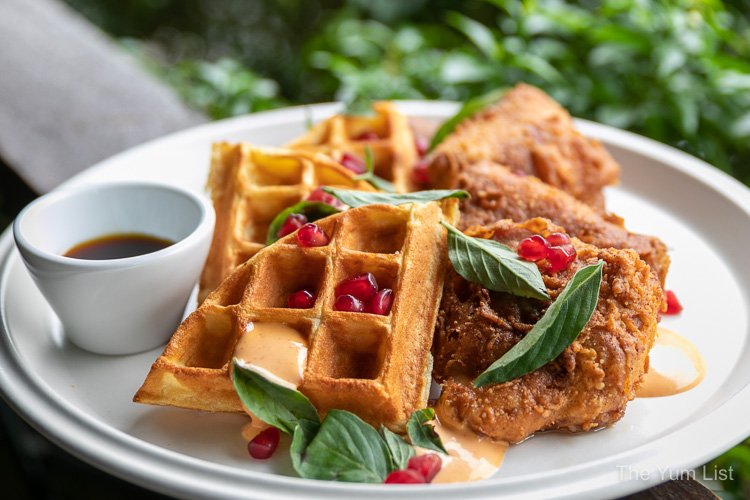 Perhaps one the most Instagrammed items though is the Soft Shell Crab Burger (RM28). Resembling a hermit crab creeping out from its brioche shell, the deep-fried crab guards onion jam, quick pickle shaved cucumber, house-made tartar sauce and a Furikake sunny side up egg. Furikake is a Japanese seasoning of dried seaweed, white and black sesame seeds and bonito flakes and furnishes umami flavours to the recipe. This one runs a close second for most popular order. Apparently, it was made famous by a Korean YouTube artist and since then a wave of Korean tourists has flooded the doors keeping sales high and the dish firmly planted on the menu.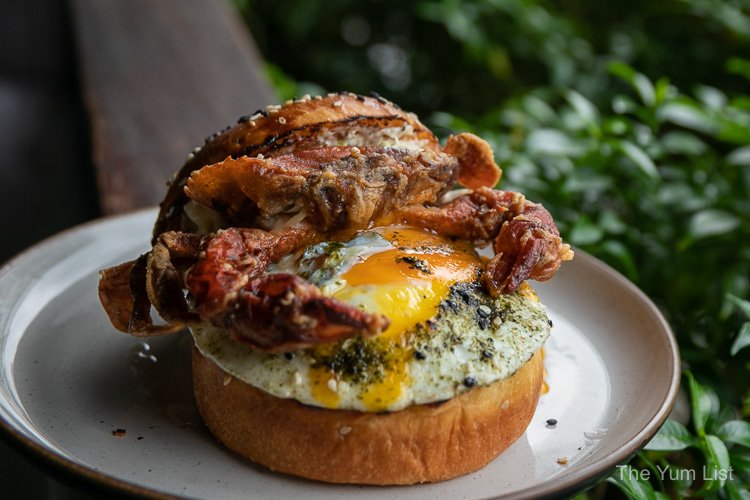 I liked the Superbowl (v) (RM20) before I've even tried it. It's got all of my favourite ingredients in one dish: quinoa salad, sweet potato, grilled sweet corn, dehydrated kale, four-angled beans, hummus, pistachio, Greek yoghurt and basil oil. The secret ingredient is no longer secret as I pressure Wong to reveal it – chrysanthemum syrup. Superb!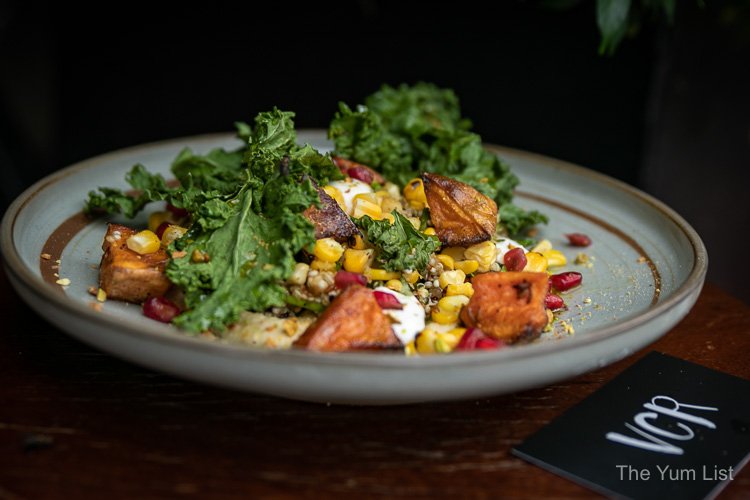 French Toast (v) (RM19) is a flexible dish meaning you can have breakfast for brekkie, lunch, dinner or dessert – not just that breakfast can be eaten for lunch and dinner but also that this dish is literally served on half a loaf of bread so could possibly do you for all three! Espresso no-churn ice cream and chocolate and orange crumble are served over fluffy brioche French toast. Raspberry compote drips down the side and a mocha sauce holds the crumble in position. This dish is magnificent, and Rich and I clash forks until the very last bite.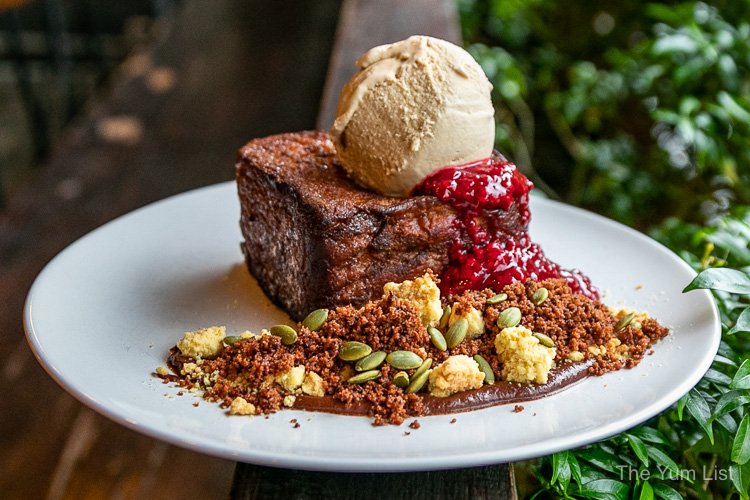 Who doesn't love avo toast? Apparently, much of a millennial's budget (according to the radio ads) gets frittered away on this popular brunch dish. Avocado Toast (v) (RM25) is made with VCR Bangsar's very own house-made flaxseed sourdough. A testament to its crusty outer and chewy middle is both Rich's and my request to purchase a loaf to take home (not possible, but we tried). Lovely slices of this bread are toasted and topped with avo mash, feta and a sunny side up egg. It's another big yums up.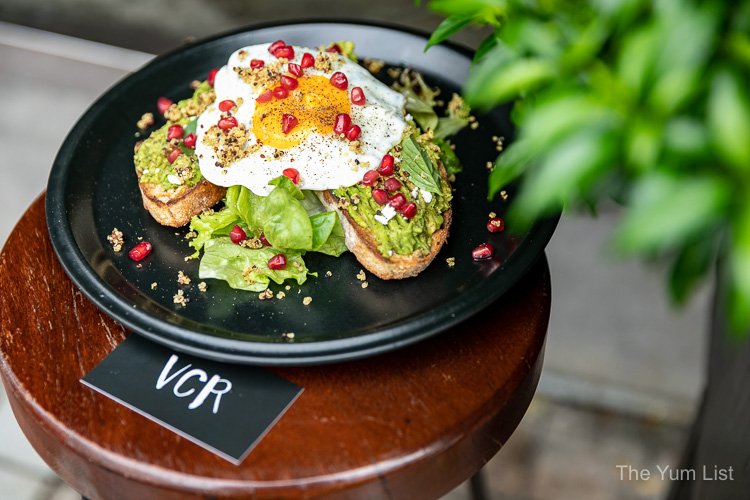 The dinner menu is distinctly different to the day's offerings. Bao is one of the highlights of the night menu and we try the Salmon and Ebi Bao (RM15). Of course, the soft white steamed buns are made in-house and this version is stuffed with deep-fried salmon belly, Skagen (a Scandinavian prawn dish mixed with tartar sauce), ponzu caramel and watercress. We could easily polish off a couple of these.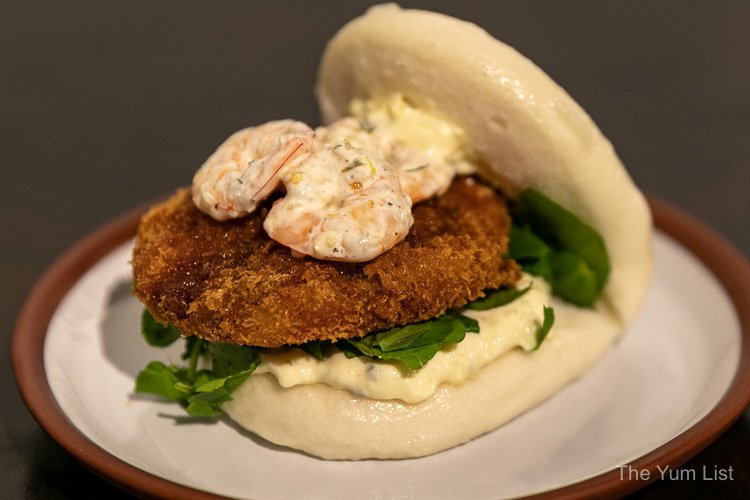 VCR Bangsar Menu – Drinks
When VCR first opened in Pudu they served a mighty fine cup of coffee but were sourcing their beans from local roasters. As they expanded their business, they wanted greater control over every cup and began roasting their own. Today they offer both blends and single origin beans, which they source directly by visiting the World Coffee Event each year where they have access to the top beans available globally.
At VCR Bangsar, they usually have two single origins in the hoppers: one working well with milk and the other doing better solo. All milk coffees are double ristretto and all black coffees are double shots. Filter coffee is also a hot ticket and the team find themselves constantly roasting to keep up with demand.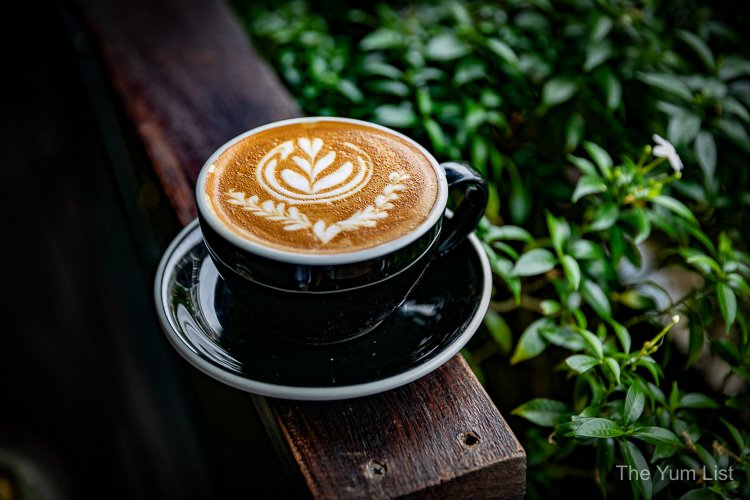 Another item I'm excited to see on the menu is kombucha! Again, the team at VCR Bangsar make their own. Orange zest is added to their recipe just before serving to soften the strong fermented taste. It's a beverage well-suited to Malaysia's warm weather and a fantastic healthy option to boot.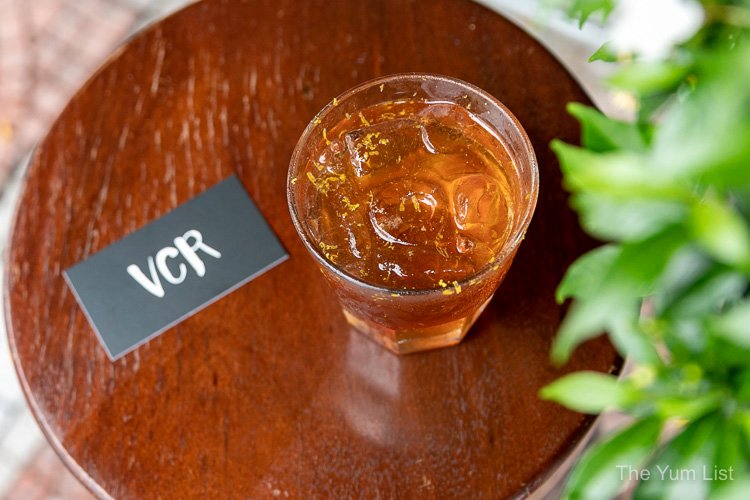 VCR Bangsar Review
The team at VCR Bangsar are serious about their coffee and I would dare say rate amongst the best quality cups in the city. The contemporary food menu is indeed flavourful but gently so, allowing both food and beverage shine. Sincere café hoppers should add VCR Bangsar to their route.
Reasons to visit VCR Bangsar: great coffee; modern café menu; don't miss the French Toast (love, love, love it!); we're big fans of Pennsylvania's Soul and the Superbowl too.
VCR Bangsar
31, Jalan Telawi 3
Bangsar Baru
59100 Kuala Lumpur
Malaysia
www.facebook.com/vcrbangsar.my
+6 03 2201 0011
VCR Bangsar Opening Hours
Bar operates
7:30 a.m. – 11:00 p.m.
Kitchen operates
8:00 a.m. – 10:00 p.m.
Dinner menu Interchange break time
5:00p.m. – 6:00p.m.
VCR
2, Jalan Galloway
Bukit Bintang
50150 Kuala Lumpur
VCR Galloway Opening Hours
Bar operates 8:30 a.m. – 12:00 p.m.
Kitchen operates
9:00a.m. – 9:00p.m.
Enjoy cafe hopping? Find more of our favourite KL cafes here.