Words: Kitty Lang
Photos: Monica Tindall
I was thrilled to return to Babe, where imaginative, Japanese tapas (Japas) is the name of the game. My initial visit was at night and seeing the restaurant in the daylight brought a completely different vibe. Twinkling city lights give way to an airy space with daytime views of both the Twin Towers and the building's residents adorning the adjacent pool. Wind blowing through the hair and pumping beats in the background, we could easily have been in a beach bar with the warm, sea air caressing our skin.
Babe Restaurant Damansara – Brunch
For the uninitiated, Babe is on the 13th floor of what appears to be an unassuming office block, housed in a former spa (which explains the plunge pool in the lady's bathroom), where the restaurant is stylishly simple and simply stylish. The food carries on the same theme of elegance but with the added pizzazz of molecular gastronomy thanks to Jeff Ramsey's years of training and international expertise.
Bubbly Brunch – Babe Restaurant
As is very much 'a la mode', Babe has launched their quarterly brunch, designed to be relaxed dining with superb, expertly executed fare. Brunch is possibly my favourite meal, a slightly indulgent Sunday extravagance, whereby drinking at midday is perfectly acceptable. Further enhancing this particular brunch, was the presence of one of my favourite Champagne houses, Perrier-Jouet. Free-flowing champers – what's not to like? You can opt for red or white wine instead, but really, why would you?!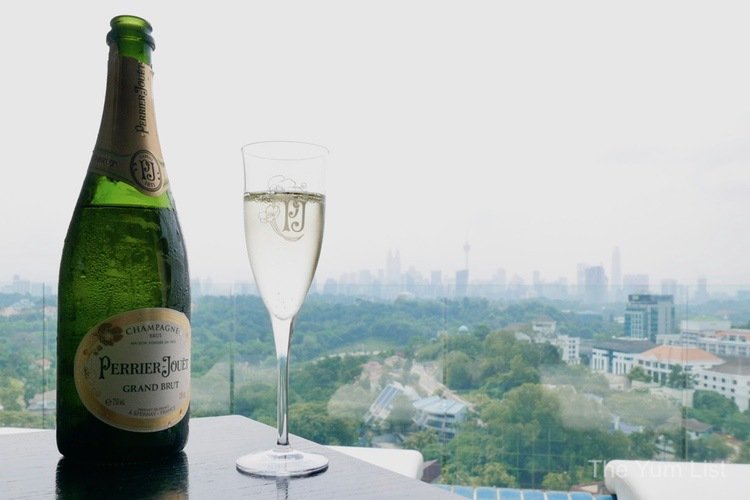 Babe Restaurant Brunch Menu – Canapes
Babe Restaurant's brunch menu is basically divided into three sections: canapes that are passed around; mains that are ordered a la carte but also free-flow in style; and desserts.
We kicked off the canapes with a Curry Bun which was soft, fluffy and interestingly (in a good way) textured. The base had a powdery, meringue consistency, explained by the fact that it was indeed, a savoury meringue, but the fluffiness achieved by the use of dextrose instead of sugar and egg white powder, instead of egg-whites. Served on a bed of pebbles, the gentle curry flavour was a great start to our gastronomical tour.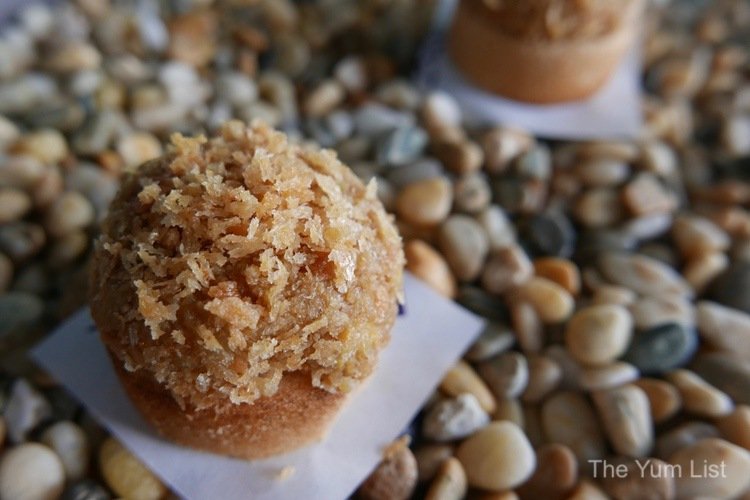 Sashimi Spring Rolls came in a crispy case with tuna and soy, shallots, chives and mirin. The Alaskan King Crab and Shiso Taco were daintily laid with a tiny peg to hold it all together and a beautifully rich, butter sauce – delicious. Oysters were creatively served with a green apple granite, yuzu and ginger, creating a refreshingly different presentation to the standard lemon, shallots and Tabasco.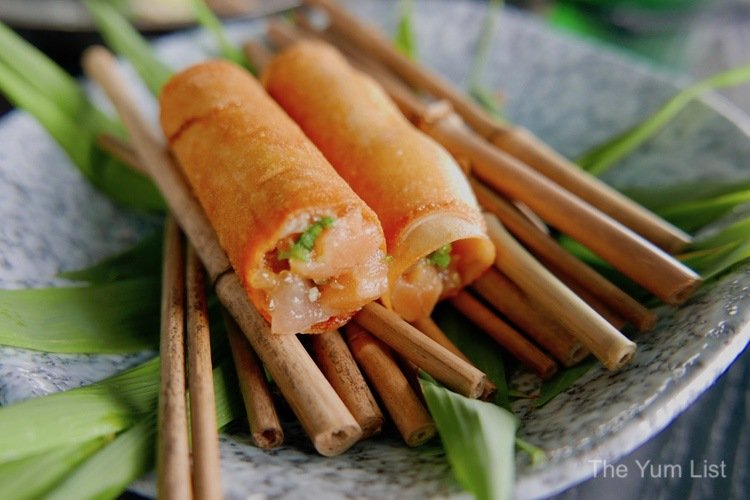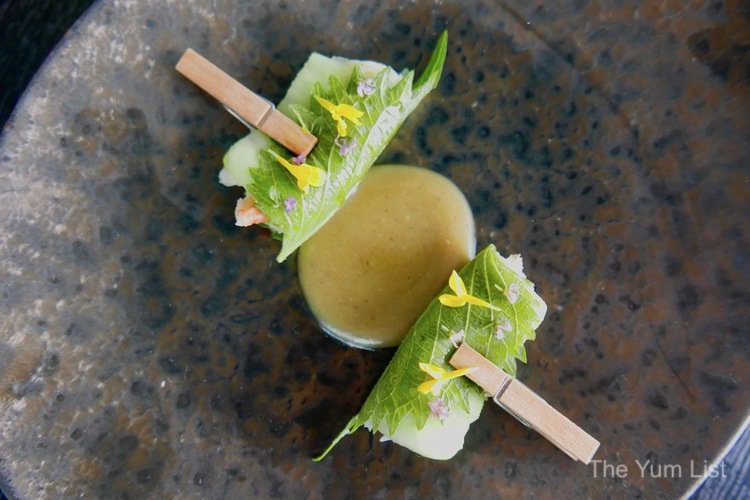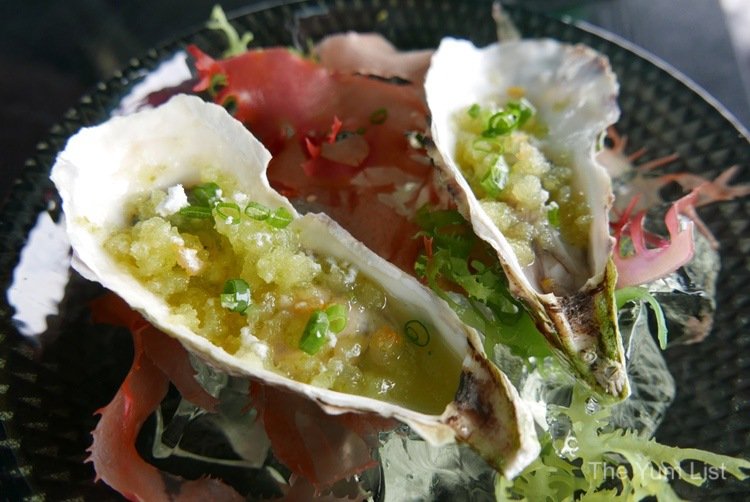 The next starter was quite the talking piece. With the appearance of tempered glass, the Bonito Crisp was pretty as a picture, cleverly devised of bonito, corn-starch, nori puree, butterfly pea flour and yuzu. A delicate fish flavour began, then a citrus middle, through to a salty finish. This was one dish I could happily have gone back for again and again.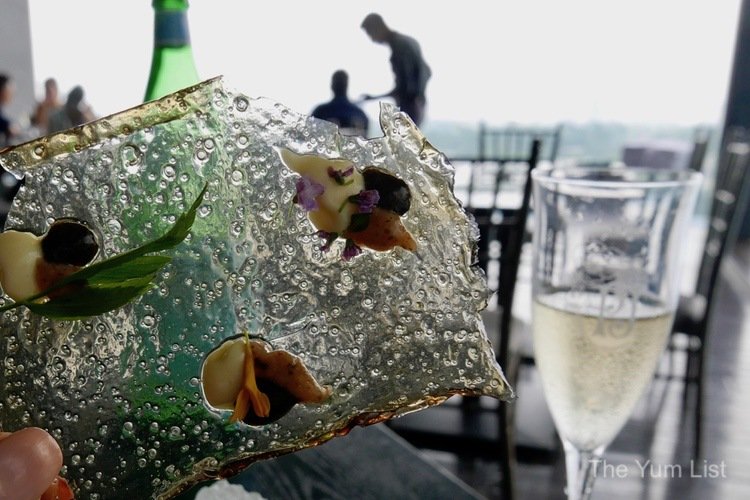 Bubbly Brunch Main Course Menu Babe Restaurant
While the mains are also in endless supply, each and every one is prepared a la minute, guaranteeing freshness and truly giving guests a taste of the Japas fun dining menu the kitchen team is known for.
The Natsu no Momotaro was a 'Brix 9' Momotaro Tomato Nigiri, with a Mountain Wasabi & Raindrop Cake with Soy Syrup. Brix (I learned) is the measurement of the sweetness of a tomato, (the sugar content of an aqueous solution, further research tells me) in the same way that the heat of chillies is measured by the Scoville scale. The nigari comprised a local, sweet tomato, concentrated and served atop Nigiri rice. The Raindrop Cake was cleverly designed in the image of a transparent egg yolk, which popped in the mouth with tomatoey loveliness, reminding me of a clear, intense gazpacho.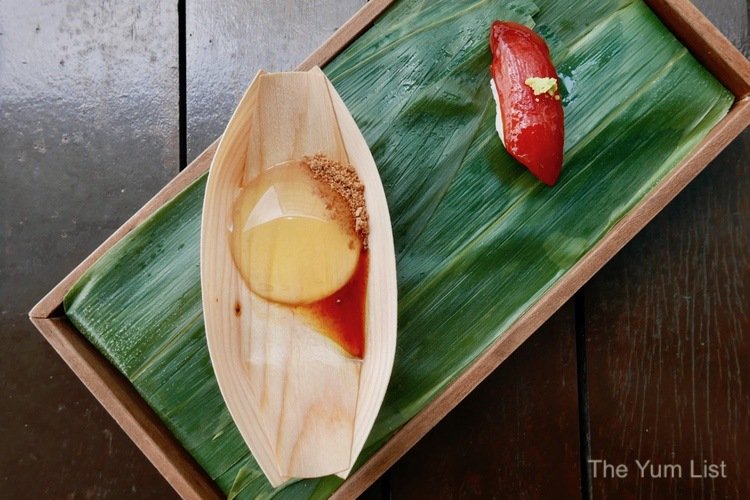 A hand-made ice-bowl (made by the very hands of our friendly waiter) hosted the centrepiece of our next dish, Iced Somen (buckwheat noodles) with Muzunasu & Amaebi. Sweet shrimp were lightly blanched and served chilled, with a raw Mizunasu eggplant (aubergine), which lacked the bitterness expected, served alongside a sour plum sphere.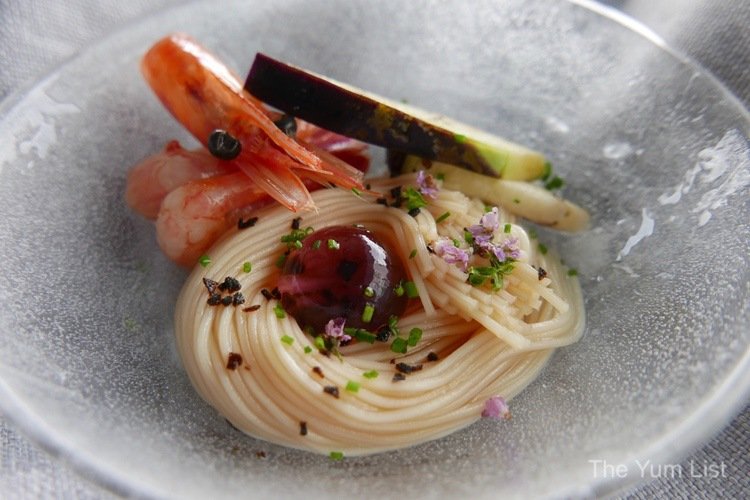 Chie's Azabu Ikura Gohan, is literally the favourite dish of chef Jeff's wife, Chie, hence the name. Salmon roe popped in the mouth like salty jelly bombs, served with rice and kombu butter (made from seaweed), very worthy of the nomiker as it produced layers of flavours and textures that kept us diving back in. Whilst on the fishy theme, Sea Bream was the hero of the next dish. Pan Seared Madai, with perfectly crispy skin, sat on top of sushi rice, swimming in a dashi broth with roasted barley oil and yukari tea creating warming, comforting tastes.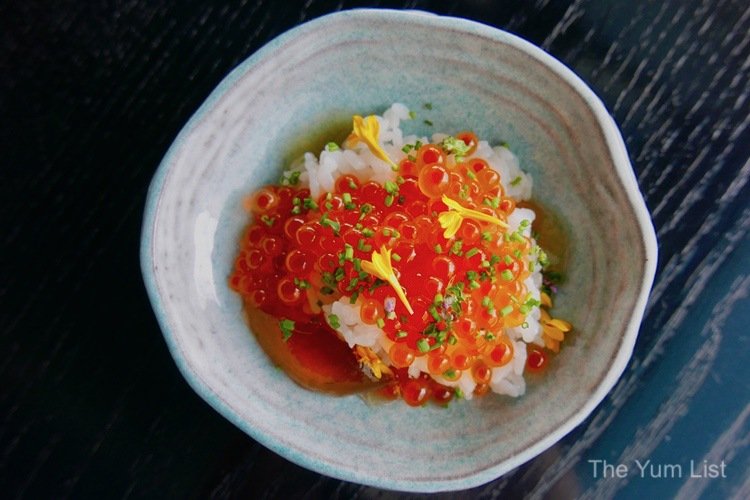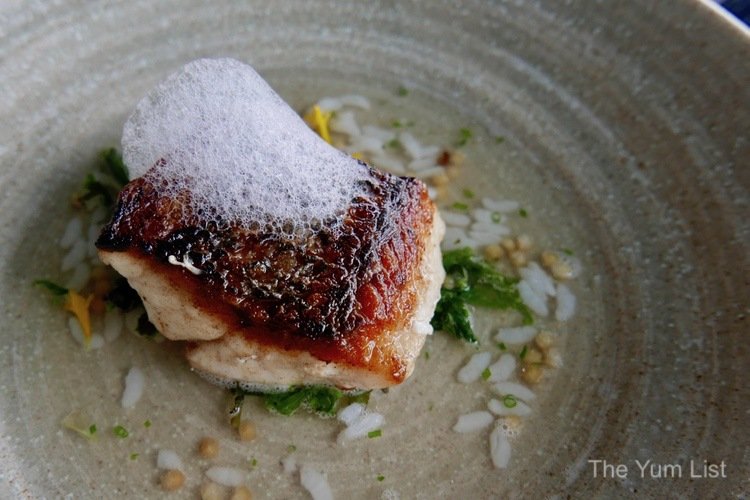 One of my favourite new discoveries in Japanese food, which I'm sure is not new to most here, given its frequency of presence, is Chawanmushi, the Japanese steamed custard – a kind of savoury crème brûlée. We were lucky enough to try both of Babe's offerings for this brunch, one being laced with black truffle, providing a subtle, earthy background, supporting the shitake and silky custard, whilst the other, Alaskan King Crab, was complemented by chilli and kaffir lime leaves.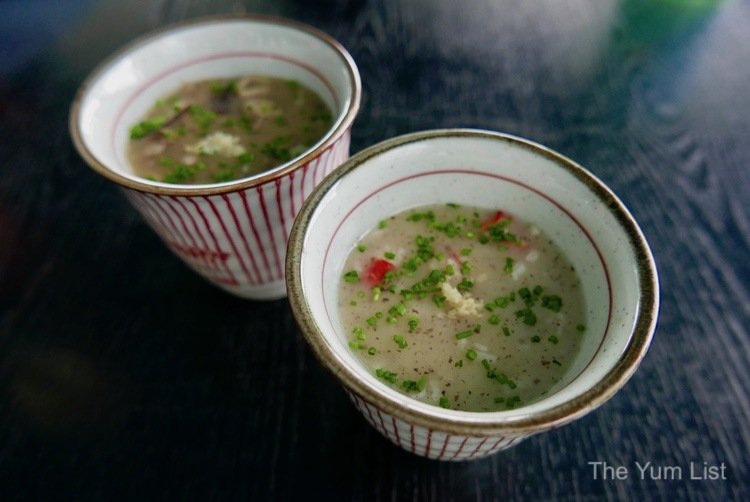 Sometimes, simple is best, which was absolutely true of the Truffle Pasta. With just a handful of key ingredients, including shaved truffles, mushrooms and an umami soy butter, the pasta dish was surprisingly complex, rich velvety and unctuous. Its slippery sauce coated each delicious strand and was my favourite offering of the day.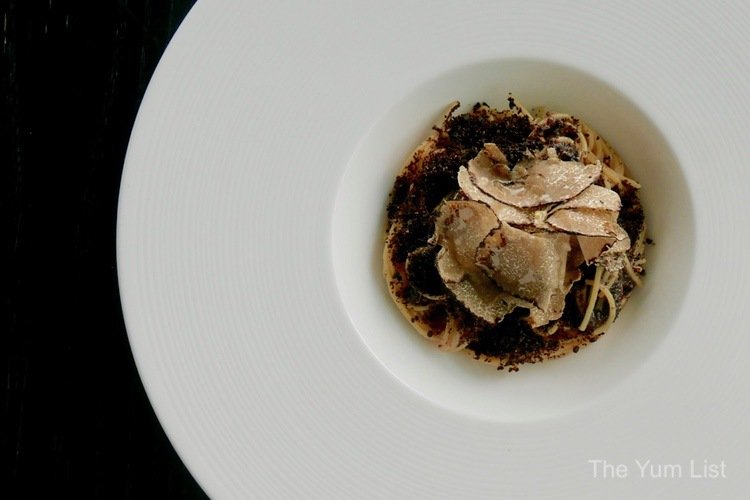 For the carnivores, a duo of different beef dishes showcased two very different styles of meat. Wagyu Beef Nigiri was interestingly served both cooked and raw. I'm of the opinion that a good vet should get my beef back to life, so this suited me perfectly. The Dry-Aged Angus Beef was dry-aged in-house and served medium-rare with caramelised cauliflower puree, baby carrots and a Sansho Butter, made from soy sauce and sake. Beautifully, respectfully cooked and melt-in-the-mouth tender.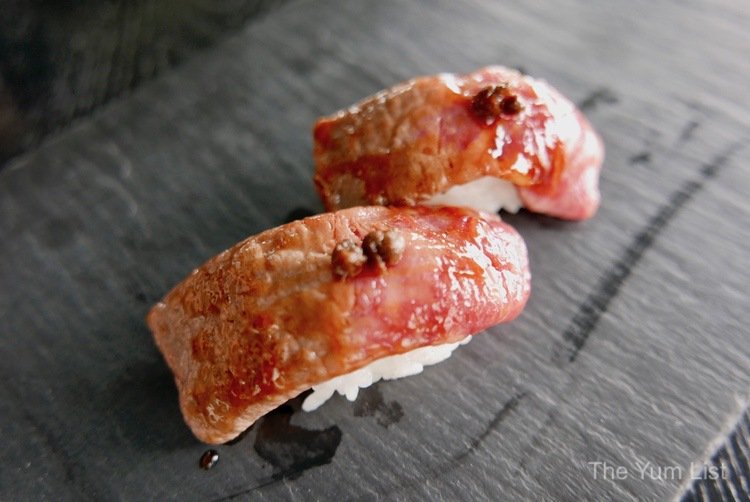 Finally, Hamachi Ceviche, or amberjack to us unlettered, was delicately smoked and served with a black rice crisp. The very deep flavours were refreshed with the yummiest of sauces, made up of coriander oil, ginger, calamansi and garlic vinaigrette.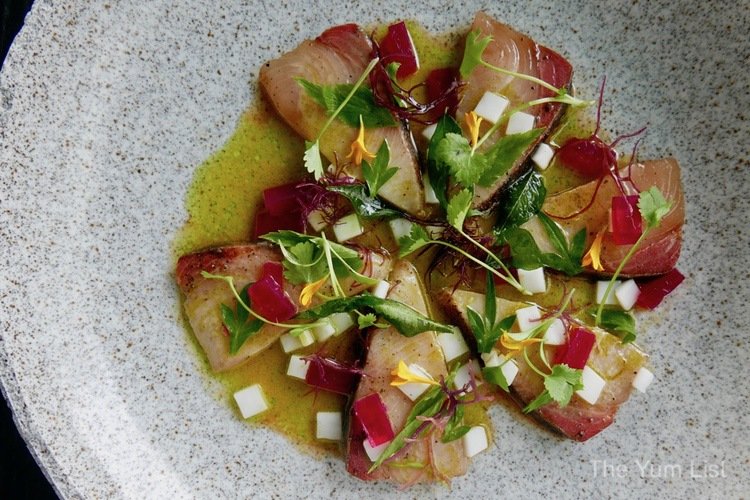 Babe Restaurant Menu Brunch Desserts
Not having a sweet tooth and disliking chocolate, I normally struggle to find a dessert that I like, let alone all three that are offered, but here I was! All designed deliberately with the lactose and gluten tolerant in mind, I was hard-pushed to choose a winner.
Summer Peach, grilled and served with wild-forest honey, with a pine-scented background thanks to the rosemary, served with tofu ice-cream, was a revelation. The ice cream made from almond milk and tofu was really delicious, particularly with the addition of Maldon sea salt to cut the sweetness.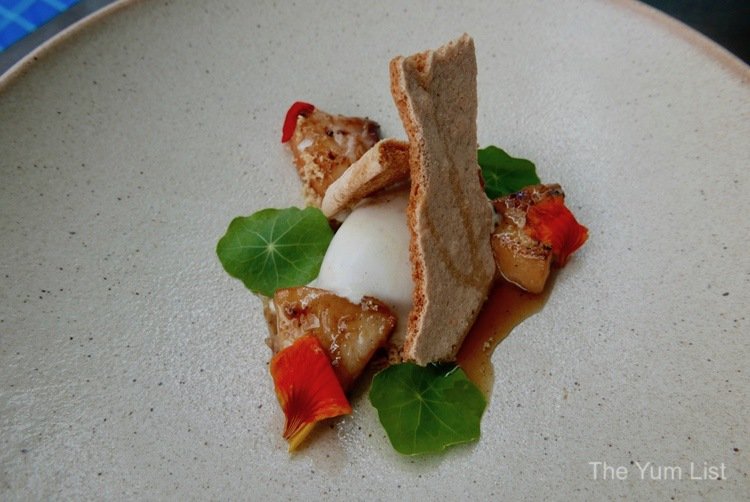 What beach party would be complete without a Pina Colada? Not this one! A nod to a Bombe Alaska, caramelised banana, pineapple and vanilla rum syrup, combined with coconut milk, lime peel and torch ginger flower, to form another, fabulous sweet.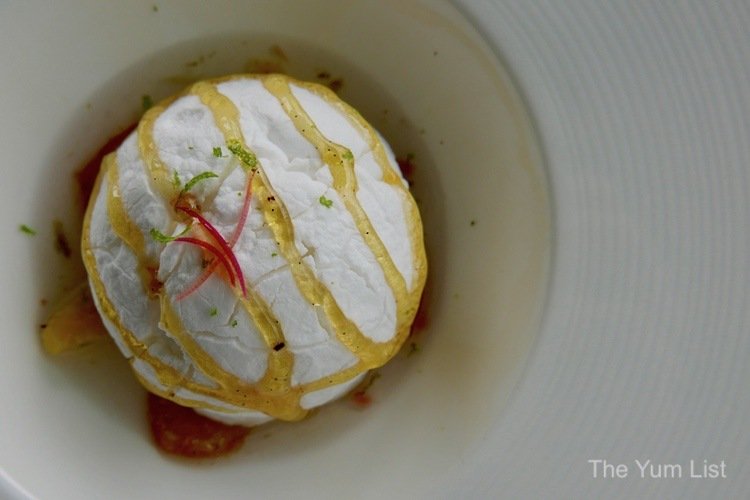 Finally, a nod to the king of Molecular Gastronomy and the forefather of meringues 'cooked' in dry-ice, Heston Blumenthal, we were presented with Nitro Puffs – Godzilla's Rage. Yuzu, blood orange and roasted pineapple meringues were served alongside a bowl of steaming liquid nitrogen, into which we dipped our meringues, playfully creating smoking noses. Being in the fortunate position to have dined at the Fat Duck, as with Heston's, I can certainly verify that the flavours of the meringues didn't need to hide behind the theatre of the liquid nitrogen. A fun end to a meal which would surely be a great way to spend an afternoon with a group of friends.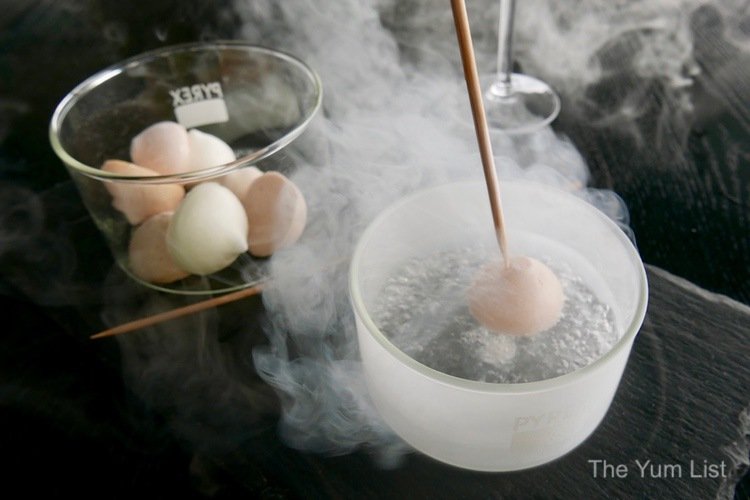 The next Sunday brunch will be Sunday, December 9th from 12 pm – 3 pm and is priced at RM150++ for the brunch set and RM250++ for a free flow of Perrier Jouet bubbly, red and white wine. To make the brunch more affordable this round, instead of doing an "All-You-Can-Eat" type a la carte buffet, they are doing a straightforward set. Find the menu below.
Reasons to visit Babe Restaurant's Bubbly Brunch: fun, friendly dining; creative cooking; gorgeous presentation; a chance to try many dishes from their menu for a single price.
Babe Restaurant
11th Floor, [email protected],
Jalan Changkat Semantan,
Damansara Heights, 50490 Kuala Lumpur
+6 03 2095 8599
[email protected]
babe.com.my
Find our previous visits to Babe here, here, here, here and here.