Words: Heather Onderick    Photos: Monica Tindall
It was another steamy night in Kuala Lumpur but as we exited the elevator into Babe Gastro, we were immediately transported to a Tokyo street dining scene. Kitted out with Asahi beer crates covered in cushioned leather seats, and wooden chestnut squares as tables the only clue that we were still in KL was the magnificent view of the city skyline. Compounded by some Japanese clientele adorned in Kimonos, some eccentric percussion music and the smell of the grill, the atmosphere made me realize how special this evening was going to be.
Babe Gastro and Salmon & Trout
Chef Kan Morieda, of Salmon & Trout, closed his ten-seater restaurant into partner up with Babe's head chef, Jeff Ramsay, to showcase 20 uniquely crafted Japas; five of which were served at live stations adding to the charm of the street food feel.
A flight of four drinks was served and we started with Bunkajin Junmai Daiginjo, which is a dry and soft sake, extremely polished and complementing almost any food. It warmed up my face to match the reds of the hanging lights and the smoke coming off the live station grills.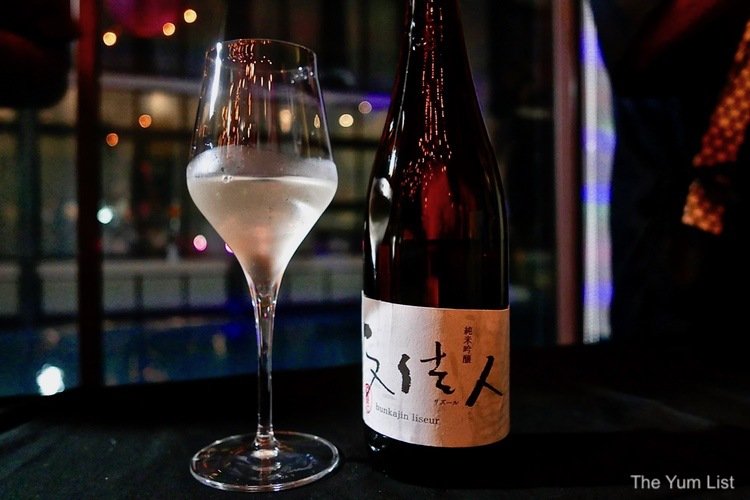 Our first taste was one of my favorites of the evening, Unagi Cotton Candy – crispy caramelised flavors of the lush unagi, coupled with crunchy crushed corn nuts, then wrapped in freshly made cotton candy. This tantalising tapa sets a high bar for the others. Monica enjoyed this one too and playfully noted, "salted caramel is so old school."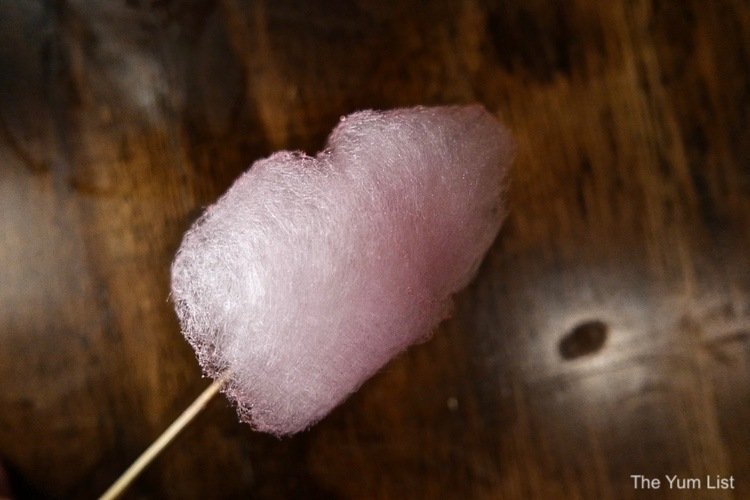 Next up, was the Crab and Shisho Cucumber wrapped in a flowery shisho leaf, with light, crisp flavors reminiscent of the sea. It's a great palate cleanser and left a refreshing herbal essence on our tongues.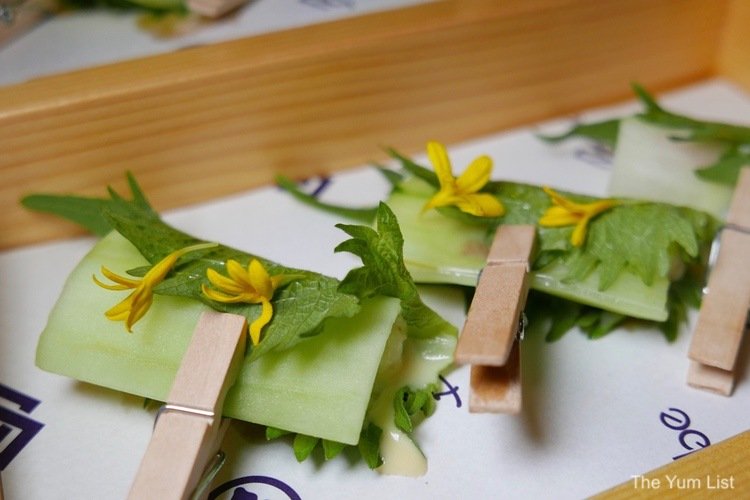 The Japas fired out rapidly and two juicy chunks of meat arrived: Duck Hearts with Sansho Pepper were not for the faint-hearted. They were stocky, warm and definitely a dare for those not so adventurous eaters.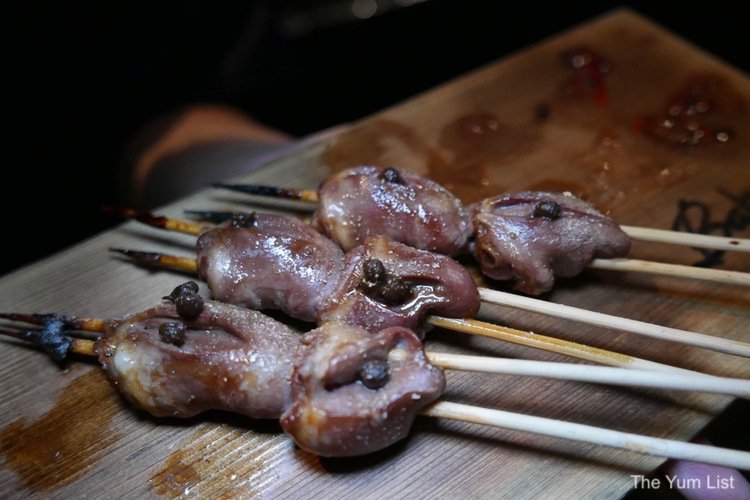 Wafts of chili drifted through the air and coming out of the smoke, popped a gorgeous plate of grilled Mentaiko Chili Cheese Scallops. In fairness, you really can't go wrong with this comb; tender scallops, melted cheese and a touch of sweet chili. I thought to myself that I could probably swim in this dish.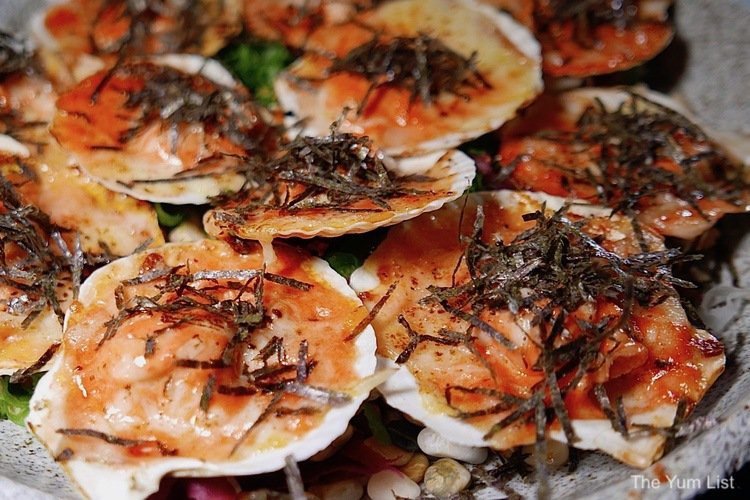 The Consommé with Takoyaki had a comfort food sentiment to it, similar to the Chili Cheese Scallops. This dish was simpler though with chicken stock puree and a ground meatball making it hearty with some vegetable chunks; uncomplicated but satisfying.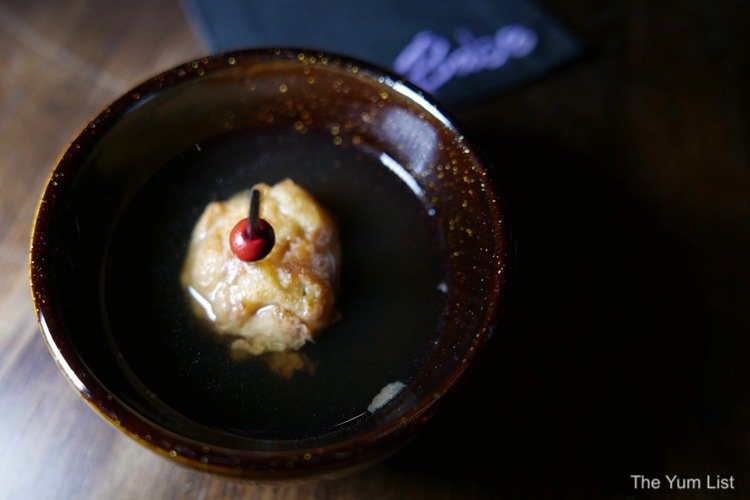 At this point, I needed another drink. We moved on to the Takesuzume Unpasteurized Sake. This beverage packed a fierce punch. Having said that, if you are nervous about the duck hearts, this could be some good liquid courage.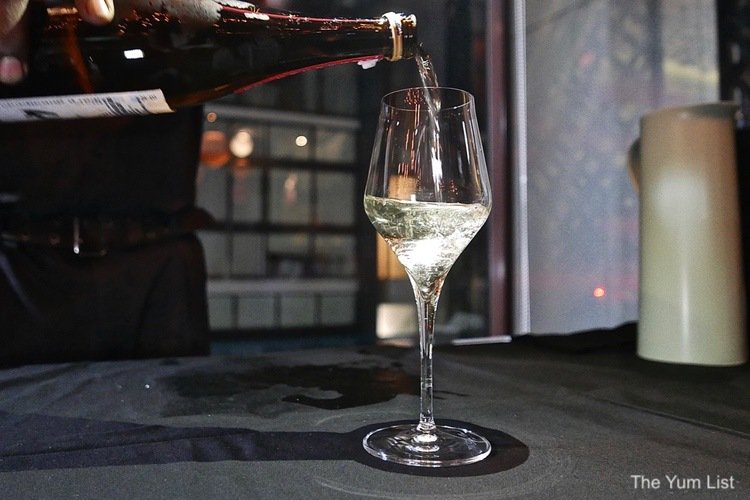 It was next time for some sashimi, Katsuo Tataki, Red Cabbage and Wakame – a piece of tuna, coated in sesame and swimming in a bed of red and green veg was a tease for fish lovers like myself.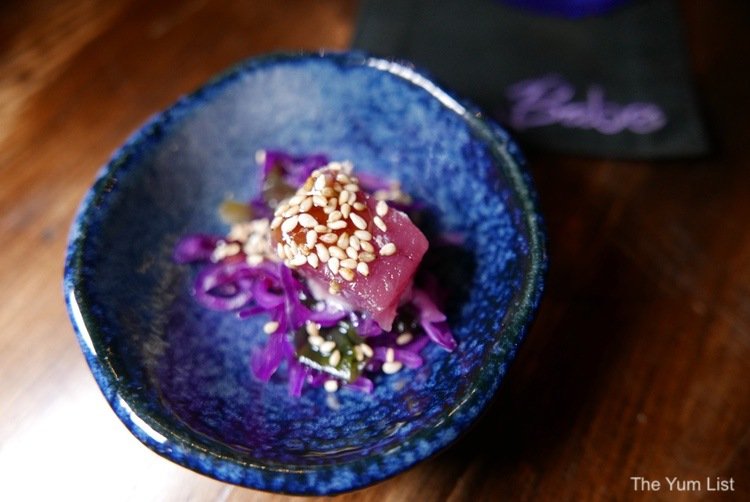 The Handmade Konnyaku or Japanese rubbery, gelatinous root vegetable was partnered with a distinct miso sauce with touches of yuzu. It was a sturdy carbohydrate follow-up to the sashimi and salad.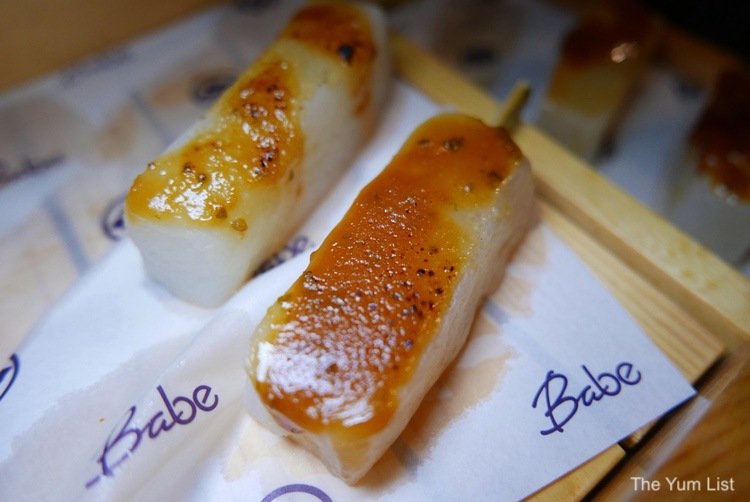 Sometimes it's nice to be reminded of our childhood favorites and Chef Morieda, channelled that through the fried Curry Patties on lightly toasted rice buns. As if intentionally taking us down memory lane but lifting the level of the quality, the Venison Sausage Buckwheat Corndog came rolling out simultaneously. This rich ground homemade sausage served with creamy mayo was well placed – a pleasing filler.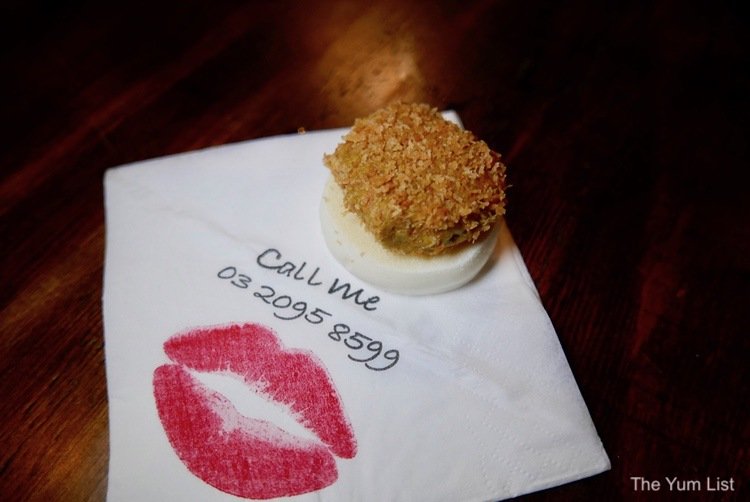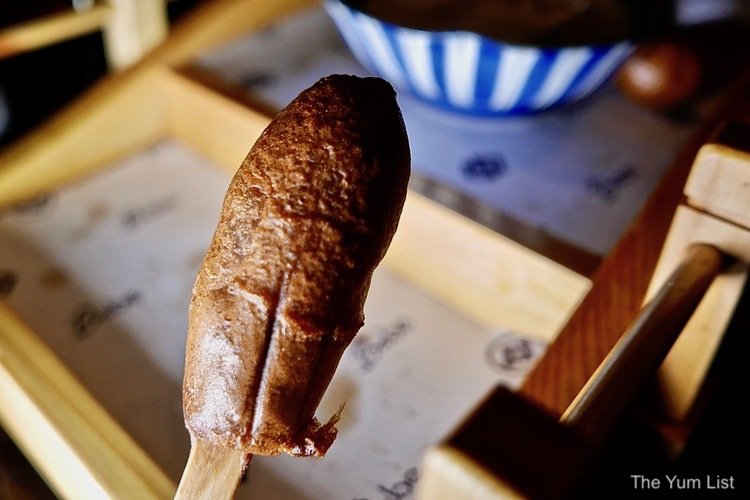 The pendulum swung at that point and we moved back to more original platters featuring some of our favorite flavors coupled with Japanese traditional textures. The Black Truffle and King Crab Chawanmushi, in layman's terms, steamed egg custard was super creamy and luxurious with its buttery truffle layers. All of these indulgent plates were softened by the Shochu Sour beverage which was light and refreshing, consisting of a small shot of shochu, Japanese rice liquor and soda water. Once again, this drink was strategically placed to refresh our palates each time a one-of-a-kind plate filed out.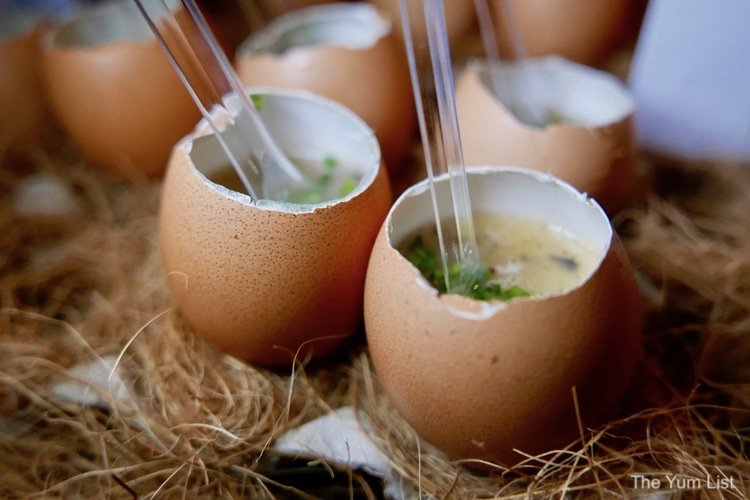 To mirror the opulence, the A4 Wagyu Beef with Kuku Wasabi, was absolutely delightful, particularly the sharp kick provided by the wasabi.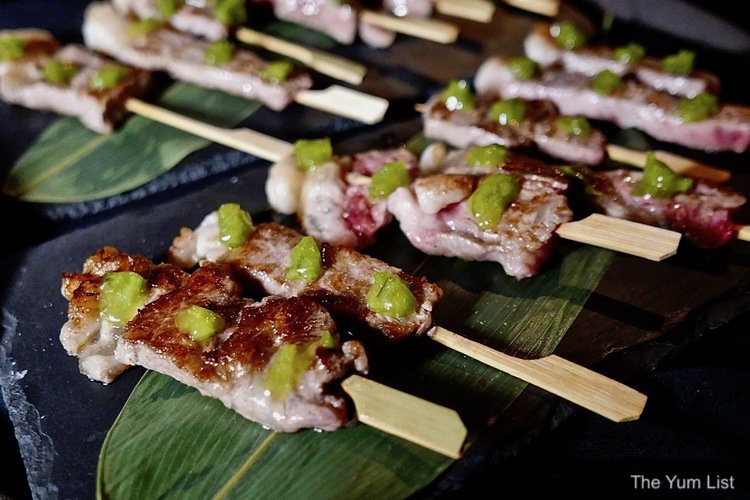 And one more sumptuous plate in that round was the Kurozato Beef Shortribs, with pickled mustard seeds. This soft and sweet pulled meat sensation matched with golden beads of mustard seeds was the magnificence of the evening for me.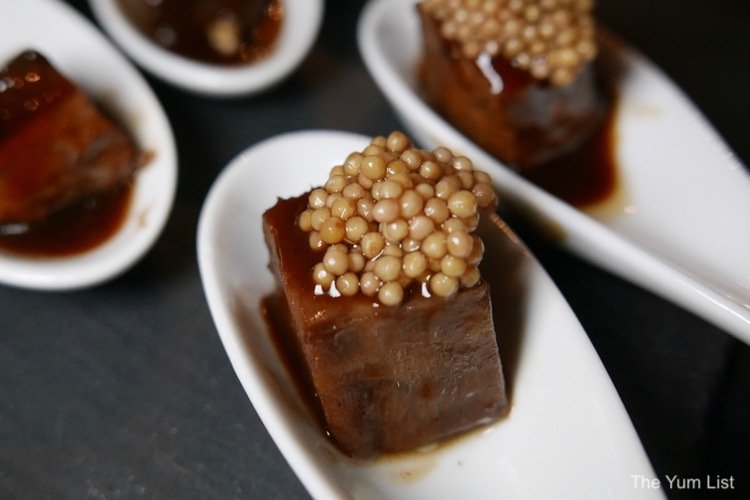 Served in between these lush carnivorous plates, was the Baby Squid with Shichimi Togarashi, or Seven Spice Mayo. The sauce consisted of many flavors with the sesame, orange and peppercorn flavors lingering on my tongue.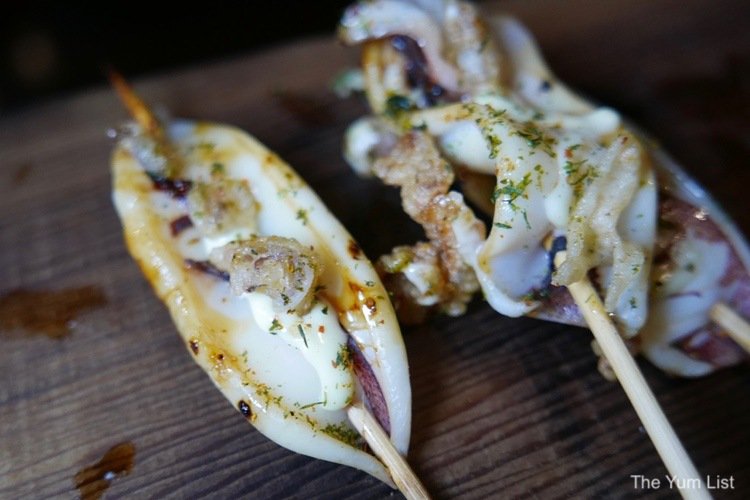 Perhaps the chef worried about carb lovers feeling neglected at this point as he brought out an original take on a Japanese favorite: Okonomiyaki. Packed with sweet, saucy octopus coating spaghetti and served in something resembling a flour tortilla, this once again seemed purposely placed for those who were seeking something more substantial.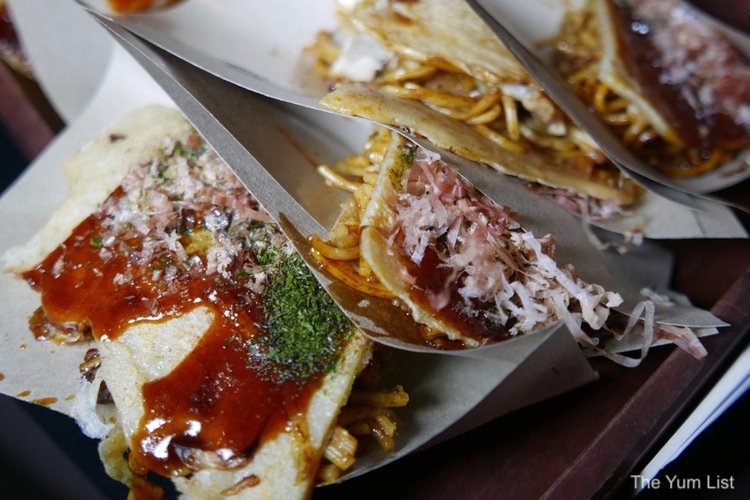 By now, I felt like I was a participant in the Amazing Race of Japanese Street Food with all the treats I had sampled. Luckily, any Japanese food lover knows the importance of balance and some beautiful emerald gems of juicy kiwi appeared before our eyes. Salmon & Trout Kiwi Salad consisted of a beautiful medley of flavors including pink peppercorns, dill and Japanese pickles as well as some stunning edible flowers.  The result was impeccable, a palate cleanser clearly embedded at this point in the meal to open your tongue to the possibility for the final few dessert courses.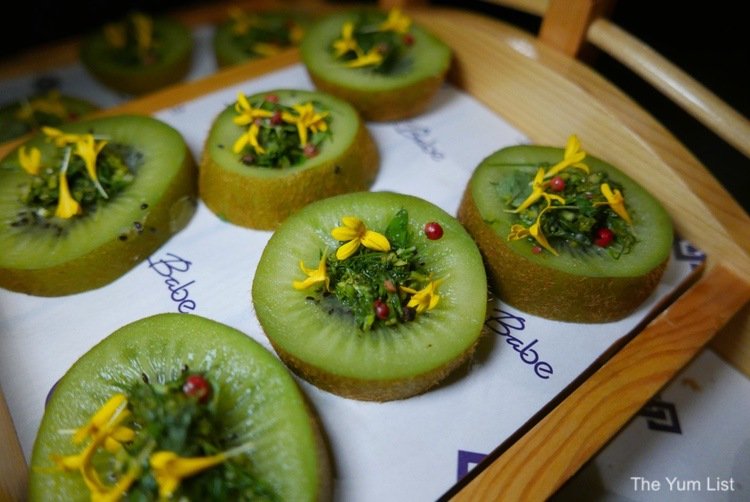 We readied ourselves for desserts by ordering our last drink, the Fish House Punch, a jammy full-bodied concoction that would be a suitable dessert for those who had already reached their fill.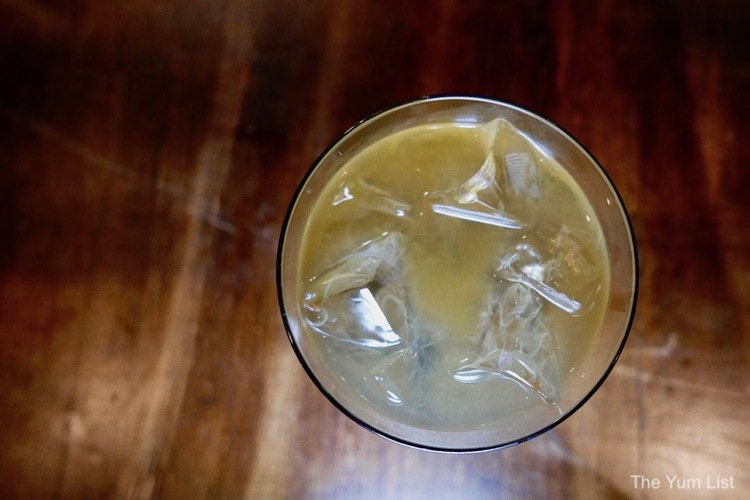 Chef Ramsey finished with artistic flair, taste and some homage to local culture. First out for the desserts, was the sticky, but fluffy Chicken Teriyaki Marshmallow. In similar fashion the Cotton Candy Unagi, this proved chef's ability to merge flavors and textures to create intergalactic culinary experiences.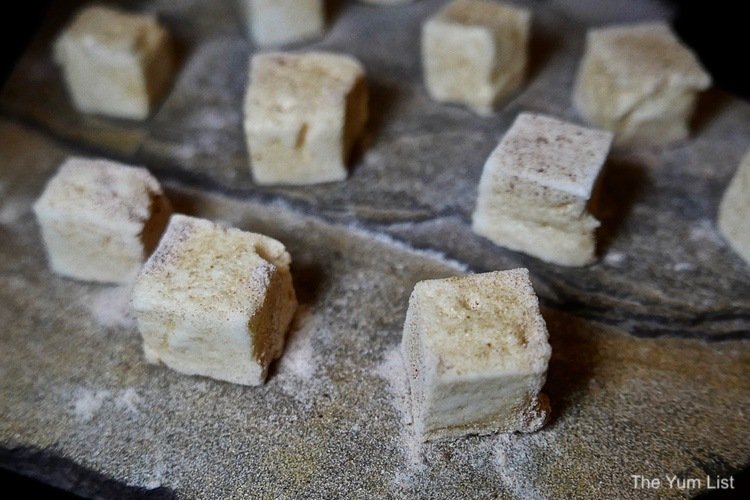 Visiting chef Moreida won over his Malaysian audience with local ingredients with the Jackfruit Custard. It had a light pannacotta texture and was loved by our KL friends but Mon and I still have some way to go in appreciating the fruit's pungence.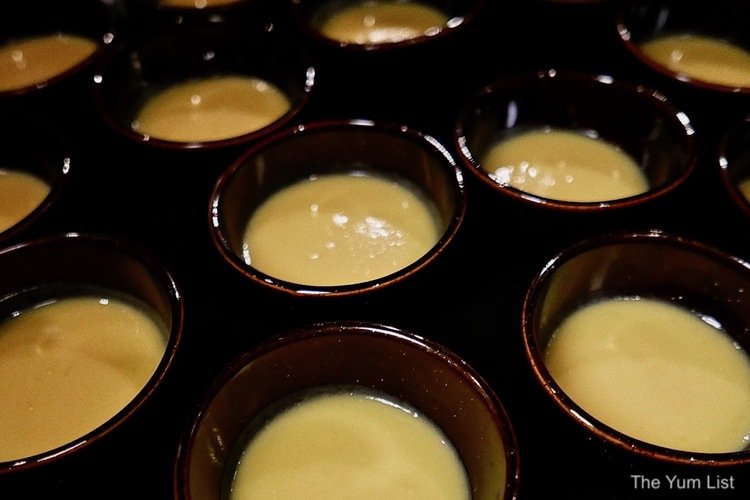 Throughout the meal, experimentation with textures was a theme and the chefs did not leave us hanging in the homestretch. This included the infamous Raindrop Cake, a gelatinous iridescent dish floating in a sea of sesame sauce and powder.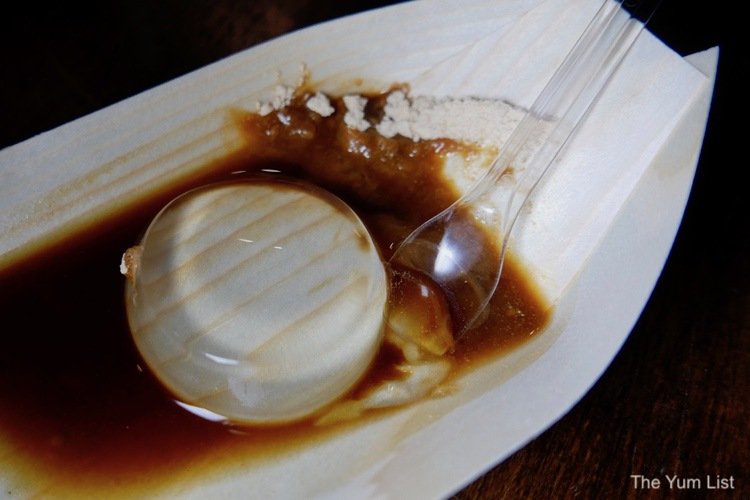 We finished off with the eye-catching Passion Fruit Jelly, call it liquid sunshine, call it sweet and sour heaven; this was a wise choice to call it a night.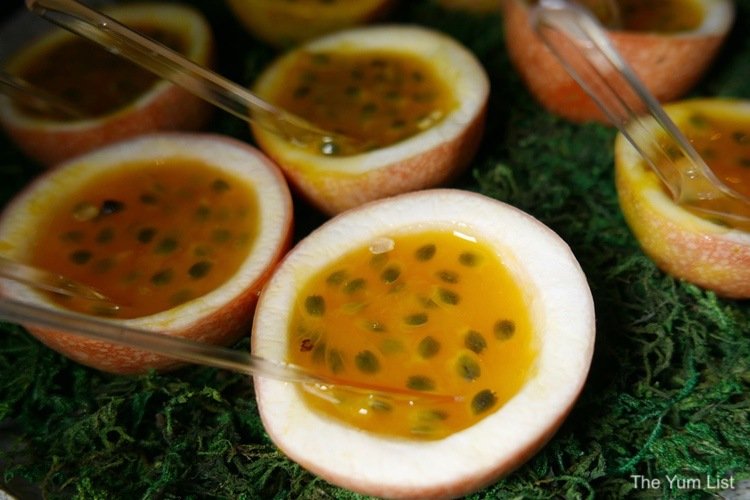 As the event drew to a close, the chefs floated around the street, posing for selfies, answering questions and perpetuating the block party street-dining mood. This was my first time to Babe and it won't be my last. As an artist and foodie, I loved being immersed in every element of the cuisine I was dining on and hope to be inspired again by future collaborations with the Babe kitchen team.
Reasons to visit Babe Gastro: Babe's attention to detail and culinary collaborations make this place worth the splurge. This time, it was the chic Cotton Candy Unagi and savory, moist Kurazato Beef Short Ribs with the glowing mustard seeds. We recommend following them on Facebook in order to see what the chefs are cooking up and who they are bringing in next for their playful foodie installations.
Babe Gastro
11th Floor, [email protected],
Jalan Changkat Semantan,
Damansara Heights, 50490 Kuala Lumpur
+6 03 2095 8599
[email protected]
babe.com.my
Babe Gastro Opening Hours:
Tuesday to Sunday from 6 pm
Read about our previous visits to Babe here, here, here, here and here.