Monica Tindall
Goodness knows I was not blessed with lovely lush locks nor with the patience to deal with my unfortunately frizzy hair. I'll attempt to get away with not washing my hair for as long as possible but, truly, after two days without a wash and blow it turns to raggedy fly-aways. My morning routine is fast and furious and so any assistance in cutting down on hair-doing time is much appreciated. Lucky for me, my "hair doctor" Jerry Thoong at Groom Artistry, listens to and knows my reality (as well as my preference for organic, natural products) so recommends an Argila Amazonia Hair Straightening Treatment.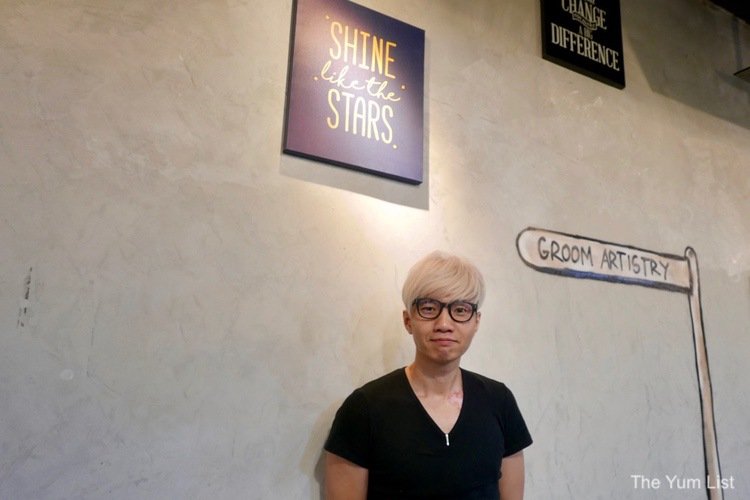 Formaldehyde-free Hair Straightening Treatment Kuala Lumpur
Traditionally, keratin or hair straightening treatments had formaldehyde as an active ingredient (yes the stuff they embalm dead bodies in and that's also associated with cancer). Consumers quickly smartened up and began asking for products that were formaldehyde-free. And, in response, companies began marketing as such but it seems the whole truth was not being told (read more about that here). So after being misled by a bunch of trickily worded advertising claims, I'm overjoyed to find my neighbourhood salon using Argila Amazonia. Based on argila clay and murumuru oil the natural ingredients in the product provide a hair-straightening treatment without the dangerous chemicals.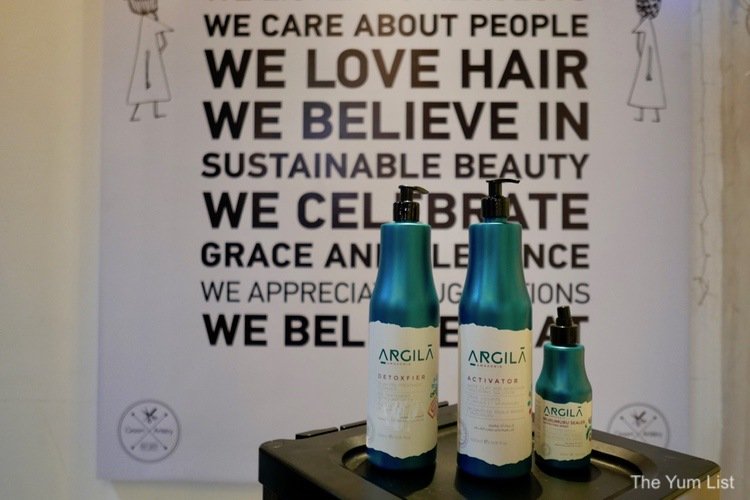 What you Need to Know About Argila Amazonia Formaldehyde-free Hair Straightening Treatment
An Argila Amazonia formaldehyde-free hair straightening treatment is priced starting at RM550 for short hair and increases with hair length. You'll need to allow approximately three hours for the session and an appointment is essential.
Three hours is a long time to sit in a chair but Groom Artistry has complimentary Wi-Fi for clients, serves tea and coffee and the team are happy for you to order food that can be delivered directly to your salon chair. (I ordered my favourite dish from Bait, the eggplant maghmor, and I happily enjoyed lunch while the product did its work.)
Review of Argila Amazonia Hair-Straightening
Below you'll find before and after photos.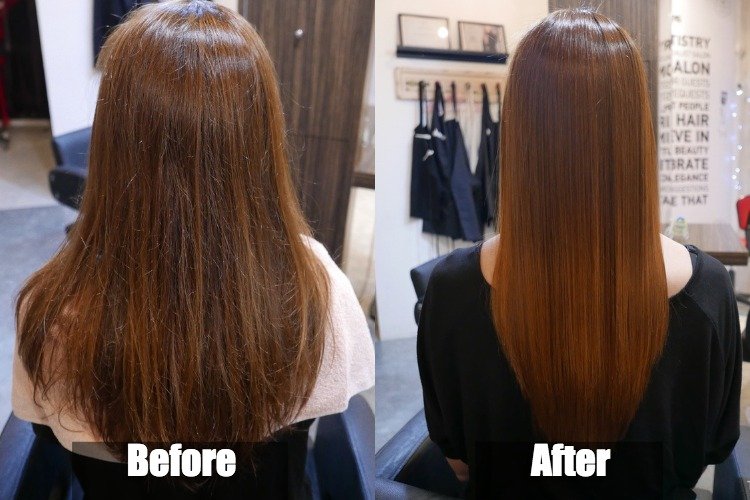 As you can see there's a significant reduction in frizz and flyaway strands. Immediately following the treatment, I found that my hair had less body than I'd like. It kind of stuck to my head, which is not really what I wanted as I think my face looks better with hair with a bit more body.
After the first wash, however, some of the volume returned and I was able to get back some of the bounce. The nice thing though, was that the hair's surface remained smooth and shiny. It also seemed to take about half the usual time to blow-dry – what a bonus! The after-care shampoo and mask by Argila Amazonia is quite expensive, certainly out of my budget. With a little online research though I was able to find a number of shampoos and conditioners that were sodium and sulfate free hence suitable for post care. If you search for organic haircare there are a variety of labels available here in KL.
After Care Argila Amazonia Formaldehyde-free Hair Straightening Treatment
As mentioned earlier, sodium-free and sulfate-free shampoo is suggested for prolonging the outcome. It's also best to avoid salt and chlorine: swimmers or beach lovers take note that you would do well to protect the hair by coating it in argon, macadamia or coconut oil or wearing a swimming cap.
Argila Amazonia on Different Hair Types
Jerry reports that customers have different reactions to the keratin treatment. As my hair is quite thin and not naturally curly, the results were impressive. I would definitely recommend it and plan on doing it again in the future as the results fade (they say effects last up to about four months).
Reasons to visit Groom Artistry: Argila Amazonia Formaldehyde-free Hair Straightening Treatment; comfortable salon; warm friendly staff; hairdressers who listen; conveniently located in The Intermark mall.
Groom Artistry, Hair Salon
The Intermark Mall
Level 2, Lot 2-03
No. 348, Jalan Tun Razak
Kuala Lumpur, 50400
Malaysia
+60 3-2181 8116
www.facebook.com/GroomArtistry
Groom Artistry Opening Hours:
11 am – 9 pm – Monday to Saturday
11 am – 8 pm – Sunday