Words: Patricia Podorsek
Photos: Monica Tindall
Sunday Retox at W KL
What does it mean to call an event a 'retox'?
If 'detox' means to take a break from indulgence, does 'retox' then mean to jump into indulgence? Perhaps with both feet AND red sparkly slippers? If that is the case, then the newly inspired Sunday brunch at the W's Flock is aptly-named. From the moment you walk into the dining area, you know that this is no ordinary brunch.
Best Brunch in KL – Sunday Retox
The atmosphere is impressive. Sleek black and gray patterns lay the backdrop for splashes of hot pink. Spiky textures and unique furniture add dimension to the ample natural light. Mist pouring off the seafood station creates an element of mystique. I feel like I have entered the big leagues and look around for some beautiful people. Sure enough, there is Monica!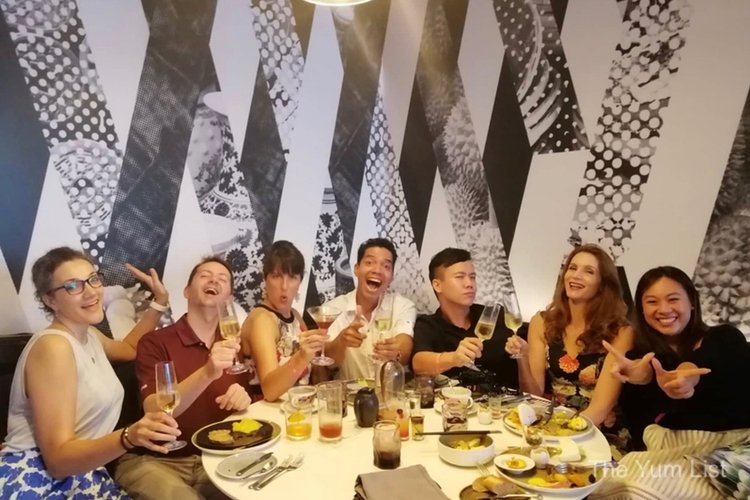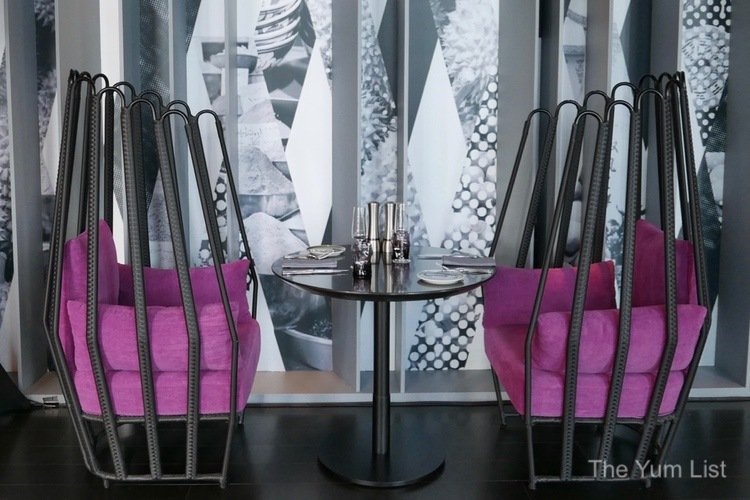 Best Brunch in KL – Cocktail Time!
The indulgence begins immediately as we meet Hari, the bartender. The buffet itself is reasonably priced at RM188; an extra RM100 gets you free-flowing cocktails. Hari shares with us three featured cocktails for the morning. The first is a Rum Sour, served in a champagne flute and delicately colored with a splash of red wine. Not overly sweet, we find refreshing citrus in this glass. More citrus can be found in the Bitter Detox, where Aperol is matched with lemon and orange. Most magnificent is the Espresso Martini, sweetened with a little Kahlua and a chocolate-rimmed glass: This is the drink that perks me right up for day.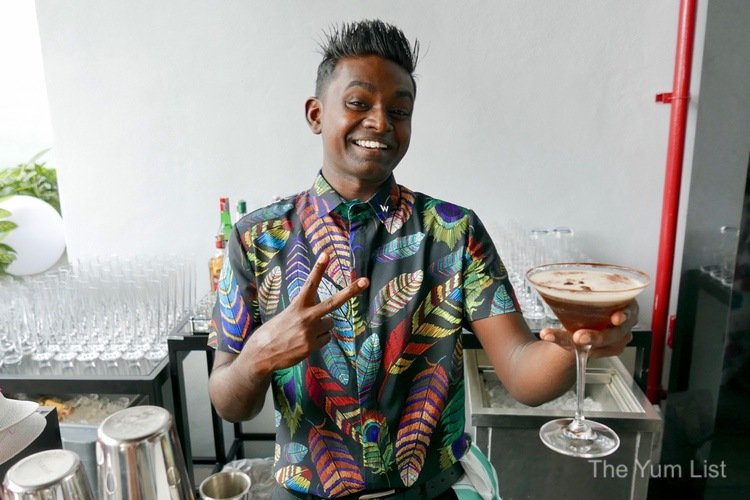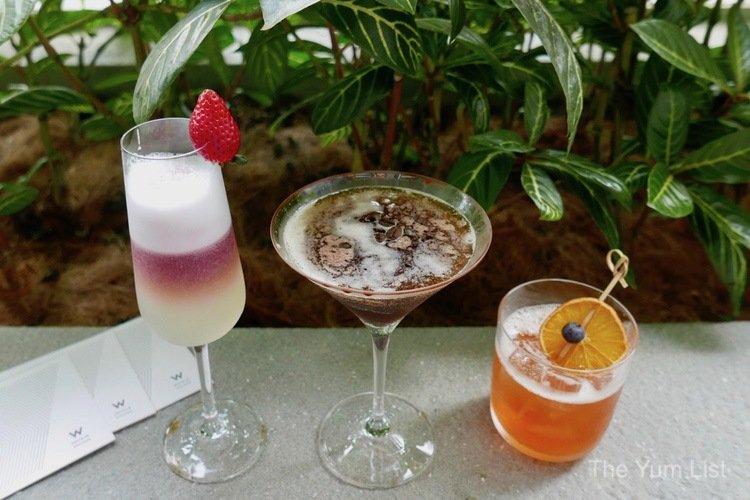 Happy to have someone admire his work, Hari extends his gratitude by preparing three shots for us. Yes, it is still only noon. Do you see what I mean about the concept of 'Retox'? Tequila is showcased in the Sunrise Pickle, the Pina Colada shot comes capped with black jelly, and the Alien Brain Shot resembles a lava lamp with the way bubbles of Bailey's roll up and down blue Curacao and peach schnapps. We take these back to the table to share with our friends. This level of indulgence means I better start eating… and soon!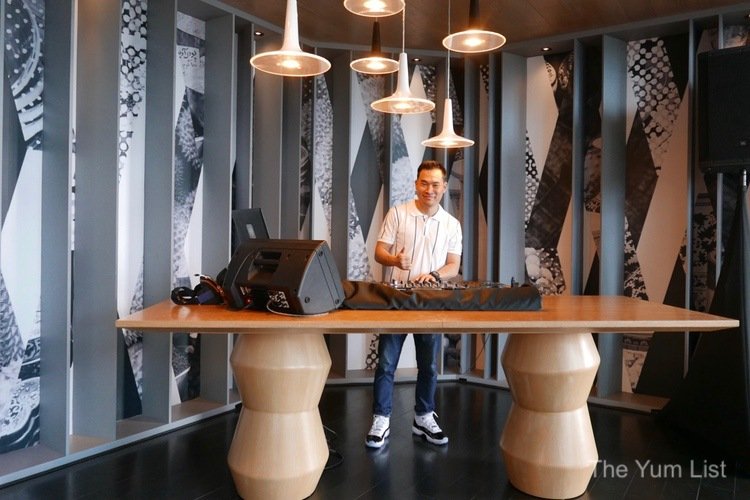 Best Brunch in KL – W KL Buffet
A little overwhelmed, I start with comforting breakfast fare. One corner of the buffet features cute little eggs benedict crowns laced with smoked salmon. A ring of housemade beef Cumberland sausage lies next to it, ready for paring. I love the texture and the seasoning in the sausage. The nearby vegetable lasagna is a cheesy, creamy celebration of fresh veggies like aubergine and yellow pepper. Now I am starting to get warmed up!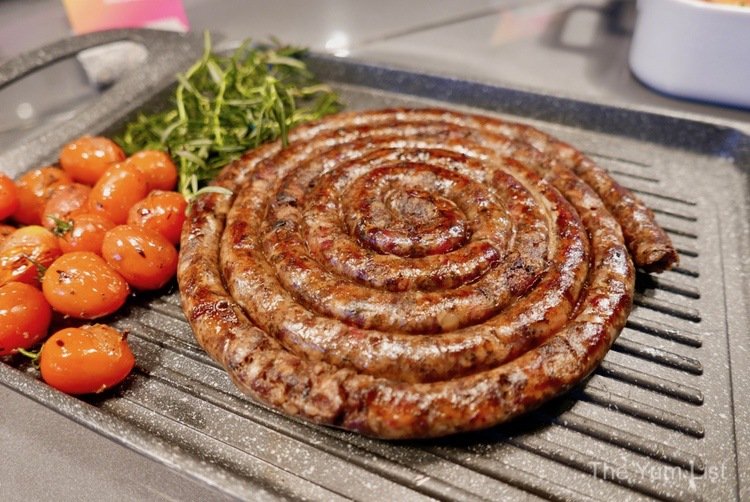 Feeling braver, I dip over to the seafood station and help myself to a few oysters. A variety of sauces might dress them, but I always go for a simple squeeze of lemon and a few drops of Tabasco. These cool sliders are meaty and tender, a clean sweep of the sea. Wanting to save room for other delectables, I bypass the prawns, the moon scallops and the king crab legs. Most others are not showing such restraint.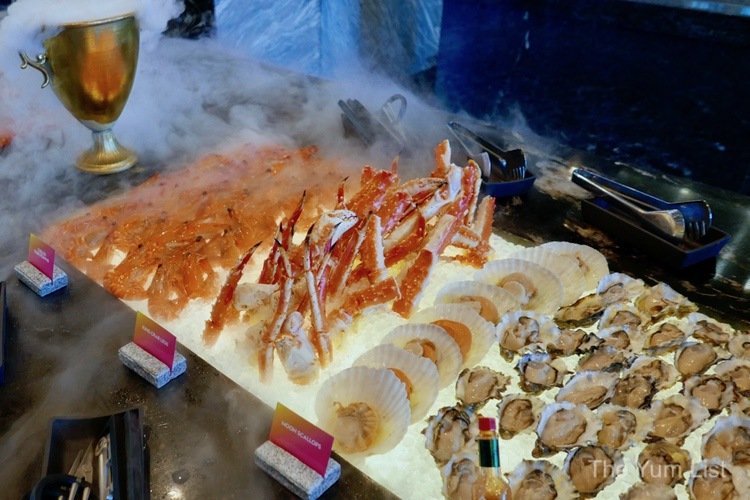 Champagne Brunch KL
Indulgence experts know that oysters pair especially well with bubbles, and so I think, why hold back? Rather than including a free-flow bubbly option, Flock's detox allows guests to purchase by the bottle, a nice option for people who only like a glass or two. An icy bottle of Moet and Chandon hits the spot with the seafood, and let's be honest, with nearly everything else on display!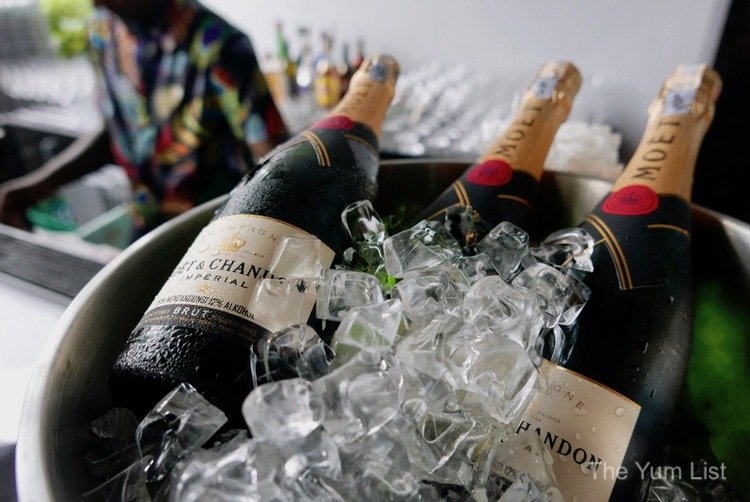 A friend at our table, Chad, recommends the masala-spiced pumpkin soup, so I give it a go. Topped with pine nuts and sour cream, the texture is velvety smooth with undertones of curry. Delish!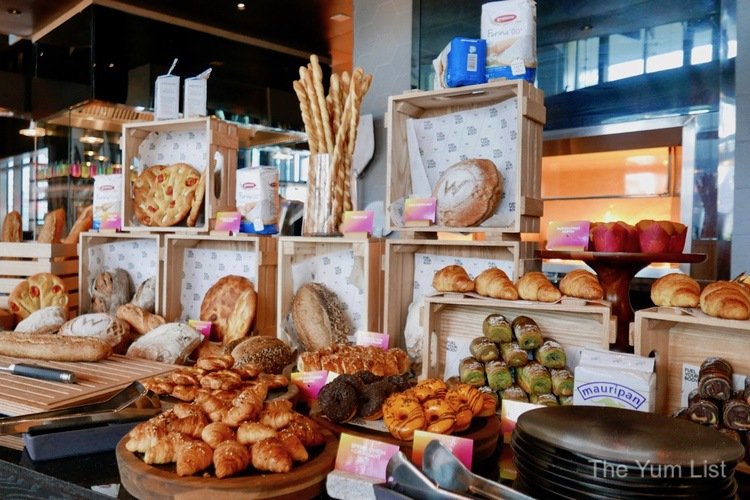 Malaysian Delights
Many Malaysian specialties round out the international timbre of the buffet, including fried noodles, steamed buns and wok-fired chili crab. I reach for something more creatively compiled, the tempura fish sandwich, which actually looks more like a taco. Here, fried snapper is served with sriracha mayo and pickled cucumber on bread shells of steamed buns. Strange as it may sound, this is a great combination! A second set of fusion tacos involves chicken kaarage, Asian slaw, and tonkatsu. I'm beginning to see the more playful aspects of the menu.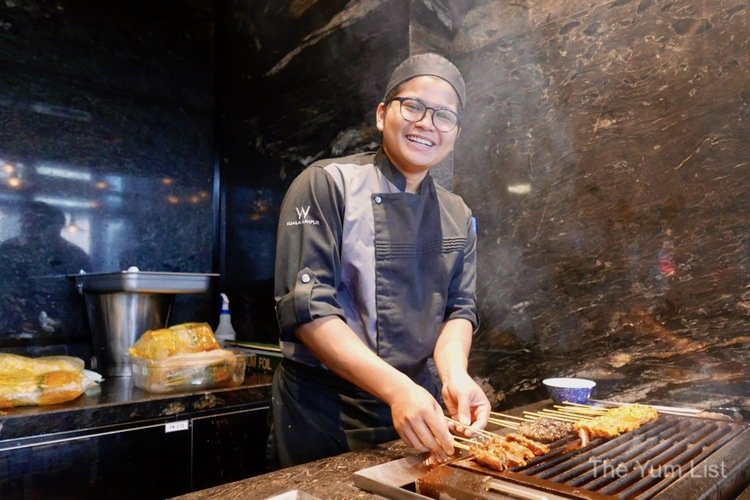 Must Try the Salad
These playful aspects really shine with the tiny salad cups. Monica and I are both enamoured. In one, roasted vegetables and chickpeas are tossed Middle Eastern-style with yogurt and harissa for both cool and warm tones, both sweet and spicy. In another, tender cuts of heirloom tomatoes are crowned with fresh basil and creamy burrata. My favorites were the tiny lentils tossed with cucumber and lemon, their slight crunch then topped with a quarter of a tiny quail egg. Adorable.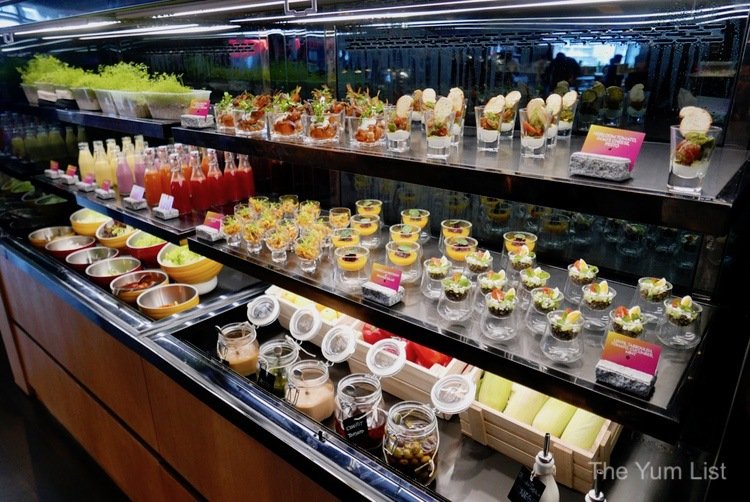 Juices, Smoothies, Sashimi and More!
Cold-pressed juices and smoothies…beetroot cured salmon… interesting looking sushi and sashimi (including a seared foie gras maki roll!)… where to next? I make my way over to the carving station for a shaving of juicy roast beef with red wine sauce. Traditionalists will appreciate the presence of Yorkshire pudding and roasted parsnips. I also snag a few satay sticks from the nearby grill. The kuah kacang is terrific, and you should know that I can get quite picky about my peanut sauces! Best grill of all is the raclette, all soft and melty cheese atop any of the gorgeous bread on display.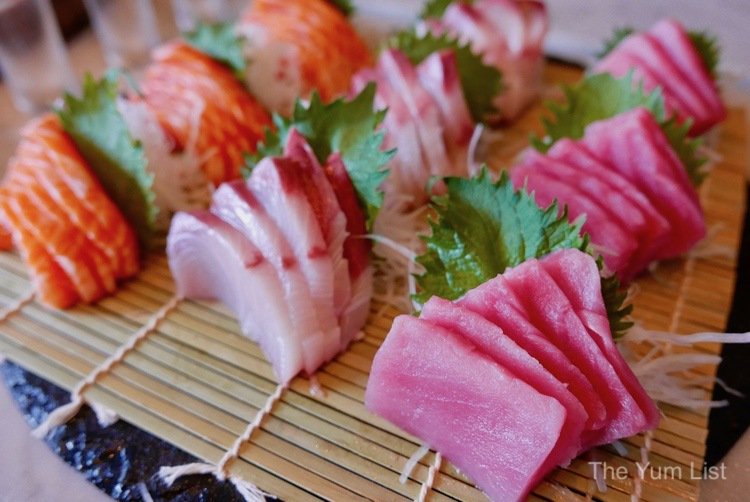 Malaysian Made Cheese – What A Find!
And speaking of cheeses, the beautiful collection of artisanal cheeses is entirely produced in Malaysia. Flock is known for its focus on sustainable culinary practices, so it's no surprise. We are delighted to find an ash-covered goat variety that is smooth and tangy, an amber blue lined with color and depth, and a gouda studded with chilli, a cheeky tip of the hat to our host country. With a few cranberries, some homemade jam and some crusty rolls, I would never have guessed these were not flown in from France.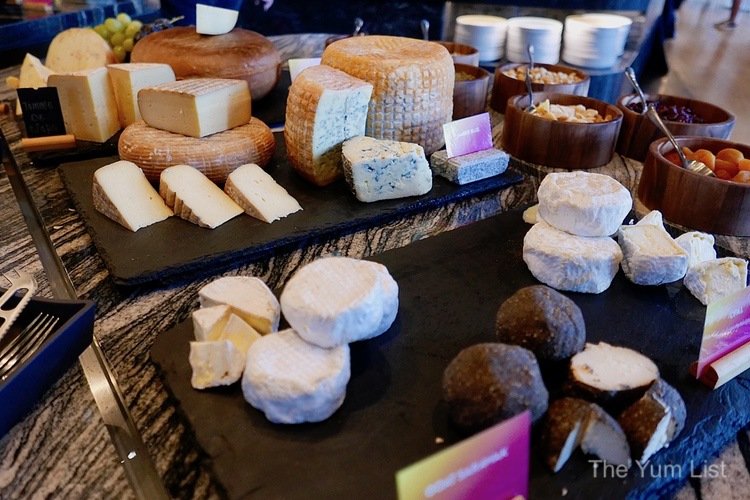 Best Brunch in KL – A La Carte Orders
In addition to the buffet, Flock's Retox includes a table menu for guests to order a la carte. We enjoy a drooly egg benny threaded with poached lobster and dressed in yuzu hollandaise. The citrus theme continues with the cured salmon and scrambled eggs on light rye. I love the surprise burst of orange when biting into the salmon. Most interesting is the poached egg with sweet corn fritter, avocado, and kale. The fritter is textured with corn and red pepper and provides a western twist to the eggs.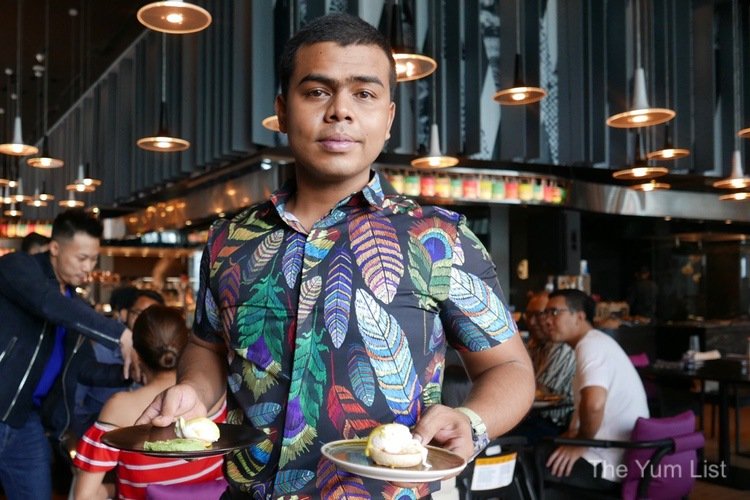 Dessert Buffet W Kuala Lumpur
However, indulgence hits new heights and stretches over the top of them with dessert. Moist red velvet cake gets dipped in chocolate and turned into lollies. Colorful macarons and mini donuts spin sugar into edible gold. Spectacular berries and tropical fruits can be draped in orange chocolate from the fountain.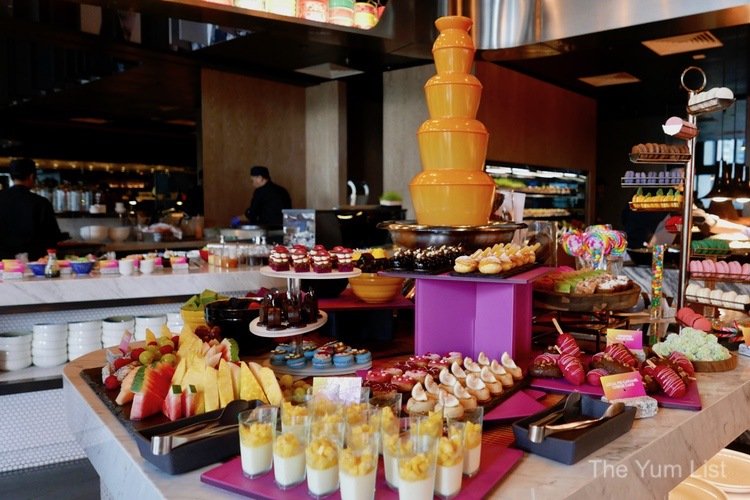 In partnership with the Chocolate Concierge, a collection of "dim choc sum" are on display, proudly made from locally grown cacao. Nutty praline cream fills Pahang cocoa cups like traditional siu mai. Black sesame is ground with pistachio to fill mini-steam buns of 70% origin chocolate. My favorite is the har gao, pink shelled truffles infused with ginger. These are rich and smooth and divinity brought to earth. I really am in heaven.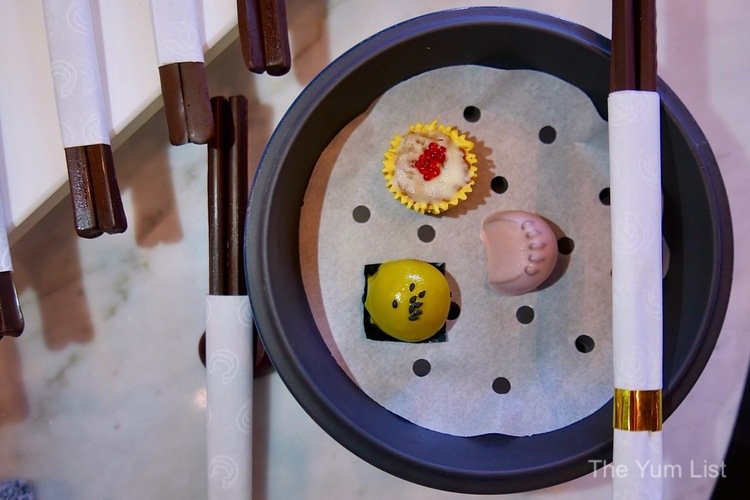 The Ice Cream Cart
More indulgence is creatively displayed on a super-cute ice cream cart. Housemade gelato and sorbet showcase local flavors like teh tarik. I ask for a scoop of passionfruit sorbet with a bit of waffle cone and am immediately transported by the intensity and purity of the flavor. It is like eating the whole fruit, tart and tangy and icy cold. Amazing.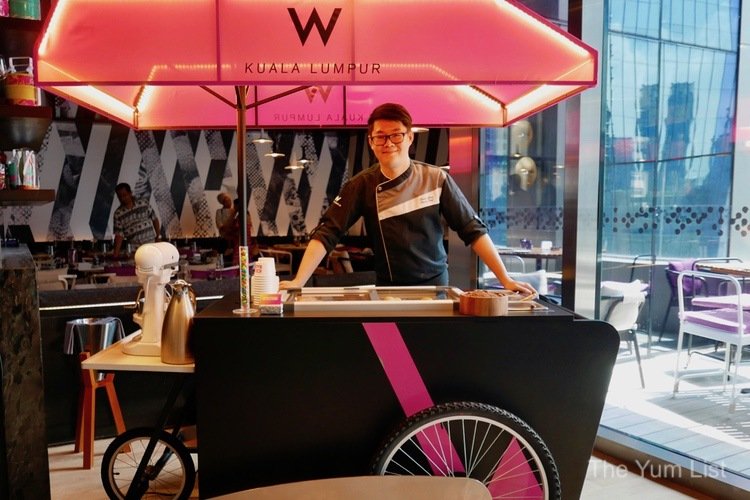 W Kuala Lumpur Brunch Review
Indulgence overload is the only way to describe the feeling I carry with me as the meal winds down for the afternoon. This retox may well need some DEtox before we try this again. Good thing I've got a week before the next opportunity. I'll need it.
Reasons to visit the W Kuala Lumpur Brunch: Quite possibly the hottest brunch in town. A sexy atmosphere with a creative and high-quality international buffet showcasing many local products.
Brunch at Flock
W Kuala Lumpur
No. 121, Jalan Ampang
Kuala Lumpur, 50450 Malaysia
+60 3-2786 8888
b&[email protected]
Website
The Best Brunch in KL – Flock's Retox – is held on the first and third Sunday of every month with the next being: January 6, 2019, from 12 noon until 3 pm. Brunch is priced at RM198+ per adult and RM98+ per child including endless mocktails, soft drinks and selected juices. RM298+ per adult gets you the food as well as endless crafted cocktails, house pouring wine, and beer.
Bubbly can be purchased by the bottle.
Christmas Brunch on the 25th of December 2018 from 12 noon until 3 pm is priced at RM 288+ per person inclusive of a free flow of non-alcoholic beverages. A top up of RM188+ allows free-flow of signature cocktails, festive shots, wine, beer and non-alcoholic beverages.
Where do you think is the best brunch in KL?