Words: Kirsten Durward
Photos: Monica Tindall
If you'd love to experience the feeling of old Malaya paired with some modern gin combinations, then I have three words for you; Mrs Jones' Parlour.
The mythical Mrs Jones, as legend tells it, was a gipsy from Prague who travelled through the Far East before falling in love with British officer Davy Jones and settling in Malaya. Her husband sadly suffered from bipolar disorder, so she set to making magical remedies to soothe him. Inspired by this character, behind the green door in Seksyen 17 is an imaginative recreation of her sitting room. Above carefully sourced 60's style furniture, dream catchers and chandeliers dangle. In the corner, retro black performance stools promise acoustic vibes on Thursdays and Fridays. All in, it's a chilled vibe with a lovely inside-outside sensation enhanced by an internal courtyard letting in soft natural light in our late afternoon visit.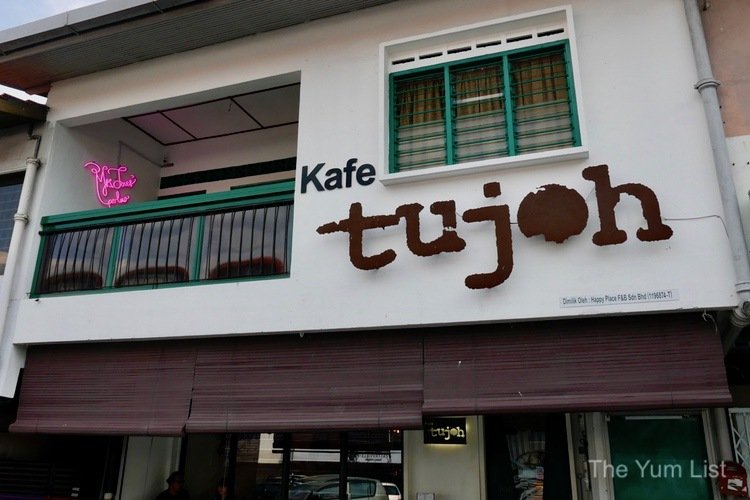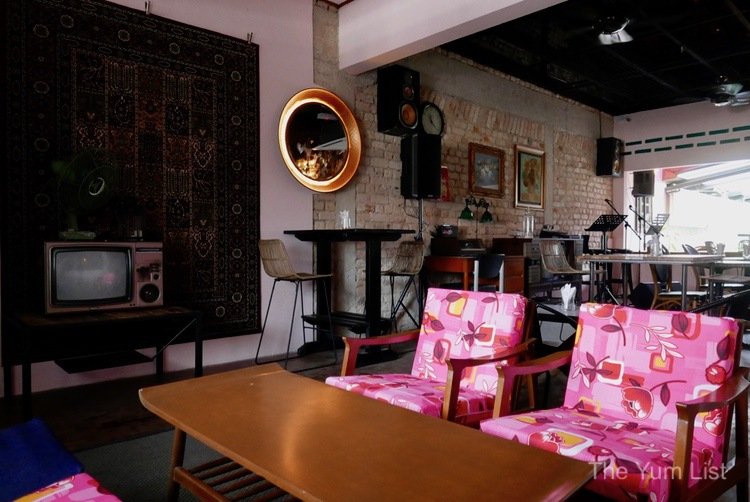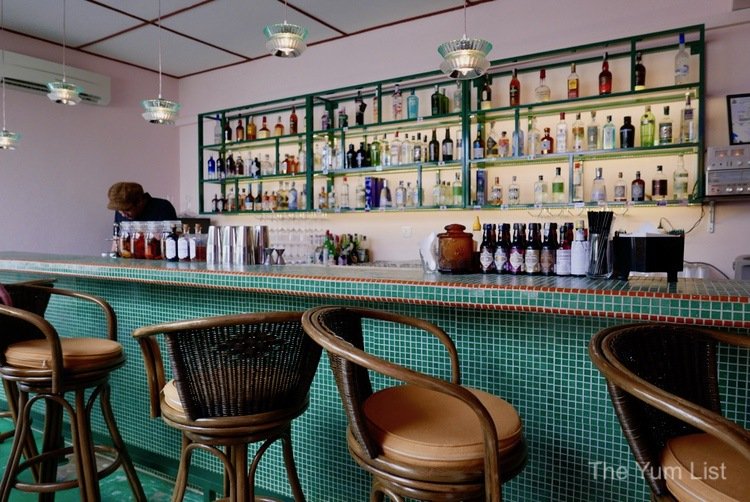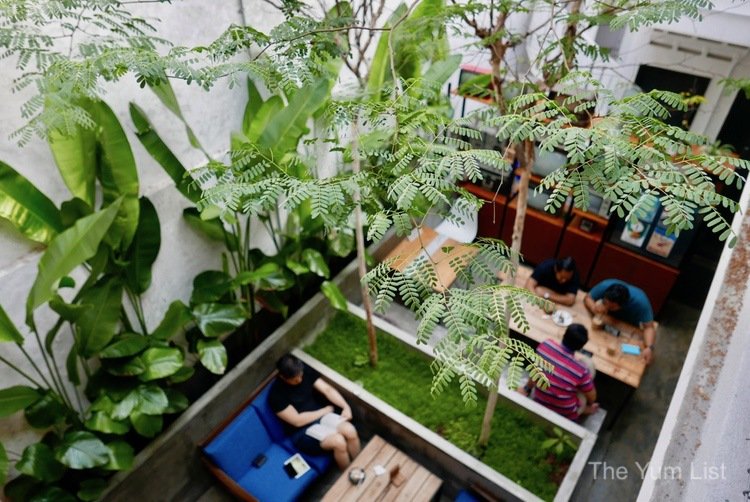 Mrs Jones' Parlour Gin Bar PJ
Some of the delightful specialities at Mrs Jones' Parlour are the infused gin and tonics. With a base of the iconic Scottish gin, The Botanist, they were already off to a good start before adding resonance with some spicy flavours. Each 'potion' comes with its own claimed effect. We tried two:
The Elixir of Life (RM28) has definite sweet overtones with apple and pear flavours, then rounded out by warm cinnamon. One could never have too much of that. Effect: A potion that helps to increase taker's alcohol threshold.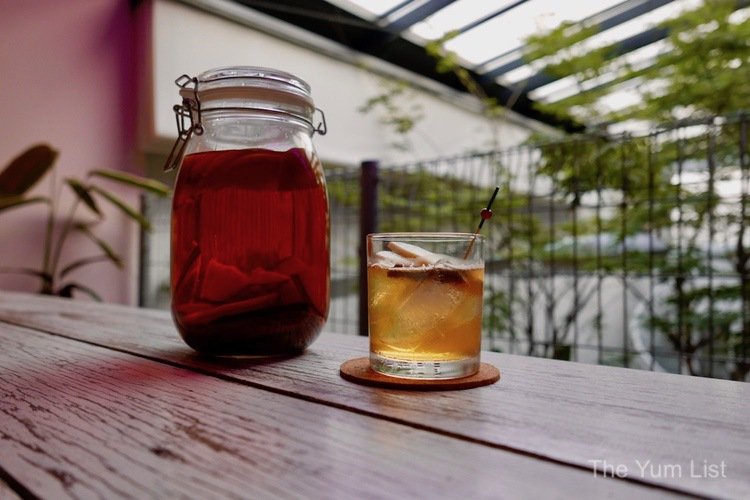 Babbling Beverage (RM28) is a little bolder, with a refreshing lemon tinge and black pepper giving more of a smoky hit overlaying the cinnamon notes. It's one for spice lovers. Effect: A potion that causes uncontrollable speaking of nonsense.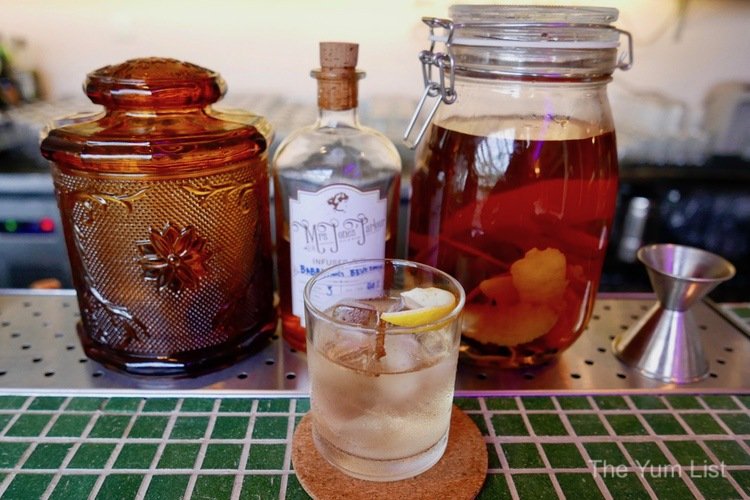 If you thought those were adventurous, wait until you try one of Mrs Jones' 'Magic Potions':
Amoi Melon (RM 35) is a concoction born to appeal to the sweeter palate, with the blending of Tanqueray, Midori, lemon, agave and watermelon juice fluffed up with beaten egg white. The salty sweetness is given just a tinge of herbaceous aroma from the rosemary within.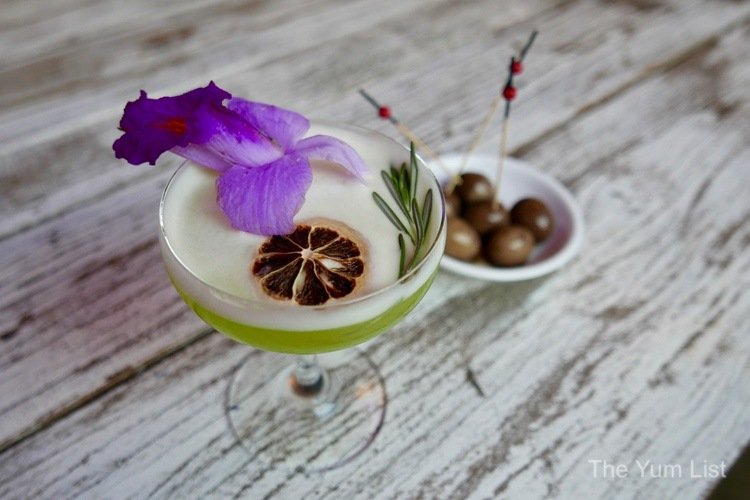 Johanna (RM 35) has clear Alpine overtones in the mix of Hendricks with Cherry Heering, Fernet Branca and Elderflower syrup. This one captivates me with its particular sourish sensations. Getting a definite kick from the dehydrated lemon, which is not just a garnish, this definitely adds to the quality.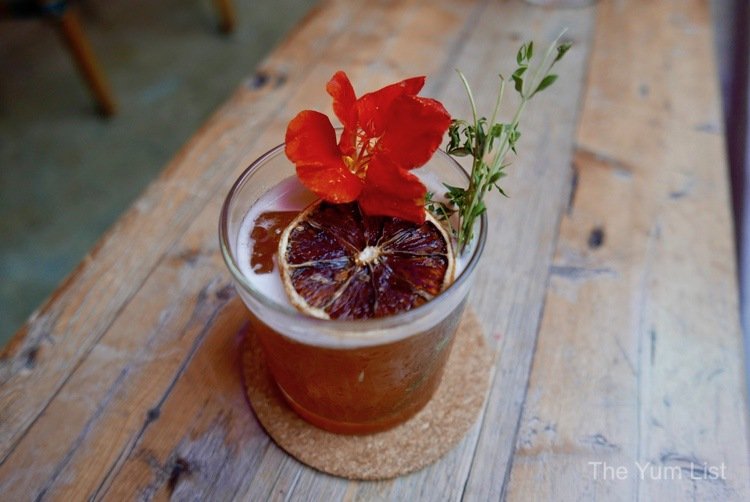 In addition to their special blends, Mrs Jones' offers a spectacular range of gins by the measure. Pleasantly arranged behind the bar in order of nationality, it's easy to choose a favourite. Why not, however, plump for something new? It's truly a challenge to present Monica with something new these days, but we managed to find two as yet untasted brands to sip on.
KO NO BI is a traditional Kyoto gin, containing no fewer than 11 botanicals, served simply with a lemon slice and rosemary. It is light and fresh, sitting high on the palate, and very clear and drinkable.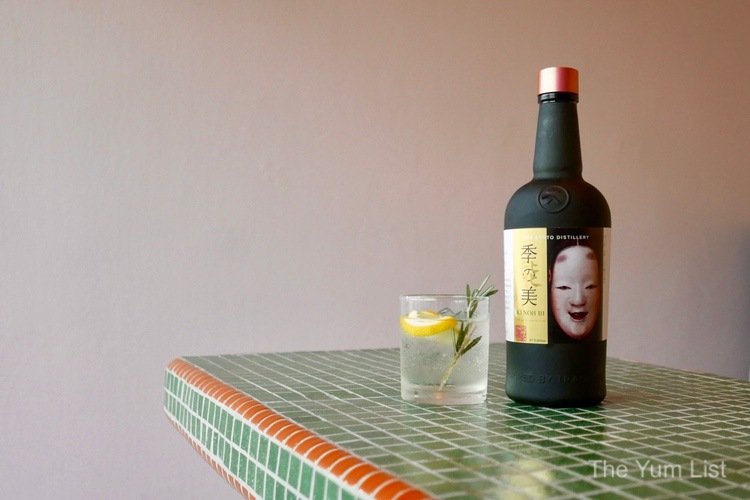 Our second sampling, Co, a Portuguese gin, is much smokier with cardamom overtones. The accompanying orange peel gives a rounded finish to the drink and this could get seriously moreish. All gin and tonics are served with Schweppes as standard, but there is also a lovely range of premium tonics that could add interest to your blend.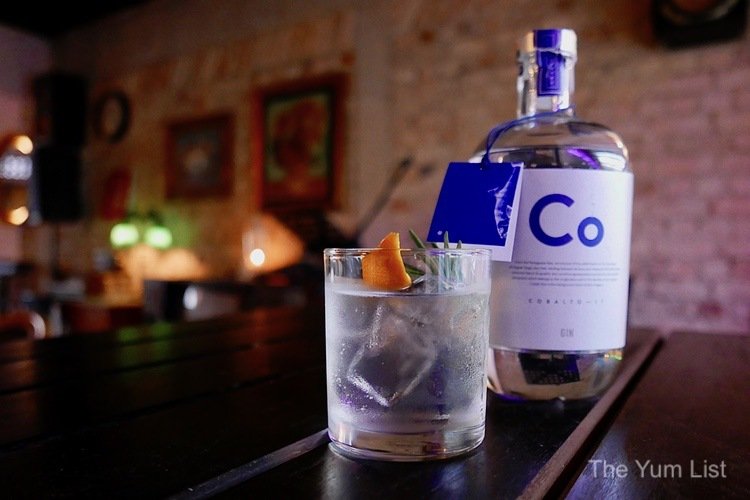 My actual favourite drink of the night was the first taste we had, but I saved it 'til the end because I think it would be a great finisher. I have to admit to a slight emotional connection, for my father used to make this very thing, Christmas Sloe gin, rich and fulsome, a real robust treat.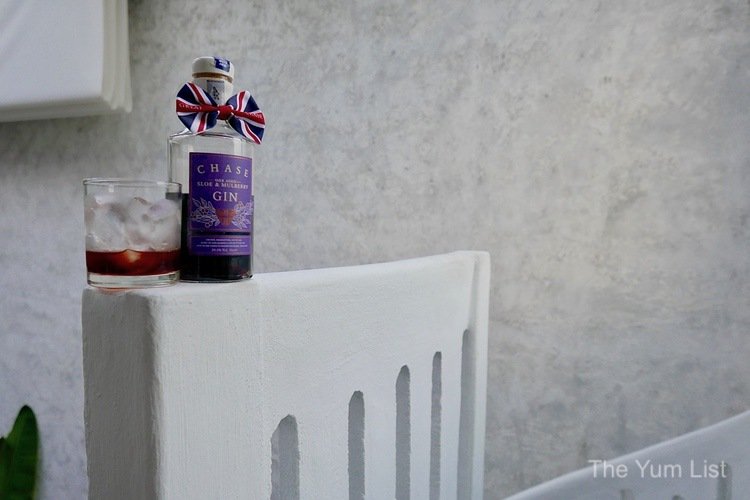 Mrs Jones' Parlour Menu – Food
So that you have something to keep you on your feet while drinking, Mrs Jones' Parlour also features dishes from their downstairs' neighbour, Tujoh Cafe. I was first tricked by the tea soaked quails eggs as I bit one thinking it was a fat olive. I do love quails eggs though and this was an intriguing thought for a bar snack. The prawn and spicy salsa balanced out the sweetness of the Sloe gin, while deep-fried crispy fish skin dipped in mint sauce offered a contrast to the infused gins.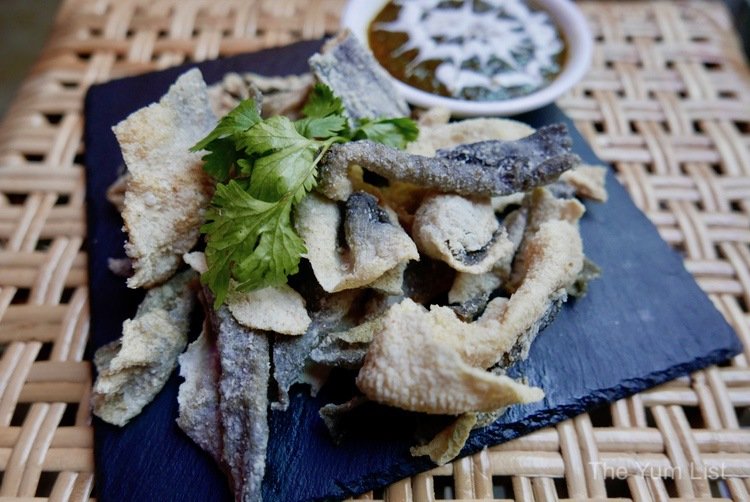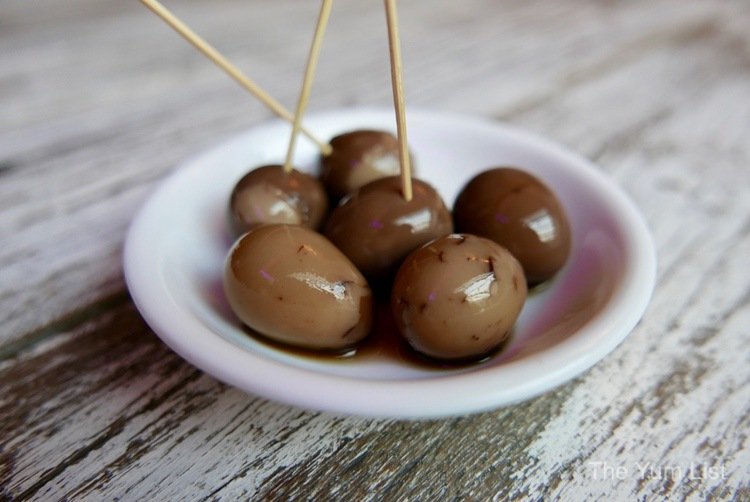 For something more hearty, we tasted Nuts about Steak (RM 39), tasty sirloin layered with a Malaysian style peanut sauce. Lamb Fondue (RM 49), was another meaty option with a tenderly grilled rack of lamb served with a cheese bath on the side. These certainly soaked up the gin.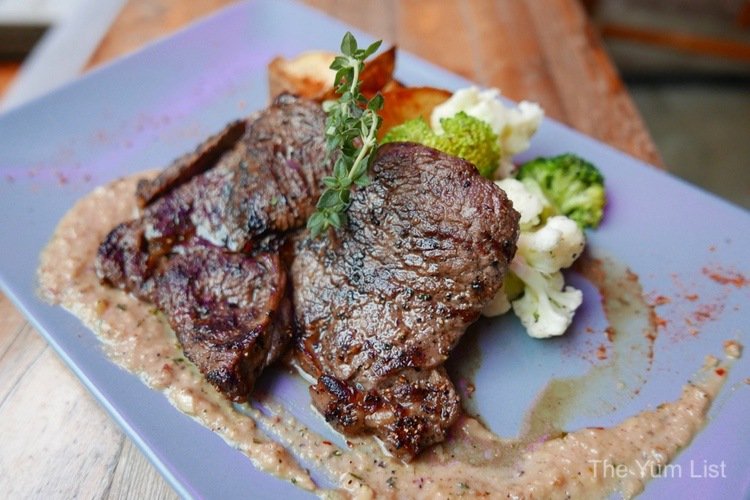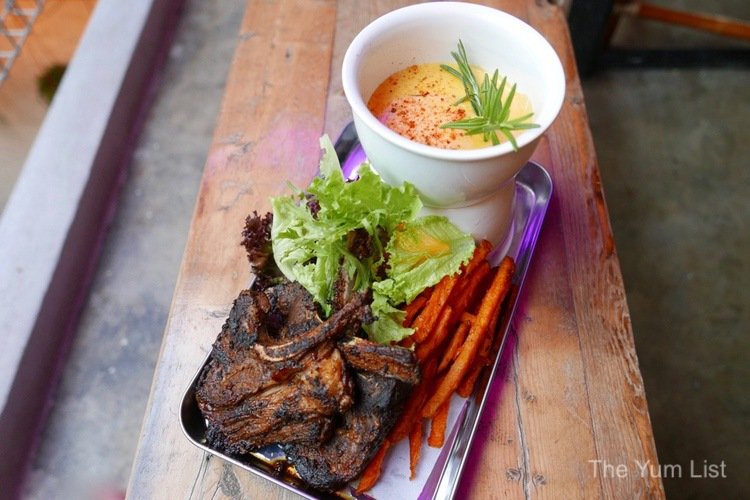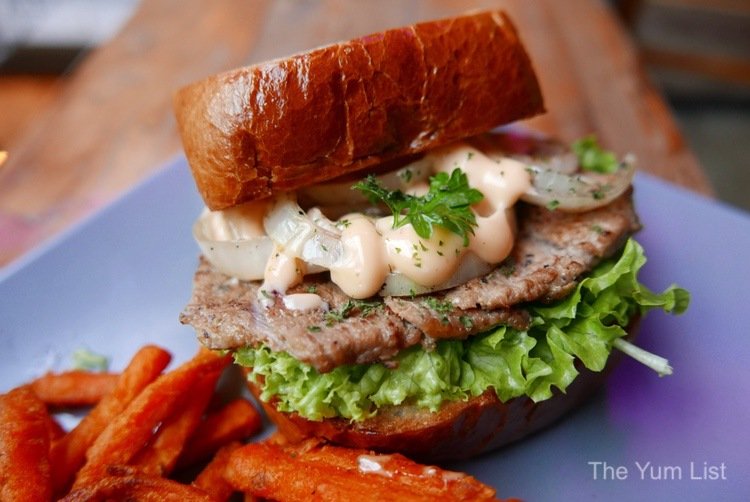 Mrs Jones' Parlour Review
Mrs Jones' Parlour offers a lot more than gin. Wine aficionados would also be pleased, as a sister to the well known 'Private Room', you can be sure of a quality glass at a reasonable price. But if gin is your tipple and you want to taste more, there is plenty on the menu beyond the pleasures here described. This hidden bar is worth a visit for the sheer eclectic nature of the decor and the warmth of the service. We were promised an unforgettable evening and we certainly had one.
Reasons to visit Mrs Jones' Parlour: an original setting that feels likes a step back in time; excellent gin cocktails and a great range of gins, friendly service.
Mrs Jones' Parlour
617a, Jalan 17/10
Seksyen 17, 46400 Petaling Jaya,
Malaysia
+601 11100-0621
www.facebook.com/MJonesParlour
Mrs Jones' Parlour opening hours:
Monday to Thursday 5 pm – 1 am
Friday and Saturday 5 pm – 2 am