Words: Maggie Casey
Photos: Monica Tindall
It does not take much to convince me to get out of the house if there is a promise of cocktails waiting, and it takes even less when those cocktails are being made by renowned KL bartender Shawn Chong of Omakase + Appreciate fame. It was a Monday evening when Monica and I made our way to Los Flowerpecker, Chong's new bar in Damansara Uptown. Chong was fresh off his double win at the 2018 KL Bar Awards for Bartender of the Year, and Best Cocktail Program for Omakase + Appreciate when he met us in his newest bar.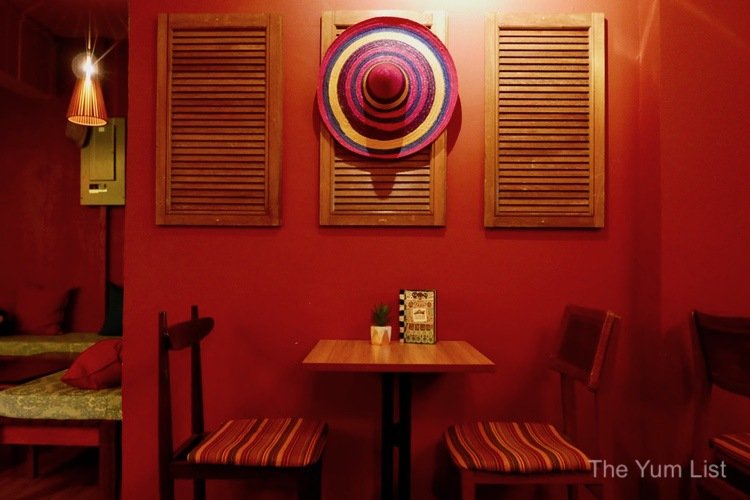 Los Flowerpecker
Los Flowerpecker is a vermouth-focused bar with a touch of Mexicana creating a unique but fun atmosphere. Located in the up and coming neighbourhood of Uptown Damansara, Chong spoke passionately about the vision for this new bar. The Mexican atmosphere complete with Day of the Dead themed menus and sombreros on the wall, he explained, is a nod to the current Latin trend in the KL bar scene. He wanted something familiar and comfortable for bar-goers in the area because a big part of the bar's focus is on vermouth, something KL cocktail drinkers are much less familiar with.
One of the standout elements of this bar was the amount of thought Chong put into making this place unique to Malaysia. Personally, there is nothing less exciting than going to a bar in a city as culturally rich as KL only to feel like this bar could be picked up and dropped in any other place in the world. Los Flowerpecker is not like that and Chong explains that even the vermouth focus has to do with Malaysians' love of flavour. Vermouth is a fortified wine infused with an always changing (and often top secret) combination of botanicals to give the wine distinct, often powerful flavours.
Los Flowerpecker Vermouth Bar
As Chong explains the backstory of the bar and recounts stories from his week at the Bar Awards, which we happily gobbled up, he begins to pour what he describes as a Vermouth Flight. The bar stocks five different brands of vermouth in three different 3 styles: Dry, Bianco, and Classico. We sipped on the Carpano Vermouth flight, which allowed us to dry the secco (drier) the Bianco (floral flavours with the perfect amount of bitterness) and the Classico (red wine based and the sweetest of the three). For those looking to discover their fancy when it comes to vermouth, the flight is the perfect starting point.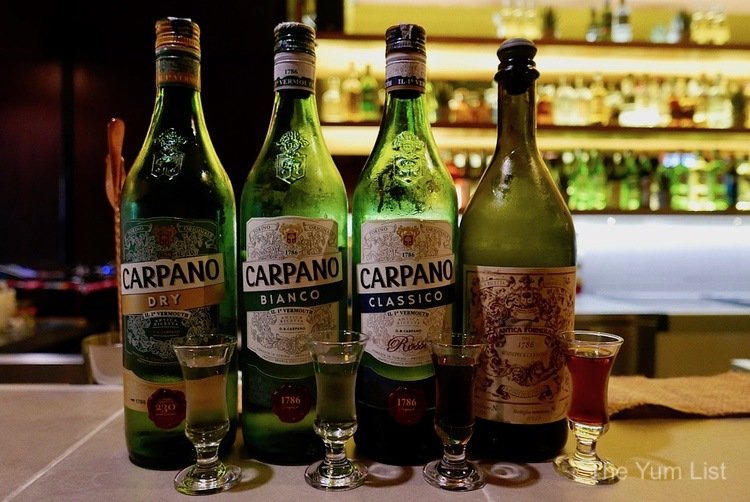 Sodas at Los Flowerpecker
Simplicity was a feature of the bar Chong kept coming back too, wanting Los Flowerpecker to be a place where cocktails where a more stripped down affordable version of what is seen in other bars in the city. The Carpano Bianco Soda (RM22) is the perfect example of how wonderful that concept can be. Guests can customize their drink by choosing the family of vermouth, the flavour notes they desire and one of three mixes (soda, tonic and ginger ale). Our Carpano Bianco with tonic was light, bubbly and rich in sweet flavours making it the perfect happy hour cocktail.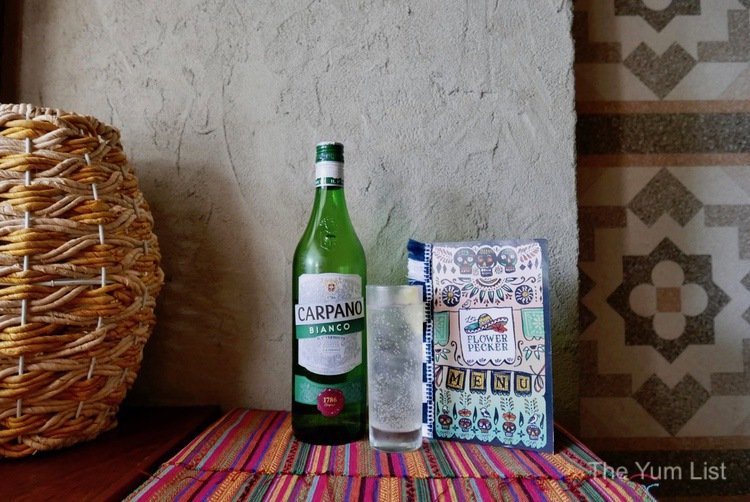 The Classics
As Chong began crafting the next cocktail, the Rosita (RM 35), he explained that this one was pulled off his classic cocktail menu. Those, like Monica and I, who love a Negroni will definitely appreciate this strong yet ambrosial cocktail. Replacing the gin typical of a Negroni with tequila is a nod to the bar's Latin inspiration. The Campari, bitters, tequila combined with both dry and classico vermouth work well to create a punchy cocktail.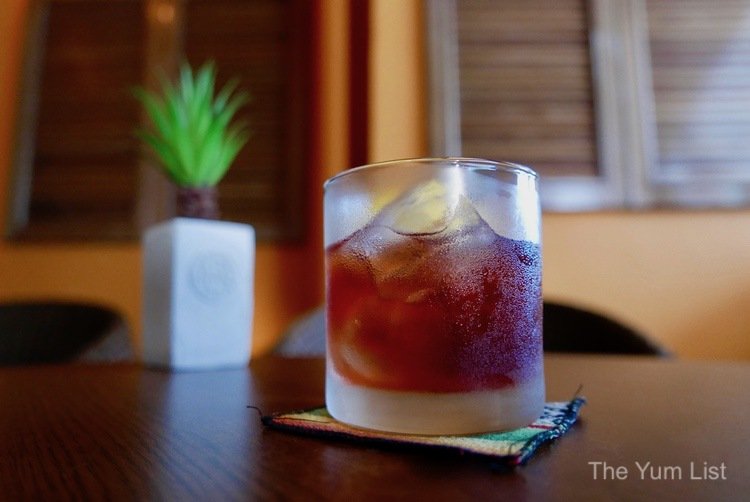 Los Flowerpecker Twists
With tequila on our minds and taste buds, I was delighted to see Chong begin to work on a Strawberry Margarita (RM32). The inclusion of these classic cocktails helps to make the bar have a more central appeal, while also demonstrating that a strawberry margarita is a cocktail that can be enjoyed handcrafted not merely out of frozen jugs from chain restaurants. The margarita is beautiful in its rosy pink colour, and its taste is the perfect amount of tartness to complement the Centenario Tequila used. Made with 100% agave syrup, fresh strawberries, real lime juice this is a margarita for the ages. Topped with asam boi rim instead of salt the little homage to Malaysia makes the drink that much more special.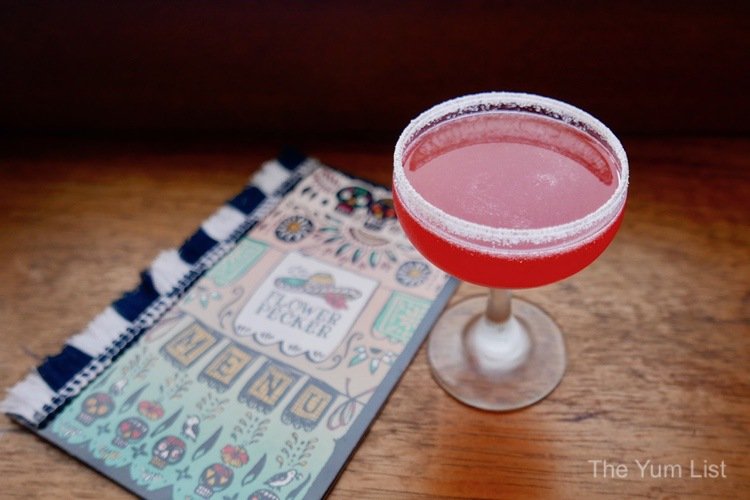 In a similar style to the margarita, Chong also mixes up a Pandan Daiquiri (RM32) (lemongrass and kaffir lime leaf as other flavour options) to show that these classic drinks also have merit in the world of craft cocktails. The pandan located this drink in the jungles of South East Asia, and this herbaceous plant works wonders helping to balance the sweetness with vanilla-like tones making this drink a tropical delight.
With Chong at the bar, there is no question your cocktails are going to be good, but the unique combination of Latin-inspired drinks and vermouth, in Malaysia no less, makes Los Flowerpecker a genuinely memorable bar that will leave everyone a little happier than when they walked in.
Reasons to visit Los Flowerpecker: a return to simplicity in the bar, try the vermouth flight, Malaysian ingredients incorporated into the drinks, affordable pricing for well-crafted cocktails.
Los Flowerpecker
10M, SS21/58,
Damansara Utama
Petaling Jaya, Malaysia
+6 012-302 6284
www.facebook.com/losflowerpecker
Los Flowerpecker Opening Hours:
Monday to Saturday from 6 pm- 1 am