Words: Patricia Podorsek
Photos: Monica Tindall
As much as I love to eat at any time of day, brunch holds a special place in my heart. I love the leisurely pace of the meal, extended throughout the early afternoon following a deep weekend sleep, no rushing to work or an errand or home to bed, simply a relaxed opportunity to catch up with friends over a little coffee, a little wine, and a little Rabo de Cerdo. Rabo de cerdo, you say? That is how it rolled a couple of weeks ago at Mercat Barcelona Gastrobar's November's regional brunch: Friends, festive drinks and food so authentically Spanish, I half expected flamenco dancers to tap their way around the table while we ate.
Mercat Barcelona Gastrobar Brunch
Each month, Mercat Barcelona Gastrobar Mont Kiara features a brunch menu that showcases the cuisine of a particular region in Spain. November's focus was Andalusia; December's will be Catalan Christmas on 23rd December. If I were you, I'd make your reservations soon!
The ambience at Mercat Mercat Barcelona Gastrobar Mont Kiara is al fresco, open and airy with plenty of natural light. Glass doors yawn widely to host indoor and outdoor guests in equal parts, perfect for a warm afternoon. Bright murals by Eduardo Pena adorn the walls and float up the staircase to the loft, adding a playful element to the room.
Bubbly Brunch Mercat Barcelona Gastrobar
The warm afternoon is tempered with the arrival of ice-cold cava, a bubbly Brut Reserva by Segura Viudas, bright with hints of citrus and tropical fruits. Brunch (RM99 for food only) can be enjoyed with or without three glasses of Spanish wine (RM150), free-flow cava (RM295), or special free-flow cava (RM375), thereby accommodating most tastes and budgets.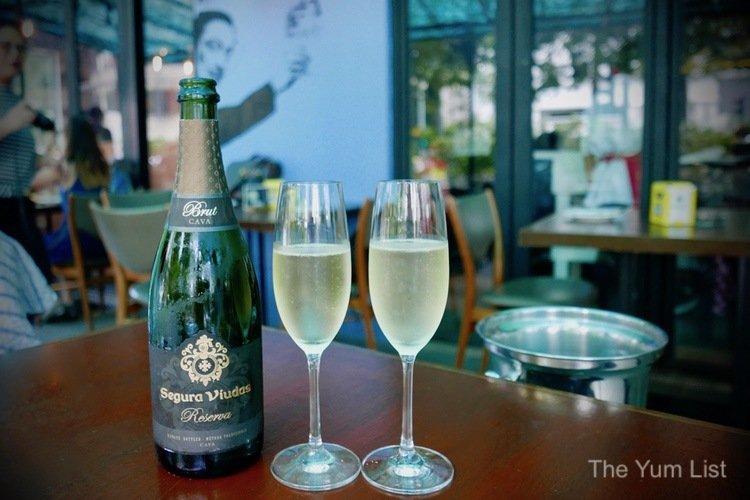 Mercat Barcelona Gastrobar Menu for Brunch
In a tidy manner, a feast from land and sea is rolled out a bit at a time to sustain the pace of conversation and courses. As famous as Spain is for charcuterie items, we first find a beautiful spread of sausages and cured hams. The Iberico ham and salchichon are classic and delicious. Hearty blood sausage and a deep spicy chorizo extend the taste buds further. The rustic farmer's bread alongside is crusty, yeasty, spongy and light, a perfect complement to the salty meats.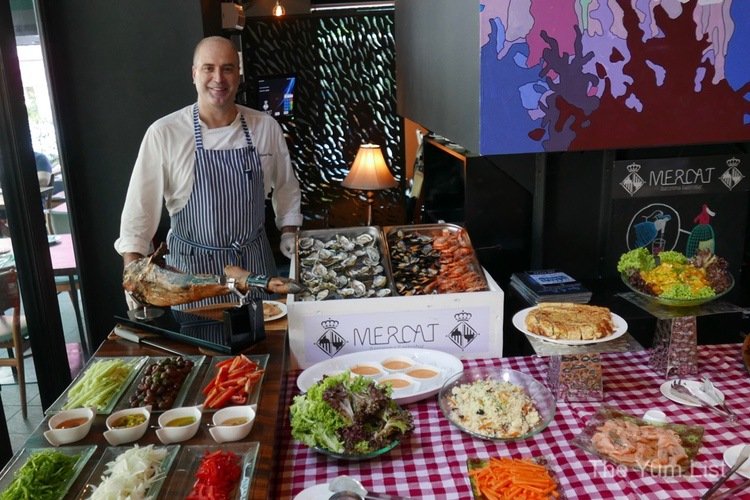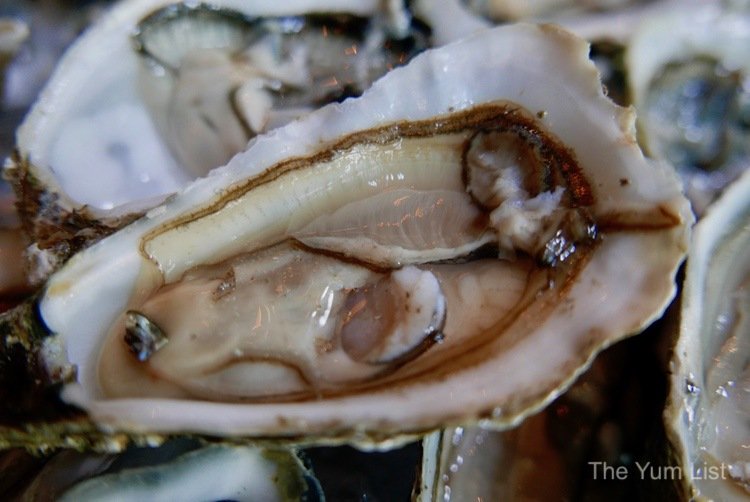 Nearby–closer than the width of a sandy beach–we find heaps of prawns, mussels and oysters on ice. These cool foods temper the heat of the day and the heat of the sausages.
Lest you worry about a protein overdose, you can make your own salad from a variety of fixings, including thin peppers and the zesty olives commonly found in Andalusia. Honey, olive oil, garlic, and vinegar hang close by for dressing. Fruit-studded couscous adds a Moorish element. Most refreshing is the orange salad with hints of spring onion and the crunch of cucumber. This one aims true for the right spot on the thermostat!
Alongside the salads and seafood lie small bowls of that most Andalusian of soups, Salmorejo, which also happens to be Monica's favorite. This cold, creamy tomato soup thickened by bread and underscored by garlic is similar to its more famous cousin, gazpacho. The flavors are just as cool and fresh, but the texture is silky and smooth. Another southern favorite, tortilla espanola, fuses thin slices of potatoes with egg into a cake so light, I feel like I'm sitting on a cloud.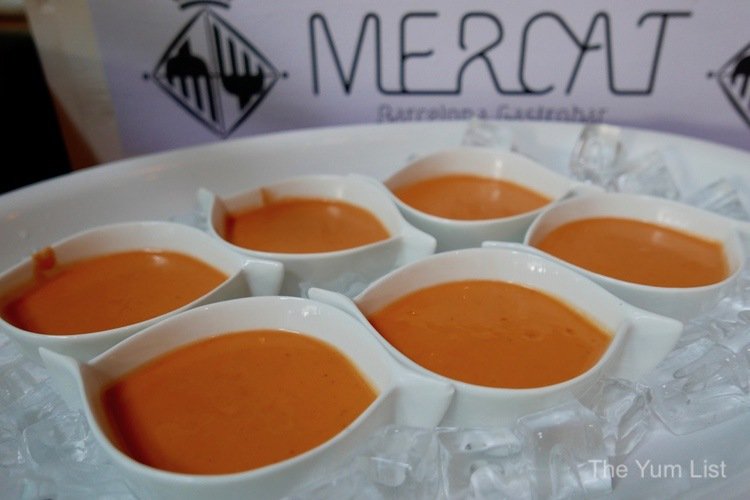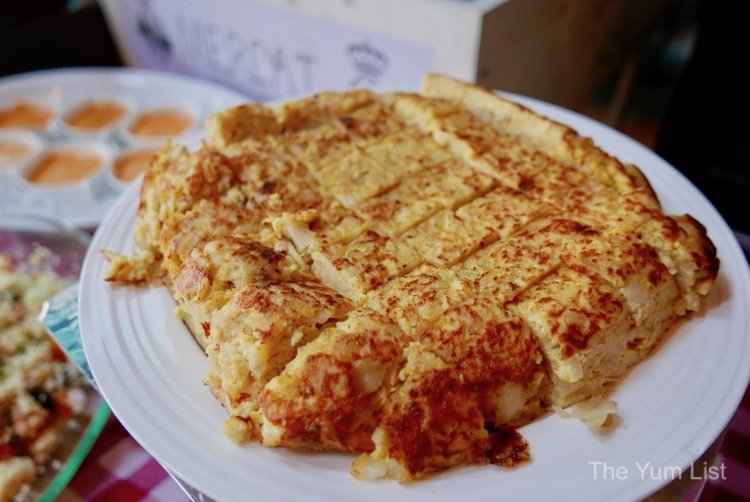 The buffet continues to unfold onto our plates. Among the hot items off the buffet we find a carving station with a tender leg of lamb and pork belly that literally melts in the mouth (sidenote: I just recently saw a social media post that insists pork belly is one of the most nutritious foods in the world. Please say it's true!!). Flaky fried snapper is both crisp and soft, and the aforementioned Rabo de Cerdo bathes shredded tail meat in rich jus. Enjoying pig's tail may not be as crazy as it may have sounded.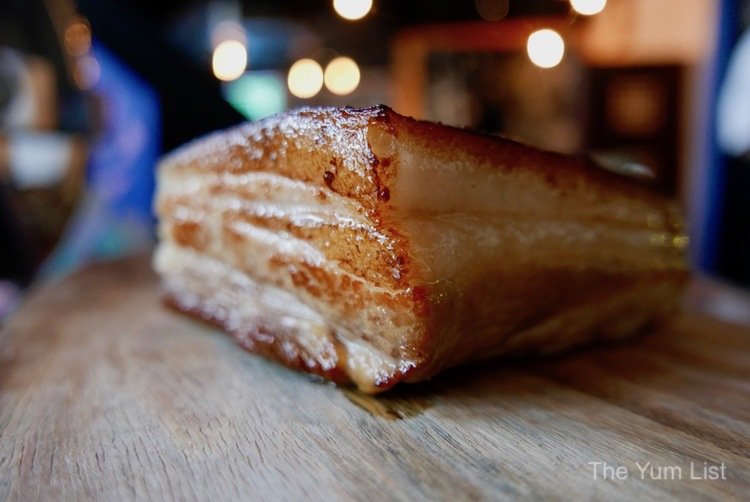 The next layer of our meal develops outside, not far from our table. We watch as a barbecue pit is set up and set to flame. As the coals mellow, we celebrate the scorching of espetos: skewered sardines, dressed only with sea salt, common summer fare in Málaga. Caning is beside himself with memories of the Mediterranean coast. Breaking through the charred skin to the oily flesh beneath, he licks his fingers with relish! They really are delicious, and only get better as the fire bakes down.
While we have busied ourselves with barbecued fish, an assortment of cheeses makes its way to the buffet table. Classic manchego sits next to creamy goat cheese, colorful blue next to something smoky. I am happy to find a good reason to grab some more of that yummy crusty bread to eat with it.
Mercat Barcelona Gastrobar Menu Dessert
Very slyly, on a table off to one side, dessert makes an appearance. The frozen watermelon sangria lollies catch my eye first, not only for their bright color! Any creative opportunity to drink is a winner for me. These pops slide easily down parched throats, quenching thirst as well as tension. My interest shifts next to the Orange Almond Torte, dense and moist, the sugar balanced nicely with a slightly bitter edge of rind. I happily take a slice back to the table to tuck in. Most eye-catching of all, however, are the churros and chocolate: crispy fried cakes light as air inside that get dipped into slightly bitter chocolate silk. Heaven. The best bit for me is drinking what's left in the pot.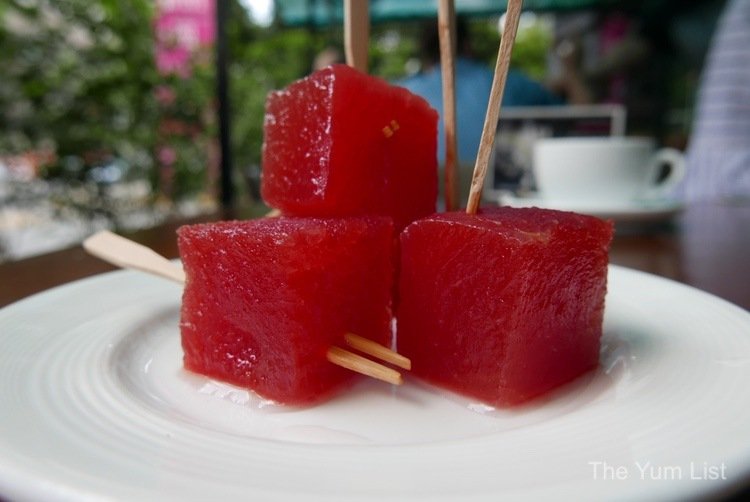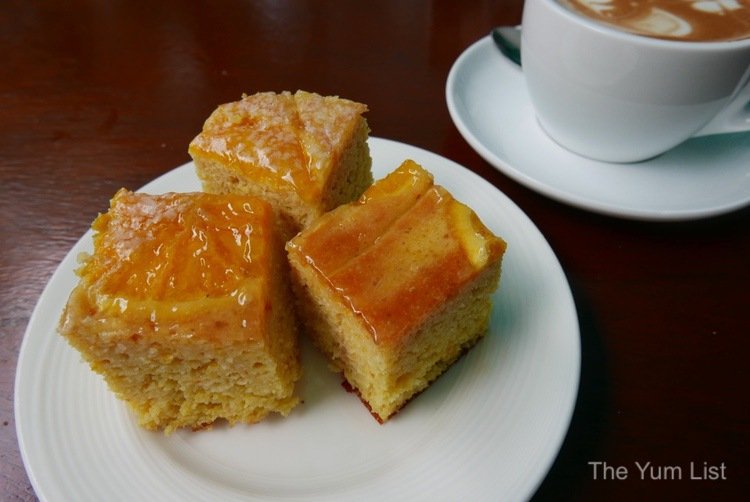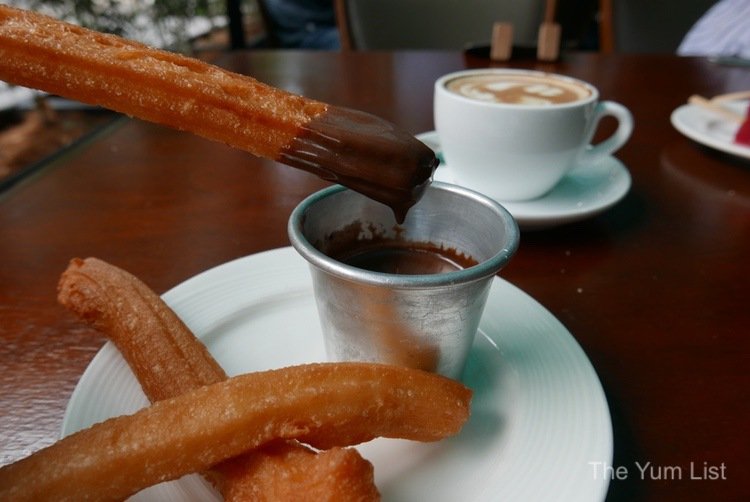 Reasons to visit Mercat Barcelona Gastrobar's monthly brunch: a cool way to spend a warm time with friends and authentic Spanish food. This time it was Andalusian, next time a Catalan Christmas. Embrace the full spirit of the culture and be sure to leave time for a siesta when it's over.
Upcoming Spanish Sunday Brunch at Mercat Barcelona Gastrobar
December: Authentic Spanish Christmas
Date: 23rd December
Time: 12 PM-4 PM
Reservations: Encouraged (seating is limited)
Price:
FREE Children 10 and below
RM39 Children age 11+ and above
RM99 Coffee & Tea
RM150 3 Glasses of wine
RM295 Free Flow Cava Segura Viudas Brut, wine & beer
RM375 Free Flow Cava Freixenet Elyssia Gran Cuvee, wine & beer
Menus: https://bit.ly/2PmxOG4
For Reservations Call: +6 03 6211 7969
Event Enquiries: [email protected]
Mercat Barcelona Gastrobar
LOT G1 Mont Kiara Mall, 1 Jalan Kiara, Mont Kiara
Kuala Lumpur, Malaysia
+603 6211 7969
[email protected]
www.facebook.com/mercatmontkiara
Find more ways to celebrate the festive season in Kuala Lumpur here.