Words: Monica Tindall
Photos: Rich Callahan
Cicchetti di Zenzero presents Michelin star chef Daniele Repetti in a wine-paired dinner celebrating the culinary traditions of Italy. The Award-winning Michelin star chef Daniele joins forces with renowned celebrity nutritionist, Dr Rolando Bolognino, in honour of The Extraordinary Italian Taste, a campaign designed to raise awareness of products that have been made 100% in Italy and the traditions and history surrounding them.
The stylish setting of Cicchetti di Zenzero is buzzing with enthusiasm as we arrive. The intimate restaurant and bar is an excellent event space with both indoor and al fresco seating. Fashionably dressed guests rub elbows, juggling Champagne flutes with small bites from a central display. Enticing palates and warming up conversations, Luretta's Principessa Brut Sparkling Chardonnay offers soft floral aromas and the golden yellow liquid is alive with tiny bubbles. Delightful.
Taking advantage of the pre-dinner socializing, I chat with Chef Daniele whose restaurant, Il Nido del Picchio (the woodpecker's nest), has earned a Michelin star without fail for the past 12 years. When I quiz him as to if there was pressure associated with receiving the recognition, he humbly shares that for the first week after the initial presentation that he couldn't cook. He was so nervous that he forgot how to do everything! As he eased into acceptance, however, he realized that there was no need for the anxiety as himself and his team (who he considers family) constantly strive for improvement. Humble, centred and clearly passionate about cooking, I know we're in very good hands as Daniele hurries back to the kitchen to prepare for the meal.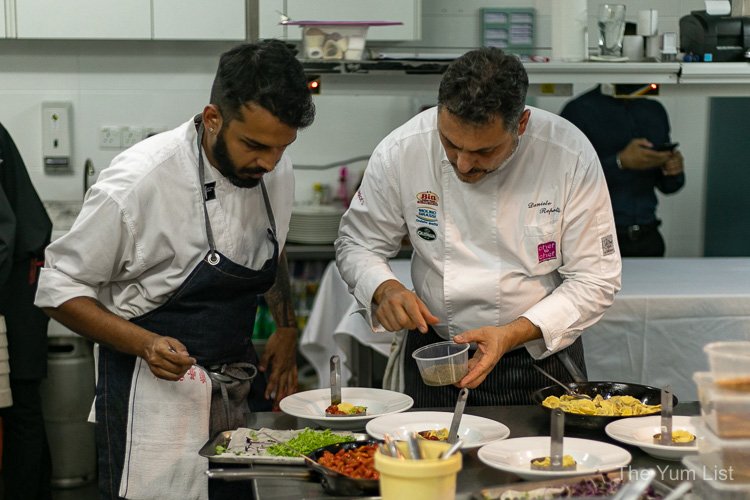 While chef Daniele is behind the scenes, Dr Rolando Alessio Bolognino takes the mic, ushering us to our seats and guiding us through the dinner while announcing the benefits of the Mediterranean diet – wine, of which, must surely be an essential as wine number two, Luretta's Malvasia, is now in our hands. Deep yellow and fruity, it fills the mouth with flavour and ensures the mood carries on in an upbeat manner.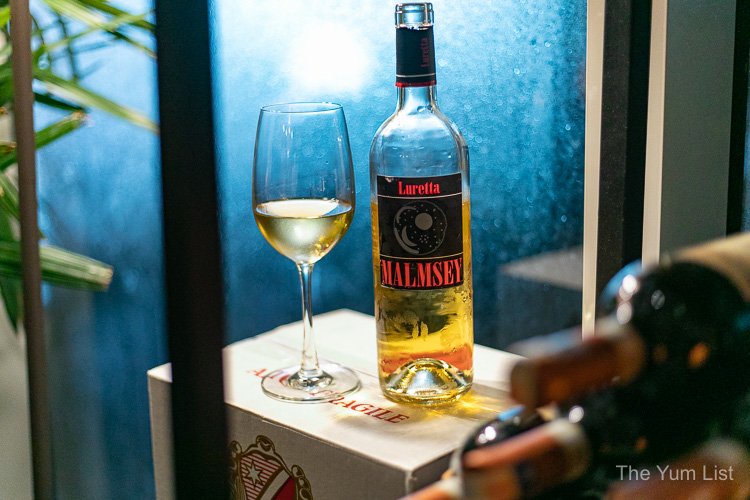 The Extraordinary Italian Taste – Starter
After some lively mingling with other enthusiastic guests, we seat for the starter: tiger prawns coated in herbed breadcrumbs. A soft contrast in texture is promised with creamy burrata and additional savoury and sweet notes are brought about with fried artichokes and tomato confit. "Artichokes are a good friend of the liver promoting digestion," says Rolando. And, when they've been shredded and deep-fried, they are darn tasty too I ruminate. The burrata cream that bases the butterflied prawns almost has the texture of a potato puree only with fine grains. Additionally, Roland informs that "thyme promotes kidney and liver function," so I guess I'm good considering they're now serving the third glass of wine.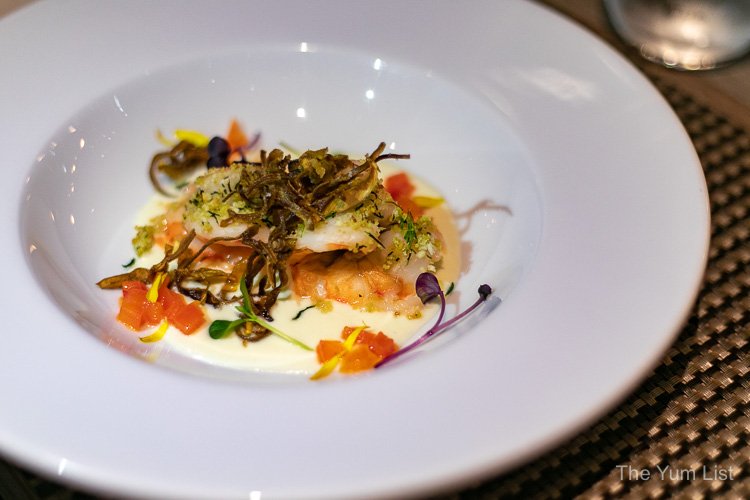 The Extraordinary Italian Taste – Pasta
Of course, the ravioli in the second course is handmade and it is filled with the most delicious eggplant, almond milk, caper powder and bell pepper stuffing. But wait, correction, I have some inside information from the restaurant's marketing executive, Klementina Koren, (who conveniently happens to be my elbow partner at the table): the pasta is not ravioli but rather cappelletti, or "little heads." Rolando regains the mic sharing more words of nutrition wisdom, "Vegetables are the protagonists in this dish. Many people think of meat as the main with vegetables on the side but we should invert this ratio. Vegetables provide fibre, are low in calories and support cell restoration. They are the best prevention of cancer that we have. Take, for example, the red bell peppers in this dish. They have four times more Vitamin C than citrus fruits. Eggplant is high in Vitamins A and E, which are essential in the prevention of cardiovascular disease." I love it when a dish is both tasty and nutritious. Let more "little heads" roll my way, please.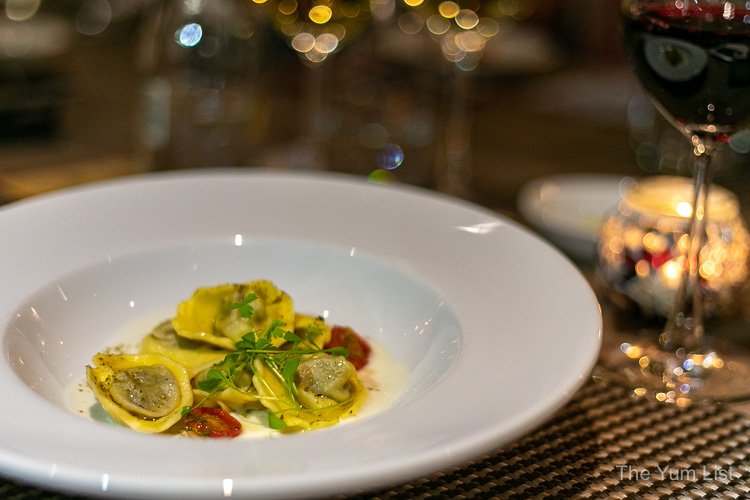 As we wash away the remains of the sauce with Luretta's bold and fruity sauvignon blanc, Klementina shares that in Italy, it is common when you finish the pasta to scrape the remaining sauce with a piece of bread. This action is called scarpetta – little shoes. She likens it to when your favourite shoes are too small but you still try to make your feet fit – just like when the pasta is done but you keep trying to extend the flavours.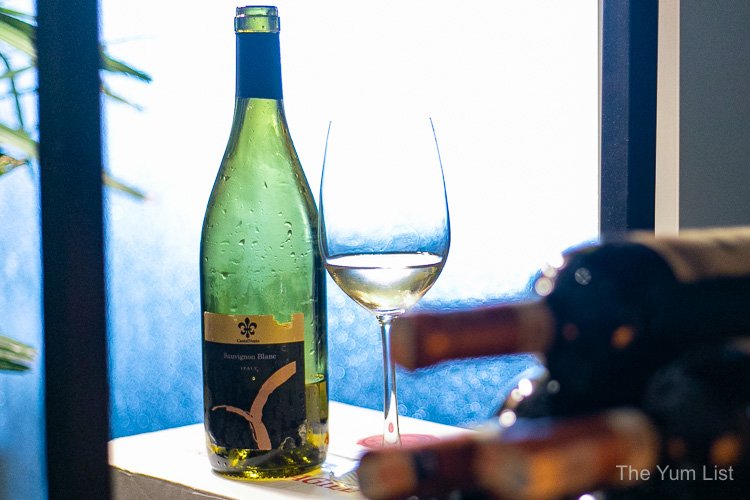 The Extraordinary Italian Taste – Main Course
Beginning with seafood, then vegetarian, the menu is further diversified with the serving of smoked loin of lamb as the main. Creamy onions and mixed wild mushrooms present earthiness in their complementary flavours. Rolando continues proffering the benefits of the Mediterranean diet with, "Lamb, being young, is a lean meat. Onion is a food that assists the lymphatic system and blood circulation. Mushrooms should also be present in our diet because they are full of fibre, vitamins, minerals and are low in calories." Besides the health benefits, the lamb is seared on the edges and vibrantly pink within; the cliché, cooked-to-perfection, holds strong. A sprinkle of sea salt is all the seasoning required and Rich's eyes light up when I say I can fit in no more (meaning he is welcome to the last two slices). The onions though, those onions are wonderfully creamy, and of these, I could have seconds.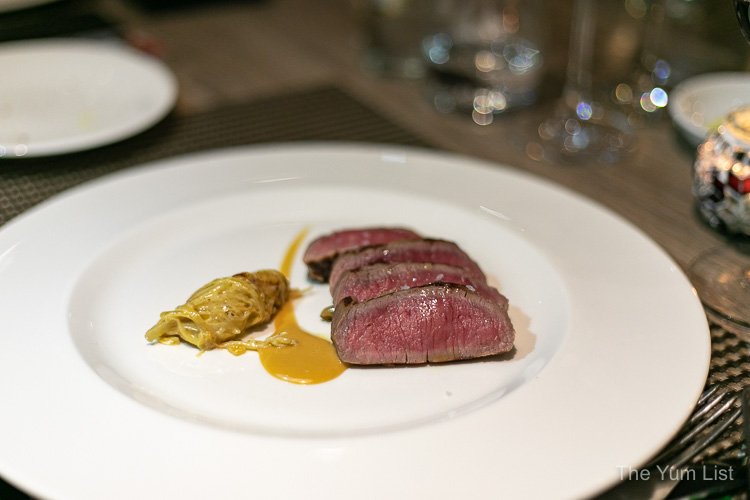 A duo of reds allows us to experiment with taste preferences and food pairings. Aged in French oak for 18 months, the Achab Pinot Noir is ruby red and sumptuous with aromas of red berries and hints of flowers. Fruity raspberry flavours in the mouth are tamed with a slice of vanilla and it departs with grace. Luretta's Cabernet Sauvignon raises the intensity of flavours alongside the lamb. Its bold colour is noticed first, followed by scents of fresh herbs and red berries. Fruit continues in the mouth and it has a leisurely ending with soft tannins.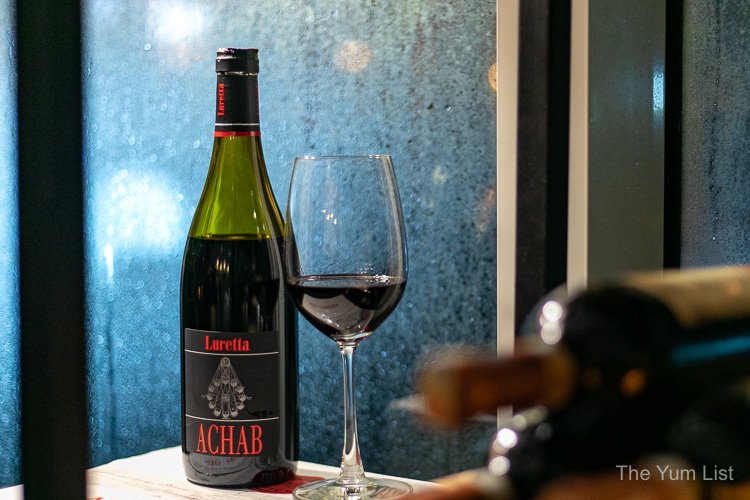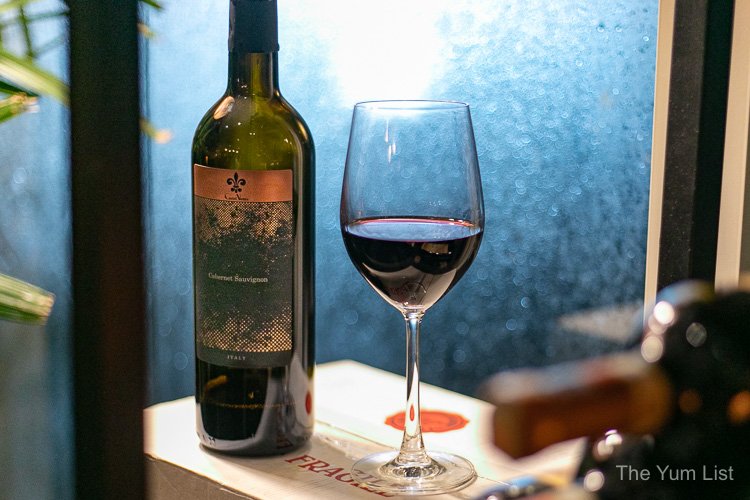 The Extraordinary Italian Taste – Dessert
Chocolate seems a fitting finish for a well-balanced Italian meal and so it is with biscuit cones filled with dark chocolate, tangy citrus sauce and forest fruits, that we bid farewell to the evening. Dr Rolando, while claiming it challenging to speak about dessert, says that the quality of the raw ingredients is of high importance and that the antioxidants found in dark chocolate and fruit counterbalance the sugar and fat in small portions. "Something that makes you happy is also good for you right?" While the dessert is certainly well-executed, my ageing years show less desire for sweets. I don't mind, however, polishing off the last drop of Le Rane Malvasia Dolce, which provides a sweet, yet balanced conclusion. Aged half in French oak and half in stainless steel, this wine has a full body yet its ripe fruits are steadied with a fresh acidity making it pleasant to drink and an agreeable ending to our experience with The Extraordinary Italian Taste.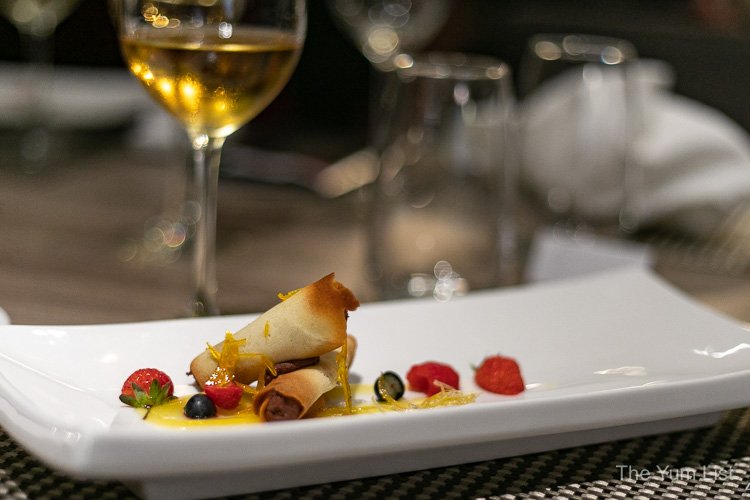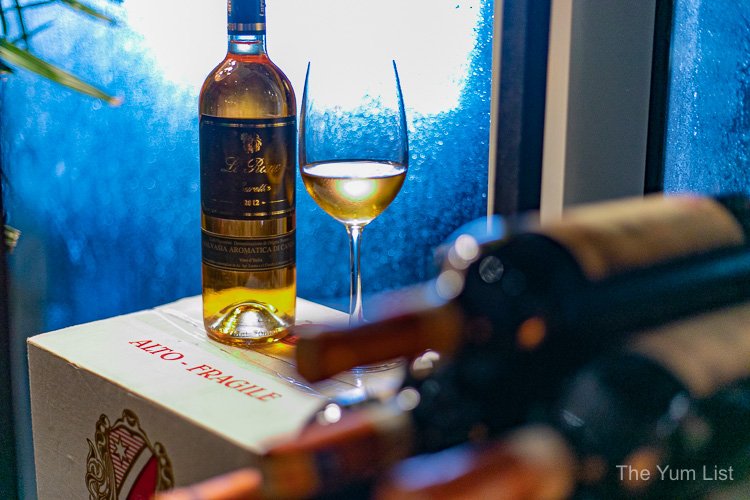 Italian Trade Commission
Cicchetti di Zenzero
Luretta 
Il Nido del Picchio