Monica Tindall
The Kata Rocks experience begins with an airport pick-up. Greeted with a cool moist towel we ease into leather seats, adjusting them to a half-recline ready for the hour-long ride. Water and juice quench thirsts and coconut candies and crackers take the edge off hunger. The journey alternates between pretty, tree-lined borders, small villages and larger towns. As we reach Kata, our view expands to the beach and sea and the promise of holiday fun.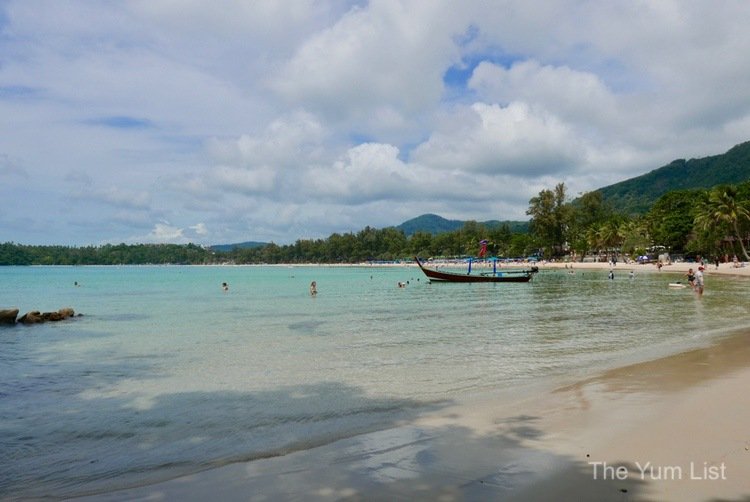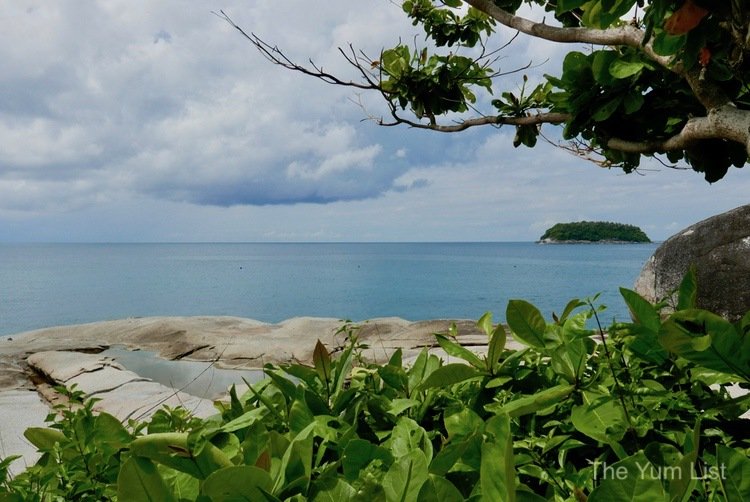 Kata Rocks Phuket Location
Perched on a rocky headland between Kata and Kata Noi beaches, the views from Kata Rocks Phuket are superb. The restaurant, bar and luxury villas overlook the Andaman Sea with Koh Pu island, Kata Beach and the occasional luxury yacht and parasailer floating by. The beach and town are less than a five-minute walk away but buggies are also at the beck and call of guests, ready to assist in facilitating pick-up or return. The airport is between 45 minutes and an hour's drive away with Phuket Town and Patong around 20 minutes by car.
Upon check-in, we're assigned our very own Rock Star tasked with the goal of making our stay a most enjoyable one. Restaurant bookings, in-room services, travel advice – he is there to assist. His first job: showing us around our home for the weekend.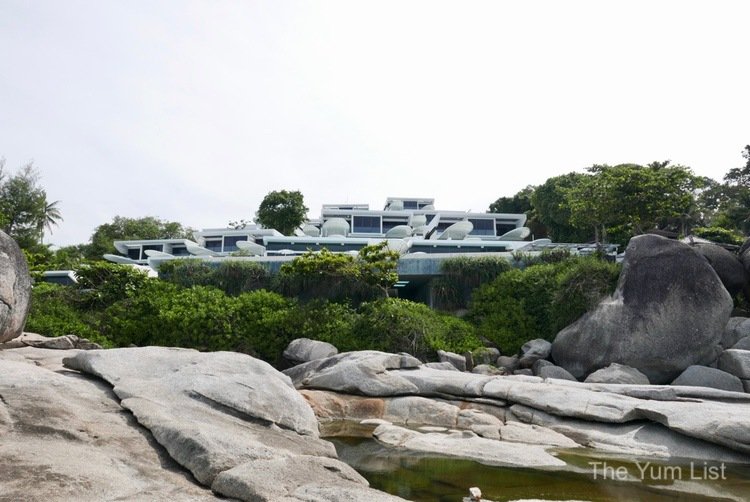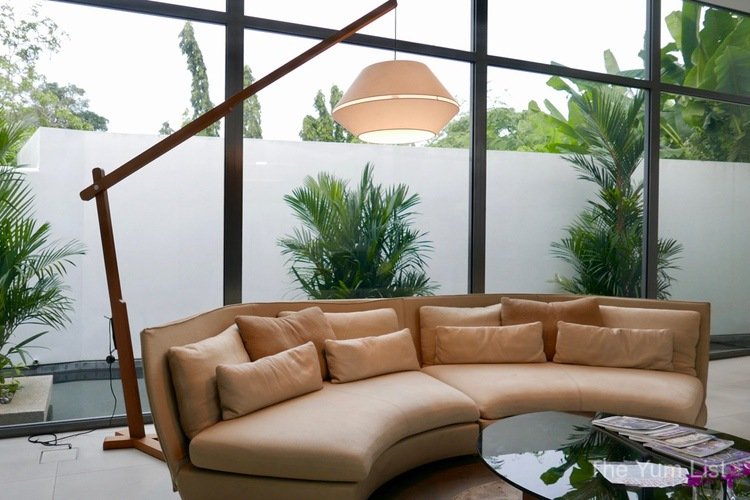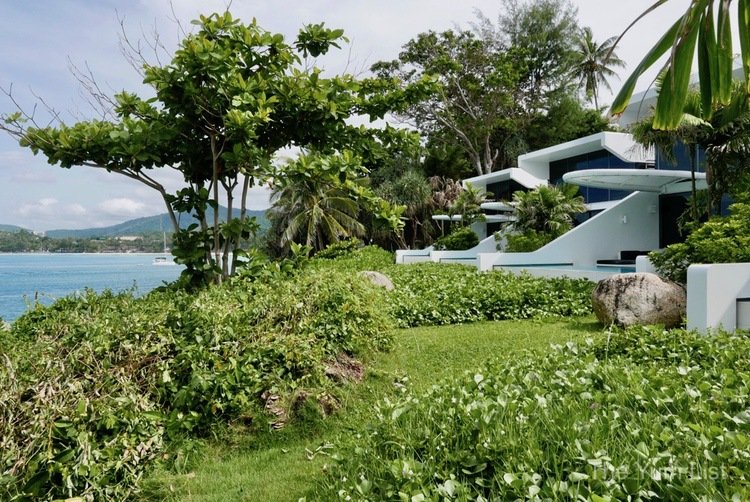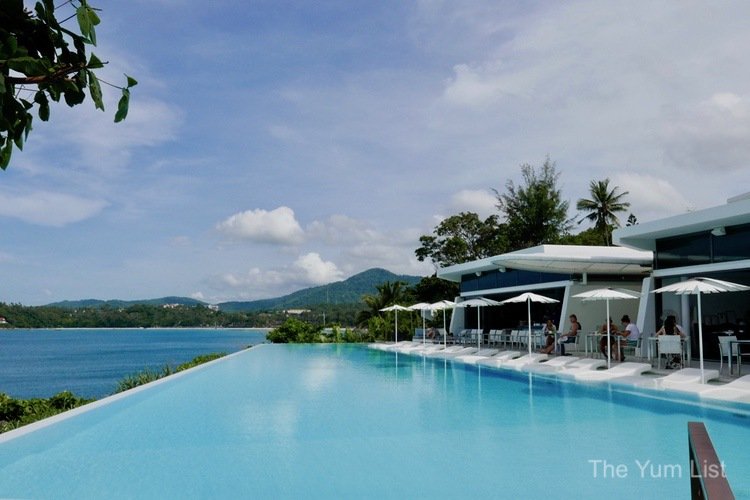 Kata Rocks Phuket Luxury Villas – One-bedroom Sky Pool Villa
Taking the fuss out of deciphering various room categories, every villa sports uninterrupted views of the sea and the same in-room features; you just need to choose the appropriate size – one, two, three or four bedrooms. There is only two of us so the 175 square metre one-bedroom Sky Pool Villa is a generous amount of space, possibly larger than our own apartment. There are lots of features to love here but what immediately stands out is the seven-metre infinity pool. The living area opens up to the pool with nothing but the deep blue sea and the tropical sky to gaze upon.
Of course, the room is equipped with all of the expected modern amenities and much much more. Designed for longer stays, a fully equipped kitchen, washer/ dryer, guest bathroom and large living and dining area make a stay for more than a few days very comfortable.
Additions such as a Handy Phone (mobile device with Internet that you can take with you around the island), excellent sound system, multiple flat screen Internet TVs (including one next to the bathtub) and quality bath products make the villa even more like a home (well, not our home, but a home of the rich and famous perhaps).
Now, down to the essentials. The Internet is constant and fast. The bed is firm with quality sheets and enormous pillows making us feel as though we're sleeping in the clouds. Water pressure in the shower is high and hot water only takes a few seconds to come from the tap. With separate sleeping and living quarters, my early rising habits and hubby's late-night TV watching do not disturb each other as the bedroom is completely cocooned off. Staying put for a few days would be an easy choice but venturing out of the room has its benefits too.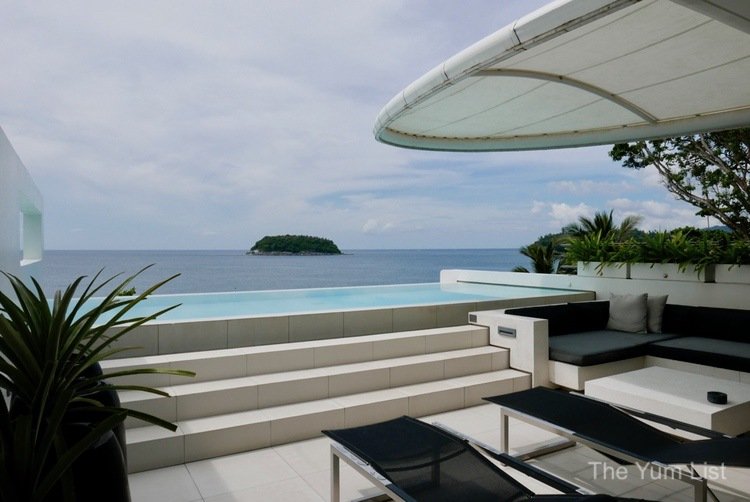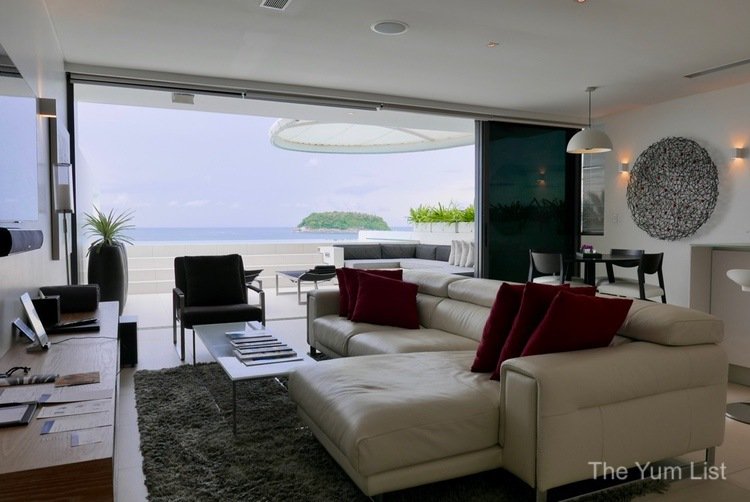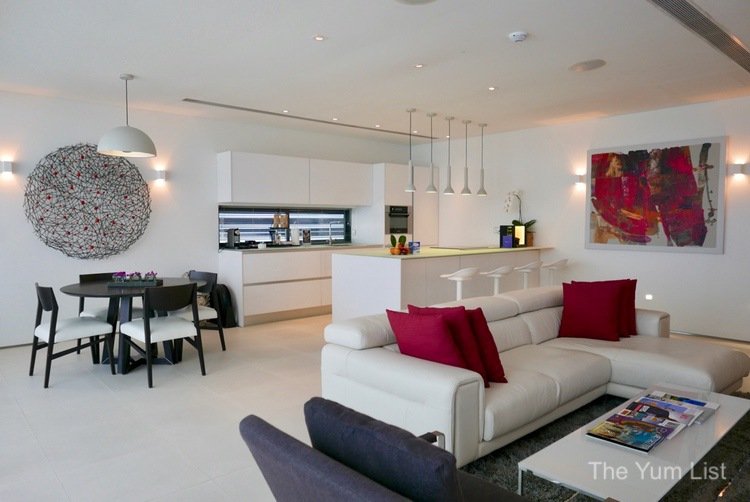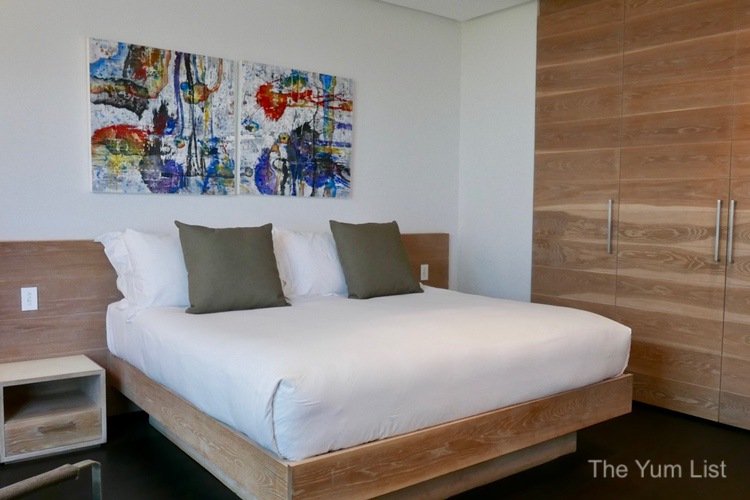 Kata Rocks Phuket Facilities
Besides that beautiful pool you keep seeing in my pics, there is an excellent fitness room and spa to cater to wellness needs. The gym has all sorts of high-tech equipment guaranteed to hold the interest of any gym junkie. I'm content though with the solid variety of cardio machines and free weights and see the punching bag might get some use with a longer stay.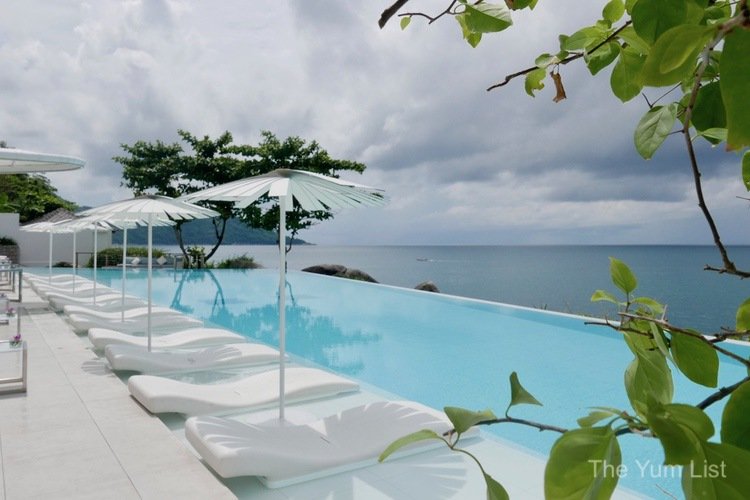 The Infinite Luxury Spa carries through with the nautical theme of clean white, soft grey and marine blue. The space is immediately calming. Gentle music flows cushioning the air and the warm welcome by softly spoken staff inspire yet more tranquillity. A colour therapy room, napping pod, wet room and mani-pedi salon support a comprehensive range of treatments. We head here for a massage upon arrival and find it the best prescription for post-flight sensitivities. A small additional customization that makes a big difference is a post-treatment snack and beverage menu. A choice of juices, teas, fruits, cakes and biscuits are included in the price of a treatment and smoothies and bubbly can be served too for a supplemental price.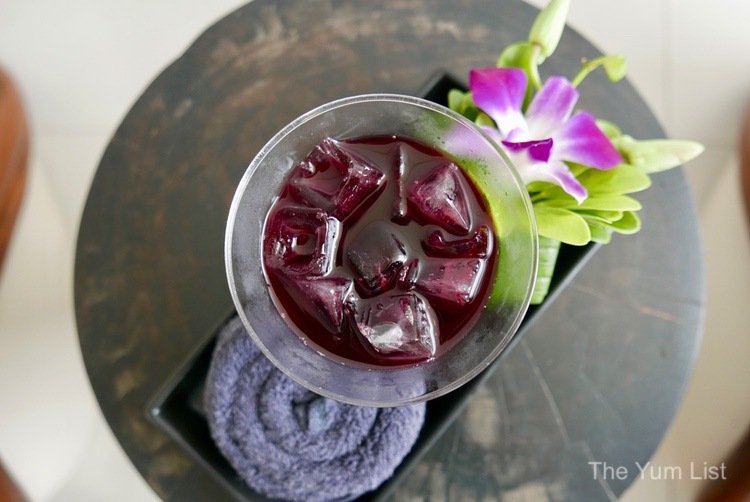 Kata Rocks Phuket Food and Beverage
Having a fully equipped kitchen allows the flexibility of staying in or eating out. Chefs at Kata Rocks Phuket also offer in-room cooking classes encouraging the use of room facilities and local ingredients. We have a wonderful experience with chef Jeab who teaches us the basics of a number of Thai dishes with enthusiasm and humour. Besides relishing the results of our efforts, we're also gifted with the recipes and an apron to continue the exploration at home.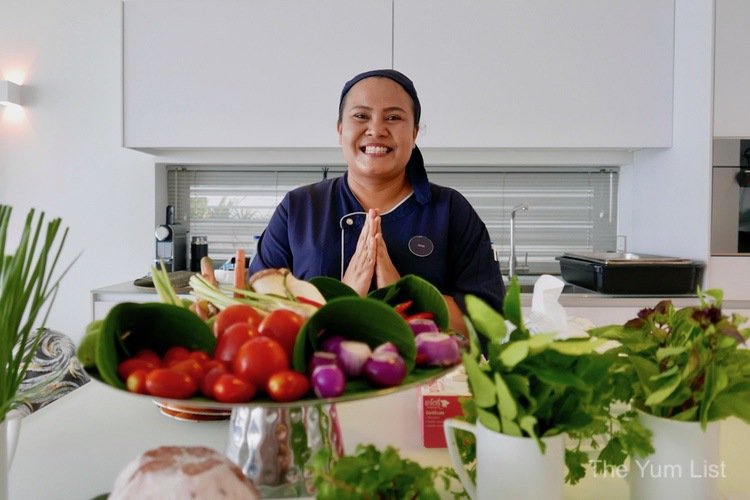 As mentioned, it would be effortless to never leave our luxury villa, but having brekkie at Kata Rocks restaurant is worth the 50 metre walk, not only for the view but for the excellent selection of western and local dishes. With nothing but blue as far as the eye can see, it's an inspirational start to the day. The food makes us happy too with loads of colourful healthy choices and a few decedent options to make us really feel as though we are on holiday. My fondness goes towards the beautiful tropical fruit, chia seed puddings, Bircher muesli, nuts, seeds, grains and coffee. Hubby has multiple orders of eggs, pancakes and smoothies. We lush up our morning a tad with a glass of bubbly. There are local delights too with rice and curries but we save our dose of spice for later in the day.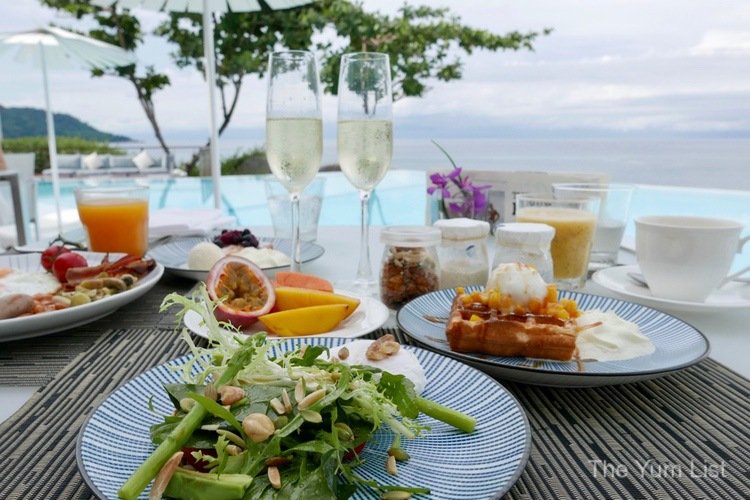 Many guests head to Kata Beach or explore the rest of the island during the day, happily returning to Kata Rocks Phuket in the late afternoon for some of the best sunset views on the island. One of the best ways to enjoy this magical time of day is with The Spirit of Kata Rocks Gin Story on the pool deck. We savour a tasting experience of The Spirit of Kata Rocks, Infinite Luxury's very own Thai craft gin, and tell all about it here.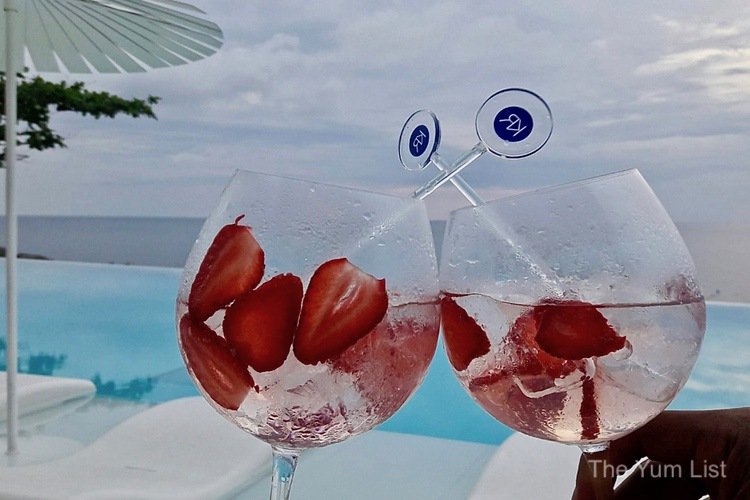 Another reservation that makes the weekend an extra special one is Dining on the Rocks, a curated experience popular for couples to mark special occasions or really just for anyone to make the stay an especially memorable one. Taking full advantage of the location, a dining table is set on the rocky outcrop with drinks beginning as the sun sets and dinner continuing under a starlit sky. Read about the complete experience here.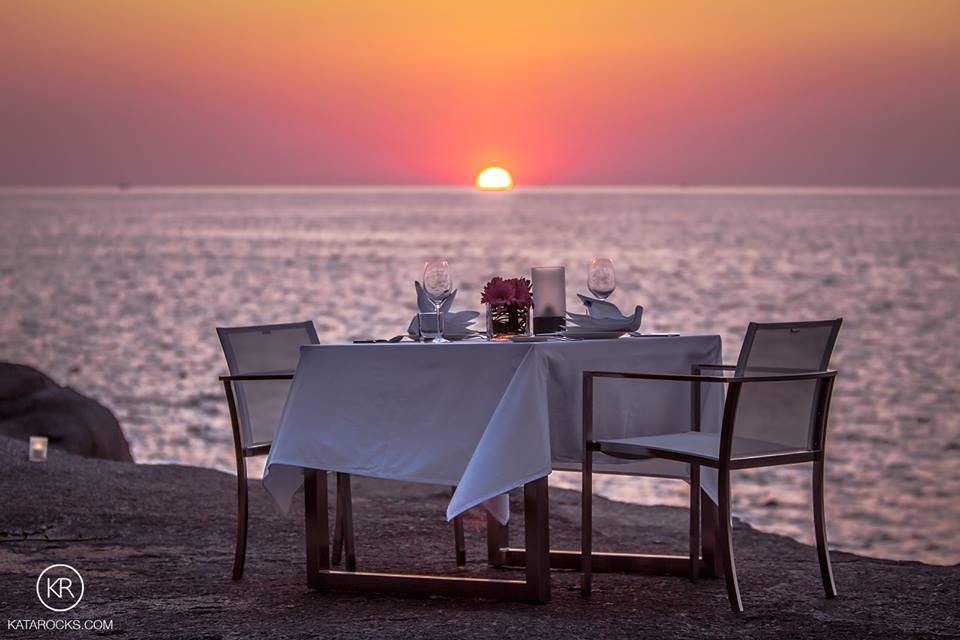 Kata Rocks Phuket is undoubtedly one of the top stays in Phuket. With splendid views, convenient location, fully fit-out villas and extraordinary experiences, life is marvellous at Kata Rocks.
Reasons to visit Kata Rocks Phuket: convenient and picturesque location; luxury guests experience; magnificent, fully-furnished villas each with their own private infinity pool and uninterrupted sea views.
Kata Rocks Phuket
186/22 Kok-tanod Road
Muang, Phuket 83100
www.katarocks.com
[email protected]
+66 (0)76 370 777