Monica Tindall
Apparently, I've been missing out for two years on some extraordinary Indian food. Recently receiving an invitation for a chef's table experience at FLOUR for the launch of their new "book" (menu, which is actually a published hardcover book!), I quizzed friends and fellow foodies to see if the restaurant would likely be a match for The Yum List. The overwhelming response was, "Yes!" Now I am wondering why they have kept this gem from me for so long.
FLOUR Bukit Damansara
Located in one of the shophouses in Plaza Damansara, FLOUR, Dip & Eat, has a friendly neighbourhood feel. Opening up to the sidewalk, tables spill from indoors to the outdoors with the kitchen a B-line from the entrance. Another room offers a space for more tables or more of a private setting, as is the case for tonight's dinner.
FLOUR Menu and Philosophy
As Chef Yogi introduces himself, he makes it clear right from the start that you shouldn't visit FLOUR restaurant if you want to order a traditional chicken tikka. The team want guests to taste "North India's regional flavours," while at the same time breaking the barriers of the past and serving recipes unique to FLOUR Malaysia.
Chef Yogi would also like guests to know that every dish at FLOUR is made to order and so you should be prepared to wait 20 minutes for excellence and up to 45 minutes if the house is full. Dishes are plated individually; another detour from tradition. Usually, in Indian restaurants, bread is ordered separately. Here it comes as a compliment to the curry (you can order extra if needed). Chef Yogi informs that food is given flavour by working with spices. Chilli is just an ingredient used amongst many others and he firmly believes that it should not be the dominant sensation. The kitchen team are proud of their recipes and will not make any changes to the menu, no matter how much you whine, they will not compromise. You have been forewarned.
FLOUR – Chef's Tasting Menu and Introduction to the New "Book"
Hors d'oeuvre at FLOUR
An Ice Cream Cracker (RM15) opens our first experience at FLOUR. A duo of petite white swirls is placed in the centre of a large plate making good use of negative space. The entry is of light, whipped cheese with a whisper of fennel. The base is traditional Indian bread from the state of Gujarat, which has been deep-fried giving it crunch. The drizzle on top is tamarind and responsible for tickling the taste buds and opening the appetites. Chef Yogi proudly declares that the "The cracker is Indian. The ice cream is Indian. The chinaware is from China."
The pairing with Darjeeling or Oolong tea is an intentional contrast between the cold ice cream and warm drink. The tea is imported from the world's oldest tea factory, which is also, according to Yogi, the world's first organic tea factory. Pretty cool, right?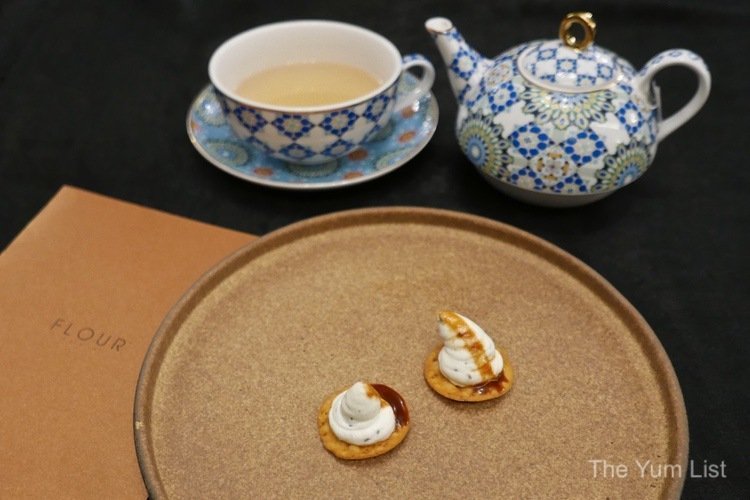 FLOUR Menu – Entrée
The next course sees Kaleji, fattened duck liver from France, served with an intriguing "secret juice." Chef Yogi introduces the dish by telling that Indians have been eating all types of liver for over 2000 years. Gradually, they have forgotten about duck but today the people from a few small regions, such as Garhwal, the hometown of sous chef Balli, still eat duck liver. It's meant to be eaten together with the garnish: each bite should include a piece of mint and ginger. Of course, there are multiple questions about the "classified" sauce and the chef goes to great length in discussing what the sauce is not but, despite numerous guesses, never does disclose the magic formula.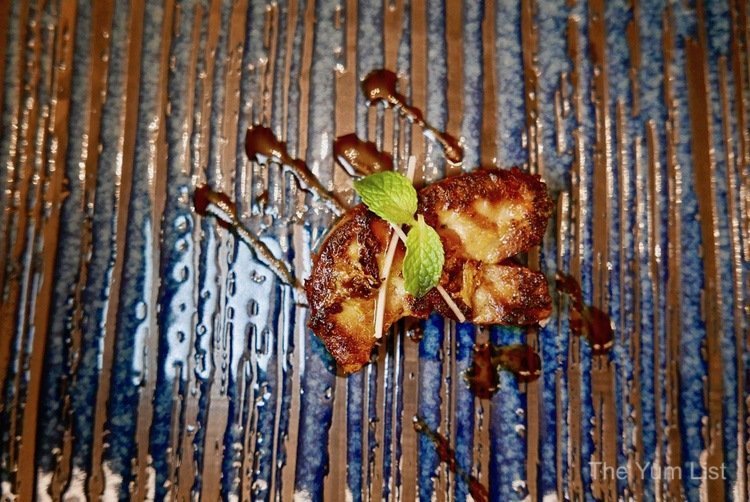 The Chardonnay from Burgundy, a 2015 Bourgogne Cuvée Saint-Vincent by Vincent Giradin was chosen because, "Foie gras is elegant, so nothing less than elegant will do." In my opinion, there are faint minerals in the bouquet and the wine is medium-bodied, finishing with a crisp acidity that cleanses the fat from the palate. The classic pairing of a sauterne or Pineau des Charentes can be foregone as the sweet sticky sauce over the liver does what the sweeter wines would usually do.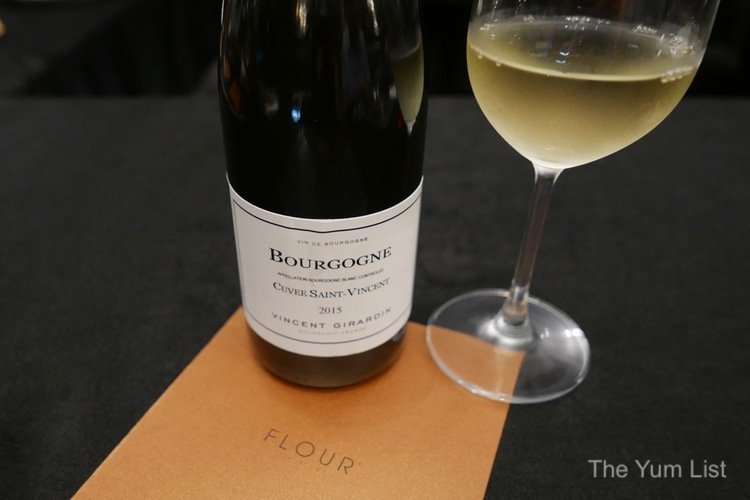 FLOUR Menu – Relevé
Murgh Zaffran (RM40) features a fillet of chicken marinated in Persian saffron and cinnamon and cooked in the tandoor. It's served with a cold papaya sauce. The lotus accompaniment is cooked with honey and lemon. It's sticky, sweet and delicious. It's gentle in heat as there is no chilli in this recipe and chef again reinforces his philosophy that chilli should be used to enhance flavour not only to add heat: "When you add too much, that is all you feel. You must layer the flavours." The best way to eat this is with a piece of lotus, a slice of chicken and a drop of the papaya sauce. This turns out to be a favourite for both hubby and me.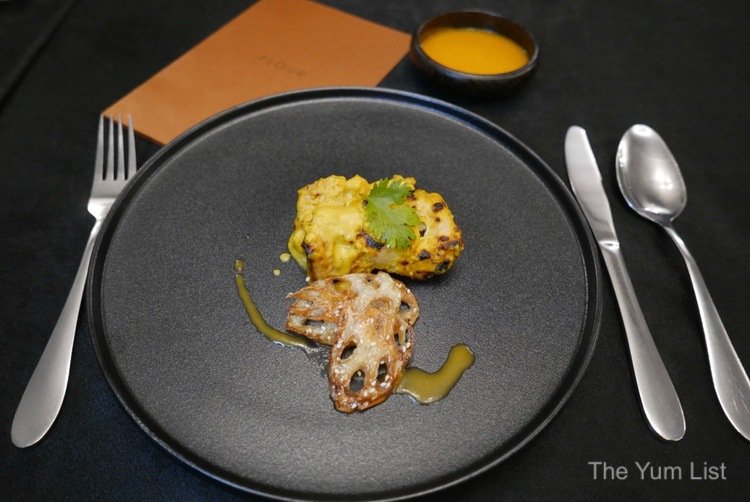 We smell the Laal Maans before it arrives and the aromas match the profile in the mouth. The preparation involves a chilli rub and marination for six hours before being cooked for another three hours together with the sauce. Laal Maans is a popular dish from Rajasthan. The recipe dates back to the 10th century and was originally made with deer brought back from the hunting trips of the royals (Rajputs). Chilli was a key ingredient used to take away the gamey smell. Today it continues to be made with deer (venison) and a combination of yoghurt, ghee, coriander, red chillies and whole and ground spices to make a rich and punchy meal.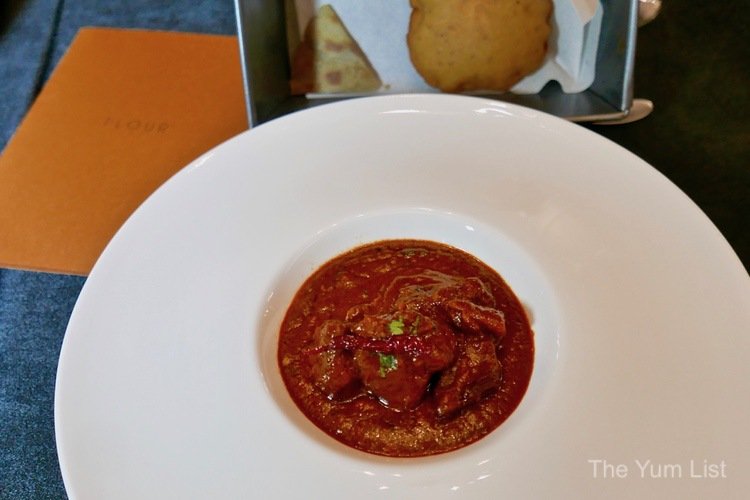 Commenting on the sharing of precise recipes, Chef Yogi offers his father's words, "Your heart and hand should talk to each other. Food is made with judgement not by measurement, then the magic happens. We don't make food from here (indicating the head). We only make food from here (indicates the heart)."
Also coming with this dish are a couple of different unleavened bread. My elbow partner at the dining table likens their rusticity to, "Old school bread – like Little House on the Prairie." The first bread is gluten-free made with amaranth flour and the second one from millet. They are both quite dry, perfect for soaking up the sauciness of both this dish and the veggie plate to follow.
The Bitter Gourd is another FLOUR original shining light on the vegetable as the star of the show. It's stuffed, finished in the tandoor oven and served with a thick curry of bell peppers and dry fenugreek leaves. In Rajasthan style, the bitter is celebrated. There is no cream or yoghurt. It's tempered with star anise and mint and garlic naan are passed around to complement.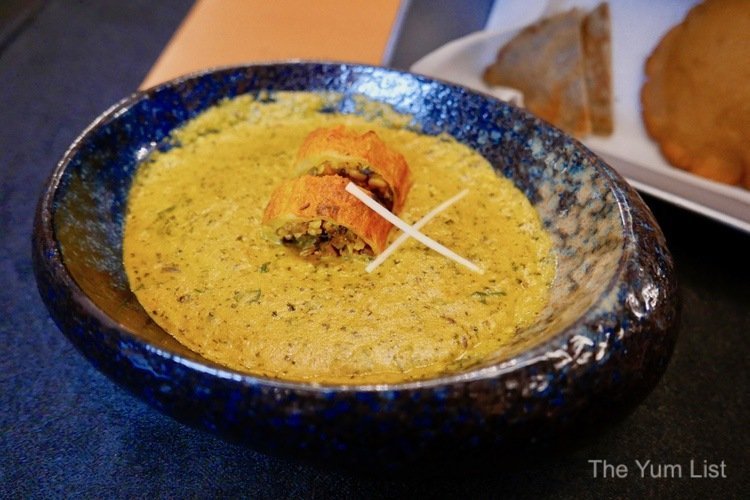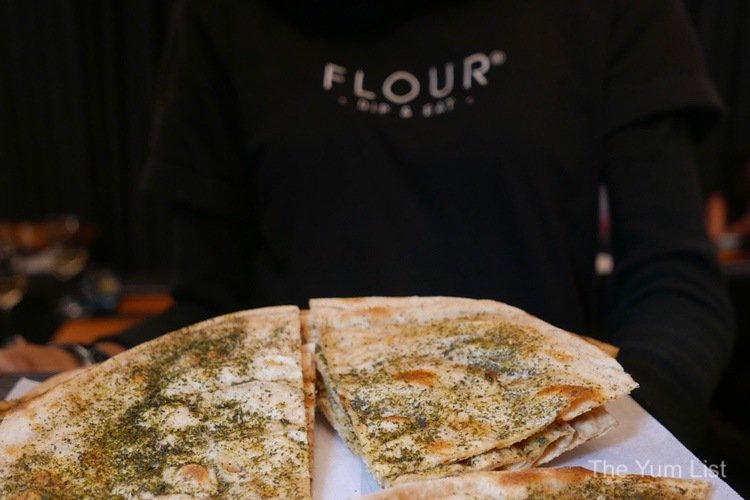 A cool glass of Moet Chandon assists to cleanse the palate with its crisp bubbles.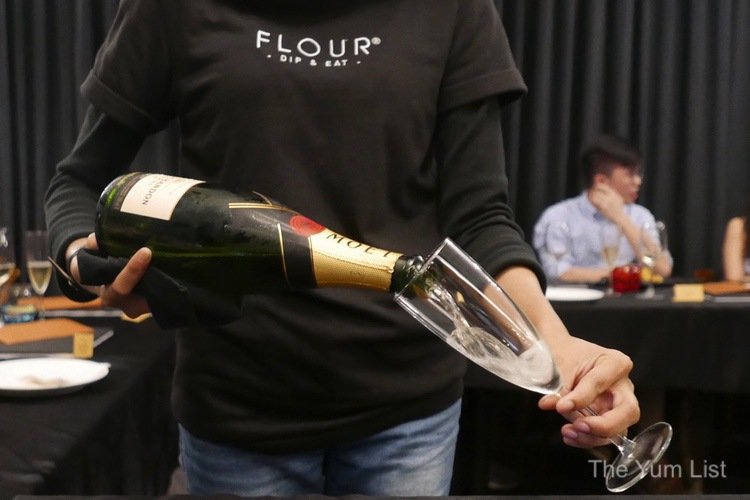 We think it's time for dessert but a plate of rice with a mini pot of lentil sauce is delivered. "This is not a part of the menu. But what to do? I am an Indian. To satisfy your appetite you must have rice," Chef Yogi justifies the final carb overload. I attempt a fork but after trying all of that bread, I just can't fit another bite in… until dessert arrives, that is.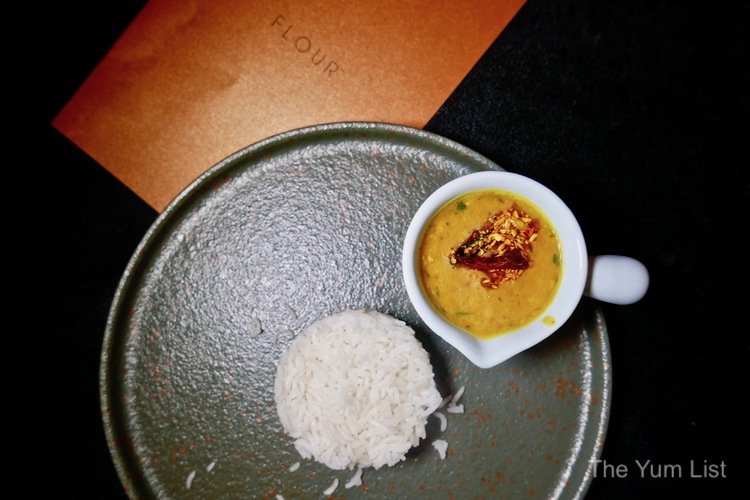 FLOUR Menu – Entremet
Chocolate Aux Spices features two high-quality truffles (we know the local chocolatier and wouldn't expect anything less than excellent) filled with Indian spices. The first one is velvety smooth and melty. As it dissipates in the mouth, cinnamon and saffron come to play. Take a spoon of the vanilla ice cream to cleanse the palate and then take the second chocolate. This one sports a hard shell and is centred with white chocolate, rose water and green cardamom. Chef instructs, "And now with a sip of Moscato, you will be in heaven. If you want to propose to anyone, do it now. They won't resist."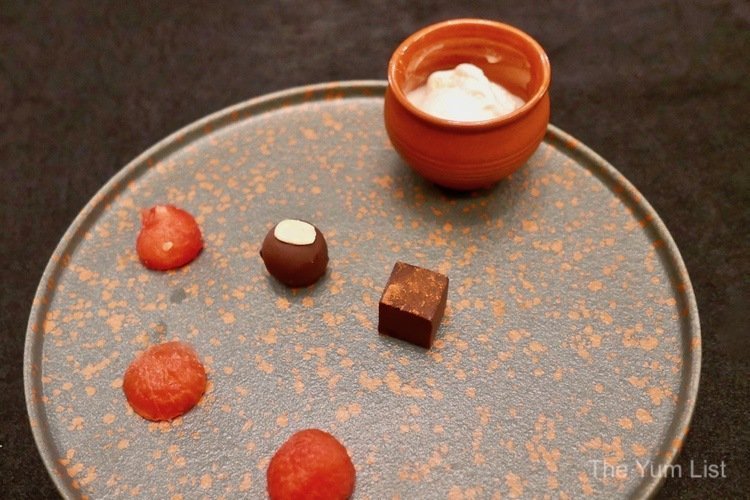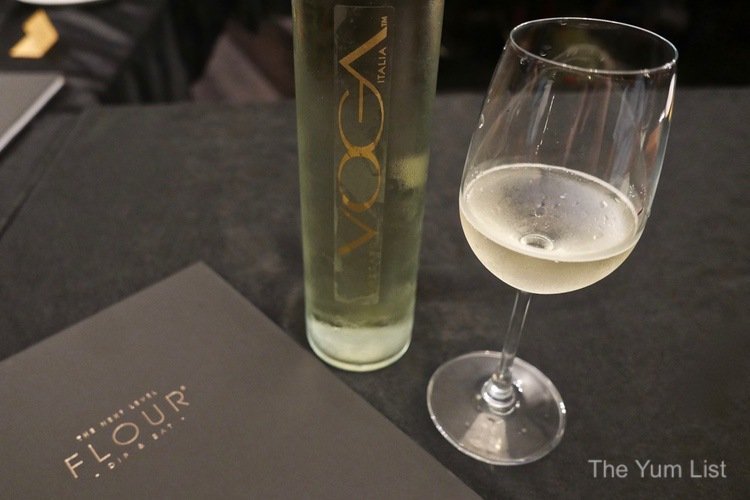 Chef concludes, "I can now say, welcome to India. Everything you have eaten is Indian."
Reasons to visit FLOUR: a team who are meticulous in their dedication to and preparation of food; a unique Indian taste journey; must try to the Murgh Zaffran.
FLOUR, Indian Restaurant
Plaza Damansara
71, Jalan Medan Setia 1
Bukit Damansara,
50490 Kuala Lumpur
Malaysia
+6 012 960 0053
www.facebook.com/FLOURRESTAURANT/
FLOUR Opening Hours
Tuesday: 6:30 pm – 10 pm
Wednesday to Sunday: 11:30 am – 3 pm & 6:30 pm to 10 pm