Words: Monica Tindall
Photos: Rich Callahan
The Jalan Mesui restaurant and bar strip, a few blocks over from Changkat Bukit Bintang, is looking anything but boring at the moment. With a recent surge of openings, this street is turning into the happy alternative to Changkat and we're here to check out the latest establishment to open its doors, Super Boring Club KL.
Super Boring Club KL
Super Boring Club KL aims to deliver Japanese-Korean fusion dishes and cocktails that won't send you to sleep. The team here don't take themselves too seriously and this light-hearted approach inspires the menu, setting and service. Owners Lyn and Edwin share that an essential part of the good feeling is that they provide high-quality cuisine at affordable prices. They want guests to have a good time and not worry that it's going to hurt their pockets.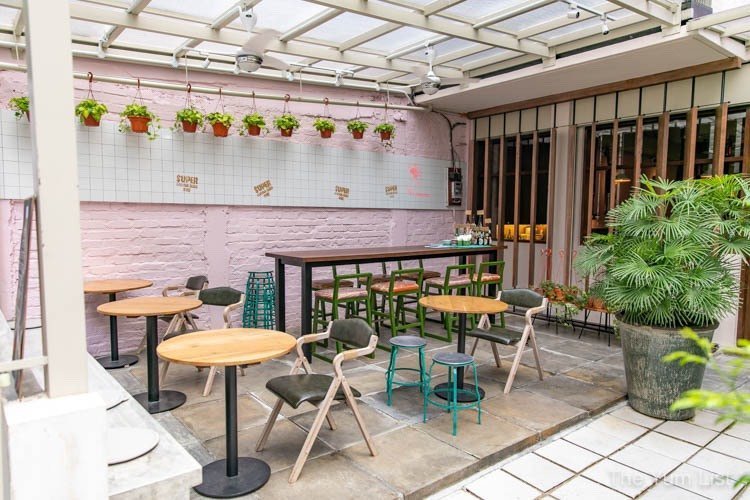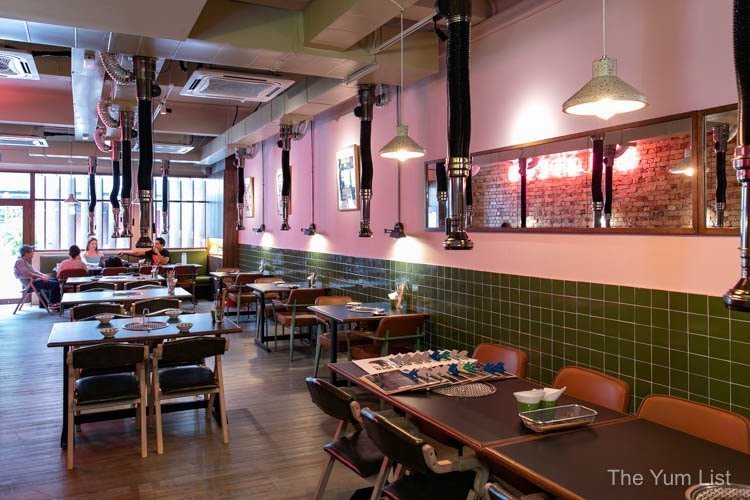 Super Boring Club KL Menu – Cocktails
Fitting in flawlessly with the jovial spirit are great deals on sake cocktails. For every one you buy, you get another at half price. With sake cocktails priced at RM26, that means the second goes for RM13. Sounds like a pretty good deal to me if the drinks taste good (which, we're about to find out).
Sake Lychee (RM26) launches our tasting with a very easy-drinking mix of sake, ginger syrup and lychee juice poured over ice. It's garnished with a fresh sprig of mint, a duo of lychees on a skewer and a rim of salt. 60ml of sake is quite a generous serving and Lyn shares that she often "accidentally" drinks too many of these.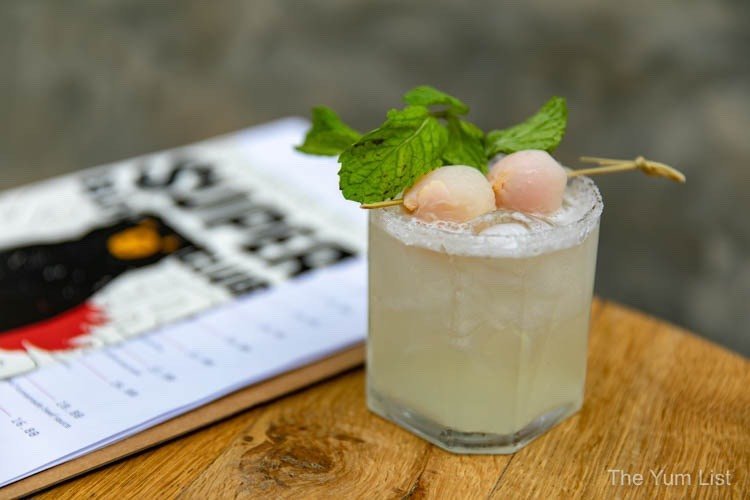 Another bright beverage is the Sake Lemonade (RM26). These also go down effortlessly with ginger and chrysanthemum syrup, lemon and lime juices, along with a hint of spice from black pepper.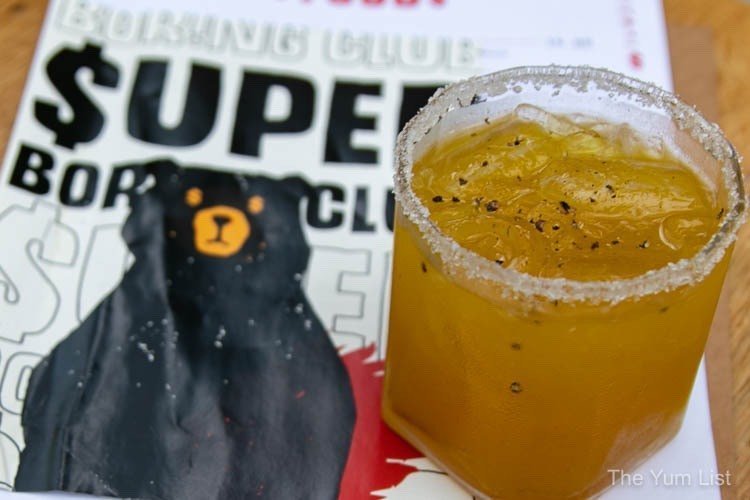 Suntory Lover (RM32) comes concealed in a mini pot with a lid. Revealed, we're presented with a garnish of edible flowers floating over a generous drink filled with ice. It has a round sweet finish thanks to chrysanthemum syrup and a good depth of character due to 45 ml of Suntory whisky.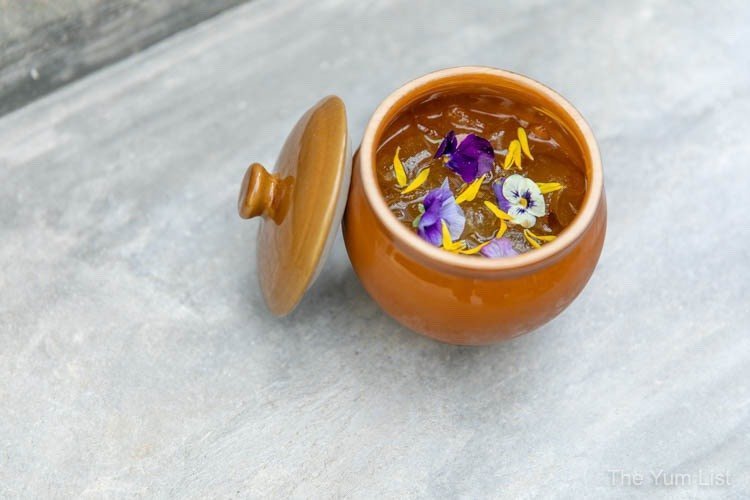 We're given prior warning that the Root-Beer Shochu (RM28) is not to be taken lightly. While it might look like an innocent beverage possibly found on the menu of an American-style diner in the 50s with its ball of Cornflake ice cream floating on top, it has a significant dose of shochu. Root beer is not to everyone's liking but if you're a fan, this mix with the Japanese spirit and quirky cereal ice cream is worth a try.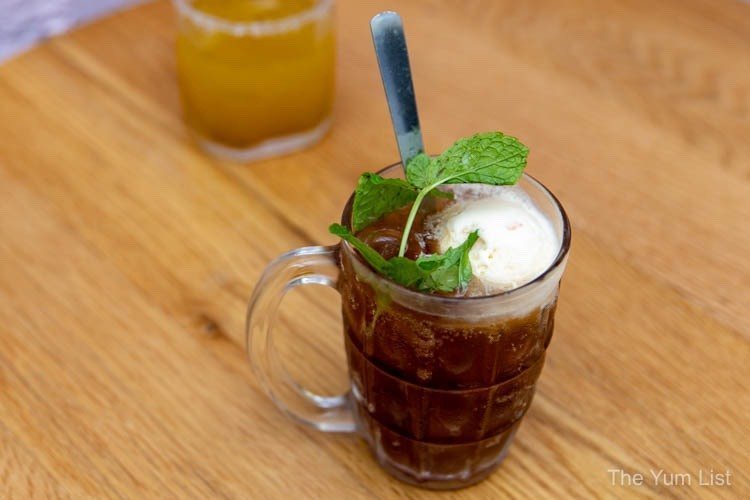 The last cocktail, we're told, is the most dangerous. It looks like a golden pot of tea but it's actually a large serving of Original Makkoli (720ml) + 7 Up (RM45). Edwin tells us that this cloudy rice wine is one of the top 10 health foods in the world. (I may just Google that later, or not – maybe best to play ignorant and have another glass). It's ideal for sharing, making a good order for a group of friends and its soft milky sweetness is an agreeable pairing for a number of dishes.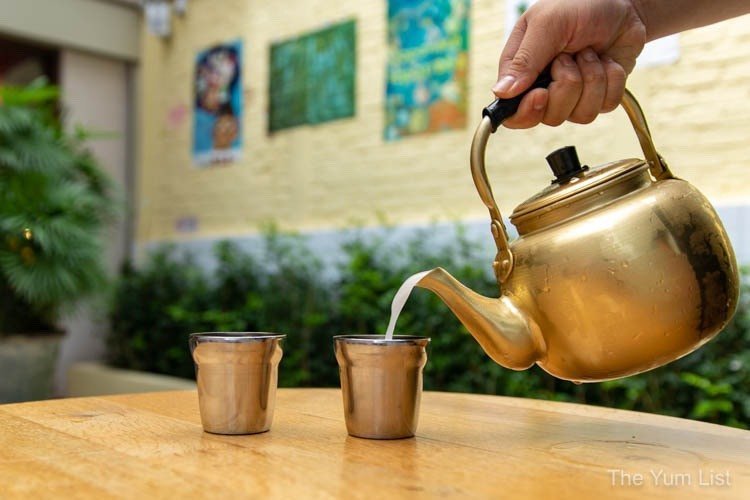 Super Boring Club KL Menu – Food
The menu at Super Boring Club KL is mostly made up of finger food, barbecue and carbs. Doing our job well, we are sure to sample something from each.
Bites for Sharing
Japanese style deep-fried chicken, Tori Garlic Chicken (RM16.80), is super tasty. It's a pretty plate based with vibrant green pea sprouts and topped with shredded red Japanese pepper (not spicy). Edwin gives away the secret to its unique flavour: mustard – but does not reveal the amount. Caramelized onion and garlic base the dish and make a delicious contrast to the fresh greens. I have a bite and Edwin commands, "And now you can drink again." It does do very well with our drinks, particularly the Original Makkoli.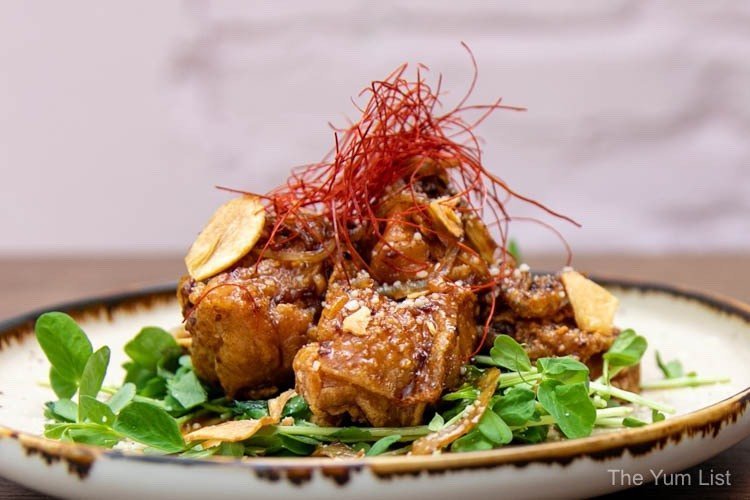 Miso Grilled Eggplant (RM16.80) looks like an edible artwork with a hollowed-out eggplant sphere sitting atop a nest of crisp deep-fried noodles. The shell is filled with cubes of eggplant and shimeji mushrooms which spill over the top and down the side. Creamy Kyoto-style miso made in house is a delicious glue keeping it all together. (I would like a jar of this to take home, please!)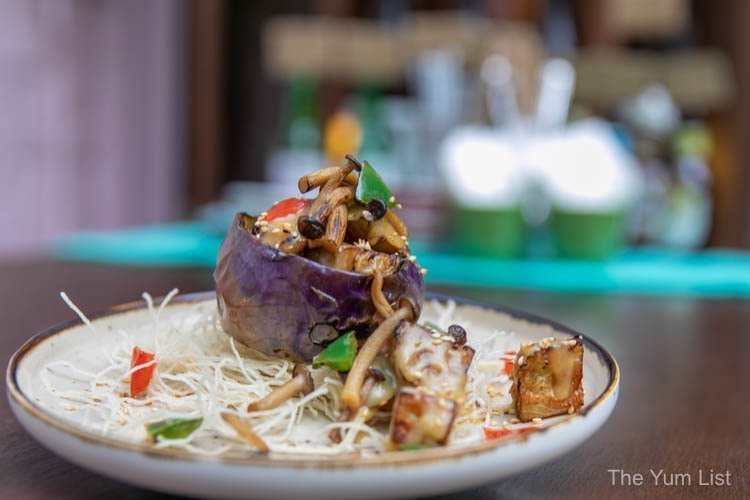 Lamb Veggie Wrap (RM26.80) is a wholesome dish with deep-fried lamb served with lettuce, Japanese garlic sauce, Korean spicy bean paste and kimchi. It's presented in a cardboard takeaway box with a bowl of fresh lettuce leaves on the side. Take a leaf, add a piece of lamb, a bit of kimchi, a spoon of sauce and wrap it all up. The kimchi is made by the 80-year-old mother of the chef. We're not arguing with that. It's a good balance of spicy and fermented that is not overpowering.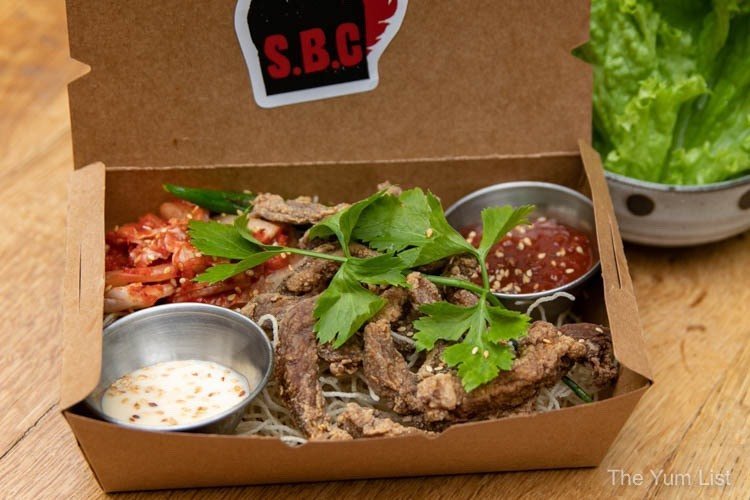 Awesome Beef Tataki (RM28.80) features pan-fried Australian beef with truffle oil, spicy lime sauce and house-made beef jus. Presented on a long platter, it's based with baby spinach and fanned length-wise. Shimeji mushrooms and fried garlic slices are sprinkled across. It's a rich and decadent combo: East meets West makes a happy marriage. It's very well priced for the quality of the cut. Edwin says, "We'd rather have a good crowd than make a huge profit." Awesome.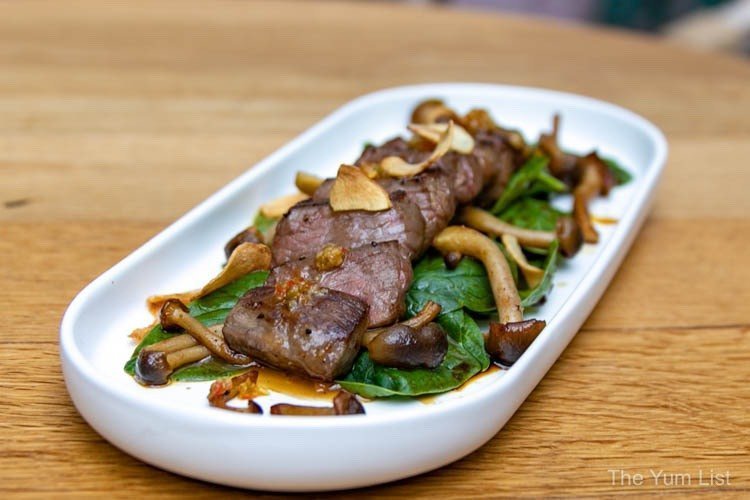 Yummy Spicy Baby Octopus (RM16.80) lives up to its name with baby octopus, mushrooms, watermelon and cold spicy lime sauce composing an appetizing recipe. The octopus has quite a bit of heat to it but following a bite with a cube of watermelon helps to thwart the zing. Pea sprouts, mint, shimeji mushrooms and edible flowers make this dish a very pretty one.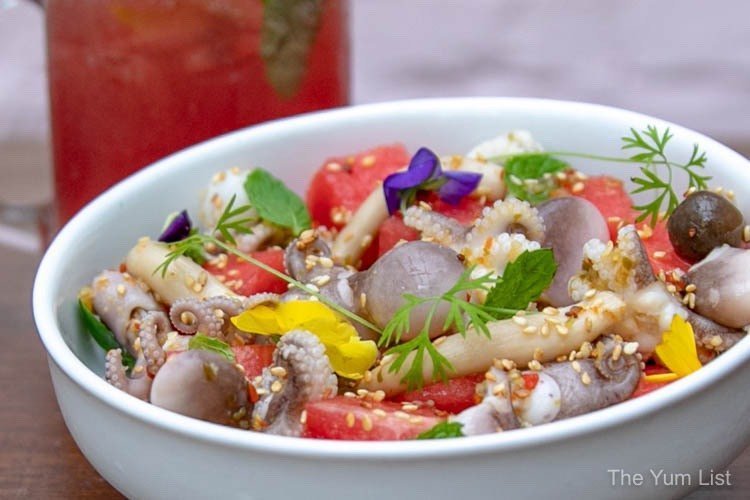 BBQ Items
The barbecue menu is cooked at the table below suction fans with double suckers, keeping the place smoke-free and the air very pleasant. The staff are at the ready to cook it for you or you are welcome to have a go yourself. You can order single items but we prefer to taste a little of everything so go with Combo 02 (RM78), which includes lamb char siew, chicken, squid and wagyu striploin. Side dishes include kimchi, potato salad and thinly shaved cucumber today but these change regularly. Korean sesame with sea salt, Korean spicy red bean paste and Japanese yakiniku sauce (made with apple and soy sauce) are options for dipping.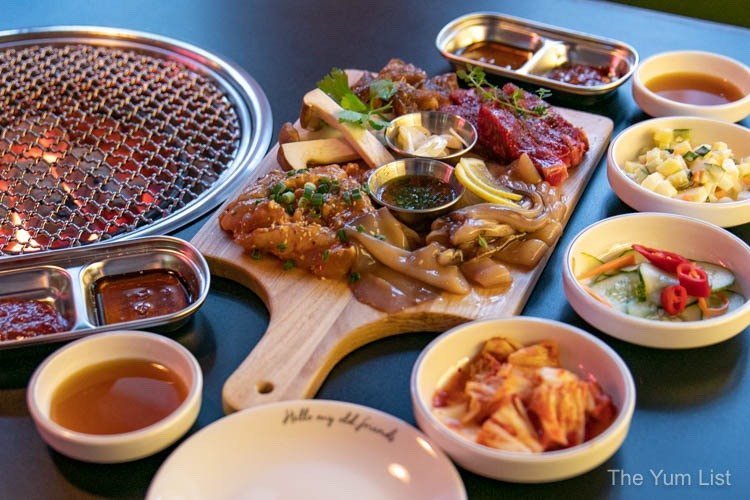 "You are going to have chicken meat as you've never had before. The secret is a great marinade and the correct temperature of cooking that makes it super succulent and delicious," informs Edwin. He recommends trying the barbecued meats first on their own and only then dipping them in the sauces. He watches as we eat, "Amazing right?" Confirmed! Now we try the chicken by dipping it in the sauces and then wrapping it up with veggies. "Delightful," says hubby. We proceed in the same manner with the rest of the ingredients. The smoked duck (an individual order) is extraordinarily soft, the lamb zingy with black pepper, the squid super-succulent and the striploin wonderfully tender.
Rice & Noodles
The compulsory tummy fillers of rice and noodles are perfect for ensuring that no-one leaves with a single stomach pocket unfilled. We try the Korean Spicy Rice Bowl (RM22.80), which is a huge amount serving two to three people. Seaweed, sesame seeds, spring onion, turkey ham and Korean spicy sauce jazz up the short-grained rice. Each ingredient is separated into distinct portions and is accompanied by a pair of plastic gloves to mix the salad by hand. By the time this part of the meal rolls around we're enthusiastically tossing that salad. You can eat it straight from the bowl but Edwin likes to form it into balls and char them on the grill for maximum flavour. It's sweet and spicy and the short grain rice is quite sticky, holding its shape well.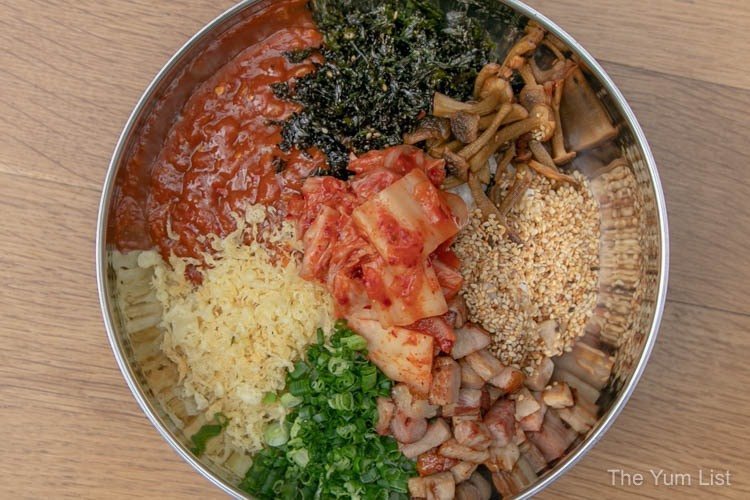 Super Boring Club KL Menu – Dessert
Ice cream and sorbet are customized for Super Boring Club KL by a local artisan, Forty Licks. The lemon ginger is delicious! It cleanses the palate and cuts the oils of the barbecue from our mouths. No longer being a big dessert eater, I find this a just-right conclusion.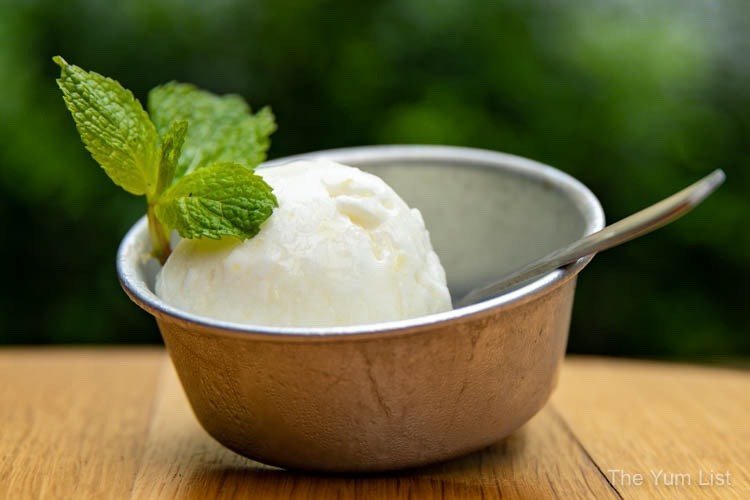 Wrapping up, Edwin comments that he wants to make people say, "Oh my God." Lyn chimes in with, "It's like a drug. We want you to be addicted and keep coming back." They want guests to have such a good time that the only bad feeling they might have is of over-indulgence. Boring is the new fun.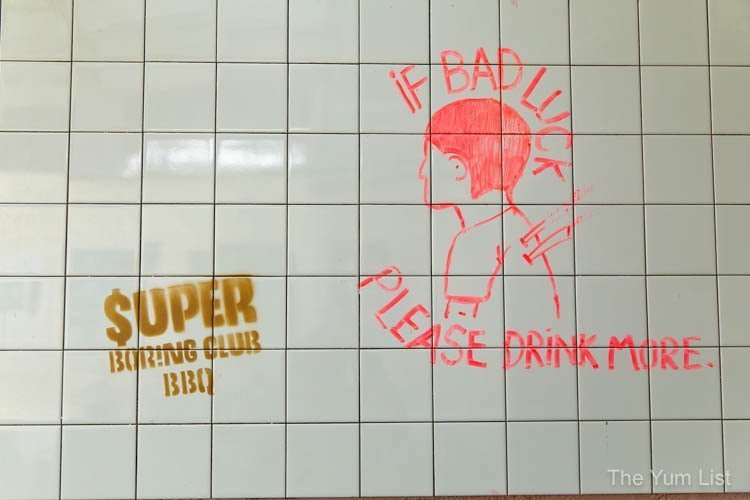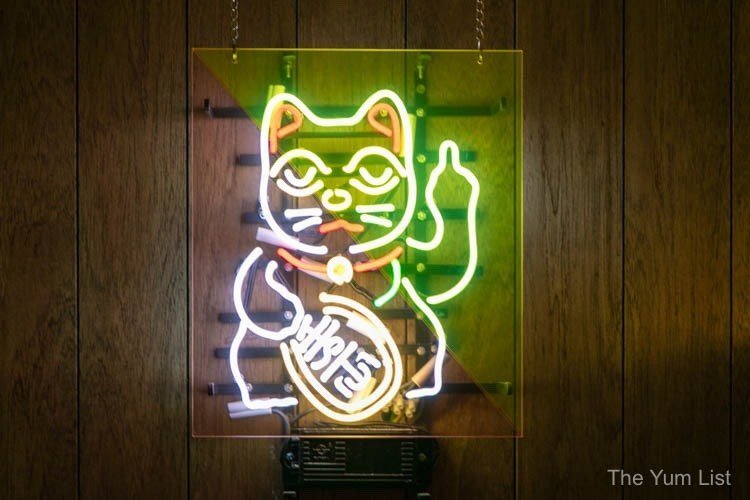 Reasons to visit Super Boring Club KL: a happy, friendly setting – far from boring; refreshingly affordable prices; a place you can eat, drink and have a good time all in one spot; a number of vegetarian dishes including a meat-free barbecue set: must try the Tori Garlic Chicken, Miso Grilled Eggplant and BBQ Combos; wash them down with a pot of Original Makkoli or Sake Lychee (I challenge you to stop at just one).
Super Boring Club KL
15, Jalan Mesui
Bukit Bintang, 50200 Kuala Lumpur
Malaysia
+6 03 2110 4919
www.facebook.com/superboringclub
Opening hours Super Boring Club KL
Saturday: 12- 11 pm
Sunday: 12 – 10 pm
Monday: closed
Tuesday – Friday: 12 – 2:30 pm & 6 – 11 pm
*Pork-free