Words: Monica Tindall
Photos: Rich Callahan
It's been about 18 months since we last visited Byblos in TREC KL, a restaurant serving traditional Lebanese food and beverages. Since that time they have had a change in chef and management and we're curious to see how this has influenced the menu.
Set on the pedestrian strip of The Hive, the façade of Byblos Lebanese restaurant offers a small al fresco seating area, while indoors is adorned with antique items from Lebanese culture and the back provides a covered area overlooking the greens of the Royal Selangor Golf Club.
We've come late afternoon so the restaurant is reasonably quiet but we've heard that things really liven up around 10:30 pm in the evenings when live Arabic music is played and the weekend's host belly dancers for additional entertainment. The kitchen doesn't close until 3:30 am on the weekends!
Today, we're fortunate to have the assistance of Alex (manager), Wasan (marketing) and chef Arzouni to guide us through the menu. Those familiar with Al Amar in Pavilion might recognize Alex and Arzouni. Prospects for a delicious and enjoyable experience are certainly looking good with these two at the helm.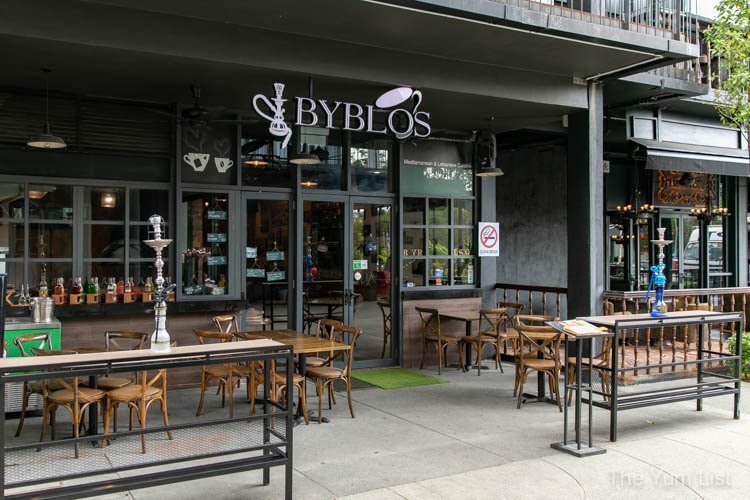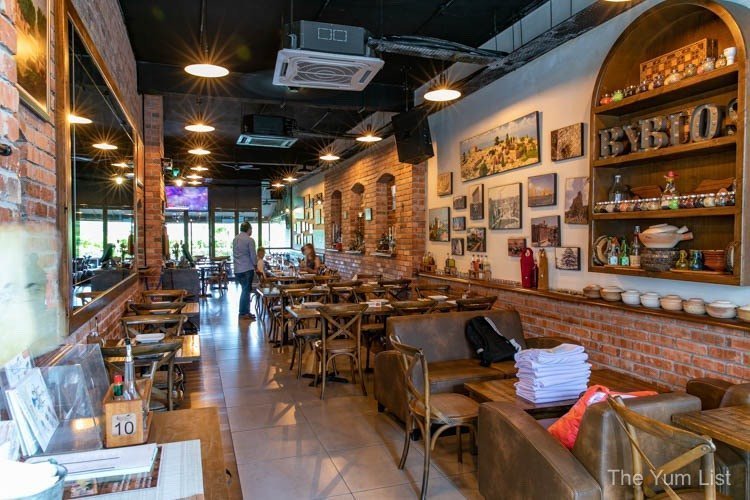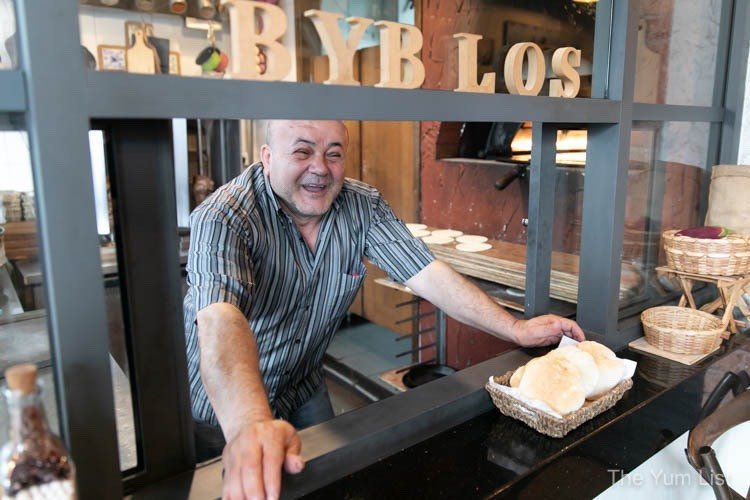 Byblos TREC KL Menu Drinks
All good Lebanese meals begin with mezze and the traditional accompaniment is Arak (1/4 carafe, RM100). I'm not about to argue with tradition and happily accept this cloudy anise-flavoured liquor to open the appetite. Arak is ubiquitous with celebrations and get-togethers with family and friends. Clear in the bottle, a dash of water is added making it go cloudy just before serving.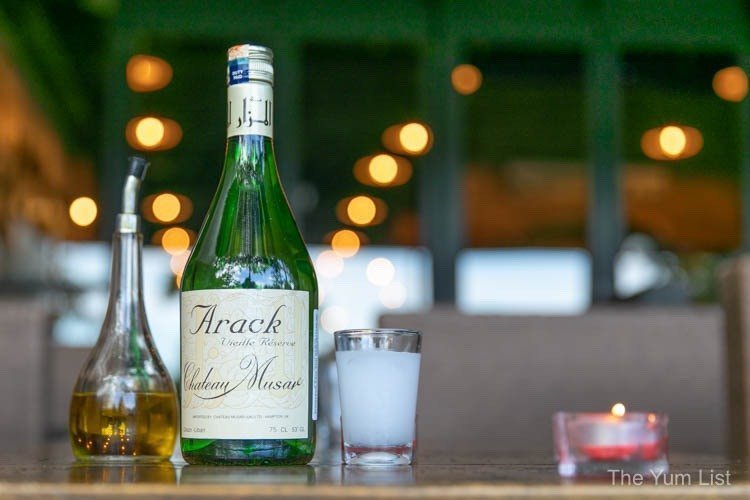 Byblos TREC KL Menu Cold Mezze
The best way to enjoy mezze is with a bunch of friends ordering a variety of cold and hot plates to share. Hummus with Nuts (RM20) features the classic recipe of mashed chickpeas, tahini paste and lemon juice topped with olive oil. This version, however, is lushed up with the addition of pine and cashew nuts. The paste is smooth and creamy and the generous crown of nuts furnishes a welcome crunch.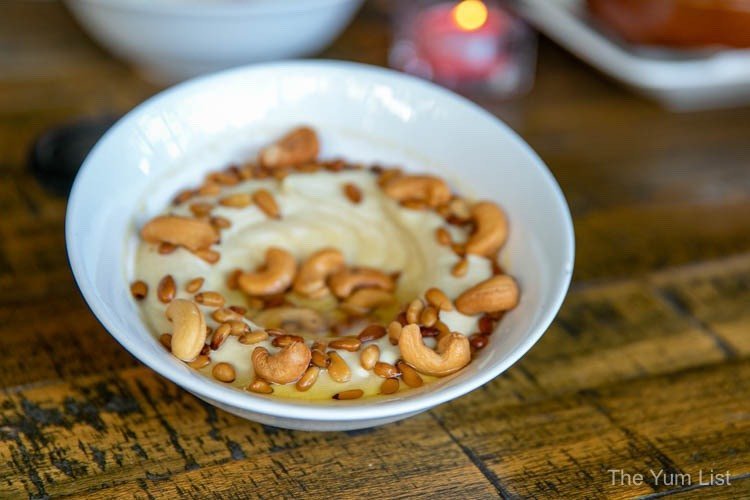 Another of my favourite mezze dishes, Moutabal (RM15) is made with minced eggplant, tahini paste and lemon juice. A drizzle of olive oil on top balances out the mild acidity of the citrus and the bitterness of the sesame.
Alex introduces the Shanklish (RM26) with a warning, "It's a love or hate dish. For me, I'm deeply in love. I am a lover." The reason for the discord is the pungency of the cheese. Sometimes referred to as Lebanese Roquefort, shanklish sports robust flavours and aromas and a sharp finish similar to that of blue cheese. Chef Azourni makes the cheese from scratch and it's served with a bunch of finely chopped vegetables separated in a bowl. It's recommended to mix all of the ingredients together adding some olive oil over the top just before adding a spoonful to a piece of bread (also proudly made in-house). If you like blue cheese, chances are you'll find this delicious.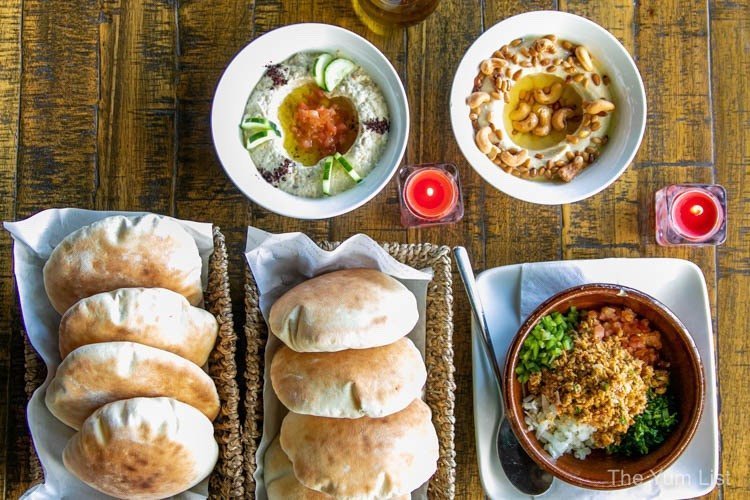 Byblos TREC Menu Hot Mezze
From cold to hot, we move to deep-fried minced fava beans and chickpeas moulded into patties with the Falafel (RM 26, 6 pieces). Served with a tahini sauce and condiments, these are a quality version – not the greasy outers and dry middles of my Australian food court memories but rather a thin crisp coat holding a moist mashed centre.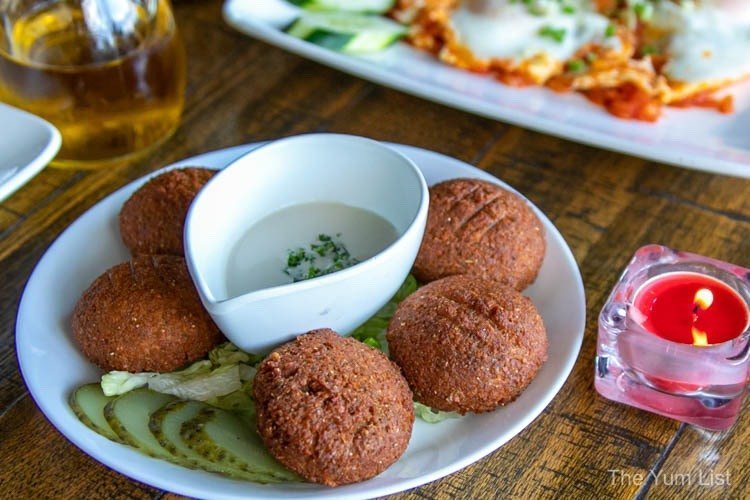 Fattet Eggplant (RM25) is a recent introduction to the Byblos menu. It's a Levantine dish of crumbled toasted pita covered with fried eggplant cubes, warm tomato and tahini sauces and cool tangy yoghurt. A topping of cashew nuts and hot ghee again take an already delicious bed to decadent heights. Pickles, cherry tomatoes, spring onions and mint leaves make fresh companions. Fattet Yoghurt (RM22) is the basic version of the above and can be mated with any number of toppings. This one must be eaten hot.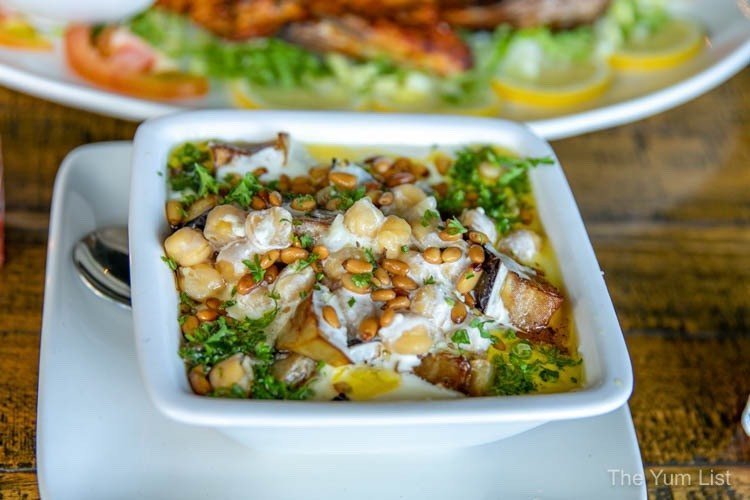 What seems to have fast become a brunch staple in hip cafes around the world, Shakshouka (RM22), has a rich culinary history across the Middle East with any number of slight variations from region to region. Here, poached eggs (or fried or scrambled according to preference) come with a rich tomato, chilli and onion sauce seasoned with ground cumin. The familiar sides of flatbread, cucumbers, cherry tomatoes, spring onions and mint leaves again supply balance of flavours and textures. I am rather fond of this version. It's very approachable, not overly spiced as has become the norm in many cafes.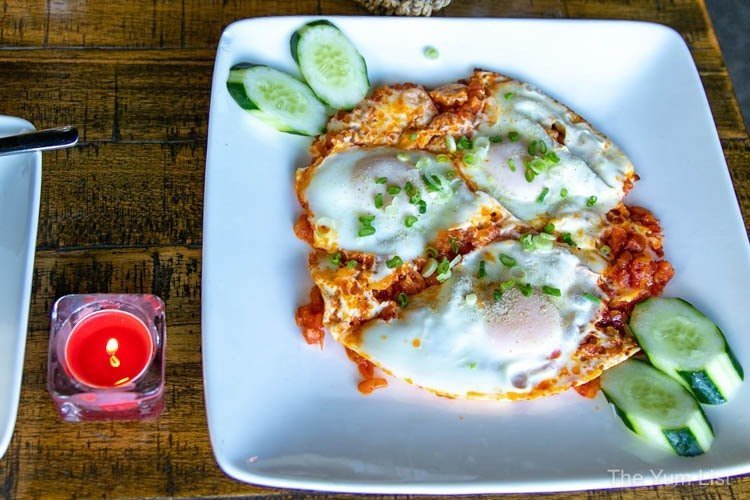 Byblos Menu – Soup
I am a big Vegetable Soup (RM17) fan and Byblos' recipe really takes my fancy. Green peas, onions, tomatoes, carrots, celery, leek, corn and potato make up a chunky and filling meal. Crisp croutons and large wedges of lemon are for sprinkling and squeezing at will. The soup is full of texture with a clean tomato base and the lemon juice enhances its natural flavours. Yum.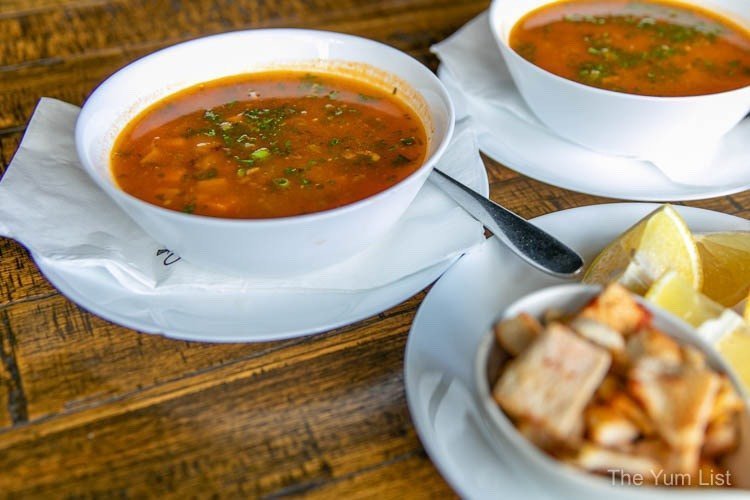 While we accompany the mezze with arak, for the salads and further on we move to another beverage from Lebanon, the 2013 Château Musar Rosé (RM230). Hailing from the Bekaa Valley where close to 90% of Lebanese wines are made, this wine is salmon-pink in colour with a bouquet of stone fruits, citrus, nuts and herbs. It's quite bold in the mouth finishing with freshness and displays good versatility with a variety of dishes.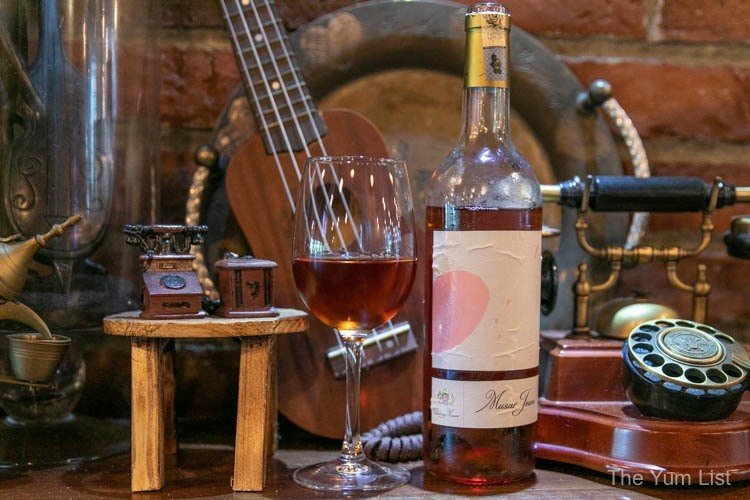 Byblos Menu – Salad
Steering away from the classic tabbouleh and fattoush we progress to something a little more contemporary with the Avocado Salad (RM32) and Beetroot Salad (RM30). The former is a verdant mix of avocado on a bed of baby spinach served with a tangy lemon mustard sauce. A vibrant contrast of reds and greens catch the eye in the latter. Baby spinach this time is topped with beetroot and complemented by a lemon sauce and feta cheese. Both are large portions and could easily be shared.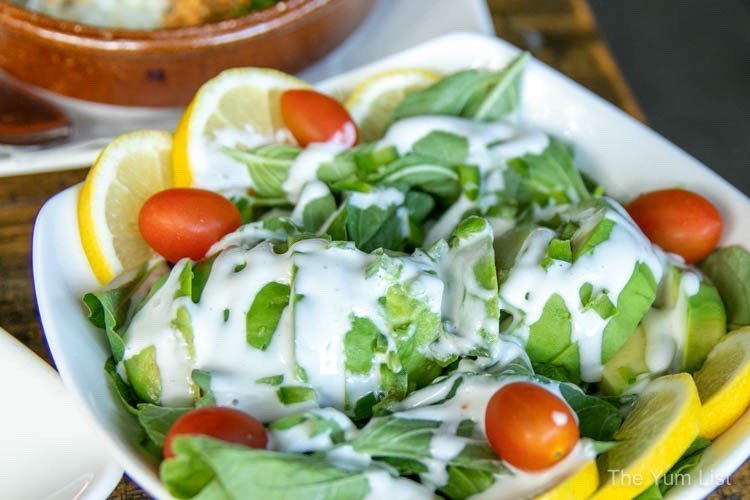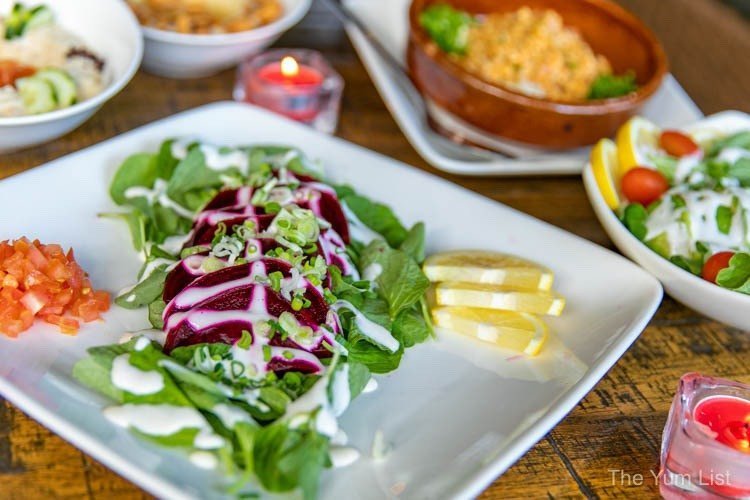 Byblos TREC Menu – Manakeesh Pie
Manakeesh pie, also known as Lebanese pizza, comes with any number of toppings and is again cooked fresh to order in Byblos' wood-fired oven. Sesame Cheese (RM28) is proudly labelled as being "very cheesy." A mix of cottage cheese, mozzarella and cheddar cheese are capped with a dob of melted butter. In contrast, a tasting mix of Middle Eastern thyme with white sesame crowns the Zaatar (RM22). Wasan suggests putting a slice of the cheese and a slice of the thyme together. I follow the suggestion and find the bread a slightly chewy texture with a good density and the mix of herbs, seeds and cheese a harmonious relationship.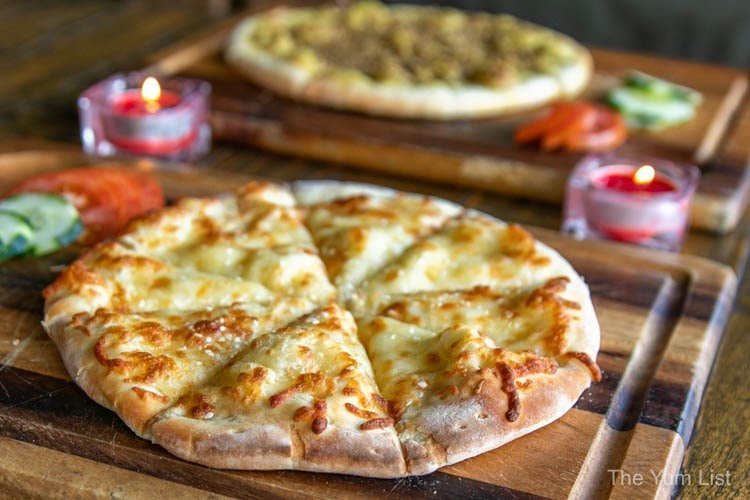 Byblos TREC Menu – Mains
A whole grouper is butterflied and takes up an entire platter making the Grilled Fish (RM56 600g) another excellent sharing dish. The marinade of garlic, mustard, chilli paste and lemon juice is also made into a sauce. It is so tasty I wish to have a jar to take home. On a side note, you may have noticed that this is the only animal protein we've had in this meal. What's even better is that the two carnivores I'm dining with haven't even noticed. The food has been so fresh, filling and enjoyable that neither of them even seems aware. (A win for our health and a win for the environment.)
Byblos TREC – Dessert
Our sweets course consists of Cream Caramel (RM19) and Mahalabia (RM19). They're simple desserts both creamy in nature and very easy eating. The first has drizzling of syrup over the top and the second (milk puddings) comes on a board in a trio of flavours: pistachio, chocolate, and cashews with raisins.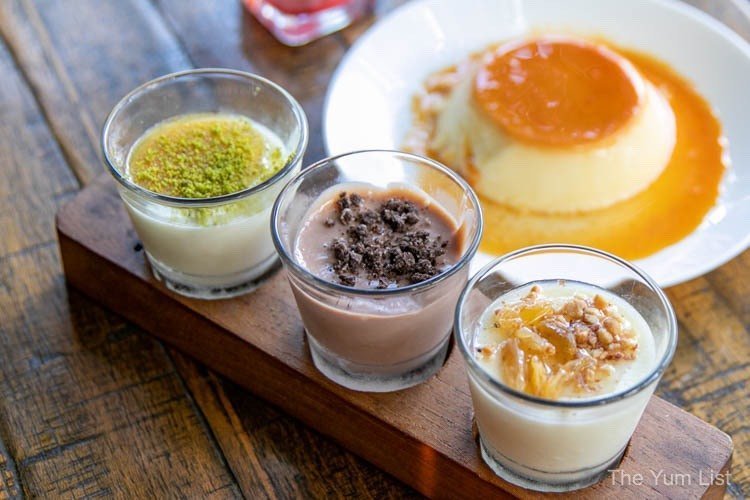 Byblos TREC KL Menu – Hot Drinks
There is no more adept conclusion than Lebanese coffee and at Byblos, it comes in a golden pot brewed together with a dash of cardamom. The coffee cups, espresso cups in size, hold a deep black liquid that has a distinctive grittiness to it and is guaranteed to keep you up at night. Perhaps that's why many Lebanese friends have a reputation of being late-night party goers – they're buzzing with caffeine!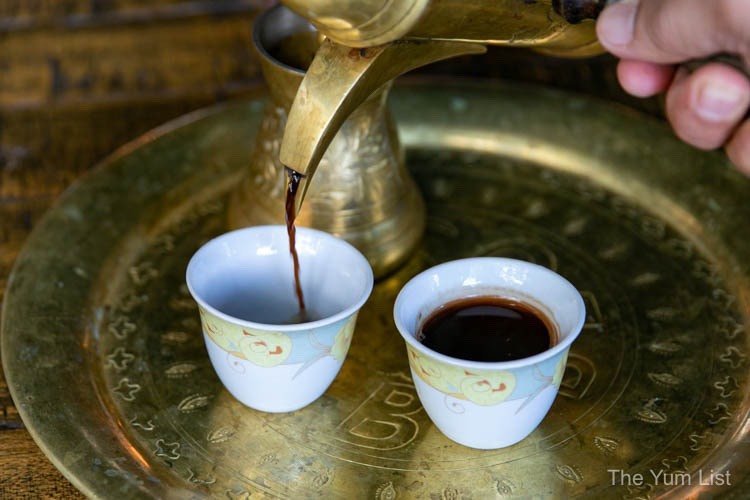 Byblos TREC Review
The food at Byblos TREC KL is top-notch. Everything is fresh, made from scratch and prepared to order. It could possibly be my favourite Middle Eastern restaurant in KL. Kudos to Alex, chef Azourni and Wasan for keeping standards high, prices reasonable and providing an all-round quality experience.
Reasons to visit Byblos TREC KL: the freshest of ingredients; everything including bread and pastries are made in-house from scratch; an extraordinary number of vegetarian dishes; my personal favourites are the Hummus with Nuts, Shakshouka and Grilled Fish; cheese lovers should be sure to give the Shanklish – Lebanese Roquefort – a try.
Byblos TREC KL
Byblos Café & Lounge
H-G-05 The Hive
, TREC KL
Jalan Tun Razak, 
54000 Kuala Lumpur
Malaysia
+6 03 2110 0460

www.facebook.com/byblos.my
Byblos TREC KL opening hours
Daily from 10 am until the wee hours of the morning.
Kitchen closes on a weekday at 2:30 am (!!!) and 3:30 am Friday and Saturday evenings (Saturday & Sunday mornings).