gēn 根 Penang
Monica Tindall
gēn 根 Penang has changed locations since the publication of this article. Check out their new digs in The Prestige Hotel here.
It used to be that Penang was known for its incredible array of street food. Home cooks making the same dish for over 50 years and rock-bottom prices drew the crowds. Dirty and rude only seemed to increase the attention, seemingly adding authenticity bringing even more customers. Things are changing though, and while yes, Penang is still to be considered the street food capital of Malaysia, a new wave of restaurants are making a big splash lifting the culinary scene to levels worthy of international recognition. Pioneers such as Chef Johnson Wong have much to be lauded for. With a population infamously known for valuing cheap and tasty over all else, it takes stamina, commitment and passion to break the barriers. And push the boundaries Chef Johnson and his team at Gen 根 sure have.
gēn 根, a modern Malaysian restaurant values local produce and childhood memories in reinterpreting Penang cuisine. Respect for ingredients and the communities who source them are of utmost importance and the fantasies of the chefs bring a new respect for the possibilities of the gourmet experience in Penang.
The best way to get a taste of the talents of the chefs at gēn 根 Penang and an appreciation of the diverse ingredients sourced from the community is to jump in head first with a degustation menu. A 13-course degustation is priced at RM250 per person and I think it is extraordinary value considering the quality of the cuisine rivals (in my opinion) any top restaurant in the world's culinary capitals.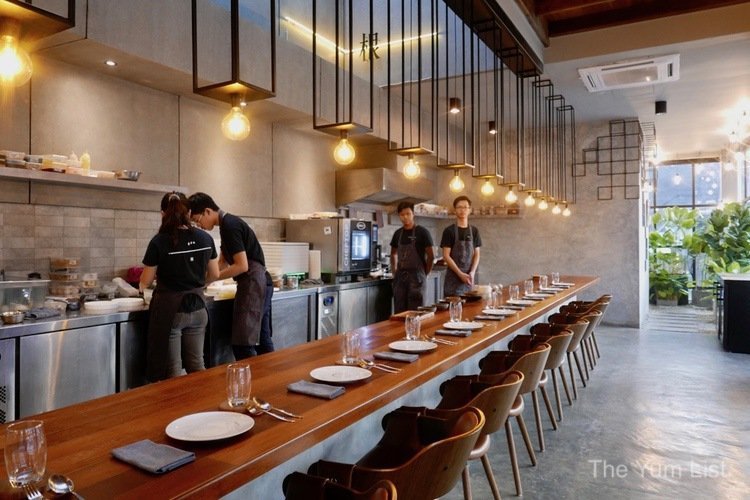 Not for Consumption
A pot resembling a pebble opens allowing aromas of pine wood to waft to the nose. It's not for consumption but rather a bit of aromatherapy designed to assist guests to relax into the meal. It's fitting as the setting has a strong element of timber with a long bar the only table seating 18 people.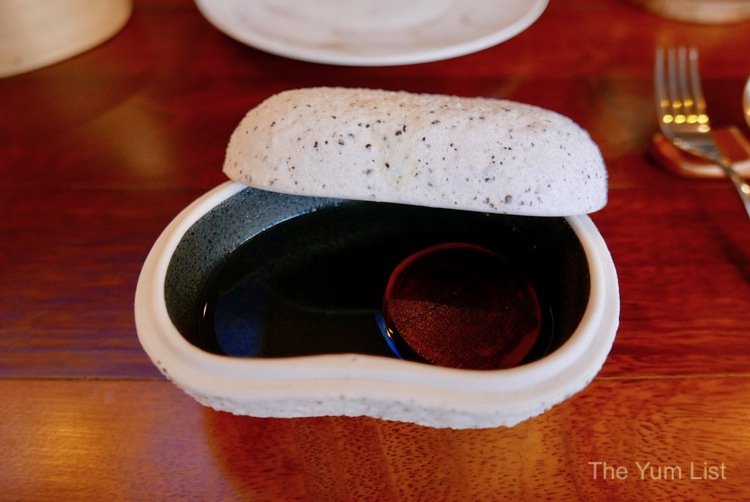 Bread
Deep-fried fermented chilli mantau with salted duck egg sauce wow from the onset. These buns are soft in the middle with a paper-thin crunchy coat. Dipped in the sauce they are cooled and it's not until you swallow that the heat from the chilli slowly creeps in enveloping the palate.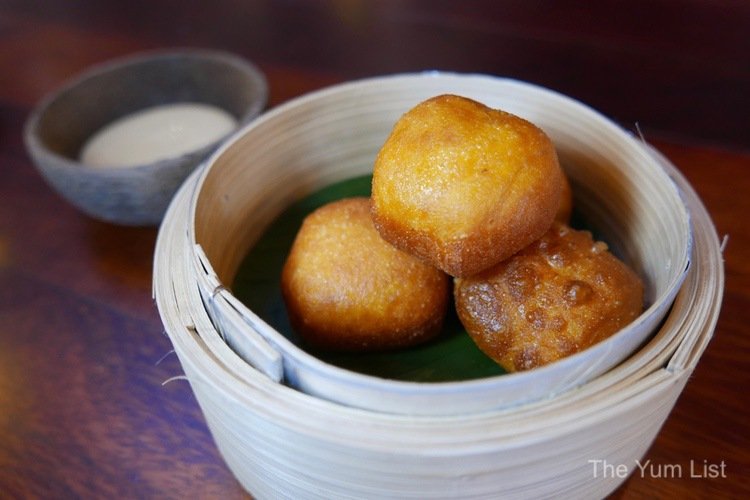 Crab Toast
We quickly learn that we have to expect the unexpected when the "crab toast" arrives. Tomato meringue sandwiches flour crab and sambal in a puffy, sweet and spicy bite. The presentation in a glass bowl atop a pile of dried chillies is a little hint as to the kick this one carries: too spicy for hubby, just right for me.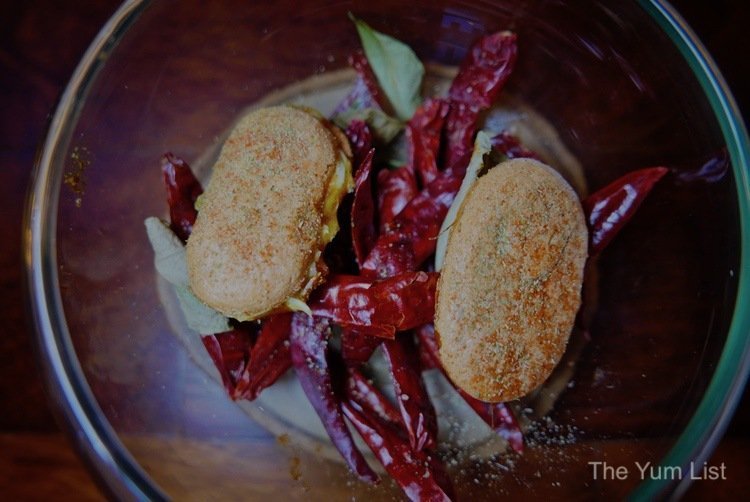 Champagne at gēn 根 Penang
Gen Penang offers a double-sided page of reasonably priced and mid-range wines by the bottle with one red, white, sparkling and bubbly also available by the glass. To partner our starters, a Pierre Moncuit Delos Grand Cru (RM560), a sustainable bubbly from France begins our degustation. The nose carries complex aromas of citrus, spring blooms and a whisper of minerals. The bouquet is mirrored in the palate and the Champagne leaves with a crisp lingering conclusion.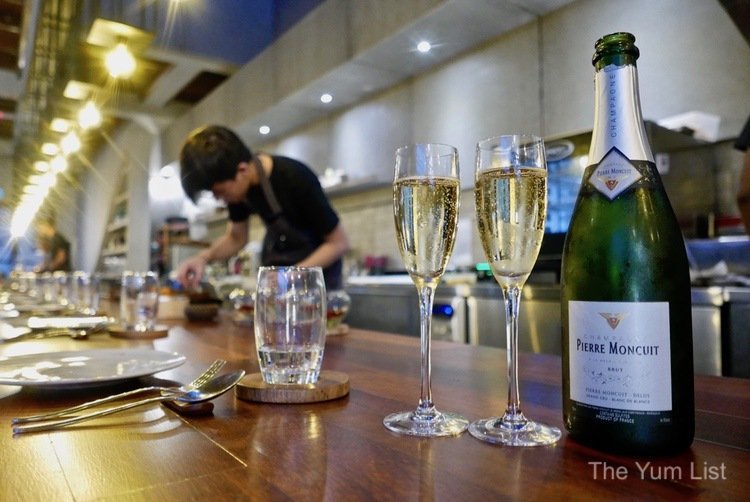 Chicken Wing, Turmeric, Corn
Our second snack is delivered in a halved coconut shell. Chicken wings with turmeric rest over a bed of corn dipping sauce and curry espuma. It's wonderfully aerated and topped with curried corn and curry leaves. Even after we've eaten the chicken we continue to spoon back in to finish the last of the dip.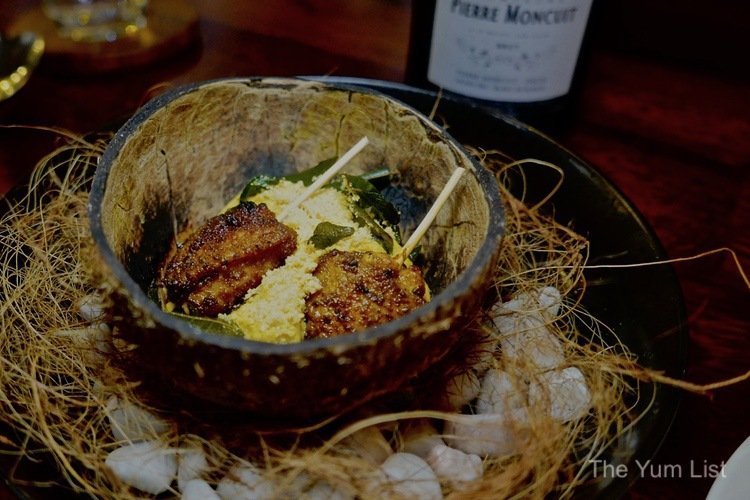 Belimbi, Pomelo, Lemongrass
In the next bowl is savoury coconut pannacotta covered with the pulp of fresh pomelo with lemongrass oil. Moringa leaf and a belimbi (baby starfruit) juice infused with lemongrass and fish sauce are poured just before serving. This has a definite Thai influence featuring that addictive balance of sweet, savoury and tangy.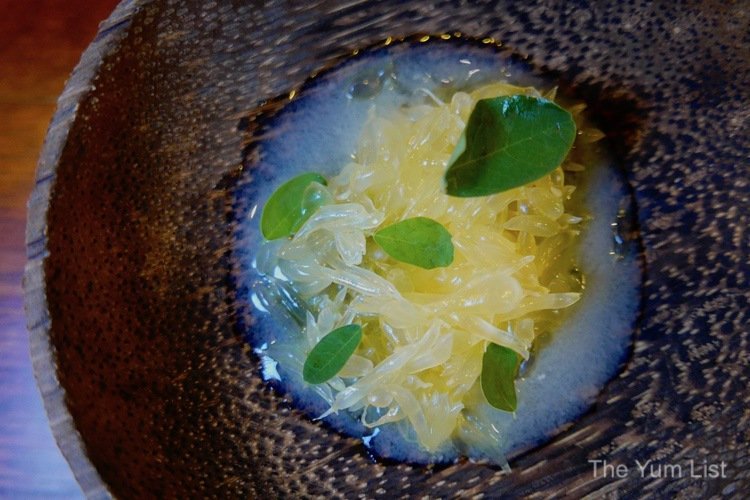 Watermelon, Stinky Bean, Ginger Flower
Our first starter is based with compressed watermelon with sour plum giving an undercurrent of sweetness. It's topped with the infamous stinky bean, petai, adding a certain pungency and broken with the gentle edge of ginger flower sorbet. A component of sweet and sour is offered with a petite roll of pickled papaya. Yum.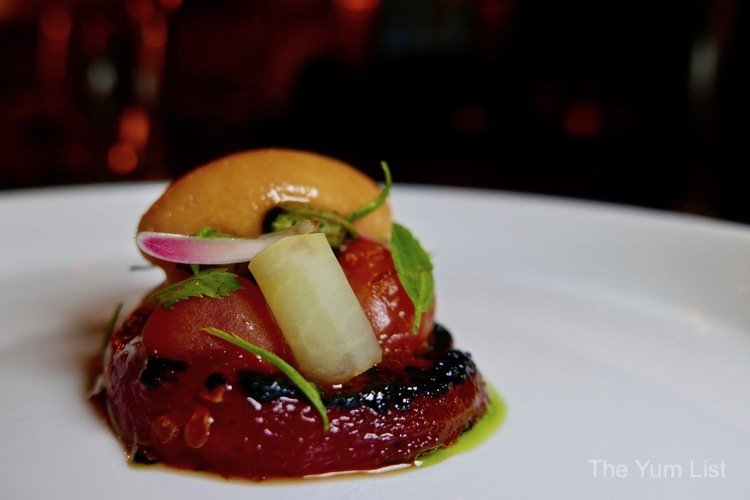 Chicken Egg, Local Mushroom, Fermented Chilli
The next bowl has as enamoured with textures. Meaty minced chicken, a smooth runny chicken egg, chewy enoki mushroom and crunchy deep-fried sweet leaves are sided with a yellow fermented chilli sauce. As it's served, a mushroom reduction in spooned over along with a sprinkling of black pepper crumb.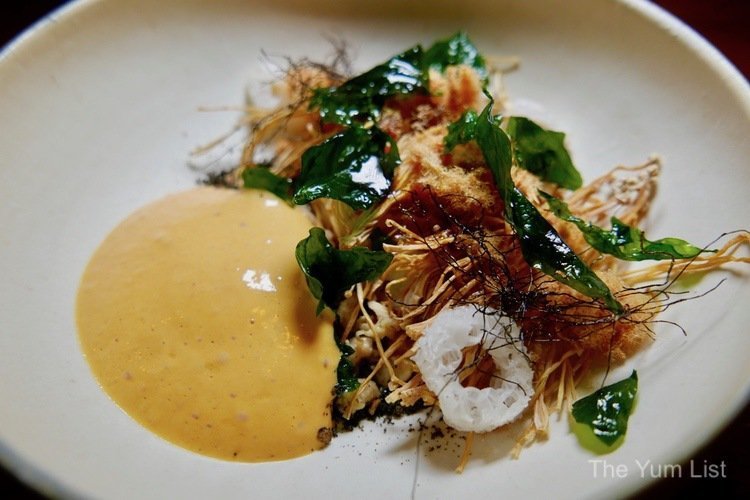 White Wine at gēn 根 Penang
One of my latest loves, GV, a white from Austria sees us through the rest of the starters with Domaene Gobelsburg Gruner Veltliner 2016 (RM190) a sustainable wine from a winery just on the border of the city of Vienna. It's easy drinking with a strong presence of fruit and minerals and a crisp acidity making a refreshing finish.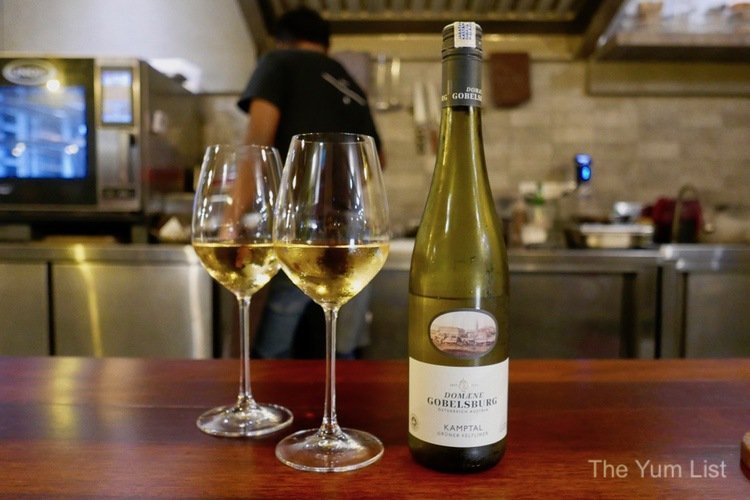 Eggplant, Pork Lard, Bean Curd
The last starter sees eggplant acting as a pillow for pork lard and fermented bean curd. Puffed rice coats the top with a white speckle and pork stomach broth with pepper is again poured over just before serving. This is a well-thought-out dish but the slight pungency from the beans and flavours of offal make this one, not to my personal preference.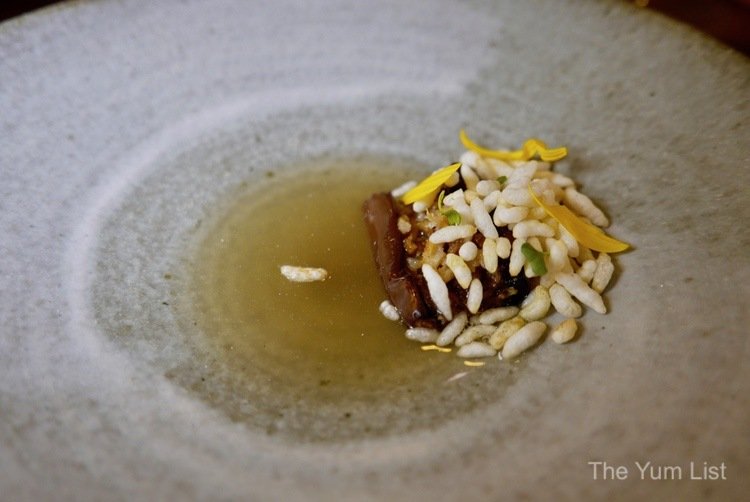 Green Chilli
Green chilli sorbet in tiny wooden bowls promises to cleanse our palates before moving on to our trio of mains. The sorbet is covered with thinly shaved pickled cucumber and a jumble of chopped coriander. The spice is subtle and the sweet and sour from the pickle is seductive. I may have just found my new favourite palate cleanser.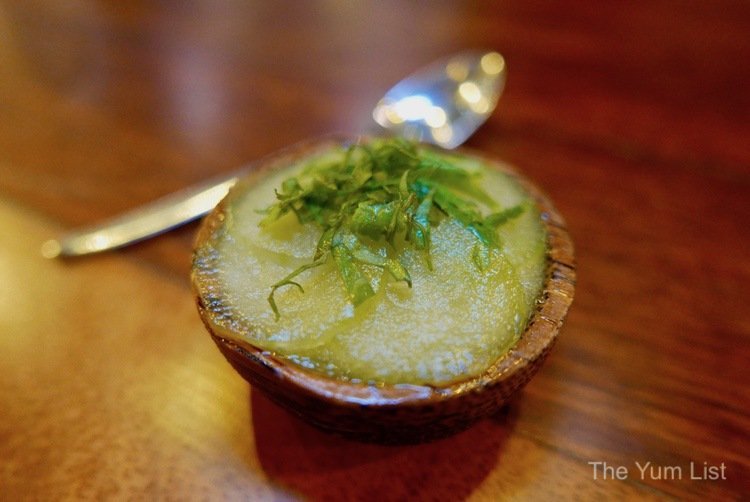 Mantis Prawn, Black Banana, Beansprout
The first main dish is a deep-fried mantis prawn on a soy-based beansprout salad with black banana puree. The banana puree is made by marinating young banana in a chilli paste and soy sauce and then roasting it in the oven until black. The dish is topped with deep-fried laksa leaves, micro celery and kale flowers. A halved calamansi on the side is meant for squeezing just before serving and again there's a sauce, a prawn shell reduction, that is added tableside.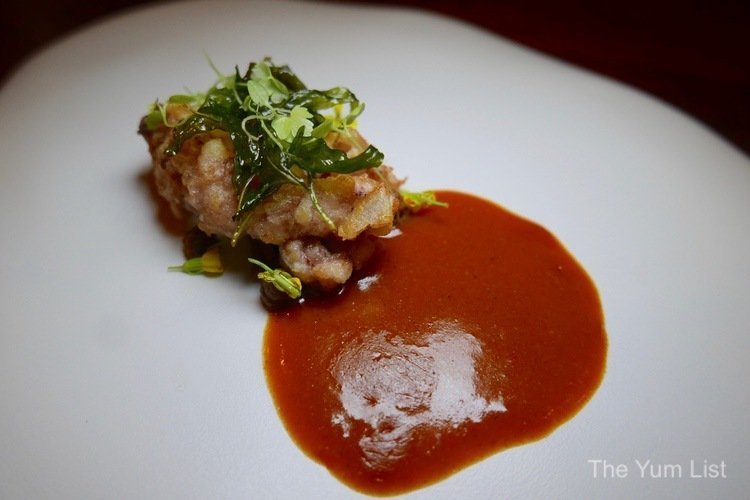 Grouper, Tempeh, Teppal
The second main sees sous vide grouper (cooked at 80 degrees for seven minutes) seasoned with mushroom salt and a spread of mushroom and tempeh paste. On top are deep-fried king oyster mushrooms and tempeh paper. Mini angel's breath flowers add a pretty garnish and chilli and pepper oil thread through a soft layer of heat. As what seems to be signature here, a broth of rice wine, mushroom and seaweed go over the top right before consumption.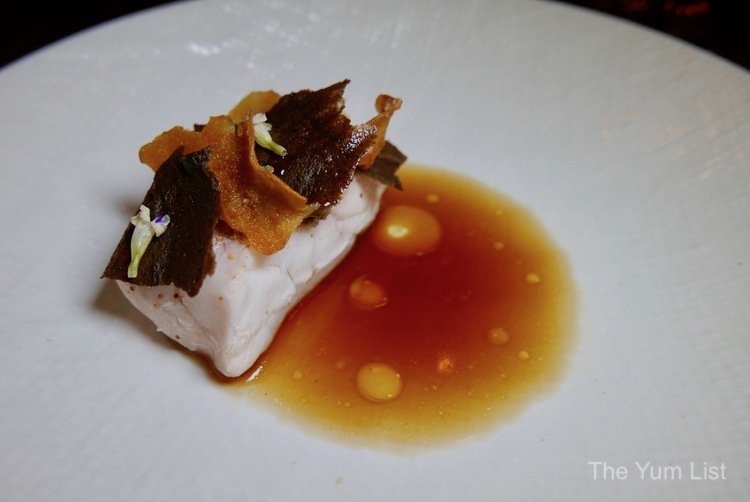 Red Wine at gēn 根 Penang
Château La Genestière Les Galets Rouge 2016 (RM190) sees another organic wine from France carry us over to the final main. This blend of Grenache, Marselan and Merlot is so named Les Galets or pebbles for the pebbly soil in which is it grown. It's an easy-drinking red with lots of fruit on both the nose and the palate.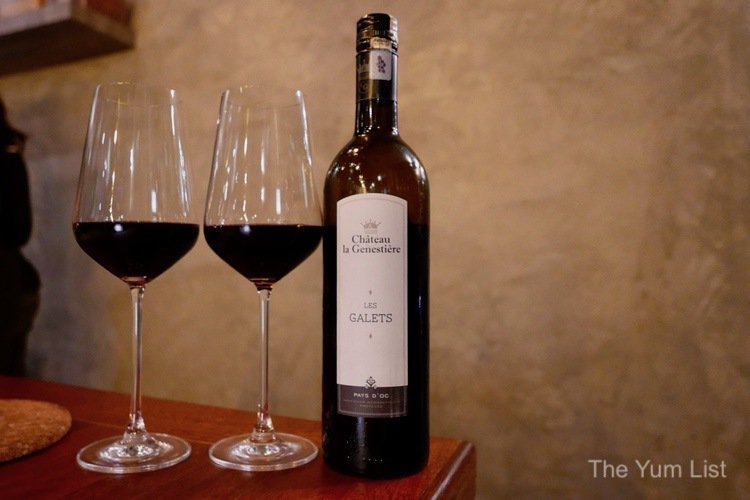 Duck, Peanut, Cauliflower
The final main is a presentation of locally reared duck, which has been brined then seared then grilled. On top is a muruku crumble (a local crunchy fried snack), pickled longan (tropical Malaysian fruit similar to lychee), confit cauliflower with curry oil, cauliflower root chips, and micro spinach. A side of peanut sambal gives a distinct Malaysian intensity. I prefer it without the sauce but I'm sure my Malaysian buddies would say the sauce is a must.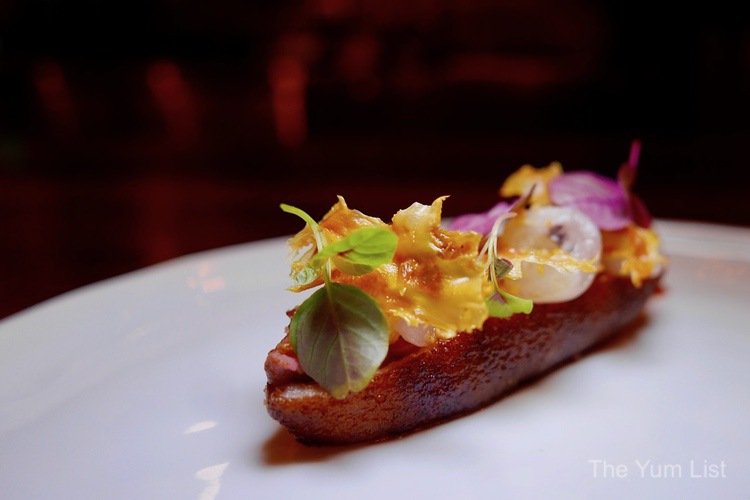 Pandan, Coffee, Coconut
Because one dessert is never enough, at gēn 根 Penangwe have three! The pre-dessert sees pandan tuile hugging coffee jelly and coconut parfait atop a dob of pandan kaya. It's presented on a solid slice of tree and I don't miss the opportunity to scoop up the last of the kaya from the wood before the platter is removed.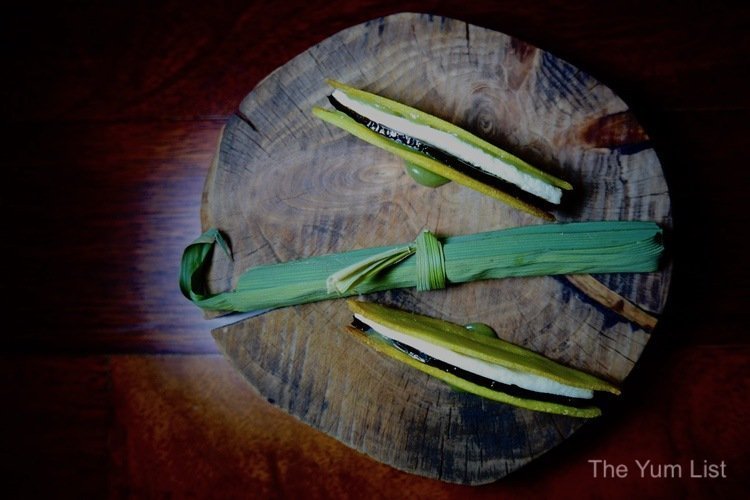 Sweet Wine
From Hungary, we end with Diszonoko Late Harvest Furmint 2016 (RM220). These late-harvested grapes have been partially botrytised and aged in oak barrels for a few months producing a light, syrupy and silky smooth dessert wine. Showing that a sweet red can be just as delightful as a dulcet white, the Italian Villa M D'uva Rossi NV (RM190) provides a colour contrast. Light-bodied and low in alcohol, this wine is best drunk young and is vibrant with red berries on the nose and in the palate. It is an uncomplicated wine that allows the complexity of the desserts to shine through.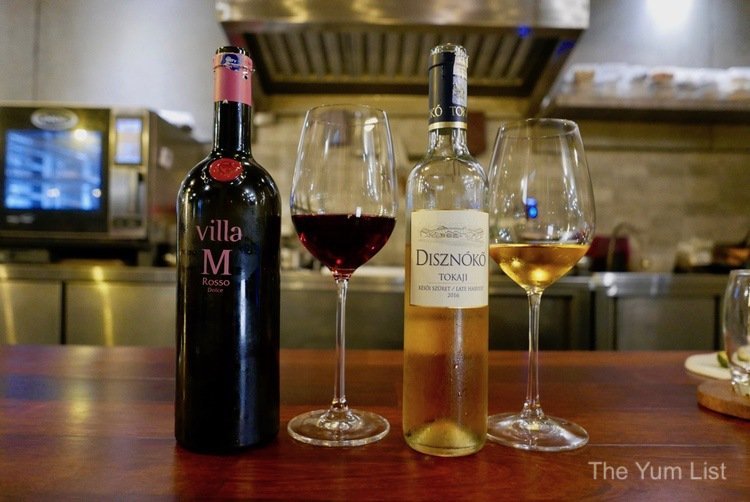 Tribute to Local Tea
The main dessert resembles a cute green cupcake. The outer shell is a mint meringue with a sprinkling of tea powder. Inside there's tea sponge cake, almond slices, teh tarik ice cream, tea mascarpone mousse and grass jelly. It's light and refreshing yet satisfyingly creamy at the same time.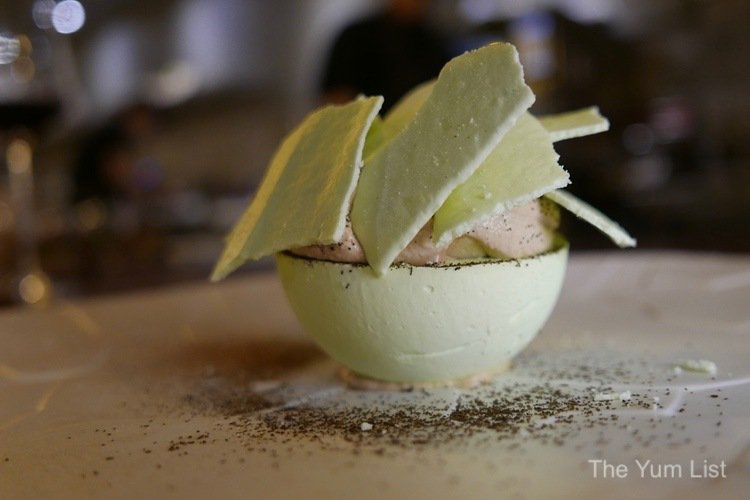 Tuak, Nutmeg, Gula Melaka
The post-dessert features a tea tray of mini glass and wooden bowls. In the large bowl on the left is a nutmeg sorbet. On the right, the glass bowls of toasted coconut, coconut cake, and gula Melaka syrup should be added to the sorbet according to individual taste preference. In the end, it is all washed down with tuak, a cloudy wine made with the sap of the palm tree.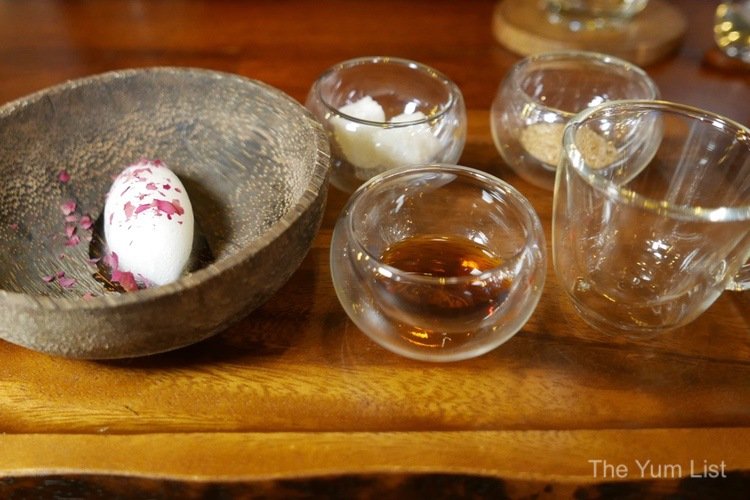 gēn 根 Penang Review
gēn 根 Penang is an exceptional journey of flavours and produce, so proudly Penang, that has been reinvented and made contemporary with a labour of love that is evident in every dish. Gen 根 Penang is a must-visit for foodies, travellers and locals alike.
Reasons to visit gēn 根 Penang: a world-class restaurant on the humble island of Penang; unique flavours and recipes that I challenge you to find anywhere else in the world; a showcase of what passion and a commitment to one's roots can do.
gēn 根 Penang has changed locations since the publication of this article. Check out their new digs in The Prestige Hotel here.



www.facebook.com/genpenang
gēn 根 Penang opening hours
Tuesday to Sunday 18:00 – 23:00