Monica Tindall
It is often said that chefs figuratively take a dining experience to new heights. In the case of Dinner in the Sky KL though, the meaning is literal!
In this elevated dining experience, guests are strapped into seats welded to a table attached to a crane and drawn up to 50 metres (depending on the weather) in the air! Located on Bukit Bintang, Kuala Lumpur's iconic skyline is offered up in 360-degree unobstructed freedom.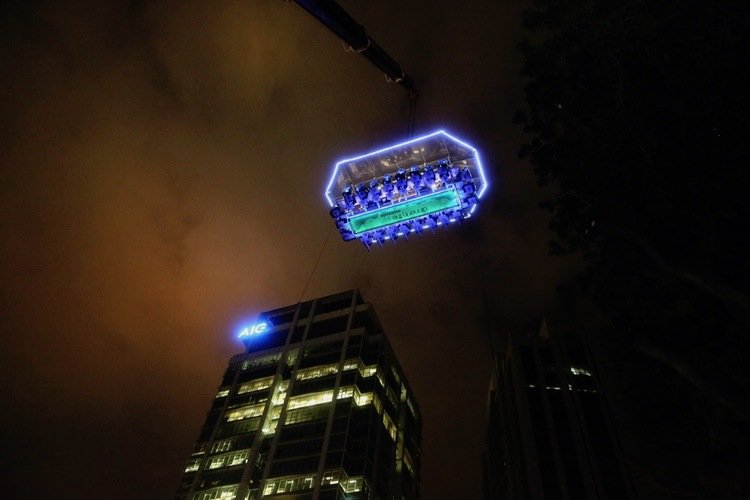 Arrival is similar to that of a pre-flight experience. Guests check in an hour before take-off and wait in the departure lounge until called. A bar offers a simple list of cocktails, beer and wine by the bottle, which can be taken to appease pre-flight jitters or pre-ordered (much like duty-free) for taking on-board.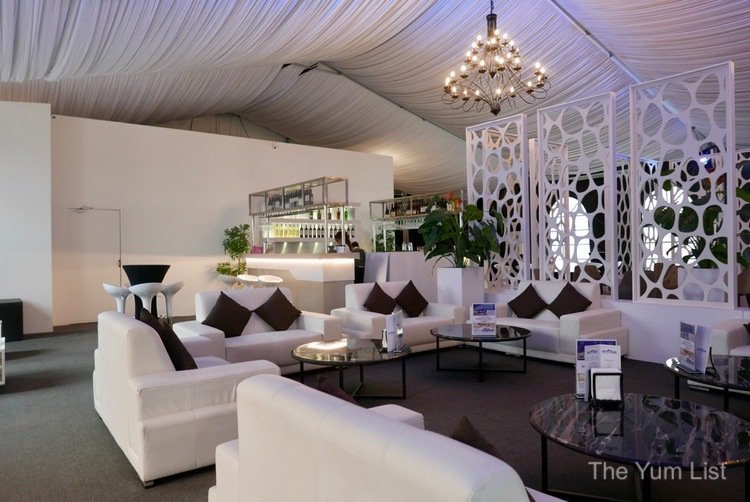 Dinner in the Sky KL Menu
It would be easy to sell an experience such as this on the setting alone. The meal, however, has been curated by Jeff Ramsey, a well-known chef in KL coming from a background of Michelin stars with an international resume.
A three-course meal is served with starter, main and dessert and the kitchen team can cater to vegetarian, gluten-free and nut-free diets with advance reservation. I've asked for meat-free and hubby has requested his meal without nuts or gluten.
Appetizer
A crisp salad of arugula and romaine lettuce is boosted with feta cheese, sliced almonds, pink grapefruit and orange segments, green apple and a delicious sherry vinegar dressing. It's fresh and a crowd-pleaser gaining approval from not only us but fellow-diners on our sky-high table too.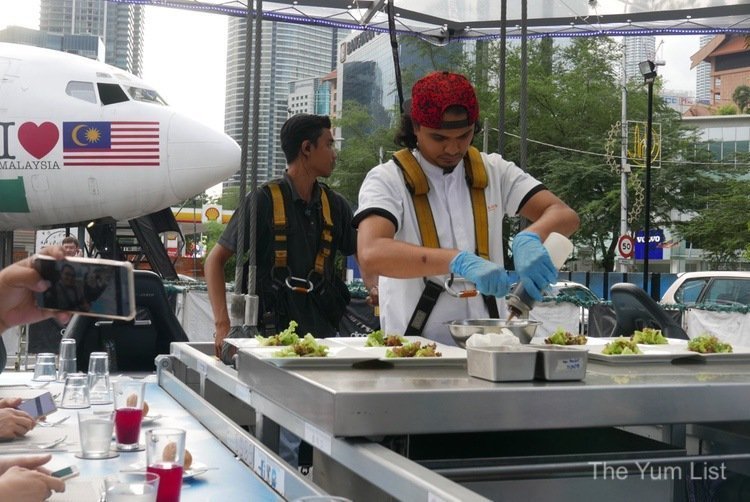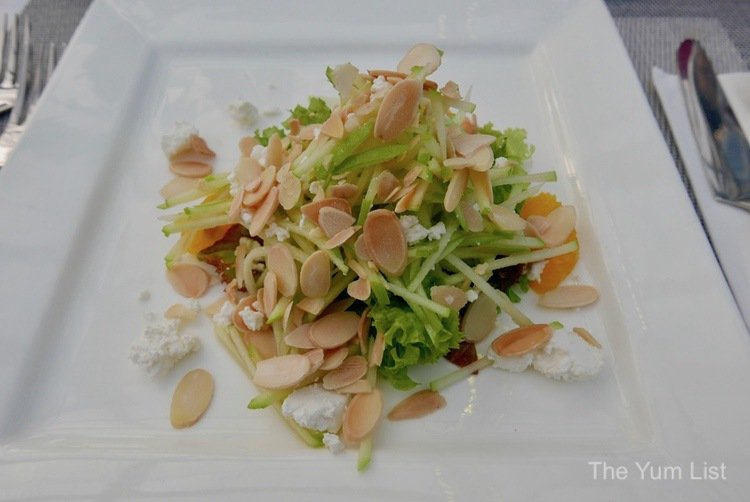 More Fun
Salad consumed and guests' comfort level increasing, we discover new fun: the seats spin to the left and right and… fully recline!! Some of us experiment spinning and lounging in full delight while others check the security of their seatbelts once more.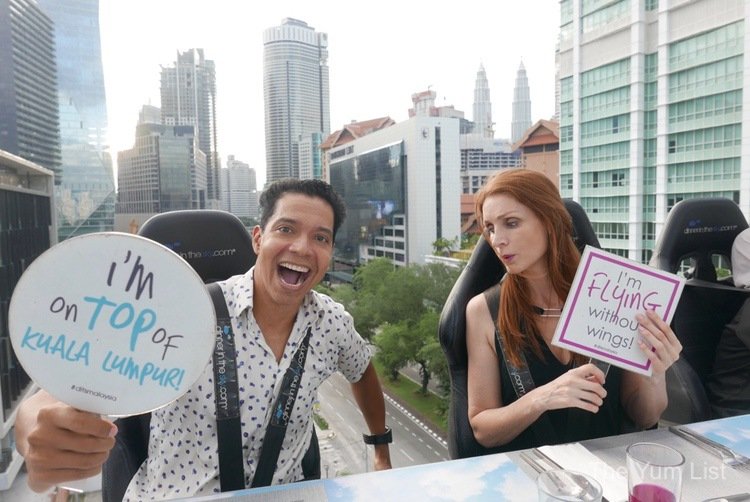 Main Course
The main course is pre-ordered when the booking is made giving diners a choice of beef, fish, chicken or vegetarian meal. Hubby goes for the red meat, and I select vegetarian. The black currant and soy-braised Angus beef cheeks perform a full cliché spectacle, falling apart at the touch of a fork. The sauce is on the sweeter side and can be added more or less according to flavour preference. Mustard seed caviar, poached bok choy and purple potato puree are well-suited companions.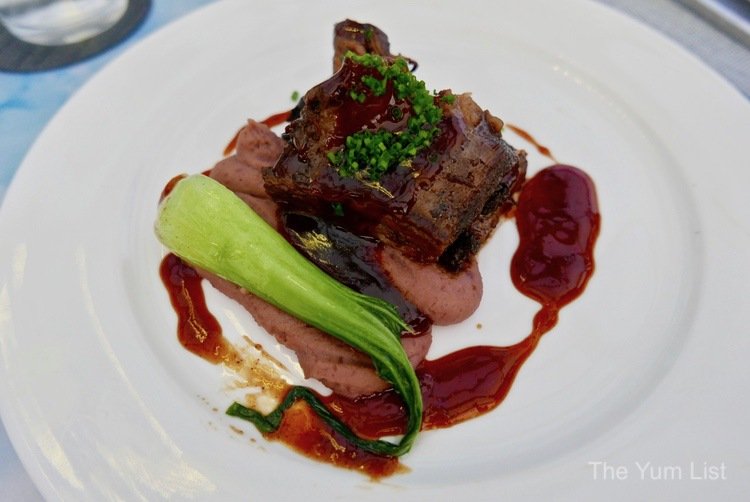 My plant-based option sees a cauliflower steak atop a bed of potato mash. There's a rich tomato sauce given a sweet tang with capers and black olive slices. It's good. I'd happily order this one again.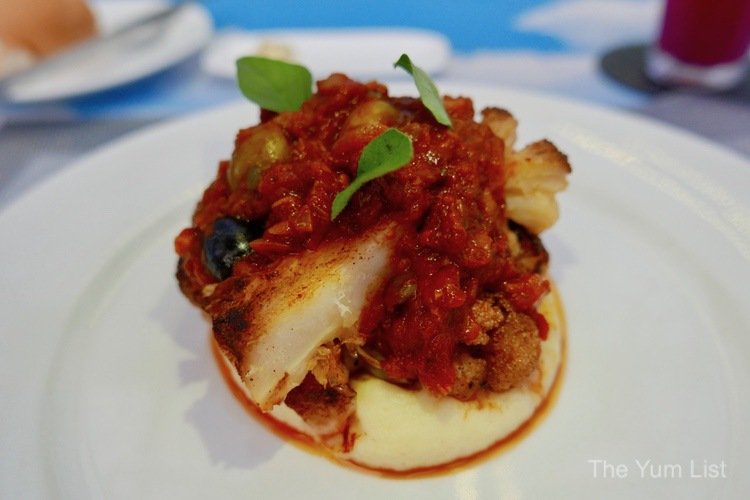 Dessert
Yes, the views are spectacular, but I might just be tempted to return for dessert alone. Nitro-poached coconut milk espuma is prepared in a swirl of chilled mist creating a half-sphere over strawberry coulis. Kaffir lime leaf oil is drizzled in rings over the top and, even though not listed, I'm sure there's a little touch of torch ginger in there too.
Shortly after dessert, we're lowered back down to the ground. The total time in the air was about one hour and the chef team, and our host happily took photos of us "in flight". The table rotates over the hour enabling guests to benefit from a 360-degree outlook throughout the meal.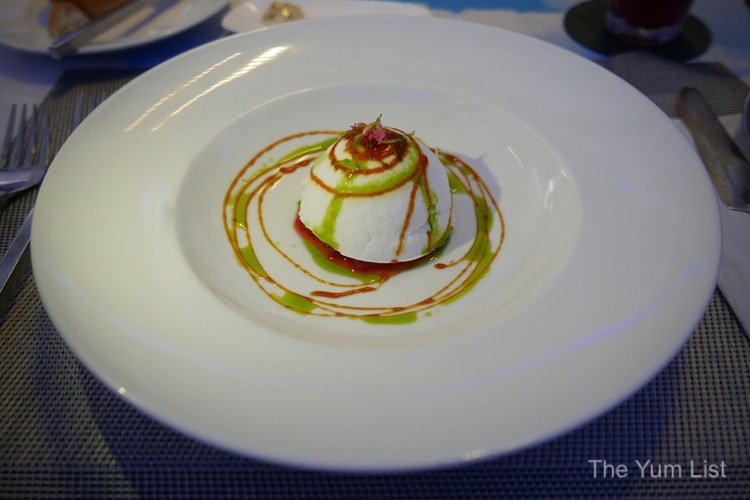 Dinner in the Sky Review
Dinner in the Sky KL is a fabulous experience. It would make a grand celebration of a special occasion with a group of friends. The food was good providing substance to something that could quickly be sold on novelty alone. We were fortunate to have extraordinarily beautiful weather. The downside, however, is that arrangements can be delayed due to meteorological conditions, or at worst cancelled altogether (and you have to eat dinner on the ground, no refund given.) Visit their website for a more detailed Q&A of "What ifs" such as "What happens if it rains?"
Dinner in the Sky KL Price
Dinner in the Sky Malaysia is priced at RM 369 (Economy), RM 569 (Business Class) and RM 939 (First Class). Each upgrade adds a dish to the basic three courses. There are multiple sessions held daily. We were first on the schedule, the 6:30 pm time slot, and appreciated the change of day to night. Others report that the night view is lovely too and so opt for a later time.
Reasons to visit Dinner in the Sky KL: a unique experience backed up by good food; a great way to celebrate a special occasion; vegetarian, gluten-free and nut-free dietary requirements are catered to.
Dinner in the Sky KL
231, Jalan Bukit Bintang
55100 Kuala Lumpur
Malaysia
www.dinnerinthesky.my
+6 03 2282 6413
Find other restaurants for special occasions in Kuala Lumpur here.