Words: Monica Tindall     Photos: Rich Callahan
Raising the bar for luxury boutique hotels in Malacca, the opening of Liu Men Melaka sets standards high. Attention to detail is evident in both property and service and already this heritage building has become a new top choice of stay.
Liu Men or "six doors" is the union of a half-dozen shop houses into one magnificent residence. Dating back to the 1930s this property was once home to a single family. Magnificently refurbished after three years of work from start to finish, the hotel is a reflection of Malacca's vibrant past elegantly fusing Colonial Art Deco with Chinese Peranakan design.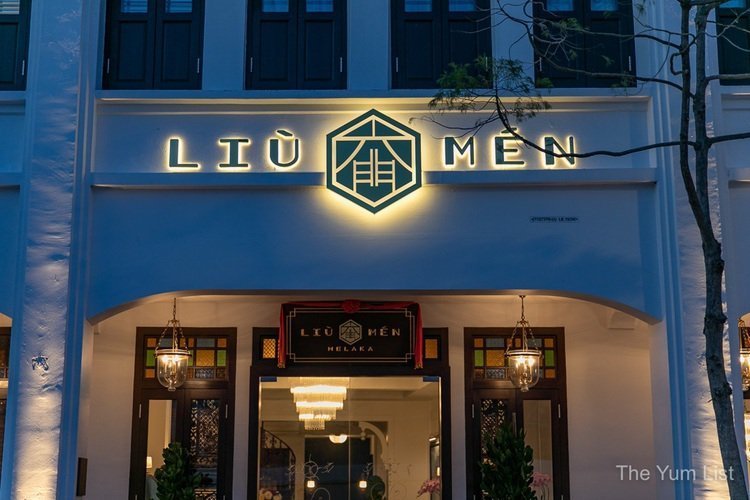 Liu Men Melaka Location
Just metres away is the famous Jonker Street in one direction, the river in the other and a whole host of cafes, restaurants, bars, boutiques and cultural attractions in the same and neighbouring streets. You couldn't ask for a better location. On-site secure parking keeps your car safe for the weekend while you set out on foot. A transfer service from Kuala Lumpur city or airport is also available for a fee with advance reservation.
Both in contrast (to the junk-laden plastic-filled stalls in the tourist market) and complement to (the vicinal period architecture), the white façade and walls of the heritage building are trimmed with dark wood, white marble and splashes of striking red. The lobby, reception and courtyard are stunning in their décor and make beautiful backdrops for Insta-happy snappers. King-sized chairs in royal blue, a mustard yellow couch and rattan and wood French bistro chairs livened with floral-patterned cushions are bathed in natural light thanks to a glass ceiling.
Hanging from the roof are eye-catching gold-rimmed hexagonal chandeliers that complement the metallic finishings around a multitude of other lighting fixtures. Mosaic tiles further lift the aesthetics of the courtyard and antique items such as old telephones, radios and chrome-framed fans have us finding something new with every passing. Fresh floral arrangements and huge potted plants furnish an attractive final touch of greenery. The common areas are very inviting and guests tend to linger here in the pleasantry of it all.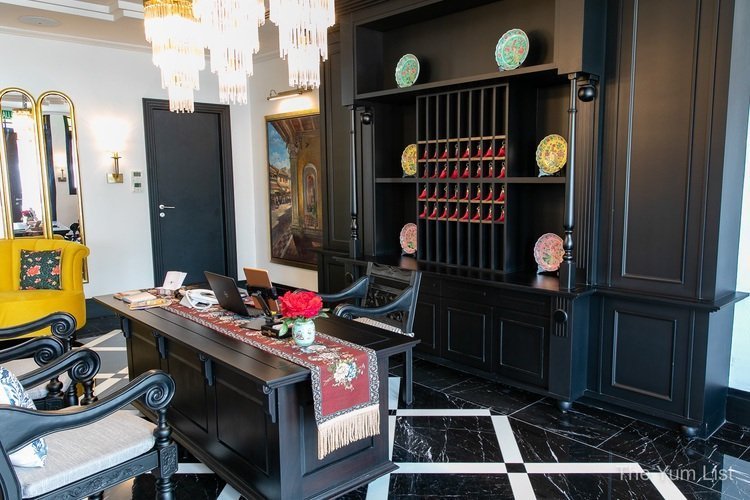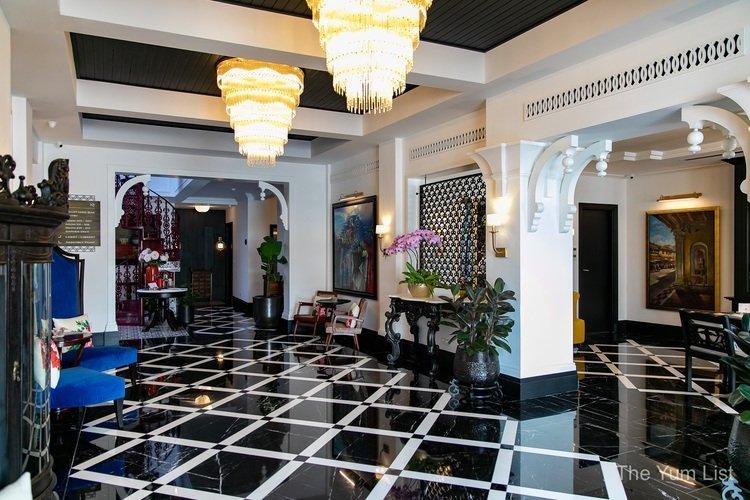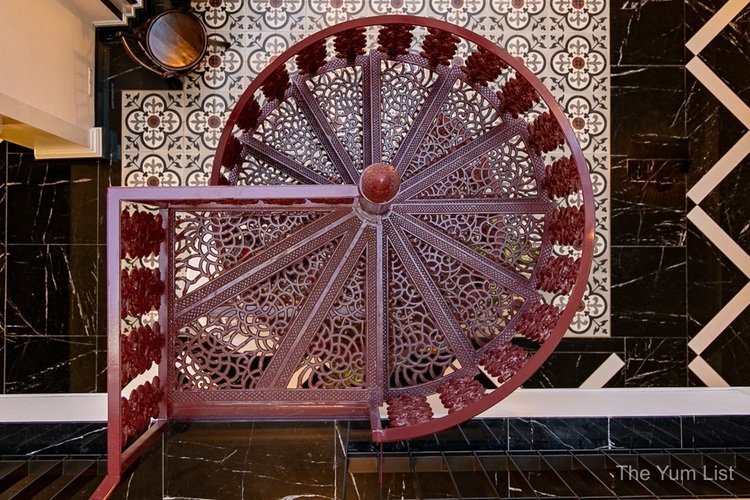 Rooms at Liu Men Melaka
The 30 room boutique hotel offers a number of categories from the entry-level Lekir up to the luxuriously spacious Parameswara Suite. Blackwood herringbone floors are a standout feature along with mosaic black and white tiling making a striking contrast against their signature red bathrobes and slippers. Suites on the second floor offer a small balcony with sun recliner and potted greens. The Li Po comes with its very own garden deck and the highlight of the Cheng Ho Suite is a splendid claw foot bathtub, red in colour and welcoming of long leisurely soaks after a day of exploring Malacca's sites.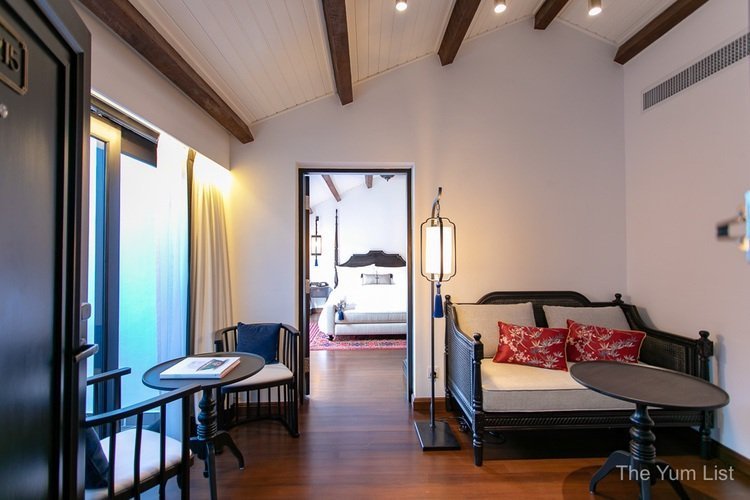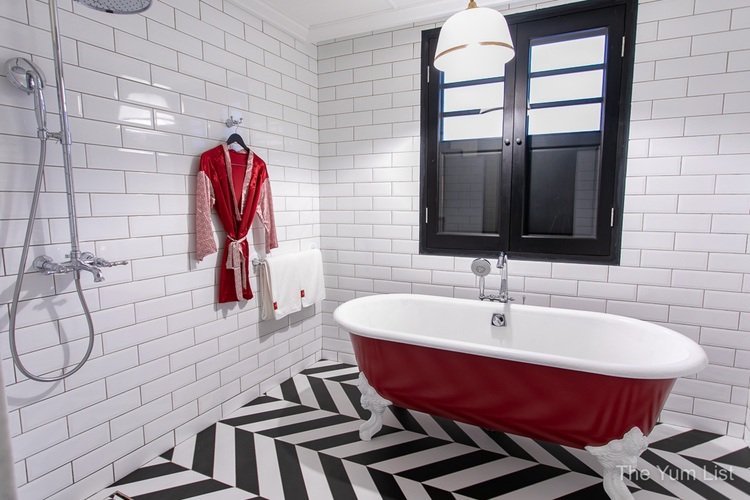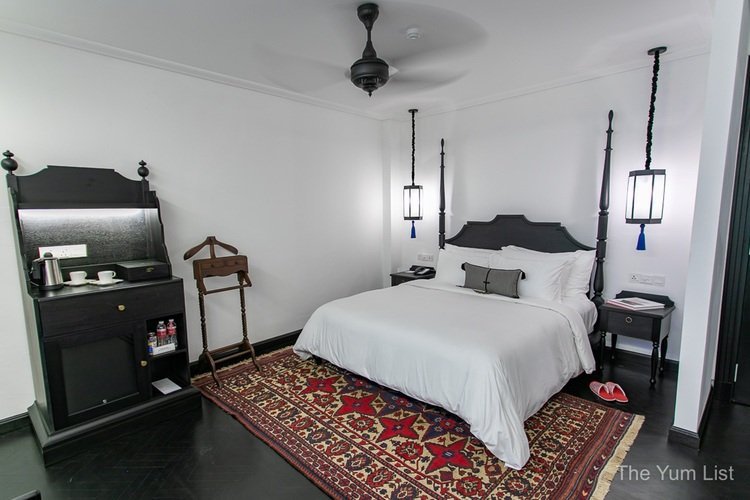 While the design is a tribute to the past, the comforts are clearly rooted in the present. Electronic safe, hair-dryer, flat screen TV, tea and coffee making facilities are all as expected. Luxury bath products and a mini-bar with Malaccan snacks free of charge go beyond the usual. A nightly turn-down service adds charm with a local sweet along with an information card telling a little of the history of the recipe. But the most important item in any hotel room is the bedding and here they have invested big. Serta mattresses dressed with quality cotton sheets and six giant-sized pillows take sleeping-in to a whole new state.
Liu Men Melaka Breakfast
Guests can choose packages with or without breakfast but either way, tea, coffee and local sweets are available throughout the day for all. Staff are on hand until 10 pm at night to make you a hot beverage and it truly feels as if they take pleasure in providing this service.
Breakfast in the courtyard is bathed in natural light thanks to the glass ceiling. It's a beautiful beginning to the day seated at a marble-topped table adorned with fresh flowers. Nostalgia hums through the speakers in tunes from the 1920s and gracious staff are ready to attend to every need – even peeling my boiled eggs! Resident manager, Edmund Pang says, "That's our concept. We want to pamper you." We certainly feel well taken care of as my near empty coffee cup is swept away and replaced with a fresh brew as if predicting my desire before I've even noted it myself.
The morning meal is a simple spread of pastries, fruit, cereal and artisan loaves of bread supported by an a la carte menu of eggs and a few local dishes – the Nyonya laksa is certainly worth giving a go. The sound of the espresso machine adds to the cheer and tea and juice are other liquid refreshments.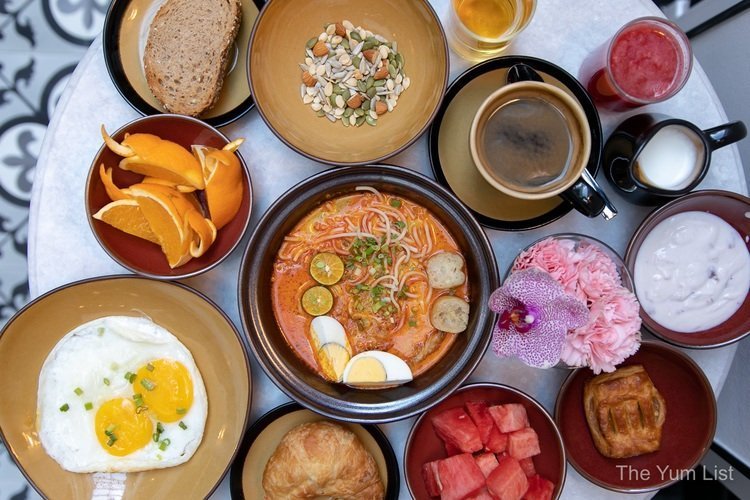 Liu Men Melaka Review
As with any luxury boutique hotel worth its name, the splendour is in the details. Quality furnishings, stunning interiors and the little extras such as complimentary snacks are woven together into one integrated package of luxury by gracious and attentive staff. Liu Men Melaka is a new favourite stay – I suggest you check it out for yourself.
Reasons to stay at Liu Men Melaka: a mix of Colonial Art Deco and Chinese Peranakan architecture reflecting Malacca's exciting history; great bedding; attention to detail in design and service; fantastic location just metres from all of the key sites.
Liu Men Melaka
Tokong, Street 48-56
75200, Melaka, Malaysia
+6 06 288 1161
www.liumenhotel.com