Salud Tapas Malacca
Words: Monica Tindall    Photos: Rich Callahan
"Salud" means "cheers" or "to your health" in Spanish and Salud Tapas Malacca is ready to salute you with what they claim to be some darn good sangria and bites to go with it. Located just off the main strip of Jonker, the location is central and the setting vibrant. We're here following pre-dinner drinks at The Old Merchant looking to further the cheer of our evening and the team at Salud is ready to assist.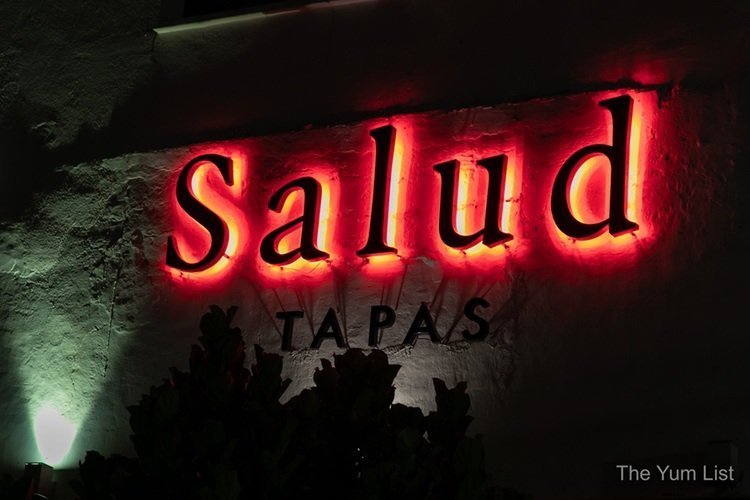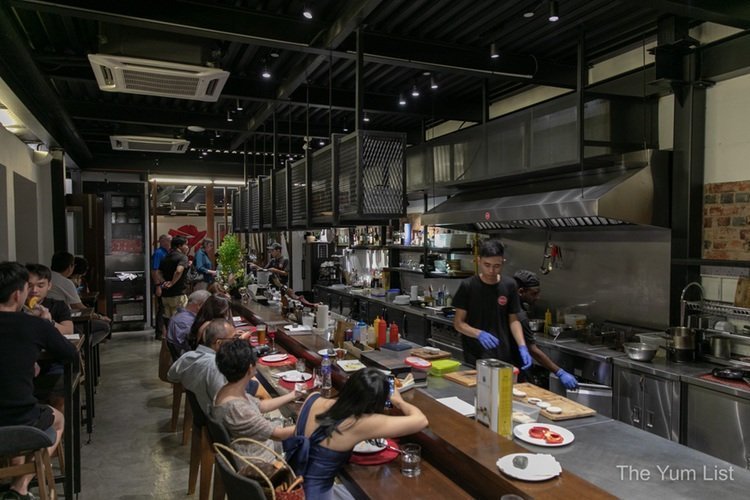 Salud Tapas Malacca – Menu – Drinks and Bites
You might have heard that one of the coolest things about bars in Spain is that if you order a drink you get some small bites (tapas or pintxos depending on what part of the country you're in) to go with your beverage. Salud Tapas brings this tradition to Malacca and we (I) can't resist an order of their sangria (do note the glass straw), which comes with a little bowl of olives, pickled onions and gherkins on the side.
As I sip on my sangria, which, by the way, is a secret recipe from proprietor Maria's home town of Benavente (a small town near Galicia), I can't help but be caught up in the positivity and party feel of the restaurant. We're seated at the bar with a view directly into the action of the kitchen. There are flames and movement yet the staff are calm and confident. Lively Spanish tunes are real toe-tappers (or shoulder-shimmiers, depending on your inclination). There is no doubt that the music enhances the mood with joy and makes me want to drink more – another sangria, por favor!
Starters
Assorted Ibericos (RM 45.90) is a great way to begin as it's a combo of all of the starters. Iberico ham and chorizo, salchichón and lomo are accompanied by two Spanish kinds of cheese. Manchego is one of my all-time favourites and the other, a goats' cheese, is a milder version than is tradition but a good introduction for new palates.
The perfect order to go with this is Tumaca (RM5.10), or tomato bread. The greatness in this dish is in its simplicity. Rustic bread topped with crushed tomato, garlic and olive oil is good on its own but also makes a suitable companion to the cheese and ham.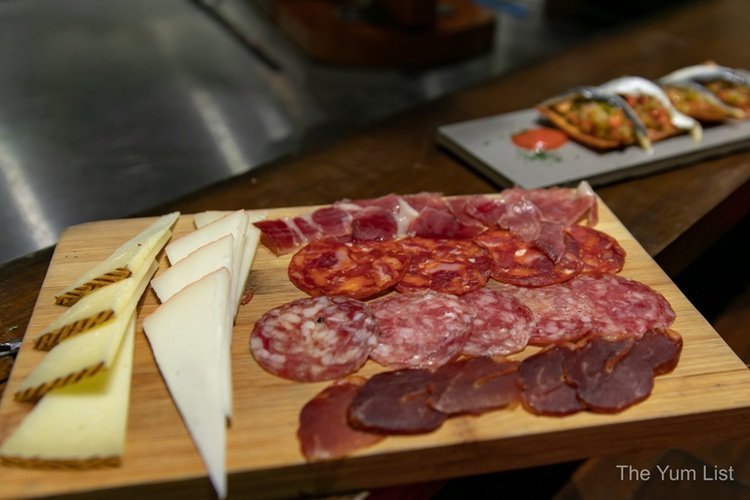 Tapas
Tapas are a versatile way of eating in Spain, easily ordered as a small snack or requested in multiple portions to share amongst friends to make a complete meal. The team at Salud claim to offer authentic recipes from Spain and with a Spanish chef Bre and head of house Maria, I'm inclined to believe them.
Coca Catalana (RM18.90) is a traditional Spanish canapé with roasted veggies and anchovies. Crisp lavish bread is topped with warm veggies and crowned with salty and sourish fish – coming from the famous area for quality canned seafood, Cantabria, the anchovies are superb. Order this dish!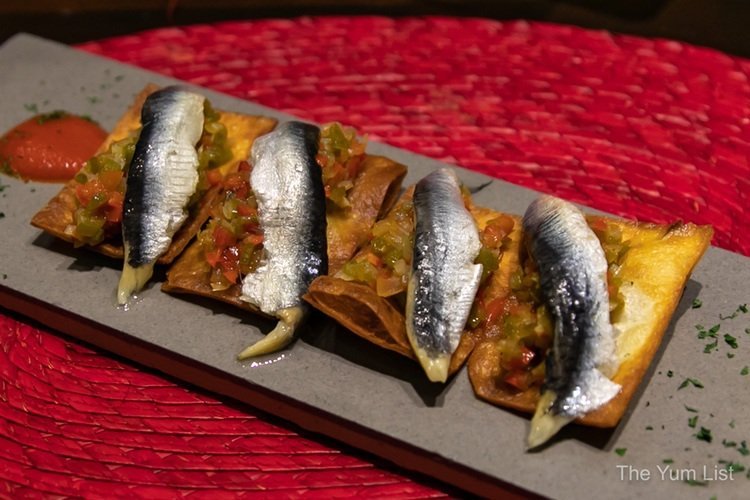 Who could resist requesting Chorizo al Infierno (RM20.90), or "sausages from hell"? We are curious to find out why they are so damned. We see that they actually "burn in hell" as the chef delivers them and flames them with a blowtorch. They are rich and full of flavour and I'm sure I'm going to diet hell with the amount of fat in this dish. But, it's sooooo worth it.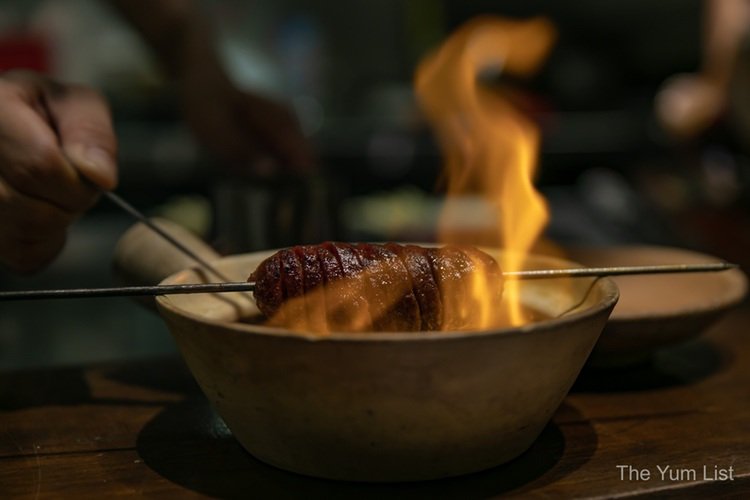 Main Course
The main courses come with a warning: they are from Spain, so need time to prepare – best order some tapas while you're waiting! The must-have on this menu in the Secreto Iberico (RM52). Why is it a secret? It is the most delicious cut of the meat that butchers saved for their families. It's served with three seasonings – a smoky red spicy sauce, salt and garlic mayonnaise. Oh boy, this is delicious! It's another must-order so save room!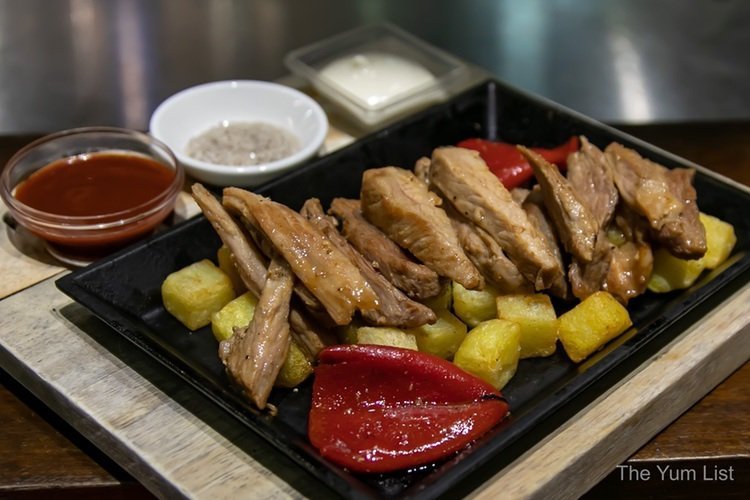 Dessert
There are three regular desserts on the menu (cheese with quince paste, cheesecake and crepes) and a special of the day (RM22.90), which depends on the whim of the chef. Today, the dessert is a brownie with ice cream. We see plate after plate being trailing out of the kitchen so have to follow suit. The moist spongy brownie is drizzled with chocolate sauce, topped with vanilla ice cream, and dotted with whipped cream, strawberry sauce and crushed pistachios. The brownies are made from scratch and there is no rising agent other than beaten egg whites, hence the fluffy texture, similar to that of a soufflé. The chocolate is 75% cacao so offers a good taste of real chocolate and a slightly bitter finish – super.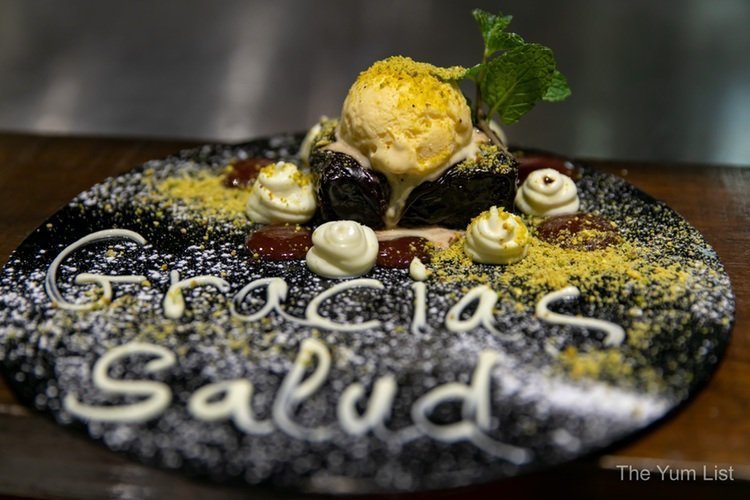 Salud Tapas Malacca Review
I can't express how much I enjoyed this restaurant. I know a large part of my affection is my fondness for and youth spent in South America. The music has me. The open setting has me. The comfort of Spanish food and drinks has me and owners Maria and Breogan, the Spanish language, and the heart that goes with it makes me wish for a Salud Tapas in Kuala Lumpur.
Reasons to visit Salud Tapas Malacca, Spanish Restaurant and Bar: Stylish setting; GREAT lively playlist; authentic tapas; try Maria's home recipe for sangria.
Salud Tapas Malacca
Spanish Restaurant and Bar
94 Jalan Tun Tan Cheng Lock (Heereen Street)
75200 Malacca City, Malaysia
www.facebook.com/SALUDTAPAS
+6 06 282 9881
Salud Tapas Malacca Opening Hours
Monday 3 pm-midnight
Tuesday closed
Wednesday & Thursday 2 pm-midnight
Friday, Saturday & Sunday 1 pm-midnight
More on Malacca's culinary scene and some suggestions of where to stay in Malacca here.