Words: Monica Tindall    Photos: Rich Callahan
The beloved KL brand, Vintry, makes a debut in Malacca this month with its opening in the new luxury boutique hotel Liu Men Melaka. Located just off Jonker Street, it is in the prime of the action and offers a delicious and stylish alternative to the famous street fare. Sure, tourists are going to end up here, at least those looking for pork and quality wine, but I bet Vintry Melaka soon becomes a hit amongst the city's residents just as its sister restaurants in Kuala Lumpur have done so.
Vintry Melaka Menu Wine
The owners of Vintry have an undisputed reputation as leaders in the wine scene in Malaysia. With every bottle being personally approved, there is no bad choice amongst their selection of personal preferences. While the capital holds an incredible number of brands, Vintry Melaka has a carefully curated collection, gently pushing the barriers of the rising wine scene in the city. And, even though the selection is smaller, it's still the largest collection in Malacca with over 140 labels.
A red and white wine are available by the glass (RM30+) or you can browse the shelves for a bottle of your choosing, priced very reasonably from RM90 up to around RM300. The wine is organized into grape varietals making picking pretty straight forward and the helpful staff are ready to share their wine knowledge with you if you ask. Wine can be purchased for takeaway with a 10% discount, which has quickly become a hot option for tourists staying in the area.
We begin with a Western Australian blend of Semillon and Sauvignon Blanc by Mad Fish. Offering guava and citrus on the nose it follows through with zippy tropical fruits in the mouth ending with a crisp lime zest finish. It would make a great mate for salad and white seafood. Later, with food, we move from white to red with a bottle from Pomerol, Bordeaux, the Château Monregard La Croix 2011. Often overshadowed by the left bank, this is an under-rated gem from the right and rightly priced it is too at RM 271 per bottle. This Merlot offers classic sour plum, is soft, silky, earthy and fruity. It's well balanced and lovely drinking with our meaty mains.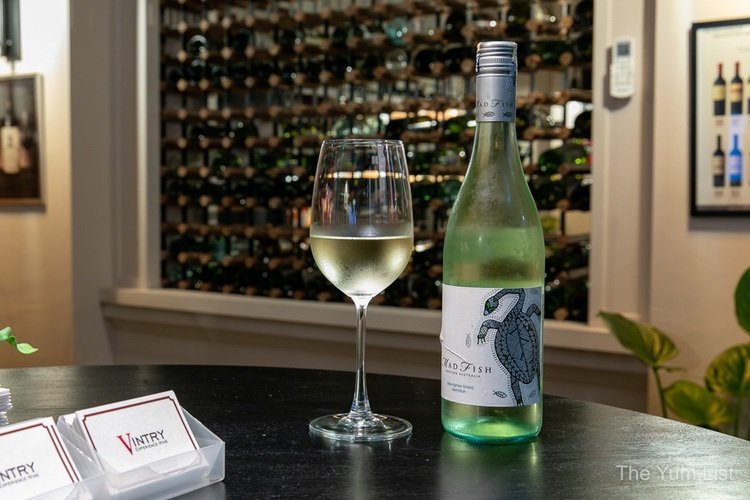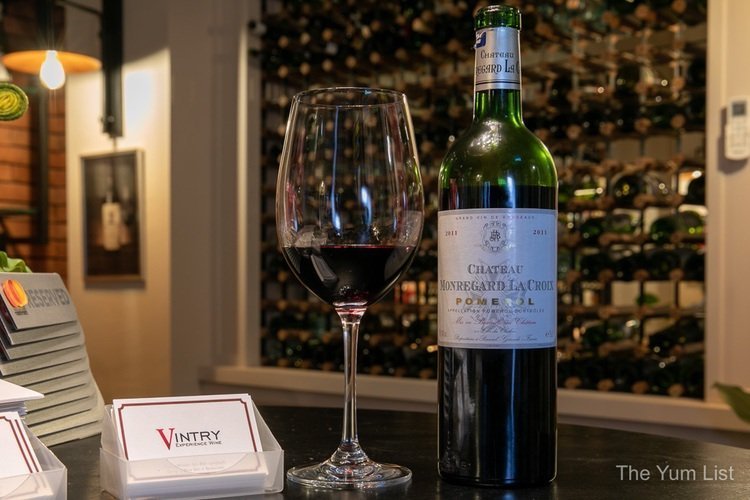 Vintry Malacca Food Menu
Kick-Starters
Vintry Roast Pork (RM11.50/100g) has been the brand's signature dish since inception over 18 years ago. It's crispy roasted pork belly in all of its fatty, crunchy, mouth-watering goodness. You don't need anything else, but chilli and yellow mustard sauces come on the side, just in case you want to spice things up a little.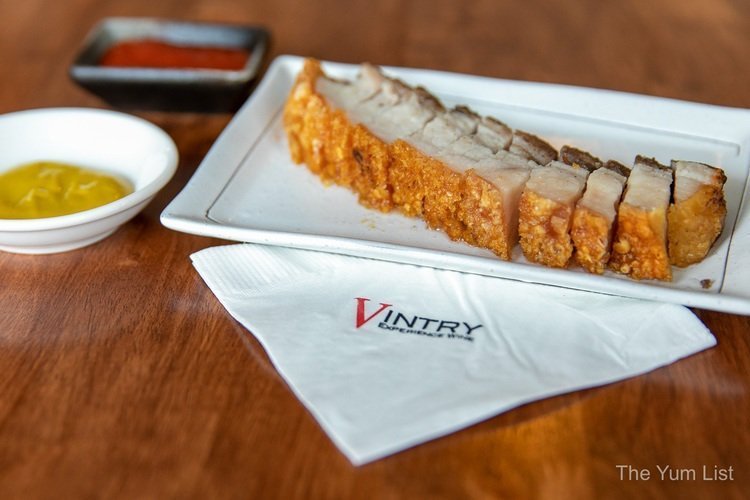 Trying to keep an almost extinct snack alive, the team at Vintry have given a proud place on the menu and would really like you to try the Roti Babi (RM12). This pork bread was a popular dish of the past, something that old-timers will recognize but maybe not the younger generation. In glorious Hainanese fashion, it blends the prevailing cultures of the time, taking French toast and stuffing it with minced pork and jicama. The dipping sauce of Worcestershire, chilli and vinegar is an essential element in completing the experience.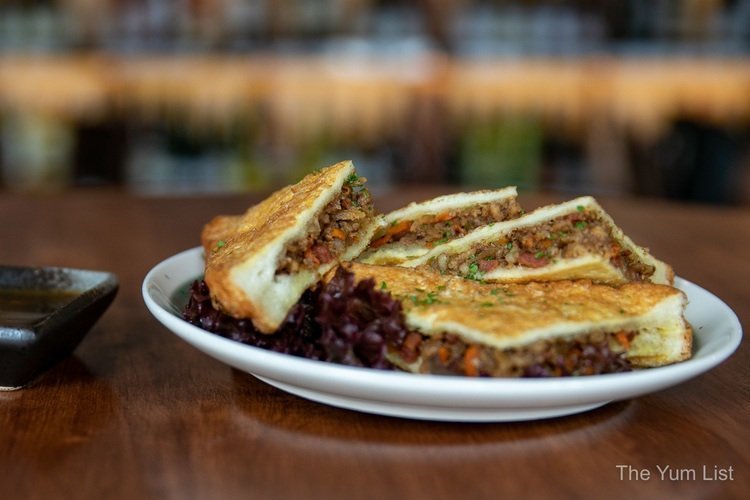 Aubergine Fritters (RM12) are another light bite from the past taking big slices of eggplant, coating them in a thin batter and deep-frying them. There's a sprinkling of herbs over the top and spicy sambal on the side. This is fantastic! The delicately crisp coat holds the superbly moist and well-cooked vegetable. These go well with our SSB mentioned earlier.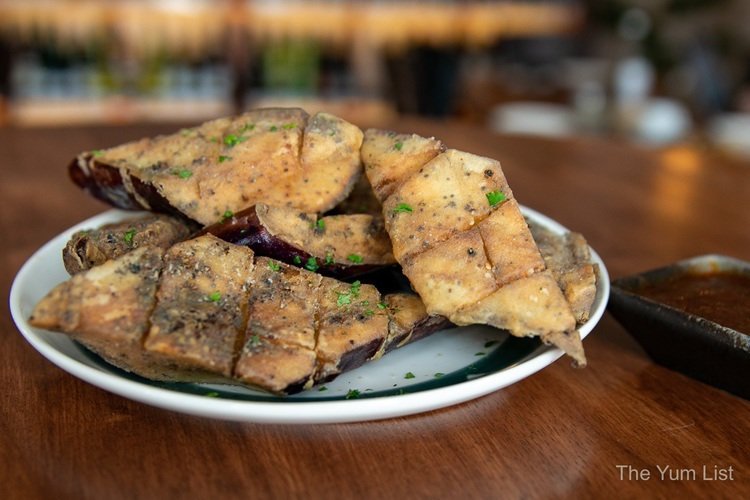 Western Plates
Vintry is known for their pork so the Iberico Pork Burger (RM27) seems a must. A house-made Iberico pork patty oozes juice as Rich bites in and he reports that melty gruyere cheese is a delicious complement. Pork croutons add crunch and thick-cut fries give the burger a classic companion.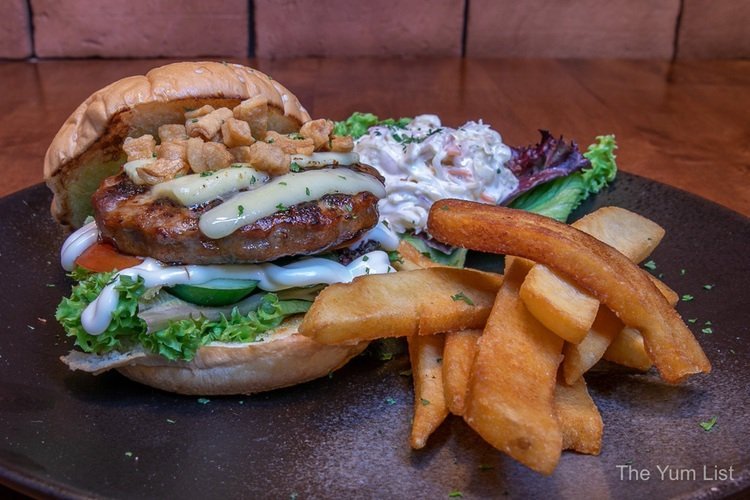 Also a western plate, the Grilled Salmon Steak (RM42) is a comforting dish for me. A moist interior is crowned with crisp skin and an addictive honey mustard glaze that makes me eat the skin (even though I'd usually leave it off). Crisp verdant asparagus is a fresh contrast to the fatty fish.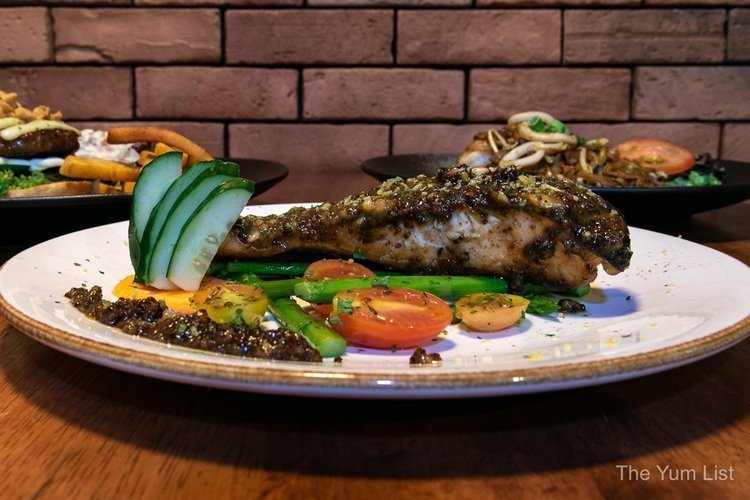 Melaka Portuguese Classics
The dishes so far have been well-executed but the highlight of the menu here is the Melaka Portuguese Classics. While you can find Portuguese cuisine in the settlement by the sea, it's rare to find a restaurant in the city centre serving these traditional recipes. Nonya cuisine seems to dominate the scene and we're happy to find Vintry Melaka offering a distinctive Melaka Portuguese section on their menu. The local chef, Daryl Hendricks, brings authenticity to the recipes, himself growing up in the settlement.
Keluak Pork Ribs (RM32) are fork-tender pork ribs braised with buah keluak. The seeds of the fruit of the buah keluak (a tree indigenous to Malaysia, Indonesia and Singapore) are actually poisonous in their raw state. Various processes including underground fermentation, soaking and cooking over long periods make them edible and a highly-valued ingredient in Peranakan (and Melakan Portuguese) cooking. Pick up the hard black seeds, find the opening and scoop out the middle. It's very similar in flavour to black olive tapenade. The gravy is sweet and spicy.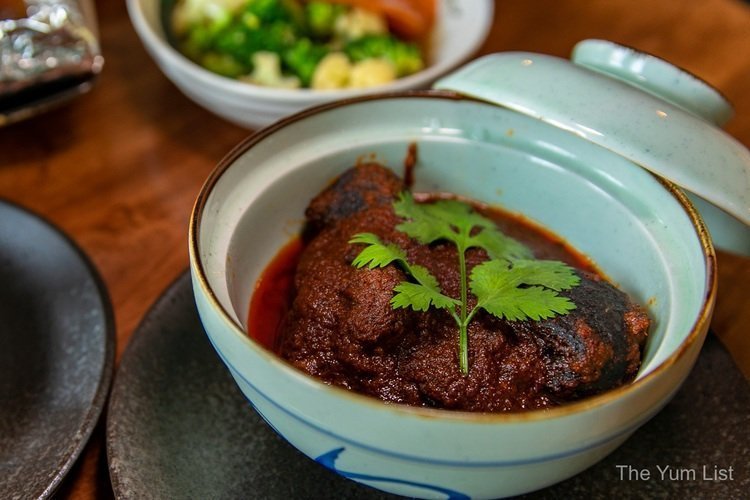 Portuguese braised pork, Seybak (RM24), is served on a base of shredded lettuce not only as decoration but as a fresh contrast to the rich meat. Lightly fried bean curd fans the sides and a mix of soy and oyster sauces finish off the plate.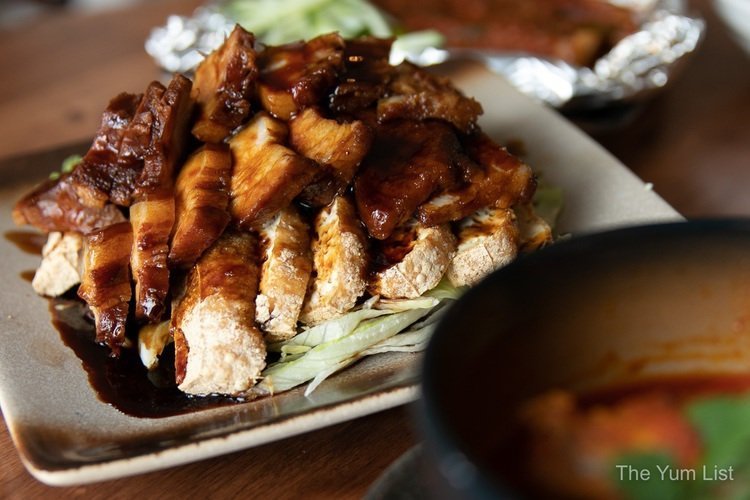 Devil Chicken Curry (RM26) is a sumptuous recipe of slow-braised chicken in a spicy curry with potatoes. It has a tarter finish than the Peranakan version and the gravy is well-deserving of being soaked up with some rice. This is traditionally a festive dish usually only found at Christmas time but here at Vintry Melaka, you can enjoy it year-round.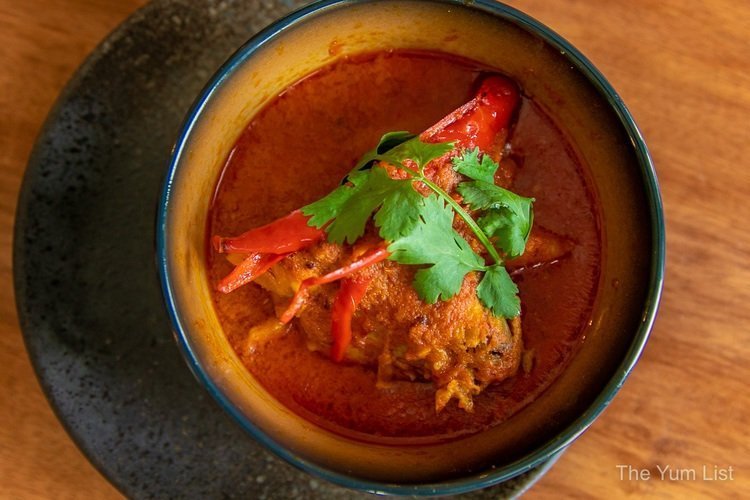 Butterfish or stingray is the choice for the Seasonal Baked Fish (RM26). Today we're trying the stingray. The texture is similar to that of an extremely tender roasted chicken and the sauce is piquant and citrusy, which reflects the style of the chef who has a preference for fresher finishes.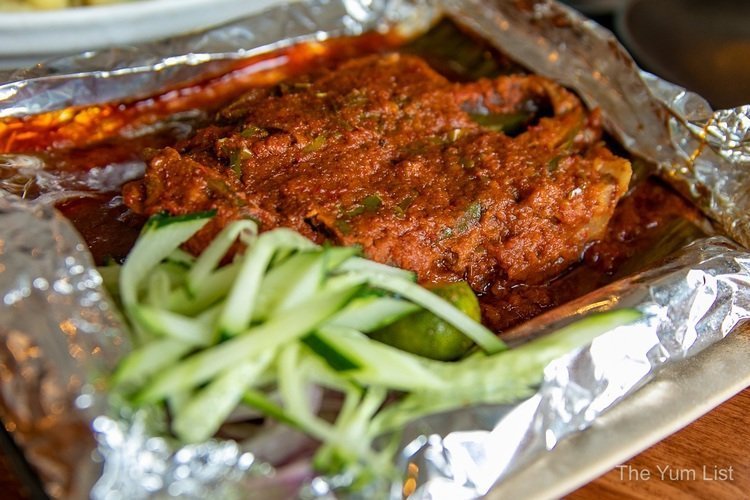 Seasonal Mixed Vegetables (RM20) is a feeble attempt on my part at balancing out all of that meat. Cauliflower, bok choy and carrots are wok-fried with oyster sauce and garlic. They're tasty and crisp. I'm happy.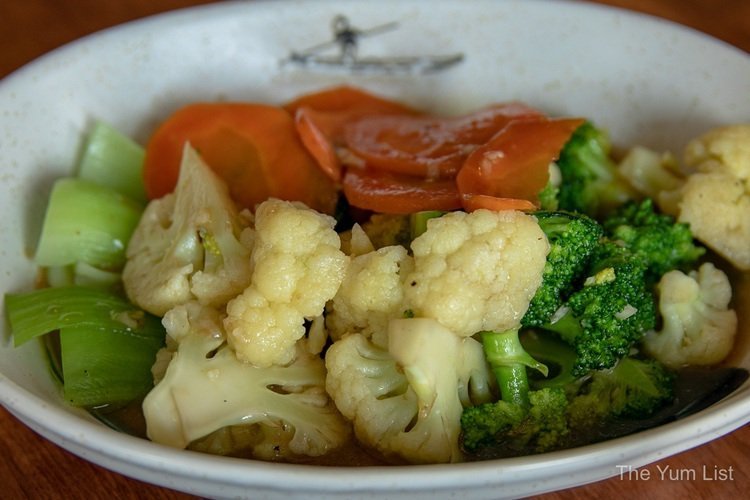 Sweets
A must-try in Vintry Melaka is Coconut Cendol (RM15) as it's served in a whole coconut and seductively drizzled with palm sugar. Even if you've over-ordered as did we, you should at least get one of these to share to taste. It's icy, refreshing and very well suited to the city's warm weather.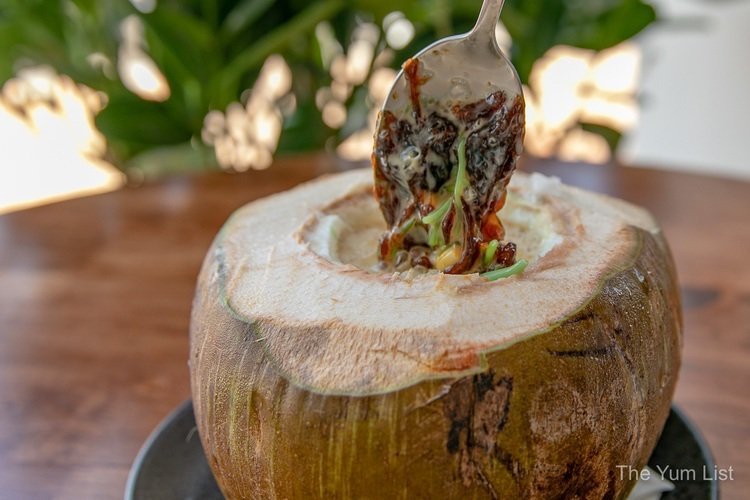 Vintry Melaka Review
Vintry Melaka has filled a gap in the market with its quality selection of wine and Melaka Portuguese dishes. Visitors, expats and locals alike are sure to appreciate both the food and drinks menu here. The setting connected to the Lui Men Melaka boutique hotel is stylish and pleasant surrounds for just about any occasion.
Reasons to visit Vintry Melaka: must try the classic Vintry roast pork to understand where it all began; Melaka Portuguese recipes – our favourites were the Aubergine Fritters, Roti Babi and Keluak Pork Ribs; give the Coconut Cendol a try for dessert; THE place for wine in Malacca.
Vintry Melaka
Lui Men Hotel
54, Jalan Tokong
Kampung Dua, 75200 Melaka
+6 06 284 8262
www.facebook.com/vintrymelaka
Vintry Malacca Opening Hours
Monday: closed
Tuesday to Sunday: 12 pm – 3 pm & 6 pm – 11 pm
Find more on the culinary and boutique hotel scene in Malacca here.