Words: Monica Tindall    Photos: Rich Callahan
Malacca has a speakeasy! The Old Merchant is housed in a pre-war shop on the west bank of the Malacca river. Signalling its entrance are white columns with red Chinese characters identifying the original private bank, Poh Teck & Co. Before the development of modern day banking systems, these "piaohao (票号)" were set up to assist immigrants in transferring money back to their home town in China. Today, bartenders facilitate the trading of cash for a good time, transacting a seat at the bar and a tasty hand-crafted beverage in a setting recognizing the colourful past of the area.
The interior is pretty fabulous with a hexagonal bar back, filled with bottles lit with red Chinese lanterns and characters in neon. A giant circular opening leads to further tables and an umbrella and flower covered ceiling. Red curtains not only lead to the bathrooms but further out to the river – you wouldn't think so if you entered from the main entrance on the street, but yes, tables by the river await you on the other side. Be sure to walk through the curtains and check it out!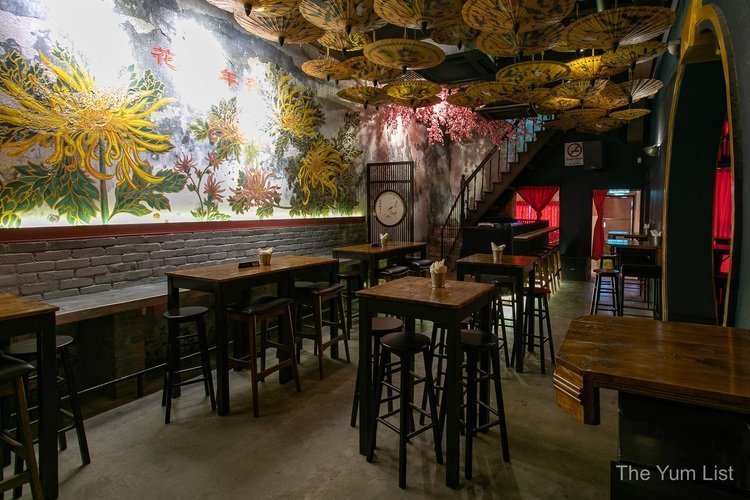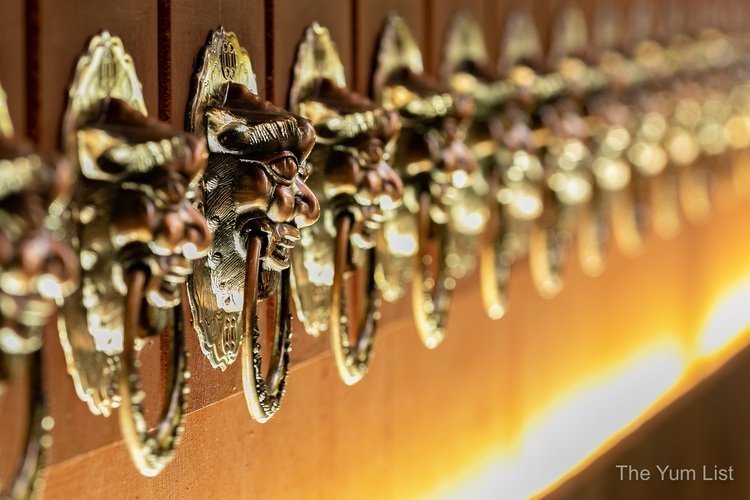 Craft Cocktail Bar – The Old Merchant Malacca
Craft cocktails and classic cocktails hover around the RM30 mark and before 9 pm you can get two for RM55. Bartenders creations are inspired by the rich history of the township so expect lots of local flavours such as lime, soursop, asam boi, chilli and pandan.
Something light and citrusy, Love in Malacca, welcomes us in off the hot street. Tanqueray gin is shaken together with lemon juice, yuzu juice (yummo!) and lychee syrup. It's served in a voluptuous round glass and sports the garnish version of a colourful rickshaw buzzing around nearby Jonker Street: longan on a party skewer, a sprig of rosemary, a rose of lemon peel and rainbow sprinkles! It's a tantalizing seesaw between sweet and sour.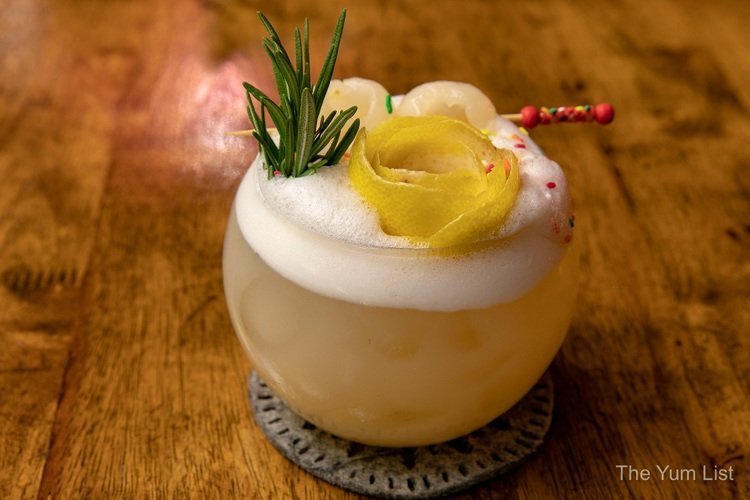 Rich, opts for a mocktail version of the Bunga Kaseh and gets a vibrant green bevvie in a high ball glass crowned with flower buds, dehydrated lemon slices and long ears of pandan leaves. Pandan syrup and chrysanthemum tea are made in house and combined with elderflower syrup and lemon juice to make a sweet, floral and very smooth refreshment.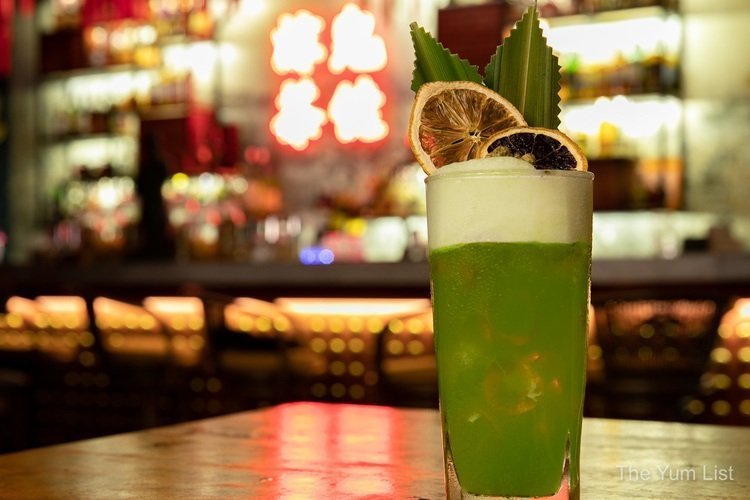 Chasing Sang Kancil comes in a mini margarita glass with two red chillies resembling devil's horns on the rim. The mix of Captain Morgan rum, Amaro di Angostura, lemon juice, asam boi powder and chilli yield a bold palate. Dehydrated lime slices float on top with drops of Angostura bitters in the foam along with asam boi powder and chilli flakes. Hopefully, after drinking this mix you'll be sharp enough to outsmart your predator's with intelligence rather than brawn, just like the Malaysian folktale of the mouse deer (Sang Kancil).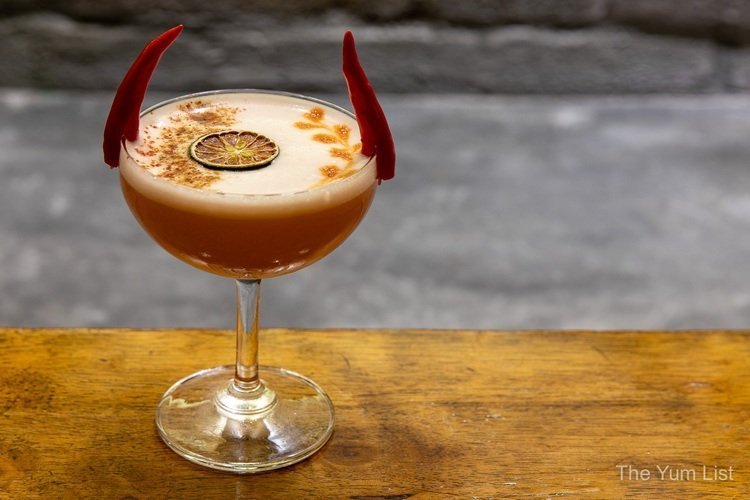 Made for Nyonya is another gin-based drink complimented by lemon juice, cranberry juice, passion fruit and kaffir lime. It's given a foamy top with the addition of egg white to the shaker. Following through with the feminine touch, it's served in a wine glass and garnished with a lemon rose, a sprig of thyme and kaffir lime leaves.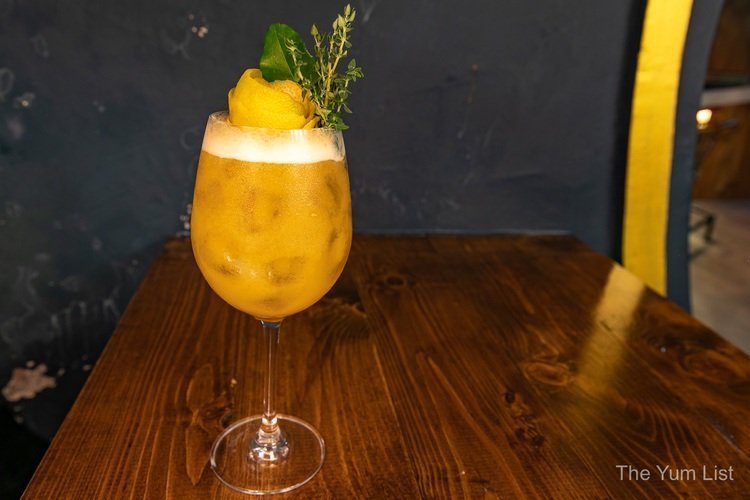 Our last cocktail builds in intensity both in flavour and in the presentation. Delivered in a dome of smoke, the masculine version, Made for Baba, is a bourbon (Jim Beam) base with Amaro di Angostura and cinnamon. A cinnamon stick and caramel popcorn provide the trimmings. This is a serious drink, perfect for sipping and conversing (and snacking, who doesn't love caramelized popcorn?).
The Old Merchant Malacca Review
The Old Merchant Malacca is a serious craft cocktail bar filling a long-open gap in the tourist town's bar scene. Staff are friendly, the setting is attractive and most importantly, the cocktails are good!
Reasons to visit The Old Merchant Malacca: Melaka's first legal contemporary speakeasy; a setting full of character with lots of Instaworthy angles; genuinely friendly staff; craft cocktails that are balanced, nicely garnished and offer a range of flavours for various palates.
The Old Merchant Melaka Opening Hours
Monday: closed
Tuesday, Wednesday, Thursday & Sunday: 6 pm – 1 am
Friday & Saturday: 6 pm – 2 am