Words: Patricia Podorsek    Photos: Monica Tindall
I've been lucky enough to be writing for The Yum List for a few years now, and so when friends ask me about my favorite restaurants in the city, it's gotten easier for me to name quite a few, in each of various cuisines. But a special place resides in my heart for the work of master chef Darren Chin. Cordon Bleu and Michelin trained, his work is elegant and refined. His signature restaurant, DC in TTDI, is among the most well-regarded in the city and was the first restaurant where I really understood what it means to eat from the hands of an artist.
If I were to liken DC to a hand-painted silk dress that waits in your closet for very special occasions, Darren Chin's newer restaurant, Bref TTDI, is the more comfortable but equally elegant linen trousers that you wear more often, any time you are looking for a nice evening out with good friends and good food.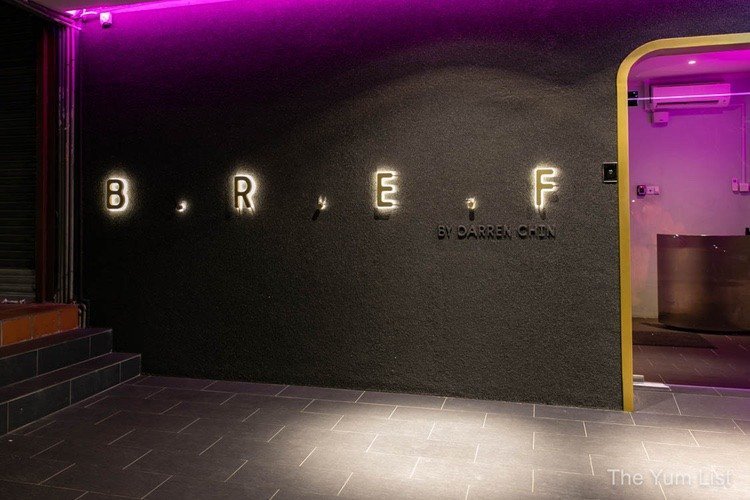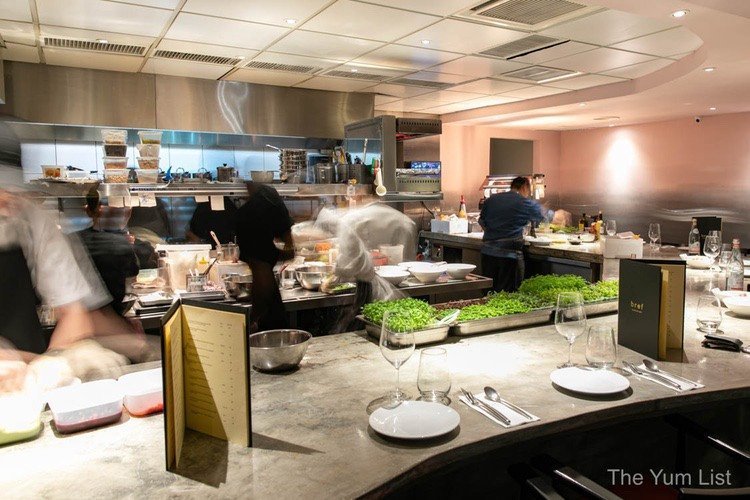 Bref TTDI
Bref, which means 'brief' or 'short' in French, is what Darren calls his 'little retreat' from the hyper-demands of the world of uber fine dining and a return to the simple joy of preparing great food with the best ingredients available. We shared an intimate dinner with him and some friends, in the space that he hopes will become the center of memories for all of his guests. Bref is different from DC, more comfortable, more relaxed, with more a la carte items, which makes it less spendy. But, as you'll quickly see, the food retains the same level of quality as DC and even includes some classics from the mothership. The head chef at Bref, Lim Wei Han, has created a new four-course seasonal menu (RM268++) that we are fortunate enough to sample.
In celebration of a midweek gathering of old and new friends, we begin the evening with a rose Champagne produced biodynamically by Larmandier-Bernier. Tiny bubbles dimple the delicate color. The fruity and floral bouquet reflects the well-rounded flavors, macerated Pinot Noir grapes cradled by underlying notes of licorice. We toast to the promise of a lovely evening together.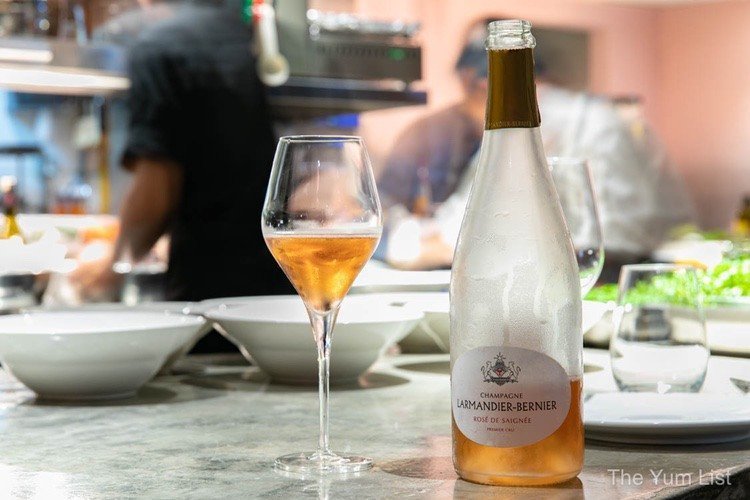 Every table is graced by antipasti of bread freshly baked in-house. As an accompaniment, a bowl of peppers and olives bathed in olive oil arrive. Onion jam brings a level of sweetness to this rustic fare, so delicious our tablemates are fighting to scoop up the last of the bits with the crusts. Darren laughs at us and happily asks for another basket.
Bref TTDI Menu
Before we dig into the set menu, our esteemed host orders some 'snacks' for us off the a la carte menu, so we can sample the finery of both. First is a plate of Irish oysters dressed in grapefruit oil with hints of ponzu. Ikura beads adorn the top. The citrus bath brightens the slide of the oyster and leaves a sparkly brine lingering on the tongue at the finish. Yum.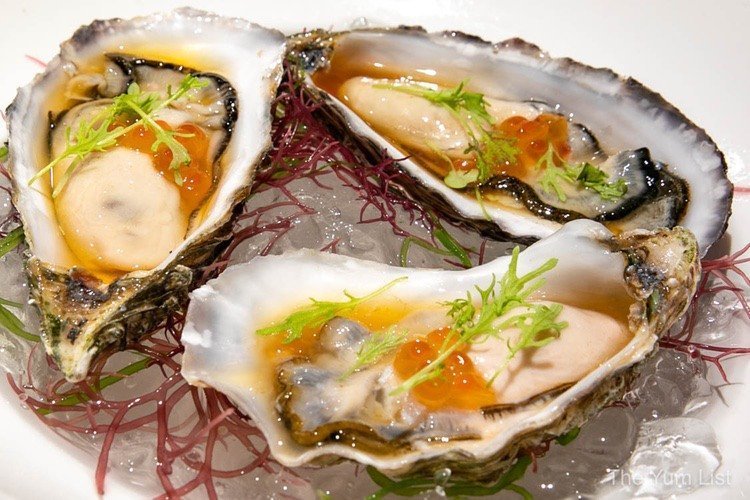 A second 'snack' arrives with Ben's seasonal garden salad, Ben being one of several highly-skilled chefs we can see in the open-air kitchen. Each salad wields the organic produce available at the market that day. Today, this means delicate baby greens tossed with tender baby carrots and crisp baby corn then embellished with thin slices of fried lotus root. Clips of sugar snap peas add a bit of crunch. The lemon-parsley dressing is rich, almost like a light mayo or simple aioli, and adds nuance to this otherwise forthright salad.
A 2015 Grand Cru Chardonnay from Bourgogne provides the next stop on our wine tour. Served from a decanter, the bouquet is a little edgy at the start but quickly mellows to a sweet and buttery roll, with lingering notes of citrus at the finish. I appreciate how well it pairs with the seafood in the early courses of the meal.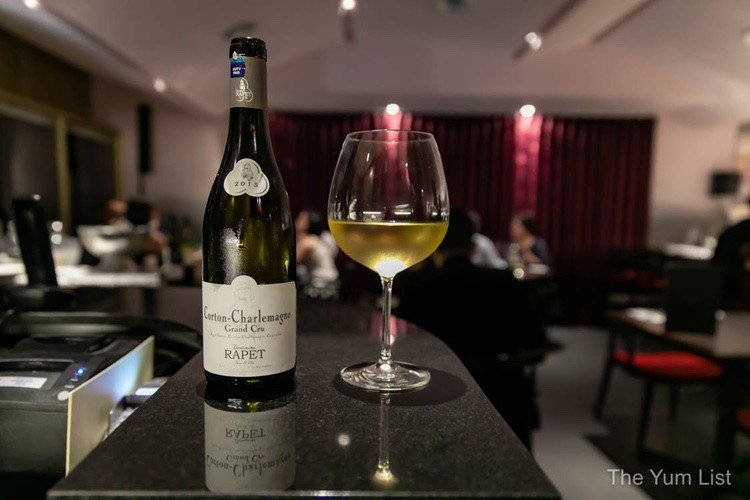 Bref TTDI Set Menu
Our palates already duly awakened, the chef's amuse bouche fires up the set menu with a thin curtain of fennel slices that open to reveal two pan-seared scallops immersed in a smooth shellfish sauce. Tucked between is a dollop of mentaiko, spicy Japanese cod roe, that adds texture to the velvet of the scallops and heat to the velvet of the sauce.
More Japanese elements show up in the first official course of the set menu: cold capellini tossed in a creamy abalone and ponzu dressing. Bright Ikura Shoyu lines a pair of marinated cold-water shrimp, and dots of salted konbu freckle the tender flesh of king crab. My senses awaken first to the temperature of the dish, unusually cold, then melt into salty waves of well-balanced ocean cuisine.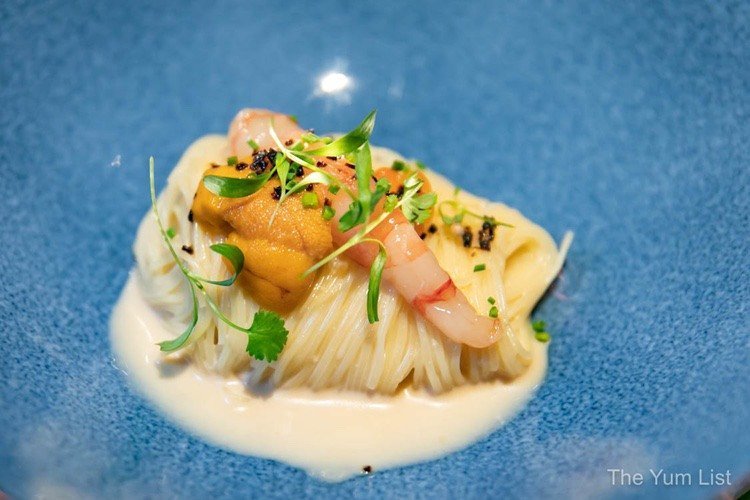 A little red is in order for the heartier dishes to come. Our hosts recommend a 2014 Grand Cru from Bourgogne. Properly decanted, we can fully enjoy the complexity of this pinot noir, elegant on the nose, with runs of berries up top and earthy notes beneath. It is these earthy notes that lead us right into the soup.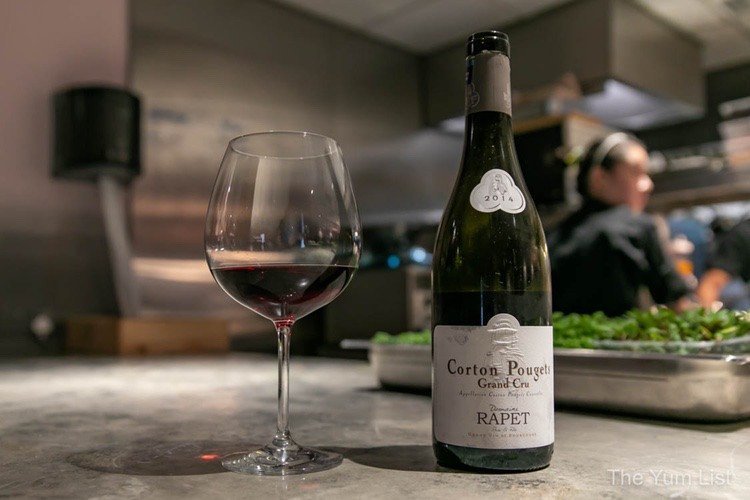 Chef Han has created a deceptively simple mushroom consomme: No cream, no wine, just clear stock and meaty chunks of porcini mushrooms. With rich tones of amber, the consomme contains very clean, loamy flavors rounded out with hints of leek and parsley. Freshly grated truffle pecorino adds a layer of richness.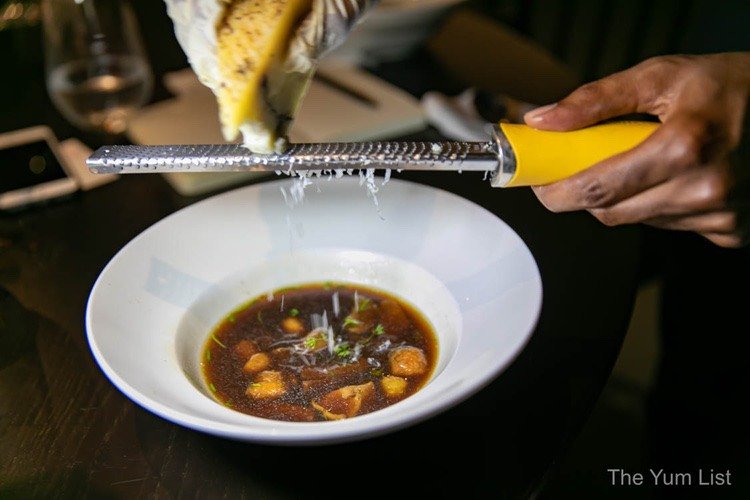 Guests may select one of three mains to fulfil the set menu. The beef is a cut of Australian milk-fed tenderloin, roasted in French butter to medium-rare. The meat is as tender and flavorful as you'd expect from a restaurant of this caliber. What makes it remarkable are the accompaniments. Whole grains of mustard pierce the mushroom and shallot sauce and beckon the smokiness of the burnt leek puree. Pan-roasted baby vegetables line the plate; I love the addition of white asparagus stems, subtle and earthy.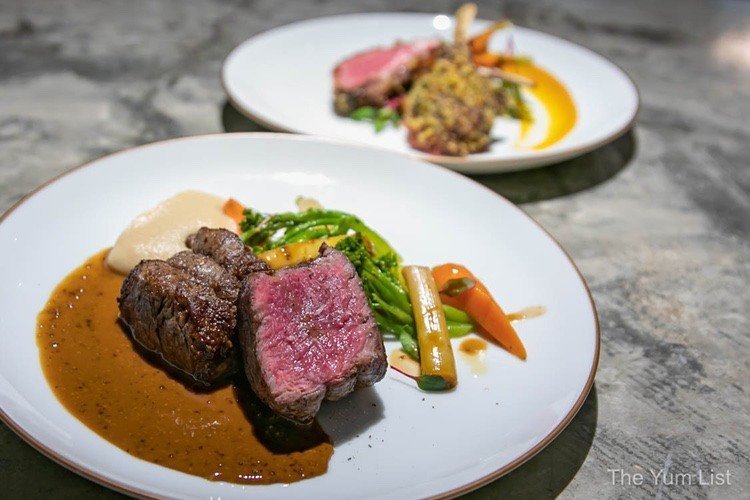 The lamb arrives in similarly refined fashion, two slow-roasted ribs crusted in Dijon mustard and rustic breadcrumbs. They sit atop a bed of tomato relish and herbed couscous. A touch of the exotic resides in the cumin-dusted baby carrots. A swath of pumpkin puree brightens the plate. I am happy to tuck into such a colorful and well-constructed main: simple ingredients prepared well. This is the very essence of Bref itself.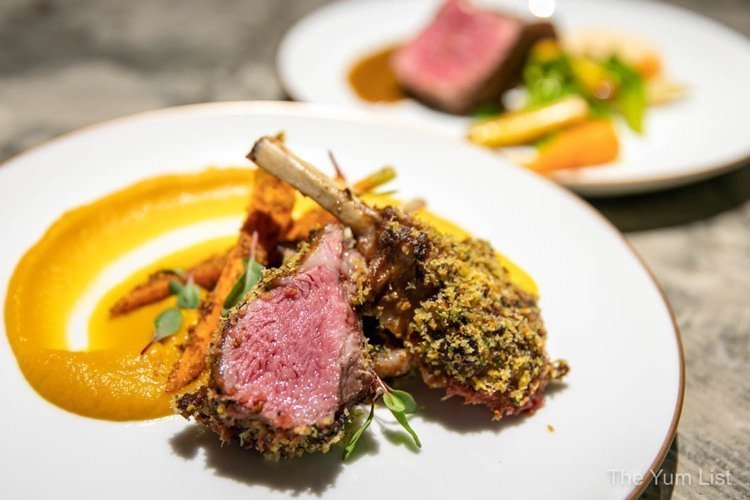 My favorite of the mains, however, is the one that shows a little more divergence from the traditional. The Turkish sea bass arrives butter-roasted under crispy skin, on a raft of braised cabbage, the juice of which runs into the potato puree like rivers into sand. Tiny herbs and edible flowers decorate the fish along with threads of fried onion, but the genius of this dish are the thin slices of cucumber pickles, all crunch and tang to the delicate flavors of the fish. I love that something as humble as pickles can bedeck such an elegant meal!
With such an array of mains, it's time for more wine. This time we try an Italian red, a 2013 Montepulciano produced by Talamonti called 'Tre Saggi', which means three wise men. I can't tell whether the winemakers are referring to themselves, but there is obviously some wisdom in the making of this wine, deep red in color with aromas of plum and berries. Underneath lies something darker, hints of chocolate and coffee, a nice segue into dessert.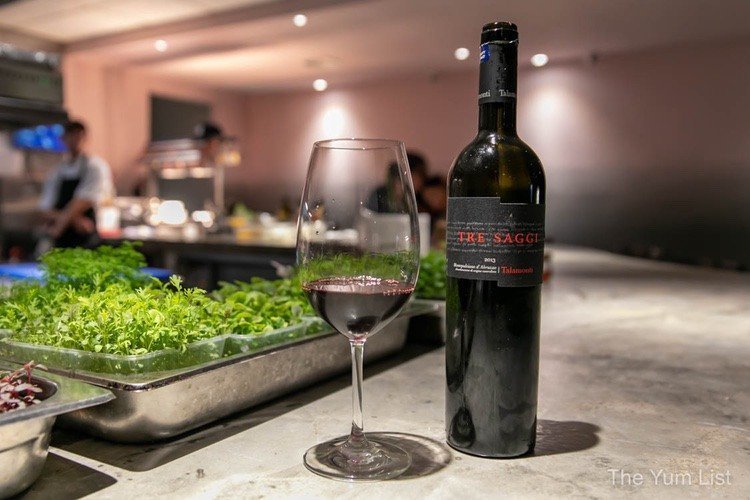 Dessert
Pahang chocolate is growing in reputation worldwide, so it's nice that our Malaysian chefs can reach into our own backyard for something so sought. For our sweet finish, the pastry chefs have captured the deep flavors of 60% Pahang cacao within the crust of a double chocolate tart. A scoop of 100% Sicilian pistachio gelato alongside makes me 100% certain that I want to embrace every bite. Then, when Darren adds a sprinkle of sea salt and a drizzle of extra special olive oil, the silkiness makes me 160% certain that I'd like to lick up every last drop off the plate! This is spectacular. In my final recommendations below, I might just tell you to skip everything else off the menu and only order three of these for your entire meal!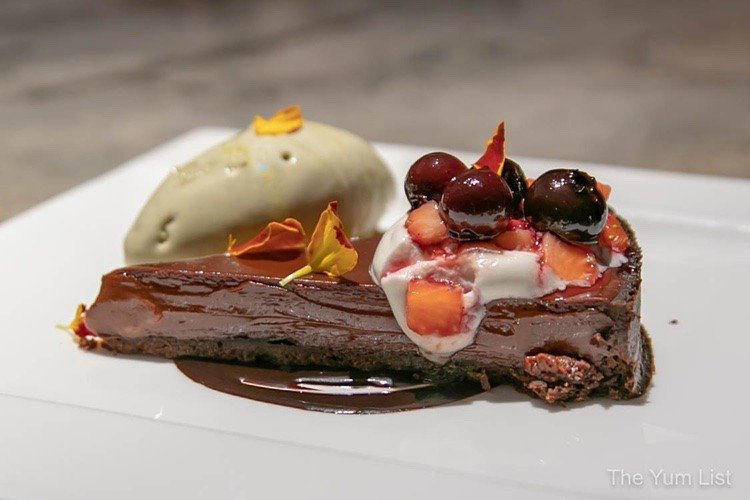 Bref TTDI Review
Filled with as much laughter and stories of cooking as I am fabulous food, we close the evening. In the spirit of comfortable linen, we leave relaxed, cool, and slightly wrinkled from the experience, enough for anyone to see that something meaningful has happened to us, a retreat from the sometimes starched nature of everyday life.
Reasons to visit Bref TTDI: Head Chef Lim Wei Han's new four-course seasonal menu, which captures all the artistry you'd expect from a Darren Chin restaurant, in a comfortable space for memory-making.
Bref by Darren Chin
26A, Lorong Datuk Sulaiman 1
Taman Tun Dr Ismail
60000 Kuala Lumpur
03-7731 5032
http://bref-kl.com/
Bref TTDI Opening Hours
Monday to Saturday, from 6:00 p.m. until late.
Reservations are strongly recommended.