Monica Tindall
* The Yum List readers get a discount! Details below.
Healthy eating is always on my mind but going grocery shopping, cooking and cleaning up afterwards not so much. For people desiring home-cooked nutritious meals who lack the time to prepare them, Dah Makan is the answer. Facing another time-short week I test out this KL food delivery service.
The first thing I notice is how comprehensive the Dah Makan website is (also downloadable as an app). Every item is listed with a clear photo and a detailed description of the dish. Ingredients are also named along with pictures of each component. There are nutritional notes and even a tab where you can see reviews from other users. Lastly, there are even some fun food stories that go with some of the dishes. For example, did you know that lasagna did not actually originate in Italy, but in Greece instead? (More on that piece of trivia below!)
Here's what my week looked like with Dah Makan.
Dah Makan Food Delivery KL
Day 1
Pesto Roast Chicken Breast
The pesto roast chicken breast caught my eye with its vibrant green sauce contrasted by the red of cherry tomatoes and the white of the meat. It's a low-carb and low-calorie meal yet is packed with flavour. It's served over a bed of couscous tabbouleh salad. BBQ sauce, black olives, chilli powder, fresh basil leaves, Himalayan Pink Salt, lemon juice, olive oil, Parmesan cheese, red coral and romaine lettuce further bulk up the taste and heartiness of the recipe.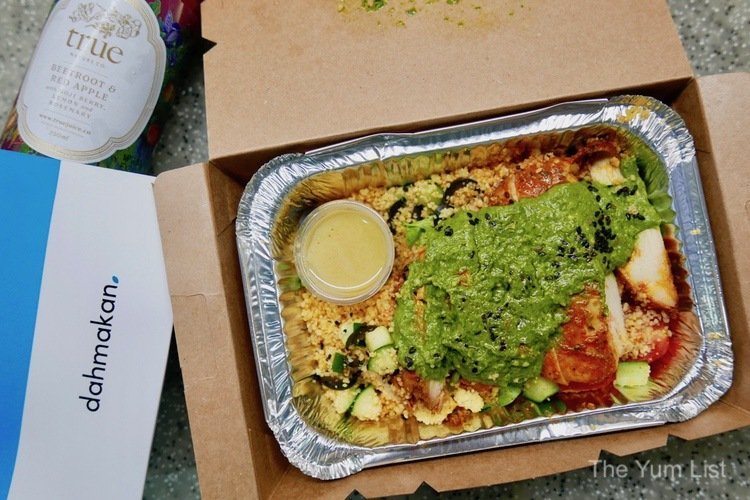 Roast Chicken Baked Brown Rice
The roast chicken is sliced and served atop brown rice and comes with a homemade tomato stew. I'm impressed with the stew delivering bold and sweet flavours balanced by a certain level of acidity. Cheddar and mozzarella cheese turn this into a very satisfying meal.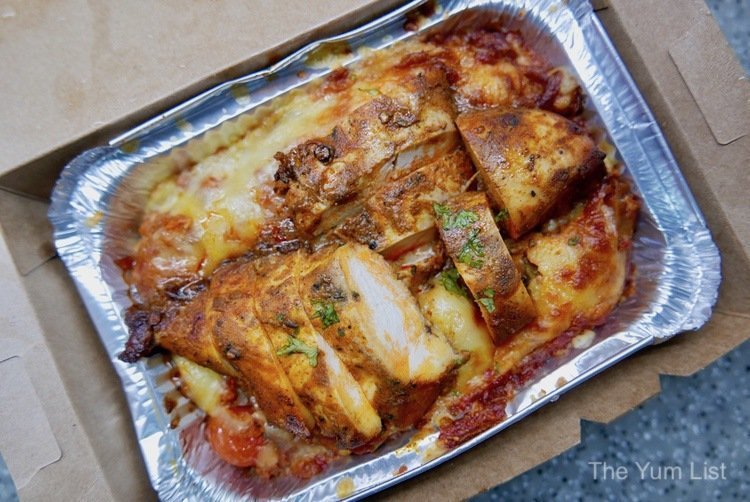 Beetroot & Red Apple
Juices by True Juice and bubble tea by TeaLive can be ordered as refreshment. I skip the single-use plastic container of the bubble tea and go with the reusable glass packaging holding red apple, beetroot, lemon, goji berry and rosemary. This is a delicious bevvie with a good grainy texture.
Signature Market's Safawi Dates
As a sweet treat, Signature Market's Safawi Dates from Saudi Arabia are soft and moist.
While during this period they are often used to break fast, I think they make a yummy and healthy ending. The sugar found in dates is a great source of energy and is easily digestible by our bodies. They also contain a good amount of both soluble and insoluble dietary fibre and are an excellent source of minerals (at least 15 according to Dah Makan).
Day 2
Spinach & Mushroom Lasagna
This is a cheese-abundant lasagna, packed with spinach and mushrooms and layers of pasta, béchamel sauce and tomato coulis. And, here's where our first bit of trivia is revealed by Dah Makan: "Contrary to popular belief, lasagna did not originate from Italy! The Greek word 'laganon', is believed to be the origin of the dish, and is composed of layers of pasta and sauce." This one comes with a calorie check – 401 – just in case you're counting.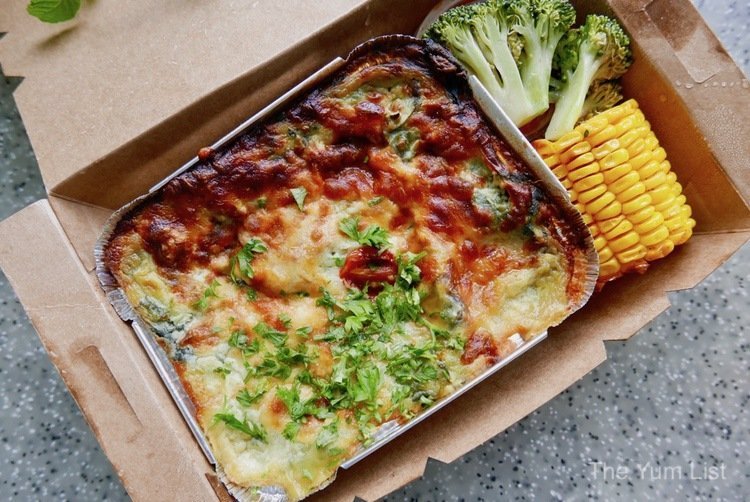 Chef's Healthy Chicken Rendang
The second meal on day two is Chef's Healthy Chicken Rendang with aromatic brown rice and Asian greens. Chef Shahril, creator of this recipe explains that "Rendang is synonymous with the king of all curries in Malaysia. It yields tender flavourful chicken infused with exotic spices – a new twist for the health conscious." Chef's recipe is served with whole grain rice for an extra nutrient boost and the ingredients of coconut cream, galangal, garlic, ginger, ginger flower, Himalayan pink salt, lemongrass, red onion and Thai chilli padi make a flavourful mouthful.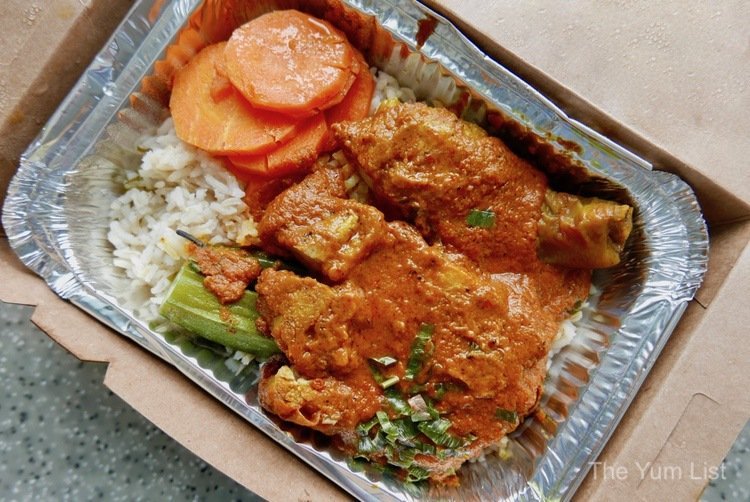 Vegetarian Baked Mac & Cheese
Vegetarian Baked Mac & Cheese with tomato sauce offers a smaller portion, ideal for bulking up the main meal for larger eaters or perhaps even used as a child-size portion. Dah Makan chefs again offer some humour: "Warning: Contains high levels of cheesiness."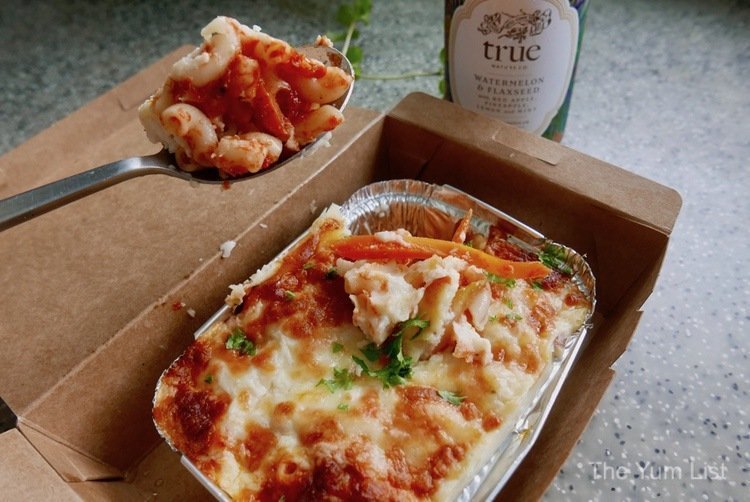 Watermelon & Flaxseed
Watermelon & Flaxseed is another well-balanced beverage by True Juice adding pineapple, red apple and mint to the namesake ingredients. It's refreshing and a perfect cooler on a hot day.
Day 3
Nasi Kerabu with Ayam Percik
I find more Malaysian flavours on the third day of service by Dah Makan in the Nasi Kerabu with Ayam Percik. Kerabu hails from Malaysia's northeastern state of Kelantan and the signature blue colour of the rice comes from butterfly pea flowers. Sliced roasted chicken thigh fans the top of the rice and sambal giling gives a spicy kick. A tasty sauce coats the poultry consisting of coconut cream, garlic, ginger, lemongrass, turmeric and red chilli.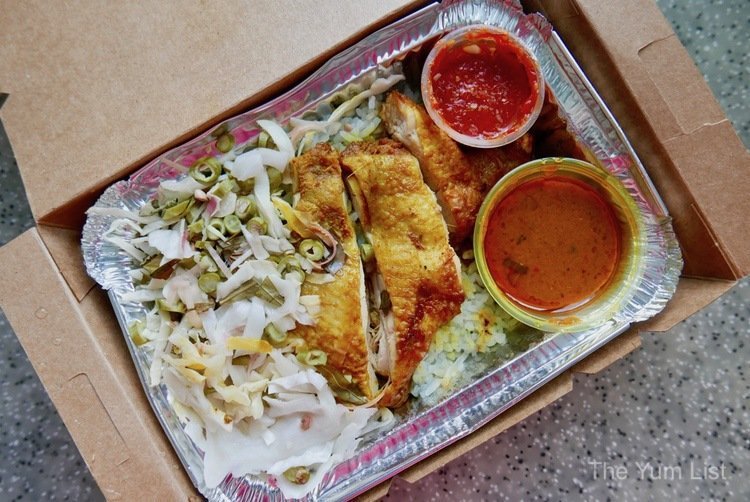 Roast Chicken Breast with Sweet Potato Mash
Never mind the roast chicken, it was the sweet potato mash that caught my eye in this dish. With a low Glycemic Index (GI), the mash pairs well with the 50% protein top of roasted chicken breast. Dijon mustard gives the sauce of oyster and shitake mushroom a nice tang.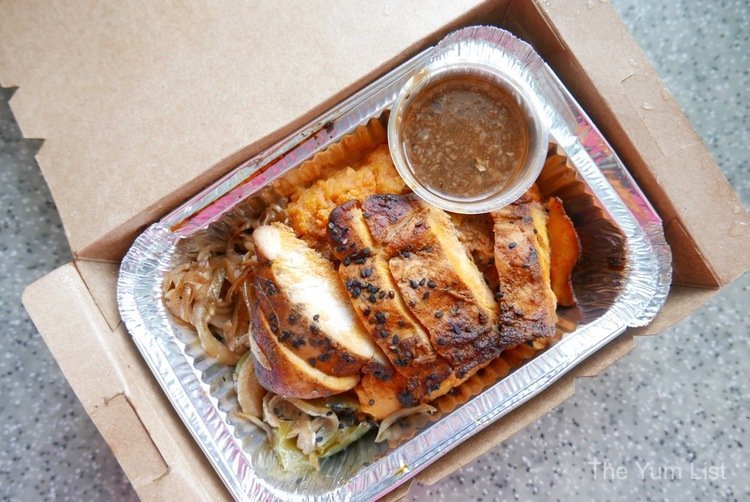 Day 4
Chicken Cacciatore
My final day of food delivery with Dah Makan sees both western and local flavours as choices. The Chicken Cacciatore tops herbed penne and is sided with fresh steamed veggies. The poultry is tender, cooked in a tomato based sauce with capsicum, carrots, cherry tomatoes and a dash of fresh herbs. The website quotes Coco Chanel in describing this dish, "Simplicity is the keynote of all true elegance."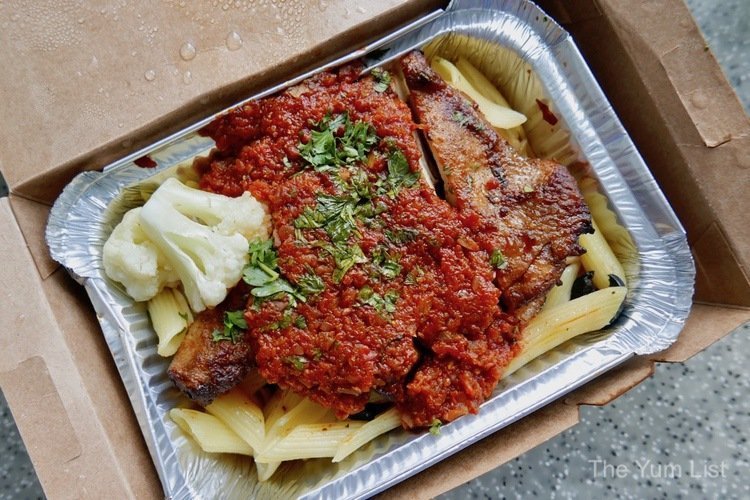 Chicken Kurma
Lastly, Chicken Kurma is given a nutrition boost with aromatic brown rice and vegetables. The chef reveals that the base of any "good chicken kurma starts with vast numbers of onions, cherry tomatoes, chillies, cardamom, coriander and cinnamon, slow-simmered for hours to goodness perfection." While the recipe is wonderfully fragrant, the creamy curry is mild; even the spice-aversive should be able to handle it.
Dah Makan Review
Dah Makan's website is easy to use, offers detailed descriptions of dishes and ingredients and makes planning meals for the week ahead a breeze. It's advised to order in advance as leaving your request to the last minute can see some of the dishes sold out and leave you with limited options. The delivery was on time, sometimes even before schedule and the quality of the food was high. Each recipe I tried was well-executed and offered a good balance of flavours. I found the meals filling and, especially paired with a drink or snack, more than enough for a complete meal.
My suggestions for improvement are the reduction of single-use plastic and an increased number of vegetarian options. Unfortunately, the packaging (which looks nice) comes as a set including the box of food and cutlery made from vegetable starch (well-intentioned but misguided) wrapped in another box all in one bundle. There is no option to not have these included even though I asked.
Use the code: BETASTY289 to get RM12 off your first purchase.
Reasons to try Dah Makan food delivery KL: an easy to use website with detailed information on every dish and photos to match; convenient meal planning saving a bundle of time for busy schedules; tasty, quality food.