Monica Tindall
Just a 45-minute drive from Kuala Lumpur, a green paradise awaits. Embun Luxury Villas in Janda Baik presents eight self-contained retreats surrounded by rainforest and most with their very own private pool. This property makes an easy weekend escape for families and friends or a welcome alternative for company meetings and workshops. The discovery of this property is going to make a lot of people very happy!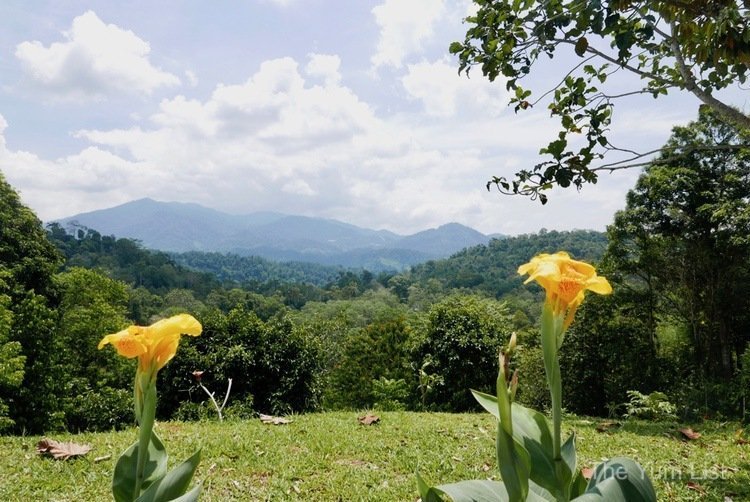 Embun Luxury Villas Location
Less than an hour away from Malaysia's capital and positioned on a hill in the area of Janda Baik, the property is enveloped by dense forest. No city sounds are heard here. The nature soundtrack of the jungle instead provides a soothing backbeat. Looking out, with only green as far as the eye can see, one can immediately soak in the health benefits that nature brings.
Looking for a respite herself from city life, the owner first began work on Embun Luxury Villas to construct a personal haven of tranquillity for her family. Seven years later, the design remains intimate, and KL-ites can consider themselves extremely fortunate that it is now open to outside guests. There are plenty of private spaces for individual contemplation but also facilities for social get-togethers with a clubhouse and shared pool for those who would like to connect over a meal or simply relax in the company of others on a sun chair or by taking a dip.
Influenced by travels to Bali, you could easily believe that you're on the Island of the Gods at Embun Luxury Villas. Beautiful gardens offer a mix of landscaped grooming combined with the lush wild rainforest to inspire every view. Water features, natural materials, artworks and soft well-selected lighting bring home the mood of an island escape.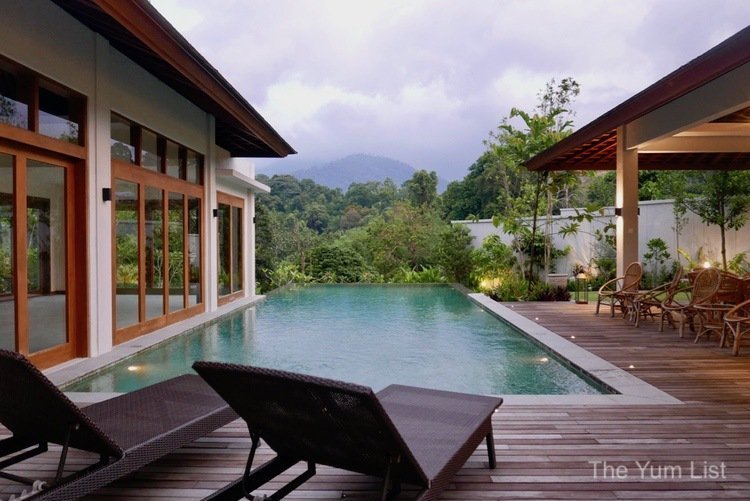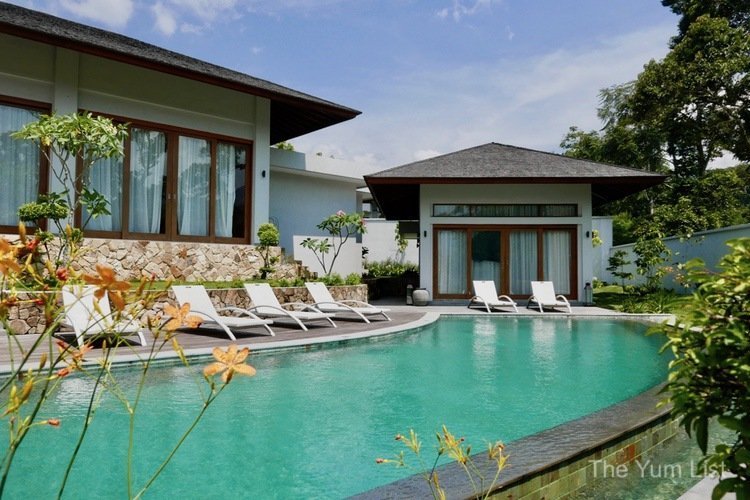 Embun Luxury Villas Janda Baik
The property is made up of eight villas, all but one with their own private pool. From one-bedroom, ideal for a couple's retreat, to three suited for the whole family or group of friends, there is something to suit various needs. Each is decked out with quality fittings – evidence of the owner's intent to make a place for her own family.
Bathrooms opulently feature white marble, and some also offer both indoor and outdoor showers. Double sinks add to the comfort and a bathtub with a view of the pool provides yet another place to breathe deeply and soak up the refreshing hill air.
All villas have separate living areas and a fully equipped kitchen. Here you'll find pots and pans, cutlery, crockery, a full-sized fridge, microwave, oven, hotplate, French press, kettle and toaster – more than enough to show off some culinary flare. It's a perfect opportunity to take advantage of the fresh produce in the area by visiting and purchasing from a local producer and creating your own farm to plate experience. The team at Embun Luxury Villas, however, also provide meals at The Café @Embun.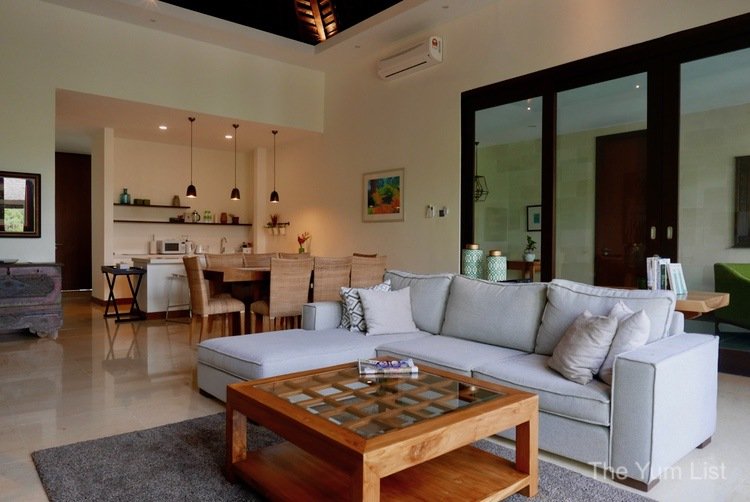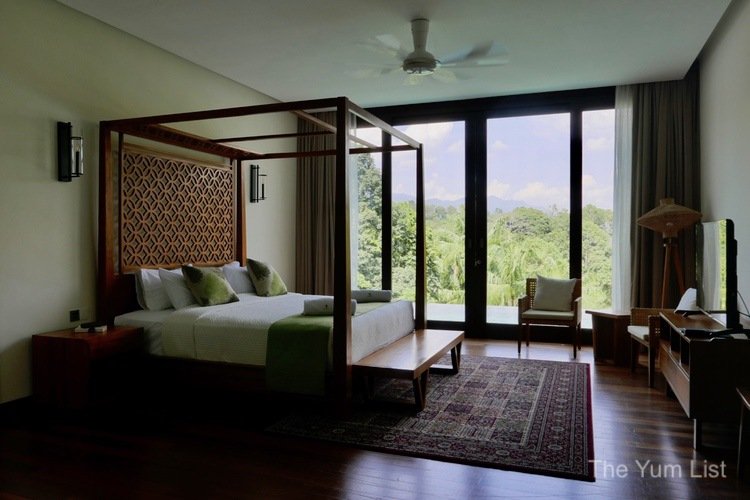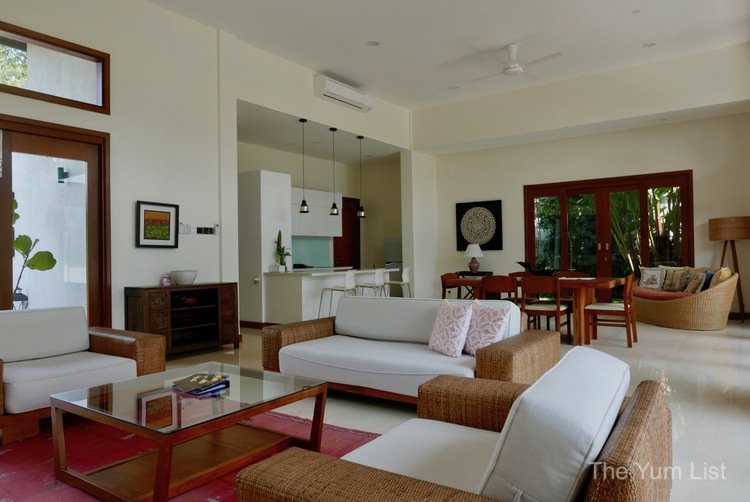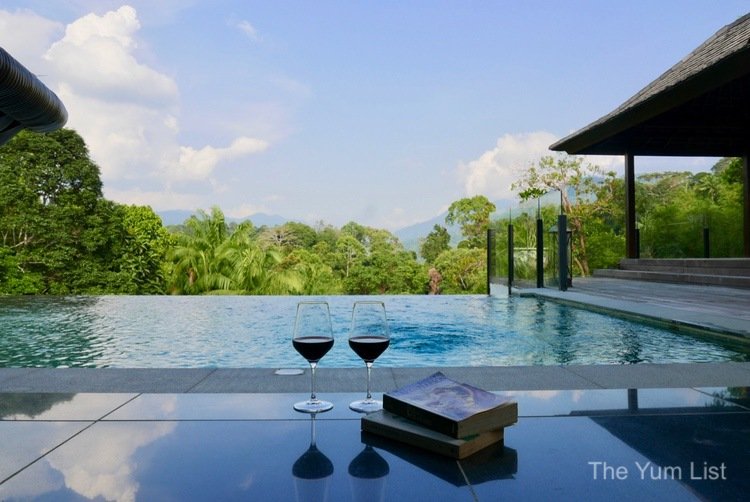 Embun Luxury Villas Restaurant
The Café @ Embun serves both Malay and western recipes, which frequently change flowing with the seasons and the inspiration of the chef. The setting is inspiring with its open-walled pavilion looking onto manicured gardens and further beyond to lush forest. Guests staying at the villas can include meals in their room rate and can choose to have them in the restaurant or delivered to the privacy of their own dwelling.
We're incredibly impressed with the kitchen team's willingness to cater to our dietary preferences. I mostly eat vegetarian, and hubby restricts gluten, nuts and spice. Read a more comprehensive article on the restaurant at Embun Luxury Villas here. (You should note that alcohol is not served in the café, but you are more than welcome to bring some yourself. Villas have both wine glasses and flutes, and a drink by the pool at sunset feels like sheer opulence.)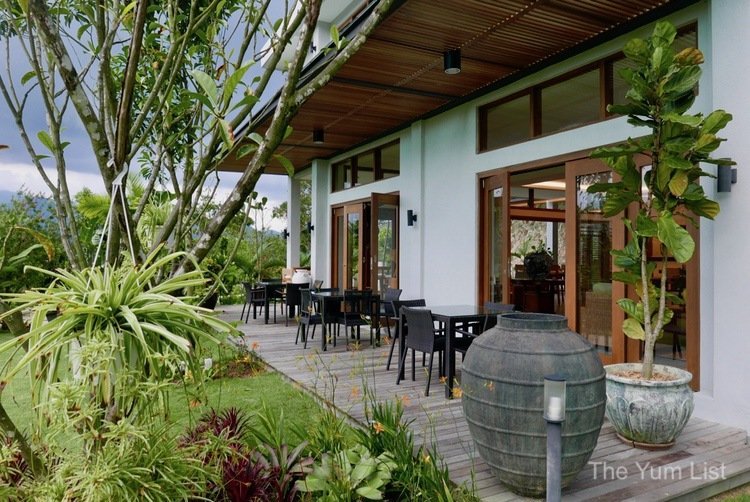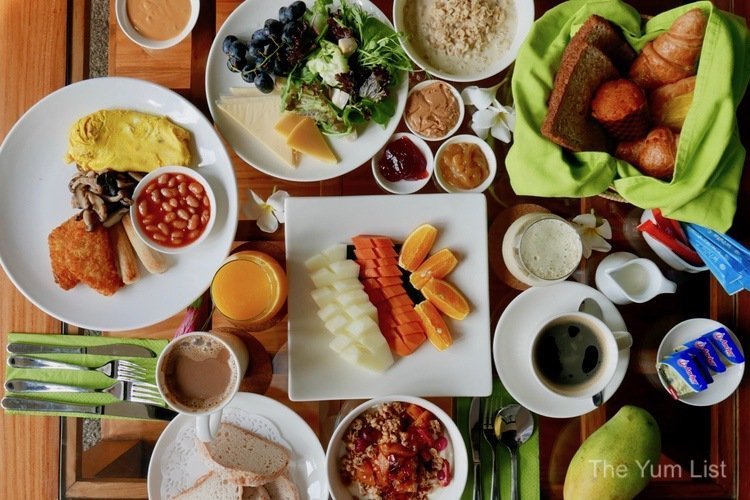 Activities
Many might think that a pool, a deck chair, a glass of wine and a brilliant view are more than enough to keep them occupied for a weekend. With hectic schedules, the property indeed furnishes an oasis of calm to escape city life's stresses. For those who just can't get enough action though there is plenty to do in the area.
Staff can arrange visits for you to discover where your food comes from and even learn a little about how to grow your own. Places such as the fig farm and goat farm, a permaculture garden and the Janda Baik flower farm might be of interest. Getting a little more active, nature walks can take you past waterfalls, you can go abseiling, river trekking and even pick up some jungle survival skills. Those craving even more excitement could be satisfied with ATV rides, a SWAT Spartan obstacle course, lake rafting and SWAT paintball. There's also cycling, horse riding and archery to keep you occupied. But, as mentioned earlier, the Janda Baik villas are absolutely beautiful: we don't even consider the idea of an exit.
Spa Janda Baik
So, we don't. Instead, we sign up for an in-room spa treatment. Embun Luxury Villas collaborate with Kayu Manis Spa to provide on-demand services. Portable massage beds (excellent, getting the opening for the face in prone position just right) are set up on the deck. All other items such as matching robes, disposable underwear, a welcome drink and flower bath foot scrub, bring the luxury spa experience to our very own temporary home.
Hubby and I have dual massages, and the skilled therapists dig and stretch, pound and pummel until finally, the tension in our bodies retreats and a sense of well-being and absolute joy and gratitude take over. The experience is top-notch – I recommend booking something for the first day because you may just consider asking for another treatment on subsequent days – really, they were that good.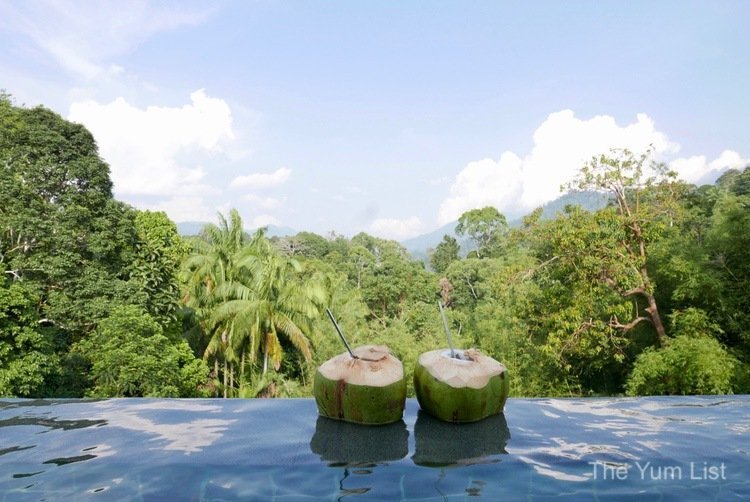 Embun Luxury Villas Janda Baik Review
Wake up to the mist rising over rainforest-covered undulating hills. Appreciate the songs of the birds. Watch the skyscape change from golden to blue to tropical storm clouds to a bright bouquet of sunset hues. Breathe the pure air of the jungle. Luxuriate in a private pool. Soak up the stylish and peace-giving surrounds of Balinese-styled villas. Indulge in first-class spa treatments in the privacy of your own villa. Delight in quality food and humble service. All of this, just 45-minutes away. Embun Luxury Villas is a great weekend getaway from KL.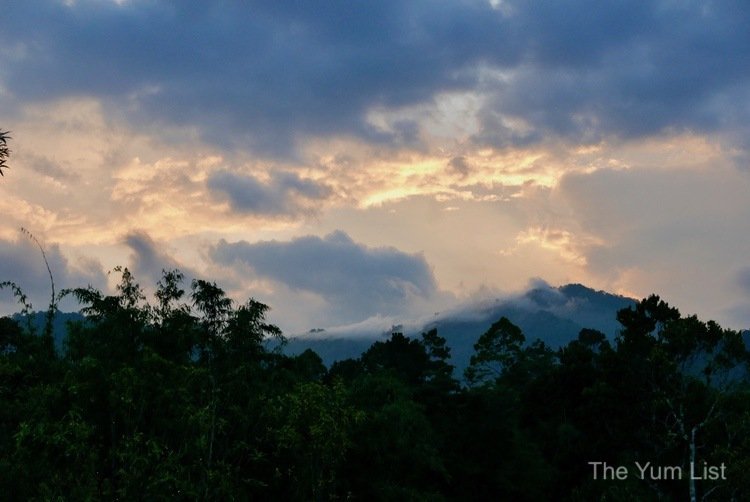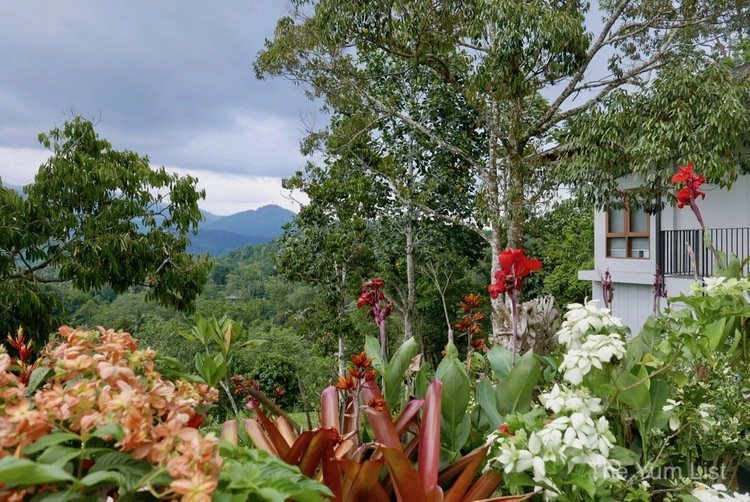 Reasons to visit Embun Luxury Villas Janda Baik: beautiful Balinese-style villas surrounded by rainforest; just a 45-minute drive from Kuala Lumpur making a perfect weekend getaway from KL; absolutely stunning location; private pool villas; one, two and three-bedroom villas make it easy to come as a couple or with friends and family; high-quality finishings; a kitchen allowing you to prepare your own food; The Café @ Embun offers delicious meals at reasonable prices; quality in-villa spa treatments.
Embun Luxury Villas
Hulu Sum-Sum
Kampung Janda Baik
28750 Bentong, Malaysia
+6 09 233 0376
[email protected]
www.embunvillas.com