Monica Tindall
If you don't have the fortune to stay at Embun Luxury Villas, you can at least have the chance to dine at The Café @ Embun. It's worth the 45-minute drive out of KL just to sit in this haven surrounded by green. Before you've even eaten, the mileage is paid back in deep breaths of fresh air.
Sitting atop a hill in Janda Baik, The Café @ Ebunn offers up nature as a soundtrack and rainforest as décor. Even in the middle of the day, the hill breeze blows through making air-conditioning unnecessary. The dining room is a lovely space with lots of natural light during the day and some stylish pendant lamps at night. Potted plants connect the outdoors to in as do magnificent long tables made from single tree trunks. Tables for two, four or eight offer a variety of seating, but in-house guests may also have food delivered directly to their villa. Weather allowing, many choose a seat by the pool or table on the lawn.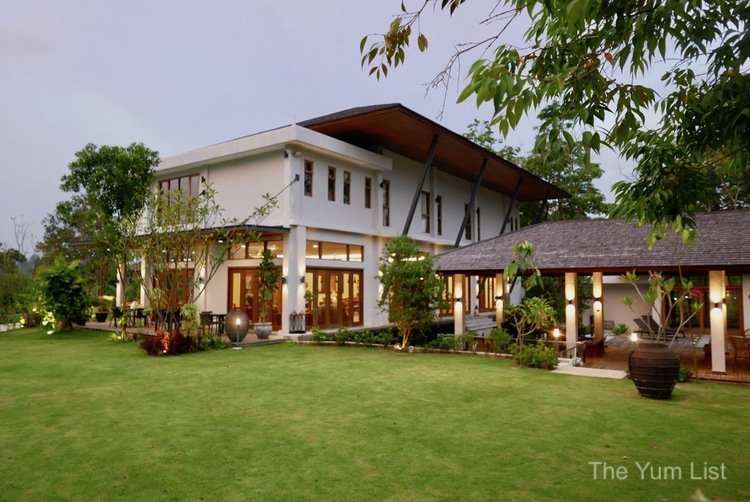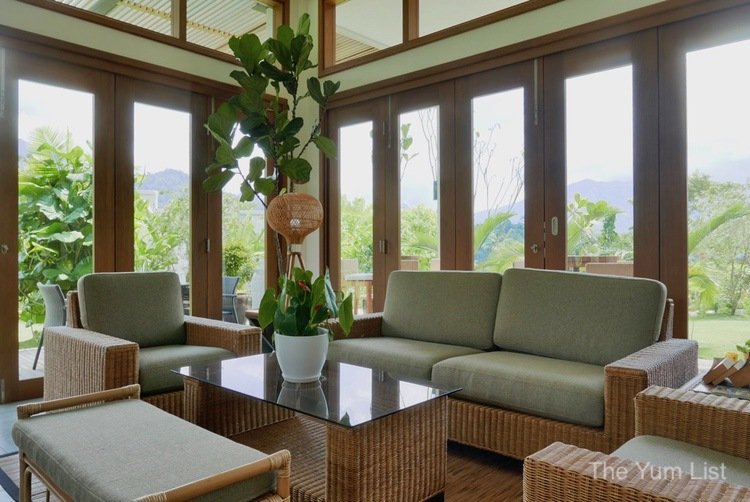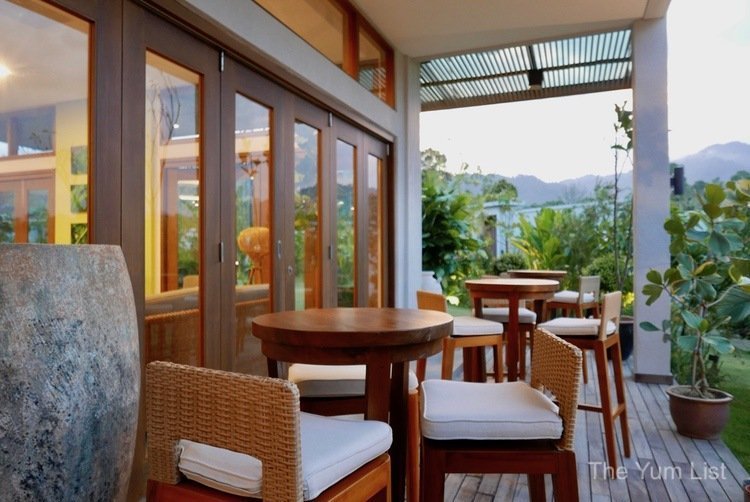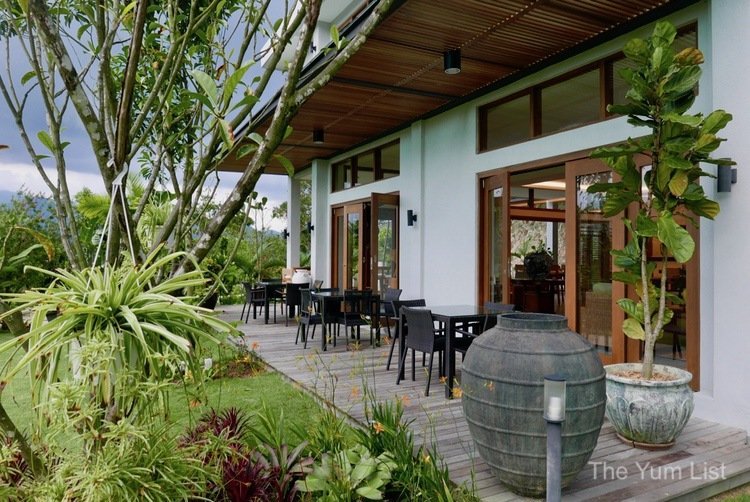 The Café @ Embun serves both Malay and western recipes, which frequently change flowing with the seasons and the inspiration of the chef. We're here for the weekend so sample some items from the lunch and dinner menus.
Fussy, we have requested vegetarian for me and gluten-free, nut-free and chilli-free recipes for hubby. The team don't even blink an eye and happily accede to our preferences. I would recommend though calling in advance to give them some time to prepare well for dietary requirements.
The Café @ Embun Menu
Starters
Carrot and cumin soup is a great way to begin, especially on a cooler night as the sun departs and darkness sets in. It's warm and comforting and sports a good mix of textures with creamy soup, small cubes of carrots and crunchy sunflower seeds. The thread of cumin leaves a more-ish relish on the roof of the mouth, and the soft bread rolls (gluten-free for hubby) are flawless mopping-up-every-last-drop material.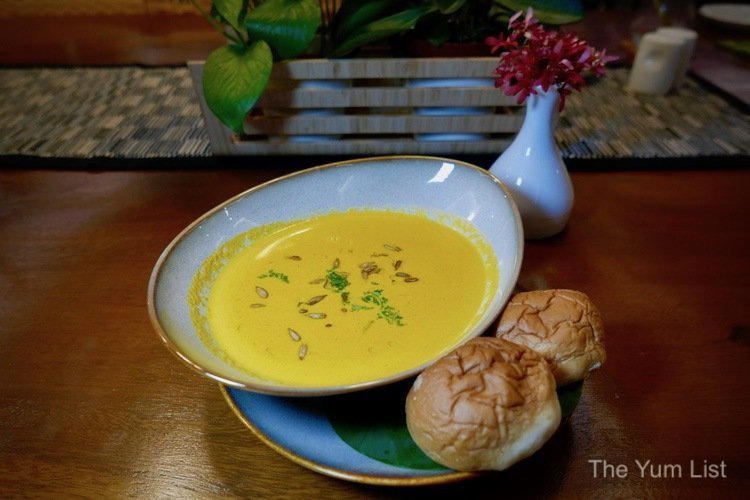 Chicken and mango salad makes a refreshing starter or light lunch. Thin slices of breast lay across a tangle of greens and mango salsa with most of the herbs coming from their herb patch out the back and the mangoes from a plot of land nearby. Thin slivers of ginger torch (love), diced cucumber and celery contribute further to its cleansing feel. Black sesame seeds, lime juice and olive oil, make a simple dressing. Very good.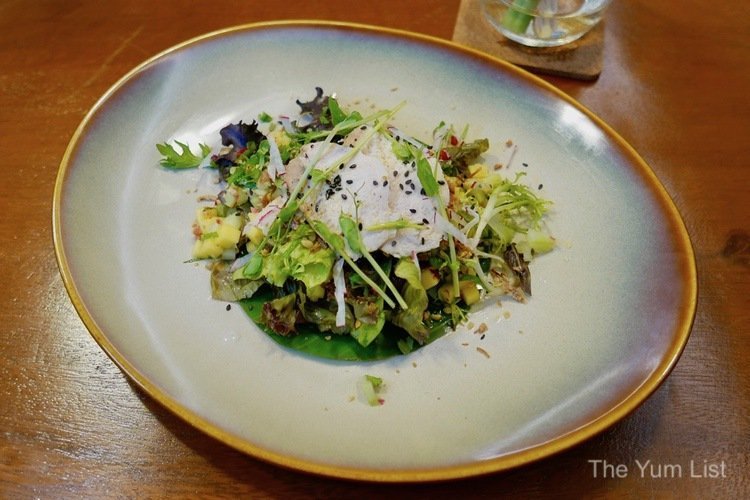 The watermelon and feta salad is juicy and light. Cubes of red watermelon are seasoned with mint from the garden, brie and pomegranate and given a bit of crunch with granola.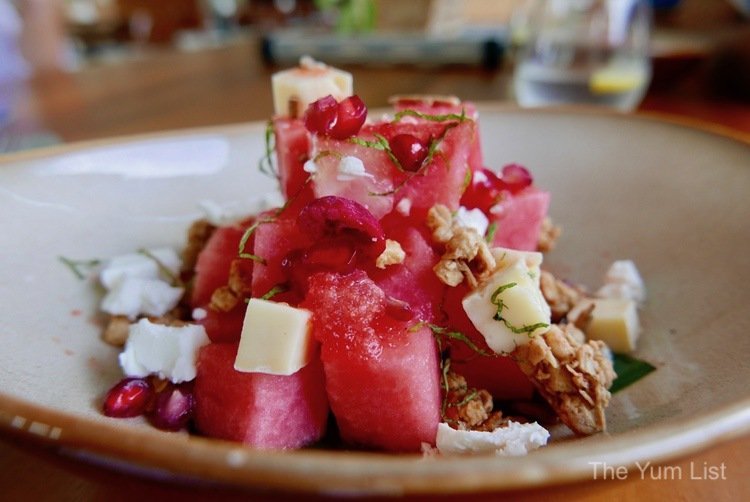 Light Meals
The vegetarian breakfast wrap is a delicious choice for a midday meal. Thin flatbread hugs scrambled eggs, avocado, tomato, spiced aubergine and charred corn. There's plenty of flavour in the wrap itself, but the homemade aioli really elevates the sandwich – be sure to add a scoop.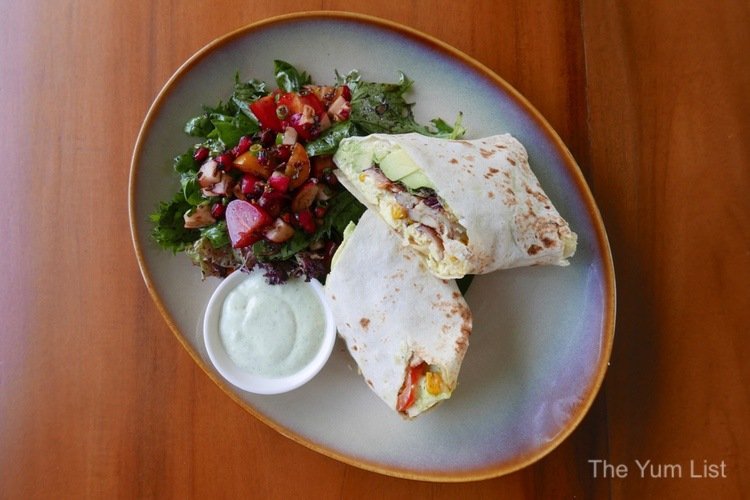 For a meatier option, hubby is satisfied with the roast chicken leg. Cooked together with orange and rosemary, there is a gentle infusion of herb and citrus, and the meat is moist and delicious. It's a packed plate with roasted beetroot, carrots, onion, zucchini and local greens. Once again, this item is tasty enough on its own, but the house-made pesto with olive oil, Parmesan and pine nuts makes me want to ask for the recipe.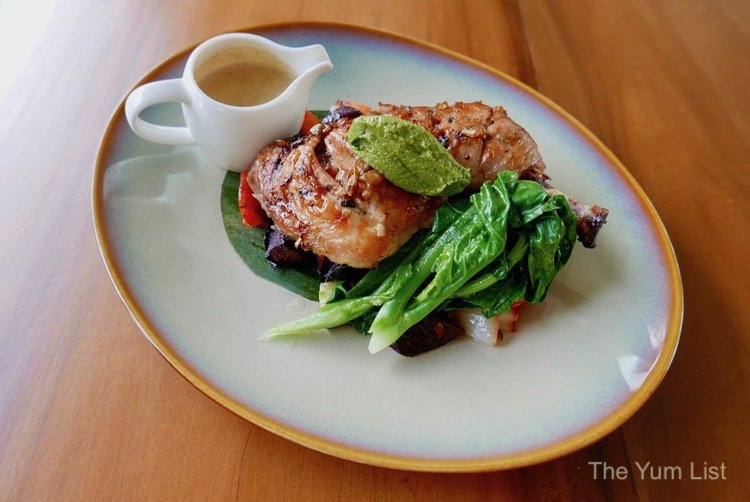 Mains
If you don't believe vegetarian dishes can be filling, please order the soba salad – it is sure to change your mind. Local greens bed a nest of noodles tossed through with finely diced veg and crowned with a poached egg. After a soup and salad, I barely make a dent in this dish. It would quickly fill me all on its own without the need for ordering a starter or soup, so if you're a lighter eater, be warned.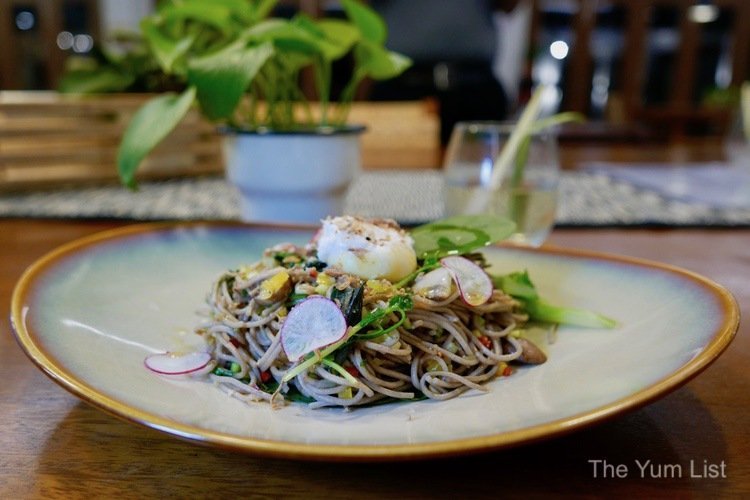 The kitchen crew have done a superb job so far, catering to hubby's dietary preferences. The Australian sirloin with sweet potato mash and greens is a good example. It's a generous portion with an abundance of orange mash, and the steak and mushrooms on top are full of flavour. It's proof once again that a simple recipe of quality ingredients can be highly fulfilling.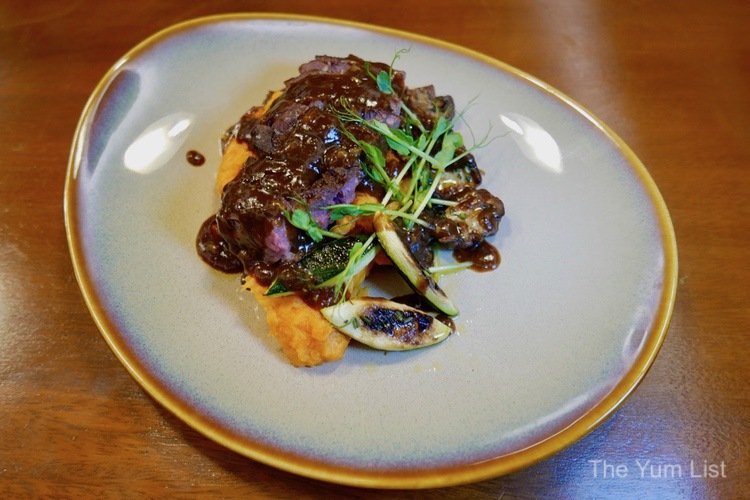 Malaysian Dishes
We try a Malaysian feast for our second dinner at The Café @ Embun. Served altogether, the dishes are ideal for sharing. It would be a splendid banquet for family and friends. Starting with mushroom and corn soup, it's a clear broth thickened slightly with egg white and bulked up with onion and shallots. It's so comforting; I can see this soup clearing up a cold in a heartbeat.
The mains are saucy and best accompanied by rice. Our healthy taste buds are catered to with a bowl of steamed red rice, and this goes perfectly with the seafood in a light salted egg sauce, giving texture and nuttiness to a mildly flavoured recipe. Stir-fried aubergine with sambal, stir-fried seasonal vegetables and pumpkin curry are tasty meatless options (sambal is made with fermented fish paste, so not technically vegetarian but delicious all the same).
Lightly battered chicken in a ginger sauce is hubby's fave of the mains and a close second for me after the pumpkin and chickpea curry. Their best seller, though, is the ikan patin – river catfish in a durian sauce! It's a popular dish from Pahang and hubby devours the whole fish (with the pungency of this infamous fruit, hubby has already been exiled to the second bedroom tonight ;-).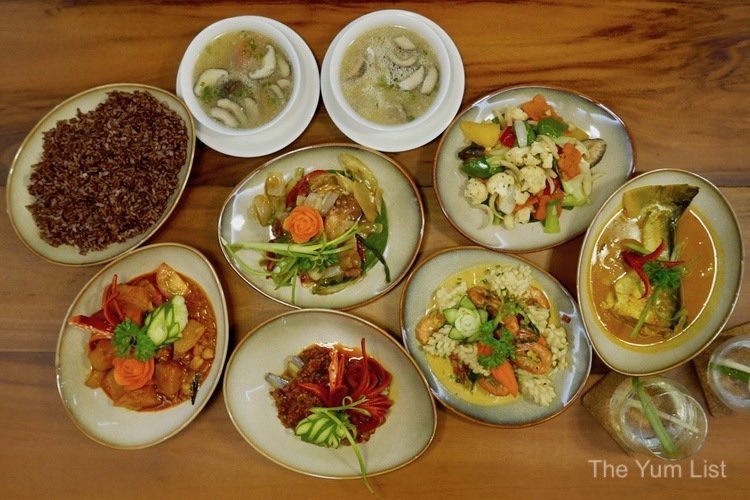 Dessert Menu The Cafe @ Embun
The dessert menu is simple, making choosing easy – you can try everything over one weekend! Start with the coconut pannacotta. It's velvety smooth and topped with fresh fruit and cubes of jelly. The chef has mastered the balance of sweetness and freshness, making the ending gratifying, leaving us satisfied but not regretful.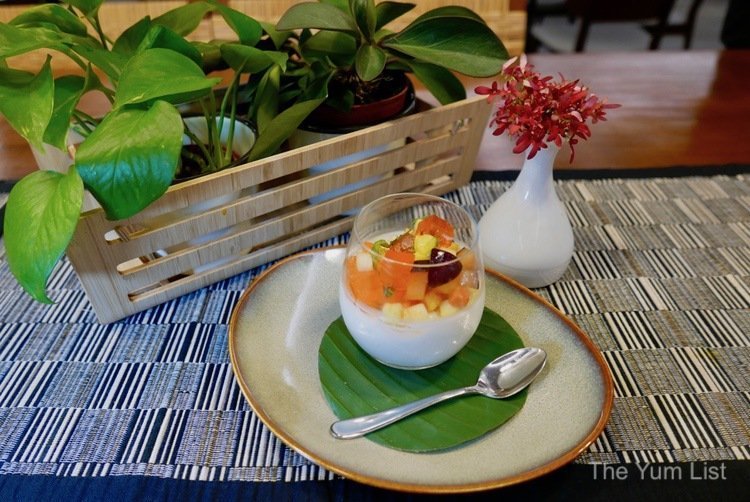 Chocolate cake fans shouldn't miss the kitchen team's version. It is moist and rich and topped with a seductively smooth layer of icing. Once more, the plating is attractive yet straightforward with slices of banana and snake fruit on one side and dots of berry sauce on the other.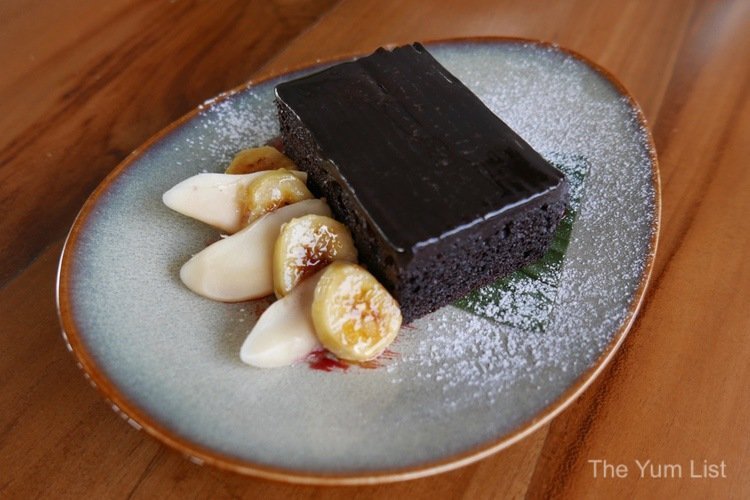 Fruit salad with basil granita allows those with health goals to end a meal on a sweet note without deviating from good intentions. But, the most Instagrammable dessert award goes to the sago coloured with butterfly pea and pomegranate. The red and blue layers sit below a white stratum of frozen whipped coconut milk. The whole thing is rounded off with fresh pomegranate and a small jug of gula Melaka syrup allows sweetening to individual taste. The dessert has been nicknamed Viva la France, and if France tastes this good, we wish it a long healthy life.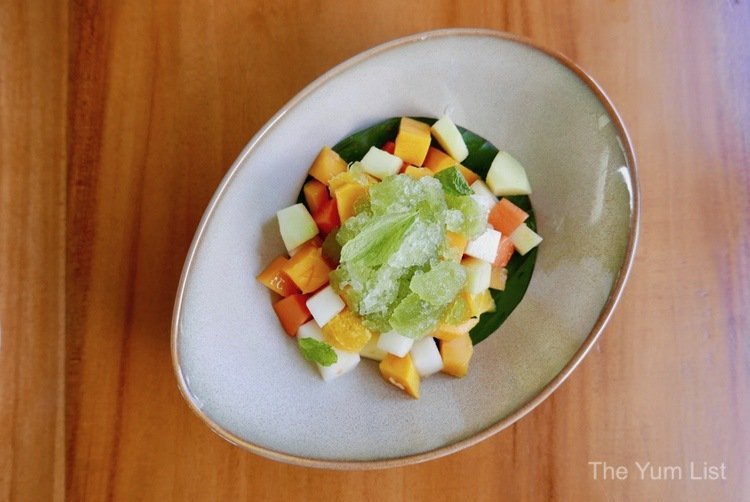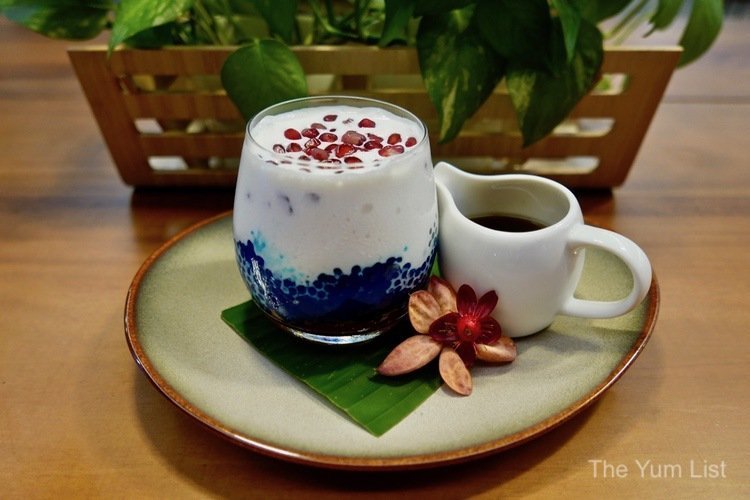 The Café @ Embun Janda Baik Prices
The meals we had at The Café @ Embun were part of an all-inclusive villa package but the a la carte menu for diners is very reasonably priced. Set lunches come with a choice of beverage (iced lemon tea, sirap selasih or iced barley) and range from RM18 for fish, noodles and rice up to RM25 for a classic beef burger. The all-day-dining menu starts at RM16 for a soup with bread, hovers around RM30 for a main with the most expensive items on the list being grilled Australian sirloin for RM65 and a whole seabass for two for the same price.
Reasons to visit The Café @ Embun Janda Baik: a beautiful day trip from Kuala Lumpur; breezy refreshing setting; quality and value-for-money meals made with local ingredients; the brekkie wrap and roast chicken were our favourite western dishes; if you're game, try their best-selling ikan patin and for dessert, don't miss the coconut pannacotta.
The Café @ Embun Janda Baik
Hulu Sum-Sum
Kampung Janda Baik
28750 Bentong, Malaysia
+6 09 233 0376
[email protected]
www.embunvillas.com
The Café @ Embun Opening Hours
Day visitors must make reservations for lunch, brunch and dinner services, which operate for non-in-house guests during the following hours:
Weekday lunch (Mon to Fri): 12 pm to 2.30p m
Weekend brunch (Sat, Sun and Public Holidays): 11 am to 3 pm
Dinner (Mon to Sun): 6 pm to 9.30 pm
Find more restaurants around KL for a special occasion here.