Words: Lee Ai Peng   Photos: Monica Tindall
A perfectly pleasant meal often feels incomplete without dessert. For yours truly, an exceptional dessert has the ability to elevate my mood for days to come or provide much-needed comfort when I am down in the doldrums. Upon discovering Foo Foo, I decide there can only be sunshine-y days from now on.
Stepping into Foo Foo feels like being transported back in time to someone's family home in 1970s Malaysia. Foo and Jack, the co-founders, warmly welcome us into their establishment. A cosy nook with rattan furniture, comfy armchairs and old magazines calls out to me, seemingly a perfect spot to laze the afternoon away. That is not to be, as Jack our jovial host for the day, ushers us into an open dining space that leads out to a picturesque indoor terrace. An upright piano stands against a pair of gorgeous antique louvred doors. Sunshine pours through a panel of slanted windows, illuminating a ledge peppered with lush greenery. Everything is as it should be.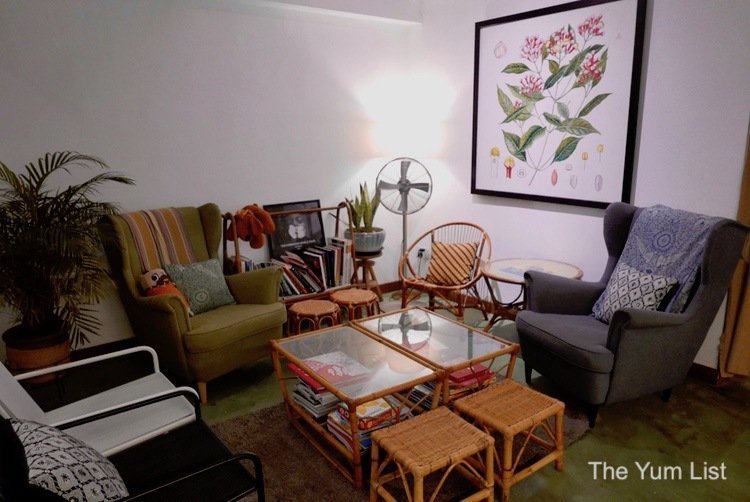 Foo Foo Fine Desserts Menu – Plated Desserts
A graduate of Le Cordon Bleu Sydney, Foo is the whiz behind the mouthwatering creations at Foo Foo. Traditional plated desserts are the cornerstone of the menu here with Foo putting his own spin on classics such as the Australian pavlova (Passion Pavlova with Lime Chantilly, RM 27) and French profiteroles (Crispy Profiteroles with Salted Caramel Ice Cream, RM 25).
For our first course, we are whisked away to Greece with a Chocolate Lavender Cheese Tart served with Greek Yoghurt Ice Cream (RM 28). The dessert itself is a lesson in Ancient Greek history as Foo draws inspiration from the humble cheesecake, said to have originated from Greece and served to athletes in the first ever Olympic games. Lavender, extensively used in Greece as Holy Essence, displays its versatility here by adding a layer of complexity to the silky smooth chocolate cheese tart. The tanginess of the Greek Yoghurt ice cream refreshes the palate and completes a delightful Grecian experience.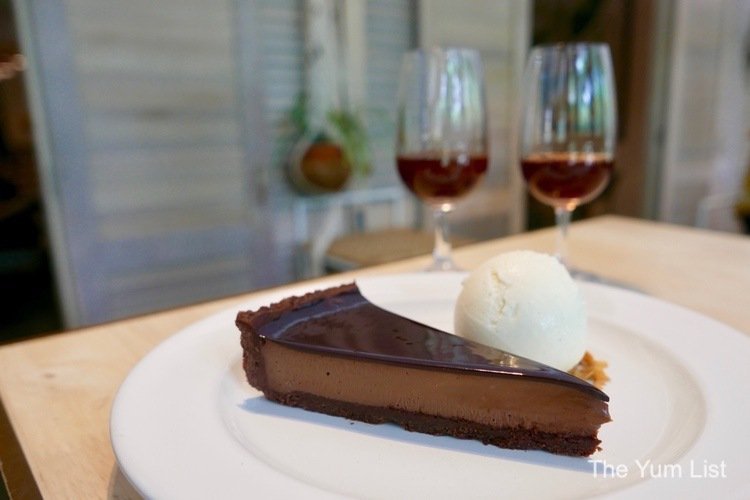 The Pumpkin Tres Leches "Three Milk Pumpkin" (RM 28), a light butter cake soaked in pumpkin milk sauce, comes next. 'Tres Leches' has its roots in Mexico and here its given a pumpkin twist with pumpkin puree, evaporated milk, condensed milk and heavy cream. The cake itself is moist and topped with a tangy lemon whipped cream, fresh pomegranate, almond and pumpkin seeds which add crunch and balances out the sweetness.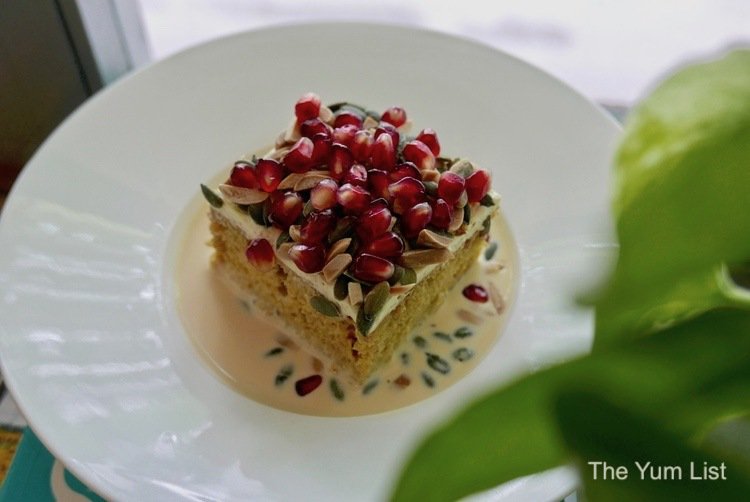 Whilst scraping off the last morsels of the first two desserts, the smell of butter, cinnamon, spice and everything nice comes wafting out of the kitchen. We are presented with a dainty looking dessert in the shape of a Beggar's Purse and it looks as good as it smells. Foo's interpretation of Apple Strudel served with a Black Pepper Mango Ice cream (RM 29) is comfort dessert at its best. As I cut through the parcel, the layers of filo pastry flake away beautifully revealing a zesty filling of apples, raisins, walnuts and cranberries. The mango ice cream and the fresh pineapple imparts a tropical flavour to this classic Austrian dessert, while the black pepper notes complement the filling very well.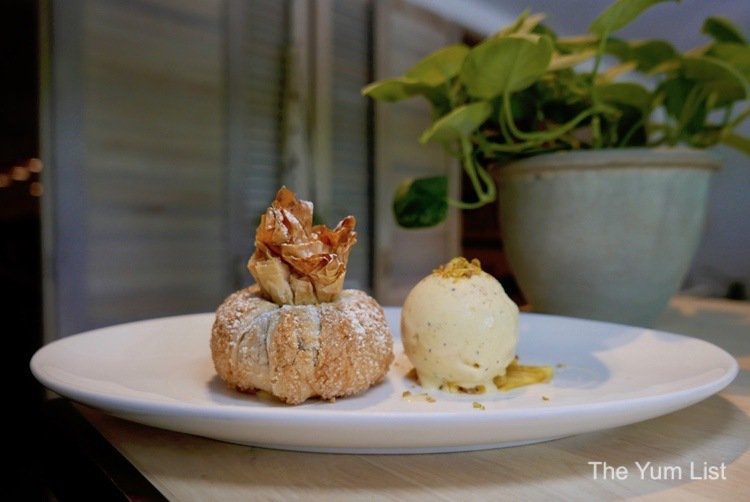 Ice Cream
Although the homemade ice creams (RM 10/scoop) were created as an accompaniment to the plated desserts, on their own they are equally outstanding. From Balsamic Vinegar to Chrysanthemum, Salted Caramel Coffee to Guinness Stout, these unique flavours shine through in a velvety, creamy fashion. A personal favourite is their Salted Caramel Coffee as the caramel has been brought right to the edge of darkness, treading the fine line between being burnt and being just right.
Dessert Wine
Those in the mood for a nightcap will be happy to know that there is a selection of delectable dessert wines on offer. We enjoy sipping the Classic Tawny Fortified Aged Wine (RM 25/glass), which had an intense flavour from all those years of ageing and paired perfectly with the complex notes of the Chocolate Lavender Tart.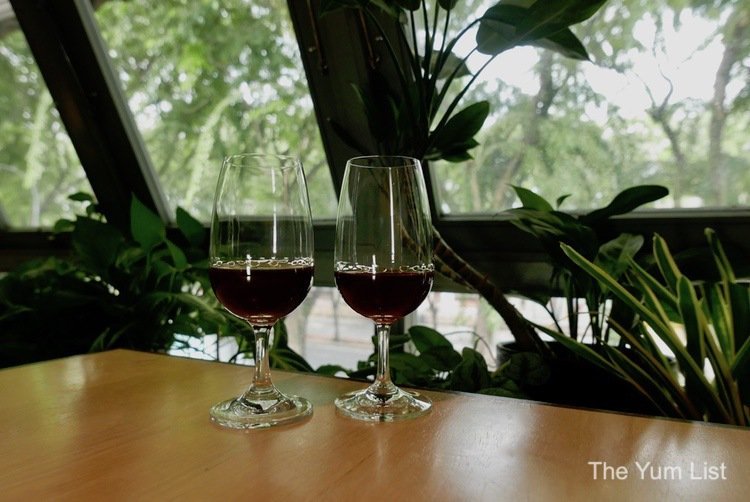 Another favourite of mine is their Maxwell Honey Mead (RM 158/bottle) which is refreshingly light on the palate with subtle notes of apricot and honey. While Jack recommends pairing this with one of their fruitier desserts such as the Apple Strudel, I felt that I could easily have a glass or two on its own.
Foo Foo Fine Desserts Menu – Drinks
For teetotalers, there is an assortment of non-alcoholic beverages such as teas, coffee and hot chocolate to choose from. We settle for a decent cup of latte (RM 10) and feeling more adventurous, decided on an Aztec Belgian Hot Chocolate (RM 15). The hot chocolate was rich and creamy and had a nice, sharp hint of chilli to help temper the sweetness of the chocolate.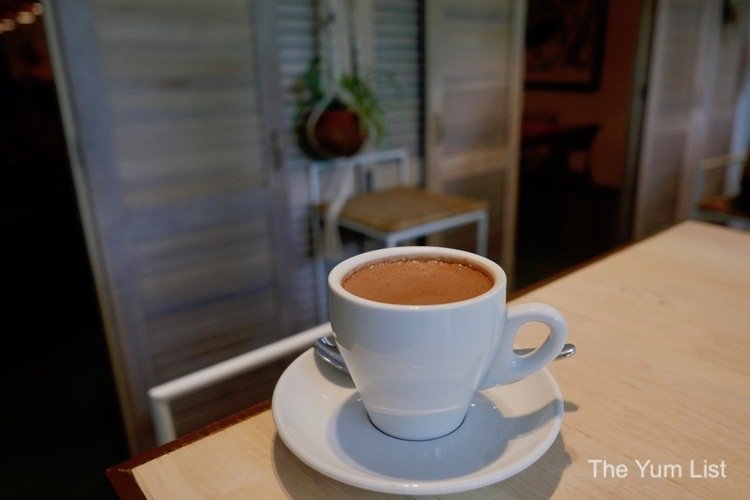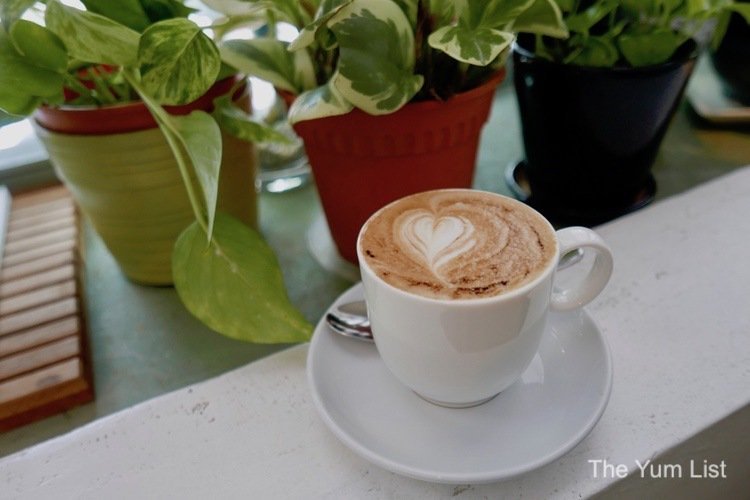 Foo Foo Fine Desserts Review
Foo Foo is exactly the type of place I would happily return to with friends in tow. Their desserts provide the level of comfort a best friend would on a bad day, and the decadence necessary for a celebration on a good day.
Reasons to visit Foo Foo Fine Desserts: Stellar desserts in a cosy and peaceful environment; excellent ice cream with a velvety texture and unique flavours; a nice additional service of dessert wine to complete the experience.
Foo Foo Fine Desserts
First Floor, 64, Jalan Burhanuddin Helmi
Taman Tun Dr Ismail, 60000 Kuala Lumpur
Federal Territory of Kuala Lumpur.
+ 6 03 23893155
www.facebook.com/foofoofinedesserts
Foo Foo Opening Hours
Thursdays to Tuesdays, from 3 p.m. to 11 p.m.
Closed on Wednesdays