Words: Anna Chew   Photos: Monica Tindall
If you're looking for comfort food and wholesome meals like quiche, roast chicken, pasta and shakshuka or just a reliable slice of cake with coffee, we highly recommend Nourish by Kenny Hills Bakers. Most would already be familiar with offerings from their popular Kenny Hills Bakers, outlet which often fills the pastry-and-hearty-loaves-of-bread void for many of us. No surprise that regulars flock to this new premise for reliable nourishment. What's more, is that their kitchen is 100% gluten-free!
While word goes around about their gluten-free kitchen, healthy meals, refined sugar-free menu and more, one might accidentally bypass this gem of a spot classifying it purely as "that healthy place." Nourish is so much more and the meals are all so scrumptious you'd never know you were eating for health, and yes, that fussy five-year-old might even approve.
Even walking in, we get enveloped into a state of homeliness just looking at the spread of desserts, pies and salads that greet us at the counter.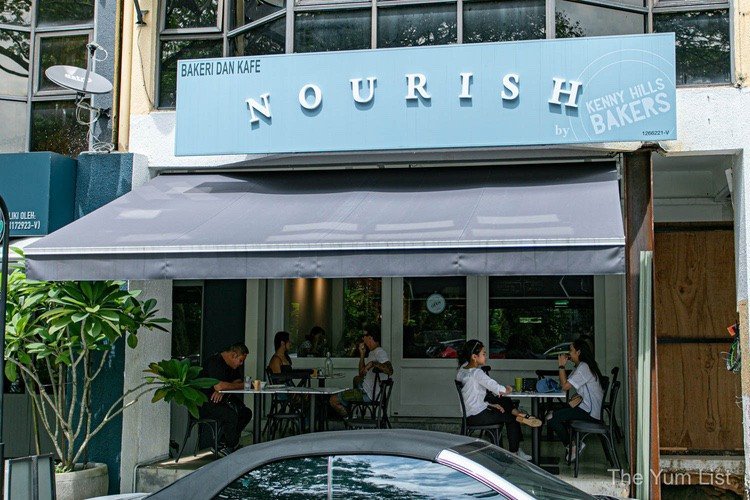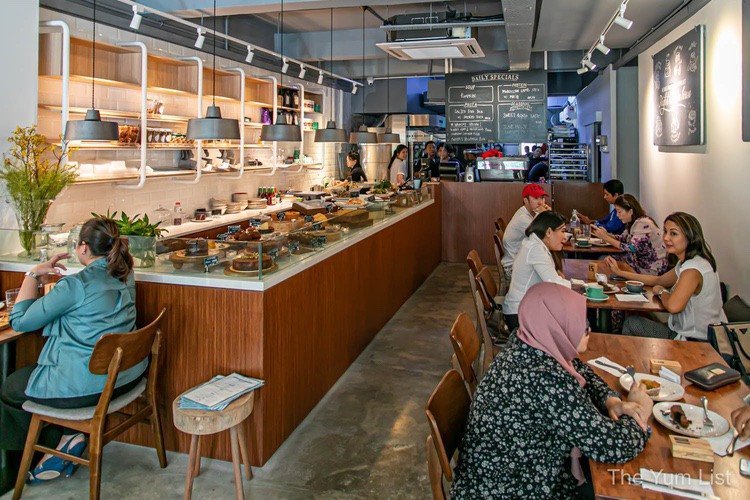 Nourish by Kenny Hills Bakers Menu – Coffee and Breakfast
Many appreciate the brand for a consistent cup of coffee but few are aware that beans are sourced from a Japanese-style small-batch roaster. Nothing is spared in terms of the premium ingredients used in their drinks or dishes. Those who have gone black and never turned back can trust their Black Coffee (RM10) to the barista; I had two! For something different, we had the Hojicha Latte (RM14). It was less smoky than anticipated and fairly light with a slight bitterness. There is also a Turmeric Latte and White Coffee (RM11) that come with options of soy, oat, almond and low-fat milk apart from fresh cow's milk.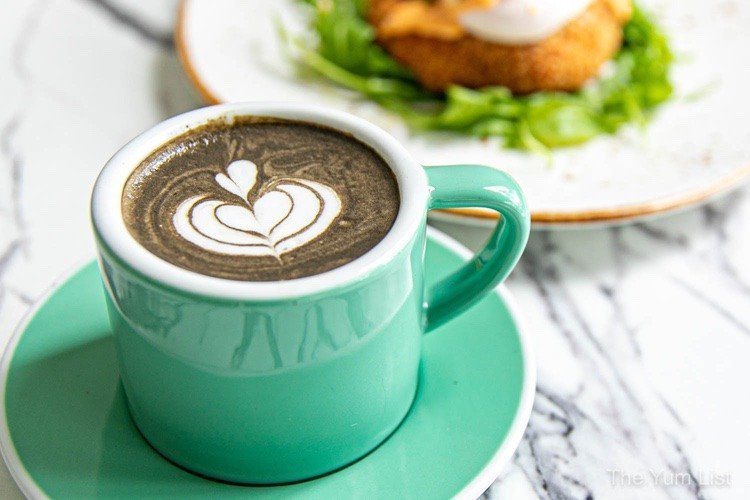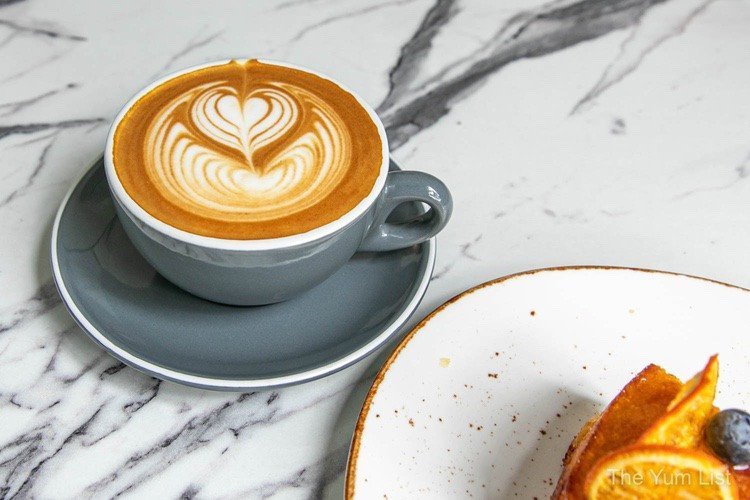 We sampled items from the breakfast menu, served from 8 am-12 pm daily. The Golden Breakfast Benedict (RM28) is a quinoa-polenta spinach cake, served with a poached egg on top and harissa hollandaise on a bed of arugula. It was simple, delicious and filling. All eggs used in Nourish are free-range and organic.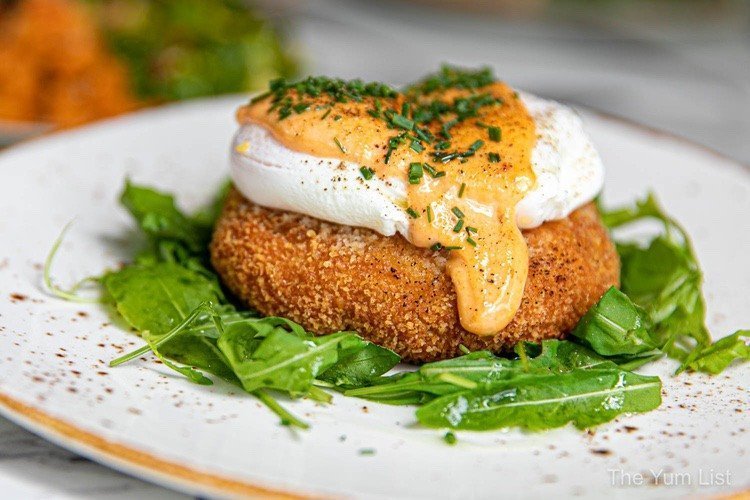 For a sweet start to the day, we recommend the House Acai Bowl (RM20) topped with the most delicious homemade granola and filled with strawberries, bananas and coconut flakes. It is a faultless bowl of goodness.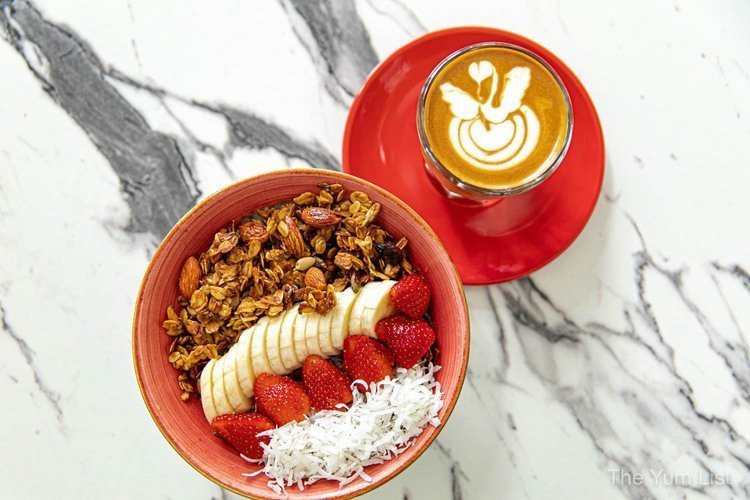 Nourish by Kenny Hills Bakers Lunch Menu
The afternoon menu runs from 11 am-5 pm and provides sufficient options for everyone. You start by selecting a protein to be paired with a salad or grain. Or just go for usual suspects from their daily specials, like the Quiche of The Day (RM22) or pasta of the day (price dependent), with an option to swap to a gluten-free pasta for an additional RM5. The quiche provides a very substantial portion for a full meal and is amazingly fluffy. There is an option to pair it with a salad or grain for an additional RM12.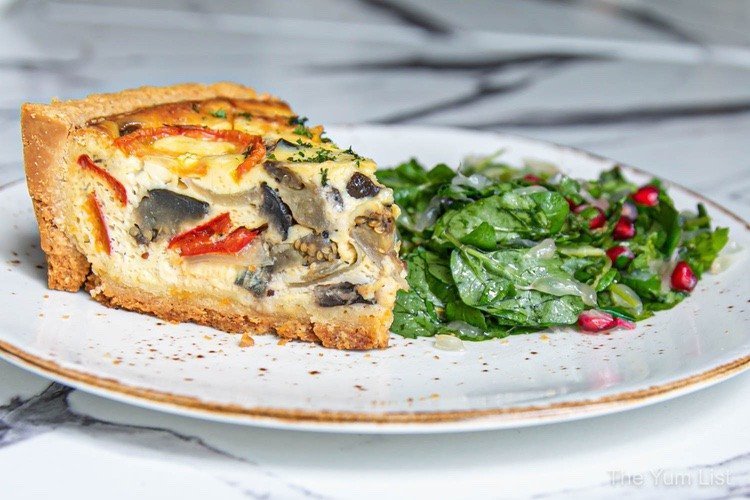 You can choose to have salad and grains as a main on its own for RM28 for a selection of two or RM36 for three options. We loved everything we sampled. The Chopped Kale and Avocado is tossed with corn and cherry tomatoes in a light zesty vinaigrette for creaminess and crunch. The Baby Spinach, Pumpkin and Beetroot with a light balsamic and fresh herbs dressing sprinkled with sesame seeds was our favourite side pairing. Watercress, Pomelo and Pomegranate provided a light and refreshing option while Harissa Roasted Aubergine is surprisingly filling. The Kimchi Fried Organic Quinoa provided the one grain option and it is really delicious!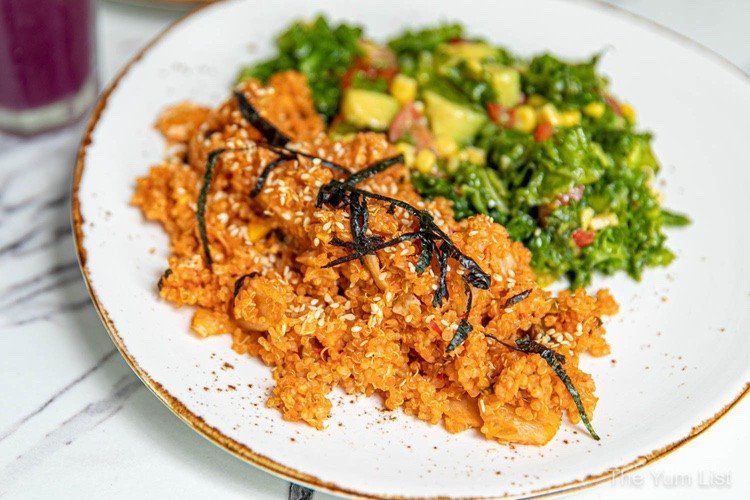 Proteins all come with a choice of either a salad or grain. We had a vegetarian dish, Crispy Falafels (RM28) with a gorgeous lemon tahini dressing. The Classic Roast Chicken (RM34) was a hit. Opting for the lemon and herb option instead of the percik, we couldn't stop lapping up the sauce with the tender roasted meat.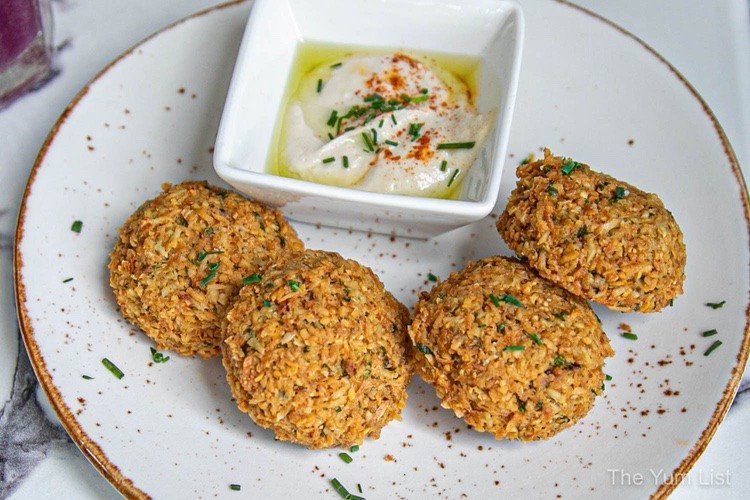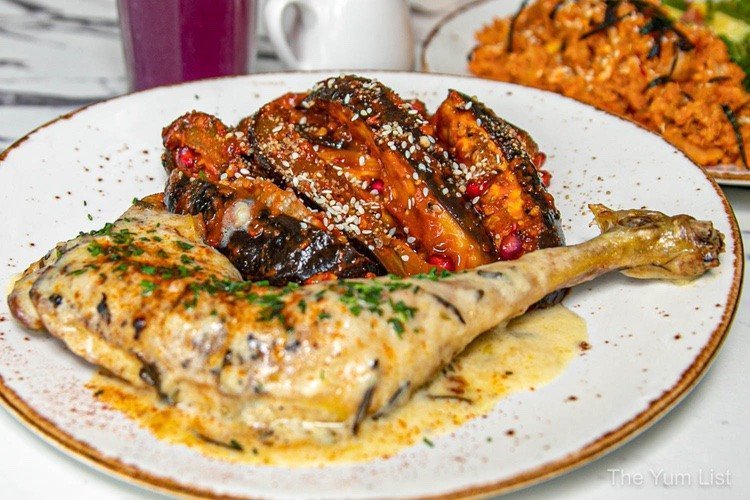 Crab Cakes (RM34) are always comforting. This one came generously stuffed with crab meat and was served with appetizing harissa mayo. It certainly brought back memories of New England for me.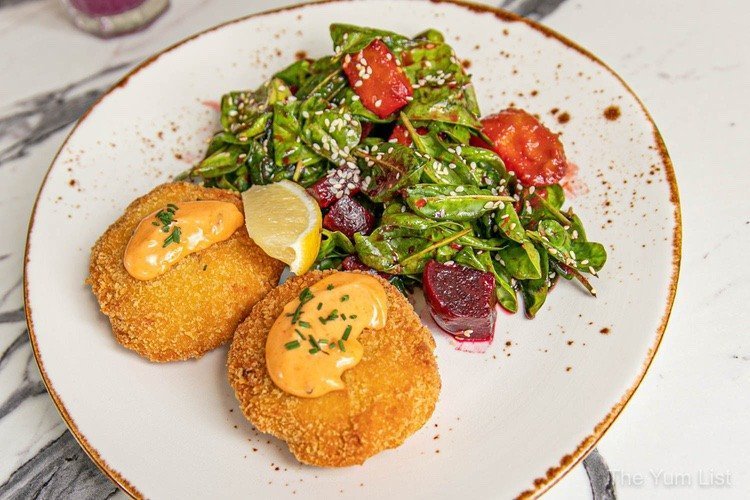 Gluten-free Desserts
One shouldn't leave Nourish without having one of their cakes or sweets. All are gluten-free and refined-sugar-free and prepared in their dedicated kitchen, free of cross-contamination. Despite it being free of things that sound necessary in a dessert, they are definitely in the running for some of the best in town.
The Sticky Toffee Pudding (RM16) is a must. Served with a hot caramel sauce and topped with chopped dates and nuts, it is just the perfect balance of sweetness. For a tangy option, go for the Orange Polenta Cake (RM15), with a lovely grainy texture and a zesty glaze, reminiscent of a sugee cake.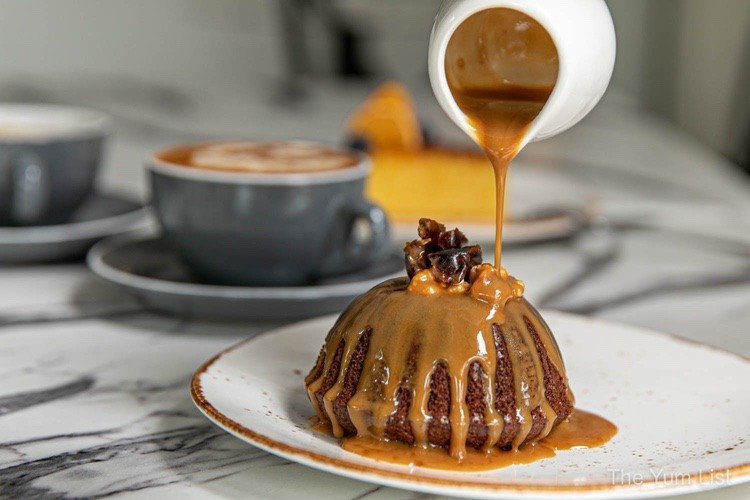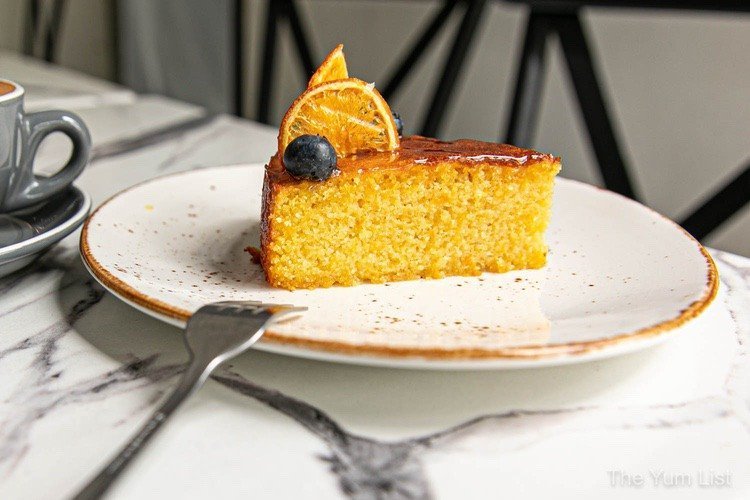 The team at Nourish by Kenny Hills Bakers also grind their own nut butter. Served as a breakfast option with sourdough, you can try them in house and then take a jar home with you if you approve. Both the peanut and almond kinds of butter are pure with only sea salt added for taste.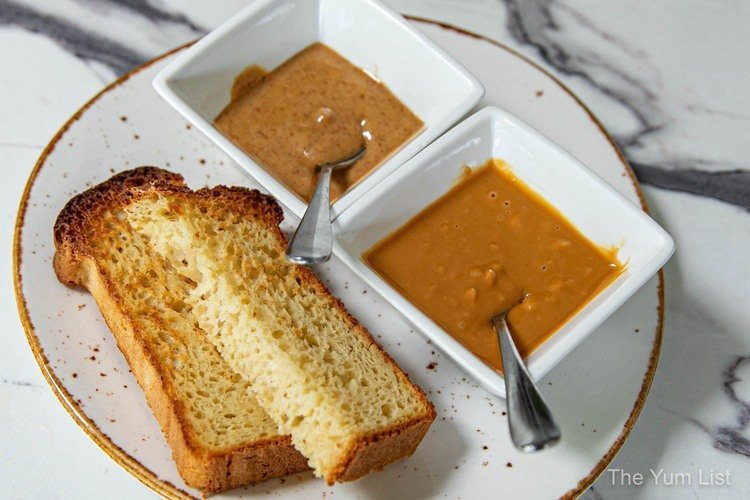 Reasons to visit Nourish by Kenny Hills Bakers: hearty meals for the soul which happen to be healthy and delicious! All our comforting favourites in one café with a consistent cup of coffee. The gluten-free can roam freely through the menu without worry and the dessert lovers are spoilt for choice with quality options at reasonable prices. There are also many vegetarian choices.
Nourish by Kenny Hills Bakers
No. 35, Jalan Medan Setia 1
Bukit Damansara, 50490 Kuala Lumpur
+603 2011 6990
www.facebook.com/nourishbykhb
Nourish by Kenny Hills Bakers Opening Hours: Daily 8 am-6 pm