"When Francis Meets Rempah"
Monica Tindall
Located in the historic grounds of Fort Cornwallis, Penang, Kota Dine & Coffee offers insight into both Penang's colonial history and local culinary traditions. "When Francis meets rempah," refers to Francis Light and his introduction to local spices (rempah). Light is the captain responsible for the construction of the original fort. Designed to protect Penang from pirates and Kedah, it is the largest standing fort left in Malaysia. Kota Dine & Coffee offers guests a contemporary dining experience, founded on iconic flavours and ingredients of Penang, housed in the landmark grounds of the fort.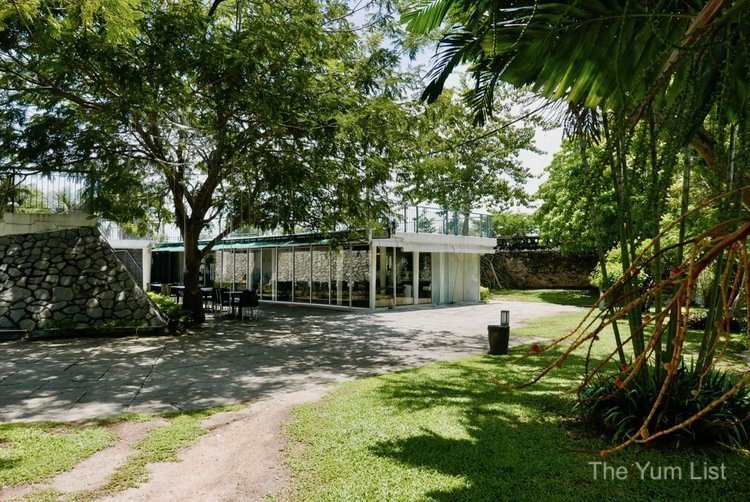 Kota Dine & Coffee @ Fort Cornwallis
The restaurant is set within the grounds of the fort and as such visitors need to pay entrance to the fort to get inside (RM10 for locals and RM20 for foreigners). All guests can get RM10 of this fee back though in food credits when you have a minimum spend of RM20 per person at Kota Dine & Coffee.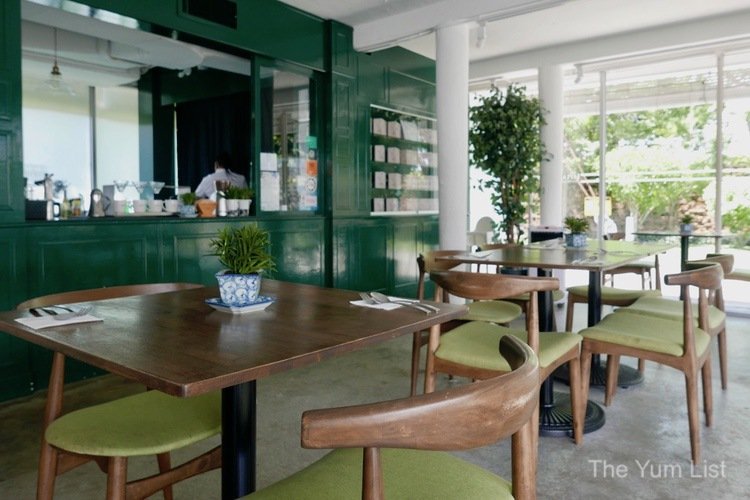 Kota Dine & Coffee Menu – Drinks
On the afternoon we visit, it's warm outside and we're looking for something to cool us down as we browse the menu. Kota Flavours offer a trio of signature mixes and we try the Sunrise (RM16) and Sunset (RM16). The former is a refreshing mix of passion fruit, orange, calamansi, mint and mango, topped up with Sprite. The latter is also topped up with lemonade but this time over a mix of lychee, watermelon, mint and calamansi. They're served in tall glasses giving a sense of lavishness. If you are trying to go zero-waste, do inform them as you order that you don't want plastic as the drinks come with both a single-use plastic spoon and straw.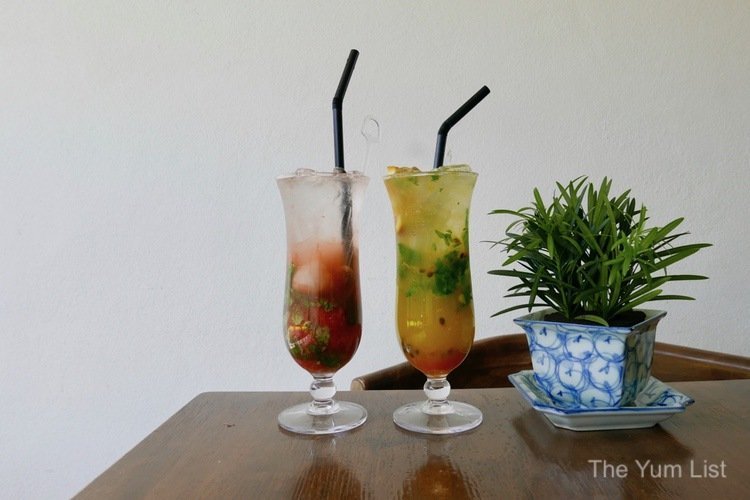 Kota Dine & Coffee Menu – Food
Appetisers
From the appetiser section of the menu, Nyonya Lemak Salad (RM18) features grilled pumpkin, mixed greens, seaweed toufu, turmeric dressing and ginger torch. Inspired by Penang's lemak laksa, this is not only appealingly plated, but a delight also to eat. The leaves are fresh. Caramelized cashews add sweetness and crunch and the overall profile is very well balanced. It's light, healthy and makes a great start.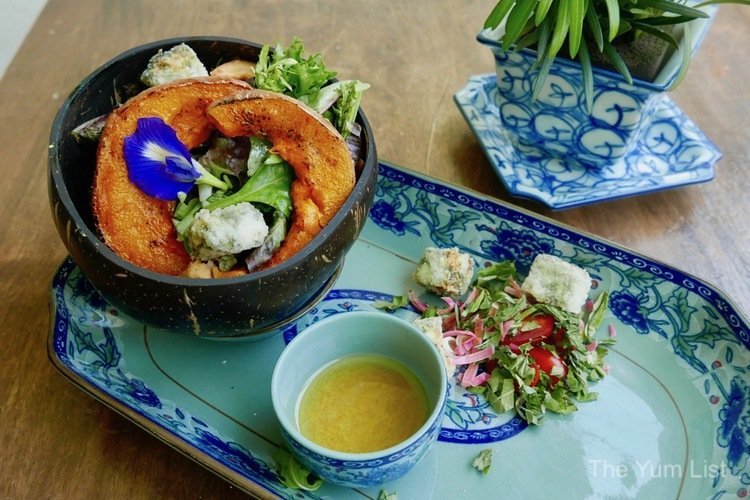 Mains
Moving on the mains, Nyonya (RM25) is a beautifully layered tower. The base is formed by otak otak, a local fish mousse. The second tier is pretty blue coconut rice coloured with the local butterfly pea. Lastly, a crown of chicken rendang tops it off and dehydrated leek gives crunch. Little dots of green pea mash circle the plate. It's another very palatable recipe and one of their top orders.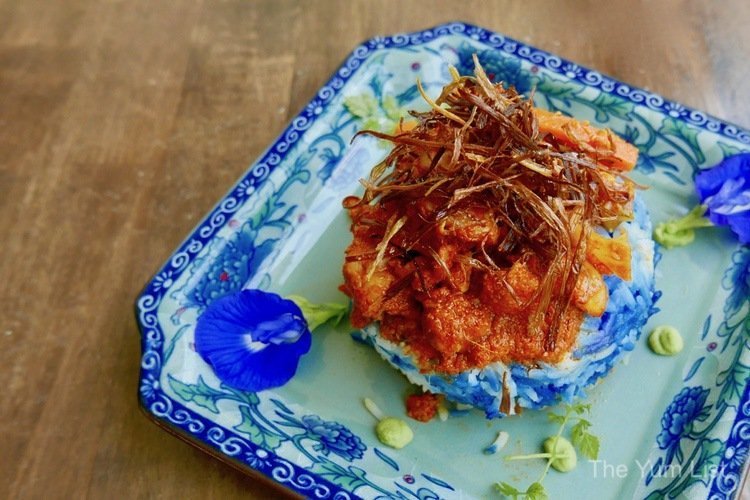 Herbal Chicken Soup (RM23) presents Chinese flavours with plentiful herbs, mushrooms, lettuce, an egg roll and, of course, chicken. On the side, there's chicken rice, really making this choice a hearty meal. The soup does sport the strong signature flavours of traditional Chinese soup, which may or may not be appealing depending on your previous culinary experiences. If the soup is not to your taste, you can still get the mildly flavoured chicken rice in its namesake, only instead of soup, it's presented with a number of different sauces and the rice as balls.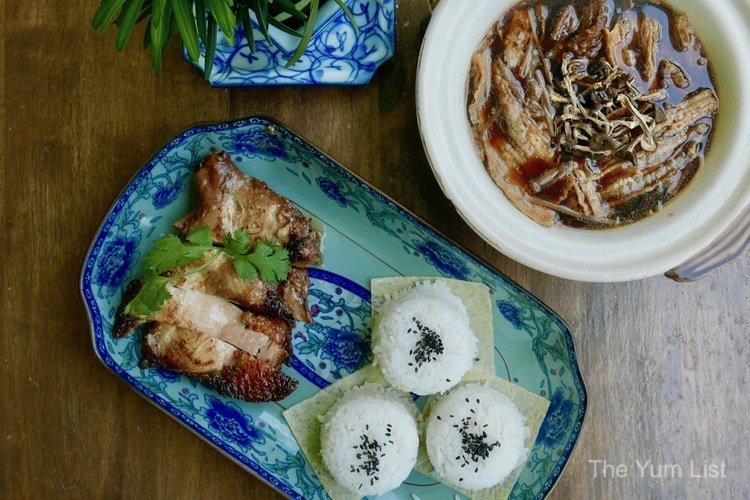 I'm happy to see a healthy meat-free option in the Vegetarian Fried Brown Rice (RM25), a recently added item to their menu. Black beans, egg, shredded carrot, corn and vegetarian "lamb" are stir-fried together and presented on a banana leaf. There is the most delicious chilli sauce on the side below a petite bowl of fresh herbs. Beware! The spice in the sauce slowly creeps up. Initially, it tastes innocently sweet. It's not until after you swallow that the steady burn begins to take hold. Dehydrated slices of tomato add a little sweetness to balance.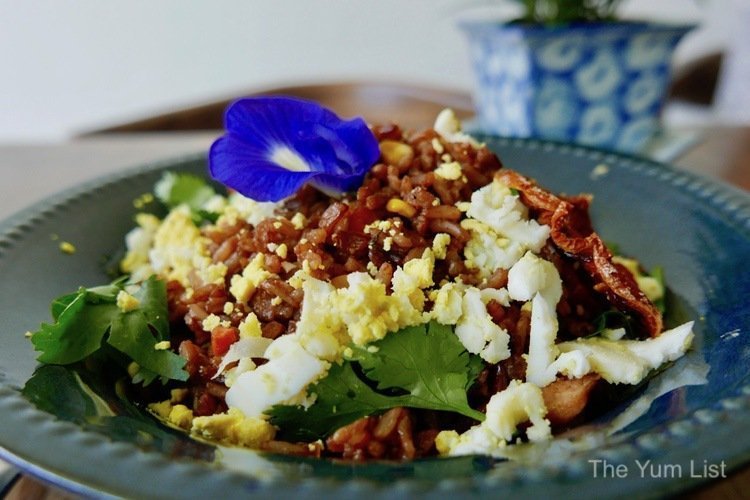 Dessert
We feel as though we've won the trifecta with Kota Dine & Coffee's Crème Brulee (RM19). Three mini bowls offer the French dessert presented in a trio of local flavours: pandan, gula Melaka and black glutinous rice. Each sports the distinctive caramelized surface, which makes way to velvety smooth custard. Hubby is rather fond of the palm sugar (gula Melaka) version, while my favourite is the rice.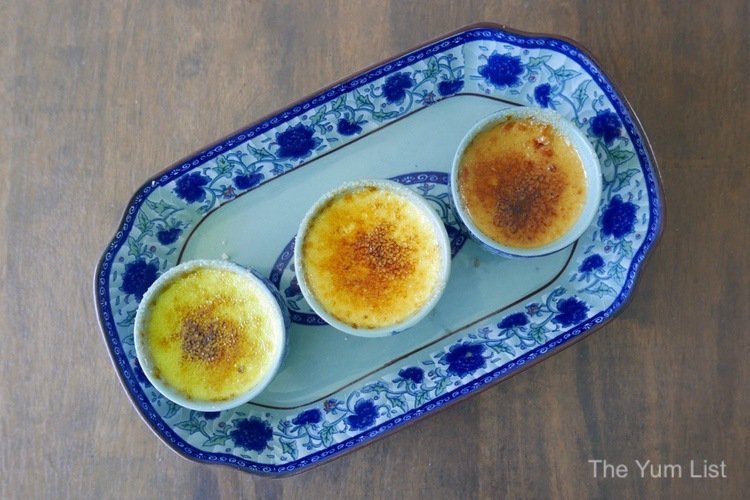 Our final bite is the Bubur Cha-Cha Cake (RM19), which looks too attractive to pass up. It is pretty as a picture with its layers of sesame cake, yam, sweet potato and coconut mousse. Digging in, we find a rich, dense dessert that could easily be shared between two lighter eaters.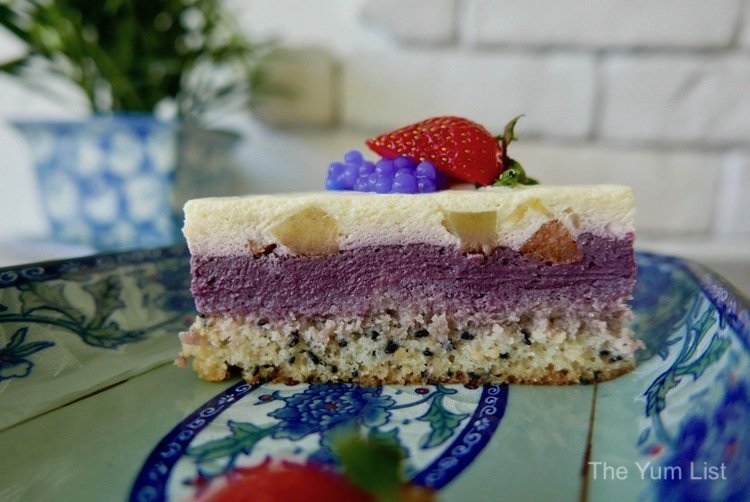 Coffee & Tea
To end the meal, two hot drinks, Dancing Goat (RM15) and Ginger (RM12) do just the trick. Not owning an espresso machine does not stop Kota Dine & Coffee from providing a quality brew. They use a hand-drip method to extract beans from Konga, Ethiopia producing a coffee that is mildly fruity and complex. The ginger drink is also a quality finish with the spicy properties of ginger root cleansing the palate. Brown sugar, dried golden longan and screw pine compensate for the sharpness of the ginger.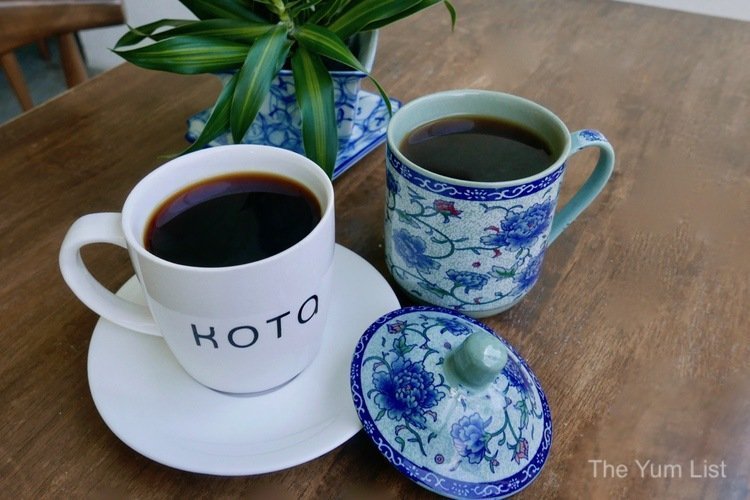 Reasons to Kota Dine & Coffee @ Fort Cornwallis: an experience founded in history taking guests from the past to the present with contemporary cooking techniques founded on Penang flavours all in the grounds of the historic Fort Cornwallis; the food is beautiful, delicious and very reasonably priced; remember to use your entrance ticket to the fort for RM10 food credit for each diner..
Kota Dine & Coffee
@ Fort Cornwallis
Jalan Tun Syed Sheh Barakbah
George Town, Malaysia
[email protected]
www.facebook.com/KotaDineAndCoffee
+6 0162975979
+6 04 3714929