Beach Garden Organic Kitchen
Words: Kirsten Durward    Photos: Monica Tindall
We were so taken by Chef Gustavo and his delicious recipes during our stay at Escape Ritual that we leapt at the chance to visit Beach Garden Organic Kitchen, where he is the executive chef. While the kitchen pleases eaters of all predilections, we are particularly interested in the plant-based options on the menu.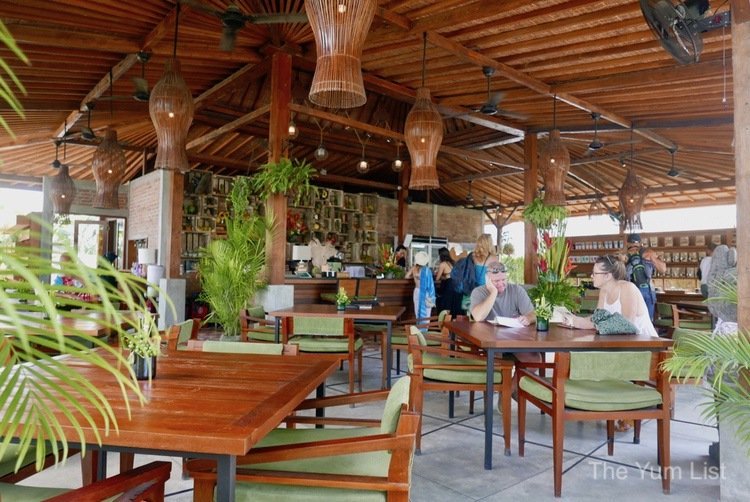 Yummy Breakfast Canggu
Breakfast at Beach Garden Organic Kitchen is designed to please any taste profile. Everything from a green macro bowl, to a classic English breakfast, is listed. We toy with the idea of sweet potato and cassava hash brown, and exotic porridge before setting on the Cast Iron (IDR 60,000 ++). This Indonesian inspired rice flour pancake is a delightful gluten-free choice. The presentation is stunning, like a modern work of art with a cutesy touch of love in the tiny date hearts. We adore the light fluffy pancakes which have no hint at all of the rice base. Grated coconut adds a little texture and flavour to the toppings of apple and then just a little scattered coconut palm syrup softens the finish. They're so delightful that our neighbours demand to know what we are eating! This dish could also double as dessert.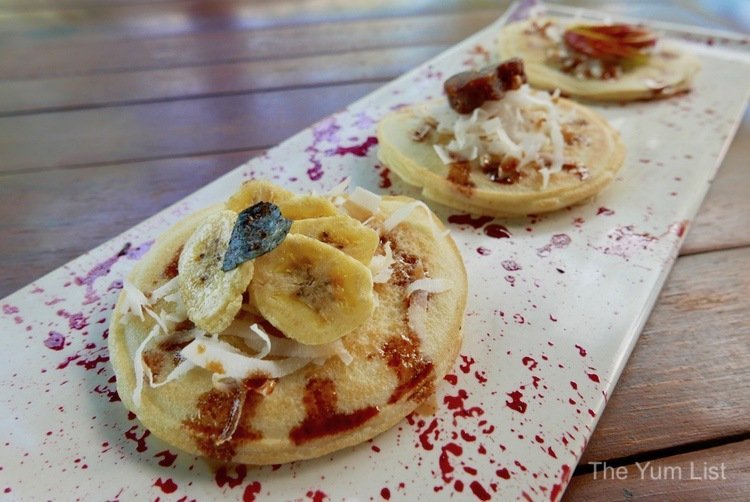 For our smoothie bowl, we are attracted to the Nutty professor and the Clean Green, but photography balance wins out and our eventual choice is the Komodo Dragon (IDR 89,000 ++). It's dragonfruit, pineapple and coconut blended into frozen yoghurt, then topped with mango, banana, pineapple, passion fruit, granola and more dragon fruit. What can be better than healthy colourful fruit to set your day right in Bali? Monica can't think of anything right now because she is too busy spooning and smiling.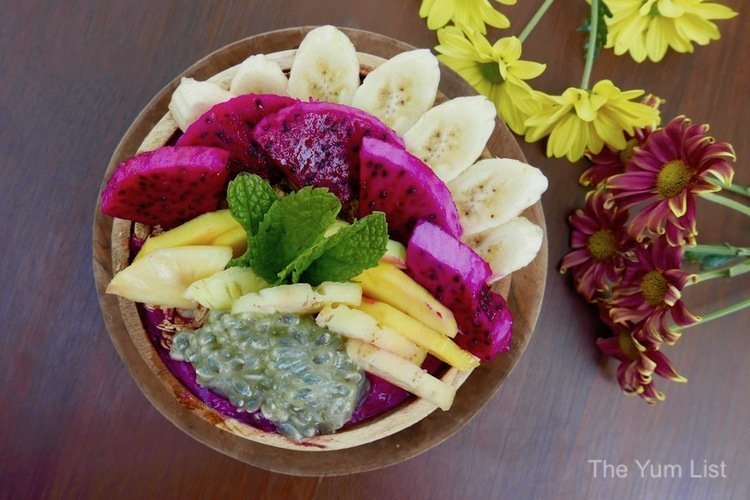 Salads and Soups – Healthy Food Canggu
There are two daily soup choices; hot and cold. We try the Cold Soup (IDR 55,000 ++), green gazpacho featuring spirulina, aloe vera and a sprinkling of herbs and spiced roasted dukkah nuts. Add a garnish of baby arugula, a drizzle of garlic-infused olive oil and Monica oohs over the presentation. 'Just the prettiest soup I have seen,' she breathes. The taste is equally impressive and silence ensues as we let the smooth mouthfuls of flavour slip down.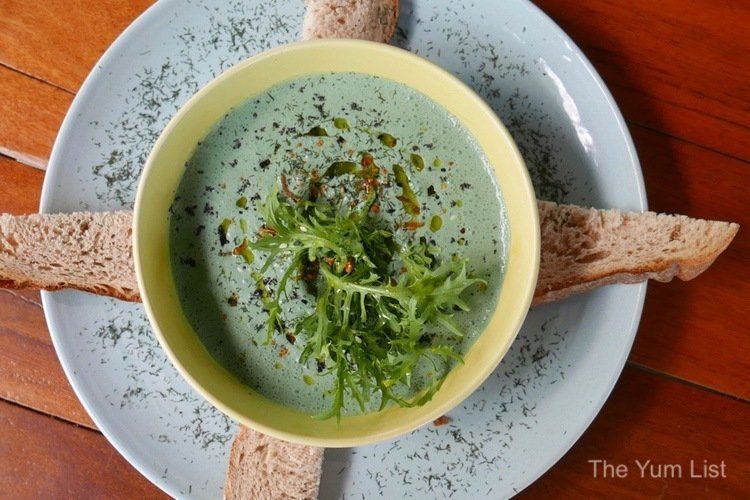 Warm Pumpkin and Crispy Chickpea Salad (IDR 85,000 ++) arrives looking like heaven on a plate. On tasting we agree, this is a truly Yum List worthy dish. Organic spinach and arugula form the bed of the salad, which we fork up eagerly. Each spoonful is a different texture and taste sensation. Toasted almonds crunch into crumbly feta. Roasted pumpkin rubs up against walnut pieces. Asparagus slithers right down. A sharp balsamic reduction and scattered baby sundried tomatoes add juicy pops of interest throughout. This is something I would definitely eat again.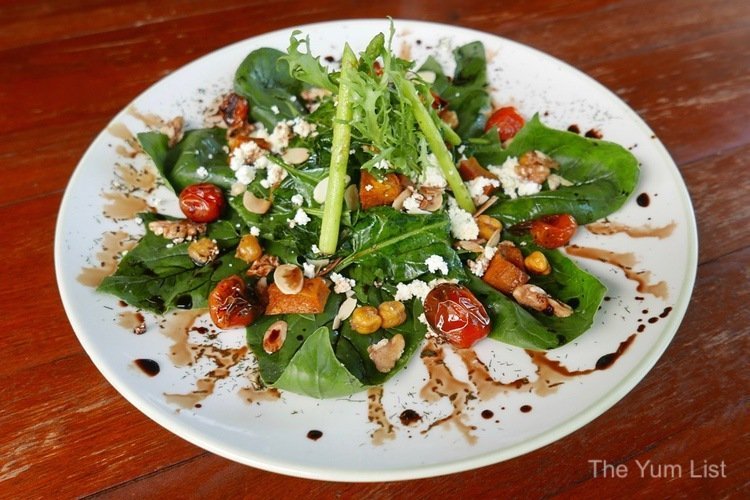 'In the Raw' Canggu
Proud to be the only 100% organic cold-pressed juice supplier in Bail, 'In The Raw' also offers a juice cleanse package, which can be delivered daily to your accommodation in the Canggu area. At Beach Garden Organic Kitchen, I am entranced by Ginger Hotshot (IDR 50,000 ++), which with tangerine and coconut, instantly adds freshness and zing to my day. Monica tests out the Ginger Hong Cha Kore Kombucha (IDR 65,000 ++). Beach Garden Organic Kitchen offers three styles of kombucha in a total of 10 flavours. This one is as you would expect, resonantly fermented with the ginger adding a real golden tinge.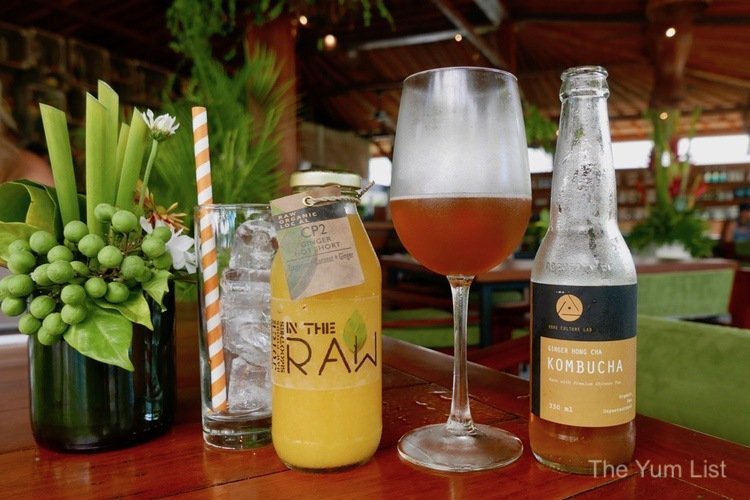 Cocktails in Canggu
Although we love to be healthy, we also cannot ever resist a cocktail taster and so are tempted to try a couple of the Beach Garden Organic Kitchen's signature drinks. In the Raw Margarita (IDR 105,000 ++) blazes with the passionate deep red of dragon fruit, while Coconut Mango Daiquiri (IDR 105,000 ++) is a tropical blend of mango, orange, coconut and rum with a little dragon fruit juice drizzled around the glass. The cocktails are colourful and freshly made.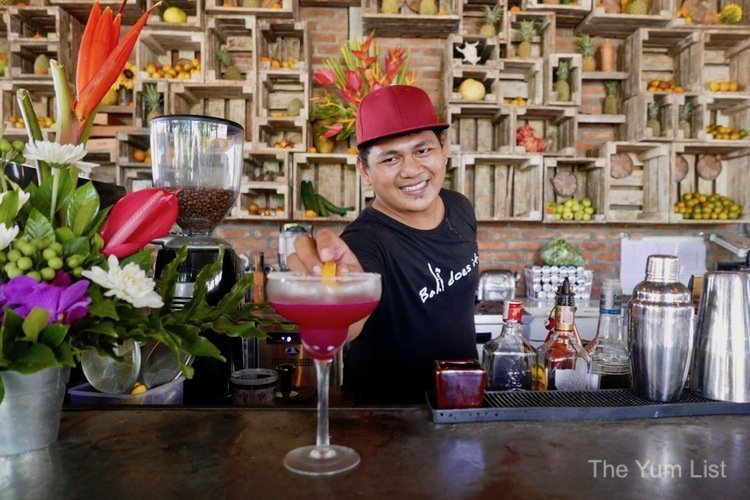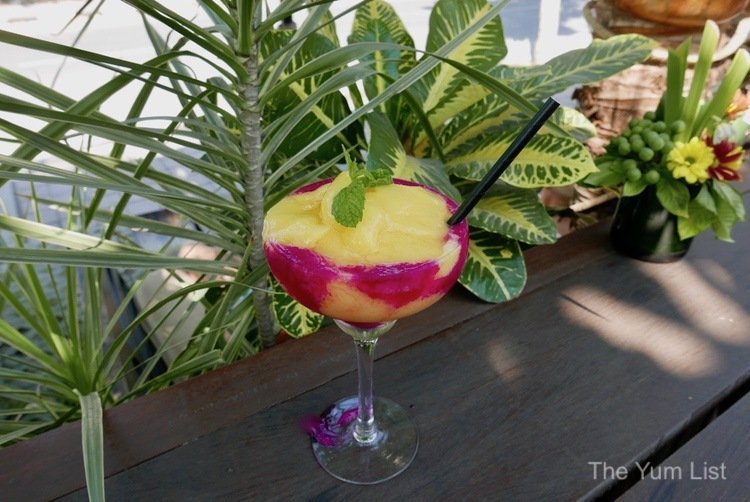 Chocolate and Coffee Canggu
To complement dessert and wash down our hearty but healthy meal, we test two original spiced drinks from Beach Garden Organic Kitchen. Coconut Latte (IDR 69,000 ++) blends homemade coconut milk and gives Monica her required shot of espresso. The cocUbud Raw Chocolate (IDR 39,000 ++) features organic chocolate from a Bali producer, combined with cinnamon and coconut milk. I appreciate that the palm sugar is on the side. For me, there is no need to add sweetness to this deep chocolate drink.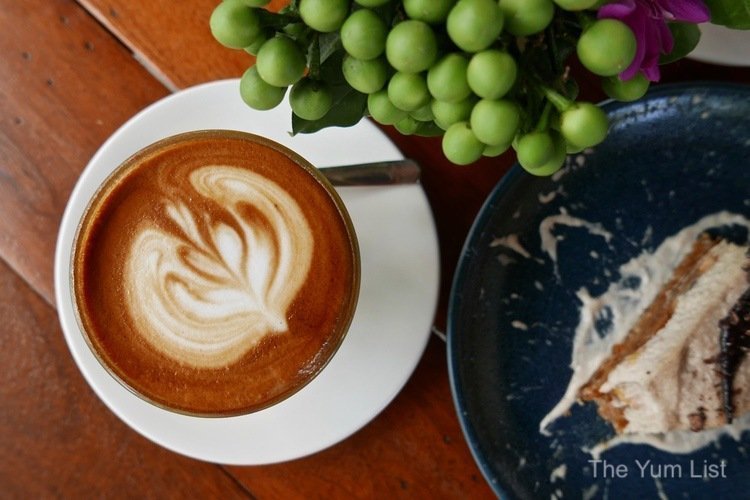 Raw Desserts Bali
Choosing from the divine looking selection of raw desserts in the chiller at Beach Garden Organic Kitchen is truly one of the hardest choices I have had to make in a while. I could happily have taken a bite of every one of them.
Salted Caramel Banoffee Pie (IDR 50,000 ++) combines coconut milk, dates and cashews. The dates give a lot of natural sweetness and joined by the mousse topping, chewy base and sticky middle, it is just perfect. The Blueberry Lemon Cupcake (IDR 50,000 ++) proves a pretty choice. The topping is blueberry intense with a lime finish – delightful.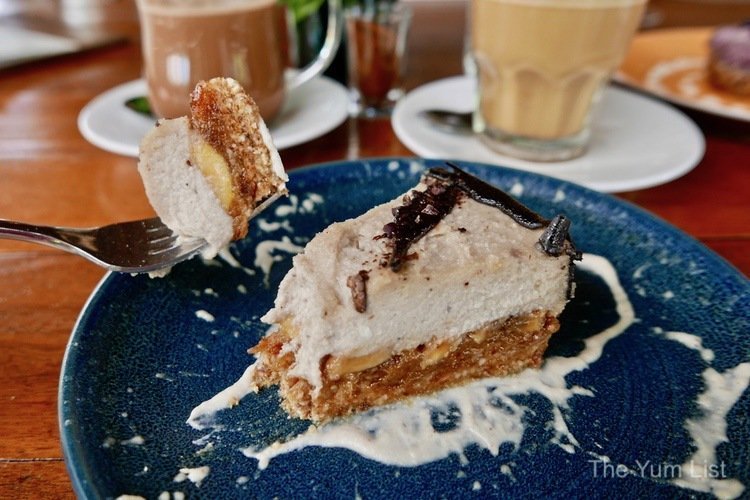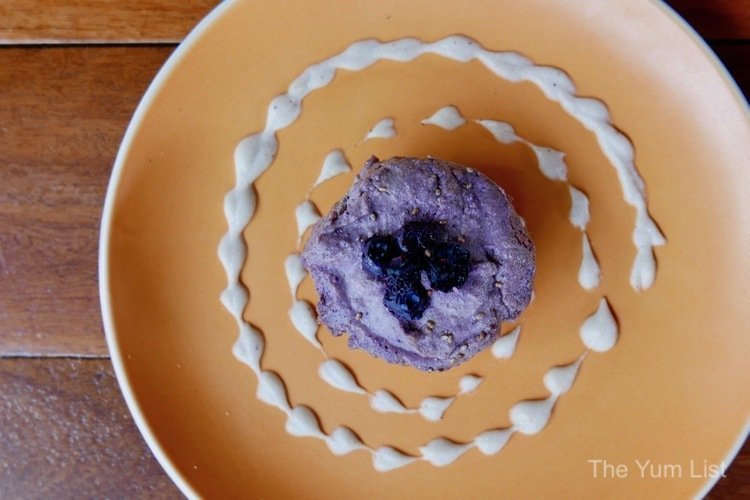 I also sneak in a couple of bars from the Ubud Raw Chocolate Factory (IDR 45,000 ++). The cashew and raisin is soft and sweet but the date and orange really float my boat with its punch of citrus and bitter chocolate.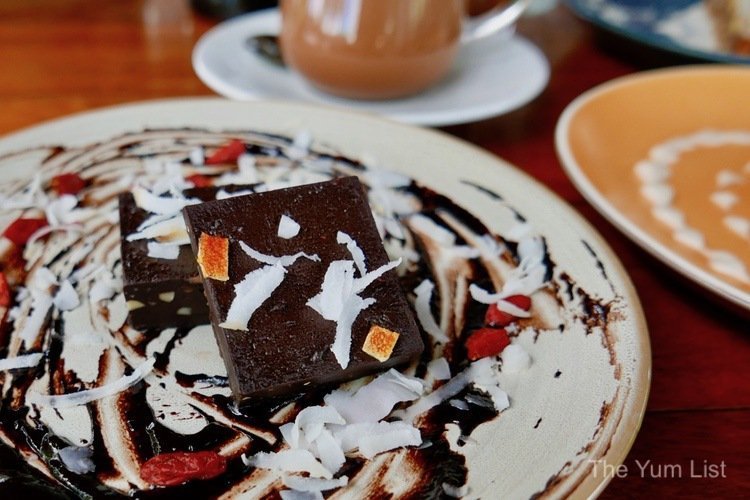 Beach Garden Organic Kitchen Review
After a week of hotel buffets, we are in rhapsodies to have stumbled across such a selection of fresh, light and healthy dishes in Canggu. Mon is especially delighted to find so many vegan options and I am impressed by the amount of quality organic produce they are able to find locally. The mood is relaxed, the food is delicious and the service team are helpful and friendly – we highly recommend you visit.
Reason to visit Beach Garden Organic Kitchen: beautifully presented, delicious fresh organic food; many vegan and vegetarian options; don't miss trying the green soup and pumpkin and chickpea salad; you can't go wrong with a smoothie bowl; and for sure, save room for some raw desserts.
Beach Garden Organic Kitchen
J1 Pantai Batu Bolong no 103 – 107
Canggu, Bali
Indonesia
+62 812 3749 6861
www.facebook.com/beachgardenorganickitchen