Escape Ritual – Exclusive Wellness Retreat Bali
Words: Kirsten Durward   Photos: Monica Tindall
Now that Seminyak has become boutique-cafe chic, the more laid back Bali vibe seems to have moved to Canggu. Semi-tropical forest and dramatic sea vistas can be found in this picturesque region of Bali. Already popular with surfers, discerning travellers seeking high-quality, authentic experiences would do well to investigate this area. And if you are looking for six days away from the world with your every need catered for, then we have found the perfect location in Escape Ritual.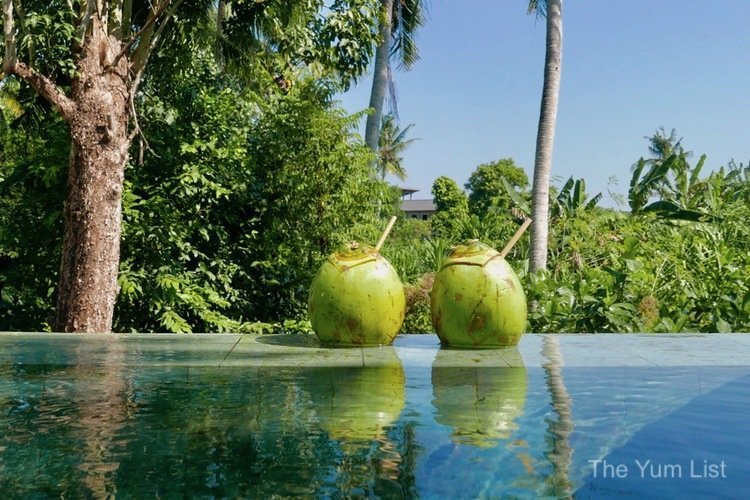 Escape Ritual Bali
Perched on the edge of a stream, overlooking coconut palms and paddy fields, Escape Ritual in Canggu provides a natural airy sanctuary in which to rebalance from the hurries and worries of everyday life. The seven-bedroom villa centres around a crystal-clear infinity pool, and offers a range of comfortable lounging and resting areas around the spacious property.
Cool natural tones of ivory, taupe and cinnamon are interspersed with soft turquoises and plentiful natural greenery. The 'Zen room' on the edge of the river, with a generous terrace expanding into nature, has a particularly exclusive location. All rooms, however, take advantage of the position with light flooding in through large windows. Each room has its own outdoor area. Our narrow balcony overlooks the pool to the fields and trees beyond. It's a light and inviting twin room with generous ensuite, featuring a splendid rain shower. It happily hosts two friends travelling together. Two of the rooms are twins, and four are doubles. Our favourite pick for a personal retreat would be the double room overlooking the creek with a private terrace and garden area.
Waking up at Escape Ritual is waking up to soft morning light, birdsong, and gently swaying palm fronds outside your window. It is lovely to stand on the grass and feel the ground beneath your feet. Not quite woken up? Then grab a coffee – either Balinese press or espresso and come to beside the pool, gazing out over the morning view.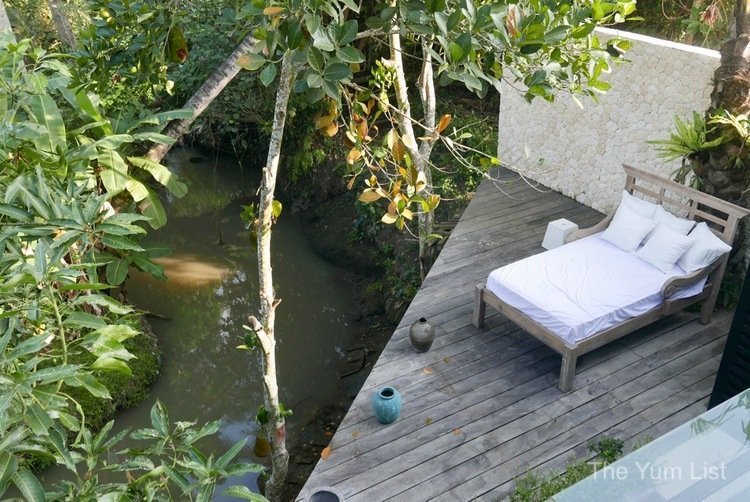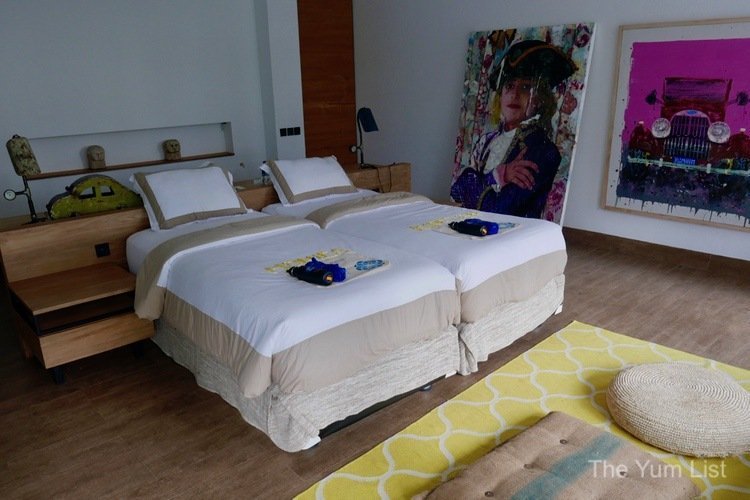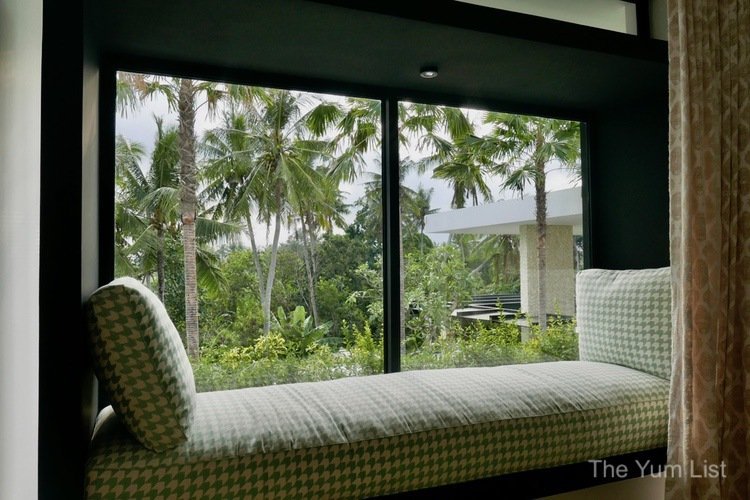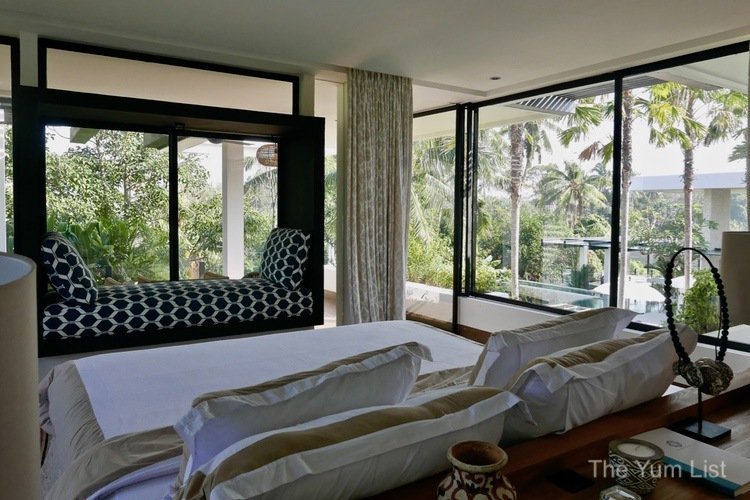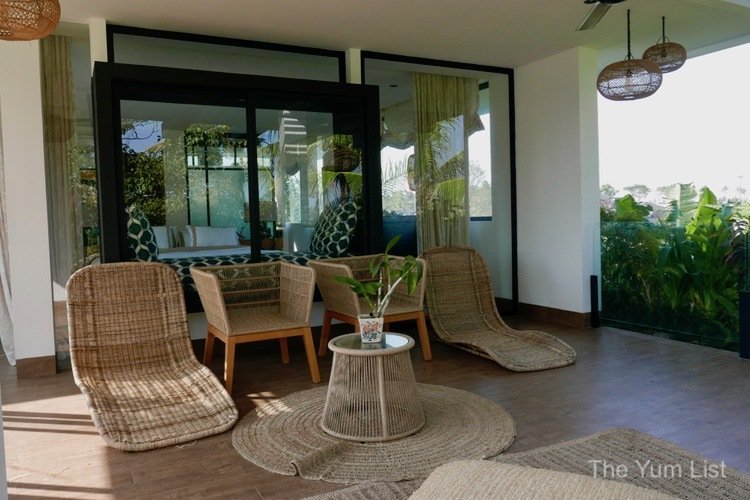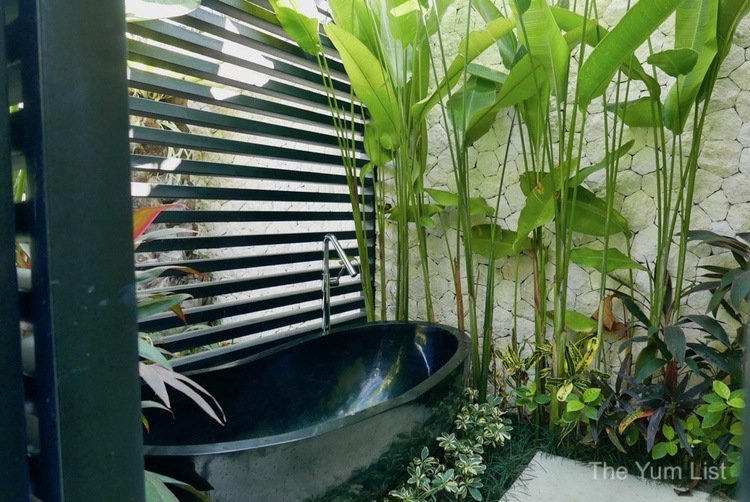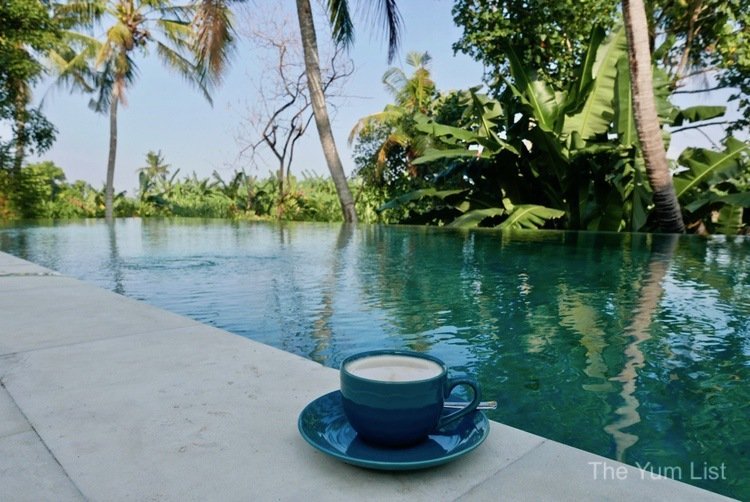 Wellness Retreat Bali – Four Elements – Fire, Water, Air & Earth
During our visit, we have tasters of the Escape Ritual four element's concept: fire, water, air and earth. For Fire, it is fitness, with vibrant trainer Eve. Well-matched in theme, for Eve, is definitely a live wire, a spark. Extremely knowledgeable and careful, she constructs routines to use time effectively and 'work out smarter.' We are offered the option of lesser weights and also pausing if we need to for each round of interval training in the first part of the session. But we power through without a halt. Two rounds each of lunges, burpees, push-ups and thrusters, each with an added twist or added weight. There's just time for a breather, a drink of water and then it is onto boxercise. Five rounds of the jab, uppercut, hook, interspersed with short runs and holding plank. We are certainly fired up for our day. Eve is a ball of energy.
Thankfully, today we are blessed with an afternoon massage. In-room, an hour of Balinese gentle therapy helps to relax my tired muscles. Daily body treatments are part of the Escape Ritual concept, and certainly something I could get used to.
Our second morning is Hatha flow with Jen (part of the Earth program), on the grass in front of the pool. Exuding positive energy from every pore, she leads us through a gratitude practice, starting with Pranayama, through sun salutations, a range of yoga asanas and ending with a guided meditation in Savasana. Jen is a holistic yoga teacher who is skilled in leading multi-level groups, providing support and extension wherever it is needed.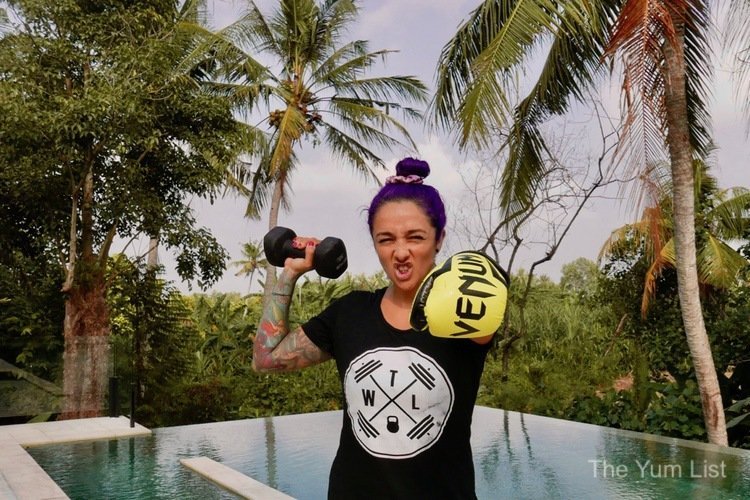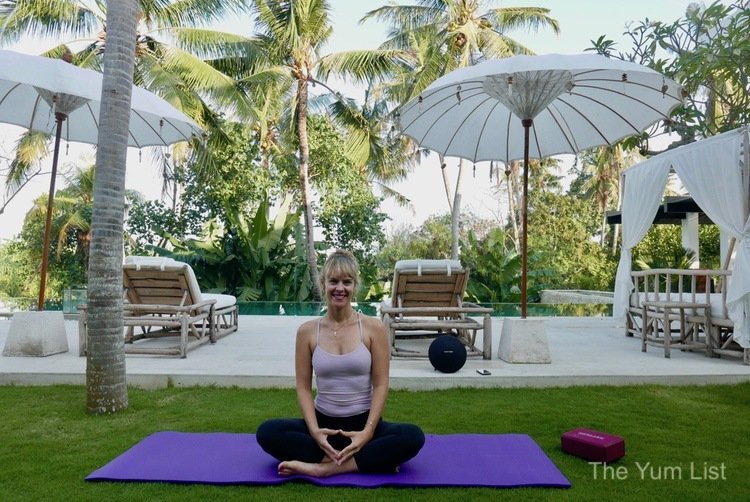 Escape Ritual – Daily Relaxation
Evening rituals in the small sala overlooking the creek have a more releasing, restorative energy. Vibrational sound healing with Daniella is a multisensory experience. Lying in a circle with our heads towards the centre, we close our eyes and are blessed with the vibrations of Tibetan singing bowls. Each of the seven bowls is a different dimension and corresponds with one of the body's energy chakras. Daniella pays them in combinations, either resonant soft dongs or long vibrational pulls, which activate healing on a deep cellular level. As explained, everyone has a different experience during the session. For me, it is meditation with colourful images. For others, pure relaxation is to the forefront, as evidenced as a chorus of gentle snores joins the vibrational sounds.
The alternating evening ritual is Yin yoga with Jen. Focussing on deeper, longer-held stretches that work on the connective tissue, Yin is one of the most releasing practices to experience. Accessible to any level of fitness, the use of bolsters, blocks, and other props ensure that you reach a deep level of relaxation while holding each position in gentle form for between three to five minutes. We dedicate our practice to 'self-love', honouring the time given to work on bringing our body, mind and spirit into harmony. With an emphasis on hip openers and chest expansion, everyone is left feeling looser and more open after the evening practice.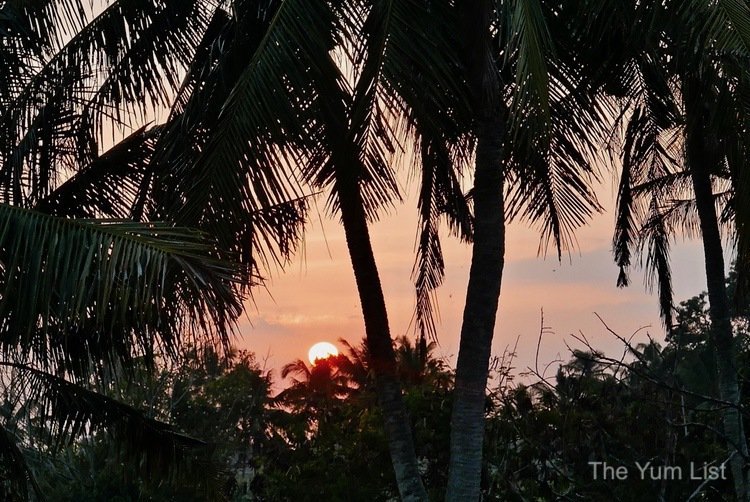 Dining at Escape Ritual
Meals at Escape Ritual Bali are provided onsite using the services of two local providers. Breakfast is relatively simple, taking advantage of local tropical fruit, with a range of granola, yoghurt and eggs freshly cooked any way you like them. Later in the afternoon, not that you need it, a light snack appears such as a fresh spring roll followed by a tasting of local or raw dessert.
During the three days of our stay, we experience a wide range of tastes. Our retreat cohort is a group of nine gentlemen entrepreneurs from Malaysia, so our welcome meal is a bountiful barbecue. The boys heartily enjoy lashings of lamb chops, grilled chicken and prawns, while we tuck into the delicious vegetables. We fill our plates with fresh salad, beetroot, radish and mustard and quinoa dressing; grilled corn; steamed broccoli and cauliflower; and a delicious carrot puree with fennel. The vegetables are mainly organic and truly bursting with flavour.
Lunch delights include Balinese style nasi campur (mixed rice) with chicken satay on lemongrass, dry curry chicken, fried mixed vegetables with coconut and homemade sambal. In contrast, another day we were spoilt with fish tacos on hand made soft tortilla and heaps of freshly steamed vegetables.
All the meals are delicious and certainly filling. My personal favourite is the grilled salmon with garlic asparagus. Luckily we are both eating the same meal so no need to worry about garlic breath! Guests can communicate dietary preferences or needs in advance when booking with Escape Ritual. For those seeking a deeper detox, a smoothie or raw juice programme can be arranged with Escape Ritual partner 'In the Raw'
Chef Gustavo of Beach Garden Organic Kitchen in Canggu, who oversaw several of our meals, was a delight to meet and invited us to the restaurant to try some of their beautifully presented food. Definitely worth a visit one evening. Check out that menu here.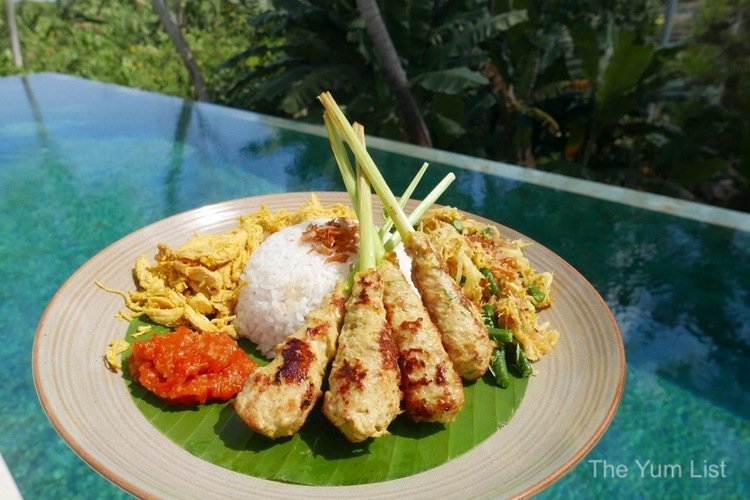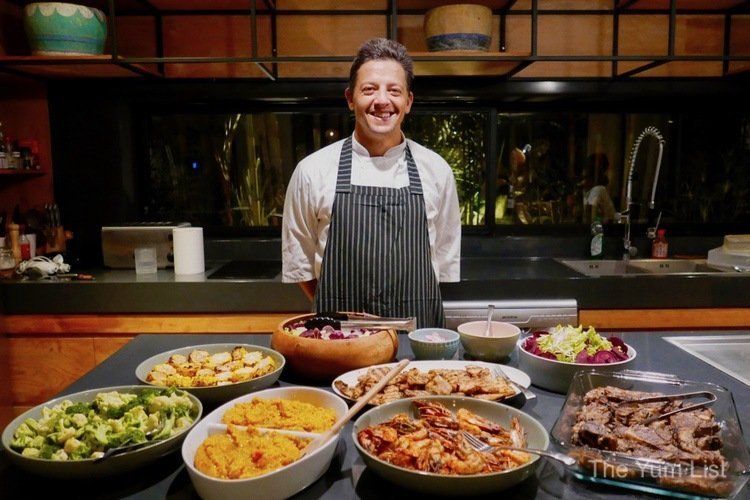 Wellness Retreat Packages Bali
Exploiting the intense natural beauty of Bali, with its verdant forests, azure sea, unlimited vistas, and even the smouldering energy of Mount Agung, the Escape Ritual concept centres around the four natural Elements reimagined as retreat packages.
Fire
'Fire' is designed to be energetic and stimulating both physically and psychologically. Begin each day working out with a physical trainer, an experience that we can confirm is extremely dynamic. Fitness can be taken to any level at any time with a week's membership to the gym and exercise classes at the Como Uma Canggu, a short 15-minute drive away.
Water
'Water' brings strength, imagination and emotion to the fore at Escape Ritual. Designed around the sea, more specifically four days of surf lessons, this is an option for the more adventurous soul. Explore the dynamic beaches along the nearby coast, and spend a day with a photographer recording this unique experience with you. HIT Aqua fitness and seafront mediation are added benefits of the 'Water' experience.
Air
'Air' is a softer wellbeing experience, focussing on the power of breath, with Pranayama and "Art of Living" breathing techniques. Experiencing the beautiful Bali countryside with casual walks in the rice paddies, or low impact hikes, is a gentle way of creating more space in your life, and oxygen flow in your body. Air guests will also enjoy a special ritual with a Balinese healer, intended to bless you with health and wellness on your forward journey in life.
Earth
'Earth' focuses on gratitude and connection, and centres around a daily yoga practice. We experienced Hatha flow with the lovely Jen, who was skilled in adjusting to the multiple levels of experience in our group. Group meditation is another focus of the Earth element, which also features excursions to spiritual Balinese temples as well as casual walking experiences.
Daily Inclusions
Every element at Escape Ritual is enhanced by a daily in-house body treatment; either Balinese massage or exfoliating scrub. The evening rituals are open for any guest to join. And each Tuesday is your 'Dream Day Excursion,' for which you may select any of five diverse experiences on the Escape Ritual menu:
Learn ways to prepare fresh produce at the Farm to Table experience
Chillout on the coast at Finn's Beach Club Canggu
Swing across the jungle with waterfall views near Ubud
Craft silver jewellery with the help of skilled artisans
Cycle through the trees and paddy fields, experiencing local terrain on an intimate level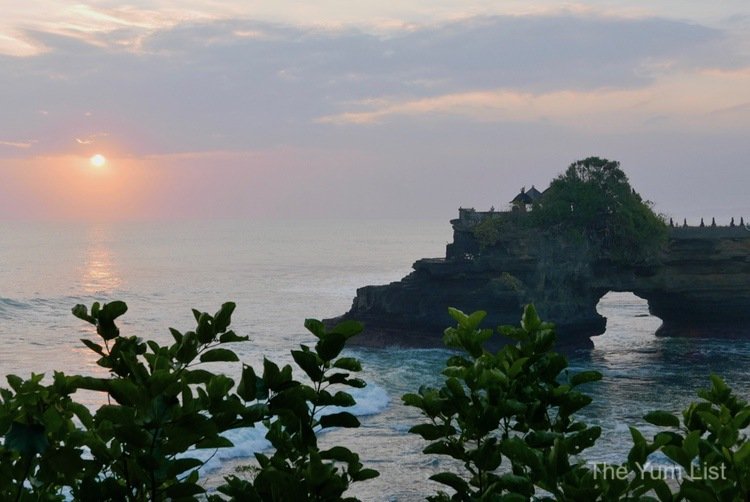 Escape Ritual A la Carte Additional Experiences
Escape Ritual is a luxury boutique vacation with a difference. The central focus of your holiday is you. What you want to experience, what you want to grow with, and what learning and habits you want to take away for yourself. The space offers an opportunity to tune out of the daily grind and tap into your inner voice, finding positivity, empathy and restoration for your journey forward. The only expectations on you here are the ones you bring with you. So settle in, feel the ebb and flow of nature all around, and allow the focus to be you.
Whether it is surfing, wellbeing, yoga, or fitness you are looking for, the Escape Ritual packages will offer you a tailored experience for the six days of your stay. And, because not everyone loves the same activities, the retreat is perfect for a couple with different interests or a group of friends who want to spend relaxed time together. Booking the whole villa for a group means you can have a fully private retreat, and arrange special experiences for your group. Make the experience what you want and take from it what you need.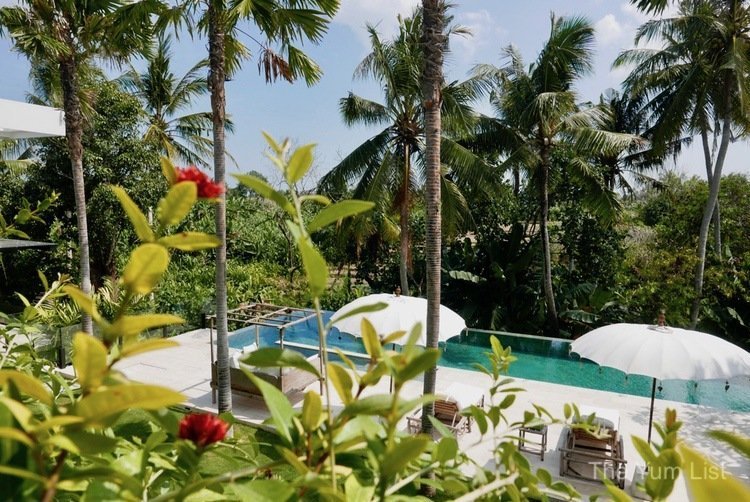 Reasons to visit Escape Ritual Bali: connect with yourself in a location which exudes natural luxury; extraordinarily skilled and expert trainers; delicious food; absolutely beautiful setting.