Mulia Resort Bali
Words: Kirsten Durward Photos: Monica Tindall
The overwhelming sensation when you enter the Mulia Resort on Nusa Dua Bali is one of space. And that is hardly surprising really considering that this 700 room property is situated on a 20-hectare plot. And what a plot it is. An exclusive nature reserve, the property showcases the voluptuousness of Bali's tropical foliage and occupies a generous slice of pristine beachfront. The hotel takes full advantage of its location, starting with the high sighting of the spectacular atrium, with splendid views over the garden-entwined pools to the breathtaking blues of the sea and sky beyond. Light is everywhere; streaming through the star-shaped roof windows, reflecting off the water features and generally flooding the expansive space with joyous calm.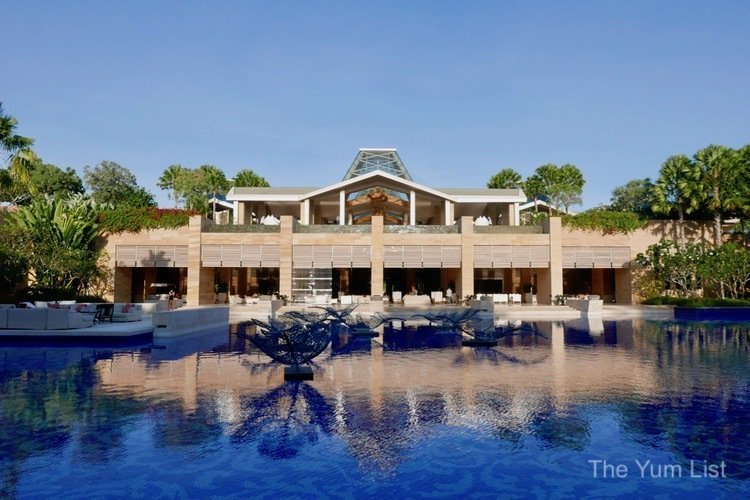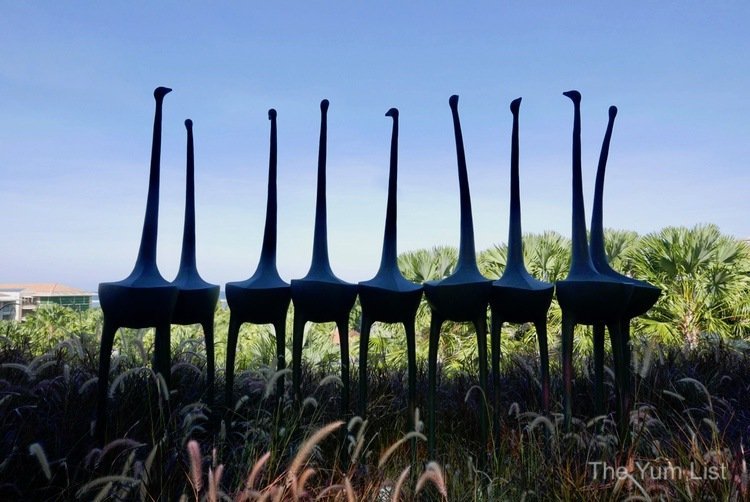 The natural beauty of the property is very soothing, the endless sea and sky pervading, along with ubiquitous palm trees. We love the internal gardens in every courtyard of rooms. The use of soft sandstone, enhanced with cream, taupe, and gentle patterns leads one into a restful state of mind. The grounds seem endless, providing us with hours of happy walking, enjoying the ocean cool. Dramatic art installations have been commissioned. There are giant red roses at the resort entrance, oversized sculptures, humorous room art, the place has been curated by an expert eye with cultured tastes. Despite its size, the property is beautifully maintained, to the extent that the gardens actually look manicured. We give thanks to the 2000 plus staff that create this divine experience for our enjoyment.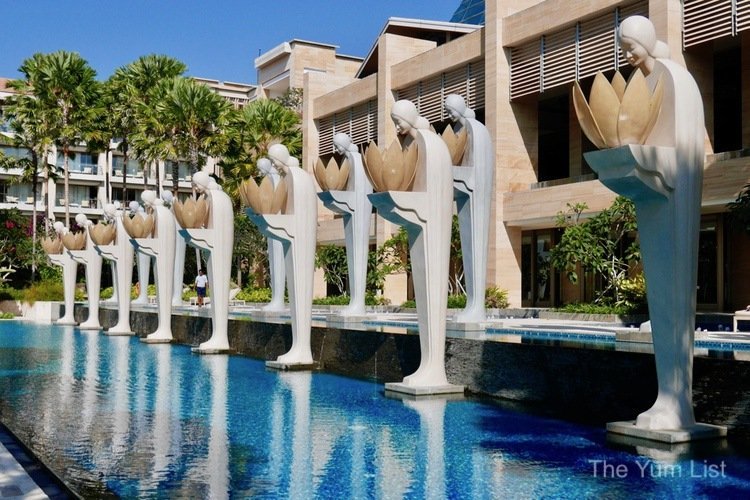 Mulia Resort Rooms
A special Bali-only surprise awaits us as we enter our Royal Suite Ocean Court. The hotel has been built around a temple, which forms the courtyard on the third floor, and we have grandstand views of this delightful piece of heritage as well as the ocean beyond the swaying trees.
All rooms at Mulia Resort are commodious, with indoor and outdoor seating areas, and a simple yet stunning ensuite. The suite that we enjoy is delightfully spacious, exuding understated opulence. With our free-standing bathtub overlooking the ocean, we can barely wait to start flowing some bubbles and enjoy a little decadence.
Flat screen TV, a well-stocked mini bar, Aromatherapy products by the sink, there is nothing to want for in this suite. Family-sized, the comfortable sofa doubles up as a fold out sofa bed, offering sleeping room for up to four people. Classic yet contemporary furnishings are judiciously placed, but what pervades is light, light, light. And nowhere more so than on the generous terrace where we can relax and expand into the spectacular views.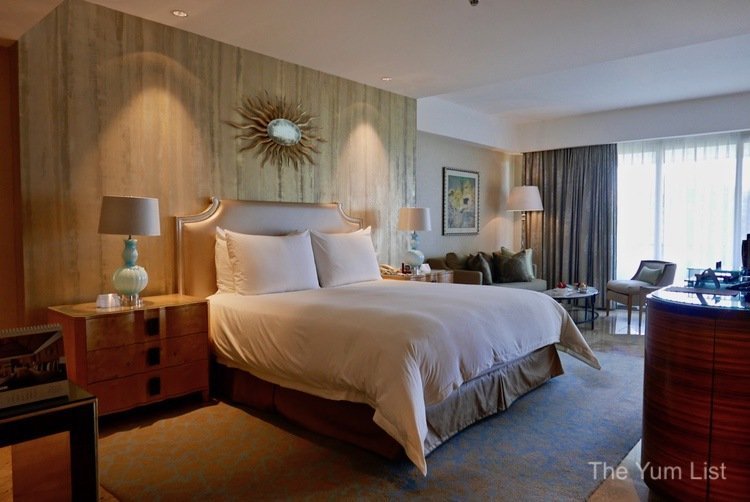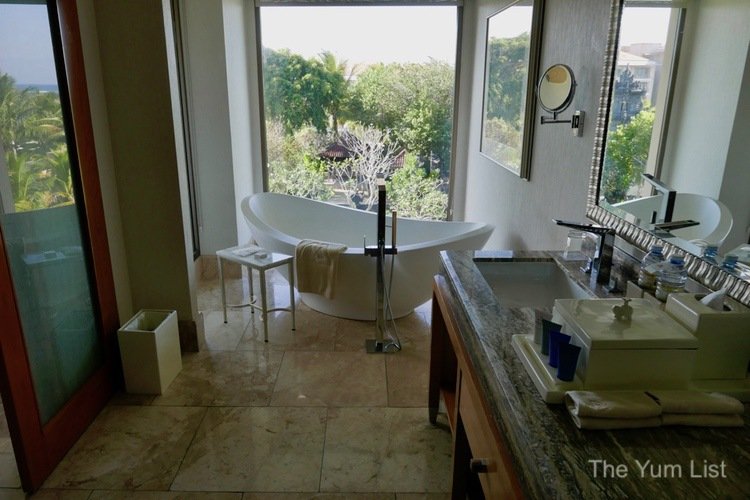 The Mulia, Mulia Resort and Mulia Villas offer a huge range of hospitality options, from a regular room, generous and elegant by any hotel standard, right up to a three bedroomed pool villa. We love the all-suites concept at The Mulia, delighting particularly in the full frontal sea views dramatically framed by floor to ceiling windows. Each suite also boasts a private Jacuzzi on the spacious terrace. The Villas offer more seclusion and space, with gardens and outdoor relaxation area. Guests at The Mulia and Mulia Villas benefit from reciprocal use of facilities, which are more exclusive than those at Mulia Resort.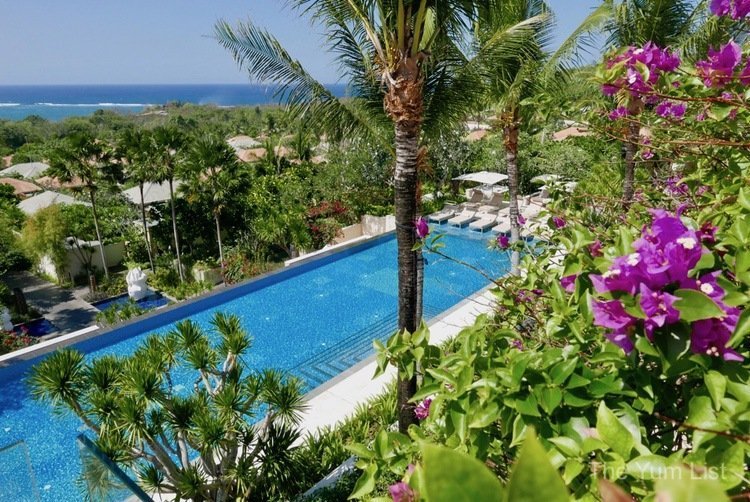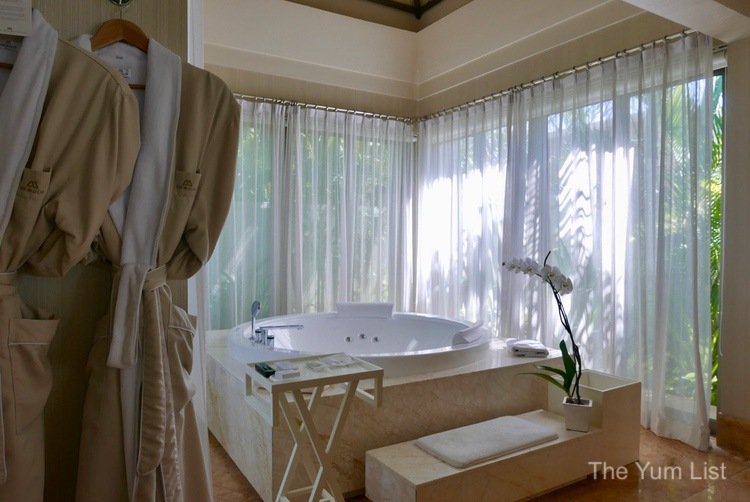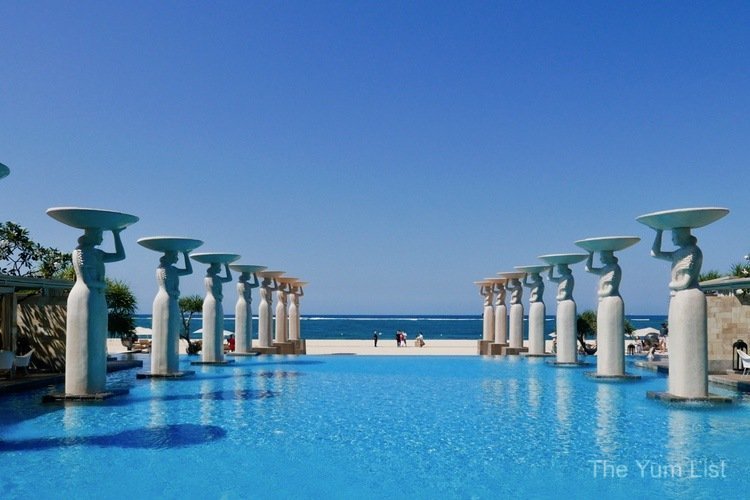 Mulia Resort Breakfast
Breakfast is served buffet-style at The Cafe on the 5th floor between 7 am and 10 am. A seemingly endless array of stations offer up a smorgasbord of international style breakfast dishes. Soup may seem a strange choice for breakfast, but since living in Asia, I have come to enjoy fresh and sour broths stacked with vegetables as a start to the day. Indian breakfasts also hit my taste points, with a choice of dahls and chicken curry, with several different freshly made roti choices as well as delicious aloo paratha.
My favourite station was the build your own yoghurt option, oodles of fruit, and fruit purees, no less than six different times of honey and loads of nuts for creating colourful and crunchy concoctions. The salad selection is also divine, and spoonfuls of flavourful combinations soon fill a plate to overflowing accompanied by local cheeses and freshly baked bread (which too, by the way, is very very good).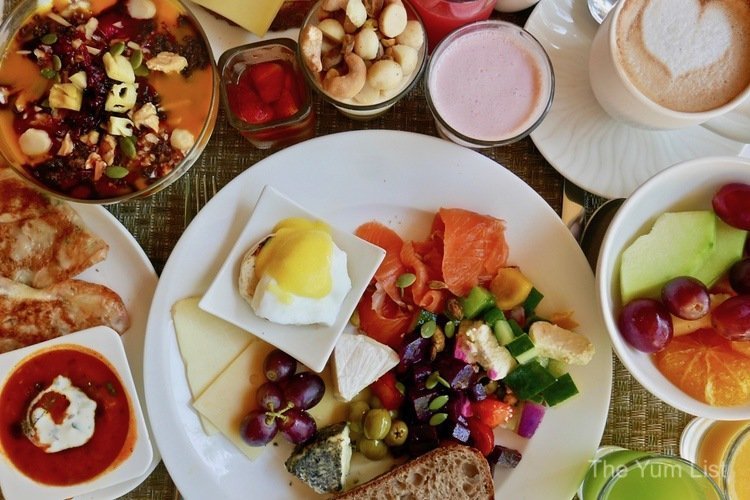 Restaurants
Dining experiences at Mulia Resort include the award-winning Soleil restaurant for Mediterranean and Pan Asian taste sensations. Soleil offers indoor and outdoor seating. As usual, we prefer to be in nature under the skies when we visit to try the popular weekend dinner. Available on Saturday evenings, the weekend dinner combines Soleil's starter and dessert buffet with a two-course a la carte menu.
Table8 offers scrumptious Chinese, which we taste for lunch. Edogin is a fine Japanese restaurant with a sumptuous evening teppanyaki buffet. A fabulous range of international cuisines are created in The Café; the lunchtime buffet is simply spectacular. Should you feel like something lighter, there is an onsite French deli, where picnics can be pre-ordered to enjoy in a range of locations around the property.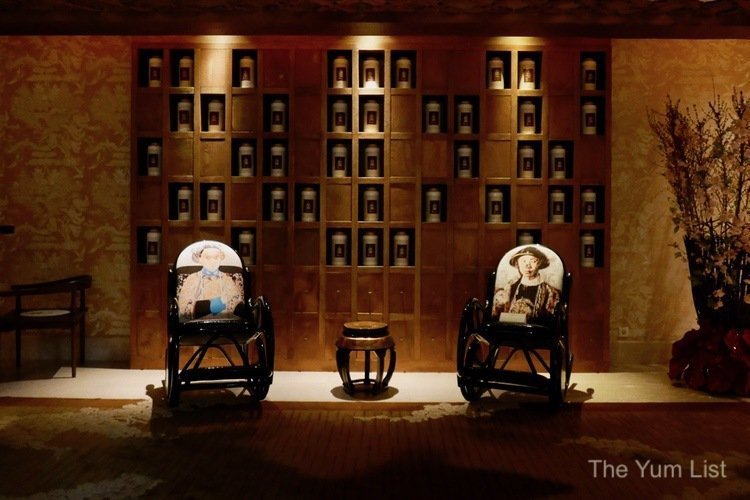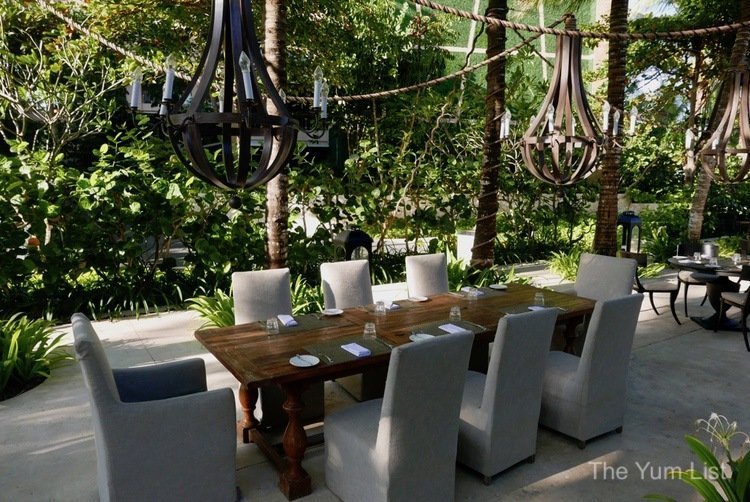 Bars
For those guests who enjoy a beverage as much as fine cuisine, Mulia Resort does not fail you. The Bar enjoys the dramatic panorama at the Atrium on the 7th floor, ZJ's bar has a mellow poolside location, while the Sky Bar serves up hand-crafted cocktails and tapas with direct sea views – wonderful for sundowners. We are happy with our welcome drink, selected from a special cocktail menu of an evening at Sky Bar. I sip on Red Velvet, a blackcurrant and peach tea-infused vodka with cranberry juice, orange zest and lime, while Monica wraps her lips around Lychee Lime Crush, a zingy combination of lychee infused vodka, lime, lychee and sour mix.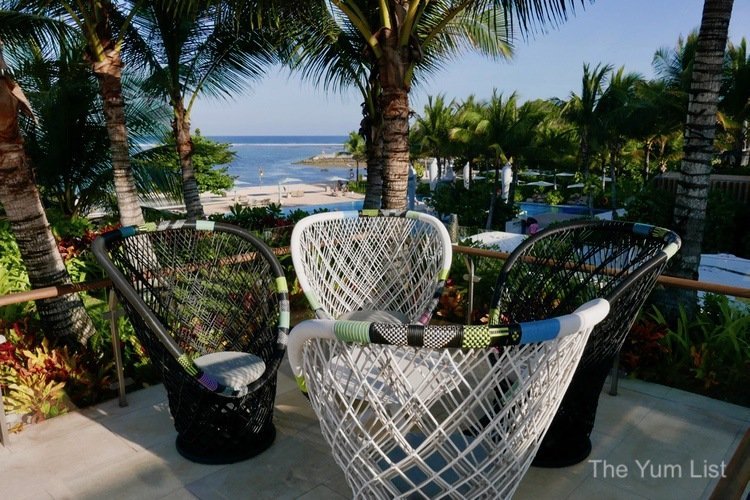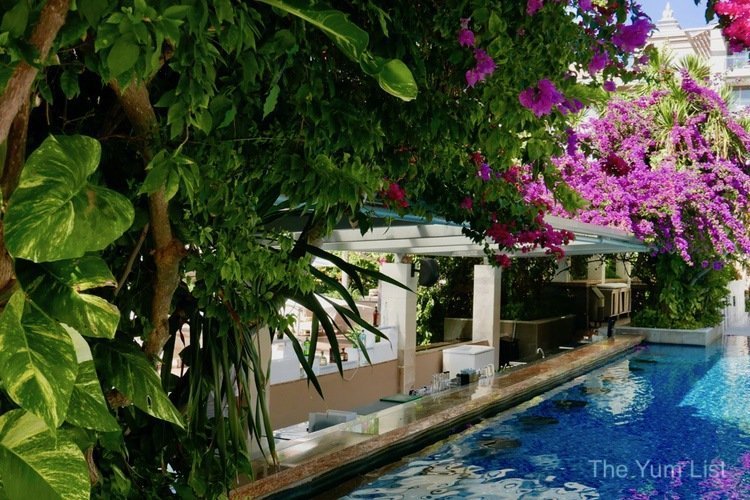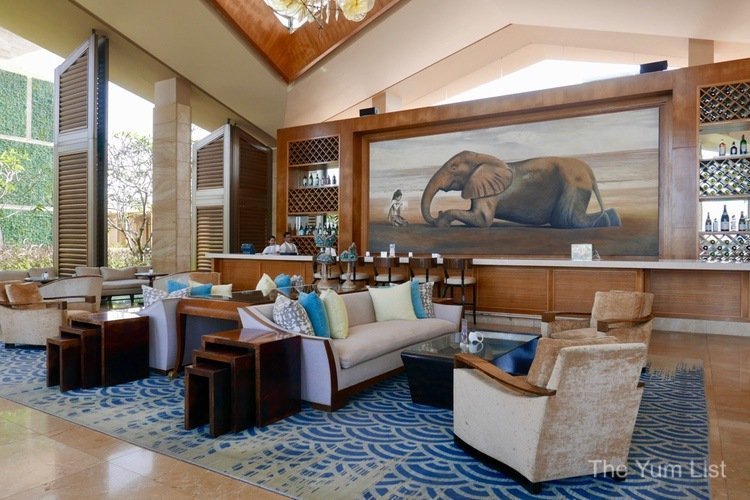 Facilities and Activities
The facilities and activities offered at this award-winning resort, are extensive and inclusive. With four pools, one being a family-friendly kids' pool, a wellness centre, top-class fitness centre which offers classes all day, guests can certainly take care of their exercise and relaxation needs at all times of the day. The spa offers a range of traditional and signature treatments.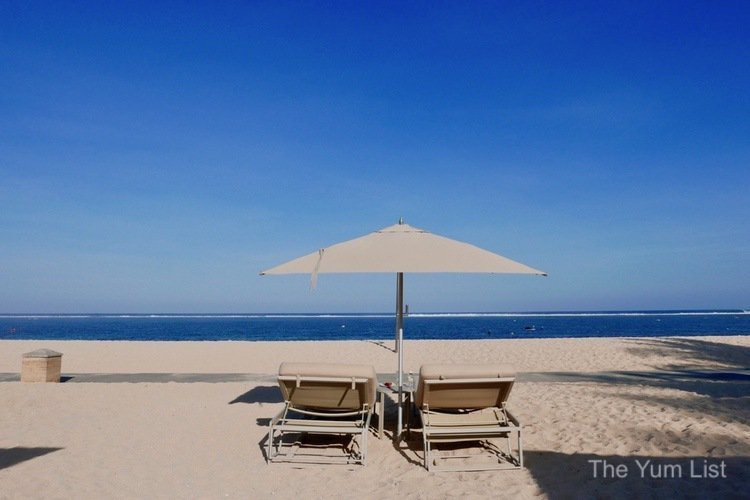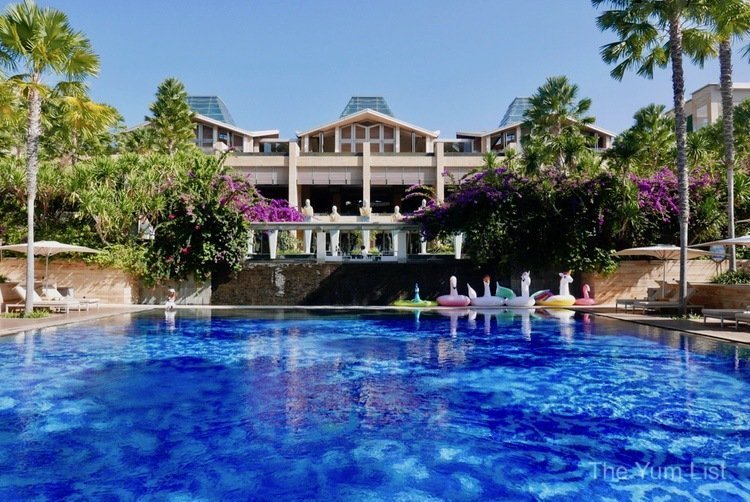 The Kidz Club is colourful and well provisioned, offering daily activities for children aged between 3 and 8 years old. The Kidz pool is also wonderful with a fun range of water features to provide hours of amusement to the younger visitor.
Planning a special event or even a wedding? The Mulia, Mulia Resort and Villas has two spectacular chapels: Serenity overlooking the sea and Eternity ensconced at the end of its own dramatic water feature. This is also a fabulous space for any kind of large gathering or celebration. Plus there are plenty of accommodation options for your invited guests.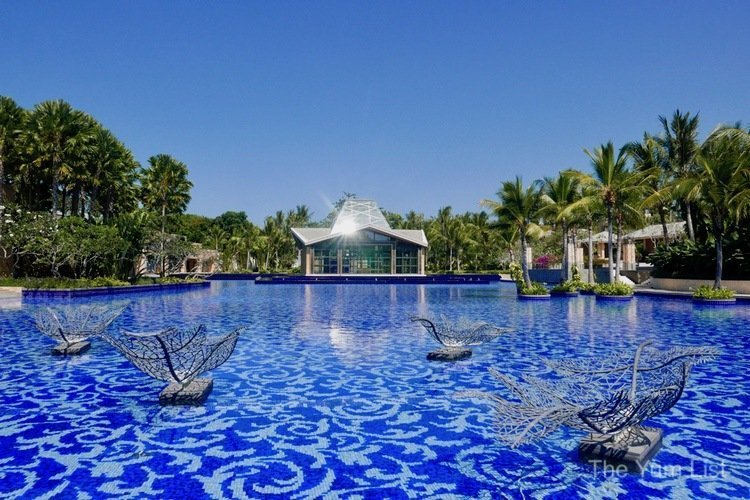 Mulia Resort Review
The Mulia, Mulia Resort and Villas is a splendid property, in an enviable position on Nusa Dua Beach. It is family-friendly and provides a wide range of dining options.
Reasons to visit Mulia Resort: Beachside location, extensive grounds and facilities, commodious and comfortable accommodation, a beautiful collection of art.
The Mulia, Mulia Resort and Villas
Kawasan Wisata
ITDC Lot 1, Nusa Dua 80363
Bali, Indonesia
+ 62 361 3017777
www.facebook.com/themuliabali
Check out Hotel Mulia Senayan, Jakarta here.