Essence Sheraton KL
Words: Anna Chew   Photos: Monica Tindall
Slipper lobsters, Alaskan king crab legs, Japanese oysters, a caviar station, the wildly popular tomahawk steak, an endless selection of desserts, a range of cold cuts and salads, an Italian pasta station featuring favourites from Villa Danieli and Peking duck rolls from the award-winning Celestial Court – and, we haven't even begun to mention local favourites!
If choices and options are your thing and buffet spreads make you happy as a lark, you should be delighted to read that Essence at Sheraton Imperial Kuala Lumpur has just launched their Weekend Seafood & Grill Buffet. Raising their game, with highlights of the freshest of seafood and a perfectly grilled tomahawk, this feast is set to give popular KL hotel buffets a run for their money.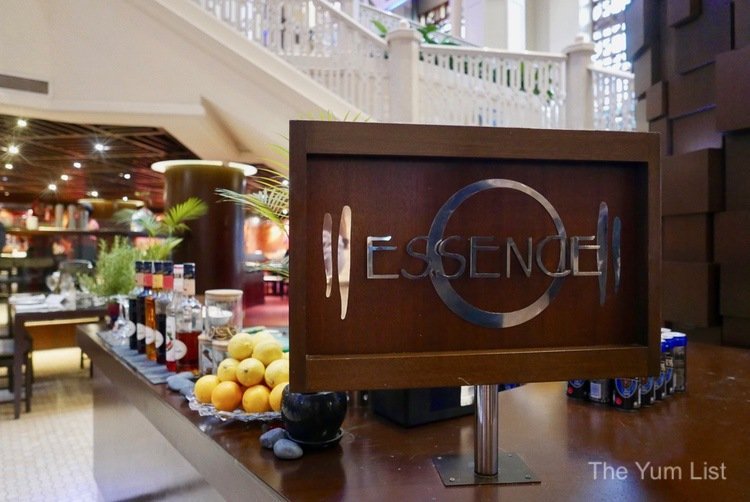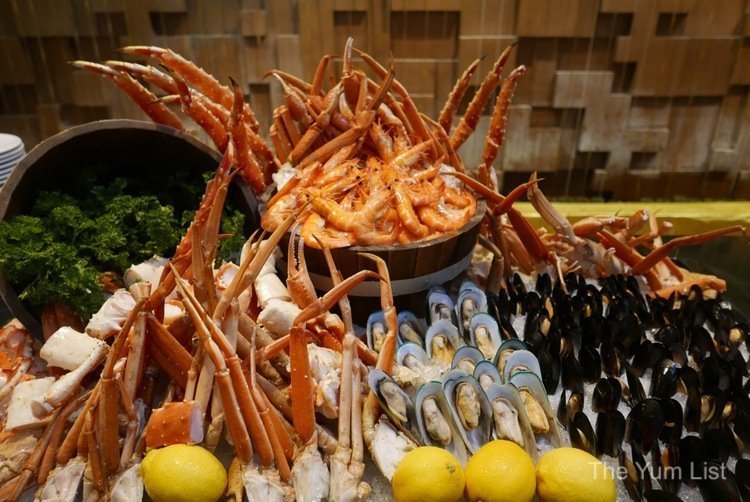 Seafood and Caviar station
Monica and I were immediately magnetized towards the ridiculously attractive seafood buffet. Framed against a beautiful waterfall backdrop, it was as if we fished the shellfish right out of the sea. Nothing is frozen here. The Japanese oysters were plump and fresh. We could've easily eaten a dozen if we weren't concerned about trying everything else. Save space for the scallops, crab claws, slipper lobsters, Alaskan king crab legs and mussels. Fresh, tasty and textured, they go beyond your usual fare on ice.
Don't miss the caviar station. There's an impressive selection that can act as toppings for the selection of seafood, or have them in classic fashion with blinis, egg and onion. This is one classy buffet.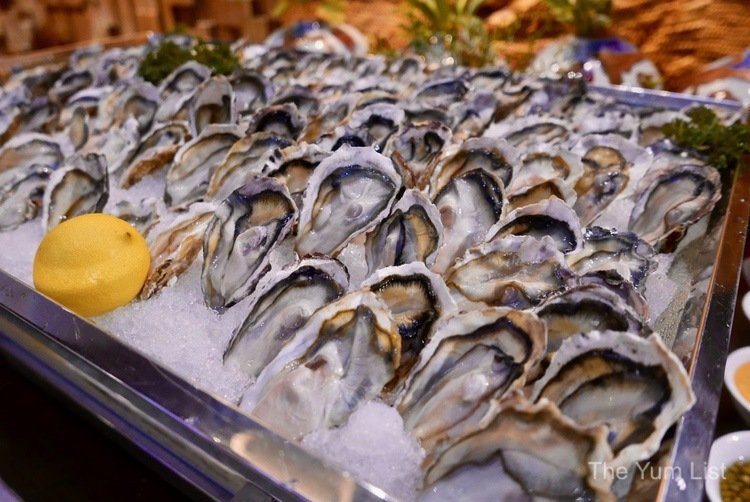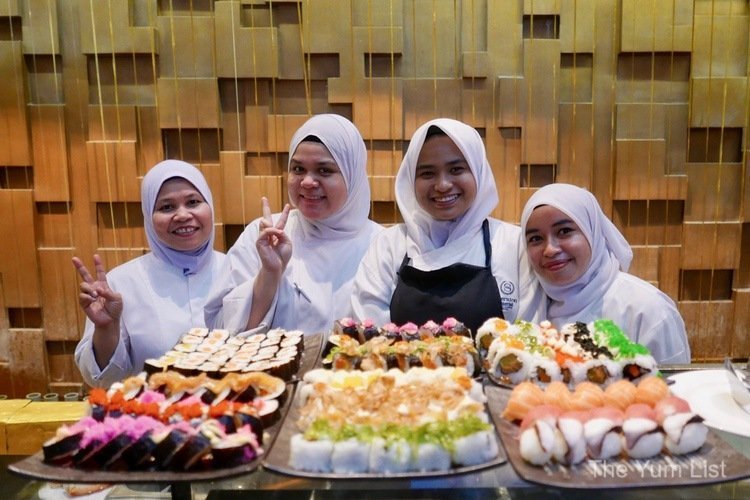 Essence Sheraton Imperial Kuala Lumpur Buffet Highlights
The highlight of the mains is most definitely the tomahawk. Done "medium," the meat melts in the mouth. It is a magnificent showcase with chefs slicing the giant-sized steak to order. There are plentiful grilled vegetables and mushrooms as accompaniment, but there are many who just opted to pile their plates with continuous servings of this premium cut of Australian meat.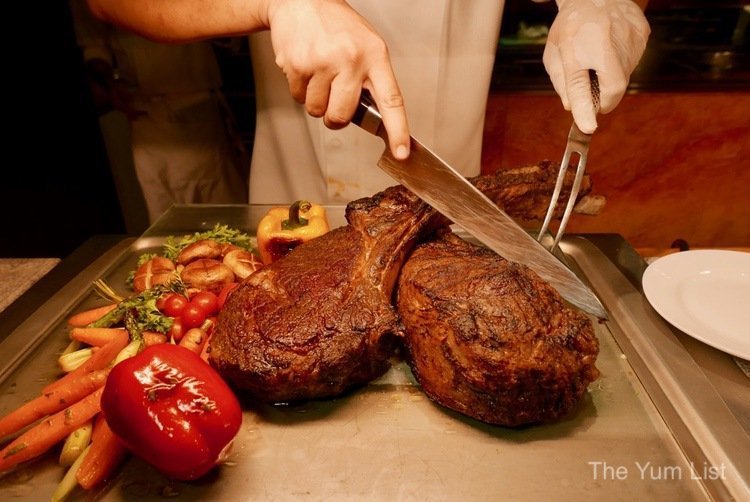 Another must-have is the double-boiled Chinese soup presented in a whole coconut. Prepared with quality herbs and black chicken, such preparation is rarely found in even high-end Chinese restaurants, let alone on a buffet. The lingering sweetness of the ingredients was a total standout. For those into Peking duck, don't miss the roasted duck station next to the tomahawk.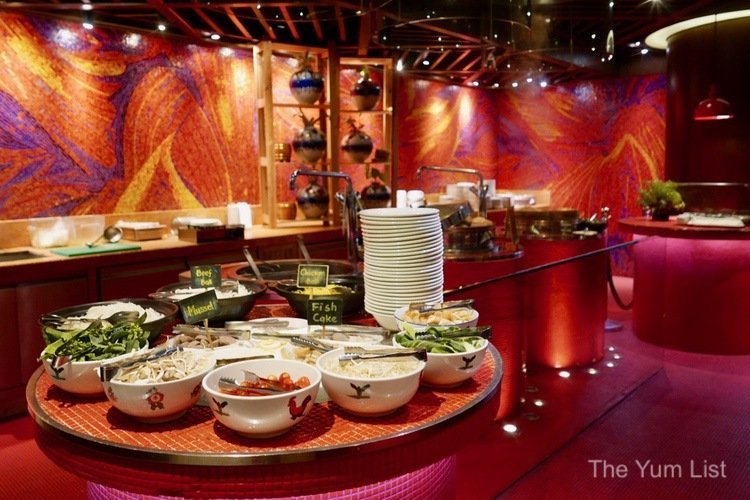 The appetizer display has a good array of meats, salads, grilled vegetables, nuts and condiments. The noodle station is equally noteworthy providing a solid range of ingredients to add to a choice of a clear broth or a heavier curry base. Vegetarians also are well taken care of with the salads, lots of meat-free Indian recipes, pasta and, of course, dessert.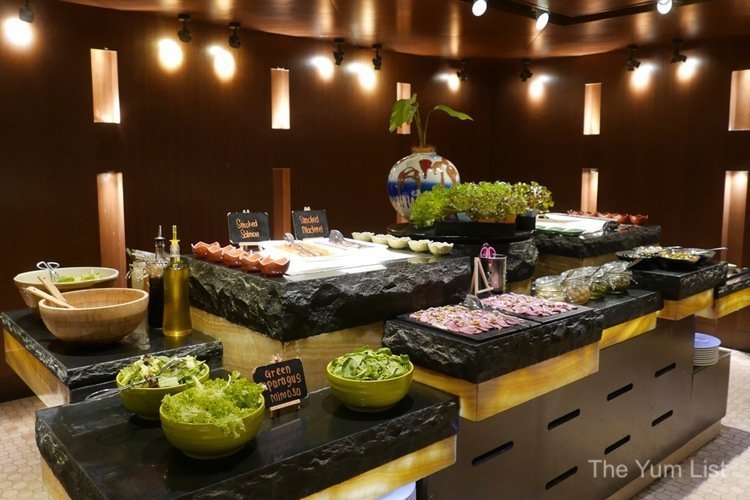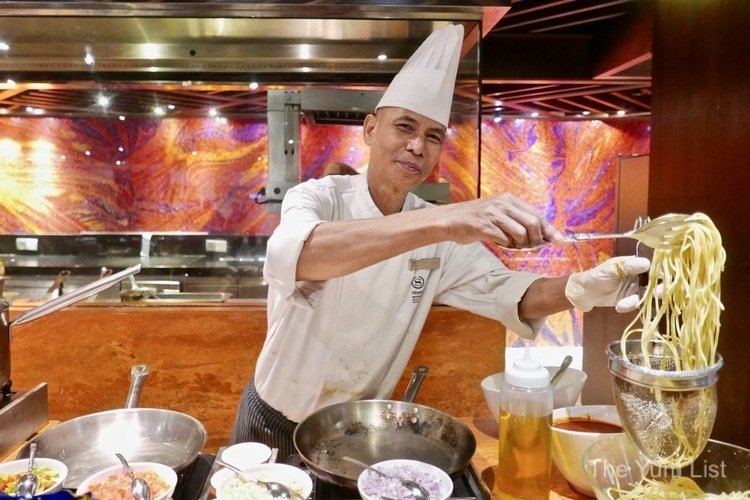 Don't miss the local Malay food station where we found what is arguably the tastiest beef rendang, branded as Rendang Daging Haji Salleh. Whoever Haji Salleh is, thank you for the well-braised meat that breaks apart on the chew, the proper use of oil without leaving behind a pool at the bottom of the plate and the most mouth-watering combination of spices. The satay, both beef and chicken, came in a strong second, with a fragrant and thick satay sauce and juicy (not oily) meat skewers.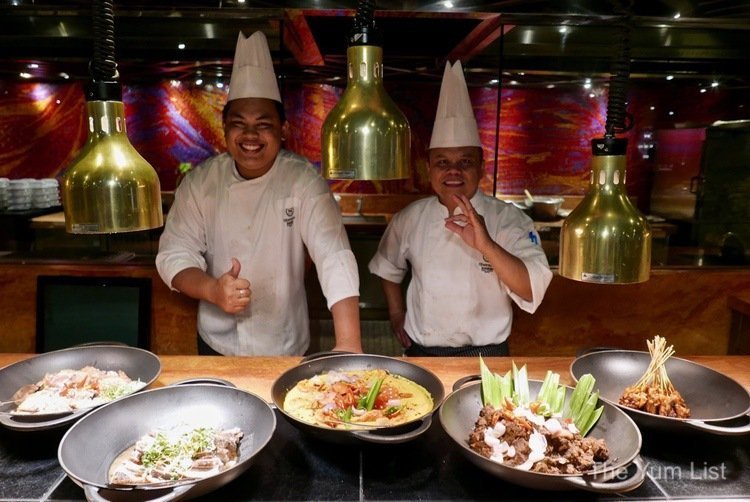 Having said all that, I did do double rounds on the tomahawk. It warranted a second showing.
Essence Sheraton KL Buffet – Dessert
Who does a buffet without visiting the dessert line? Likely no one ever. Girls and girl wannabes are in for a treat. Some of the desserts are beautifully crafted and designed as fashion items. From lipsticks to stilettos, they're all desserts disguised. Not just pretty to look at, the cheesecake was done Japanese style, light and fluffy, while there was a great range of financiers of all kinds. The fried ice-cream, chocolate fountain and a gorgeous carrot cake that looked as though it has just come out of a tub of caramelized nuts also deserve space on your plate. If you can find the room, tea or coffee might aid with digestion.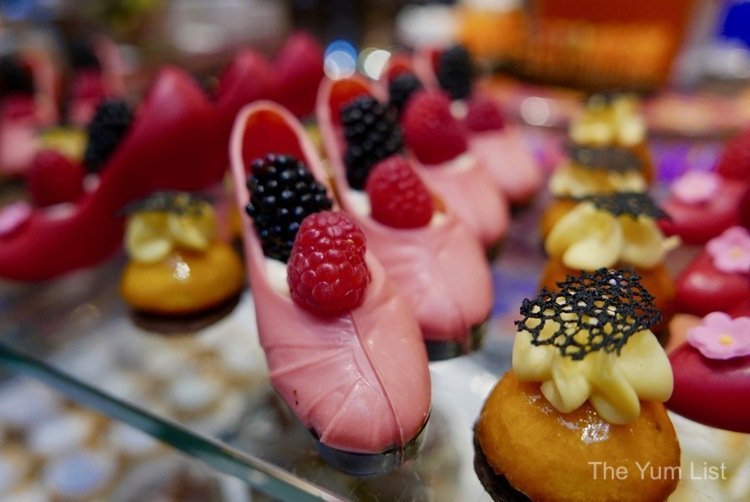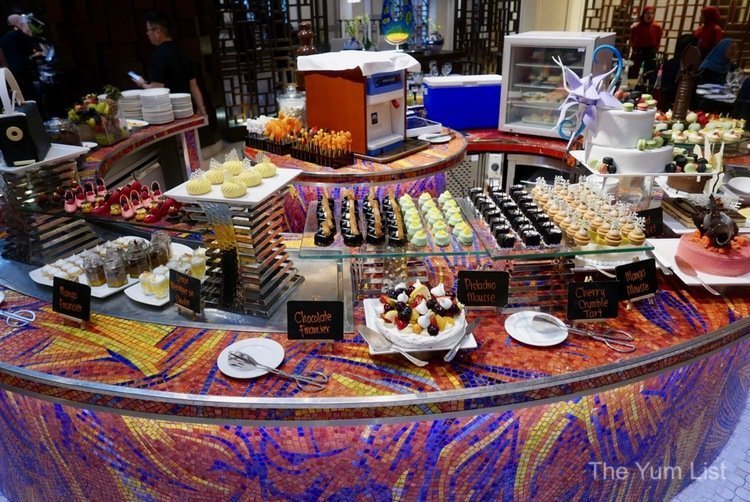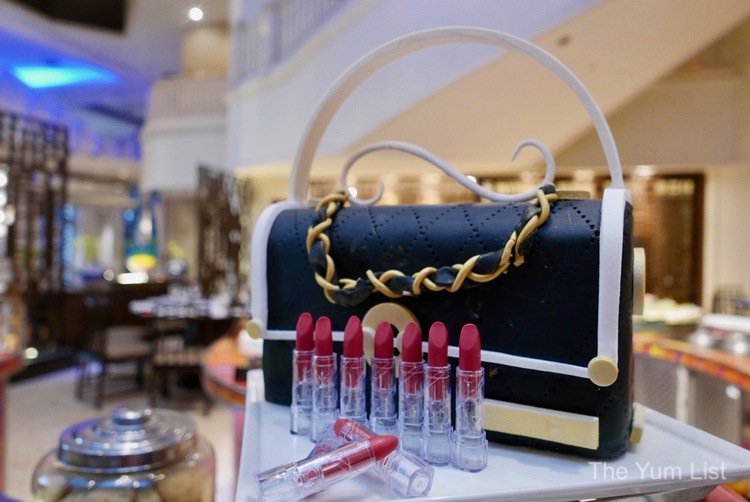 The Weekend Seafood & Grill Buffet at Essence Sheraton Imperial Kuala Lumpur runs every Friday and Saturday evening and is priced at RM199 per person. A free flow of red and white wine, by Trivento Argentina, is an additional RM99 per head.
Reasons to visit The Weekend Seafood & Grill Buffet at Essence Sheraton Imperial Kuala Lumpur: The grilled Australian tomahawk steak, the vast and selection of fresh seafood and caviar, eye-catching and mouth-watering desserts, option after option of everything else in between and enough choices for just about everyone in the family or group of friends.
The Weekend Seafood & Grill Buffet
Essence at Sheraton Imperial Kuala Lumpur
Jalan Sultan Ismail
50250 Kuala Lumpur, Malaysia
+603 2717 9027
www.facebook.com/essencerestaurantkl
Essence Sheraton Imperial Kuala Lumpur Weekend Buffet Opening Hours
Friday and Saturday: 6:30 – 10:00 pm