Buffet at The Cafe Mulia Resort
Words: Kirsten Durward Photos: Monica Tindall
The Cafe is one of several Mulia restaurants offering lunchtime dining, and if you are feeling hungry, this is the place to be. No matter what your tummy is craving, you are sure to find a taste to satisfy it here. With the vast range of freshly prepared international cuisine that is on offer in this light and airy dining room, diners are spoilt for choice.
A stunning selection of chilled seafood is the first thing to greet you upon entering The Cafe's spacious cream-toned setting. Locally caught crabs, fat mussels, luscious clams and juicy pink king prawns are piled lavishly on crushed ice, surrounded by an array of dipping sauces. Seafood lovers will also be delighted by The Cafe's Japanese station, with hand rolls, nigiri, sashimi as well as a colourful range of maki. I loved the butteriness of the swordfish sashimi, and the soft blend of cream cheese on the tuna roll. Japanese tastes also extend to pickled salads, tuna tataki and more.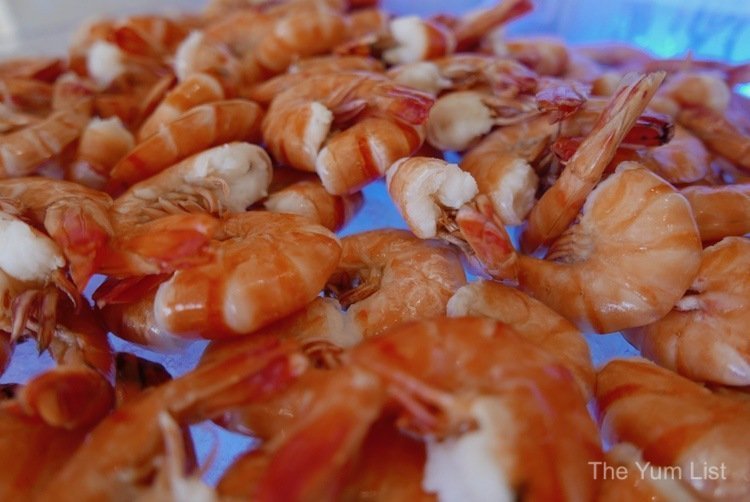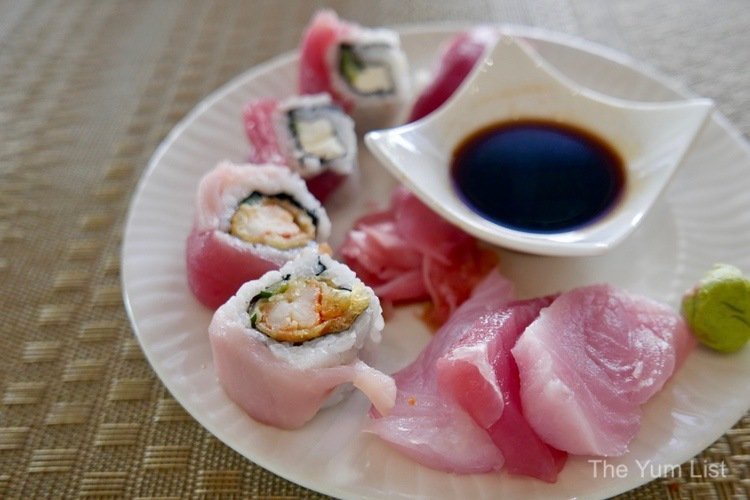 All the Mulia restaurants we have visited, have excelled at salads, and The Cafe is no exception. A varied selection is arrayed beside cold cuts and can be made up into a course in its own right or a fresh accompaniment to the grilled meats and pasta next door.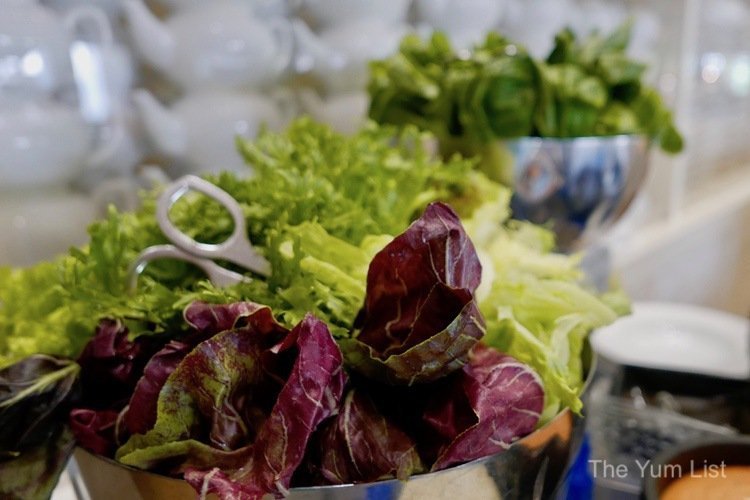 Indian food lovers are not forgotten with no fewer than six curries to choose from, ranging through lamb, chicken and three different vegetarian offerings, with roti, and tomato rice. There is also a delectable Chinese selection with standout Hainanese style chicken and duck.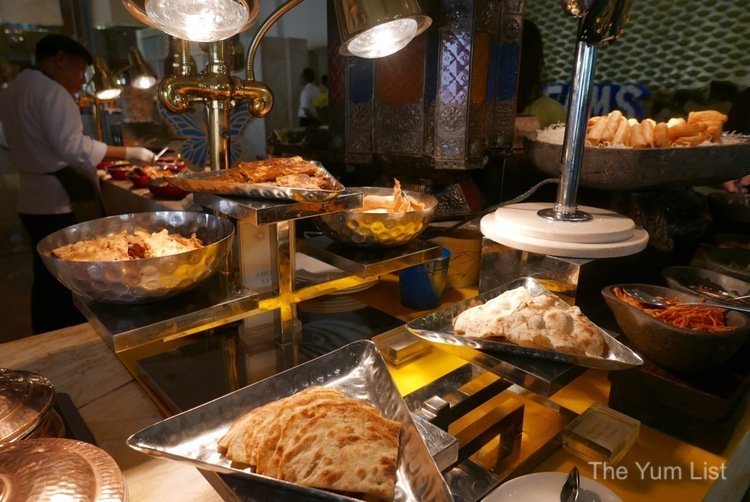 Balinese cuisine is something a little special, and this is a great opportunity to extend beyond satay and try a taste of the creamy curries, or salty-spicy sauced dishes, pickles, and crispy treats with a surfeit of dipping sauces to select from. If you are looking for a more Mediterranean flavour for lunch, a chicken shawarma stand towers beside pans of roasted vegetables and potatoes with rosemary. Or try a little lamb chop with some celeriac puree.
Live Cooking Stations, The Cafe, Bali
Whether your preference is for freshly made pasta, noodle soup, Thai style seafood or Korean barbecue, the chefs at The Cafe will be happy to prepare for your particular tastes. Pasta sauces we saw ranged through simple pesto to seafood and bolognese. The Indian ovens offer salmon, fish and lamb Tikka, as well as freshly prepared nan bread! Try an Indonesian salad freshly assembled by hand, using vegetables, spices, different styles of tofu, yellow noodles and a whole array of sauces. Or for something special, try the popiah, a delicious combination of egg, prawn, coriander, sweet turnip and lettuce rolled into a light pancake right in front of you.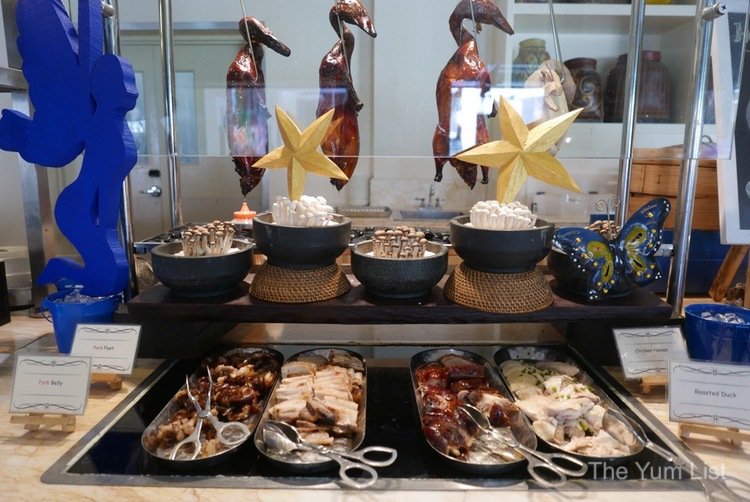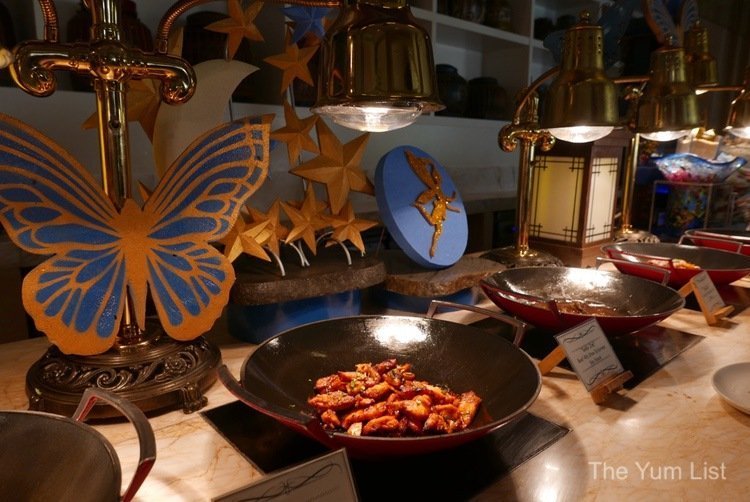 Desserts at The Cafe, Mulia
Desserts merit their own room, with a range of international treats to tempt a sweet-toothed diner. From opera cake to Valrhona chocolate mousse, creme brulee to bread pudding, the list just goes on and on. We decide to test local flavours with grilled banana and Indonesian rice flour pancakes. I make mine into a spectacular sundae with two flavours of ice cream, a lot of fresh fruit and crème anglaise. We also spend quite some time marvelling at the spinning freezer twirling fourteen different flavours of house-made ice creams and sorbet.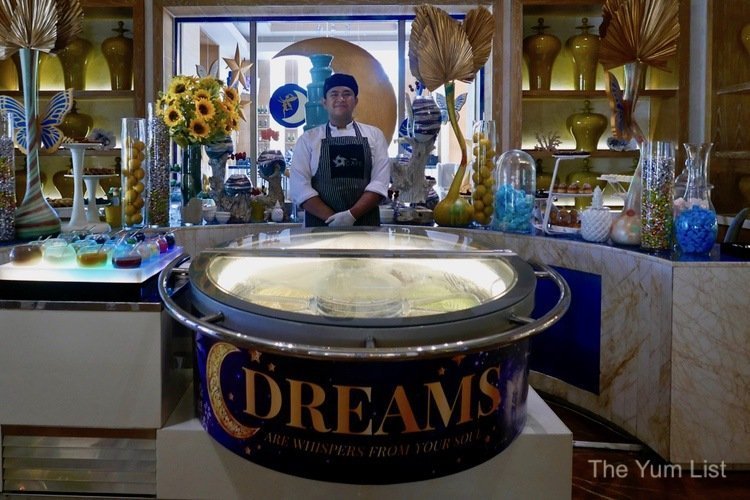 Or if you prefer a Fench ending with cheese, fill a plate with brie, Edam, Emmental, Roquefort and cheddar and enjoy them with a range of beautifully crafted bread. All in all, you can feast for up to three hours before rolling back out to your sunbed beside the pool. Alternatively, walk off some of your indulgences along the beautiful Nusa Dua beach walk.
The Cafe, Mulia Resort Price
The lunch buffet at The Cafe is priced at INR 399,000 ++ for adults and INR 249,000 ++ for children aged three to eight years.
Reasons to visit The Cafe Mulia Bali: a splendid array of fresh local produce and international flavours.
The Cafe
Mulia Resort
Kawasan Wisata, ITDC Lot 1
Nusa Dua 80363, Bali, Indonesia
+62 361 3017777 extn 6808
[email protected]
www.facebook.com/TheCafeMuliaBali
The Cafe Mulia Resort Opening Hours
Lunch 12 pm – 2:30 pm
Dinner 6 pm – 10:30 pm
Sunday Lunch 12 pm – 3 pm