Chef's Table FLOUR
Aileen Dee & Monica Tindall
FLOUR in Bukit Damansara has received lots of positive buzz since it first opened. On this occasion, however, we were not there for the regular menu. Instead, we'd been invited to experience Yogesh Upadhyay's Chef's Table; a 10-course dinner at FLOUR with liquid pairing by French Bourgogne wine expert, Yuhei Teraoka.
The Visual
We walked into a room that had been transformed to suit the occasion. Elegantly laid tables with beautiful handmade placemats and pretty menus tied with little bunches of dried flowers stood out amongst a backdrop of black curtains and subtle lighting. Each table was assigned a server, who introduced themselves by name and welcomed us to the evening.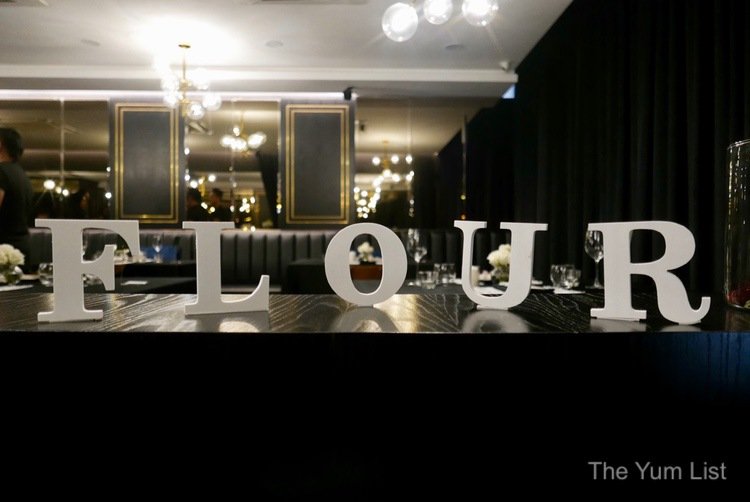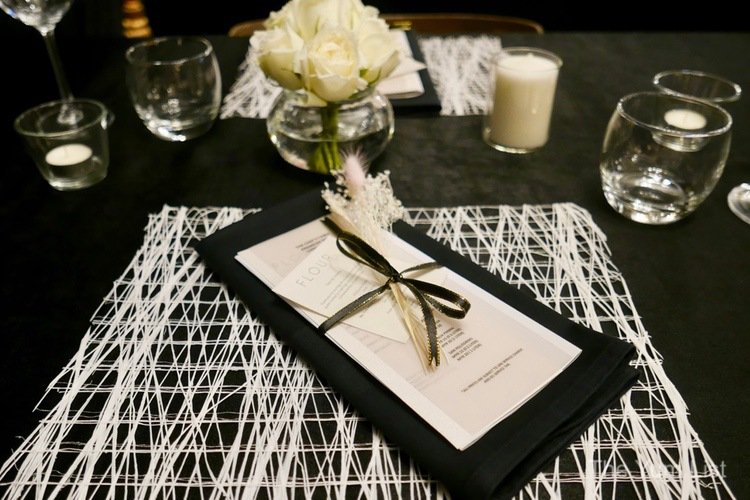 Chef's Table at FLOUR
Guests on time and all promptly seated, lights were dimmed and a dramatic mood set with one of Hans Zimmer's soundtracks (it could be The Last Samurai, but I might be wrong). Chef Yogi (as he prefers) introduced the concept describing FLOUR as a vision, an idea for Indian cuisine. FLOUR is a son's dedication to his father.  FLOUR is the story of love. FLOUR is passion for food. Chef Yogi welcomed us to a quantum leap of a journey where he promised there would be hits and misses but also fond and sweet memories. Deconstructed versions of popular street dishes would be served in a fun and adventurous manner. Chef Yogi forewarned us to expect the unexpected.
The Journey Begins
Whetting palates, a 2017 Triennes Les Auréliens Blanc, a chardonnay viognier blend, was served. Crisp, refreshing and pleasing to the palate, this definitely pleased Mon and worked well as both an aperitif and also a match for the initial course.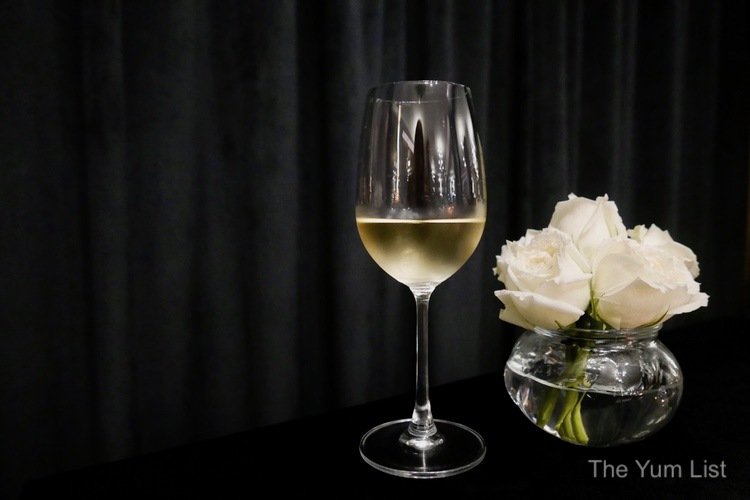 Leaving Home
With Hans Zimmer's Braveheart soundtrack slowly building, and under the watchful eye of Chef Yogi, the first course was delivered. The room, full of anticipation, took a moment to admire the entrance, 'Curd.'  This dish is popularly known as Dahi Puri, street food in India, but here it's plated as if a contemporary work of art – splattered across the plate. Beetroot jus and mint stripes add colour and flavour. It was spicy, creamy and crunchy and accomplished its purpose of stimulating the mind and palate for more.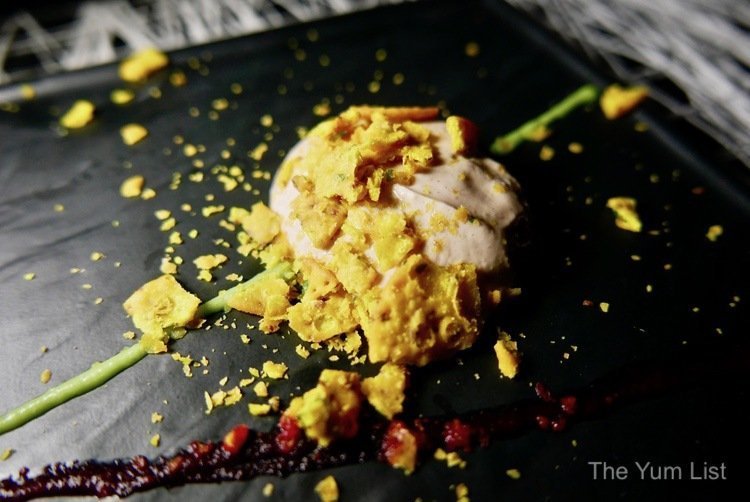 Foreshadowing what was to come next, Chef Yogi talked about the oven and the steamer, the two tools used to prepare the chicken and the goat in the following course, 'Skewer.' While there was no skewer in the presentation as in the original Sheekh Kebab, this version was attractively presented. Steamed minced chicken was topped with a fine layer of sauce (orange perhaps?) and the lamb was cooked in a tandoor. We sipped the last of the white as we tried the chicken and enjoyed a light Burgundy, 2016 Abbaye De Santenay, with the lamb. Light, with firm and discreet tannins,  I could drink this one every day!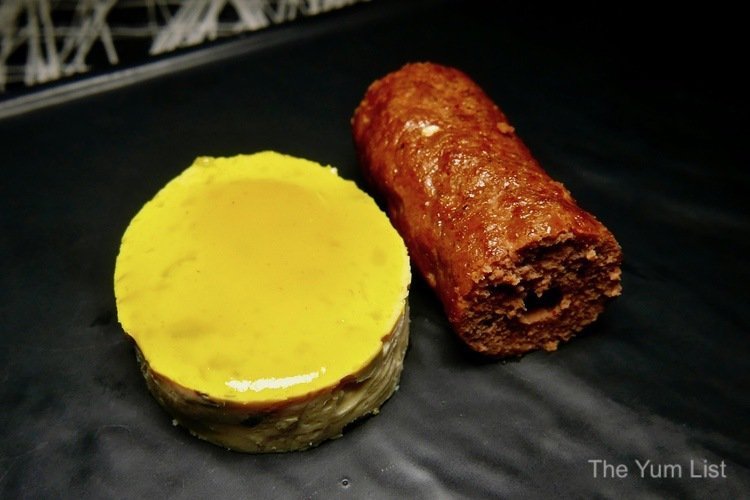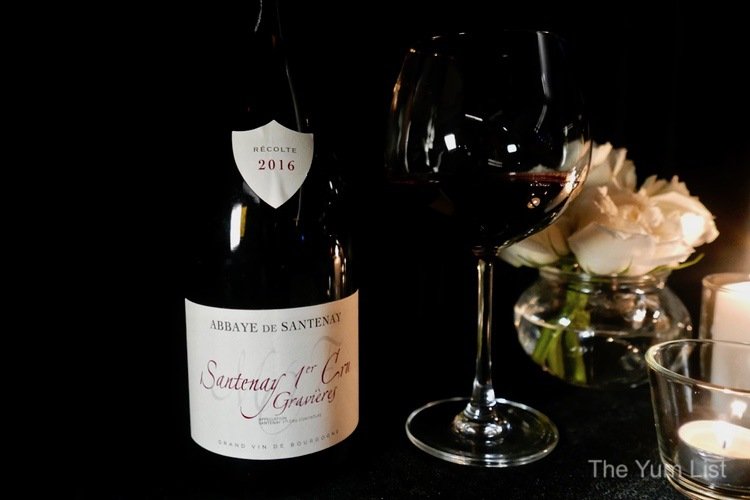 The music moved on to Gladiator with Lisa Gerrard singing "Now We Are Free" – one of my all-time favourite compositions from Hans Zimmer.  It mirrors an emotional journey to the afterlife… and this introduced the next step of the voyage.
The Task
A rectangular slate with three different stripes of sauce, no cutlery, marked the third plate. Guests were asked to use their fingers, trying the sauces from left to right, hence the name, 'Licking Good.' Some bold patrons licked the plate across the trio, blending them into one. However guests attacked the course, it certainly made everyone slow down and contemplate the importance, subtle differences and commonalities between the three popular Indian gravies.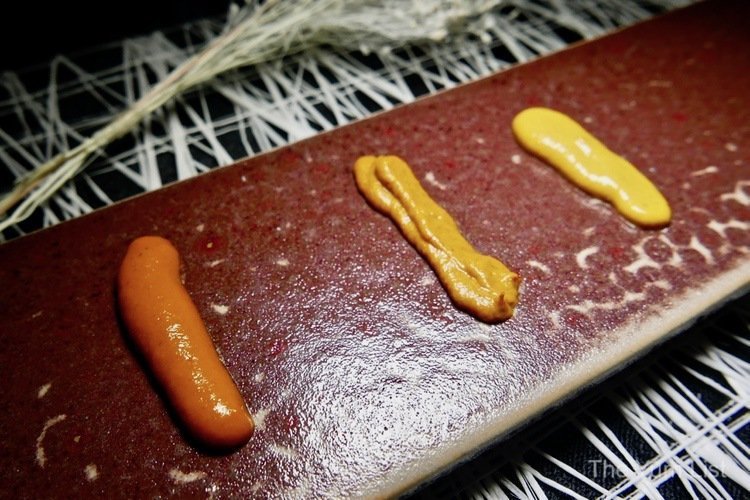 Continuing to eat with our hands, we learned that the next dish, created by sous chef Balwant Singh, nearly didn't make it to our tables. Delicate in construction, the first attempt was a disaster. Determined to get it right and not cave to the pressure, the second bid was a success! The piece simply named, 'Corn' had countless guesses as to its ingredients. Many were firm believers that the white middle was coconut. Not a single soul guessed the actual ingredient – vanilla ice cream!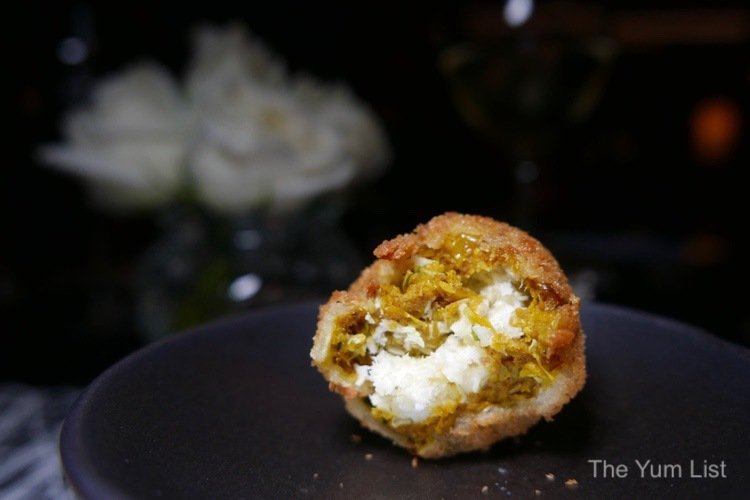 Serenity
Hans Zimmer's and John Powell's 'Oogway Ascends' from Kung Fu Panda appropriately provided accompaniment for the halfway mark. From elegant teapots, the soup was poured over a portion of rice. The broth of this 'Soup' course originated from the North East of India where it's called Thukpa. Instead of the traditional noodles, short-grain rice was used. The clear soup was a delightful combination with coriander gently coming to the forefront alongside a very light numbing sensation of Szechuan pepper. I wanted more.
'Sherbet' came as preparation for the next leg of the trip. Unlike what some might imagine as a sorbet palate cleanser, this instead was a rose-pink liquid. Mildly sweet it achieved the same goal of the cleansing of the palate.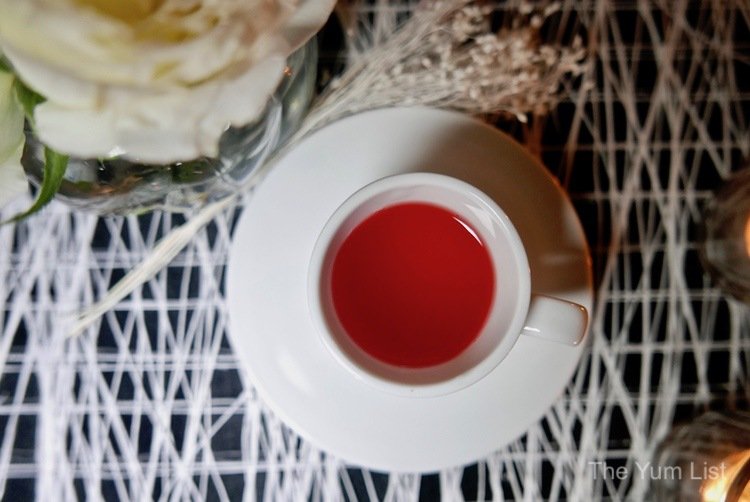 Moving onto the main courses for the Chef's Table at FLOUR, 'Fish' offered a wonderful weaving of flavours with caramelised shallots and fresh mango tempering the stronger flavours of the mustard and the green chilli. In West Bengal, this dish is called 'Macher Jhol.' While this may have been my favourite dish, Mon fell in love with what followed, 'Duck.' Tender, with a touch of smokiness, the poultry slices came in a barbeque sauce with black lentils. Inspired by Dhal Gosht, the customary lamb in this recipe is replaced with duck. And, with a beefing up of flavours, also came bolder wine. A 2015 Marsannay Rouge, similar to a pinot noir with a sprinkling of saltiness finishing off with a dash of spice, proved another easy drinking and highly enjoyable drop.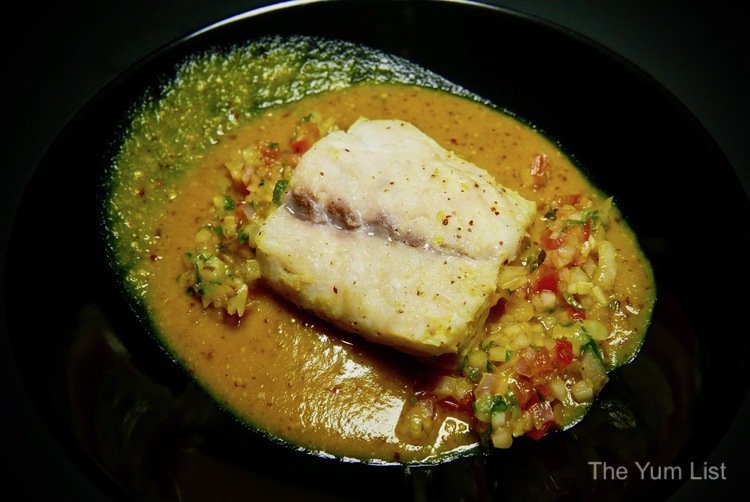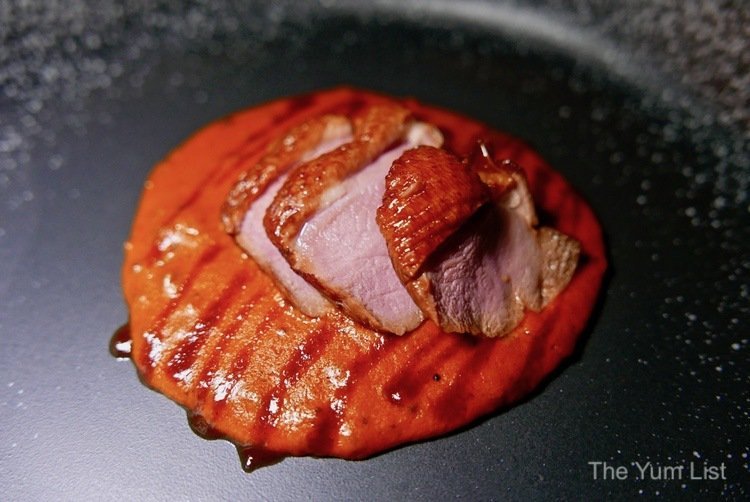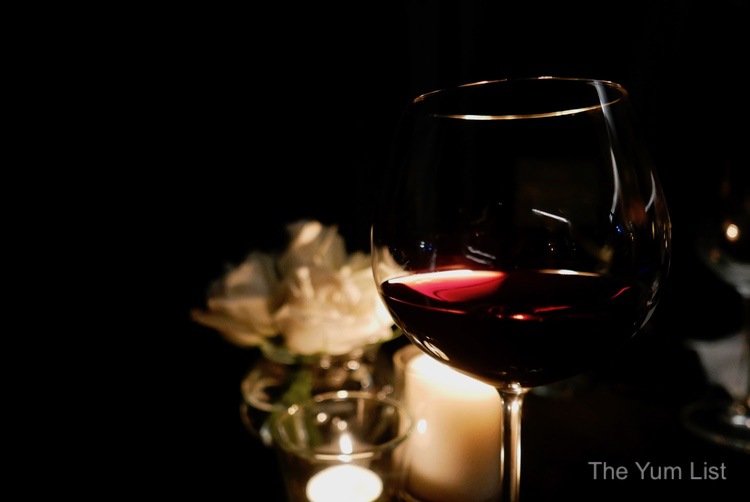 In between mains and desserts, came the rice dish, 'Kichadi,' for the Chef's Table FLOUR. Rice stewed with mung beans, turmeric, long beans and carrots brought back childhood memories of mum's cooking. Comfort food for the soul is what I would call it.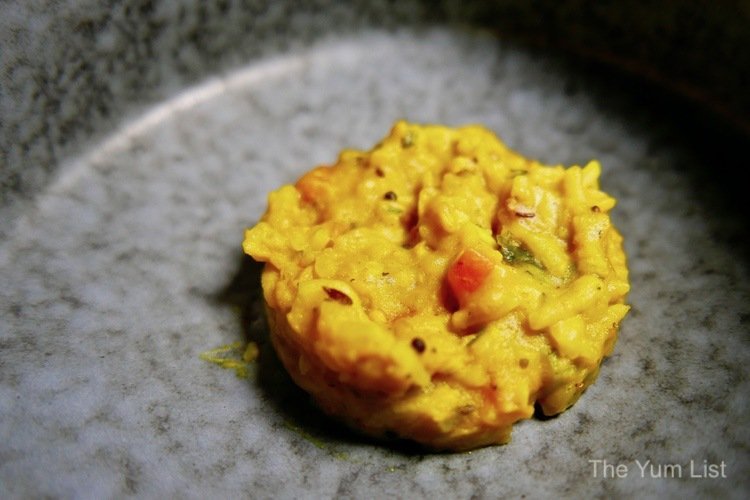 The Last Bump – Chef's Table FLOUR
Shahi Tukda is a dreadful dish Chef Yogi will tell you. Dreadful, that is until he fixes it! Labelled as 'Cheese' on the menu, this recipe turns convention upside down with its thin sugar-soaked bread-like base topped with strawberry puree and reduced milk. It's nowhere near as sweet as the original, and in some opinions at our table, just could be the next 'in' way of making cheesecake.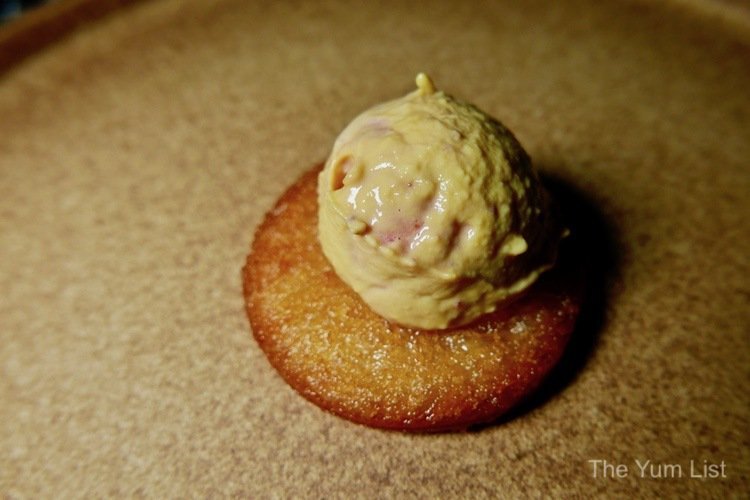 With the soundtrack from Inception coming to our attention and flutes of Champagne moistening our lips, a collaboration project with renowned local chocolatier Ning Ong had the crowd groaning sweet satisfaction. A ridiculously velvety and melty praline was sharpened with a high dose of chilli and a pinch of salt. That fine line between pleasure (smooth creamy cacao) and pain (the burn of the capsicum) is drawn precisely at this point.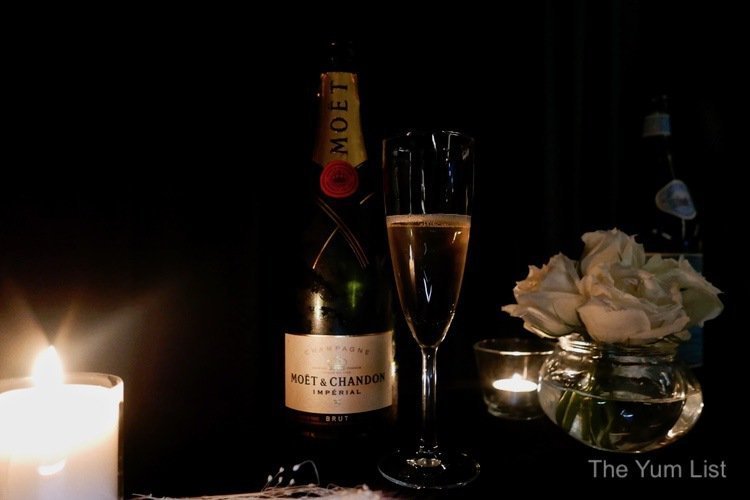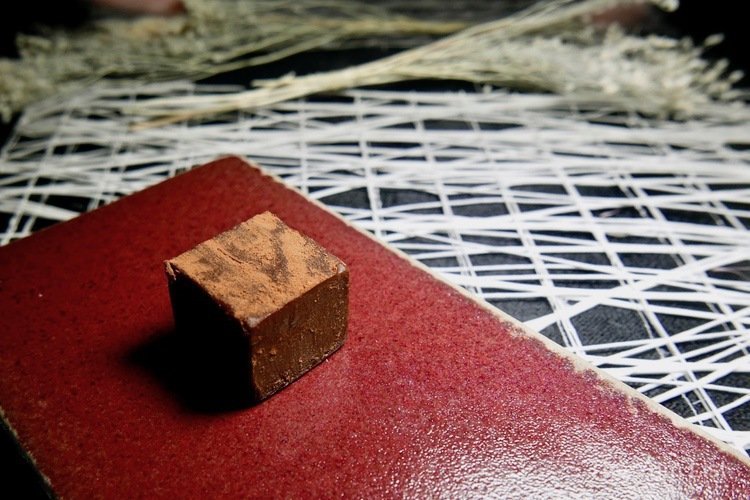 Ensuring we disembarked from our Chef's Table at FLOUR with sweet memories, chiku ice cream with a touch of basil completed the dinner. Chiku, aka sapodilla, is a sweet, grainy fruit making this gelato very refreshing and very satisfying.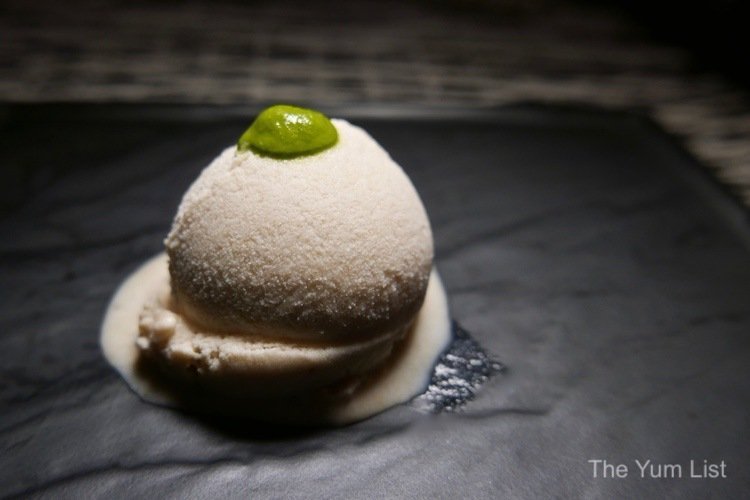 Reasons to request Chef's Table FLOUR: The Yum List is yet to visit FLOUR for a meal from the regular menu but this is the second chef's table experience and one that we can highly recommend.
Chef's Table FLOUR
71 Jalan Medan Setia 1
Plaza Damansara, Bukit Damansara
50490 Kuala Lumpur, Malaysia
+6 012 960 0053
www.facebook.com/FLOURRESTAURANT
FLOUR Opening Hours:
Tuesday – 6.30pm to 10pm
Wednesday to Sunday – 11.30am to 3pm; 6.30pm to 10pm
Monday – closed
Find The Yum List's first Chef's Table FLOUR experience here.