Edogin Mulia Bali – Teppanyaki Buffet Dinner
Words: Kirsten Durward   Photos: Monica Tindall
Teppanyaki Buffet Dinner Nusa Dua
The Teppanyaki Buffet Dinner at Edogin, the Mulia Resort's Japanese restaurant in Bali is actually much, much more than teppanyaki. Available Thursday, Friday and Saturday evenings, the cooked-on-the-spot barbecue is backed up by an extensive collection of starters and desserts along with a number of tempura and noodle dishes made to order.
Japanese Buffet at Mulia Resort
Our eyes are on stalks at the array of sushi, sashimi, shabu shabu, tempura, mini wagyu burgers and more. At at least one point Monica complained that her plate was too small. But she does not complain about eating lobster for the third time in three days. These grilled tails, perfectly charred, were certainly worth tasting. I happily load up my plate with yellowtail and tuna, a fat hand roll, some quail eggs and a blind selection from the colourful sushi display.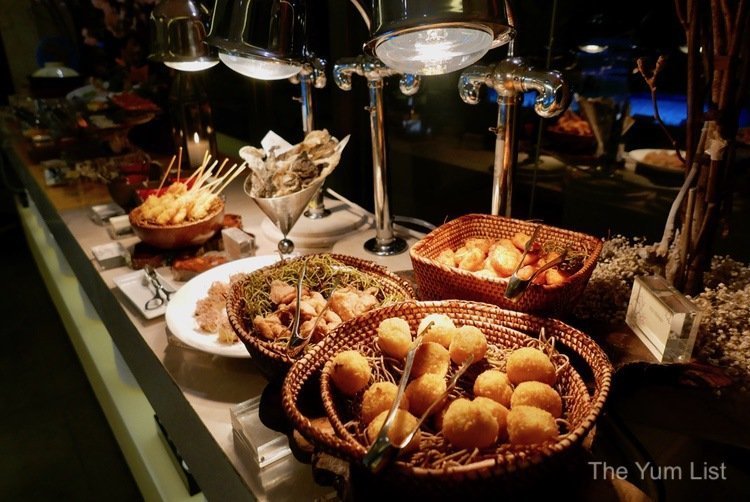 Edogin Mulia Bali's Teppanyaki Restaurant
Bordered by hot plates, chefs await our plates of personally selected fresh produce. I do love an opportunity to self-select and have my food hand cooked in front of me. At Edogin, the fish and other produce are imported daily to ensure a high-quality Japanese experience. I am prompted to try the Chilean sea bass, which I team with fresh prawns, some colourful peppers and a range of mushrooms. Cooked with flair and skill, it is such fun to watch. And taste-wise… the tip proves you should always listen to the man doing the cooking. The sea bass is so light and fresh, it melts away in my mouth like a dream.
Returning for a second round, I opt for swordfish with snapper accompanied by baby bok choy, onion and courgette. All are delicious, but courgette cooked this way is a revelation I am keen to try more of. For meat eaters, there is a range of lamb, chicken and beef in various cuts. Nobody is going home hungry.
Edogin Japanese Restaurant Buffet
Included with the Teppanyaki Buffet is a small made-to-order menu of tempura items and a range of noodles including soba and ramen. Monica orders a bowl of curry ramen, which makes quick work of before finally conceding defeat on the savoury front.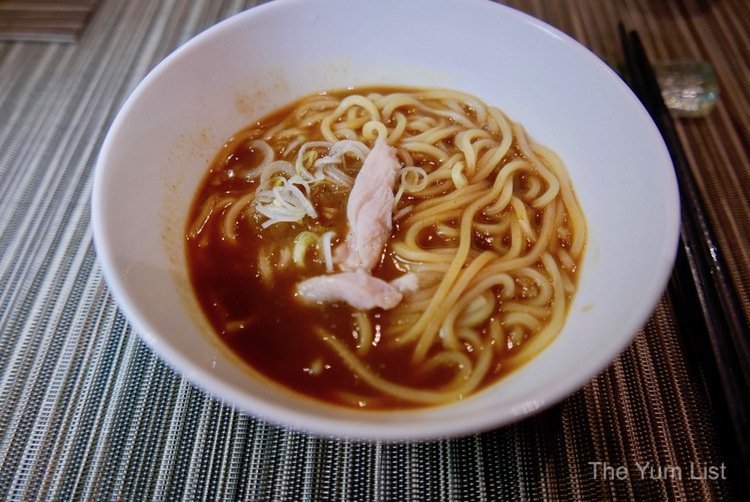 Dessert
And then it's onto dessert. Selecting a couple of mini delights from the vast display, ginger chocolate mousse pleases the palate, but the lime cream custard topped by lychee is an easy winner. Mon tries multiple mochis; their chewy texture just right in any number of flavours.
The teppanyaki show has not quite finished yet though as ice cream and sorbet are smoothed and rolled on the flat 'cold' plate with the same tool typically used for the mains. Monica and I both plump for mango and passion fruit sorbet but while she opts for a colour contrast with strawberry, I stay completely tropical with pineapple and yet more mango as the fillers. The skill of creating a fruit-filled ice cream roll is quite mesmerising. And, the taste is simply sensational. I wish I had room for another flavour or two, but right now what is needed is a walk to digest some of this feast.
The Teppanyaki Buffet Dinner at Edogin Japanese restaurant in Nusa Dua is served from Thursday to Sunday from 6 pm to 11 pm and is priced at IDR 699k ++ for food only.
Reasons to visit Edogin at Mulia Bali: High-grade fresh produce, live cooking entertainment, a wide range of Japanese delights; don't miss an ice cream teppanyaki style.