Jungle Delights at M Café Mulu
Monica Tindall
While M Café, Mulu Marriott Resort & Spa's all-day-dining restaurant, offers international recipes, gastronomes should forget the greater world and immerse themselves in the cuisine of the rainforest. Executive chef Musa and his team source ingredients from the surrounding jungle and capitalize on local wisdom to create authentic flavours.
M Café provides a covered outdoor area by the pool, which is my preferred seating with natural light and views of green all around. Many, however, would rather the cooler air-conditioned dining hall within, furnishing respite from the tropical humidity.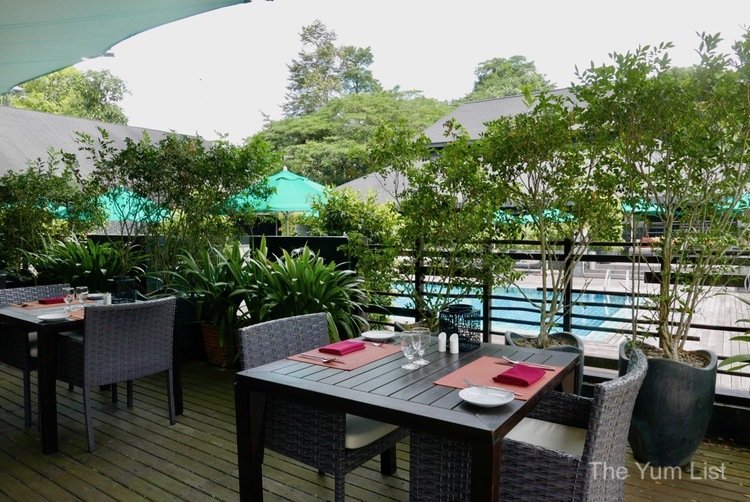 As mentioned, the menu supports both local and western palates with a good number of Malaysian dishes alongside burgers, pasta and meat, chicken and fish on the grill. My tongue is hankering for local, while spice-aversive hubby plays it safe with western. But first, we quench our thirst.
M Café Mulu Menu – Drinks
Considering we're in the middle of the jungle, the drinks menu is not bad at all. Ten wines by the glass and close to 100 by the bottle offer enough variety to pair across the diverse dishes coming from the kitchen. Hubby finds sauvignon blanc easy drinking and so the Viña Maipo (RM40) gets his order. I go with the Grant Burge Benchmark Chardonnay (RM40), which is a little fuller in body than the other drops on the white menu and does reasonably well with my spicier food selections.
Appetizers
To begin, Umai Sarawak (RM26) is similar to ceviche in its raw fish marination of calamansi, shallots, chilli and lemongrass. White fish flakes are tender in the tangy marinade, which supplies slurpable juiciness that keeps me forking back for more. A tangle of shredded red cabbage topped with giant pegaga leaves (said to be particularly good for the skin) and calamansi is more than just garnish. This makes a crisp crunchy contrast to the soft fish and acts almost as a palate cleanser before the next course.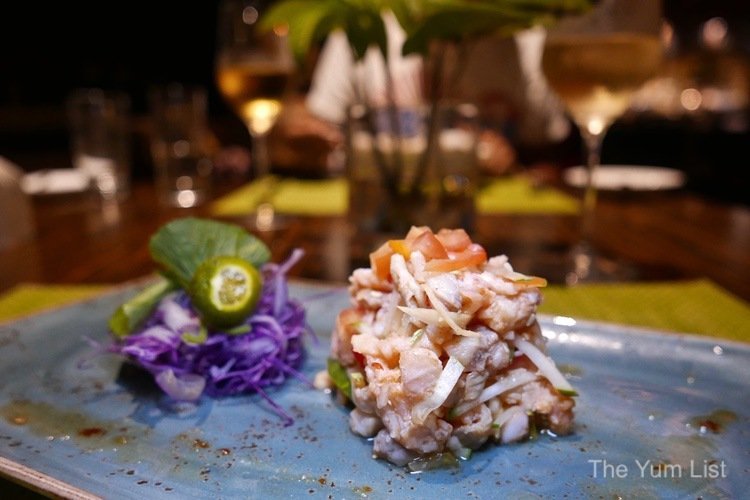 Soup
To follow, Bitten La'an is another localised recipe. This rice soup is lightly seasoned with ginger and bulked up with leafy green vegetables and shredded chicken. I made the mistake of eating this second and found my mouth, still tingling from the generous amount of chilli in the first dish, unable to appreciate the subtle flavours. A few mouthfuls in, however, and my palate had been cleansed. It's a mild and comforting dish and a good introduction to the flavours of the area without the heat that seems to dominate so many Sarawakian dishes.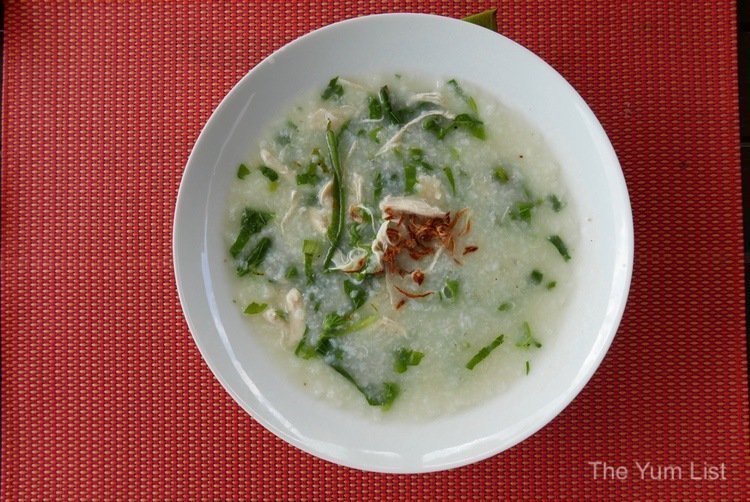 Hubby begins and ends with western food, trying to avoid too much spice. Pumpkin Soup (RM31) is his first order. It's a smooth creamy version sided with garlic bread – flawless material for soaking up the last drops.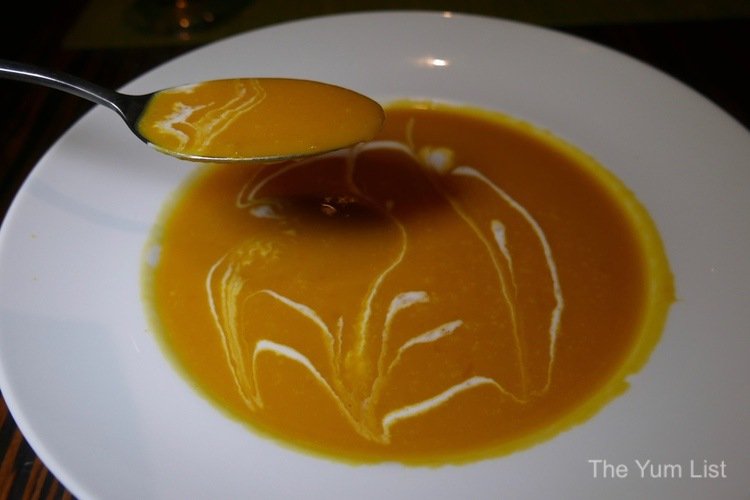 Sarawak Laksa (RM45) is a must in this part of the world. Known for its kick, it's generally a bold step up from the rest of the country, and a dish for the brave-hearted. This version is filled with mee hoon, prawn chilli paste, prawns, bean sprouts, shredded chicken, omelette strips and a dash of coconut milk. For the uninitiated, chefs are happy to make you a bowl with lightened heat but are sure to include a good dose of sambal belacan on the side If you'd like to confront your fears and add some in bit by bit.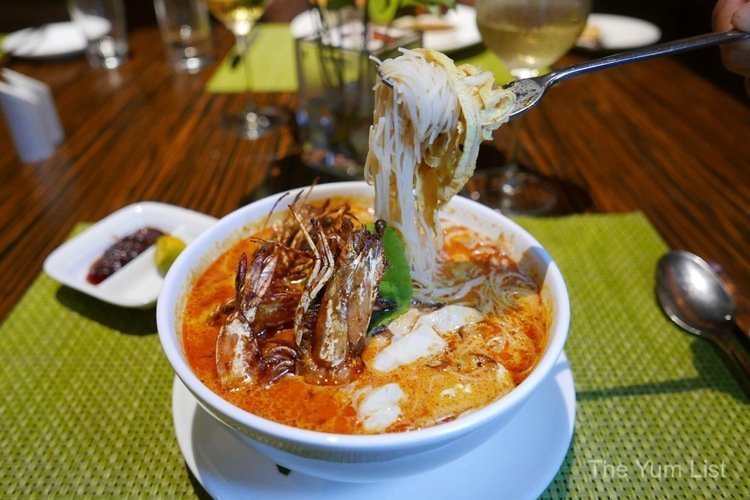 Salads
My taste buds are rather healthy in nature and since we booked this trip I've been looking forward to eating the jungle fern midin. The tightly curled fronds are delicate in nature and must be eaten the same day as harvesting. They're packed with nutrition too; a source of iron, potassium, omega-3 fatty acids, antioxidants and fibre. Here it's offered in the Wild Fern Salad (RM35). The curled greens are seasoned with a lime and chilli dressing, which complements the crisp and gently sweet profile of the fern.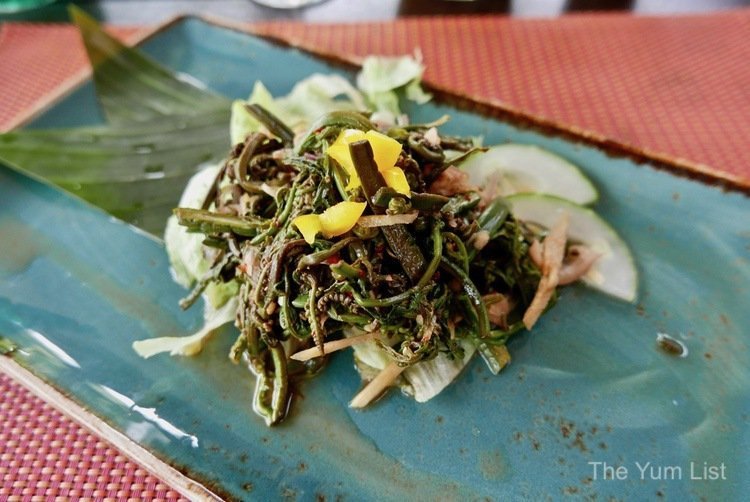 Special Orders at M Café Mulu
Requiring advance order (eight hours), and worth the wait, is the Ayam Pansuh (RM65 per person) or bamboo chicken. The tradition of cooking inside bamboo is called pansuh and in this recipe, it produces a mild chicken dish. Just as the Bitten La'an was easy to consume, particularly for those not accustomed to spice, so too is this combo. The meat is soft and moist with a lovely thread of ginger woven through. Steamed rice is a welcome side to mop up the more-ish soup and sautéed veggies add further nutrition.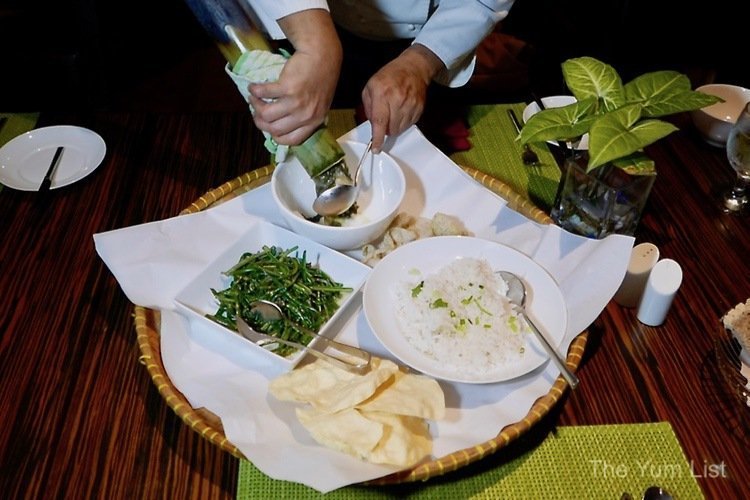 From the Grill
Hubby's taste buds appreciate quality ingredients prepared simply so he turns straight to the grill section for the mains. His pick of Beef Tenderloin (RM95, 220 grams) comes with a choice of sauce (he picks mushroom), vegetables and French fries or mashed potato. It's a generous serve and sure to satisfy even the hungriest of hikers. Hubby is happy with its seasoning of salt and good char.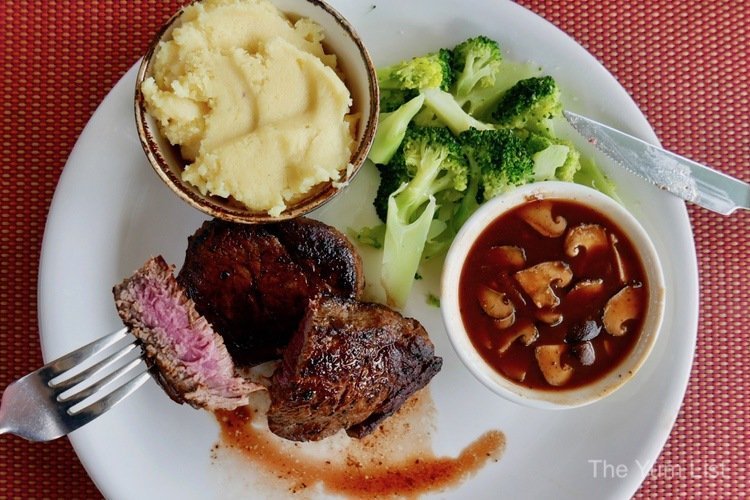 Dessert
Sago Gula Melaka (RM20) is known around the country and is probably our most loved Malaysian sweet. This plating sees chilled sago pearls drenched in coconut milk with palm sugar syrup served apart – ready for adding to individual taste preferences. Lastly, the Fresh Fruit Platter (RM26) presents a cleansing, healthy ending with sliced seasonal fruits.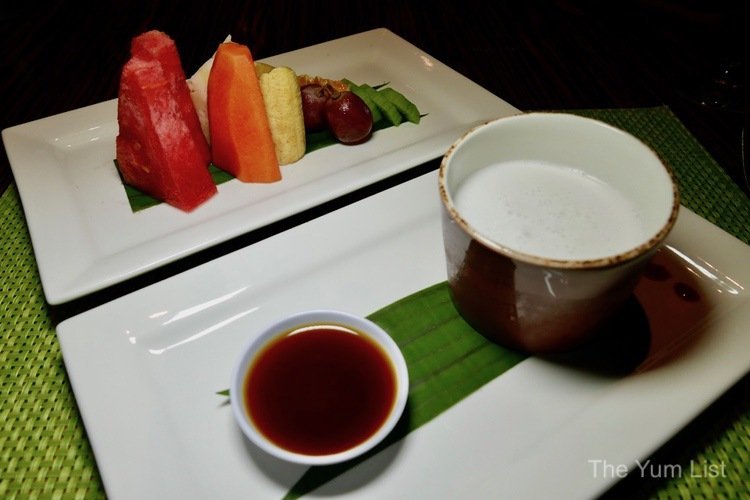 Reasons to visit M Café, Mulu: efforts to source ingredients locally; a chance to taste cuisine distinctive to Sarawak such as the nutrient-rich jungle fern; must try their signature Ayam Pansuh, bamboo chicken.
M Café Opening Hours
Daily 6 am – 10 pm