Blackbyrd KL
"Until you spread your wings, you don't know you can fly."
Monica Tindall
A product of the renowned Ismaya group, Blackbyrd KL is an original concept designed specifically for Kuala Lumpur. Famous for stylish clubs, restaurants and lifestyle concepts, the Indonesian group does everything with a certain flare. The restaurant and bar's immediate neighbour, Dragonfly, is an institution in Jakarta, very high-end in profile with a reputation of being the top club in the country. It's no surprise then that Blackbyrd KL has fast made waves seeing extraordinary success since opening in the second quarter of 2019.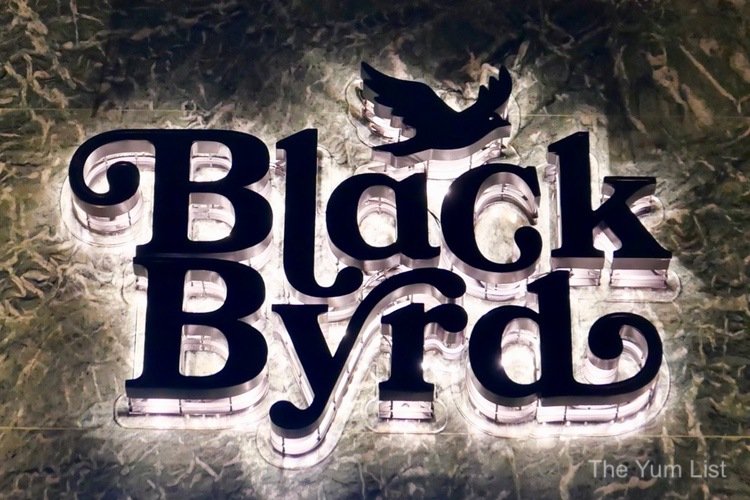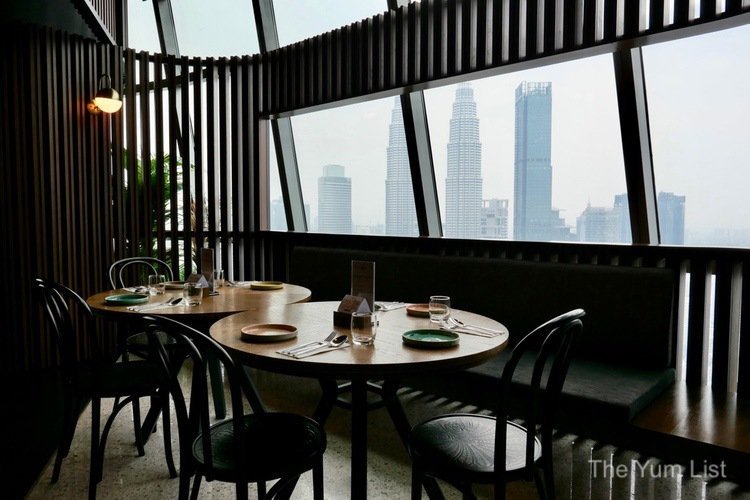 Philip Mimbimi, the groups' corporate chef, gives us a special introduction to the concept. With a full resume of international posts, Mimbimi draws on comfort food from around the world for inspiration for the recipes created for Blackbyrd KL. "Our menu is ingredient-driven," says Mimbimi. "It's technically comfort food. We're not kitchen scientists. There's no molecular gastronomy here. Nothing is too difficult. Portions are generous. There's substance. There's passion. There's soul. Nobody leaves hungry. We want it to be welcoming."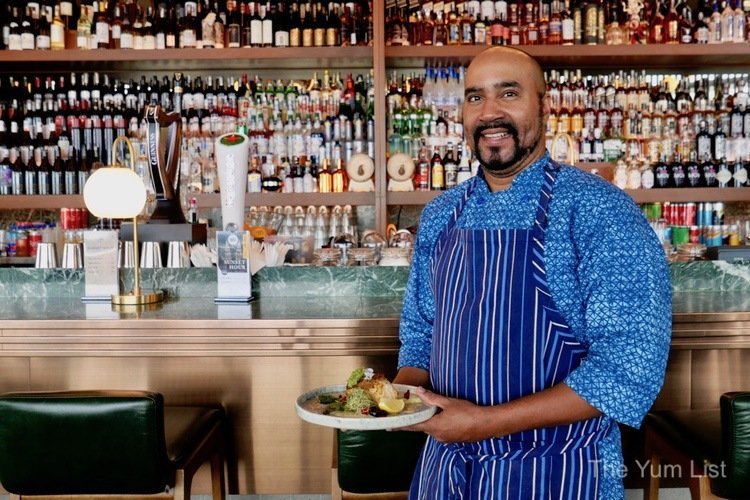 Blackbyrd KL Bar
We get our first welcome at the bar. Sweeping views of the city centre, uninterrupted by construction, gives Blackbyrd KL a unique perspective of the skyline. The space is strewn in natural light during the day, and as the evening sets in, the lights of the surrounding towers mirror the attractively lit bar. Deep green features on studded leather bench seats and bar stools, and metallic lamps with bold geometrics foster an art deco feel.
Mixologists are smartly dressed in shirt, ties and waistcoats, giving a professional, dapper impression. And, Ben, the bartender on shift during our visit, shakes up some pretty tasty cocktails.
Mango Crush (RM38), a twist on a classic, sets us off to a happy start. They've transformed the original recipe as their own by infusing its vodka base with lemon zest. Mango puree, fresh lemon juice and vodka are garnished with sliced green mango and Maraschino cherry, Fruity and refreshing, it's well-suited to KL's hot weather.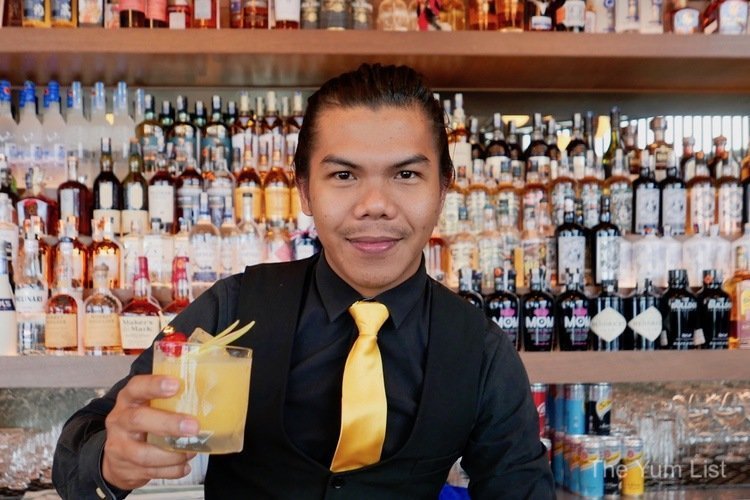 Gerry Baldini (RM42), another innovation on a classic, combines Aperol, aerated orange juice, and orange sorbet. This pimped up version of the Garibaldi is icy cold and just the right balance of bittersweet.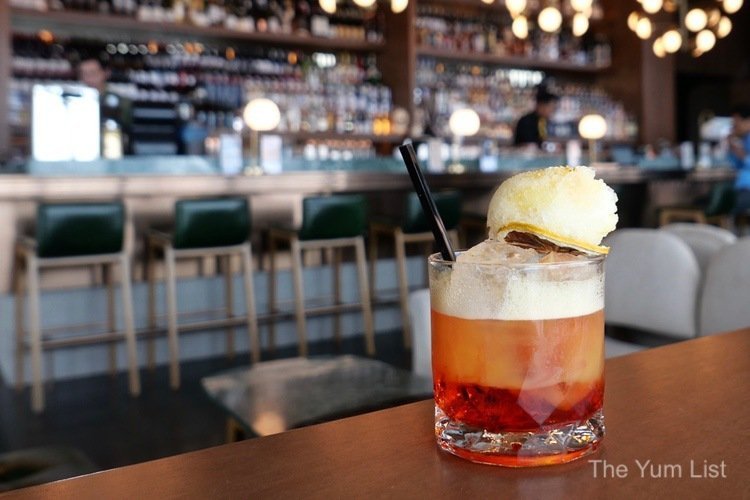 Lastly, Madame St Germain (RM42) comes from the Indonesian team. One of the most popular drinks in Manarai Beach Club, this beauty features St Germain, white Vermouth, strawberry, cucumber and mint topped up with sparkling wine.
Blackbyrd Menu – Food
Appetisers
As we move onto the food, we find an instant gold medallist in the Tuna Feuillette (RM48). A superbly crisp and thin base is covered with shavings of tuna, rocket, edible flowers and balsamic pearls. It's a beautiful balance of sweet and savoury, possibly meant to be shared, but I bet you could easily handle one all on your own. We both really enjoy this starter.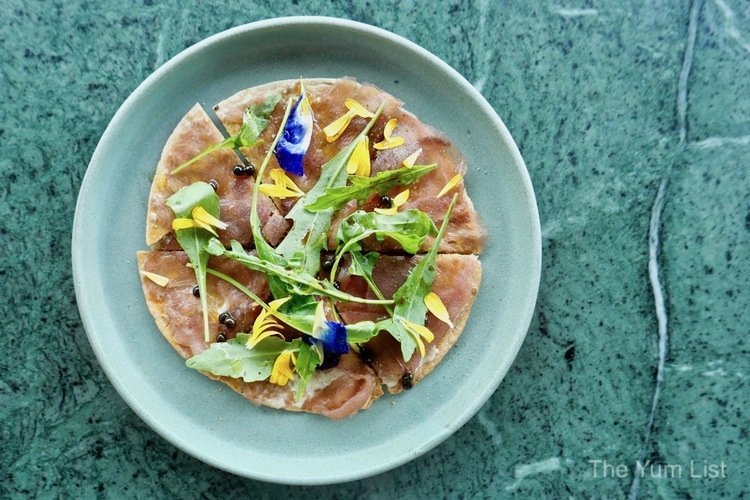 Chicken Caesar (RM38) is no ordinary classic. At Blackbyrd KL it has been lushed up with avocado and a generous portion of shredded Parmesan that is super light and airy. Chicken breast and baby romaine are given extra crunch with crisp cecina (Spanish air-dried beef) and paper-thin croutons. Yum.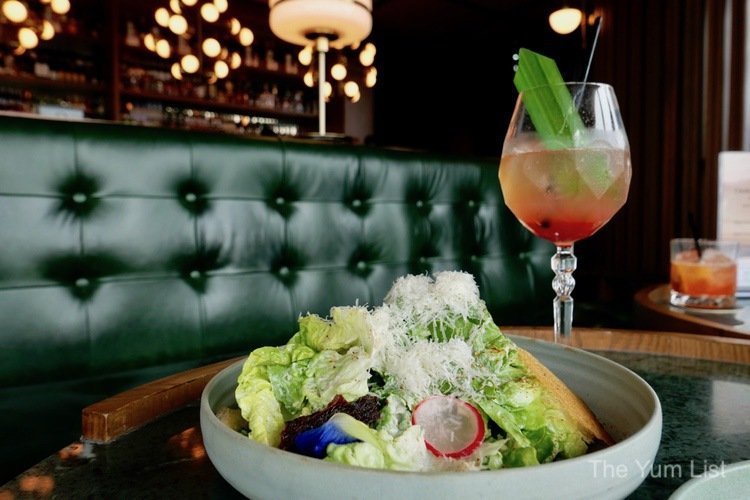 Mains
Progressing onto some heavier dishes, the Seafood Linguine Aglio Olio (RM48) boasts al dente pasta strands well-coated in an aglio olio and white wine sauce. An abundance of with prawns, mussels, and squid make it a filling combination.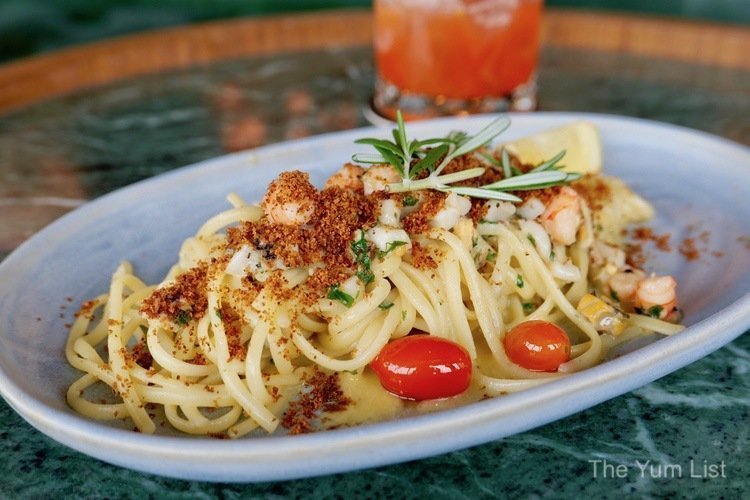 The hottest-selling dish since the opening of Blackbyrd KL, however, is the Iga Bakar Sambal Idjo (RM98). Black Angus short ribs are rich, mildly sweet and intensely flavourful. Green chilli, urap vegetable and gurih rice (lemongrass and ginger sautéed together with the rice) balance the intensity encouraging us to dig back in repeatedly until it's all gone. Barely-cooked carrots, beans and spinach add some veggie nutrition.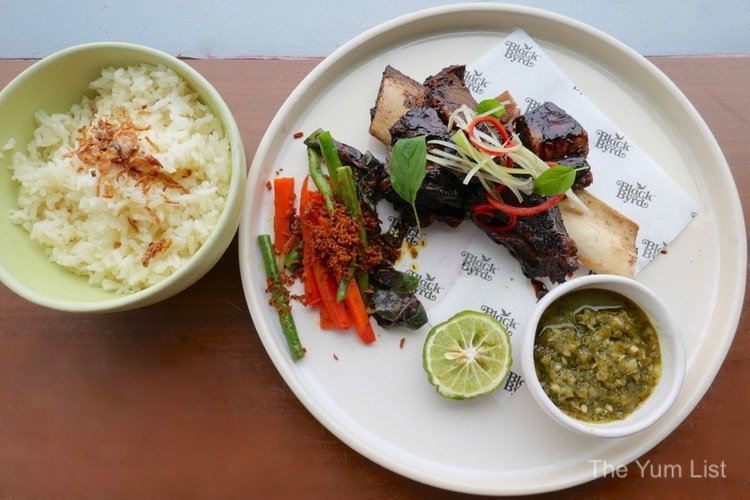 Perhaps the prettiest dish we try at Blackbyrd KL, and one of chef Philip's favourites, is the Pan-seared Chilean Seabass (RM98). It's a chunky piece of fish that is moist and flaky. Plump asparagus, cherry tomatoes, capers, peas and roasted Kalamata olives (roasting brings out their sweetness) complement the Mediterranean-style recipe beautifully. A light lemon butter sauce puts on the final polish.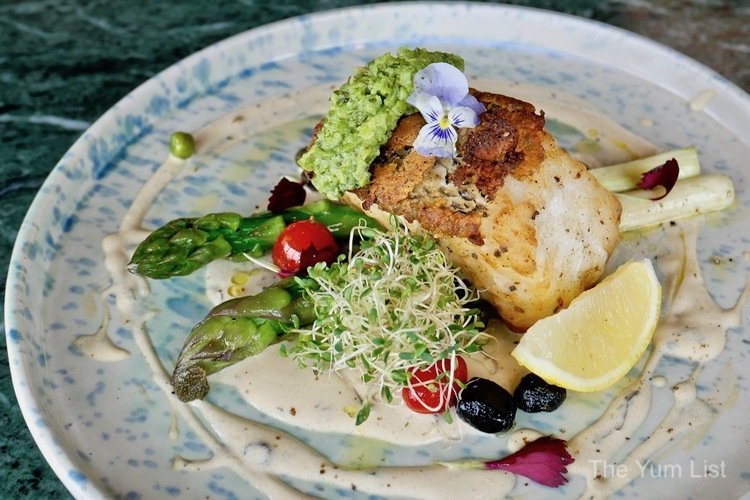 Dessert
Lastly, Peanut Butter & Jelly Panna Cotta (RM18) addends a sweet end to our meal. Peanut-butter cream is crowned by strawberry granite and garnished with almond tuile.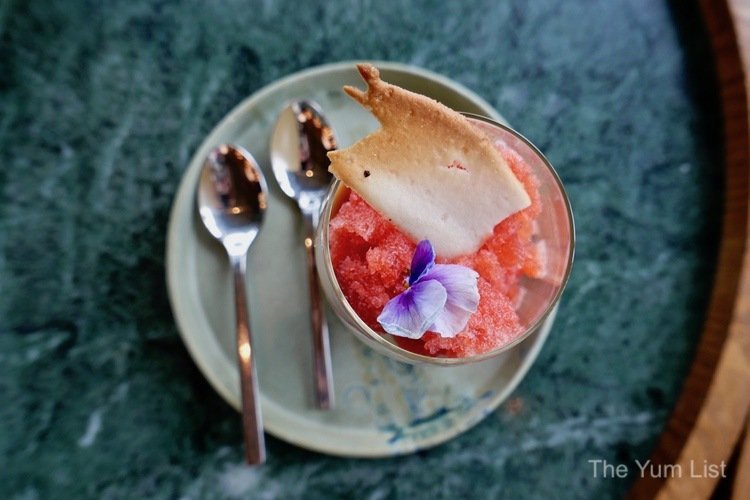 Blackbyrd KL Dress Code
While I don't believe there is a dress code at Blackbyrd KL, most attired elegantly, and the place is popular for celebrations. Chef Philip recalls one night when there was an astounding number of birthdays being celebrated – 28 to be exact! The setting is stylish, and the views are fantastic, so I'd recommend snazzing yourself up a bit to not look out of place.
Blackbyrd KL Review
As mentioned, Blackbyrd KL has a postcard-perfect perspective on the city skyline. The décor is all class, yet the food and beverages are welcoming and comfortable. A natural progression for a great night out could be a meal in the restaurant, followed by cocktails in the bar and lounge, and then onto the club (Dragon Fly, through the curtain on the same level).
Reasons to visit Blackbyrd KL: fantastic views of the KL skyline (our favourite seats are on the lounge in the bar); tasty cocktails; international menu decently sized in portion; must try the Tuna Feuillette and the Chilean Seabass.
Blackbyrd KL
Level 50, Naza Tower
Kuala Lumpur, Malaysia
012-689 8576
www.facebook.com/blackbyrd.kl
Blackbyrd KL Opening Hours
Daily from 12 noon until 11 pm
Find more restaurants ideal for special occasions in Kuala Lumpur here.