Blonde
Words: Monica Tindall Photos: Rich Callahan
Blonde, playfully dubbed by some as "the hottest chick in town," has become an instant success. Only opened for three weeks, the restaurant is already experiencing long queues on weekends and repeat visitors. It seems the crowd is initially drawn by the chic style of the restaurant but soon make repeat visits for the food.
Offering a contemporary take on international cuisine, the food presentation is just as pretty as the setting. The team at Blonde offer a menu that will get you through from morning to night. And, as well as being well-plated, the initial buzz is that the taste is good too. We're here to find out.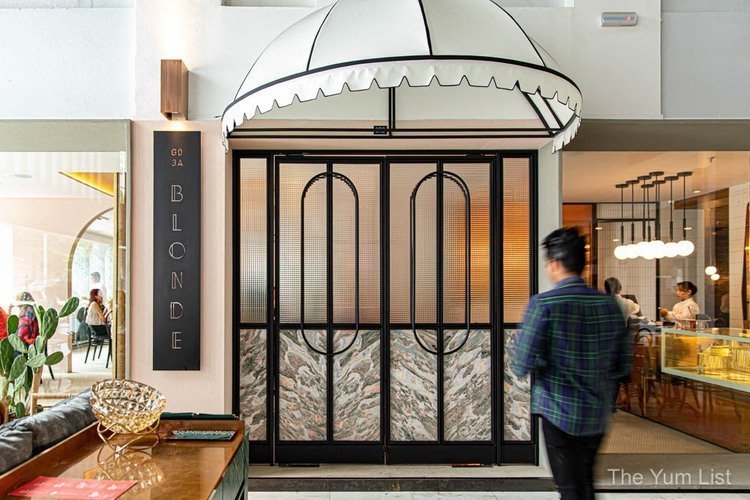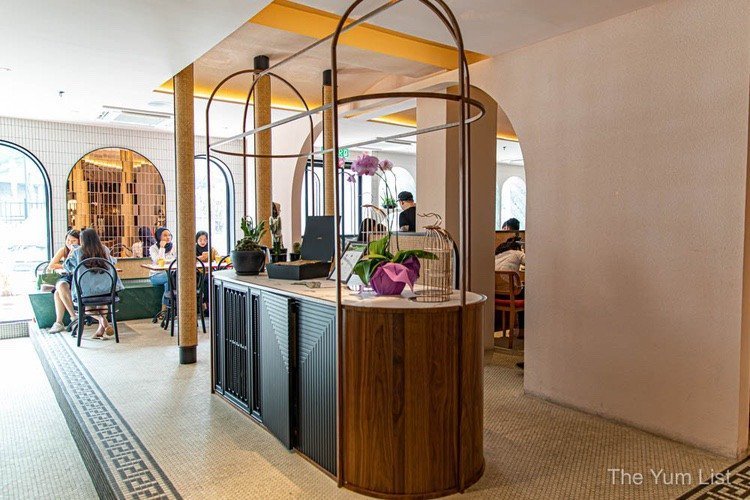 Blonde Menu Drinks
Original recipes for cool refreshment are found in their Blonde Signatures. Assamenta (RM25) is a fresh blend of menta Cubano, lemongrass and calamansi topped up with soda. With asam boi both as a powder on the rim and in the base of the Margarita glass, the drink has a great balance of salty, sweet and sour. The stars in the Lavender Violet (RM25), lavender, pomegranate, pineapple and soda, turn out to be as equally thirst-quenching as they are attractive to look at.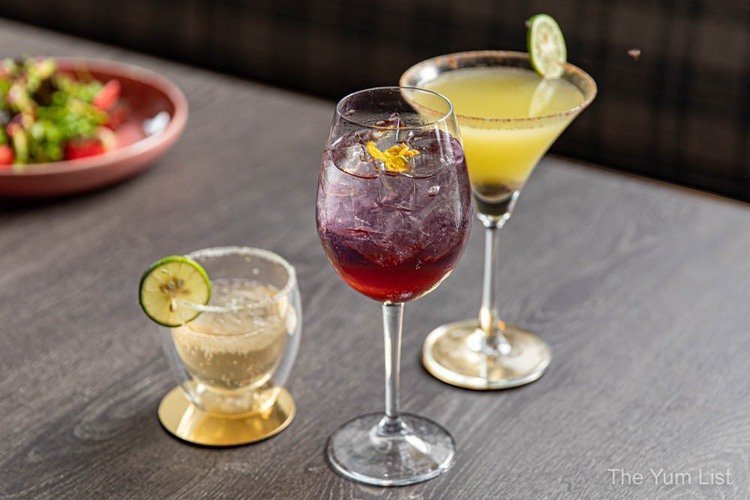 Coffee
Part of the larger Serai Group (also owning Jibby & Co, Jibby East and Jibby Chow), coffee at Blonde is pretty much guaranteed a good brew. Still, we test them out just to make sure with a Café Latte (RM12) and Cold Brew (RM18). The espresso-based coffee is nicely balanced; a blend of beans from Brazil, Guatemala and Indonesia by local roaster Degayo. The cold brew offers a light fruity finish – great for this hot climate.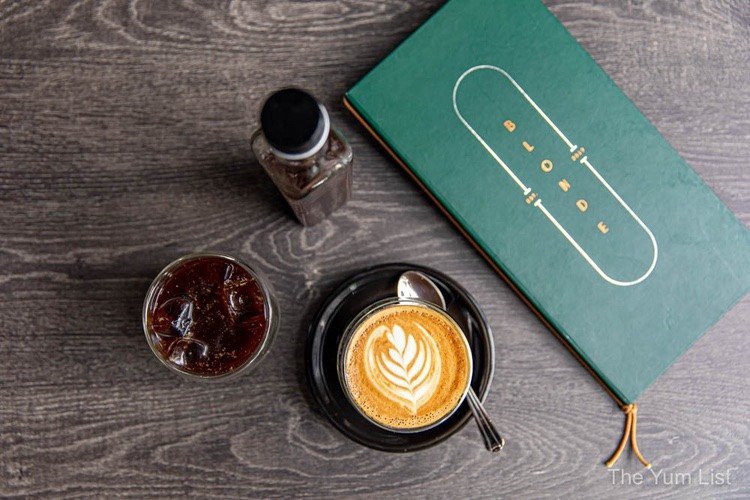 Breakfast
Eggs make our team happy as the brekkie option with the Poached Egg (RM30) coming with seasonal mushrooms and roasted pumpkin. Hazelnut pesto provides an exciting twist and a topping of crumbled feta cheese balances out the dish with a lovely savoury finish. Served with buttered sourdough, we deem it a great start to the day.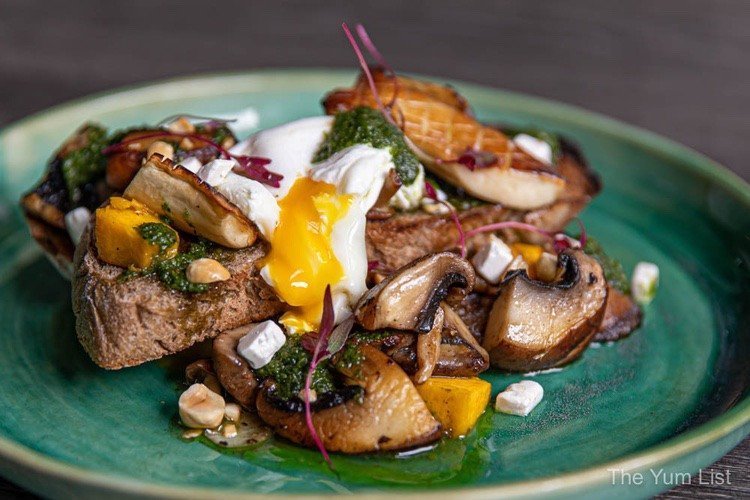 We're expecting the Poached Eggs with Slow-cooked Beef Brisket (RM30) to look similar to the vegetarian version, only with meat. We're pleasantly surprised, however, as the presentation is entirely different. It becomes evident even just with this second dish that the entire menu has been carefully curated. There are no shortcuts taken; everything has been meticulously designed. A pair of perfectly poached kampung eggs are served atop mozzarella potato croquette and beef brisket. The whole thing is seductively drizzled with smoked chipotle hollandaise sauce. A picking of fresh herbs breaks the colour on the top, and the egg oozes sensuously showing "just right" cooking.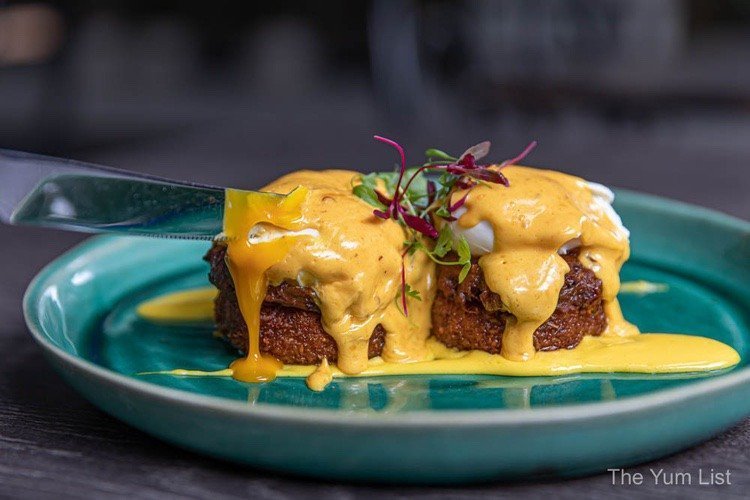 Freshly Baked Dutch-style Pancake (RM28) at Blonde grab our attention as a sweeter breakfast choice. These unique pancakes come with seasonal berries, Mutiara figs, maple syrup, fresh cream and a pretty edible-flower garnish. They're like nothing we've seen on menus in Malaysia, and again, we happy to see this team pushing the boundaries. A hot cast-iron skillet is used for cooking the pancakes, and the result resembles a puffy Yorkshire pudding. Fabulous.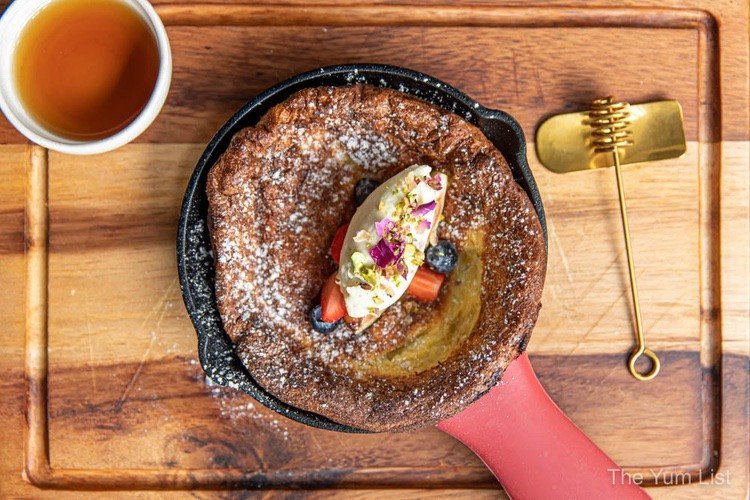 Salads
Moving to the salads, both that we try would make a healthy lunch choice. The first, the Warm Roasted Pumpkin (RM33), comes with a pomegranate glaze, Mutiara figs, walnuts, pomegranate jewels, rocket and feta. The whole combo is based on a spiced yoghurt and finished off with a few drops of basil oil and pomegranate juice.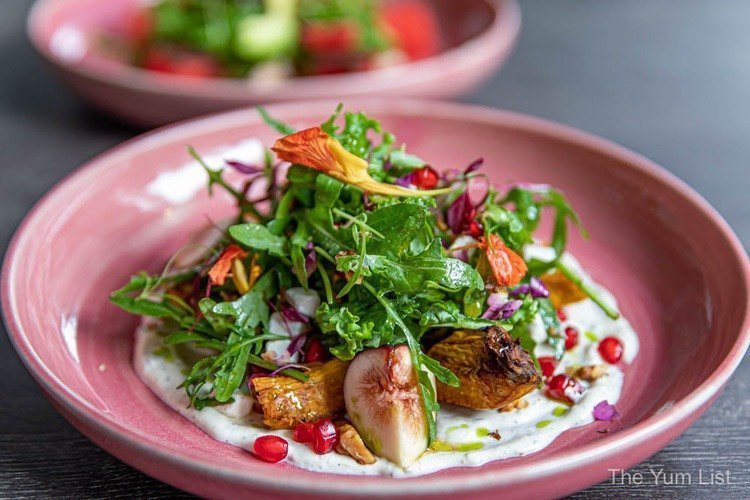 The second salad at Blonde, Umami Crusted Chilled Watermelon (RM38), comes highly recommended. The namesake is coasted with umami dust (sesame, seaweed, Maldon salt) and tossed with blue swimmer crab meat, sesame seaweed crackers, kyuri cucumber, radish slices and avocado. Ikura, ice leaf and a deliciously tangy yuzu dressing complete the dish with a Japanese oomph of flavour.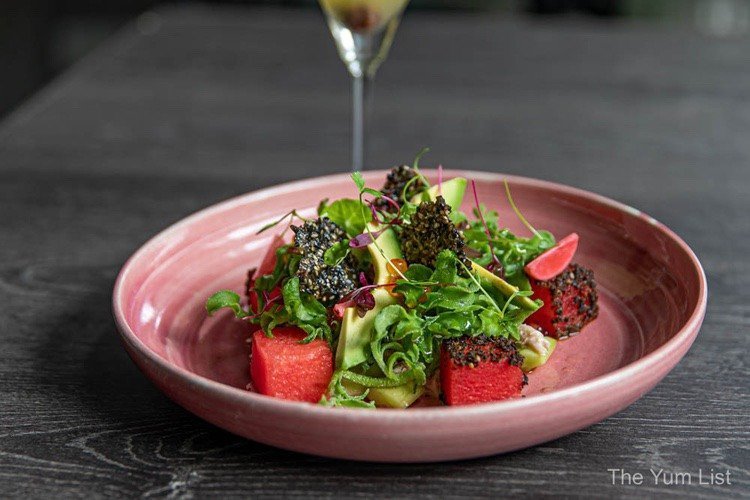 Pasta
We've been told that pasta here is served al dente staying true to its Italian origins, so are encouraged to give it an order. The team, however, have taken creative freedom with the sauces coming up with some local and international inspiration. Spaghetti Pomodoro (RM32) is a meat-free option with buffalo mozzarella, dukkah spiced eggplant, fresh basil, roasted pine nuts and a splash of chilli oil. The sauce is rich, and this is definitely something I'd order again.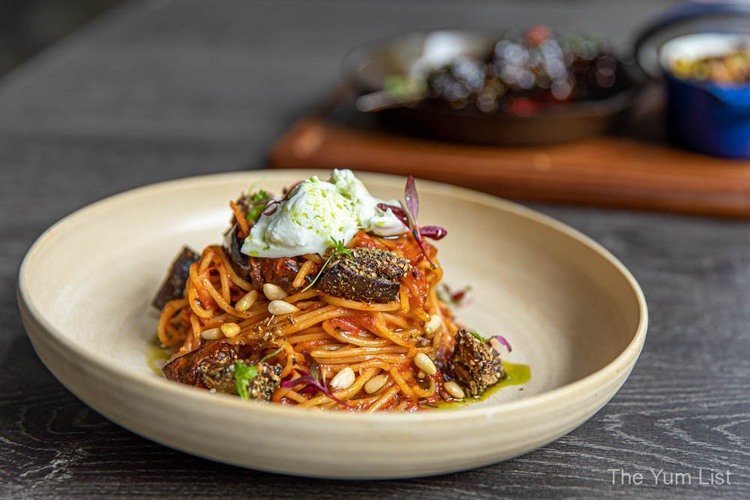 Pizza
We also have it under good authority that the pizza crusts at Blonde are served Napoli style. Again, curious by the claim, we test them out with another meat-free choice, Cream of Truffle (RM45). The first sign is positive – a leopard print crust. Leaner in the middle and spongier around the edges, it's a pretty good rendition. The top is spread with mushroom puree, then mozzarella cheese, and next sautéed portobello, shimeji and Swiss mushrooms. It's topped off with truffle oil, more Parmigiano Reggiano and rocket leaves. The staff have fondly named this one, "mushroom heaven," and we have to agree.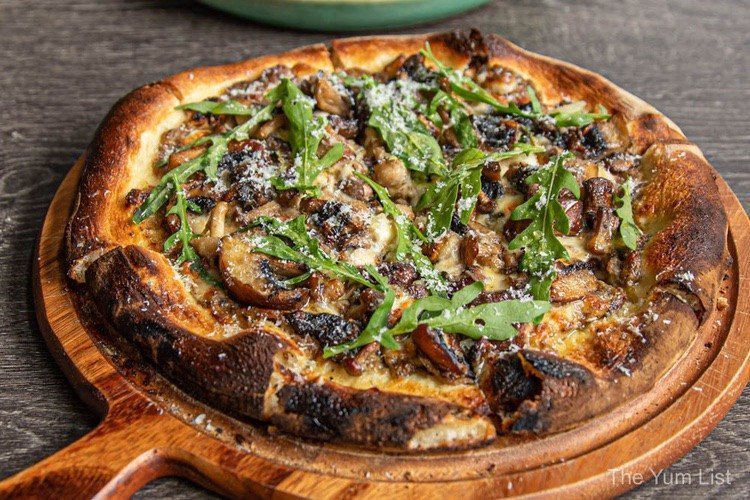 Mains
BBQ Chilli Lamb Belly Kebab (RM48) is one of their signatures. The lamb is coated in a sticky, sweet, spicy marinade and literally falls off the skewer. Eat the belly first to get all the fat in your mouth and then refresh with the cucumber, pomegranate, pomegranate dressing and dukkah mayo. Royal Persian jewelled rice is served on the side in a cast iron pot. It features lovely long grains of basmati rice coloured with saffron and crowned with onions (both fried and caramelized), cranberries and pistachios. Yummy.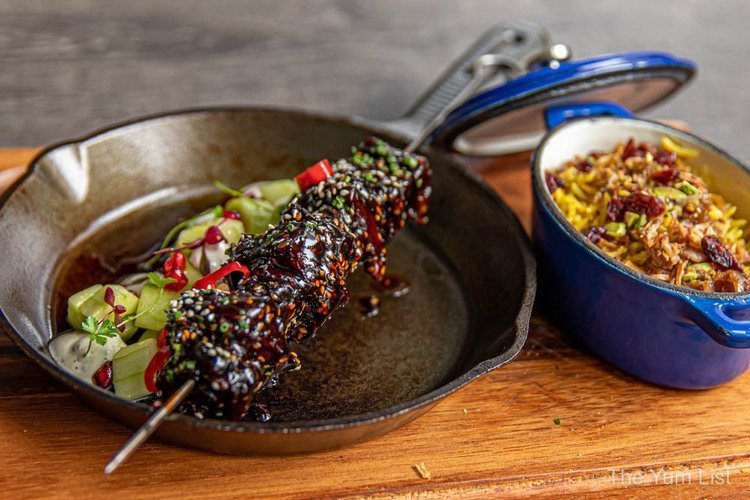 We can't believe we'd made it through to the end of the savouries at Blonde and have appreciated every single dish. Usually, we find a couple of recipes we're not particularly fond off, so leave them out of an article. At Blonde, however, every item has made it. Seared Dry-Aged Shanghainese Crusted Duck Breast (RM55), is done medium rare (do ask if you prefer a different cooking style). It's tender and flavourful. Confit fondant potato, king oyster mushrooms, shimeji, grilled spring onions and duck jus make a complete meal. It's another dish I highly recommend.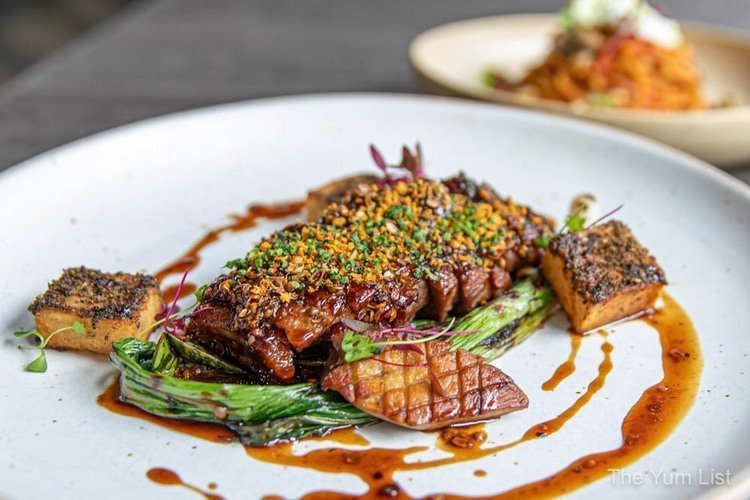 Dessert
Possibly the most exciting dessert on the Blonde menu is Chef's Deconstructed Pavlova for Two (RM45). Served tableside, the chef arrives with a trolley of ingredients. Each is placed one by one to build the dessert right in front of us. It provides a moment of pause and a chance to escalate our desire as the pavlova is constructed.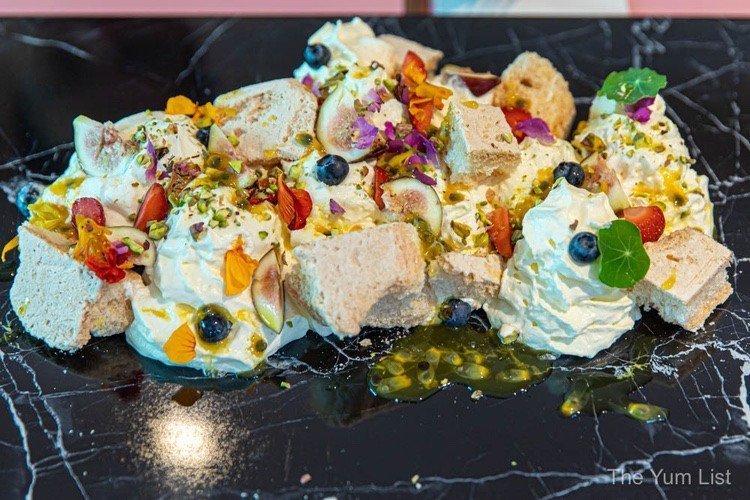 Firstly, whipped cream is swirled in magnificent cloud towers in the centre of a black marble platter. Pieces of soft meringue are then gently placed over the billows of cream. This palette of white is broken with strawberries, blueberries, local figs, pistachios, edible flowers and pegaga leaves. Finally, a pulpy passionfruit sauce is spooned over. It is literally a beautiful mess. While the menu says it's suited for two, our group decides it's plenty for four!
Blonde, The Republik Review
It is refreshing to find a café that is pushing the barriers and not confined by the norm. We found the food at Blonde to not only be prettily plated, but much thought has gone into the balance of textures and flavours in every dish. It's a beautiful setting with a solid menu to match.
Reasons to visit Blonde at The Republik: chic setting with friendly staff; contemporary international cuisine that is presented beautifully; must try the Dutch-style pancakes to break from the norm, poached eggs with beef brisket, pumpkin and watermelon salads, lamb belly, duck and do save room for the deconstructed pavlova.


Blonde at The Republik
G.03A, Republik, Jalan Medan Setia
Bukit Damansara, 50490 Kuala Lumpur
Malaysia
+6 03-2011 6070
www.facebook.com/blonde
*The central kitchen is already certified Halal and the restaurant is waiting for the official notice to come through.
Blonde Opening Hours
10 am – 11 pm (but with the possibility of opening even earlier for breakfast shortly)