Best Burgers in KL
Words: Monica Tindall   Photos: Rich Callahan
After our first visit to Burger on 16, our team were convinced that we'd found some of the best burgers in KL. Our diverse taste preferences found something for everyone here. From double-patty meat monsters to gourmet spinach burgers, both our carnivores and veggie-lovers were happy. Today we return to check out some new additions to the menu and a few items we had kept an eye on (but had no remaining tummy space to try) from our introduction a few months back.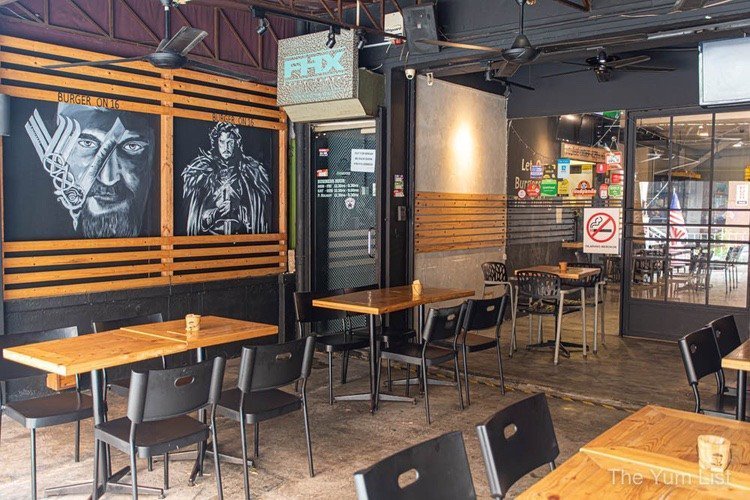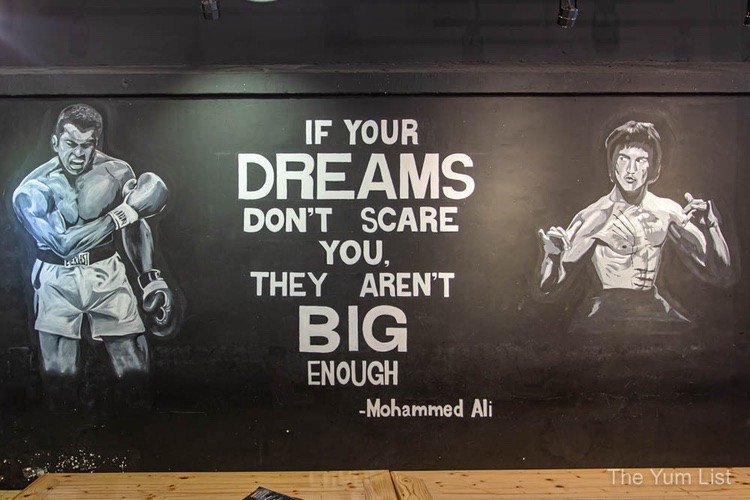 Best Burgers in KL
One of the soon-to-be-added combos to the Burger on 16 menu is Crunchy Spicy Chicken (RM-TBD ). They already have a crunchy fillet on the menu, but this burger turns up the heat with a wallop of chilli giving a slow serious burn. Chicken breast is marinated with spices before being deep-fried and is sandwiched together with crunchy mozzarella, salad veggies and sauce. The bun is fantastic. It hugs the ingredients in a big warm embrace, feeling fluffy yet reliable in the hand. We like the contrast of textures and figure fried-chicken lovers would do well to give this one a try.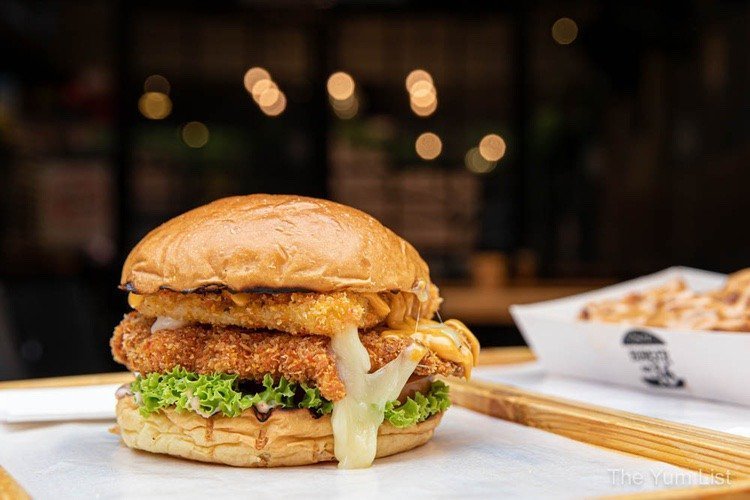 The next burger, the Traffic Jam (RM ), allows us to have a main and dessert all in one! A juicy beef patty is spread with peanut butter and jelly making us hum Elvis tunes and wonder what the great rocker – known for his curious cravings and a special love for peanut butter – would think of this. Don't look for it on the menu though; it's a secret order. Only those who have the "in," know of its existence. And, another whisper is, that you may even be able to pimp it further with a pan-fried banana in true King of Rock 'n' Roll style.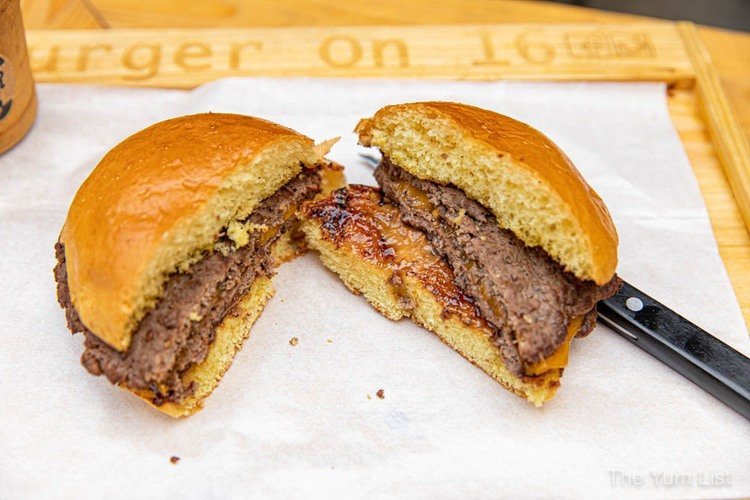 Vegetarian Burgers
Burger on 16 has not one but three vegetarian options! Last time we tried the Spinach Burger and were so impressed that this round we ordered the other two recipes: Chickpeas Burger (RM18.90) and the Black Bean Burger (RM18.90).
The former is a mix of chickpeas, sweet corn, coriander, cumin, black pepper and garlic layered with onions, tomato and lettuce, and drizzled with sesame oil for something extra. The latter is similar, but this time with a black bean patty. A choice of spicy sauce or basil pesto sauce means you can give both burgers the level of heat you'd like.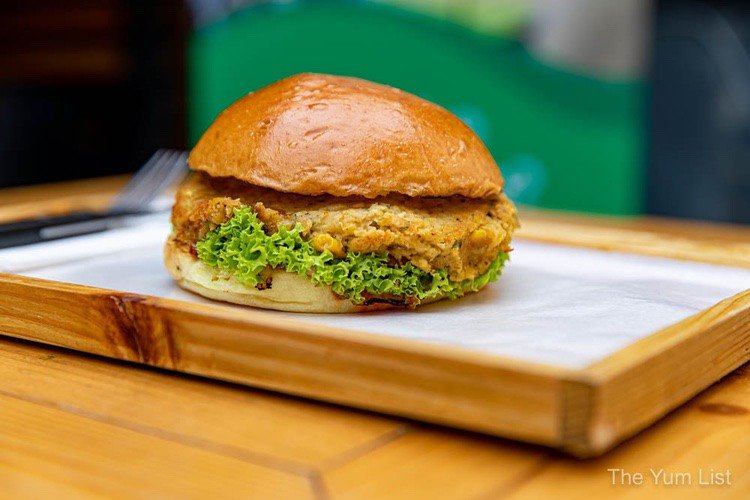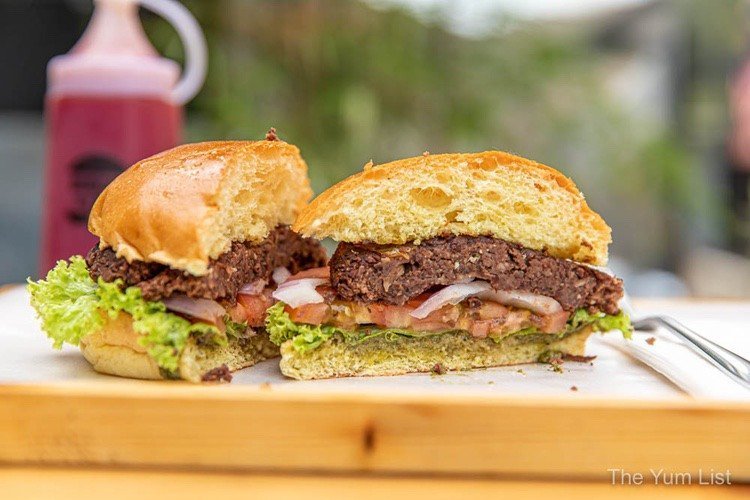 Sides at the Best Burger Place in KL
If you have the stomach of a giant and need something more than these generously sized burgers, a bunch of sides are guaranteed to fill. Pepperoni Cheese Fries (RM13.50) is one such option. A tray of fries is again of liberal portioning and melted together with cheese and pepperoni. They're best eaten hot, and even better shared.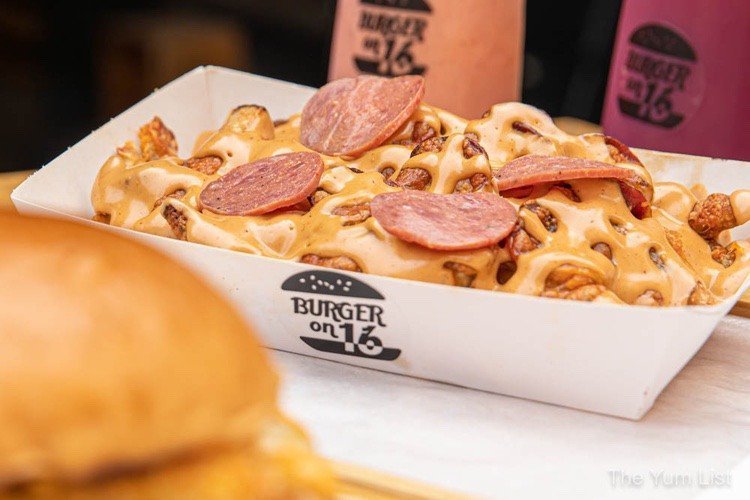 Peanut Milk Shake (RM12.90) is so delicious, that it is fast overtaking the popularity of the Nutella shake. It's simply milk, ice cream, peanut butter and whipped cream on top. There are no secrets to its success – just authentic, good quality ingredients.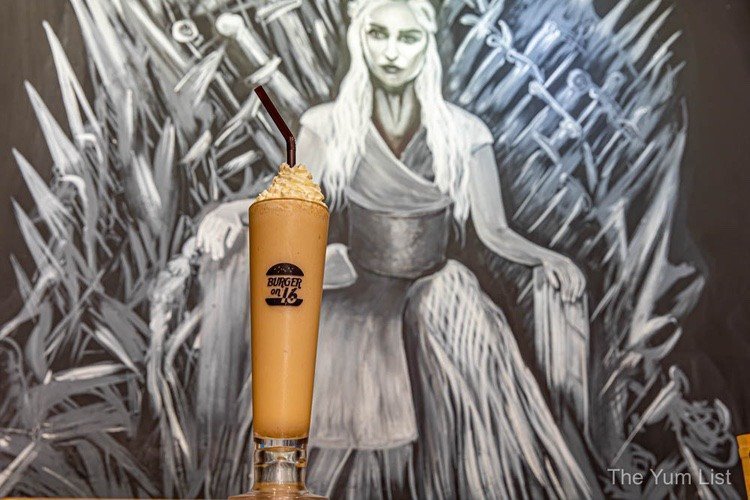 Have We Found the Best Burgers in KL?
Taste is personal. We think the burgers here are pretty darn good. Buns are just the right softness. All patties are made from scratch from quality ingredients and there are several tasty vegetarian choices. But… we'd love to read your opinion. Where do you think you find the best burgers in KL?
Reasons to visit: this round we loved the Peanut Shake and thought the off-menu order of the Traffic Jam was quite fun; from our last visit though we highly recommend the Spinach Burger and Cheese Skirt.
Burger on 16
Best Burgers in KL
(behind Times Square, near the entrance for parking)
16 Lorong 1/77a, Imbi
55100 Kuala Lumpur, Malaysia
+6 03 9224 2117
www.facebook.com/BURGERon16
Burger on 16 opening hours
11 am to 1 am
* Parking is available in Times Square but this part of town is often better reached on foot, with the use of public transport or a Grab.
* *Food delivery available through the usual Food Panda, GrabFood and so on.
Catering for parties also available with advance request.
Find more restaurants in Bukit Bintang here.