Meat the Porkers Plaza Damansara
Words: Monica Tindall   Photos: Rich Callahan
Meat the Porkers has moved to Plaza Damansara! On the first floor of a corner lot, the space is much bigger than the original location in Publika. The new locale benefits from a border of windows streaming in loads of natural light and views of the treetops. There are also a couple of private rooms, a bar and, a fabulous collection of pig ornaments to browse while waiting for your meal.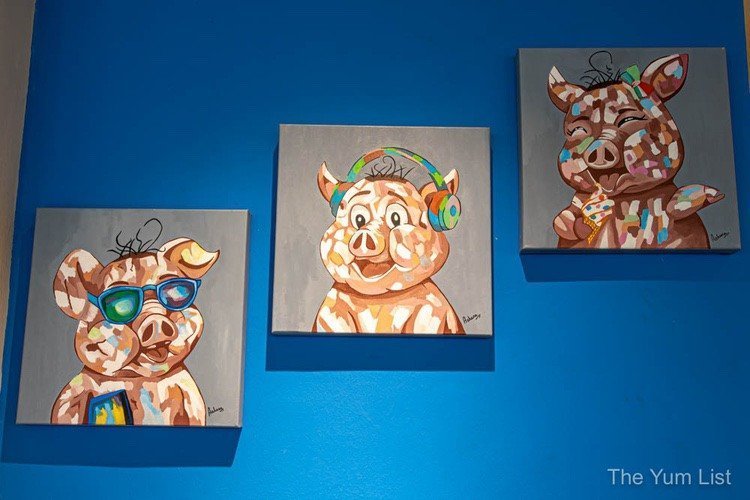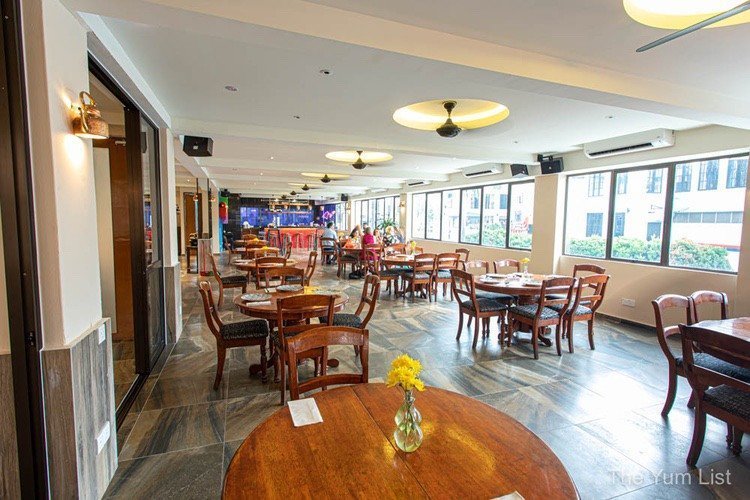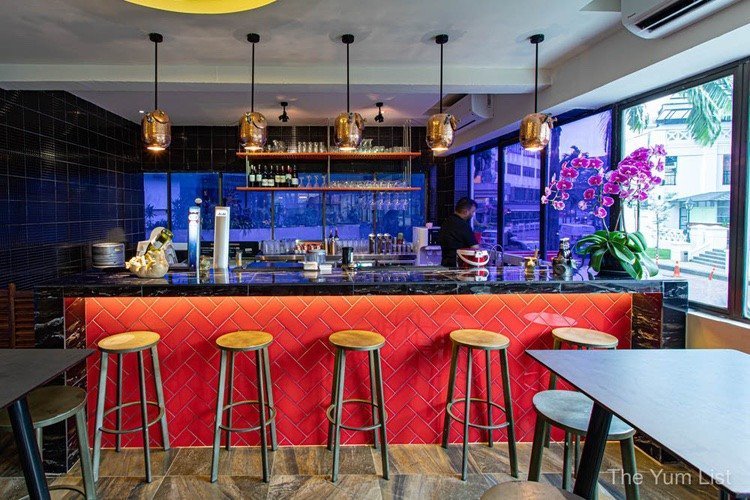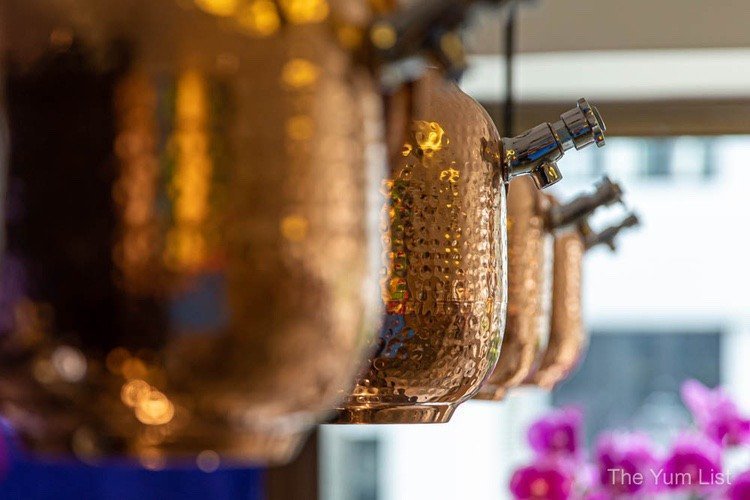 While the restaurant maintains all of their best-selling porky dishes, with the move they have introduced a small plates menu and many more vegetarian and fish recipes. There are additional options for lighter meals, and the increased variety means the whole family can eat happily together having everyone's food preferences met.
Drinks Menu
Meat the Porkers Plaza Damansara has a few beers, a list of wines, a handful of original cocktails and a bunch of fresh juices and lassi to refresh. One of their house-crafted beverages, the Sharaabi Lassi (RM30), floats hubby's boat with coconut rum, Baileys and lassi. It's sweet, smooth and creamy, just like he thinks he is. Meaning "drunkard" in Hindi, sharaabi is a fun play on words (and I smile at the discovery wondering if "someone" will decide to reassess the resemblance).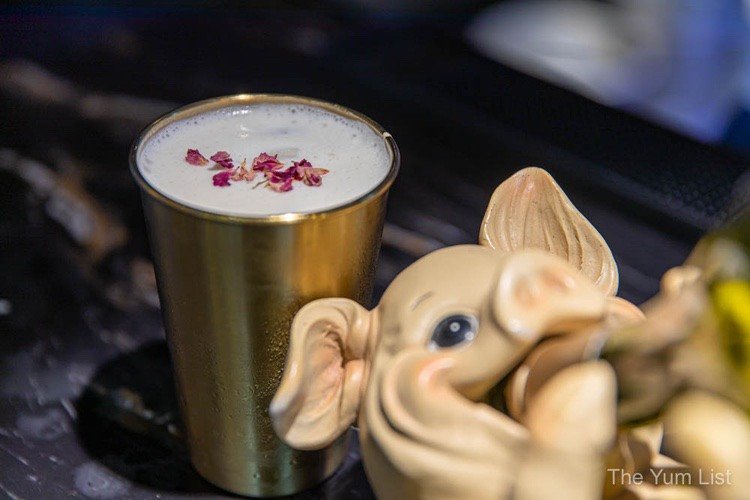 For an alcohol-free treat, I recommend trying the rest of the lassis. They come as plain, sweet, salted and fruit versions. We seek an all-time favourite, the Mango (RM10), and something we don't see so often, a Watermelon (RM10). The mango is thick and fruity sweet as expected, while the watermelon is a little lighter. Both are great choices.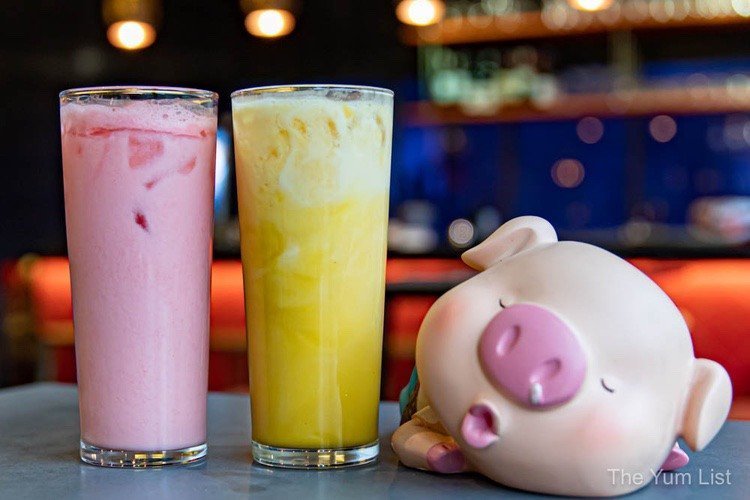 Meat The Porkers Menu
Small Plates
Newly introduced small plates include pork, chicken, fish and veggie options. Served tapas style, they are ideal for sharing or as finger food with drinks.
Pork Kebabs Sliders (RM25) are big mouthfuls with big flavour. Marinated onions, ginger, garlic, roasted cumin powder and coriander make tasty, juicy patties. And, a topping of tomato, caramelized onions, mayonnaise and mint chutney, balance the overall profile. The bun provides the perfect hug; soft yet all-embracing of its contents. These disappear all too quickly.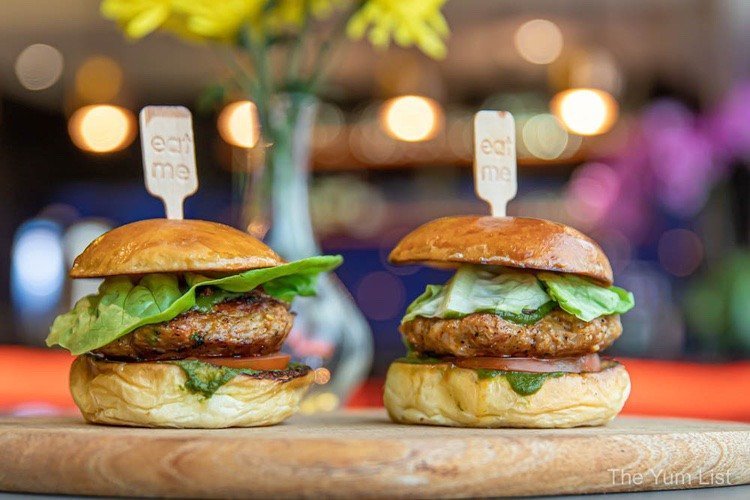 Goan Pork Vindaloo Mantou (RM25) is traditional Goan curry with chillies, garlic and vinegar, stuffed in steamed mantou buns. While we find most of the items on the Meat the Porkers Plaza Damansara menu gently spiced, these offer some slowly developing serious heat.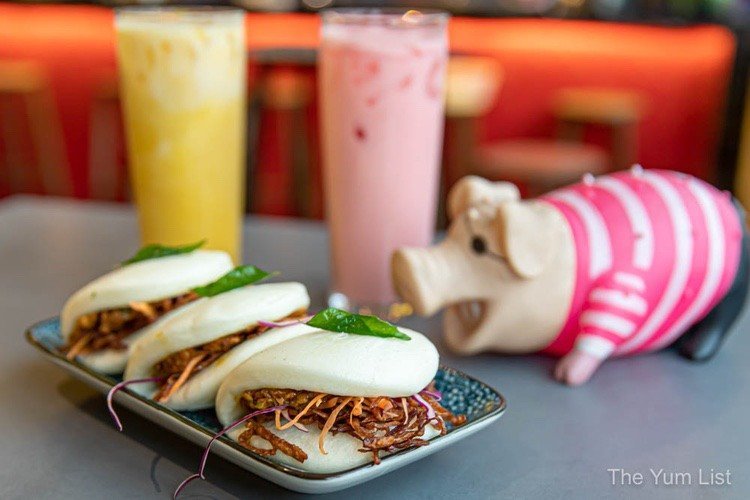 Fish Amritsari Tacos (RM25) present a lushed up version of street food from Amritsar. Soft mini flour tacos hold pico de gallo with mango powder and battered sea bass. The topping is mint chutney, shredded red cabbage and carrot, fried onion and curry leaves. They are fantastic bites to share (or not).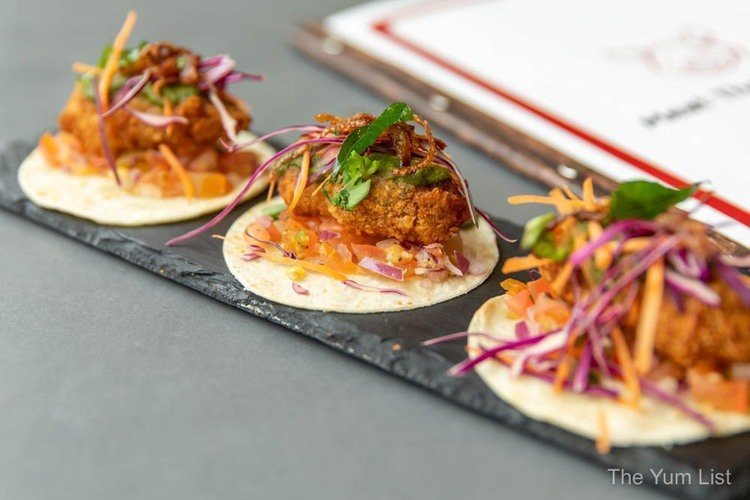 The last item from our small plates tasting was inspired by pigs in a blanket. Bacon-Wrapped Chicken Tikka (RM25) features boneless chicken chunks marinated in yoghurt, ginger, garlic and spices. These pieces are then wrapped in bacon, skewered and roasted in a tandoor. There's a delicious smokiness in every morsel.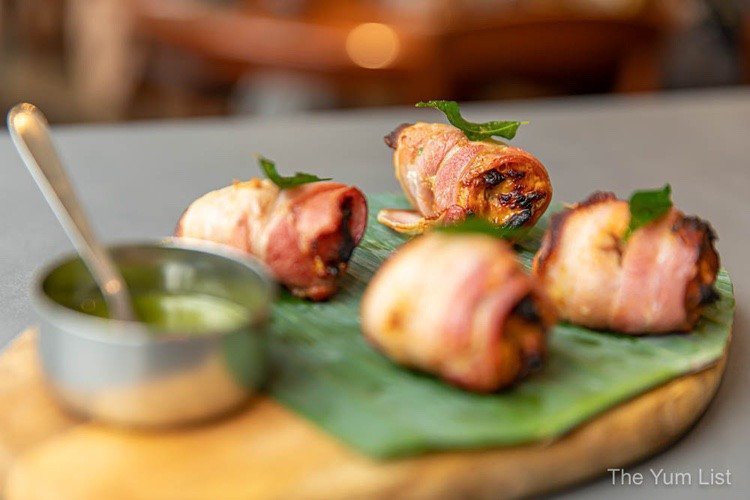 Mains
Tandoori Pork Ribs (RM48) at Meat the Porkers have seen an upgrade from the previous location's recipe. Instead of serving the whole rack, each rib has been marinated (yoghurt, ginger, garlic, spices) and cooked individually. The seasoning seems to reach all the way to the bone and the tender flesh doesn't even require a chew. Hubby declares, "this is happiness."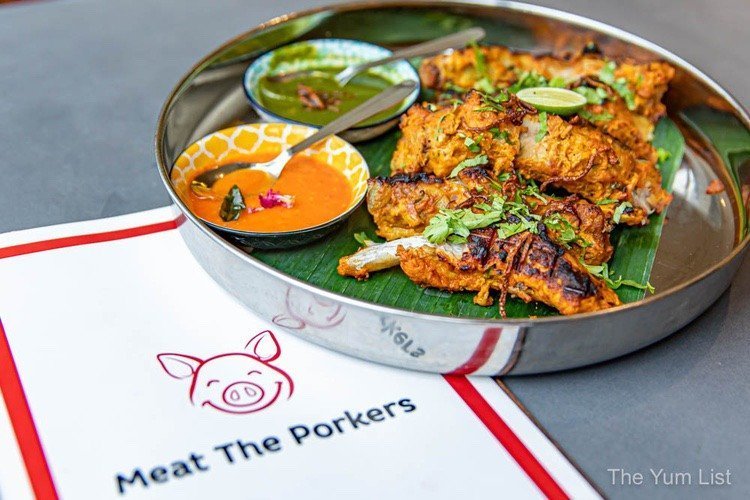 A Kashmiri tradition is given some porcine glam in the Pork Rogan Josh (RM30). Boneless pork is tossed with fried onions, yoghurt, ginger, garlic and cashews. It's excellent with puffy slices of garlic naan. Another fantastic dish with the bread is Butter Chicken (RM25). Shredded tandoori meat folded into the gravy gives an additional layer of flavour. The sauce is rich, tomatoey and buttery and garnished with fenugreek leaves.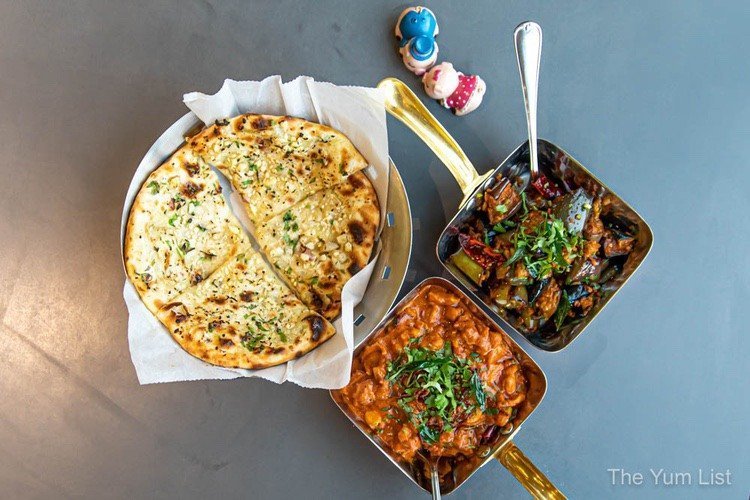 In a weak attempt to balance the meal at Meat the Porkers with some vegetables, we try the Eggplant Masala (RM20) and Palak Paneer (RM22). The former is stir-fried with onions and spices, and the latter features cottage cheese made in-house. Made on buffalo milk, the cheese is incredibly soft and fantastic in the thick spinach-based gravy.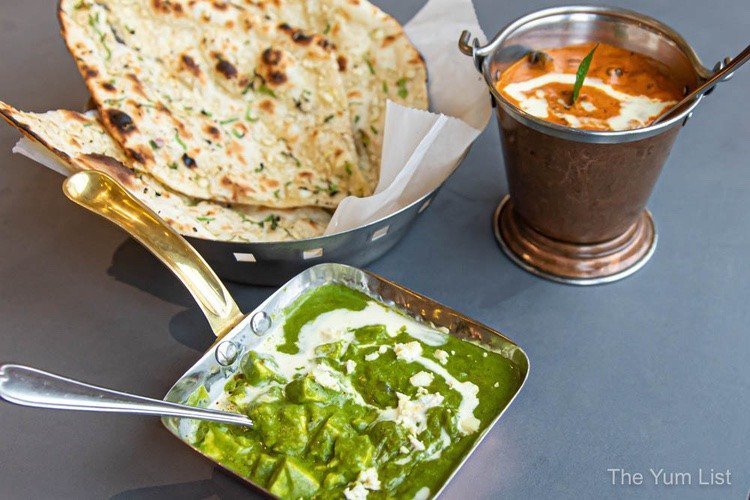 Owner Herukh introduces The Porkers Naan (RM20) as "naan on steroids." Bacon, shredded cheese, chilli, garlic and onion fills the soft, lightly toasted flatbread. It's well-deserving of the title and gets appreciative "ooohs" and "aahs" from the whole gang.
Siew Yoke Biryani (RM28) is a signature that has been on the menu from the beginning, and we can certainly see why it has kept it place. Pork belly is layered with long grain basmati rice and cooked in a sealed pot holding all the flavours inside. A crown of crisp pork skin cubes has Caning and Rich picking it off as if popcorn. What remains adds a great crunch to the rice.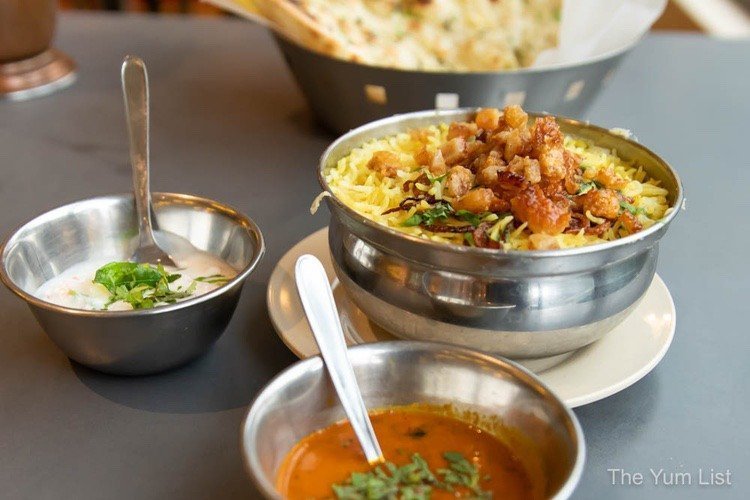 Dessert
The highlight of Meat the Porkers in Plaza Damansara is definitely the savoury menu. The team do furnish a couple of quality desserts, however, to complete the meal with a touch of sweetness.
Our chosen duo offers something contemporary and something traditional. Roti Nutella (RM12) features roti canai with a dollop of Nutella and a creamy scoop of coconut ice cream by local artisan The Last Polka. Pista Kulfi (RM12), on the other hand, is traditional Indian ice cream with pistachios. The texture is denser and has a slight stickiness to it.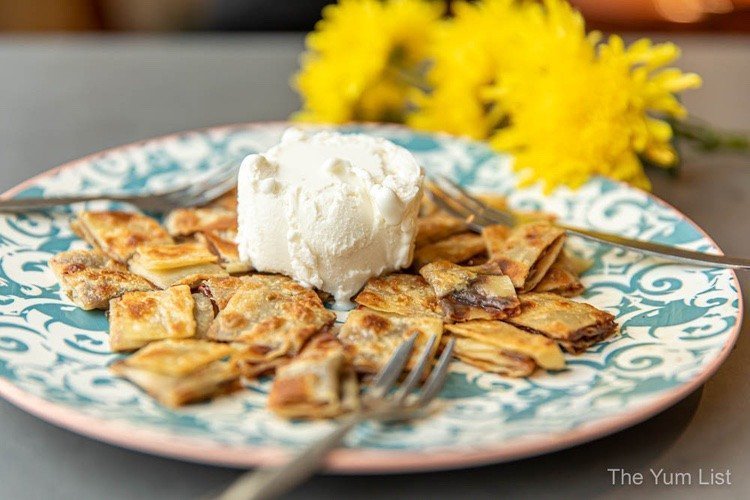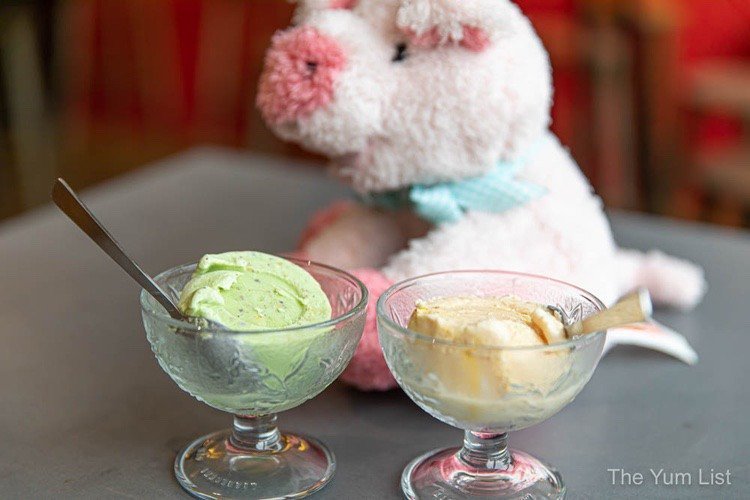 Meat the Porkers Plaza Damansara Review
The new location of Meat the Porkers is an upgrade from Publika. Here guests have more space, natural light and green views. The move has come with a transfer of a solid menu base with some additions rounding out a complete experience for a family or group of friends. The food is good, very good. And, while we're quietly contemplating the deeply satisfying experience we've just had, Herukh sums up the looks on our faces, "All you want to do after eating good Indian food is go home, take off all of your clothes and lay down there like a starfish." So off we swim to do just that.
Reasons to visit Meat the Porkers Plaza Damansara: lovely new setting with lots of natural light and views of the treetops; possibly the only Indian restaurant in Malaysia to serve pork; must-tries are The Porkers Naan, Tandoori Pork Ribs, Siew Yoke Biryani and the Goan Pork Vindaloo Mantou. Do allow room for a fruit lassi too.
Meat the Porkers
9M, Jalan Medan Setia 1, Bukit Damansara
50490 Kuala Lumpur, Malaysia
+6 019 987 1945
www.facebook.com/MeatThePorkers
Meat the Porkers Plaza Damansara Opening Hours
Daily lunch: 12 noon – 3 pm & dinner: 6 pm – 10:30 pm
Find more restaurants serving pork in Kuala Lumpur here and other restaurants in the Bukit Damansara area here.