Domaines Baron de Rothschild
Words: Kitty Noble   Photos: Monica Tindall
When moving to Malaysia, I quickly discovered that wine appreciation is, relatively speaking, in its infancy. With not always ideal storage conditions, the incidence of corked wines is much more frequent than what I was used to. A few enthusiasts, however, have made it their mission to change this reality. One of whom I met recently, Jarrod Chek from In Vino Veritas. Ten years ago, Jarrod recognised the inconsistency of wines in the Malaysian market, so decided to do something about it. He created an import business and began bringing in wines from prestigious makers, such as those by Domaines Baron de Rothschild.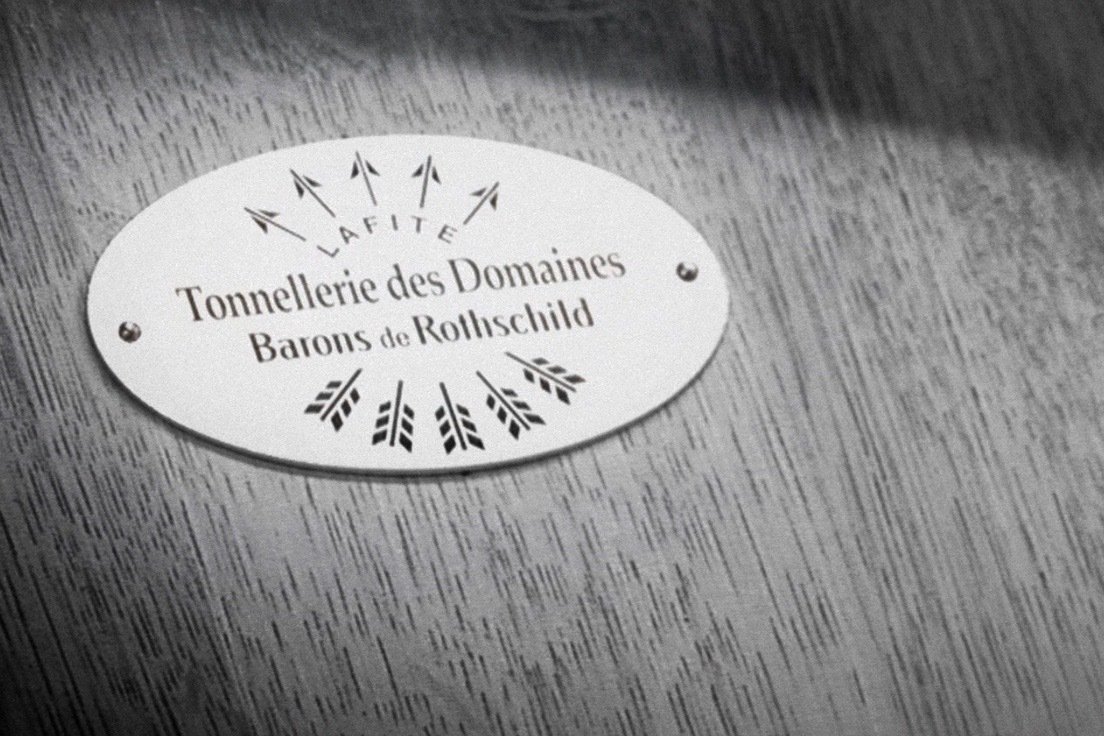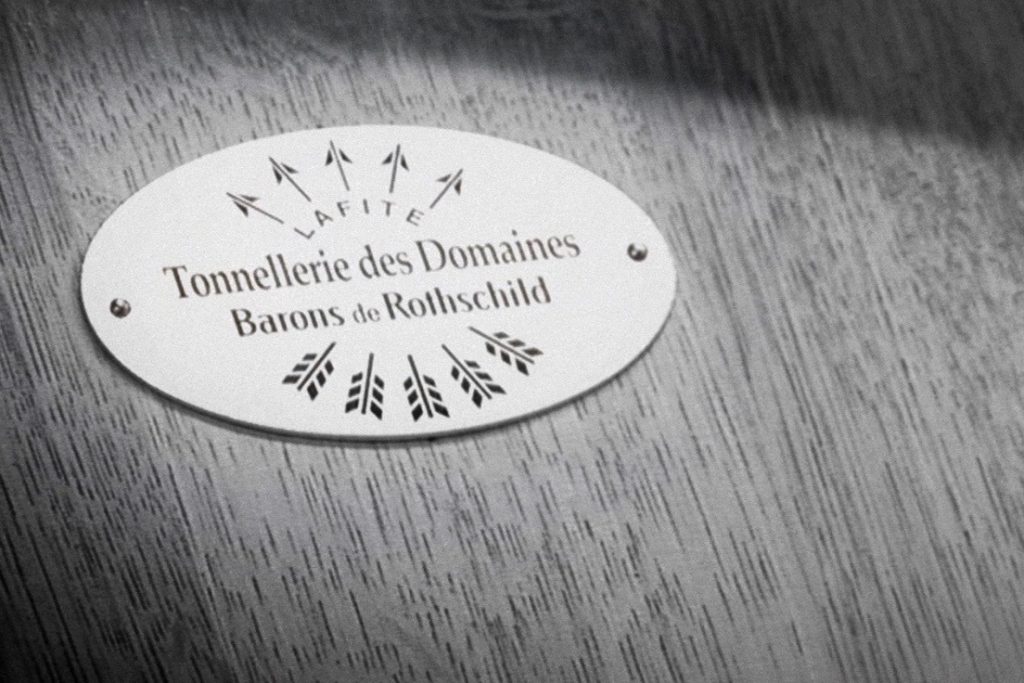 Domaines Baron de Rothschild Wine in Malaysia
Always following their palates, Jarrod and the team at In Vino Veritas have recently launched a new range of wines from Domaines Baron de Rothschild (DBR) to Malaysia. We were fortunate to meet up with the importers as well as DBR's commercial director, Michel Negrier (of the principal company) to taste the latest imports.
DBR is well known for its Chateau Lafite wines but seldom recognised for its other labels. As Michel eloquently revealed, the house makes wine that they "love to drink, and are just happy that others like to drink it too". Here, along with the Chateau Lafite, we highlight two new labels recently brought into Malaysia; Chateau Paradis and Saga.
As well as being a superb purveyor of fine wines, it turns out Jarrod is a thoroughly likeable and pleasant chap. During our wine dinner, we discovered a man who removes the snobbery often found around the wine industry. He takes a similar approach to me of, "drink what you like and don't drink what you don't like". Sage advice indeed, don't you think? Along with Michel, Jarrod presented a varied selection of wines, new and old, for our tasting pleasure.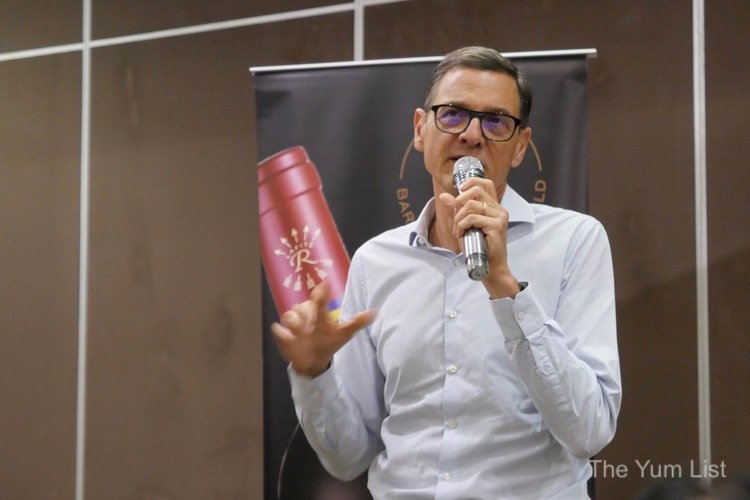 Domaines Baron de Rothschild History
The Rothschild family is perhaps the most globally recognised wine family, but the story of how they became may be lesser-known. The Rothschilds, originating from Germany, were a family of bankers. Incredibly successful in their profession, they would historically celebrate with clients over a nice bottle of wine. As investors, they decided to branch into wine-producing. The father sent each of his five sons (hence the five arrows you can see on their label) to different countries. Each ran a bank with varying levels of success. Two of the sons excelled in both banking and subsequently in the wine business, one being the well known 'Mouton' house, with the other being what we have here, 'Baron'.
The Wines
Sauvignon Blanc Los Vascos (Lafite) 2017
To welcome the large group of F&B industry enthusiasts and experts to the evening, we were served an easy-going Sauvignon Blanc Los Vascos (Lafite) 2017. It's fresh and crisp, with a tropical fruit nose. The palate is typical of Chilean sauvignon blanc, expressing pineapple, green herbs, white stone fruit, and a soft minerality. It makes a perfect aperitif.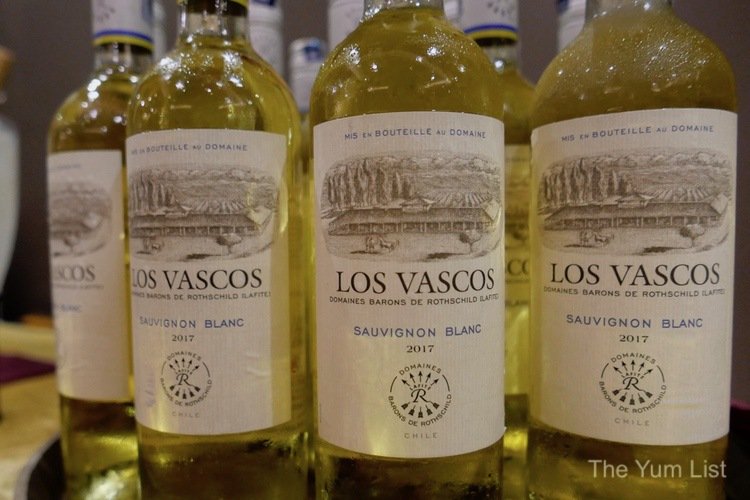 Legends Bordeaux Blanc 2018
A bit bolder, so comfortably paired with appetisers, is the Legends Bordeaux Blanc 2018, (RM110 or so) from the Southern Bordeaux region. Domaines Baron de Rothschild Lafite label blends 60% Semillon with 40% Sauvignon blanc. This was paired with a creamy, umami deep-fried bean curd skin and chicken floss. The relatively high acidity cleanly cut through the lipids. Matching next, with richer, salty Chinese food, the sweetness, guava and gooseberry come to the fore. This is a blend that I love, due to its versatility and how differently it may be expressed, depending on what you choose to eat with it.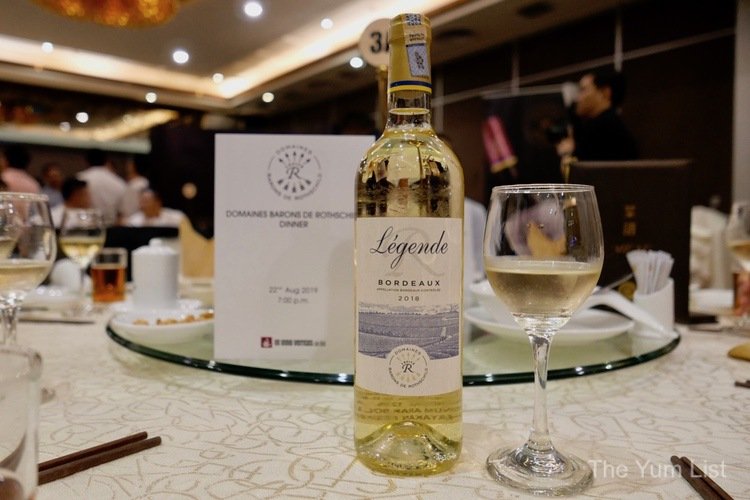 Saga Médoc 2016 (Domaines Baron De Rothschild- Lafite)
Saga Médoc 2016 (Domaines Baron De Rothschild- Lafite), also hailing from their Bordeaux vineyards, has a deep plum colour with rich dark fruits on the nose. Six months on new oak barrels gives a light cedar overtone and 60% Cabernet Sauvignon, 40% merlot, blend in a typical Bordeaux fashion. With soft tannins, a hint of cassis and a liquorice bite, it has a pleasant mouthfeel. While this is drinking well now, the structure means it will age nicely in bottle over the next 10 years. This was a great vintage in Bordeaux from an outstanding terroir. It's an approachable wine for all levels and marketed around RM 95, makes highly accessible. Look out for this one on supermarket shelves.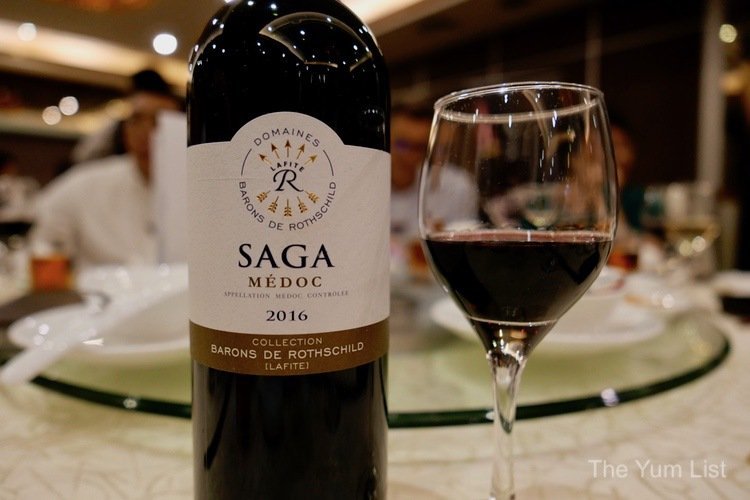 Domaines Baron de Rothschild (Lafite), Legends Pauillac (2015)
Domaines Baron de Rothschild (Lafite), Legends Pauillac (2015) is another Bordeaux blend. This one is weighted more with the Cabernet Sauvignon content at 70% versus 30% Merlot (priced around RM 290). Forty percent of the wine is aged in French (of course) oak barrels creating subtle hints of tobacco and spice on the palate, with soft fruits of red and blackcurrant on the nose. It's an elegant and refined wine with soft enough tannins and a lengthy finish. At 12.5% alcohol, it could be enjoyed on its own or with any number of Chinese dishes.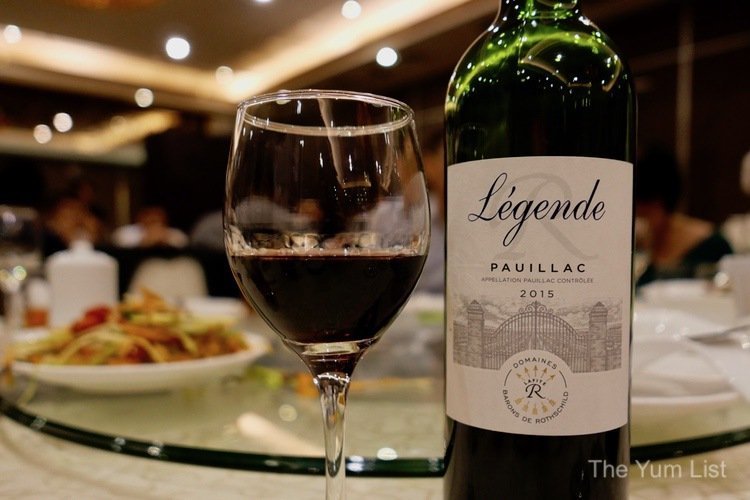 Chateau Paradis Casseuil
Chateau Paradis Casseuil (around RM 149) is named after its main plot of vines, meaning "vines of paradise". In classic Bordeaux style, Cabernet Sauvignon dominates, Merlot adds the bulk, with Cabernet Franc adding the final flair. As this wine is relatively astringent, with low fruit levels and a little 'tight', it definitely benefits from decanting and meat pairing, to help with its approachability.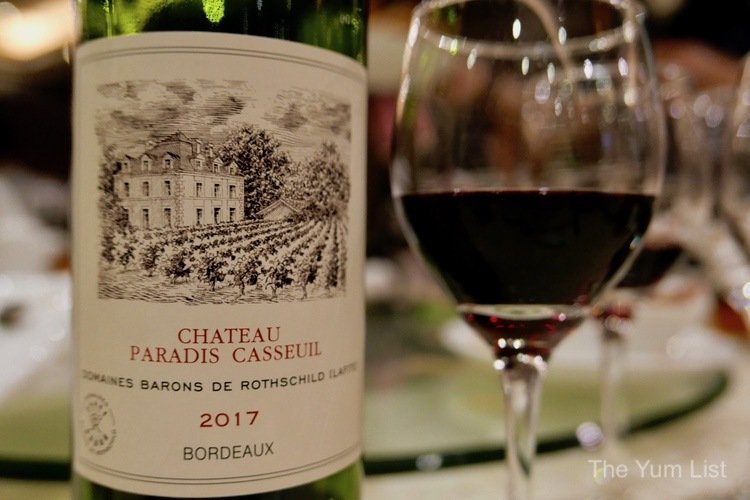 Los Vascos Grande Reserve 2015
Los Vascos Grande Reserve 2015 (around RM 150), from their Chilean vineyards, expertly blends Cabernet Sauvignon, Carmenère, Syrah and Malbec. This was a joy to drink and paired perfectly with smoky ribs. Beautifully rounded, rich and full-bodied with enough spice to stand up to the cumin in the dish we happened to match it with. This would do nicely with any red meat and robust sauce.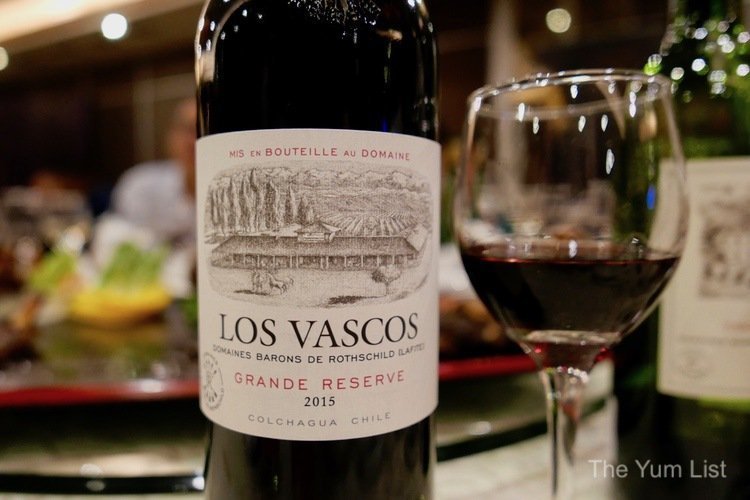 Moulin de Duhart (Pauillac) 2017
Moulin de Duhart (Pauillac) 2017 (around RM 265) has a delicate fruit nose. It's very soft due to its ageing for 10 months in two-year-old oak barrels. Sporting subtle, balanced flavours, great acidity and silky tannins, this worked particularly well with fish in soy sauce. I found it another, excellent, easy-drinking wine.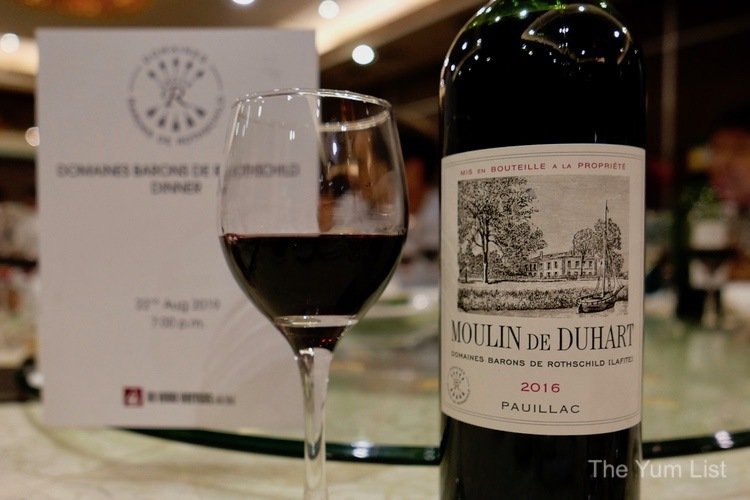 To complete the evening, we were invited to enjoy more of our favourite wine of the tasting. As a white wine lover, I went back for more of the white Bordeaux. If I had time, however, and sobriety permitted, I would also have dove back into Los Vascos Grand Reserve.
Reasons to choose Domaines Baron de Rothschild: with a wide variety of wines, grapes and styles, Domaines Baron de Rothschild offers something for every occasion, palate and pocket. We thought that both the Legends Bordeaux Blanc 2018 and the Los Vascos Grande Reserve 2015 were great value for money.
Domaines Baron de Rothschild wines can be found in several retailers and restaurants around KL. For wholesale purchases, contact the team at In Vino Veritas.
Find more premium wines available in Kuala Lumpur here.
And, find more wines from the Rothschild family here, here and here.