Monica Tindall
Baron Philippe de Rothschild SA hosts a maximum of three to five wine dinners around the world each year. Seats are limited to 20 or less, and given the name, you can imagine that a place at the table is a rather big deal. On the 8th of January 2018, for the very first time, a dinner was hosted here in Kuala Lumpur with Mr Hervé Gouin, Sales Director Chateau Mouton Rothschild, guiding guests through the tastings!
Held at The Library at The Ritz-Carlton Kuala Lumpur, the location was an exemplary choice for the event. An inviting intimacy in space is offered at The Library with the walls lined with an extraordinary collection of books, soft furnishings providing homely comforts and good food, exceptional wine and passionate conversation tying it all together.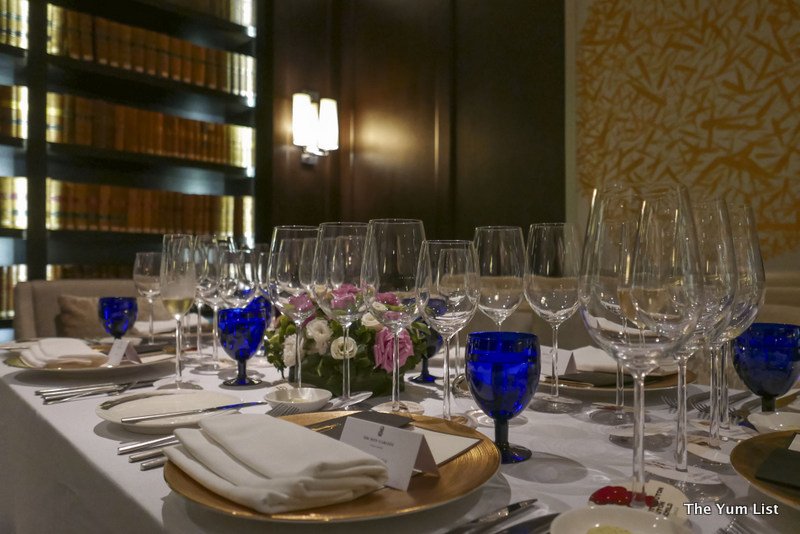 Bordeaux Liquid Gold
CEO Mr Julian Poh of Bordeaux Liquid Gold and his team made the evening possible. Brokers of fine wines, they have access to some of the most prestigious labels from around the world, and as such, it was our fortune to attend this momentous event in Kuala Lumpur featuring the esteemed portfolio of Baron Philippe de Rothschild SA.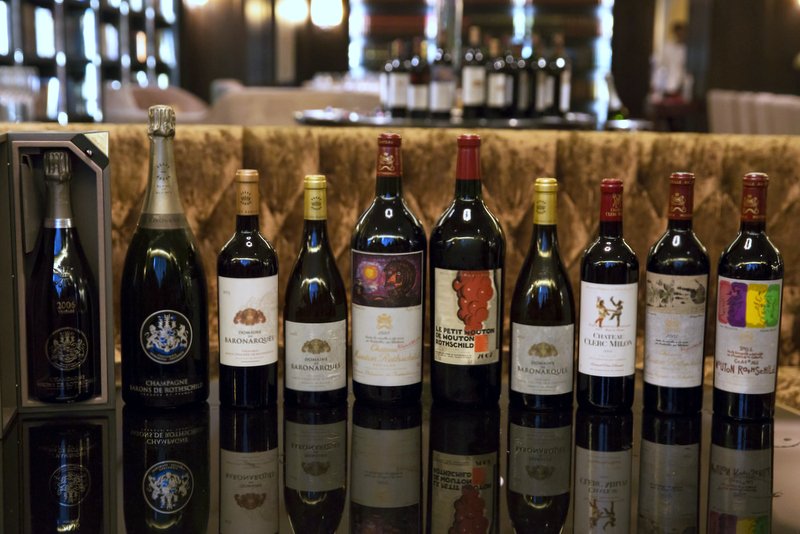 Baron Philippe de Rothschild SA
Located at Pauillac in the Medoc, Baron Philippe de Rothschild SA not only has a portfolio of some of the most sought-after first growth wines in the world, but the family is famed for revolutionising the wine industry. One of the most significant innovations was to bottle wine at the chateau itself. Previously, all wine was delivered to wine merchants in barrels giving owners little quality control. The founder is also credited with initiating the labelling of wine bottles and taking it up another notch by using contemporary artworks as design. Lastly, and certainly no small feat, in 1973 Château Mouton Rothschild was elevated from a Second Growth vineyard to a First Growth – the only such promotion since the original classification in 1855. Today the five vineyards donning the title of First Growth, or Premier Cru, are some of the most expensive and distinguished wines on the market. So, you might imagine my excitement when I learned that Kuala Lumpur would be the location of the first Baron Philippe de Rothschild SA wine dinner for 2018!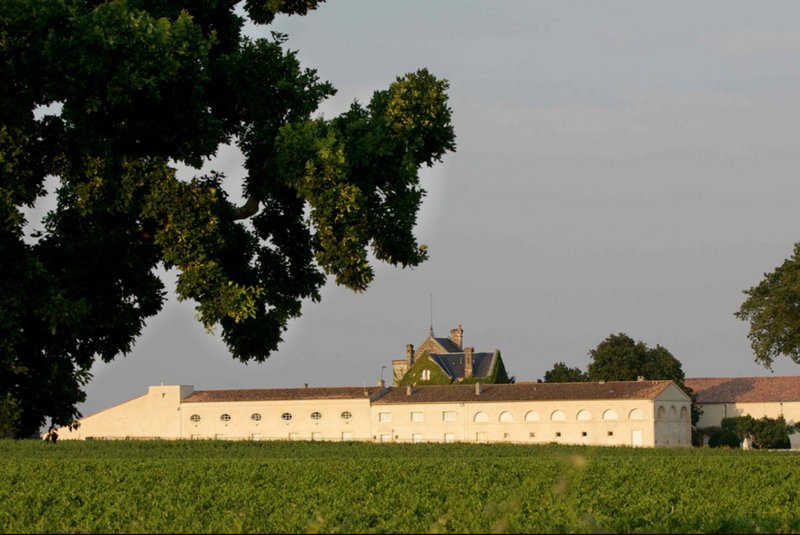 Guests were served nine wines in all from across the portfolio, culminating with vintages from the revered Château Mouton Rothschild. Here I recount the evening.
Aperitif

Champagne de Rothschild Blancs de Blanc Grand Cru in Magnum
As the proceedings warm up, I acquire the attention of Mr Hervé Gouin, Sales Director for Chateau Mouton Rothschild, over a glass of Champagne de Rothschild Blancs de Blanc Grand Cru. The bubbly is an easy introduction; an aperitif that lubricates conversation and doesn't require too much thought. It's bursting with freshness and acidity and as I sip, the gracious and amiable Bordeaux native reveals a little about the company's consistent emphasis on improvement, refinement and expression of terroir.
Champagne de Rothschild Vintage 2008
A waiter trades our glasses for the Champagne de Rothschild Vintage 2008. This one takes a bit more thought. It causes pause in the conversation; a moment for contemplation. There's more of a story to this one. Fine bubbles bring aromas of fruit and French pastries to the nose. The full body enjoys a trail of minerals and it softly lands with a lemony edge. Hervé continues to indulge my curiosity but insists, "The most important thing of the dinner is that you find your wine. That you say yes, this is it. I love it!"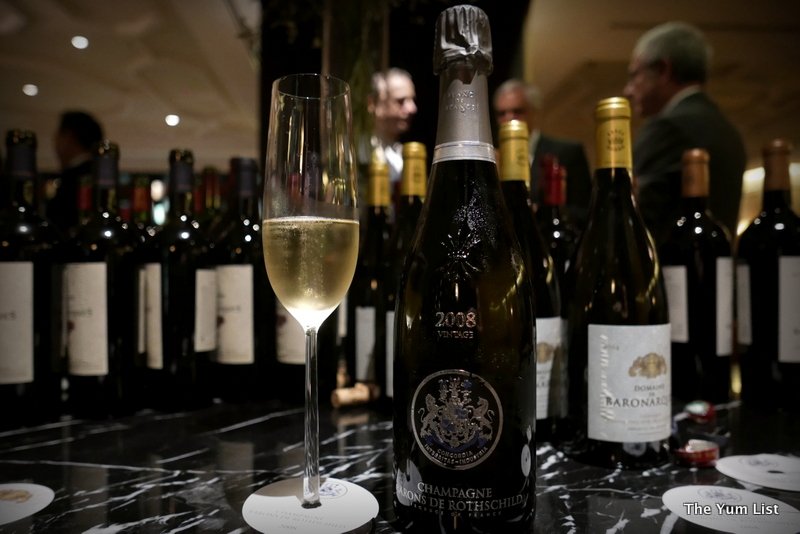 Amuse Bouche
Le Chardonnay de Domaine de Baron'Arques 2014
Now seated, the Domaine de Baron'Arques 2014 Chardonnay is poured. It has a beautiful perfume; lemon, butter and pear come to the nose. It's balanced, fresh and develops in multiple layers: minerals, butter, oak, citrus and nuts lead to a lingering conclusion. Hervé says it will age because of its structure and recommends seafood as a mate. This is a clear winner amongst guests, one I'll be seeking out again.
An Amuse Bouche of Cured Salmon accompanies the chardonnay and its saltiness is intensified with Avruga caviar and then even more so with a sip of wine. Fennel brings a veneer of freshness, which is quickly smoothed over with the thin cream sauce. I fight hard not to sop up all of the cream with the warm bread also on the table, and sense wins over – bread would take up square footage and this prime piece of stomach real estate is being saved for the highest bidder – the wine.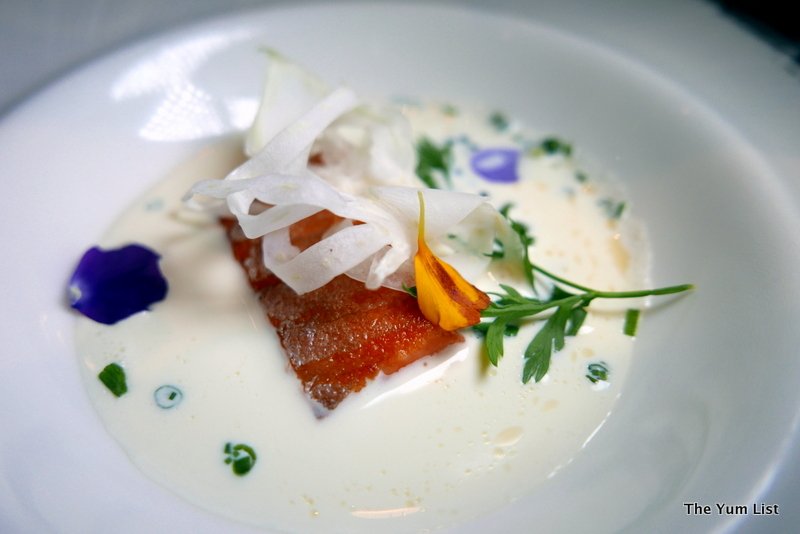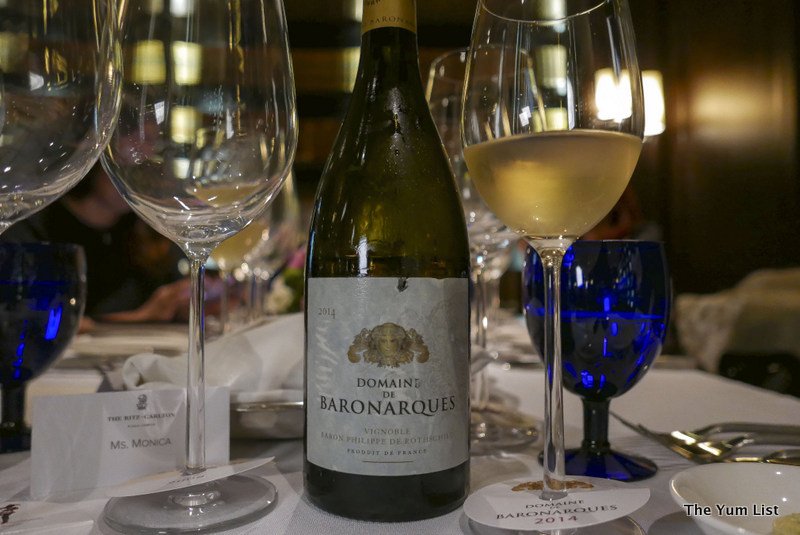 First Appetizer
Domaine de Baron'Arques 2009
The Domaine de Baron'Arques 2009 is a blend of merlot, cabernet sauvignon, cabernet franc, Syrah and Malbec. The year is hailed as one of the best vintages with ideal growing conditions and the initial interaction with the wine is one of focused aromas; blackcurrant and refreshing eucalyptus. It's generous; when it enters the mouth it has a big volume, structure and strength that will stand up to spicy food. It's rich and sophisticated and you might be surprised to see seared scallops paired with it. Smoked duck was the other appetizer option, which perhaps could have been a more standard pairing but who can resist scallops? Plated with crushed peas and a black olive crumble, the dish's profile is enriched drawing lines between the gentle black peppery conclusion of the wine and the flavour of the black olives.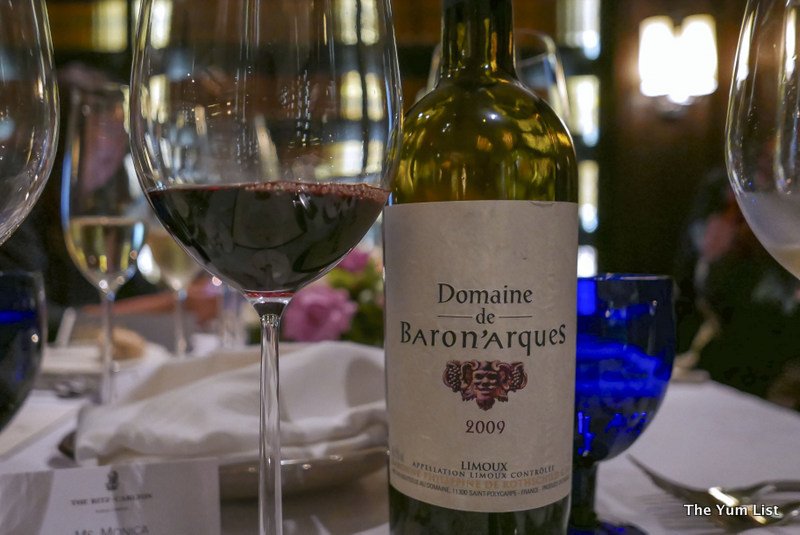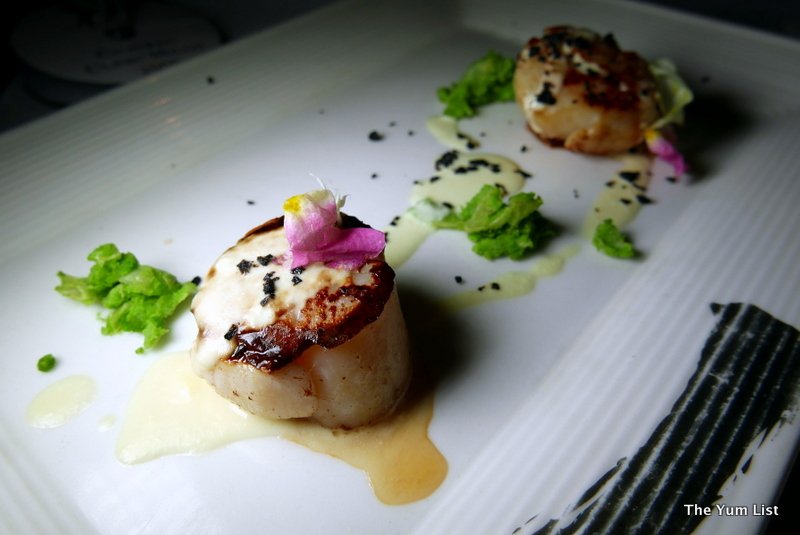 Second Appetizer
Château Clerc Milon 2009
Le Petit Mouton de Mouton Rothschild 2007
Once again we get the benefit of a great year in the vineyards with the Chateau Clerc Milon 2009 with the following course. Hervé jokes that "you could cellar it for 20 years, but why wait? It's good now." Its luscious full body progresses into a sophisticated tannic structure. Plump and dense, it winds out to a long stylish finale.
Fortune is on our side as our second appetizer comes with not one but two wine pairings. Having the chance to compare wines side by side is a fantastic taste development opportunity. And, it's with the Le Petit Mouton de Mouton Rothschild 2007 that we drift over to Bordeaux.
This is a truly small production and apparently, it's quite difficult to find a bottle of this vintage. Hervé describes it as, "Extremely fruity and enjoyable. There's a concentration of Mouton in the glass. The year 2007 is a little underestimated; we consider this one of our best vintages." Wild berries, summer fruits and flowers are detected in the nosing, following through with a rich, crisp palate, full body, flavours of oak and spice and cultivated charm and elegance.
The course of foie gras terrine is creamy atop a toasted milky brioche. Lemon confit, berries and a thin slice of peach balances the velvety liver. The bold fruitiness and structured tannins of both wines lend themselves as chaperones to this dish.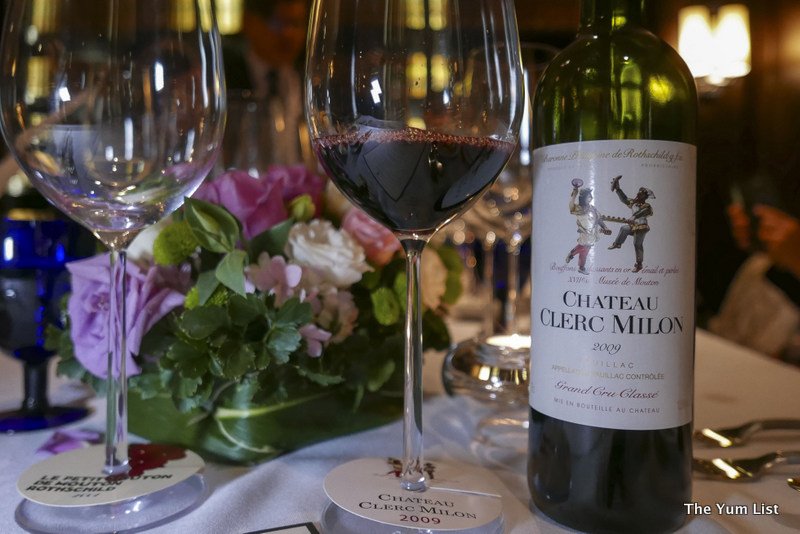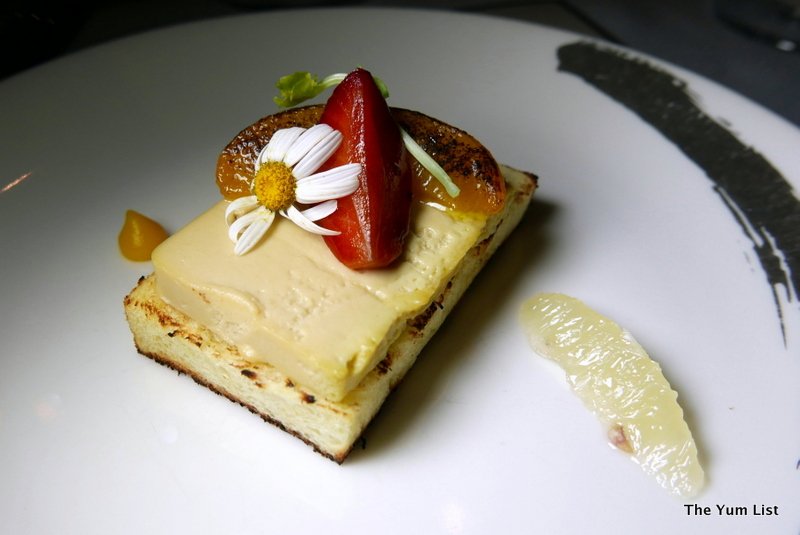 Main Course – Enter the world of Château Mouton Rothschild
Château Mouton Rothschild 1998 in Magnum
Château Mouton Rothschild 2001
With main meal comes the rare privilege of tasting the Château Mouton Rothschild 1998 in Magnum. It's full, fruity and fresh with a touch of minerality. Wine critics have gone gaga over this vintage claiming it one of the greatest produced and predicting the ageing potential of up to 50 years. Tasted side by side with the Château Mouton Rothschild 2001 we encounter two very different expressions of a top cabernet sauvignon.
Almost sable in the glass, Château Mouton Rothschild 2001 has an incredible nose of berries and smoke. Hervé likens it to that of an unlit fine cigar. "Structured, round, satisfying and dense," Hervé continues with analogies, "It's like the rhythm of Greek music. Very classical. A serious wine. While the 1998 is fruitier, the love story before a marriage, an ending not yet developed, the boyfriend; the 2001 is more reliable, we know the outcome, it's the husband."
And with those words of wisdom, we turn our attention to the food. Ribeye steak seems a sensible pairing for these bold reds. Simply prepared, the beef is branded by the grill, pleasantly charred on the surface and pink and succulent within. Creamy mashed potatoes and slender pieces of asparagus and carrot go with the meat and a subtle thyme jus adds a whisper of herbiness.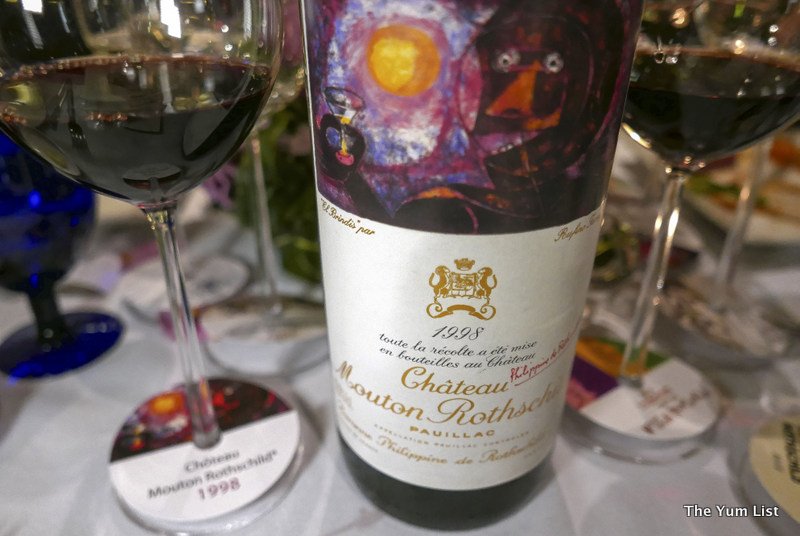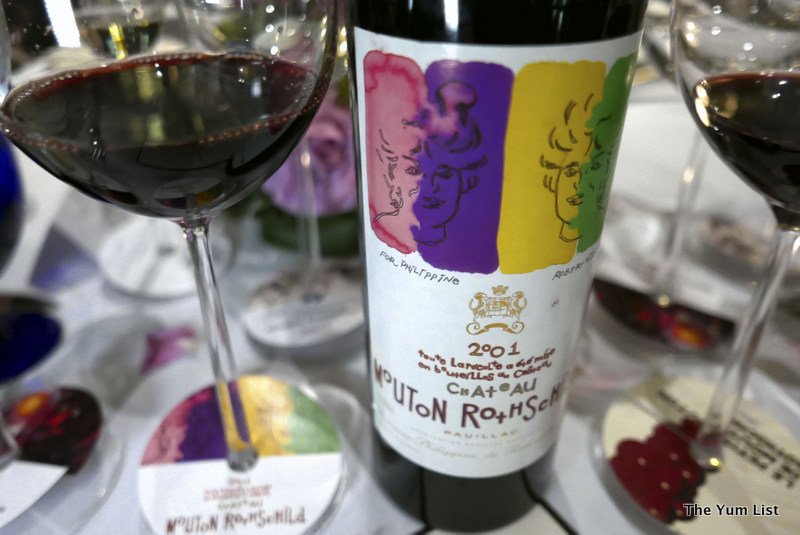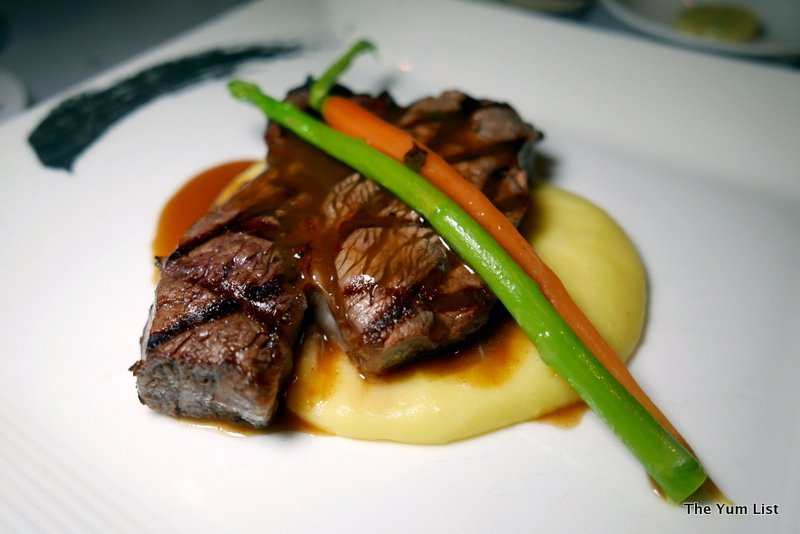 Dessert
Château Mouton Rothschild 2005
The finale of the wine dinner culminates with the Château Mouton Rothschild 2005. Hervé says it's a wine that has everything; creamy tannins, fruit, tobacco on the nose and a long finish. The artwork on the label is by an Italian artist, Giuseppe Penone, who wanted to create an image of the farmer's "green fingers" – resembling a vine leaf and also the open hand of a consumer ready to take hold of a glass of wine.
And, as we wrap our hands around our last glass for the evening, take a nibble from the cheese platter and a fork of the cherry tart, Hervé reminds us of the importance of forming our own impressions of wine. He draws relationships between life, art and wine. They're all meaningful because of the emotions we attach to them, and each enables us to enjoy life just that little bit more. So, cheers to wine, art and life and cheers to the fabulous Baron Philippe de Rothschild SA team; may they continue to assist in us all in adding pleasure to our lives for many more years to come.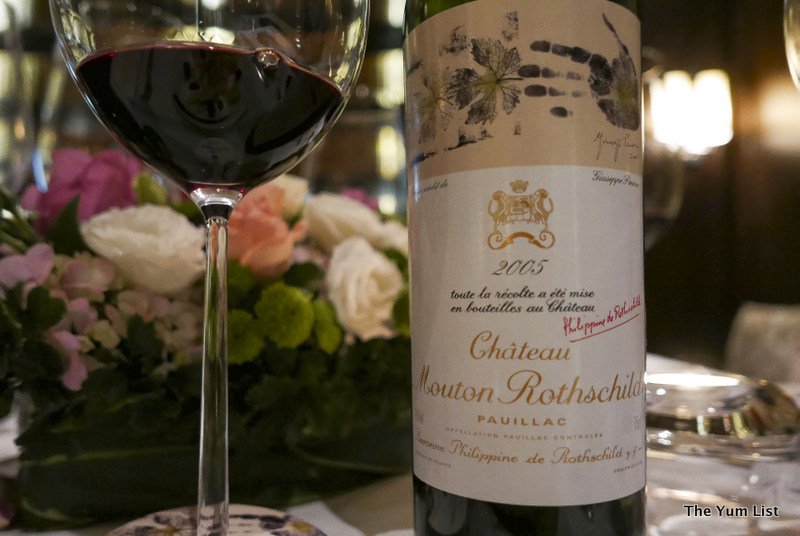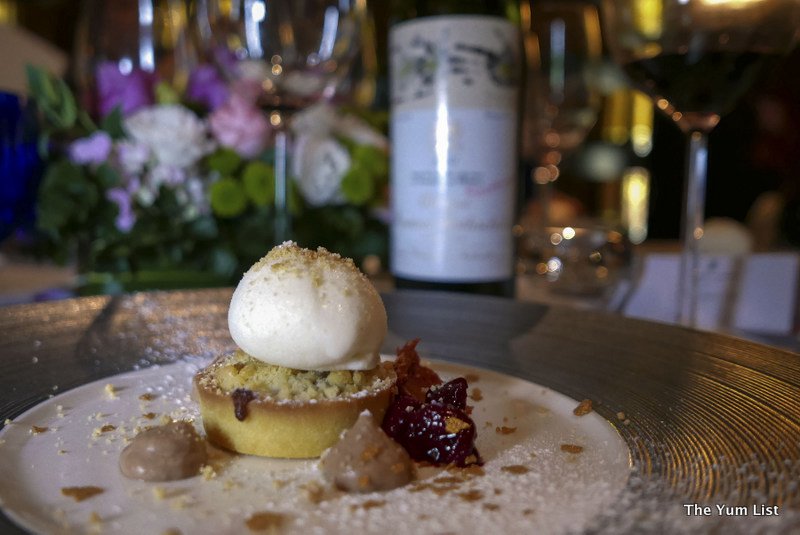 This wine dinner was made possible thanks to the folk from Bordeaux Liquid Gold, The Ritz-Carlton Kuala Lumpur and of course, Baron Philippe de Rothschild SA.