Gen Georgetown
Monica Tindall
Exciting things are happening in the culinary scene in Penang! Just one of many is the relocation of Gen in Georgetown, a restaurant serving contemporary Malaysian cuisine, from Lebuh Pesgrave to The Prestige Hotel. Another is the transformation of the original location to Gen Communal Table.
The first concept (in its new home) will continue to serve degustation menus pushing the boundaries of perceptions surrounding local recipes and ingredients. The second (new concept old location) will offer shared plates in a more casual style of dining.
We're here at Gen, celebrating its last days in its original digs and sussing out the latest wine-paired menu by chef Johnson Wong and his team.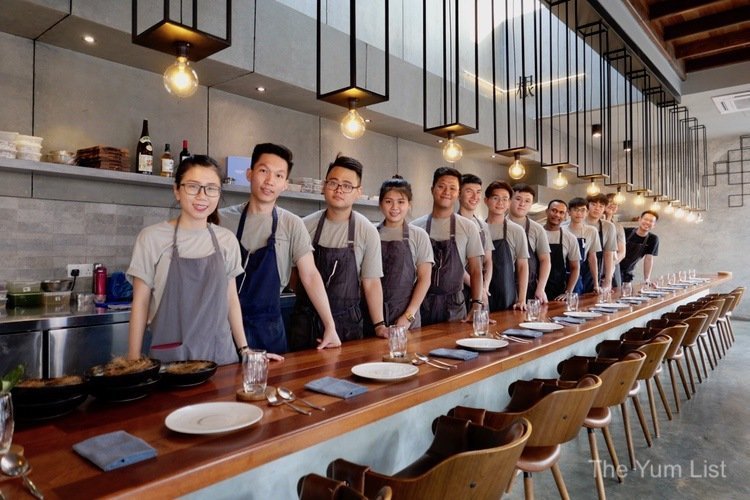 Gen Georgetown Degustation Menu
Priorities are straight at Gen Georgetown, and we have a glass of bubbly in our hands within seconds of arrival. The Blanc de Blancs is a lovely drop by a Spanish biodynamic winery, Raventos I Blanc. Dry, yet still managing to bring a little fruit to the palate, it sips well alone or with food.
A curious pebble-shaped container is placed alongside our glasses and comes with a warning to, "smell, do not drink." It holds a slice of pinewood in hot water, offering gentle aromatherapy before the meal. The scent is subtle and is an excellent way to hone our senses, readying our minds for the experience to come.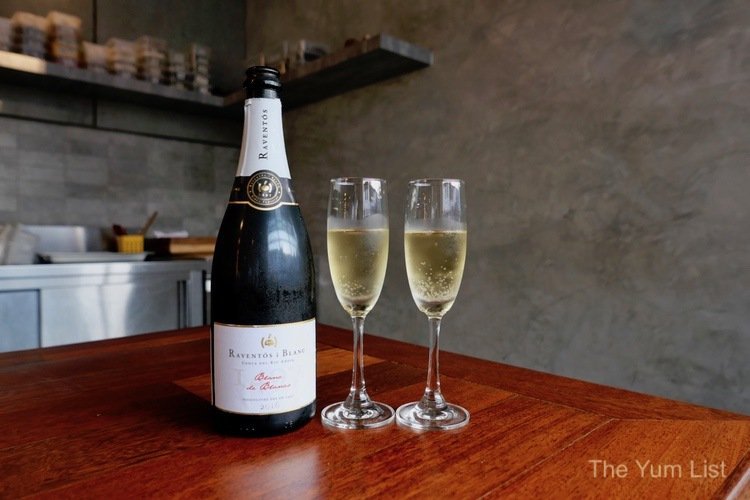 "932"
Senses awakened, we receive the "official welcome," the "932" – a drink native to Penang and often used as the customary beverage of greeting. At Gen though, it's turned from a liquid to solid. Calamansi and sour plum sorbet are topped with wood sorrel, dried calamansi and galangal chilli. It's tart and fresh. I love it!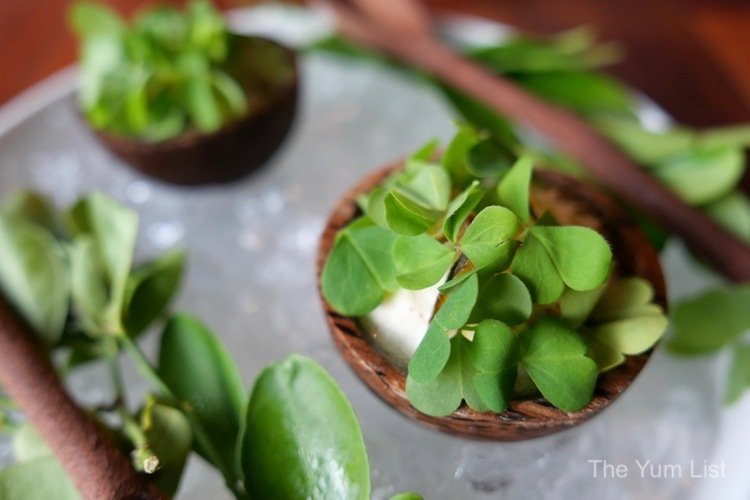 Watermelon
The next course, Watermelon, is recommended to be popped in the mouth in one bite. Petite cups have been made from the fruit itself, and they're coated in fish floss resembling a miniature hairy coconut. Each vessel is filled with catfish roe, cured bonito flakes, soy sauce and shredded ginger. The complete package bursts in the mouth, leaving an attractive thread of ginger lingering on the palate.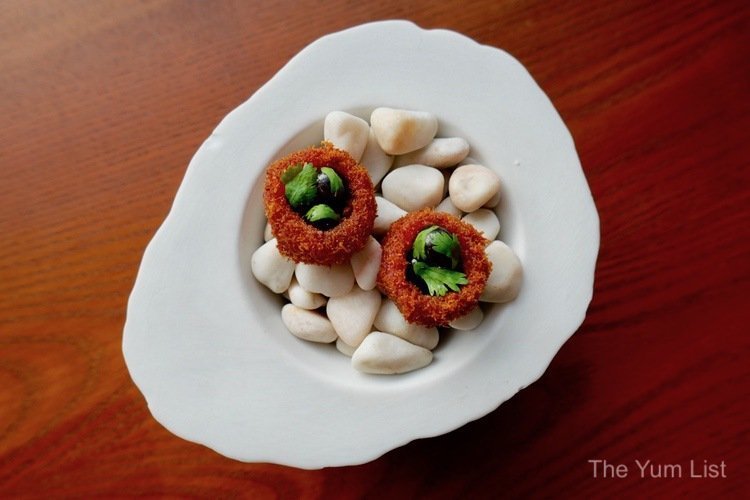 Curry
Following is not what I imagined when I read "curry" on the menu. It's curry three-ways and inspired by chef Johnson's childhood memories. The trio consists of curry meringue with salted duck egg, grilled corn with curry corn flakes, and lastly, a deboned chicken wing with potato, crisp curry leaves and curry corn sauce. The meringue dissipates in the mouth, leaving the charm of sweet and sour in a paste-like form before disappearing altogether. The corn, simply grilled, has a fantastic texture. And, the wing sports creamy, crispy and charred characters all in one mouthful.
Another drop from Spain, Albarino Abadia de San Campio, builds in flavour and texture along with the food. The wine displays a slight fruitiness and more structure, making it ideal for the curry theme.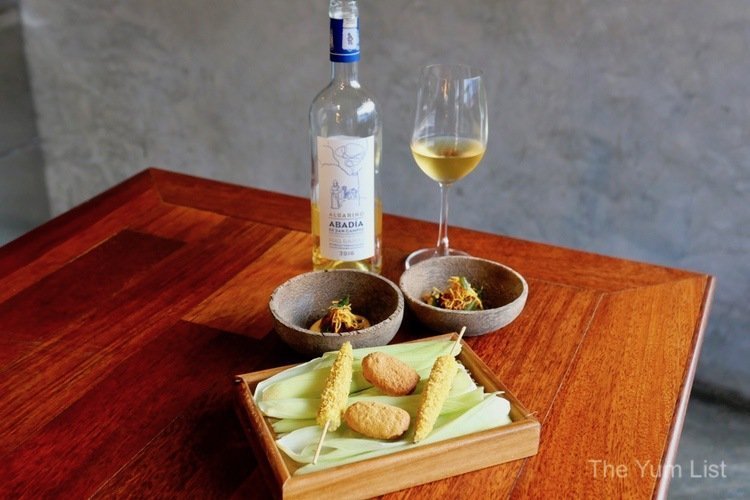 Ginger Flower
Ginger Flower, not only turns out to be my favourite dish at Gen Georgetown because it's pretty and has one of my most loved ingredients, but it is fresh, enticing and balanced. Similar to the local herbs and greens dish, ulam, this recipe is full of pegaga, ulam raja and loads of other exciting bits. Ginger flower is found in a mousse and tops pieces of crabmeat, shredded green mango, pickled pomelo, and a variety of edible flowers. Staff finish it off tableside with a coriander and mint granita. It's so fresh and light, I wish they offered the option of home delivery (to KL).
Moving to France for the succeeding wine, our glasses turn pink with a rose, a 2017 Lavila. An uncommon blend of cinsault and Syrah makes for interesting drinking. The label reads, "soft, smooth and fruity." It's a natural pairing and goes well with both the preceding ginger flower and the upcoming chicken cracker.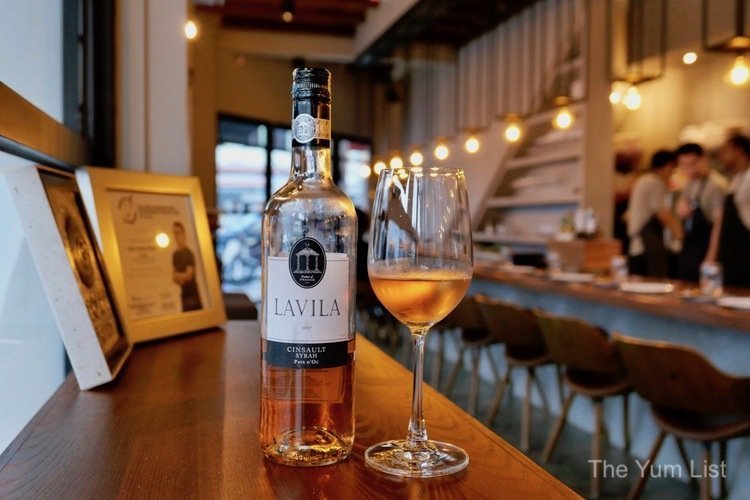 Herbal
Herbal, is best taken on its own, so we let our glasses rest while spooning up the soup. Served in two stages, the bowl begins dry with the black chicken, fermented enoki mushroom, puncak manis (deep-fried sweet leaf), and an edible flower. The herbal chicken broth gets poured over the top. The first mouthful has us initially in congratulatory "mmms." It's smokey and comforting, and we continue scooping to the bottom in satisfied silence.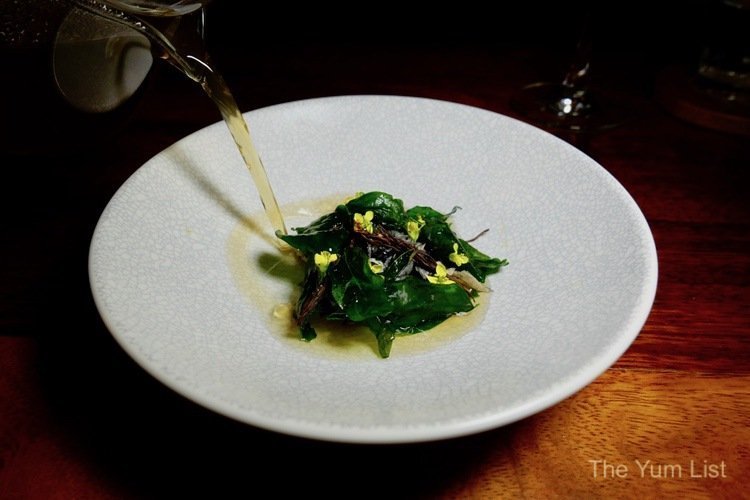 Chicken Cracker
After the soup at Gen Georgetown, we return to the wine and feel as though we're having afternoon nibbles with the chicken cracker. Pounded chicken breast, deep-fried until crisp, acts as a scoop for chicken liver, black garlic mayo and spring onion powder. It's a terrific contrast of textures and temperatures. The crackers are warm and noisily crunchy. The pate is smooth and cold.
Noodles
Chef Kevin (who will soon be left in charge of Gen Communal Table), is responsible for the handmade flat noodles in the next course. Lap Cheong (sweet Chinese pork sausage), fermented chilli cream, pickled daikon, Sarawak pepper and onion powder flavour the pasta. Strips of pork stomach, similar in texture to that of dried mushrooms, hearten the combo making it feel filling with something to really bite into. It has quite a level of heat to it that continues to develop even after swallowing. There is almost a numbing effect, similar to Sichuan pepper. Staying in France for the wine, we carry on with a Syrah, Cuilleron, Les Vignes d'a Cote. It's a lighter shiraz with lots of fruit and a whisper of spice that layers well with the noodles.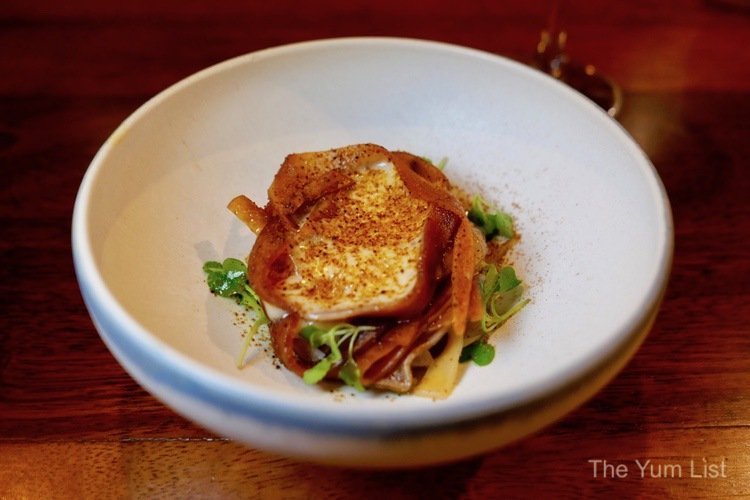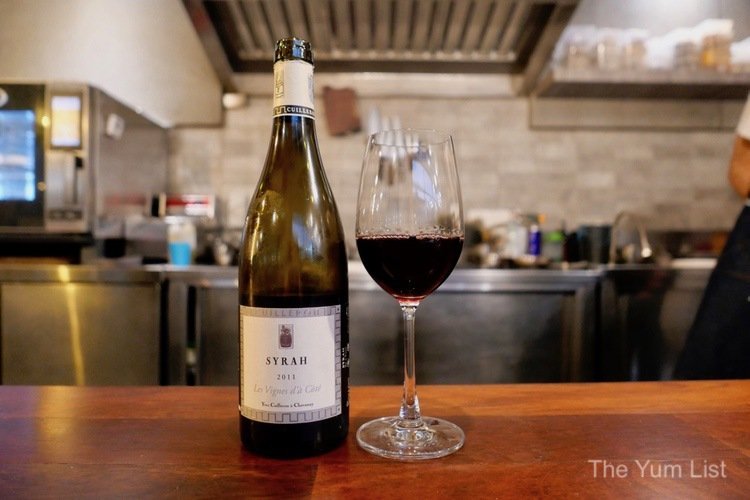 Belimbi
Belimbi is another dish served in two stages. Raw threadfin sits in a bowl dressed with fermented chilli cream sauce. It's wrapped in betel leaf, slightly toasted, dusted with kaffir lime powder, pickled belimbi and longan, and lastly garnished with cosmo and marigold flowers. Stage two pours on tomato fish broth infused with starfruit juice. It has a fruity sweet finish to it that acts as a pacifier following the former fire in the mouth. Delish.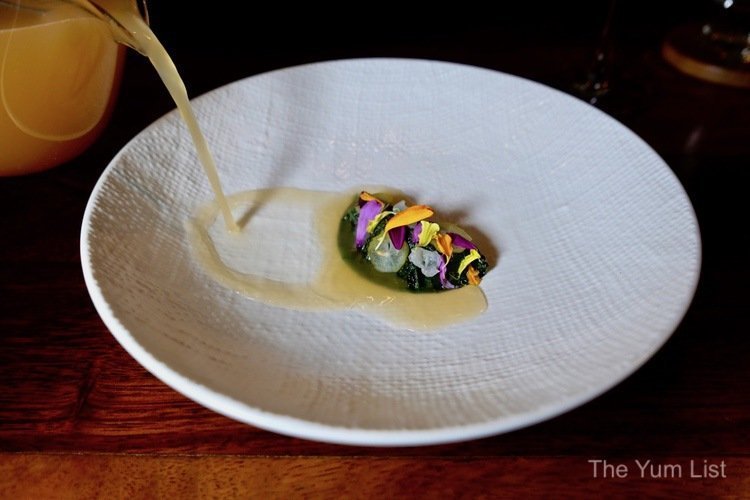 Pork Belly
Hubby is in his element with the pork belly. It has been sous vide at 78 degrees for 12 hours, ensuring that it is melt-in-the-mouth tender. Layers of glutinous rice with salted fish flakes, jicama and red beet leaves coat the ridge of the lightly grilled meat. Soy-based salted fish reduction infused with dried shrimp oil adds an additional component to the overall profile.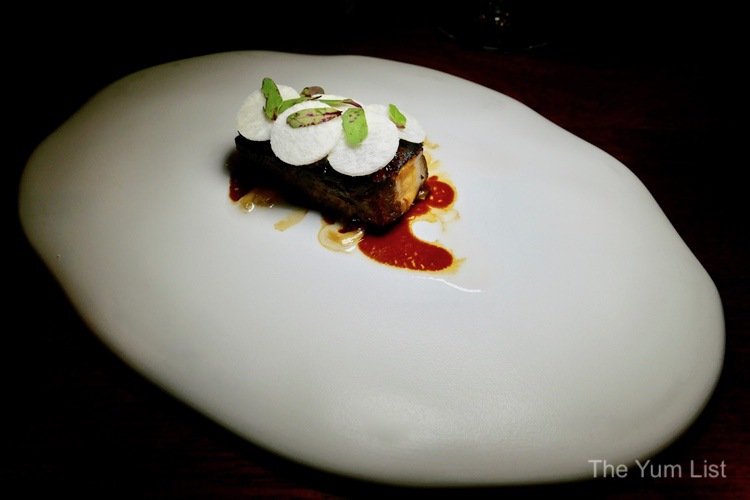 The wine mate, the Chilean Apaltagua Gran Verano, Merlot 2018, brings straightforward flavours with a little spice in the finish. It balances the pork dish in its youthful and fruity palate.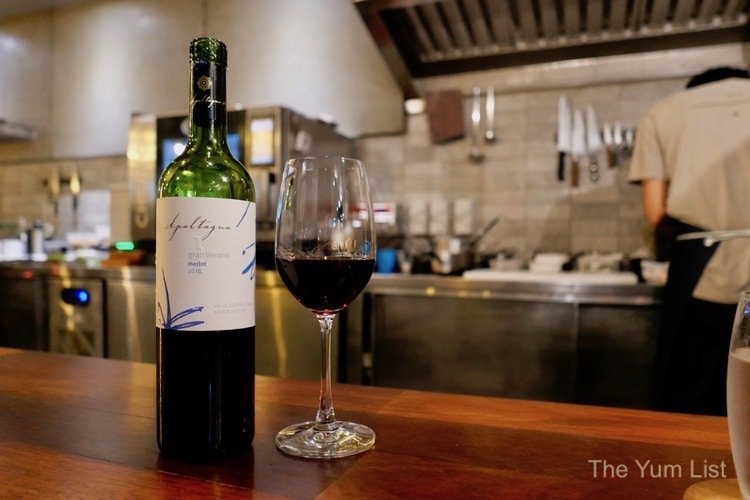 Pineapple
Savouries concluded at Gen Georgetown, we move on to a trio of sweets.
Pre-dessert is served in a halved pineapple. In the base, there is soy sauce and chilli jelly. In the middle, we find pineapple gelato. Above, there are two types of tuile: pineapple and soy sauce. Pickled pineapple juice is poured over the top. Providing a final dramatic strand, it's finished with pandan water poured over dry ice enticing the nose with the screwpine fragrance and a cloud of mist. It's another brilliant play; sweet and savoury, gelatinous, frozen and crunchy.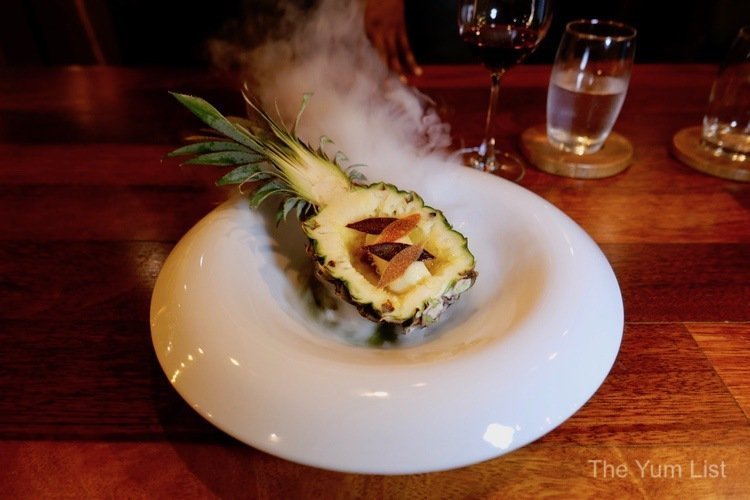 Rose
And then, there's dessert: red rice cooked with coconut milk, Indian red sugar gelato, cardamom with yoghurt mousse, dried rose and rose mousse nitrogen sprinkled over the top. Although the combo is original, it's also familiar in a comforting way.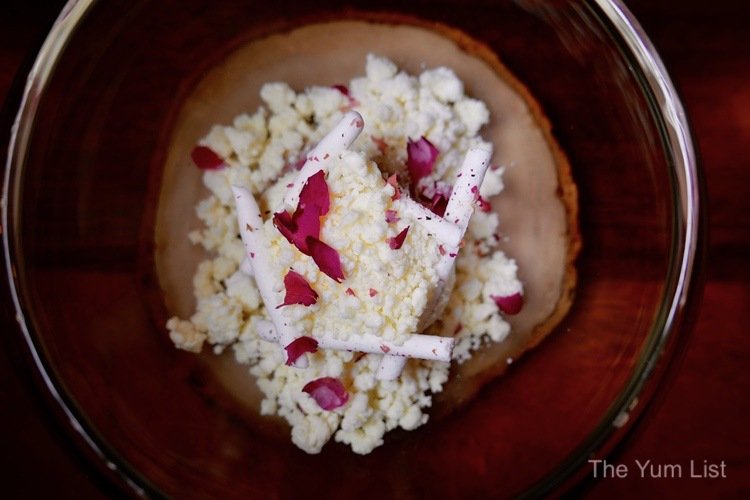 With dessert, we change beverages to a locally brewed ginger beer. It's made with local ginger root from Ayer Itamm, which is slightly on the sweeter side. It's low in alcohol and offers a bright effervescence.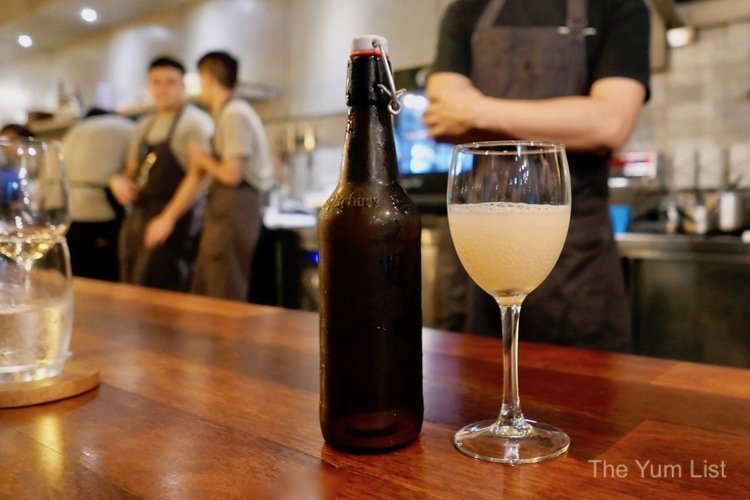 Tropical
Lastly, Malaysian tropical fruits are celebrated in the final sweet. A coconut bowl, surrounded by black rocks, holds red and white dragon fruit, mangosteen and gooseberry. Pandan curd with a brûléed top, roselle leaf and lemongrass granite further contribute a mouthful of local. On the side, warm nutmeg tea draws the meal to a close. It's a stellar conclusion. Light and refreshing; we walk out feeling satiated but not regretful.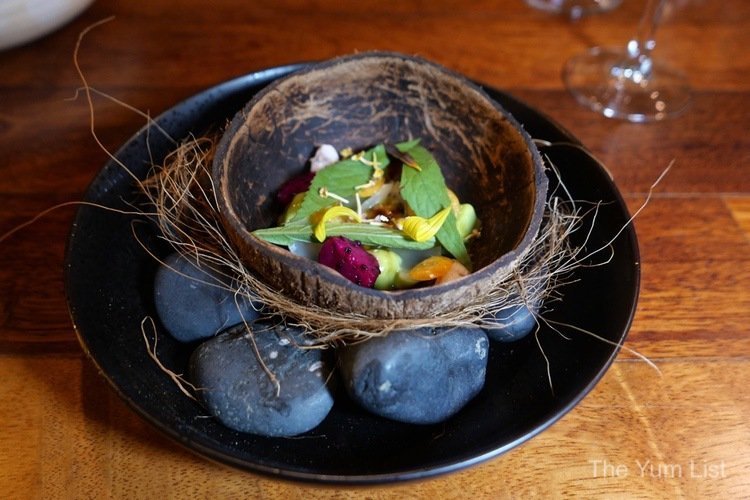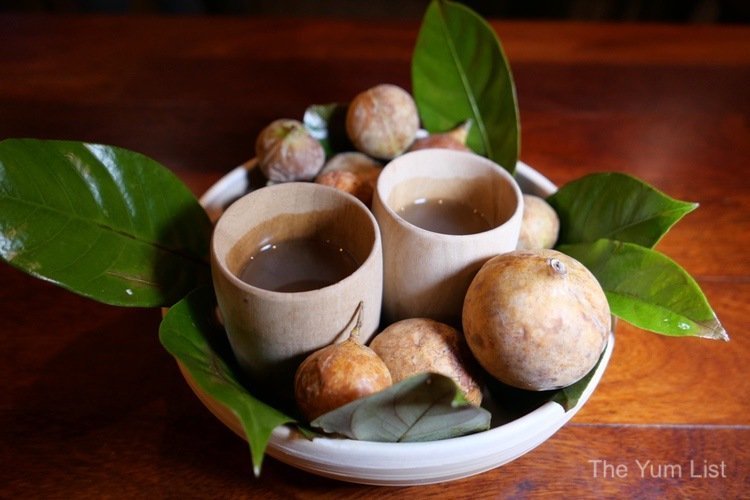 A five-course menu at Gen is priced at RM200+ with an additional RM120+ for wine pairing. Seven courses will set you back RM250+, and add another RM160+to include matching wines.
Reasons to visit Gen Georgetown: to experience a vast array of possibilities for pushing the boundaries of contemporary Malaysian cuisine; over 90% of ingredients used come from Penang island itself; well-chosen wine partners.




Gēn 根 Communal Table
Gen Penang
68a, Lebuh Presgrave
10300 George Town, Malaysia
+6 012 578 3323
www.facebook.com/genpenang
Gen Georgetown opening hours
Tuesday to Sunday 18:00 – 23:00
Gēn 根 Georgetown
The Prestige Hotel
8 Gat Lebuh Gereja
10300 Georgetown, Penang
Malaysia
Follow this link for more on Penang's exciting culinary scene.