Japanese Restaurant in KL
Monica Tindall
It's easy to find a Japanese restaurant in KL, but finding a great one requires a bit more work. Discretely located on the eighth floor of Hilton Kuala Lumpur, Iketeru is one of the most respected, going long and strong since the opening of the hotel in 2004. They keep things lively with menus changing with seasons and geography, along with various beverage-paired curations such as the one we're about to experience tonight.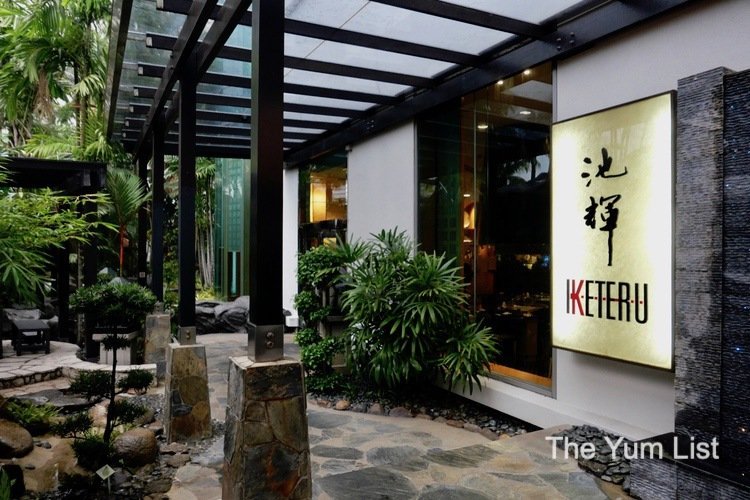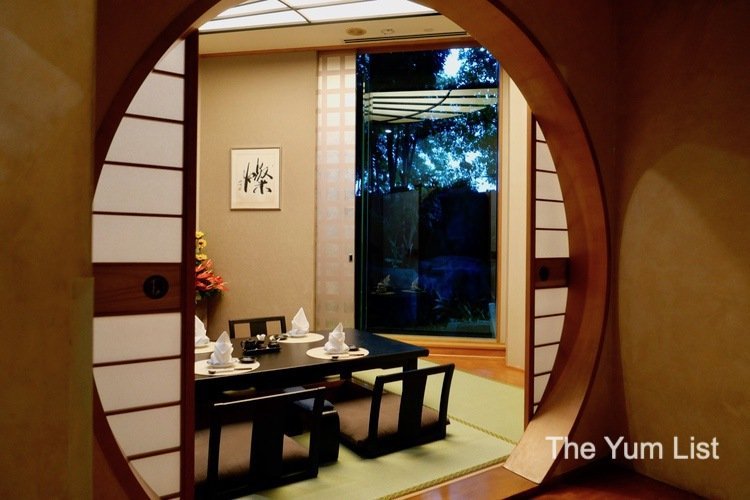 Japanese Restaurant in KL – Iketeru
Running from October 1 until October 10, 2019, chef Masami Okamoto presents a sake-paired dinner of five courses. The menu is priced at RM 350 Nett per person and an additional RM 150 Nett for the sake pairing. Various credit cards receive up to 20% discount, so be sure to ask when making a reservation.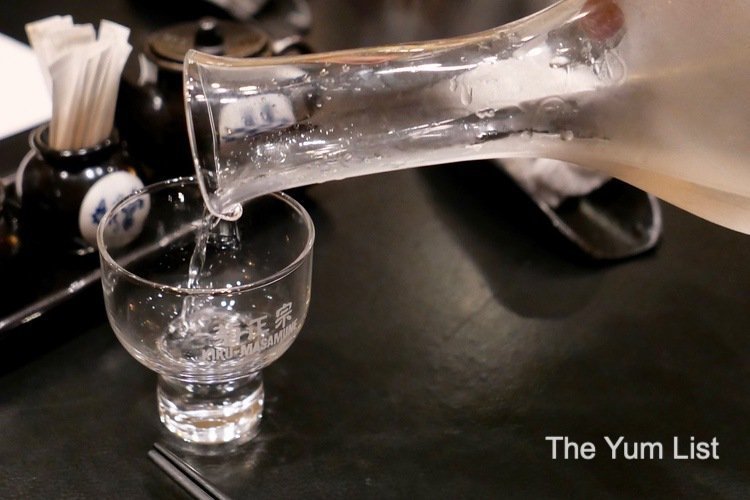 October Sake-paired Dinner at Iketeru
Appetizer
To begin the October menu at this fine Japanese restaurant in KL is a duo of preparations. The first is presented in a cheery yellow bowl; boiled chrysanthemum flower and leaf in bonito sauce. Mackerel marinated in vinegar sauce sits in a separate plate on the side and provides a rich contrast with the fattiness of the fish tempered with the acidity of the vinegar. The pairing with Kubota Senjyu sake is a flawless introduction. Furnishing a clean aftertaste and food-friendly character it makes easy drinking.
Otsukuri
Thin slices of raw amberjack are artfully plated in the Hamachi Usuzukuri. They're sided with a petite bowl of ponzu, which enhances the freshness of the fish. The second sake, Kikumasamune Honjyozou Atsukan, has a smooth, dry taste. A rather versatile sake, its clean, crisp finish matches well with a variety of Japanese recipes.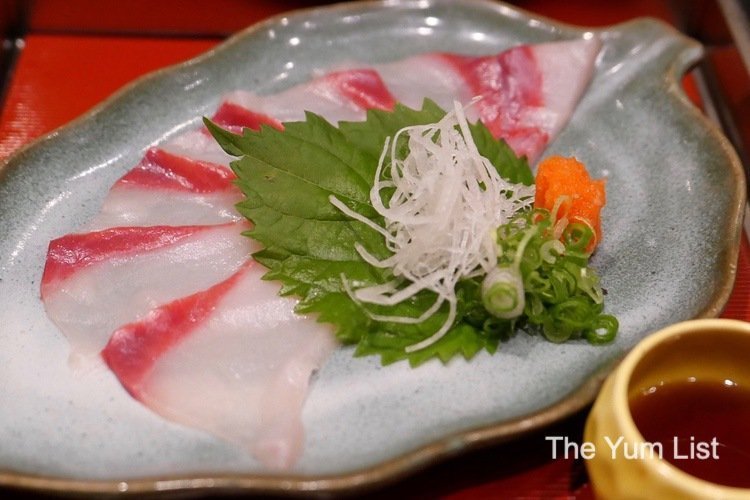 Yakimono
Flavours and body intensify with the grilled salmon at this fine Japanese restaurant in KL. A long slender platter balances the fish on one side and a cylinder of furofuki daikon (radish in white miso sauce) topped with stewed beef on the other. Gingko nuts and Hajikami ginger act as a tasty edible garnish. Along with the progression of the food is the quality of the sake. This round sees Osakaya Choubei Daiginjyo. Brewed from highly polished rice, the result is a vibrant and fruity aroma and delicate flavour. I find this recipe highly satisfying.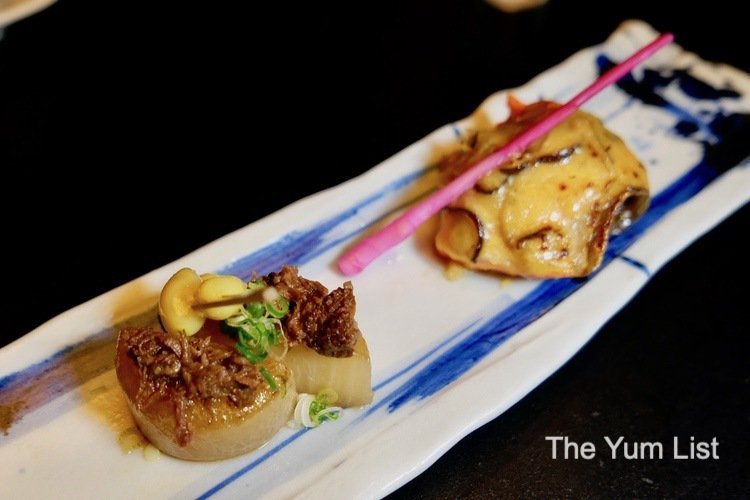 Nimono
In the nimono course, herring has been simmered in dashi together with sugar, sake, mirin and soy sauce. It's bulked up with vegetables and proves to be a highly satisfying recipe. The sake mate, Dai-shinshu Karakuchi, is highly aromatic. There is a particular acidity to the finale slicing through the fattiness of the food, making a terrific partner. On top of that, it's clean, dry, light, well-balanced and goes down all too easily.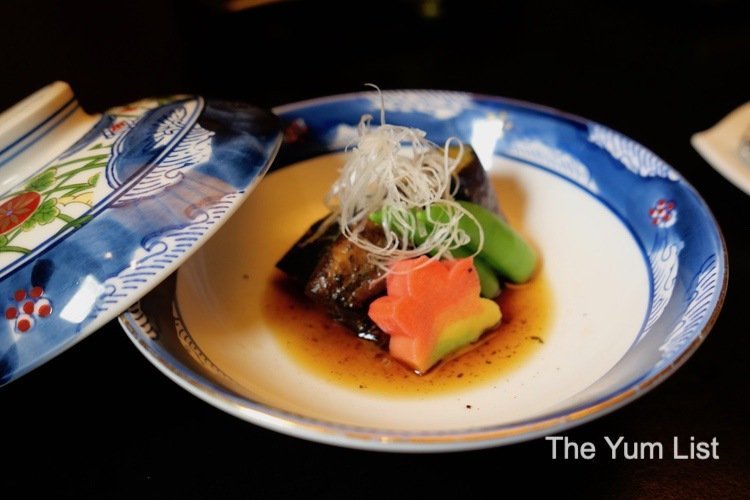 Agemono
The penultimate plate before the main features mushroom with prawn paste tempura. Quickly deep-fried, the batter is crisp and clean, encasing the fungi and allowing it to be the star of the show. The final sake for the meal is presented in the Hakkaisan Seishu. Offering a delicate bouquet, it follows through with a light, dry palate and lingering umami on end.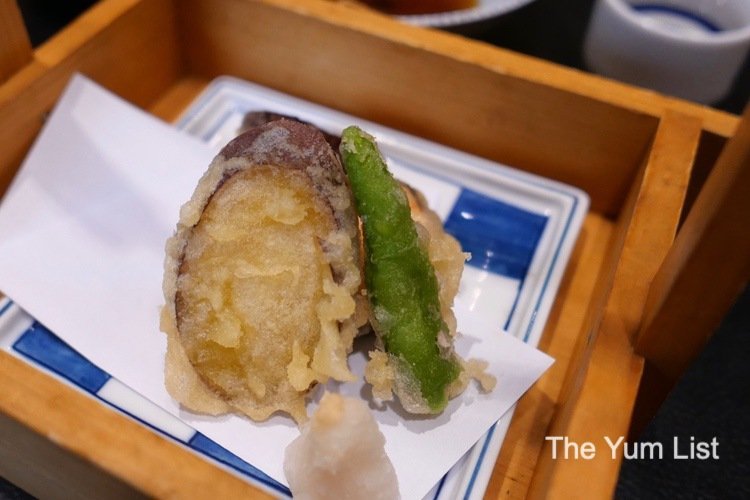 Oshokuji
Three kinds of nigiri sushi show off chef Masami Okamoto's skill in the finely sliced trio of raw fish atop rectangles of perfectly cooked rice. Salmon, yellowtail and tuna are elegantly soft, dissipating without even the need to chew.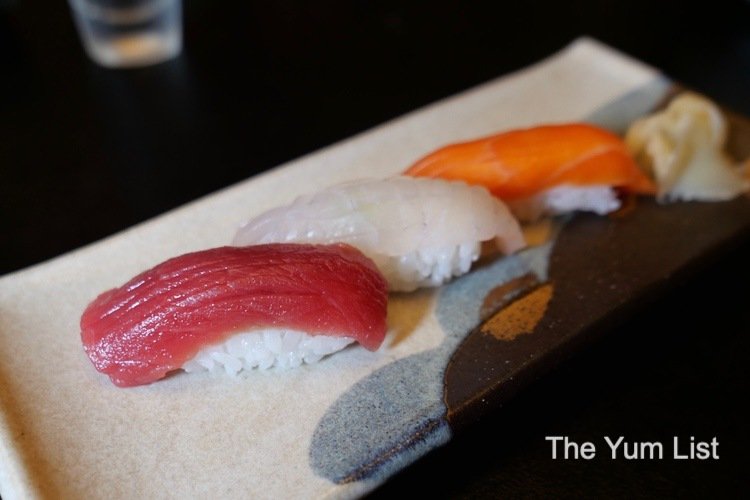 As a break between the mains and desserts, miso soup cleanses the palate and ensures all savoury desires are well satiated. It's clearly housemade, donating gourmet appeal not found in the mass-market product.
Dessert
We conclude with a trifecta of desserts in a single bowl: kaki, kurikintoki and shiratama. The first is fresh persimmon, just right in ripeness and prime in its season. The next is a golden chestnut, and the last a sweet, soft and chewy matcha sweet made from glutinous rice flour. Not mentioned on the menu, but a nice addition is red bean paste, and a slither of strawberry.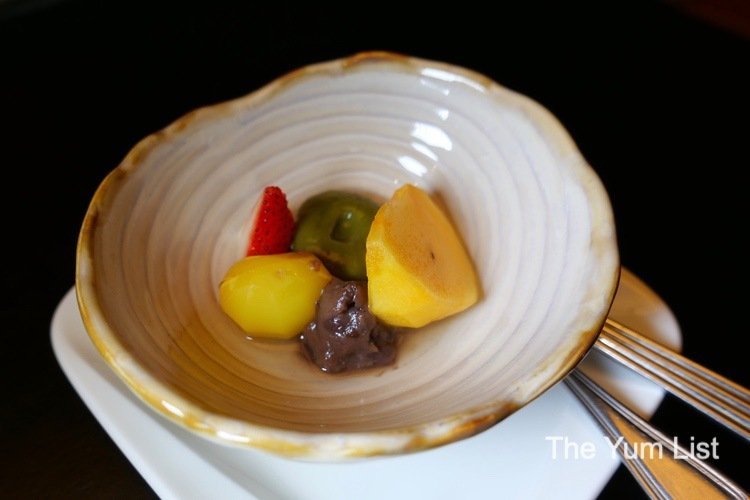 Japanese Restaurant in KL Review
The sake-paired menu at Iketeru has been absolutely delightful. The ingredients are obviously of premium quality, and the chef team is clearly highly skilled. Japanese food and sake lovers would do well to make a booking for this October.
Reasons to try to the Iketeru seasonal menu: a great taste of fresh Japanese flavours expertly paired with five different sakes.
Do you have a Japanese restaurant in KL that you adore? Share with us your favourites in a comment below and find even more choices for great Japanese cuisine here.