Circa Bar KL
Words: Kirsten Durward   Photos: Rich Callahan
Bravely venture into the back alley of Jalan Batai. Never mind the darkness and the bins; you are going on a rather fun adventure tonight. Find the golden archway that's your first clue to glamour. Climb up the spiral staircase, hoping that what's at the top will be worth the find. Punch the secret code (found on their Instagram page) into the phone, and the door swings open behind you. Enter an intriguing adult playground; Circa Bar KL.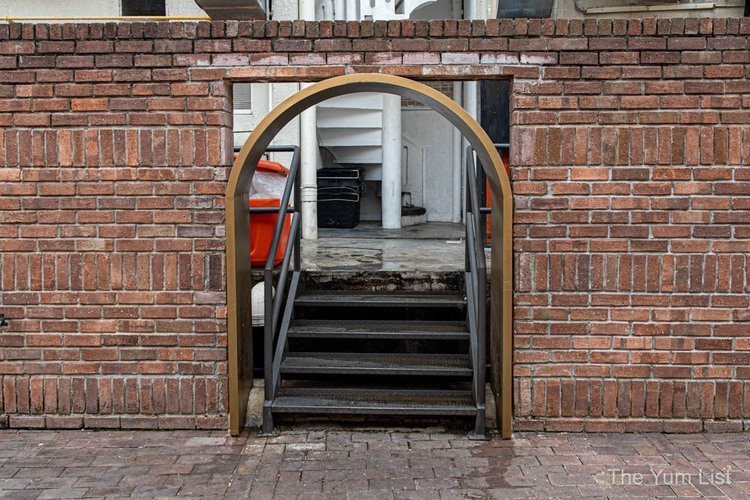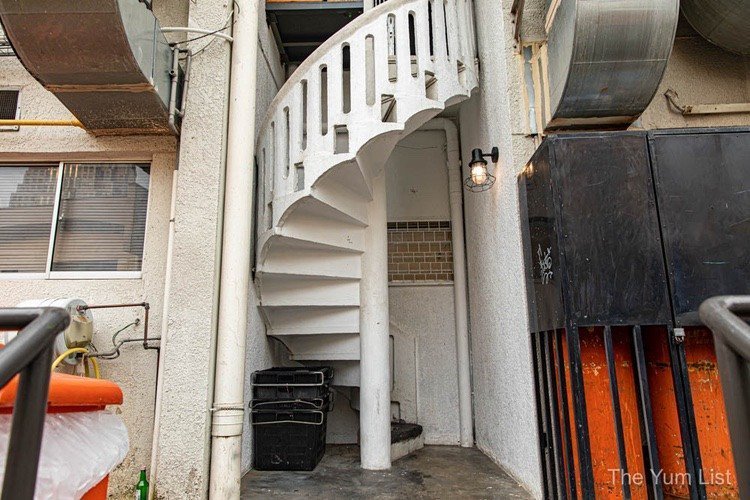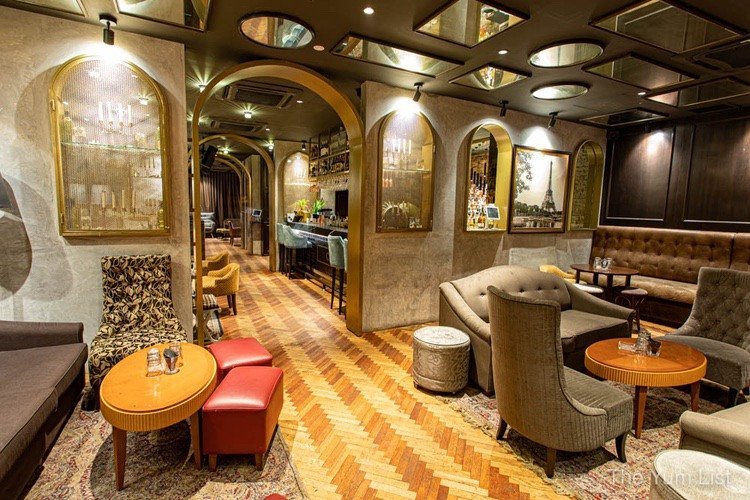 Circa Bar KL Plaza Batai
One of the latest in KL's slew of hidden bars, Circa Bar KL delights with subtle glamour. Styled with more than a slight homage to 1930's Paris, mirrors add light and space glinting off the tones of gold, silver and taupe. This is balanced with dark panelling and heavy drapes. 'Circa' says the bar, gleaming with arrays of top quality liquors. The drink list echoes the playful, reinventive feel, and bar manager Shawn shares that there is always something new on offer. We are keen to test some of the signature cocktails that leap colourfully from the page.
Craft Cocktails Bukit Damansara
Tongue Thai'd
The eclectic owners love tom yum soup, and so do I. This popular dish inspired the concoction Tongue Thai'd (RM 40 ++). Served island-style in a coconut, Grey Goose vodka is nicely resonant with passion fruit, while chilli seed infused lime juice leaves just a tingle on the tongue. It comes with plenty of ice to tame the flames.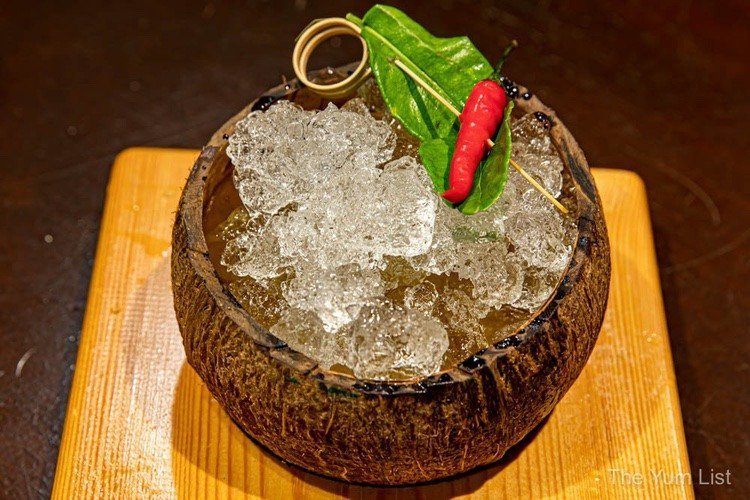 It's About Thyme
Our second cocktail at Circa Bar KL sees a copper champagne goblet, topped with a mountain of watermelon lychee air foam. It's very in keeping with the elegant retro theme. It's About Thyme (RM 40 ++) is a fusion concept. Petron Silver formes the base, grapefruit and thyme add the body, while agave nectar adds a balancing sweetness.
PBJ
Monica is delighted by the idea of drinking peanut butter, so PBJ (RM 34++) is prepared for us. While waiting, we hear the complex process of creation. Jack Daniels is infused with peanut butter and frozen overnight, then the fat is scraped off after it rises to the top. A fat washing technique ensures that all the flavour but none of the fat remains, making it even more appealing to our chief Yum. Smoke wafts across the bar, as wood chip smoke fills a glass dome over the drink that is lit up in front of our eyes. Impressive to see for sure, but to taste?
The first sip is a little overwhelming to the senses. The woody smoke, the salty thick peanut butter rim, and then the sweetness of the drink comes in quick succession. A raspberry jelly masks the depth of Jack Daniel's bite. We are sure that this drink goes down a treat sweet-toothed friends, which Shawn confirms with a smile.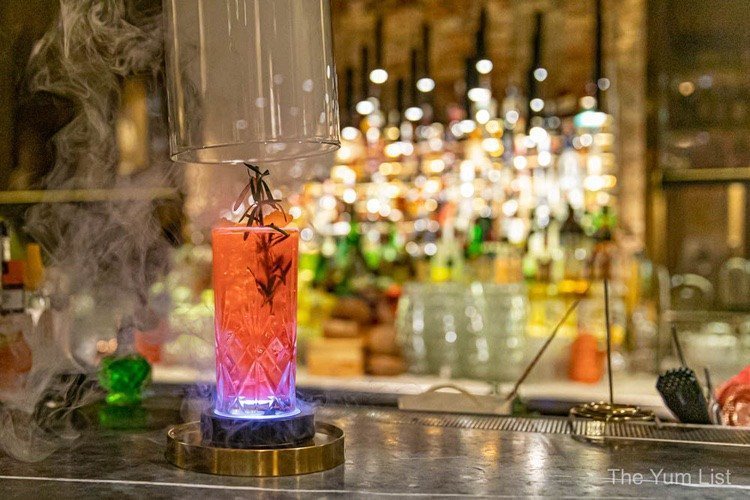 Yuan Dynasty
A step up in elegant presentation at Circa Bar KL is next with our service of Yuan Dynasty (RM 45++) in two tiny teacups with a pot. Monica smiles and whispers, 'one for me and one for you'. But don't be hoodwinked, this drink has a restrained kick. Hennessy VSOP is blended with Thinkyunyam Chinese herbal tea, and Osmatha (orange peel and pandan leaf syrup). Thankfully for me, the pandan is subtle. 'Shall I top you up?' asks Monica. 'Mmmh.'
Very Berry
Very Berry (RM 35++) is a departure from the Asian blends. Frosted raspberry and rosemary make me think of Christmas. Gin is a challenging spirit to mix, but the hint of lemon amongst the muddled berries balances the sweetness and brings out the Bulldog nicely. We agree the mellow taste could get rather moreish.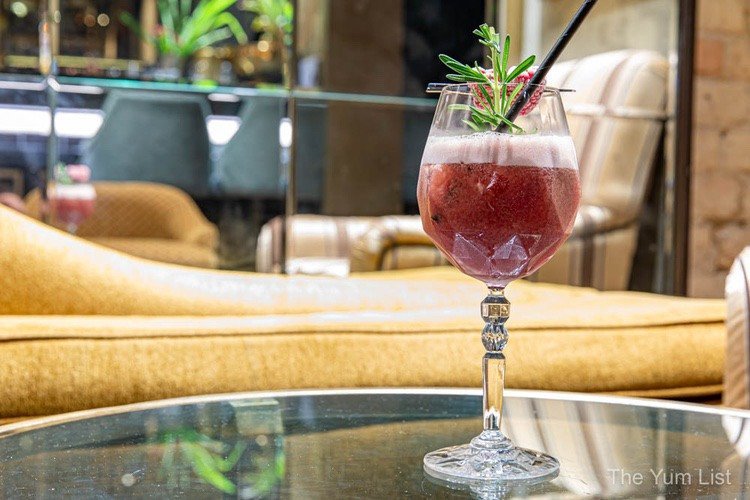 Edison
My favourite presentation of the evening at Circa Bar KL is the cleverly conceptual Edison (RM 45++). I love the smoky green lightbulb, almost too much to drink it. But not quite! Butterfly Pea gives the beautiful colour to this ginger-torch-infused Bulldog gin drink with tinges of rose extract and cane syrup. I love it. It is like the sea in a glass, with deep mysterious depths.
The Classics
We've been entranced by the originality of the signatures at Circa Bar KL created by bartender McKay and his team. But we are not to escape without giving our opinion on a couple of classics. The measure of a truly great bar for me can be heralded by the quality of two distinct drinks, the Negroni and the Daiquiri.
Circa's Daiquiri (RM 40++) is decent. I can taste the Bacardi white rum within the lemon blend, and thankfully it's not too sweet. I can't tell you how many I have sent back in KL because basically, they are just sugar water. A little less ice perhaps in the shaking and this one could be a contender.
The Negroni (RM 38 ++) nails it. I'm not just speaking at the end of a tasting night. This is a seriously well-balanced blend, with just the right amount of bitterness on the tongue. No wastage of the Tanqueray and Antiqua Formula Campari here.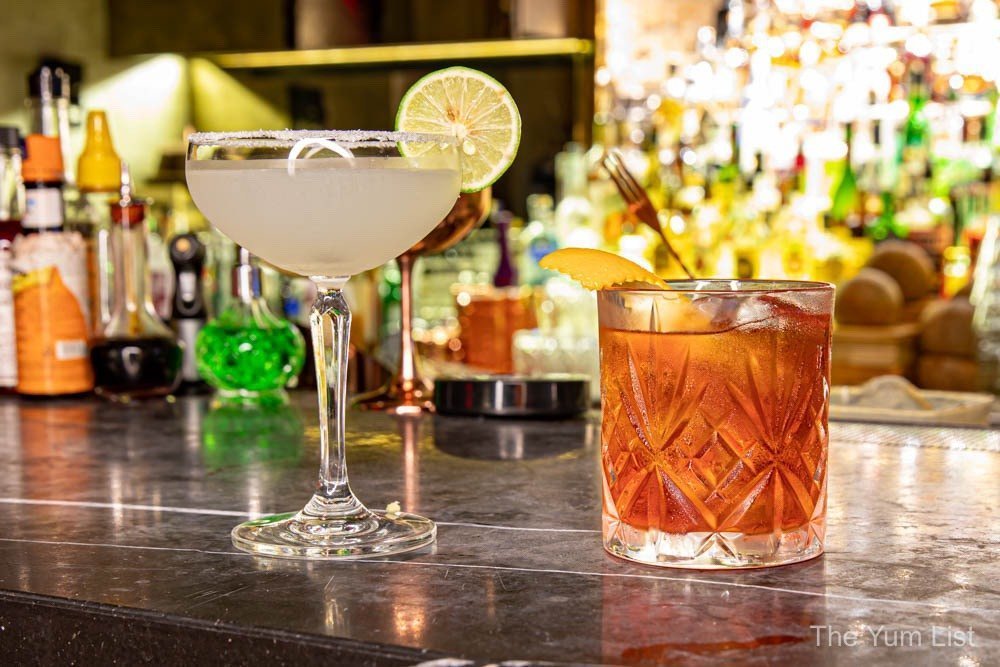 Circa Bar KL Review
We end the night with some Yum List posing in the complimentary photo booth, completing our time with a laugh. Circa Bar KL is unique; a whole different feeling from any other bar I have been to. It's already hugely popular on the weekend scene, so make sure you have the right week's code from Circa Bar's Instagram page. If you want to book a table, the weekend minimum spend is RM 1000 or two bottles of liquor.
Reasons to visit Circa Bar KL: a hidden bar worth the hunt to find it; the craft cocktail list has something for diverse tastes, but our favourites were the Tongue Thai'd, Yuan Dynasty and the classic Negroni.
Circa Bar KL
Plaza Batai,
6 Jalan Batai,
Bukit Damansara
Kuala Lumpur, 50490
Malaysia
www.facebook.com/circabarkl
+60 14 726 2474
+60 3 20111303
[email protected]
Circa Bar KL Opening Hours
Sunday – Monday: 5 pm – 1 am
Tuesday – Saturday: 5 pm – 3 am
Find more excellent cocktail bars in Kuala Lumpur here and more where to dine in Plaza Batai here.