Parklife Bangsar South
Words: Anna Chew    Photos: Rich Callahan
If you are looking for healthy food that is delicious and caters to vegans, pescatarians, meat-lovers, gluten-intolerant folks and more, we've got a place for you! The owners of Parklife in Bangsar South want food to unite everyone. And, their food doesn't just unite, it draws!
Parklife Bangsar South
If you're walking into The Sphere in Bangsar South, you'll be automatically attracted towards the showcase of the most magnificent looking salads in their window display. The colours of the rainbow continue on to greet you at the dessert table on entry.
Parklife in Bangsar South serves what they call "Contemporary London Cuisine" and is helmed by Head Chef Ling. He is the food creator and co-founder who credits Chef Yotam Ottolenghi, whom he apprenticed under, for his inspiration. Ottolenghi's influence can be found in Parklife's food which has strong Mediterranean, Middle Eastern and European flavours. All ingredients are sourced fresh with the bulk of their vegetables coming from local suppliers.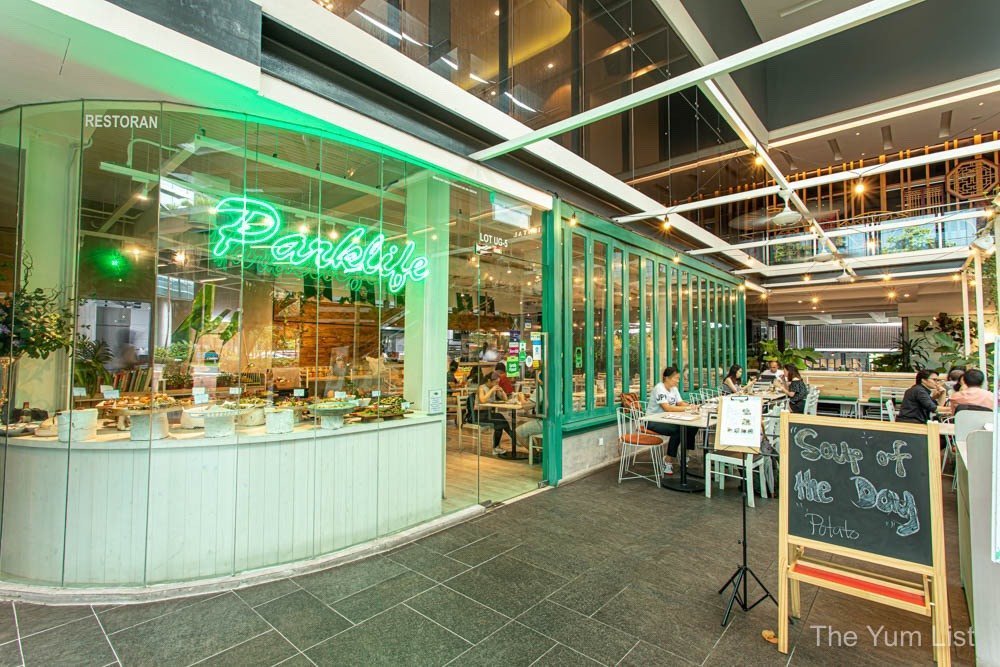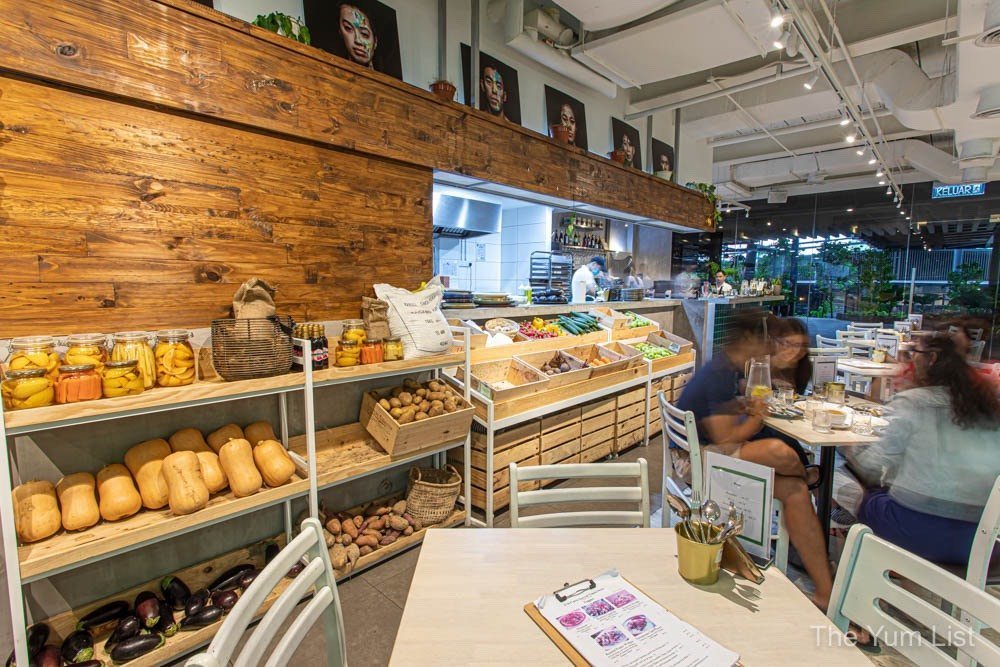 Parklife Restaurant
While eighty per cent of the menu at Parklife is plant-based, they have enough animal protein to satisfy meat lovers too. Vegans have a wide range of options here; we've marked them out for you below. The menu is designed to combine taste and texture without overcooking the ingredients. Spices and herbs play an essential role in the development of the dishes, ensuring maximum nutrition is packed into every forkful.
Salads and Vegetarian Options Bangsar South
Extending from their window display, the menu first presents the vegetables, 150grams per plate, served tapas-style. The Hummus (RM12 – Vegan) with zaatar, spices and pomegranate, is a good starter and one of their most popular dishes. We ensure every last drop is mopped up with the side serve of flatbread.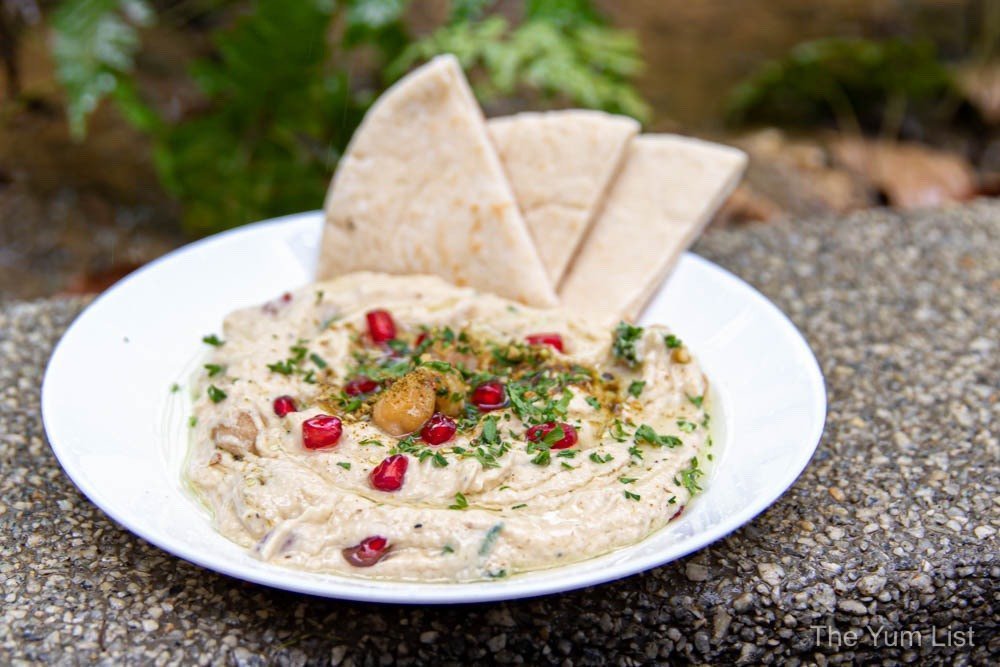 From the salad display, we sampled the Quinoa, Avocado & Fennel Salad (RM10 – Vegan) dressed with sumac and herbs. Australian fennels are chosen for their natural sweetness. Beetroot, Kale & Carrot Slaw with Mustard Dressing (RM14 – Vegan) is another vibrant selection. It was surprisingly light, and we enjoyed the tang from the seasonings. Grilled Broccoli with Chilli & Garlic (RM11 – Vegan) showcases just how fantastic broccoli can be when it's not overcooked. The mild spice and pungency from the chilli and garlic enhance the green's freshness.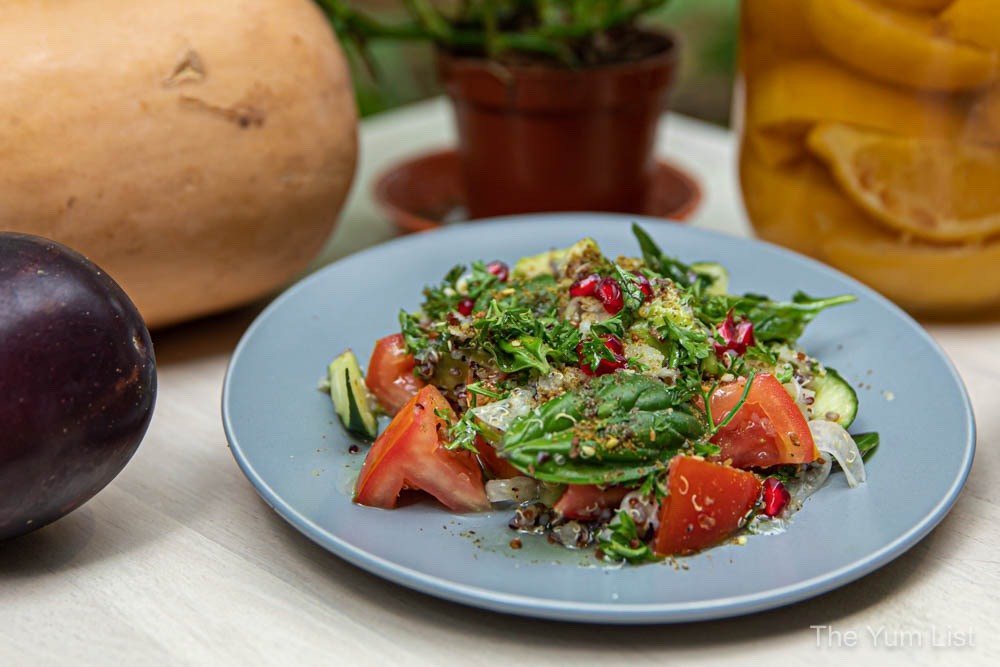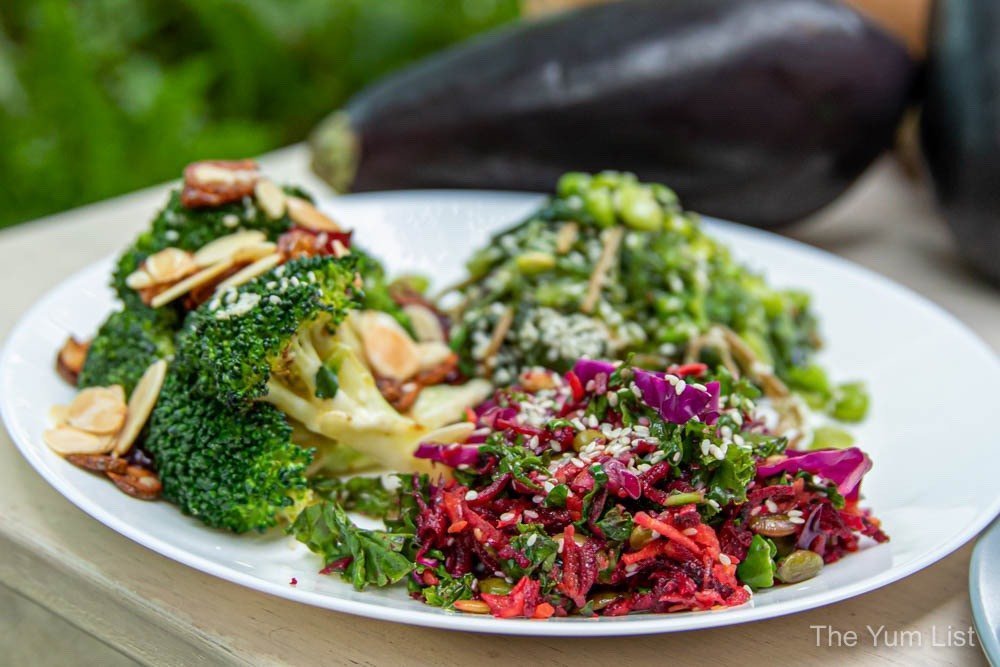 For those looking to have salads as a full meal, we have plenty of favourites to recommend. For something with an Asian twist, the Chuka Wakame Soba Salad (RM13 – Vegan) comes loaded with edamame, chuka wakame and soba tossed with a well-balanced dressing and sesame seeds. The Roasted Butternut Squash with Pomegranate Molasses, Rosemary and Mixed Nuts (RM14 – Vegan) was comfort food with a bright burst of texture from the pomegranate and crunch from the nuts. It presented a fantastic combination of sweetness and acidity. Another must-order is the Roasted Eggplant with Basil, Tahini and Grilled Cherry Tomato (RM12 – Vegan). It's a crowd favourite, which is both delicious and pleasing to the eye. Finally, nothing spells comfort more than barley, and the Roasted Shiitake with Oyster Mushroom, Barley & Parmesan Cheese (RM12) hits the spot.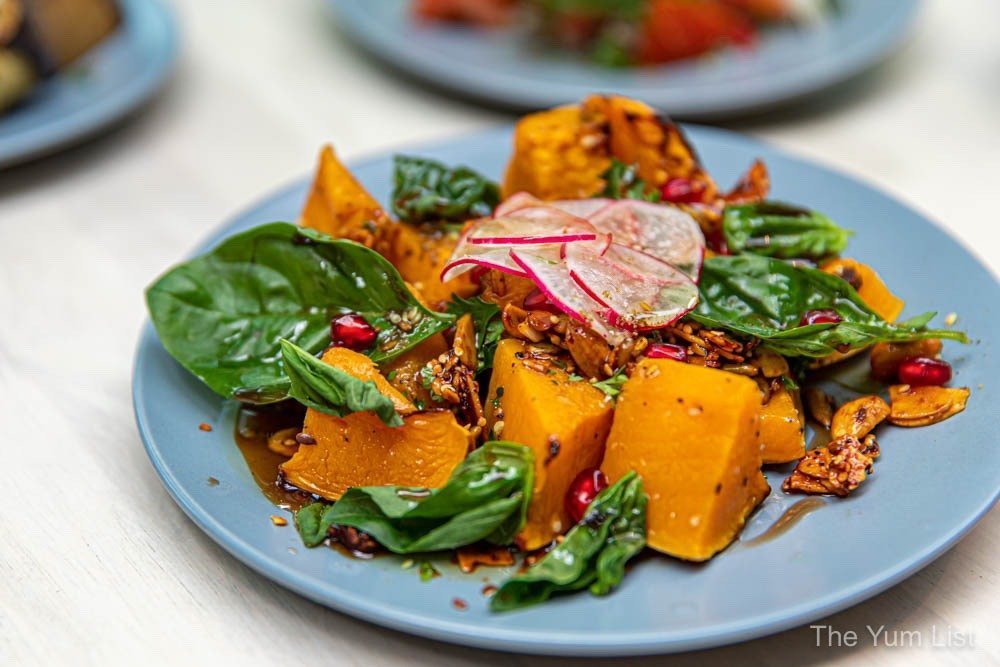 While I love meat, I can attest to the fact that my meal would have been complete on these plant-based dishes alone. I was well satiated.
Parklife Bangsar South Meat Dishes
Meat lovers need not shy away though, as Parklife has a complete section dedicated to meat and seafood. These can be ordered al a carte or to share in a platter for two people (Medium) or three to four (Giant). We had the Giant Meat Platter (RM268), which came with lamb shank, smoked duck breast, spiced chicken and lamb patties, on a bed of couscous, grilled vegetables and olives. Dipping sauces of yoghurt and Romesco livened the combo even further.
The standout for me was the lamb shank. Braised with herbs and spices, the flesh had a significant infusion of Mediterranean flavours. We could not stop picking at the tender chunks of meat. It was superb with the couscous and grilled vegetables, which had soaked up some moistness from the juicy meat.
The lamb kofta was also excellent with dried cranberries and herbs. The smoked duck breast was no less impressive. While you could order each of the meat items separately, we recommend grabbing a few friends and sharing the platter.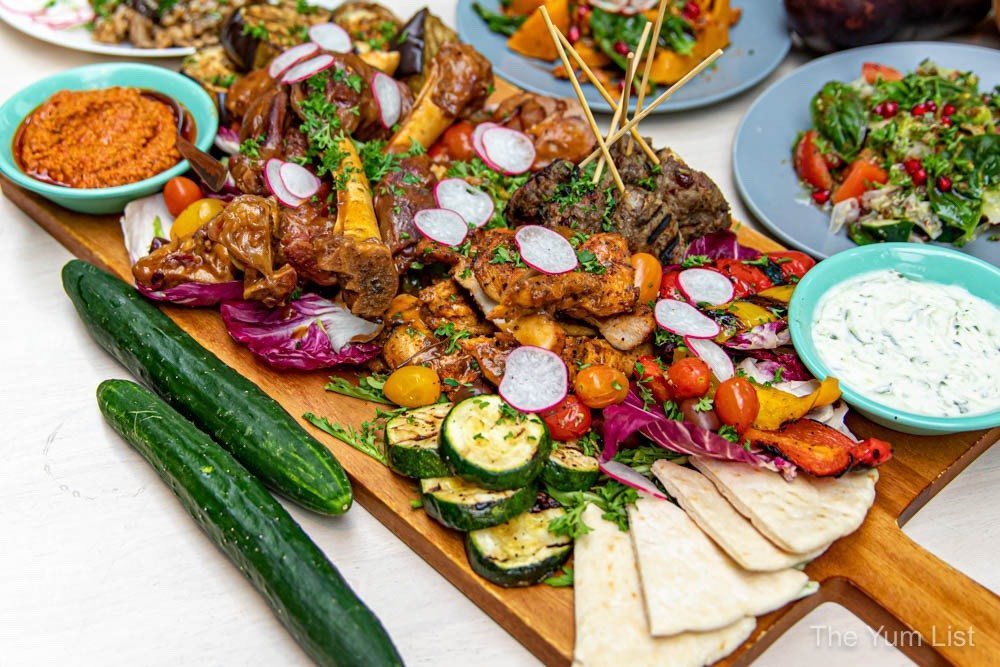 Healthy Drinks The Sphere
As expected from a place such as Parklife, a range of healthy drinks can be found here. Infused water, water kefir, kombucha and cold-pressed juices are located alongside the usual suspects of coffee and tea. What is not immediately apparent, however, is the fact that the team at Parklife serve craft beer and a number of wines that are organic, bio-dynamic and sustainable from both the old and new world.
We tried the Roselle Water Kefir (RM12) and some cold-pressed juices – Beetroot, Red Apple and Lemon (RM12) and Green Apple and Celery (RM10). All were naturally sweet without the addition of sugar and highly recommended as warm-weather thirst quenchers.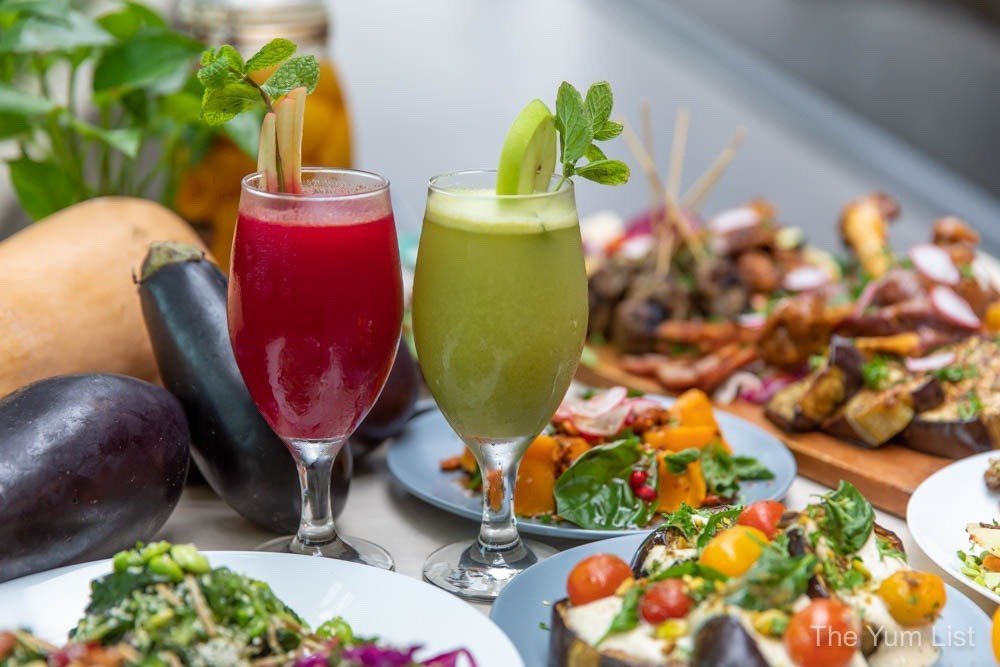 Gluten-free Desserts Bangsar South
Parklife has an impressive array of desserts with plenty of gluten-free, vegan and flourless options. They are made with reduced sugar continuing the concept of wholesome eating all the way through to conclusion.
Raspberry Pomegranate Cheese Cake (RM16), Peach Fruit Tart (RM13) and, Gluten-free Chocolate Fondant Cake (RM16) all got an order. The first was pretty with its layers and contrast of creamy and crumbly. The tart, made with almond cream, provided a dairy-free item, but my favourite was the Gluten-free Chocolate Fondant Cake (RM16). Made with dark chocolate, and limited sugar, the bitter taste of real chocolate really shone through.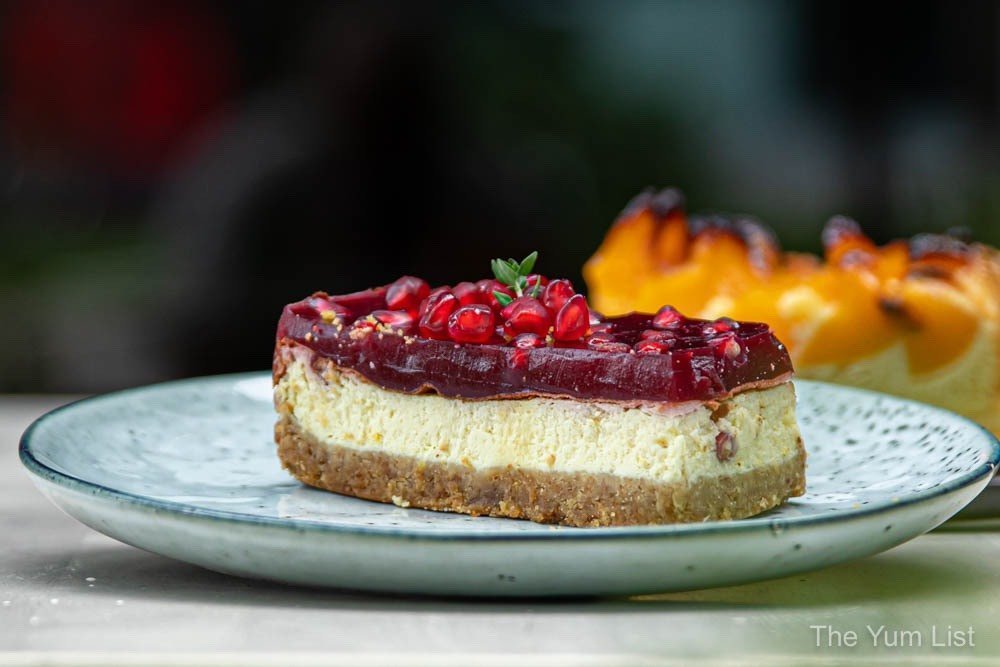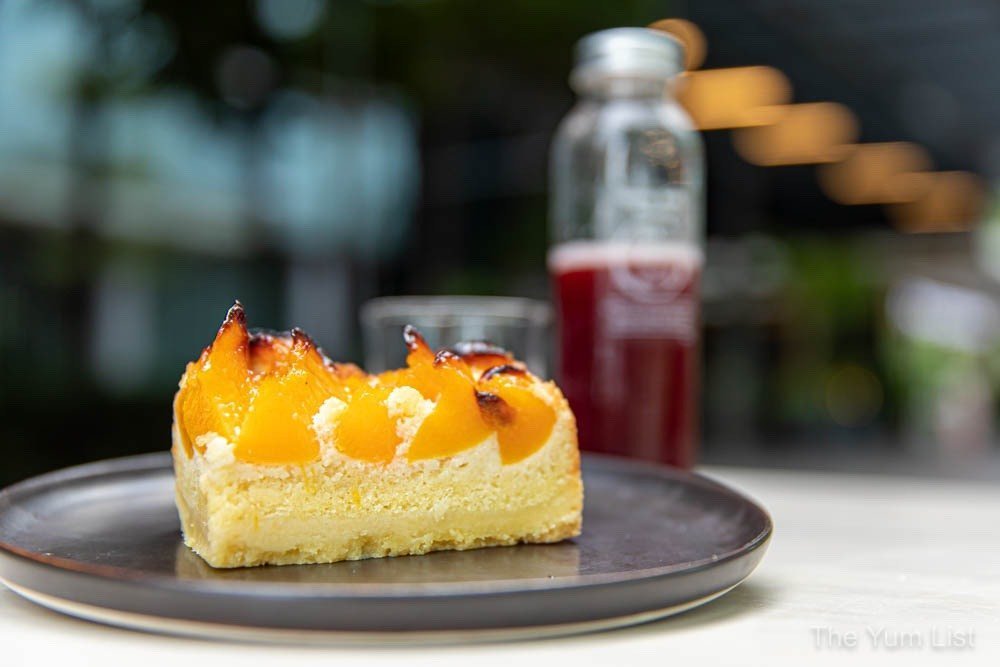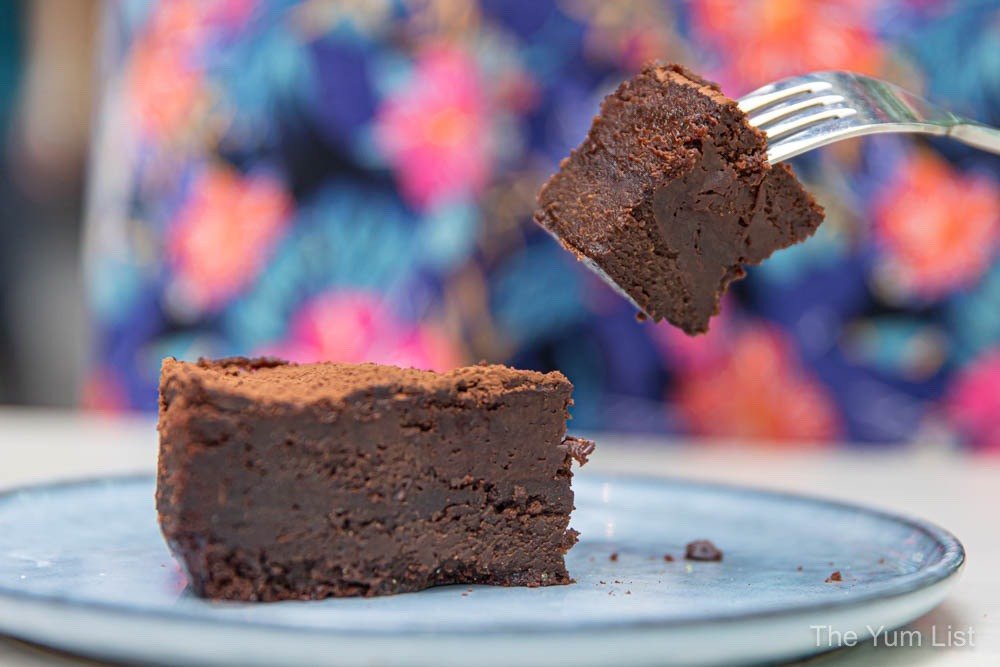 Parklife Review
If you have a party of individuals with different dietary needs, this is the place to head to with enough options to make everyone happy. Each is guaranteed to a hearty, healthy and delicious meal. The dessert display is eye-catching, and both alfresco and air-conditioned seating is available.
Reasons to visit Parklife Bangsar South: at the entrance, a rainbow flag welcomes everyone, not just those with special dietary needs; an excellent place for a group dining; loads of vegetarian and vegan options.
Parklife Bangsar South
Unit 5, Level Upper Ground, The Sphere
1, Avenue 1, Bangsar South City
8 Jalan Kerinchi Bangsar South, Kampung Kerinchi
59200 Kuala Lumpur, Malaysia
+6 03 22421193
www.facebook.com/parklifemalaysia
Parklife Bangsar Opening Hours: Monday – Sunday 8:00 am-10:00 pm
Find more healthy restaurants in Kuala Lumpur here and also more vegetarian choices here.