In the Footsteps of Marco Polo
Words: Monica Tindall    Photos: Rich Callahan
Returning to Kuala Lumpur this October is Le Petit Chef, the world's smallest chef, and this round he is on a new adventure! Recounting the route of legendary traveller, Marco Polo, the 3D table projection, combines cinema, theatre, and dishes from France, Arabia, India, Himalaya and China – all in one meal.
By the same team who brought you Le Petit Chef, Whimsy Malaysia, Dinner in the Sky, Plane in the City and Tropical Colada, diners are guaranteed an entertaining evening. The 90-minute dining experience, Le Petit Chef in The Footsteps of Marco Polo, takes guests on a six-course culinary journey across the regions visited by the heroic explorer. Cinema, technology, food, theatre and music synthesize to create an unforgettable feast for the senses.
Le Petit Chef in The Footsteps of Marco Polo Menu
The Journey Begins
The journey In the Footsteps of Marco Polo begins as we open the book on our table and find the animated Le Petit Chef ready to set sail on the high seas. He packs a duo of small bites for the trip, and as this segment of the expedition draws to a close, both are delivered to our table. Similar to a tiffin carrier, we find Fourme d'Ambert on top offering flavours of the land with toasted walnut brioche and honeycomb. Underneath, on the other hand, a Pacific oyster shell filled with oyster cream, cucumber jelly and roe, furnish a taste of the sea.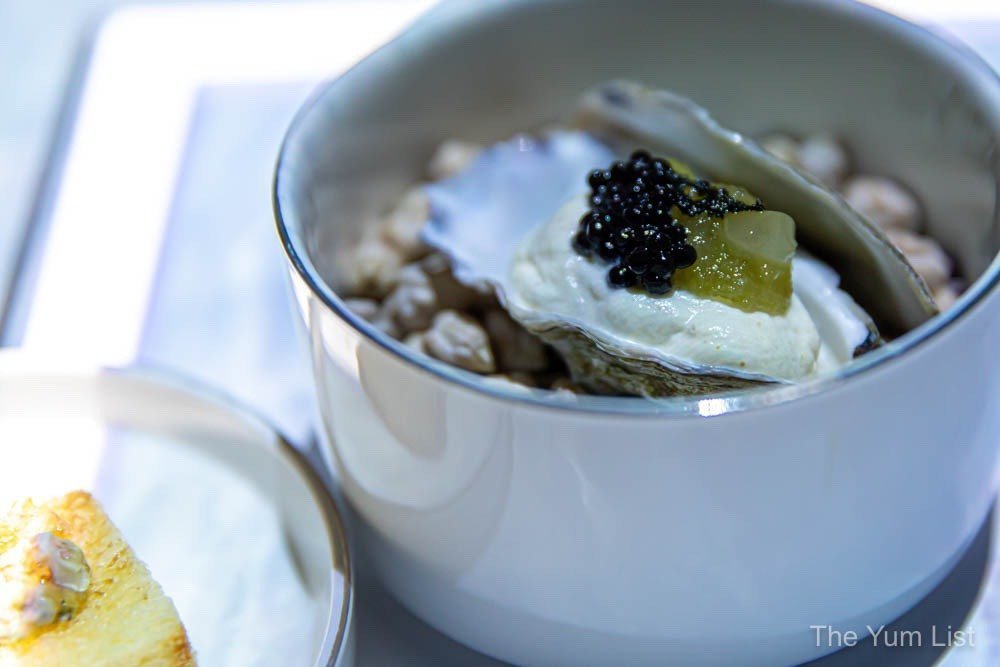 Middle East
Traversing the globe, In the Footsteps of Marco Polo, the location for the next course sees us somewhere in the Middle East. Reflecting the Arabian love of gold, the food is plated with a touch of glam. And, continuing with cultural norms, it's served as a sharing plate. This wonderful plating sees small bowls holding duck chips, artichoke, lamb kebabs, duck, and hummus topped with charcoal-roasted beetroot and feta. The marinated lamb is pimped up with shallots, pomegranate, and yoghurt dip, while the poultry is complemented by the sweet and nutty elements of raisins, hazelnuts, and Lebanese onions. The French addition of artichokes balances the meal with their mild tang.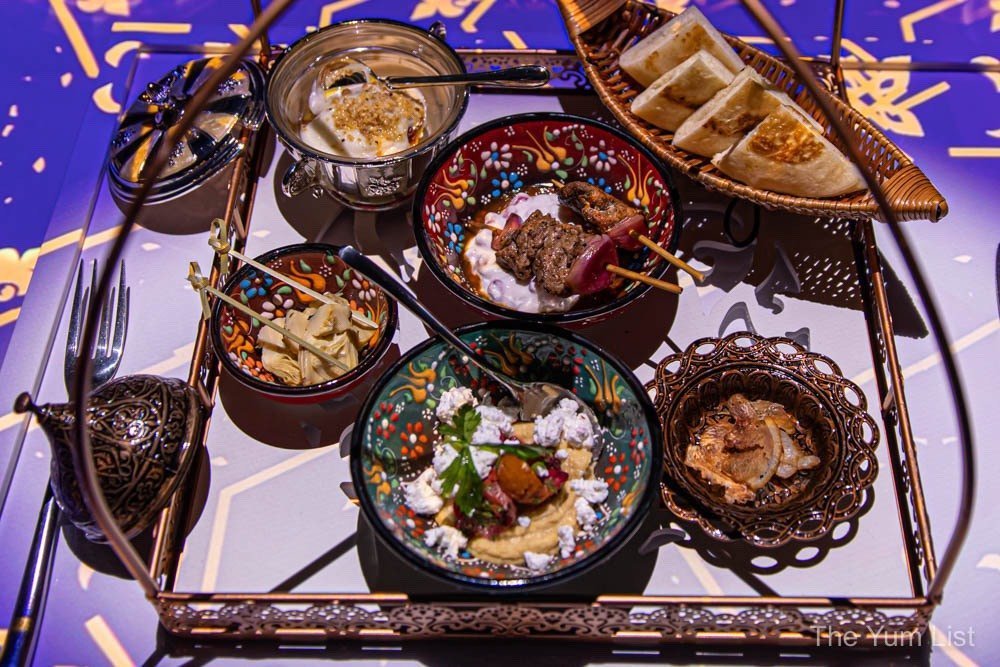 Taking the "cinema on your plate" experience to another level is a live host. Our guide for the night changes in and out of costume to suit each location. A stunning robe and turban, representing India, is our favourite ensemble. He talks us through the story and encourages audience participation with greetings from around the world.
Indian
Engines fired again, we're off to India for the next dish In the Footsteps of Marco Polo. It's a sophisticated trio of soup, salmon and rice cakes. The first, rasam, is a tradition from the south, and in this version, it's bulked up with green lentils, mint and deep-fried sweet neem leaves. The poached salmon, prepared "Polo" style, comes with green pea masala, curry leaves and spicy shallots. Lastly, idli (soft rice cakes) provide a perfect mop for the last drops of everything, while tikka chutney, kurkuri bhindi and salted chilli furnish further layers of complexity to whatever you may add them to.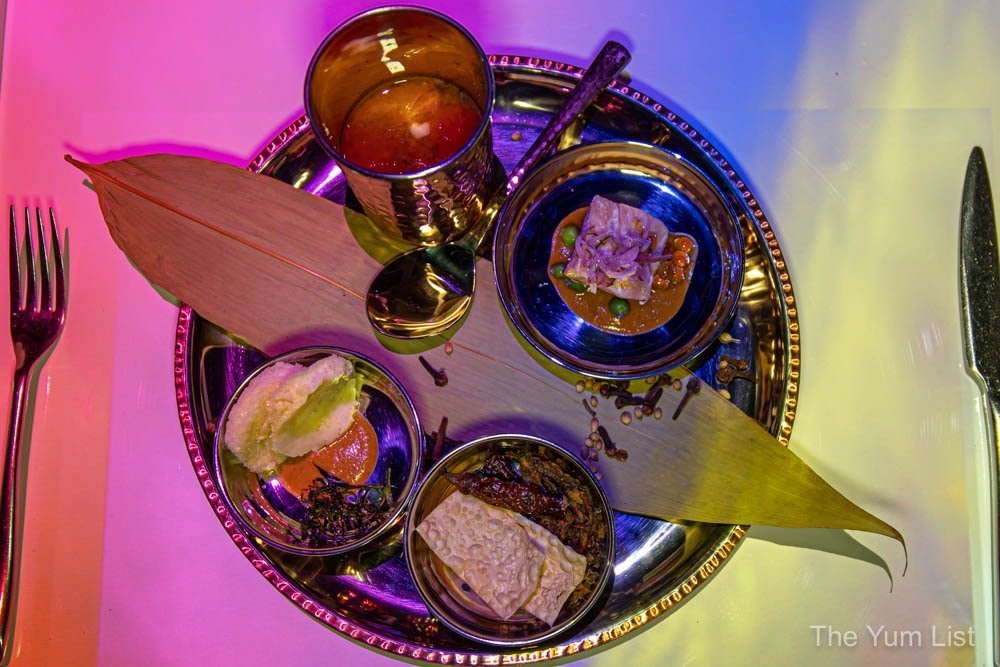 Himalaya
Taking roost on the back of a bird, Le Petit Chef heads to the peaks of the Himalayas. And, as this scene closes, liquid nitrogen raspberry sorbet with kaffir lime soda and mint jelly arrives in a cloud of vapour. As the steam rises, we catch rose aromas and find the fresh cool interlude the perfect palate cleanser. It removes the bolder flavours of the last Indian course in preparation for the main.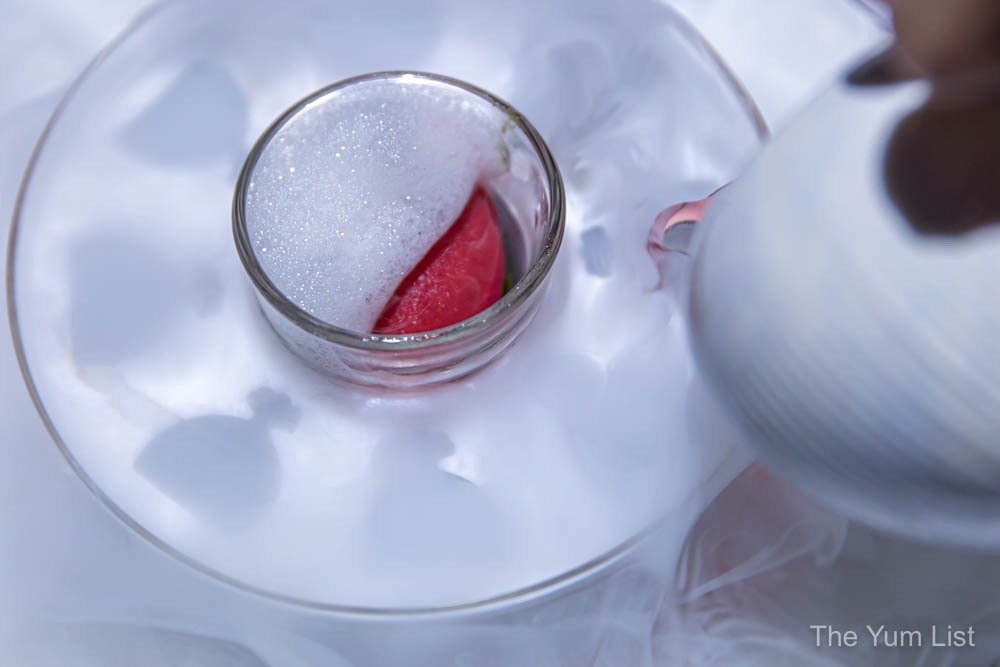 A specially curated soundtrack has accompanied our excursion all evening In the Footsteps of Marco Polo. It is only with the distinct change to a more meditative mood that we suddenly pay attention. It's yet another thoughtful component that gives this 3D projection mapping dinner additional pizzaz.
China
Switching gears from this calmer moment, we're thrown into a climax of excitement as Le Petit Chef is pursued by a dragon. With a magnificent chase scene behind us, we reach the main course. China brings us corn-fed chicken with monkey-ear mushrooms, pan-seared foie gras, candied ginger, mushroom foam, baby leeks and flat rice noodles. A vibrant plate of green asparagus sides it, as does a bamboo steamer of prawn dumplings.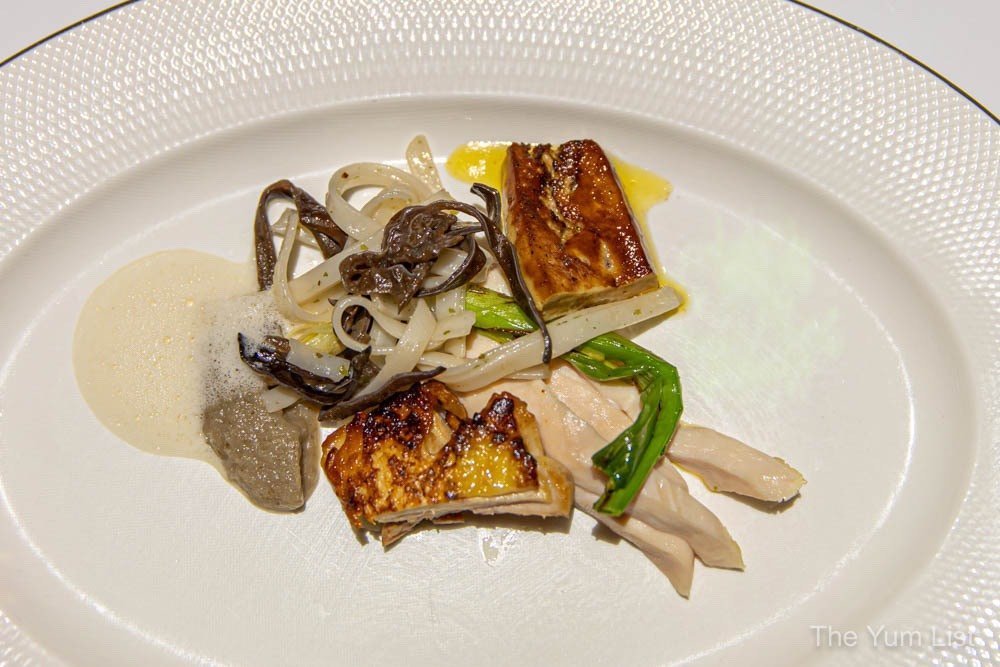 France
Coming full circle, Le Petit Chef returns to his home country, France. And, just as we began with a double-layered plate resembling a tiffin carrier, so do we conclude. A crisp thin toffee top and a sprinkling of freeze-dried orange cover velvety smooth custard in the tonka crème brulee. Hiding below is a sweet combination of firm chocolate mousse, blackberries and chocolate crumble.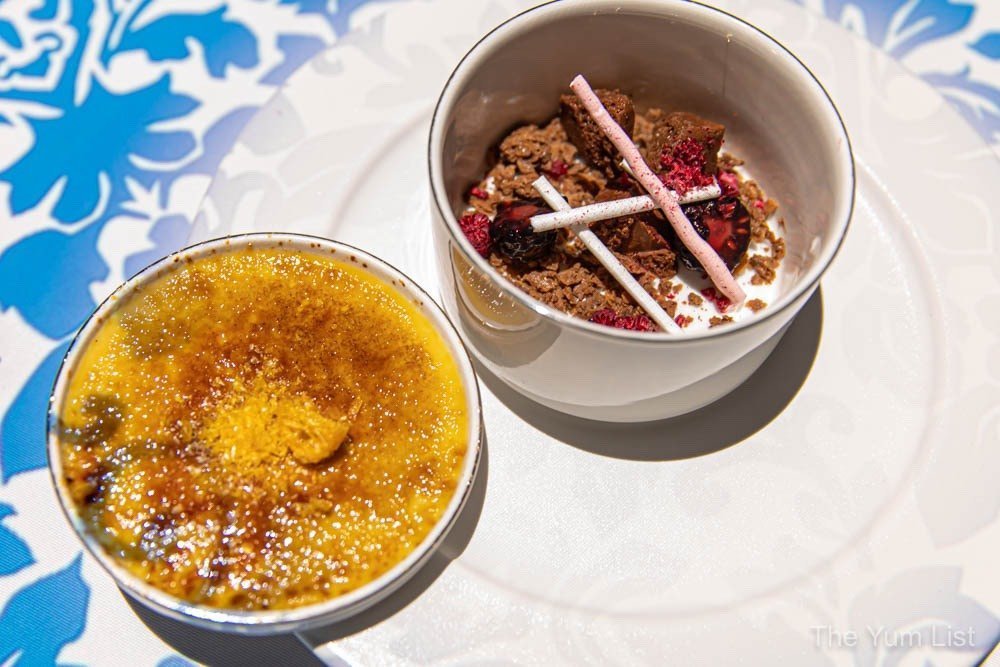 Seating only 36 diners per session, reservations are a must. Tickets are selling at RM299 for Marco Polo's Journey, RM499 for Marco Polo's Expedition and RM999 for Marco Polo's Around the World. Children aged between six and 12-years old pay RM99.
In the Footsteps of Marco Polo – Le Petit Chef Review
If you have yet to experience 3D projection mapping dining, In the Footsteps of Marco Polo – Le Petit Chef is a great place to start. Even if you are familiar with Le Petit Chef, the story, level of drama and integration of theatre and music into the most current production contribute so much more, really elevating the dinner to something unique.
Reasons to try In the Footsteps of Marco Polo – Le Petit Chef: entertaining dinner experience; great date night; reasonably priced if you'd like to bring your youngsters to try it too; excellent food.
In the Footsteps of Marco Polo – Le Petit Chef Malaysia
Elements KL Sdn Bhd
Hive, Unit H-G-11, Trec,
438, Jalan Tun Razak, Kuala Lumpur
Malaysia
+603 2282 6413
[email protected]
www.elements.my/le-petit
In the Footsteps of Marco Polo – Le Petit Chef – Opening Hours
Tuesday to Sunday
Two sessions Sunday (7:00 pm | 9:00 pm)
Two sessions Tuesday to Thursday (7:00 pm | 9:00 pm)
Three sessions Friday & Saturday (5:00 pm | 7:00 pm | 9:00 pm)
* Do note that In the Footsteps of Marco Polo – Le Petit Chef – is just like a movie. If you arrive late, you will miss the first scenes. There is no waiting for anyone so plan your time and account for traffic accordingly.
Le Petit Chef – In the Footsteps of Marco Polo also provides customization for private events. Contact them for more details.
Find more dining experiences in Kuala Lumpur ideal for special occasions here.